Just when we thought we'd seen it all, Springfield Armory announced the release of a brand-new duty pistol featuring never before seen features: the Echelon.
The Springfield Armory Echelon is a striker-fired 9mm pistol designed for duty use. It features unique ergonomics, including a brand-new self-contained central operating group, self-locking front pins, and a patent-pending optic mounting system.
Fully ambidextrous, this modular pistol comes with Tritium u-dot sights, a variable interface system, a flared rear slide for positive purchase, and three different grip and backstrap sizes.
This full-size yet lightweight pistol comes with two magazines: one flush 17-round mag and one extended 20-round mag depending on the user's preference. With a drop safety, a hammer-forged barrel, and deep slide serrations, the Echelon exceeds expectations with this duty weapon.
In this article, we'll go over the details of Springfield Armory's latest firearm to help you decide if it's a good fit for your defensive needs.
Springfield Armory Echelon Specs
Features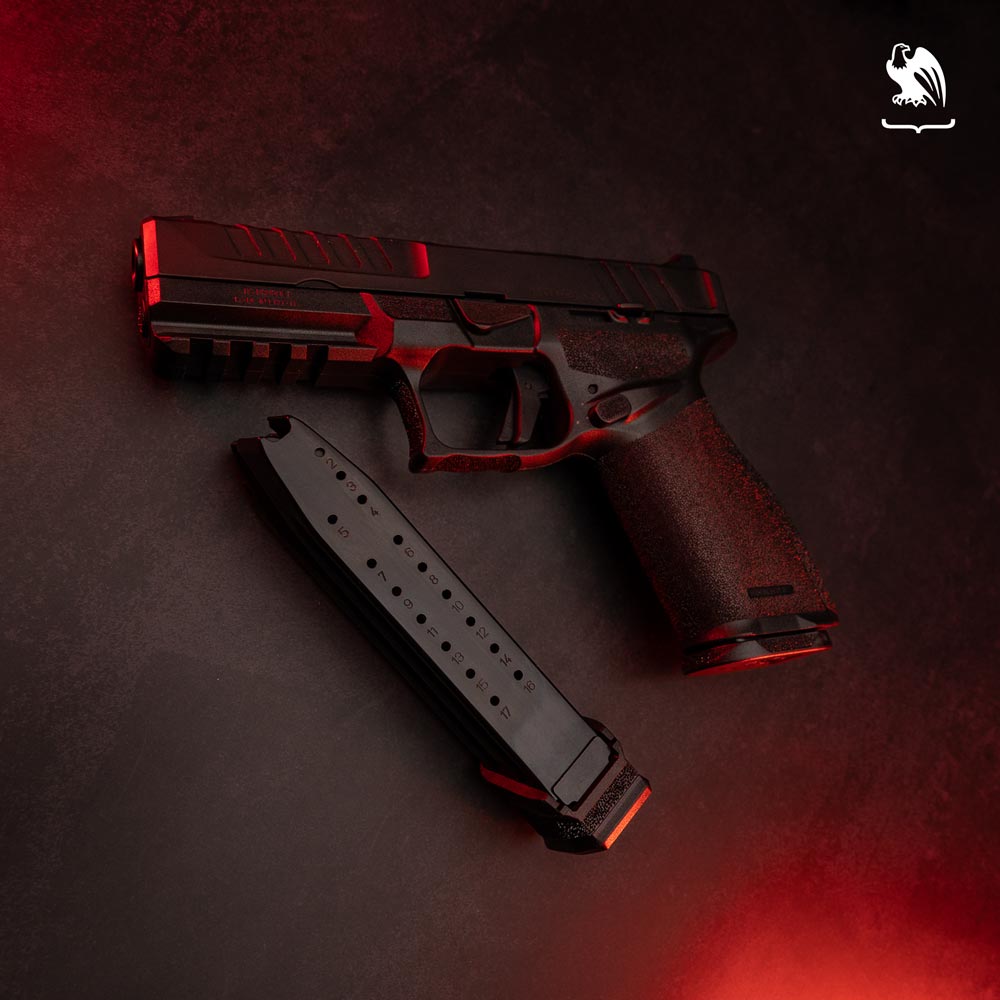 Size & Capacity
The Springfield Armory Echelon is a full-sized pistol with a large capacity for its relatively low weight and dimensions, making it a great fit for those who carry for long periods.
The Echelon weighs 23.9 ounces and measures 5.5" tall, 1.2" wide, and 8" long with a barrel length of 4.5".
This pistol comes with two newly developed durable magazines that have a brand-new durable scratch- and wear-resistant coating designed to hold up under regular use. Each pistol comes with one 17-round flush-fitted magazine and one 20-round extended magazine. A state-compliant model with a 10-round capacity is also available.
Frame & Grip
The primary feature of the Echelon is its central operating group (COG) – a self-contained and serialized stainless-steel chassis.
The COG is contained in a single piece that can easily be transferred between grip modules in a matter of seconds. The Echelon comes standard with a medium grip module and three interchangeable backstraps, and aftermarket frame sizes can be purchased separately.
Regardless of size, the Echelon's grip features an adaptive texture that feels smooth to the touch and becomes more aggressive when pressure is applied. It's also built with textured indexing points for an extra firm purchase.
Trigger
The Echelon's trigger is completely contained within the chassis, allowing it to fully take advantage of the pistol's COD for better performance. It's machined from tool steel and features a clean take up, crisp break, and a short positive reset.
Finally, the Echelon has an enlarged, undercut trigger guard that makes it easy to use with gloved hands.
Slide & Barrel
The Springfield Armory Echelon is crafted with a billet machined slide with a protective Melonite finish. It features four engagement surfaces with a trench cut in front of the action for a more natural index location while handling.
The rear of the slide is flared for positive purchase and has deeply machined slide serrations for an extra firm grip, even in extreme weather conditions. It also has an ambidextrous slide stop and magazine release.
The barrel of the Echelon is hammer forged and is also coated with a protective Melonite finish to prevent corrosion and scratching. You have your choice between a 4.5" standard barrel, or you can upgrade to a 5.28" threaded barrel depending on your preference.
Sights & Optics
In terms of sights, the Echelon comes standard with tactical rack U-notch rear sights and a tritium front sight with a luminescent ring. A tritium three-dot sight or an optional suppressor height sight is also available for this pistol for those who prefer a different style.
This Springfield Armory pistol also comes optics ready with a patent-pending Variable Interface System (VIS) concealed beneath its slide cover plate that can accommodate over 30 different optics.
Instead of adapter plates, this new system has self-locking pins that allow you to mount optics nice and low for an even better sight picture.
Safety
While the Echelon doesn't have a manual thumb safety, it does have a unique second sear design that offers drop safety.
About Springfield Armory
Springfield Armory traces its roots back to 1794 when the original Springfield Armory began manufacturing muskets for the U.S. military in Springfield, Massachusetts. For nearly two centuries, the Armory was a leading supplier of firearms for American troops, producing guns used in every major military conflict from the Revolutionary War through the Vietnam War. The original Armory was closed in 1968.
In 1974, Springfield Armory Inc. was established in Geneseo, Illinois to revive the legacy and branding of the historic Armory. Though not directly related to the original company, Springfield Armory Inc. has become one of the largest American firearms manufacturers, producing popular handguns like the 1911-style XD pistol and Hellcat micro-compact.
They also manufacture modern sporting rifles like the Saint and Hellion series built on the AR-15 platform. After nearly 230 years, the Springfield Armory name continues its long legacy as an iconic American gun maker.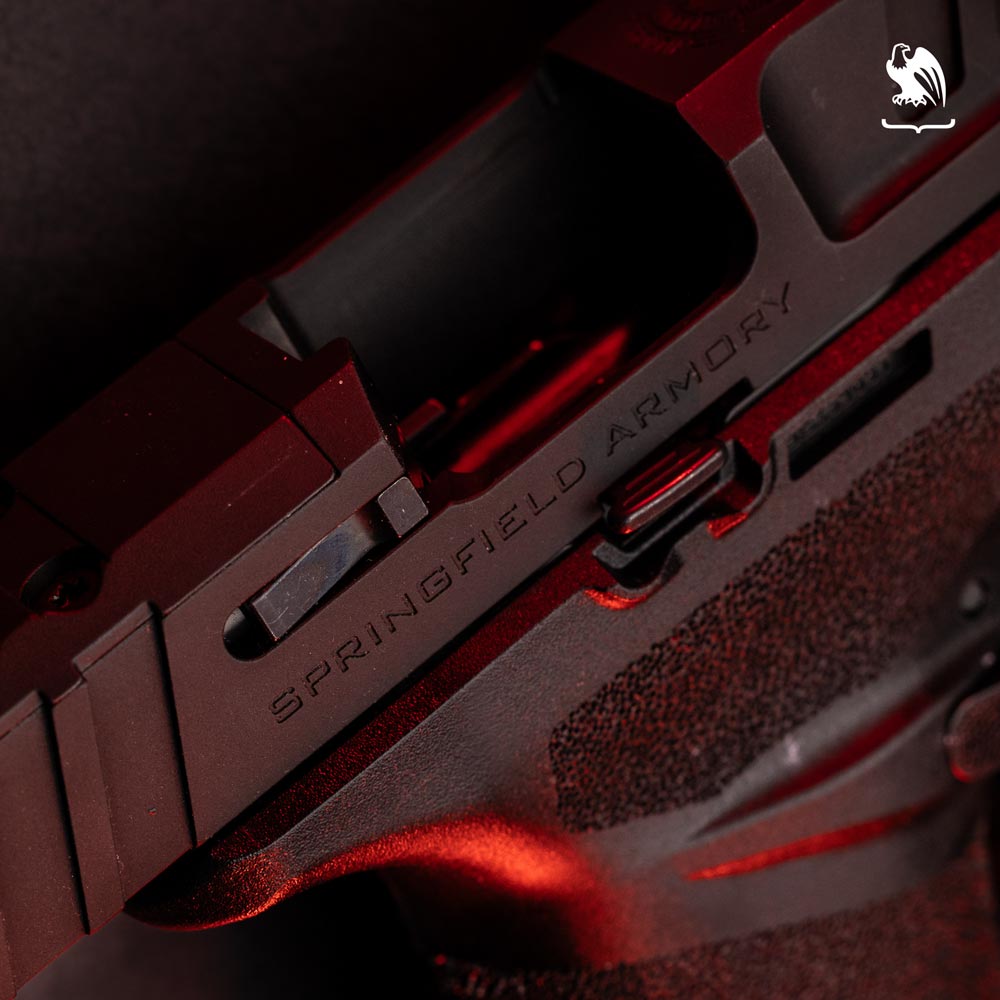 Where Can I Find a Springfield Armory Echelon?
If the Echelon sounds like the gun for you, look for one in stock locally by using Springfield Armory's "Find a Retailer" search tool here. If shopping online is more your style, check out Guns.com.
No matter where you find your new pistol, you'll need a high-quality concealed carry holster to pair with it. If you're looking for a new IWB, OWB, or pocket carry Springfield Armory Echelon holster, visit our Holsters by Gun Model page for Kydex holsters that are custom-made for your weapon of choice.
Interested in items beyond holsters? Check out our Resources Page for links to recommended products like lights, lasers, first aid, maintenance, and more, and browse our selection of apparel, and accessories at our website, vedderholsters.com.
To stay up-to-date on all the latest Vedder Holsters content and offerings, check out our blog and follow us on Facebook, Instagram, and Twitter. And be sure to visit our sister company, GeoGrit, for all your American-made minimalist wallet needs.