If you're in the market for a compact, reliable, and versatile pistol for concealed carry, there's no doubt you've come across the CZ P07 and CZ P01. But, what is the actual difference between these two weapons, and which one is best for you?
While both are compact, highly maneuverable pistols, there are a few differences between the CZ P07 vs P01 that make them better suited for different uses. In this article, we will compare the two in terms of design, feature, and performance to help you decide which one is the better fit for your needs.
Whether you're a seasoned shooter or a first-time gun owner, this comprehensive comparison of the CZ P07 and the CZ P01 will help you choose the right pistol for you.
CZ P01
The CZ P01 is a popular compact pistol known for its balance, accuracy, and reliability. It is a variant of the CZ 75, which has been in production since 1975 and is considered one of the most successful handgun designs in history.
One of the key features of the CZ P01 is its forged aluminum alloy frame, which is significantly lighter than the steel frame of its predecessor. This makes the P01 more comfortable to carry, while still retaining the durability and stability of a metal frame. It is also equipped with a dust cover and integral accessory rail that adds weight to the front of the gun, reducing muzzle flip and improving accuracy.
The P01 has a 3.75" barrel and an overall length of 7.2", making it a highly compact and maneuverable pistol. It is chambered in 9mm and has a 15-round capacity. This CZ model also features a decocker, making hammer-down carry an option.
The P01 is highly accurate, with a crisp trigger and a smooth recoil that allows for rapid follow-up shots. Though it was originally designed for law enforcement and military use, this pistol's size and features also make it an ideal choice for concealed carry.
If you're looking for a CZ P01 holster, check out our entire selection of IWB and OWB Kydex holsters for this model here.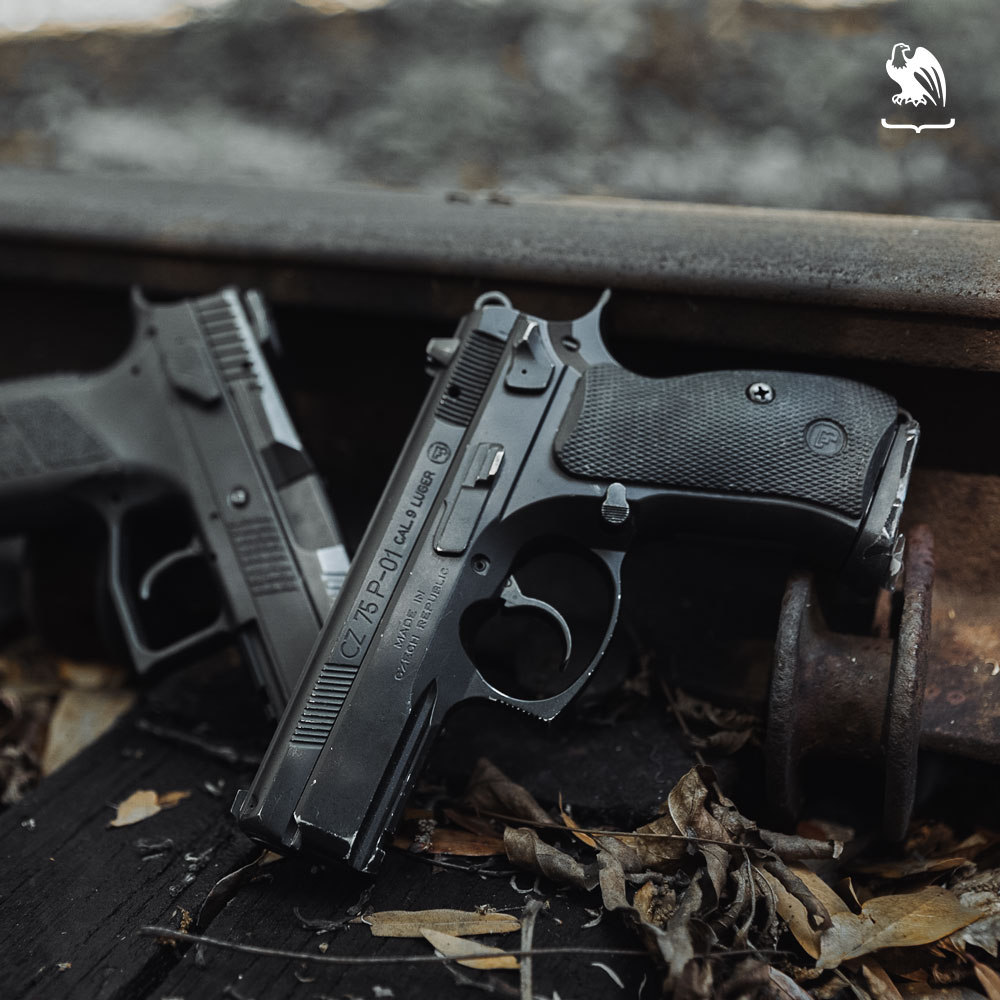 CZ P07
The CZ P07 is a widely-used compact pistol designed for self-defense and concealed carry. It is a more modern design than the CZ P01, with an even lighter-weight polymer frame and a slightly more compact size.
The P07 has a 3.75" barrel and an overall length of 7.2". It is also chambered in 9mm and has a 15-round mag capacity. The P07 features interchangeable backstraps, which allow the shooter to adjust the grip to their hand size for improved comfort and control.
The P07 is also designed with a unique trigger system. It has a lightweight polymer trigger designed to reduce pull weight and improve reset. The trigger has a smooth pull and a crisp break, making it easier to shoot accurately and quickly.
This CZ model also has a convertible decocking/safety system, allowing you to carry either cocked and locked or decocked for a double-action first trigger pull. The controls are easily accessible for both right- and left-handed shooters, making it a versatile choice for a variety of users.
The P07 has a low-profile design with fixed three-dot sights that are easy to acquire. The sights are also easily replaceable with a variety of aftermarket options. It also features a Picatinny rail for mounting accessories such as lights and lasers.
Specifically designed for everyday carry, this pistol is a great choice for CCW or whatever you need it for.
If you're looking for a CZ P07 holster, check out our entire selection of IWB and OWB Kydex holsters for this model here.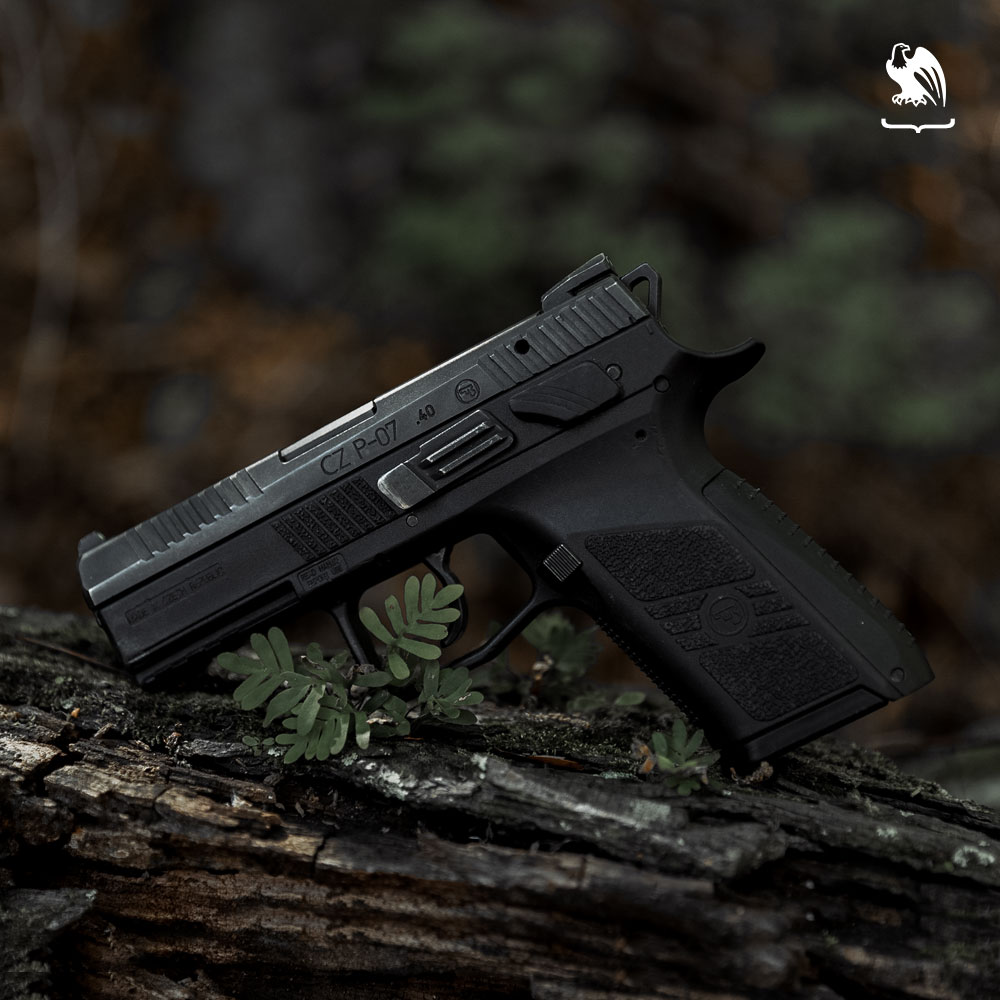 CZ P01 vs CZ P07: Specs
Caliber
9mm Luger
9mm Luger
Barrel Length
3.75"
3.75"
Capacity
15+1 or 10+1
15+1 or 10+1
CZ P07 vs P01: Size & Capacity
There is very little difference between the P01 and P07 in terms of size and capacity. Both pistols are compact, chambered in 9mm Luger, and have a magazine capacity of either 10 or 15.
The main size difference between the two is in their width and weight, and even then it's pretty close. The CZ P07 is ever so slightly thinner and lighter than the P01, weighing 27.7 ounces and measuring 5.3" tall, 1.46" wide, and 7.2" long with a barrel length of 3.75". The CZ P01, on the other hand, weighs 28.1 ounces and measures 5.03" tall, 1.38" wide, and 7.2" long with a barrel length of 3.75".
The difference in size between these two guns is so slight that it's hardly a consideration. The price point, however, might be a determining factor as the P07 costs around $549 while the P01's MSRP is $829.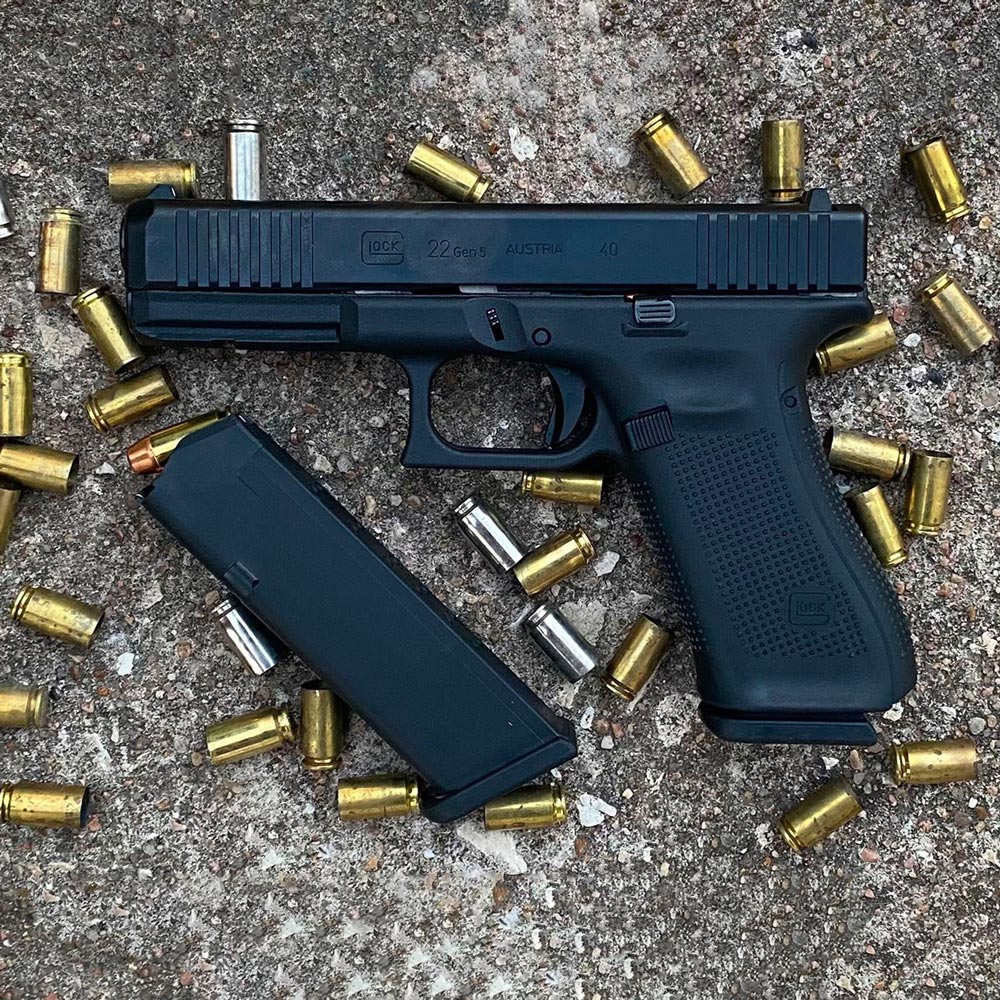 P01 vs P07: Ergonomics
Frame
The CZ P07 and the CZ P01 have different frames, with the P07 having a polymer frame and the P01 featuring an aluminum one.
The fiber-reinforced polymer frame of the P07 is lightweight and durable, making it a great option for those who prioritize ease of carry and quick handling. It's also resistant to impact and chemicals, making it a durable option for harsh environments.
The aluminum frame of the P01 is a little heavier than the polymer frame of the P07, but is also more rigid and long-lasting. The P01 also has a full-length dust cover that adds weight to the front of the gun, reducing muzzle rise and improving accuracy.
Both guns do have a standard Picatinny accessory rail, allowing you to attach various lights and lasers if desired.
Slide & Barrel
When it comes to slide and barrel design, these two pistols are almost identical. Both the P07 and P01 are built with a 3.75" cold hammer forged steel barrel and a steel slide.
Both pistols feature front and rear slide serrations, though the P01's are a bit more aggressive, making it even easier to grip the slide in wet or slippery conditions.
CZ P07 vs P01: Sights & Optics
The P01 and P07 are both equipped with fixed metal three-dot sights. If you're not a fan of the standard sights, either can be upgraded to those of your choice.
Neither pistol comes optics-ready, however, so if optics are a must-have for you, you may want to consider a different model or look for a modified version through a dealer.
P01 vs P07: Controls
Safety
Safety is one of the few areas where the P07 and P01 differ.
Both pistols are designed with a decocking lever, a safety stop on the hammer, as well as a firing pin block safety. The P07, however, also features an interchangeable, ambidextrous manual safety system.
At the end of the day, the right pistol for you could come down to whether you prefer to carry with a manual safety or not.
Trigger
The trigger is another area in which the P07 and P01 have some distinct differences.
The CZ P01 is equipped with a double/single action trigger. It has a heavy first-round pull, with light, crisp, single action follow-up shots. This model does have a decocker, giving you the option of hammer-down carry.
The P07, on the other hand, has CZ's Omega double/single action trigger design. The Omega trigger system is a simplified version of the CZ 75's hammer ignition method, meaning the P07's trigger parts are interlocked, so you can fully assemble and disassemble it without any tools or gunsmith experience.
This convertible decocker/safety system also allows you to carry the gun either cocked and locked or decocked for the classic double-action first trigger pull followed by shorter, lighter ones.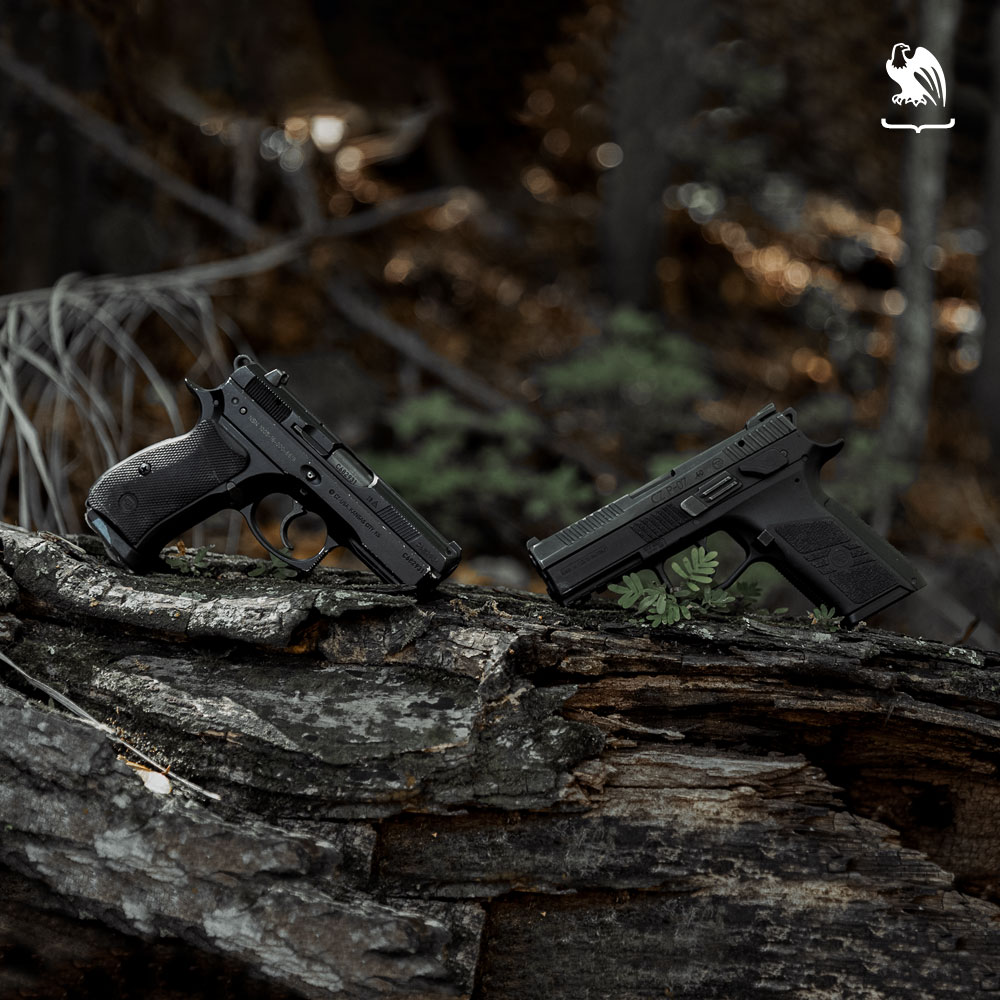 Which is Right For Me?
When trying to choose between the P01 and P07 for concealed carry, it all comes down to a few specific features that set these two pistols apart from each other.
While these two guns are extremely close in size, the P07's polymer frame makes it slightly lighter and thinner than the P01, so if you're looking for the smallest choice between the two, the P07 will be your best bet.
If having a manual safety is important to you, you'll want to go with the P07 as the P01 does not have one, though it does have other safety features.
The trigger system is another area in which the two pistols differ, so if you're interested in a weapon with easy-to-disassemble interlocked parts, the P07 is best. However, if you're simply looking for a gun with a double/single action trigger equipped with a decocker, the P01 will work well.
Ultimately, both pistols are well-designed, excellent choices for concealed carry or home defense. The best one for you will depend on your specific preferences, and it never hurts to test each one out at your local range to see which one feels better in your hand.
Be sure to check out our Range Guide before heading out, so you can make sure you have everything you need for a successful visit.
Summary
When comparing the CZ P07 vs P01, it's easy to see that both are excellent pistols that offer unique features to suit different needs and preferences.
When choosing between these two guns, it's important to consider your intended use, personal preferences, and shooting experience. Both offer exceptional quality, reliability, and accuracy that are characteristic of the CZ brand, and either would make a great addition to any gun collection.
If you're looking for a new IWB, OWB, or pocket carry holster for the CZ P01, P07, or any other handgun model, visit our Holsters by Gun Model page for Kydex holsters that are custom-made for your weapon of choice.
Interested in items beyond holsters? Check out our Resources Page for links to recommended products like lights, lasers, first aid, maintenance, and more, and browse our selection of belts, apparel, and accessories at our website, vedderholsters.com.
To stay up-to-date on all the latest Vedder Holsters content and offerings, check out our blog and follow us on Facebook, Instagram, and Twitter. And be sure to visit our sister company, GeoGrit, for all of your American-made minimalist wallet needs.