In an era where less is more, the old-fashioned "dad wallet" just isn't cutting it anymore.
Slim wallets have become increasingly popular not only in the EDC community but for anyone looking for a way to minimize the clutter in their lives and protect what's important to them. That's where the GeoGrit wallet comes in.
The GeoGrit minimalist wallet is a compact, aluminum wallet designed for everyday carry. It's incredibly durable, RFID-blocking, and more ergonomic than any other front pocket wallet on the market. And the best part is, it's made in America and is backed by a lifetime guarantee.
So, let's take a look at what makes the GeoGrit wallet stand out against competitors, and why it's time to upgrade that bulky leather billfold.
Why Carry a Minimalist Wallet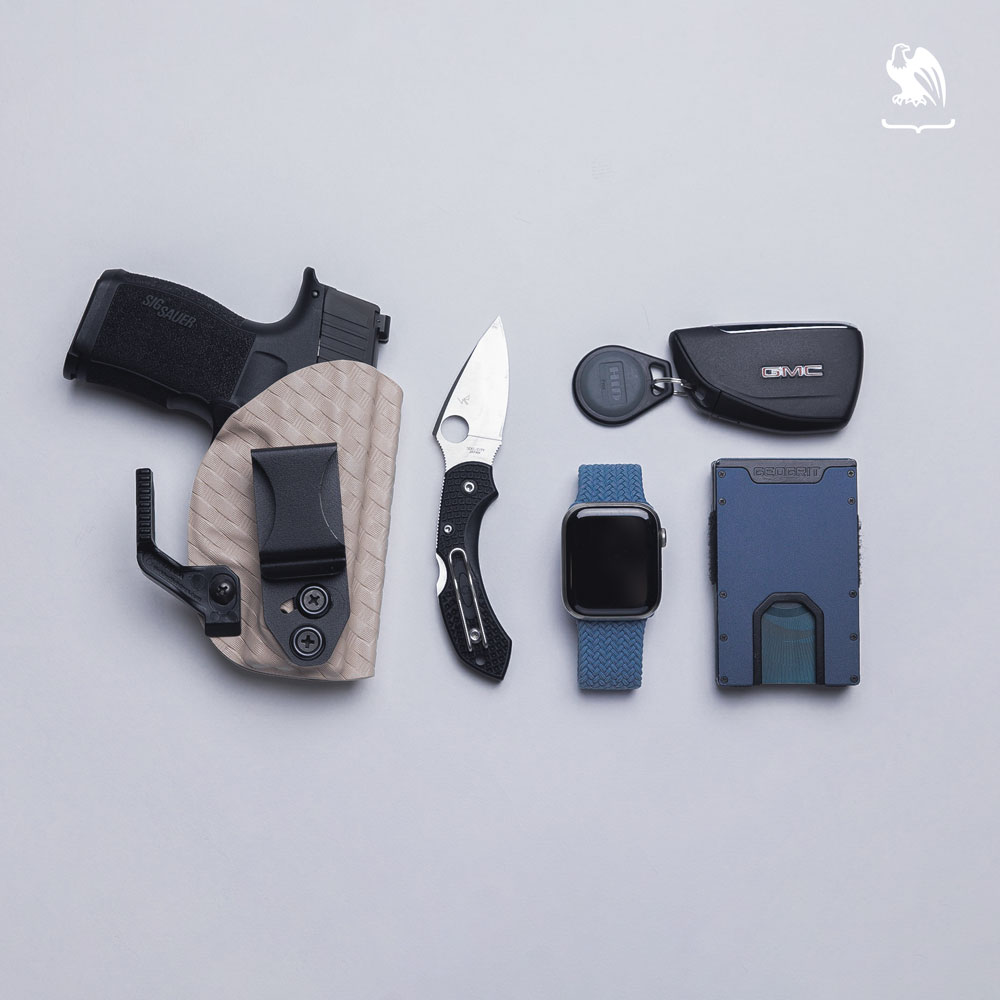 Beyond the style-factor, a slim wallet – otherwise known as a minimalist wallet, front pocket wallet, or aluminum wallet – offers many practical advantages.
These wallets are entirely designed with efficiency in mind. Built with the same dimensions as a credit card, minimalist wallets allow you to carry what you need and leave the rest.
Not only that, but many front pocket wallets – like the GeoGrit wallet – are crafted with aluminum, carbon fiber, or other durable materials. So no matter how hard you may be on your accessories, your wallet will hold up.
These strong metals also serve another purpose – RFID protection. Most credit cards, and even some IDs, are designed with embedded chips that allow for contactless payment. Though convenient, these chips also store personal information, leaving you vulnerable to what's known as "digital pickpocketing."
Luckily, most slim wallets are made with aluminum, a natural RFID blocker, keeping your personal information safe from thieves with portable RFID scanners. You can learn more about RFID protection and why it's important here.
But what about cash? Even in this increasingly digital age, plenty of people still like to carry a bill or two with them. Luckily, most slim wallets come with either a cash strap or money clip, allowing you to securely strap your cash to the outside of your wallet.
Finally, minimalist wallets can actually offer health benefits. Large billfolds are not only old-fashioned, but carrying what's essentially a brick in your back pocket can put your hips and spine out of alignment. Another point for the front pocket wallet!
What Makes the GeoGrit Wallet Different?
We get it. We're not the only ones who think slim wallets are the way to go. There are plenty of companies that manufacture these wallets, and do a great job at it. So, what makes GeoGrit stand out from the crowd?
First of all, GeoGrit wallets are proudly designed, manufactured, and shipped right here in America – as they should be. Most other minimalist wallets are made in China or other countries abroad, which fails to provide jobs for American workers or support the U.S. economy.
Products that are made in the USA are also held to higher standards, and GeoGrit wallets are no exception. The quality craftsmanship and precise, American-made materials absolutely stand out from competitors, leaving you with a product you can trust to last a lifetime.
And when we say "lifetime," we mean it. GeoGrit wallets are not only incredibly durable, but they're also backed by a lifetime guarantee. So on the off chance something goes wrong with your wallet, you can have it repaired or replaced for free.
In terms of design, the GeoGrit slim wallet is engineered with a unique, vertical design, making it far more ergonomic and user-friendly than the majority of minimalist wallets – which are horizontally configured.
This straightforward design allows you to easily access your cards with a simple thumb swipe. It also makes it easier to access one card at a time, instead of having to sift through everything in your wallet every time you need something.
Beyond that, the GeoGrit wallet holds up to 12 cards and its machined 6061 aluminum frame and aluminum or carbon fiber outer shell provides RFID-blocking benefits. Its cash strap is also more secure than most, thanks to its silicone lining, which keeps bills securely in place.
You can read about all the GeoGrit wallet has to offer for yourself at GeoGrit.com. Or, you can check out this review from The Gadgeteer for a third-party opinion. We'll dive deeper into the specifics of what makes this aluminum wallet so great next.
GeoGrit Wallet Specs
Material

6061 Aluminum or Carbon Fiber

Weight

1.6 oz

Size (H-W-T)

3.38 x 2.12 x .26 inches

Card Capacity

1-12 cards
Material
The first thing to consider when it comes to a slim wallet is its material. After all, the material it's made with determines how durable and protective the wallet is.
All GeoGrit wallets are made with a machined 6061 aluminum frame, which provides RFID-blocking benefits and protection from the elements. You're also able to choose between a 6061 aluminum or carbon fiber shell, depending on your preference.
GeoGrit offers several different styles of wallet, including a black Carbon Fiber option and six aluminum color options – Coal Black, Brick Red, Steel Gray, Concrete Gray, Field Green, and Denim Blue.
All GeoGrit wallets are also assembled with black, corrosion-resistant stainless steel hardware, designed to withstand whatever comes its way.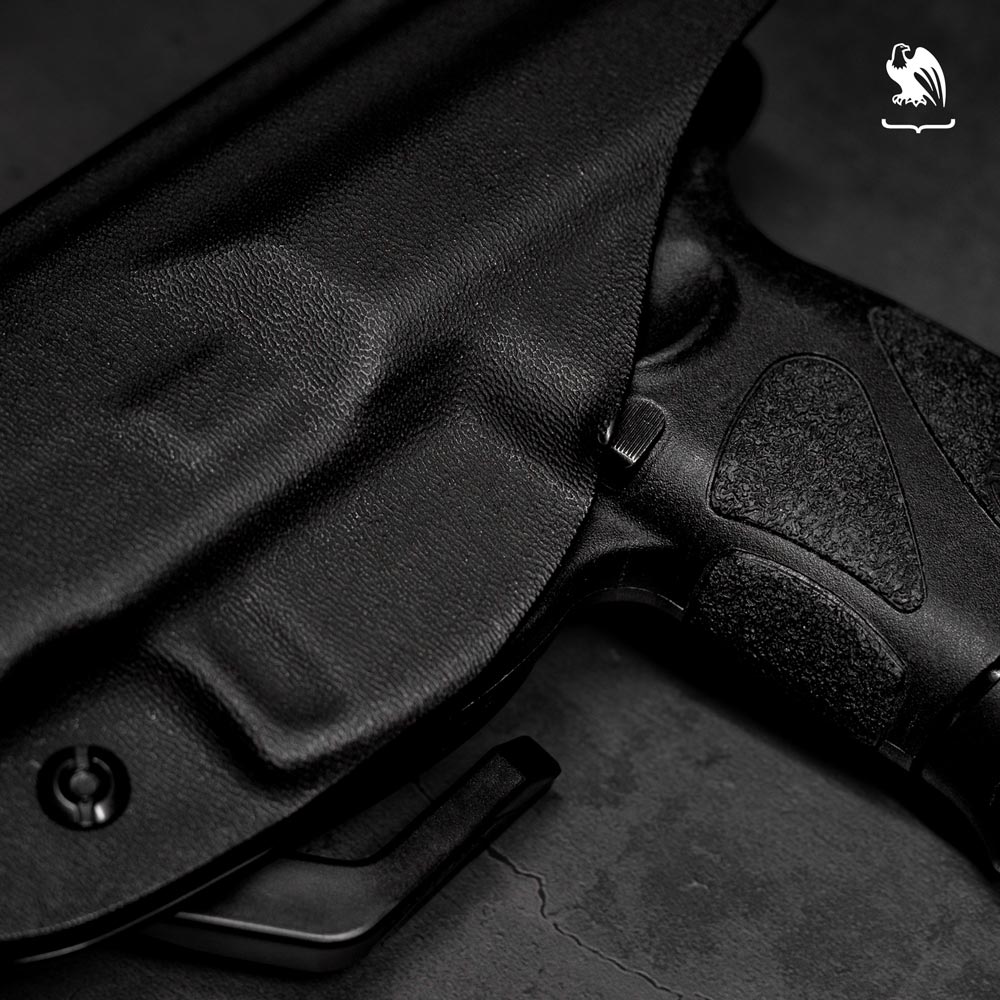 Cash Strap vs Money Clip
One of the coolest customization options available for the GeoGrit wallet is the choice between a cash strap or a money clip.
GeoGrit's cash strap is an elastic band that wraps around the back of the wallet. The elastic is durable and lays nearly flush with the wallet itself, making it the most low-profile option.
The cash strap is also lined with silicone dots to help keep your money, whether one bill or several, securely in place. It's an excellent choice for those who either don't carry a ton of cash or want the most minimal option possible.
The money clip, on the other hand, is made from ultra-strong spring steel and, though not quite as low-profile, is definitely the toughest of the two. The clip is slightly raised off the wallet while still maintaining its slim profile and securely holds quite a few bills.
The money clip is also a classic option that adds to the wallet's overall aesthetic for anyone who's looking for the most stylish choice.
Ergonomics
One of the main features that sets the GeoGrit wallet apart from other similar wallets is its ergonomic, vertical design.
Most slim wallets on the market have a horizontal orientation, meaning you have to use two hands to fan all your cards out to find what you need. The vertical orientation, however, allows you to easily access a single card or all your cards at once with a single thumb swipe.
The vertical design also allows you to fan all your cards out to really see everything inside. All you have to do is slide the cards out the top and pinch the bottom of the wallet to fan its contents.
On top of all the practical aspects of the vertical orientation, we also think it looks better. But you can decide that for yourself!
RFID Blocking Security
Most wallets do one thing and one thing only – hold your cash and cards. An aluminum wallet, however, also protects said money from pickpockets and RFID theft.
Most modern credit cards and some IDs are embedded with RFID chips that store personal information to make contactless payments more convenient and secure. That same technology, however, puts your info at risk of "digital pickpockets" who use RFID scanners to access this information.
Aluminum naturally blocks these RFID radio signals, making it impossible for someone to walk by you with a scanner and access your sensitive information.
But that's not all it does. These front pocket wallets are specially designed to be carried in, well, your front pocket, making them far less accessible to traditional pickpockets who probably won't even see your wallet in the first place. And even if they do, they won't be able to sneak it out of your pocket since they'd have to do that while looking you in the eye.
Durability & Warranty
When you purchase a GeoGrit wallet, you're investing in a product that will last you a lifetime. In fact, it should literally be the last wallet you ever have to purchase – ever.
That's because GeoGrit wallets are backed by a lifetime warranty that covers anything from manufacturing defects to general wear and tear. Odds are you'll never need to use that warranty, though, because these wallets are crafted with premium materials and unmatched precision. Things happen though, and it never hurts to be prepared.
For those of us who have a hard time committing to things as small as a chicken sandwich, it can feel daunting to think about buying a wallet you'll use for the rest of your life.
Luckily, GeoGrit wallets are also backed by a 30-day risk-free guarantee, so if you receive your wallet and find it's not for you, you can send it back within that first month for a full refund, no questions asked.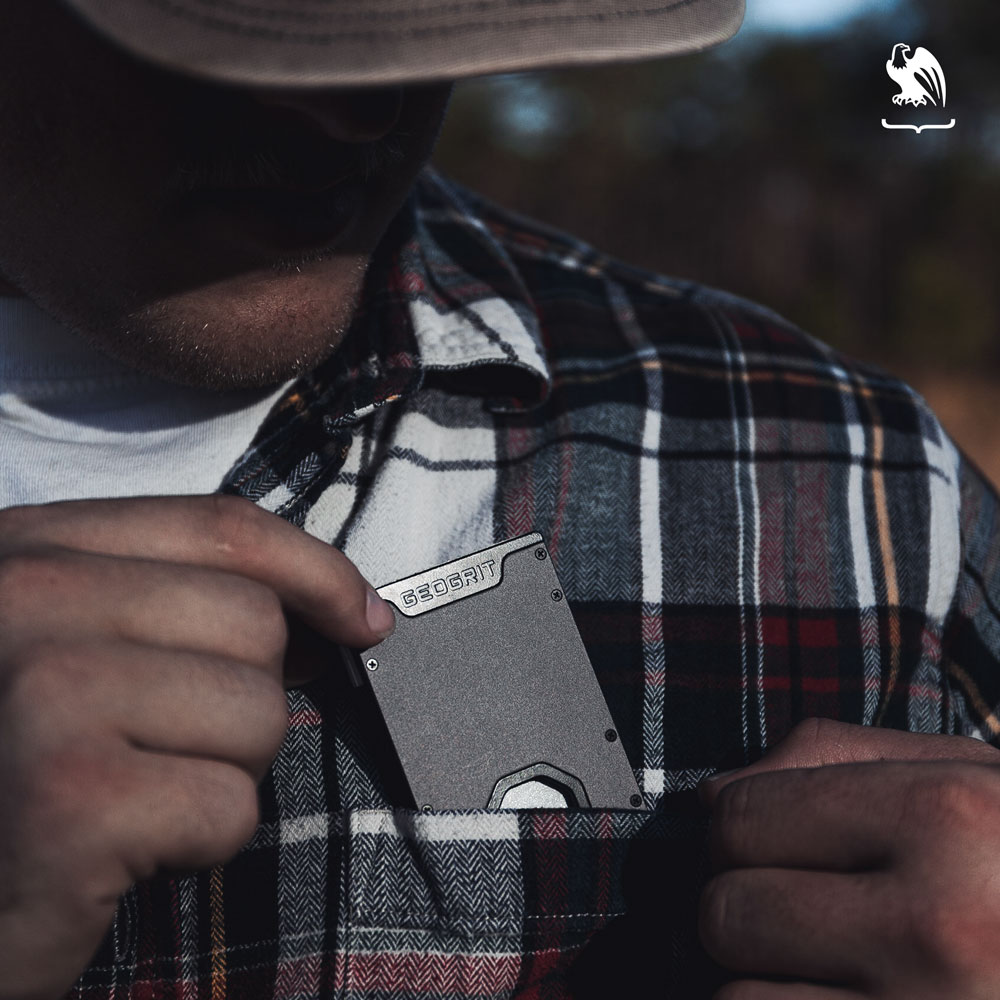 Summary
Slim wallets are not only a stylish addition to your everyday carry setup, but they also protect you from RFID theft, last MUCH longer than billfolds, and allow you to minimalize your life by reducing the amount of things you carry every day.
The GeoGrit wallet takes things a step further by offering a unique, vertical design that's easier to use than competitors. Not only that, but the GeoGrit wallet is proudly crafted in the USA and every purchase supports American workers.
You can check out the entire collection of aluminum and carbon fiber slim wallets at GeoGrit.com. Be sure to follow GeoGrit on Facebook, Instagram, and Twitter, and follow the GeoGrit blog to keep up on all the latest content.
If you're looking for a new IWB, OWB, or pocket carry gun holster, visit our Holsters by Gun Model page for Kydex holsters that are custom-made for your weapon of choice.
Interested in items beyond holsters? Check out our Resources Page for links to recommended products like lights, lasers, first aid, maintenance, and more, and browse our selection of belts, apparel, and accessories at our website, vedderholsters.com. To stay up-to-date on all the latest Vedder Holsters content and offerings, check out our blog, and follow us on Facebook, Instagram, and Twitter.