If you are looking for a subcompact pistol that's reliable, comfortable to carry, and chambered in 9mm, then it's likely you are trying to choose between two strong competitors – the Glock 26 and the Sig P365.
While both of these handguns are easy to conceal, shoot well, and offer great firepower for their size, there are important differences between the two. We'll compare these two popular pistols in terms of their design, features, and overall performance to help you decide which one will best fit your needs.
Whether you're new to the subcompact firearms space or are an experienced shooter, this comparison of the Glock 26 vs P365 will help you determine the best option for you.
Glock 26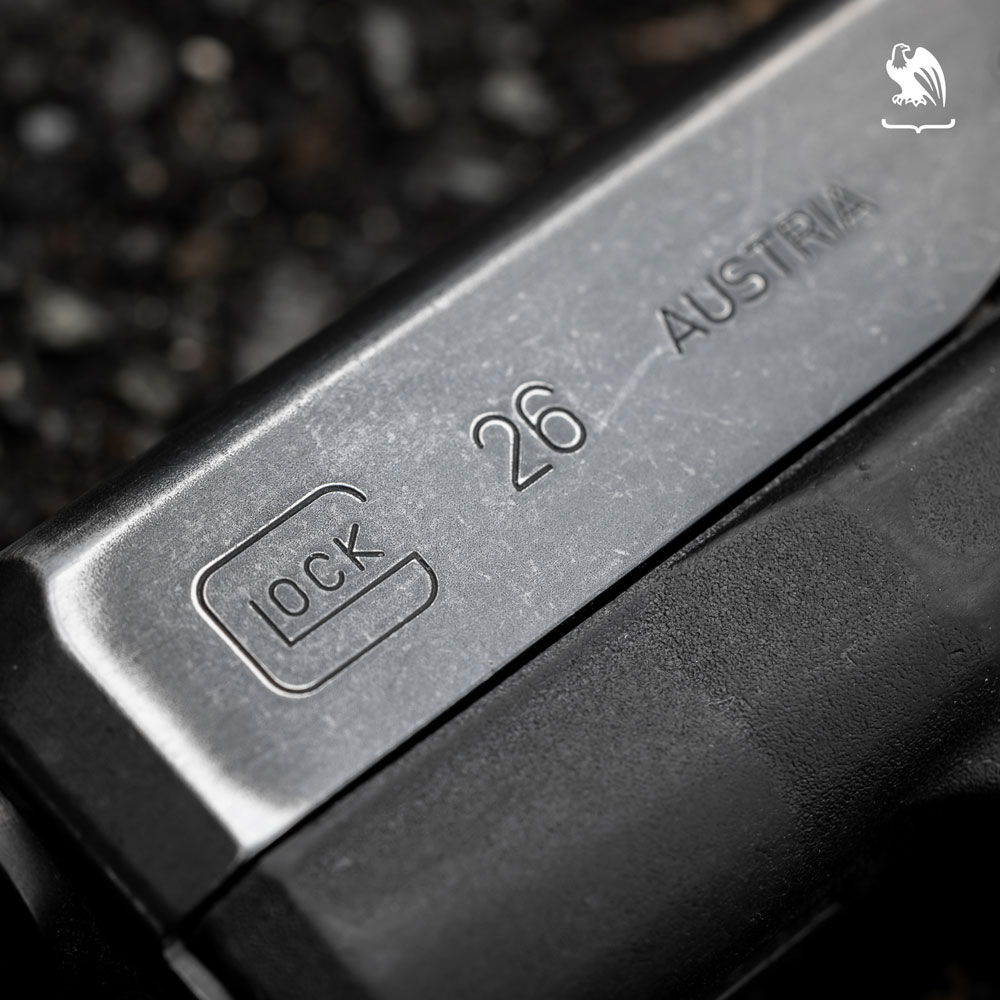 The Glock 26 is a take on the ever-present Glock design: it's a 9mm, striker-fired pistol with a polymer frame that relies on its trigger system as its primary safety.
This design has been iterated since the early 1980s, and, several generations later, is now more popular than ever. Generally, Glocks are among the most reliable, easiest-to-operate guns in the world, and host a robust aftermarket for parts, holsters, and so on.
One of the best things about the Glock 26 is that it feels, looks, and handles much like any other Glock. The Glock 26, for concealed carry purposes, feels much like the smaller Glock 17. For that reason alone, people who are used to shooting bigger Glocks would do well to consider the Glock 26 since all of your muscle memory will directly transfer here.
The Glock 26 has a 3.43-inch barrel and an overall length of 6.5 inches. A Glock 26 holster doesn't add much weight either, meaning the whole package, with a standard 10-round magazine, is light and easy to carry when it's tucked in your waistband on a hot summer day.
If the Glock 26 ends up being your choice for concealed carry, check out our selection of both IWB and OWB holsters. Vedder offers a Glock 26 holster for generations 3-5, and options for several weapon lights as well.
Sig P365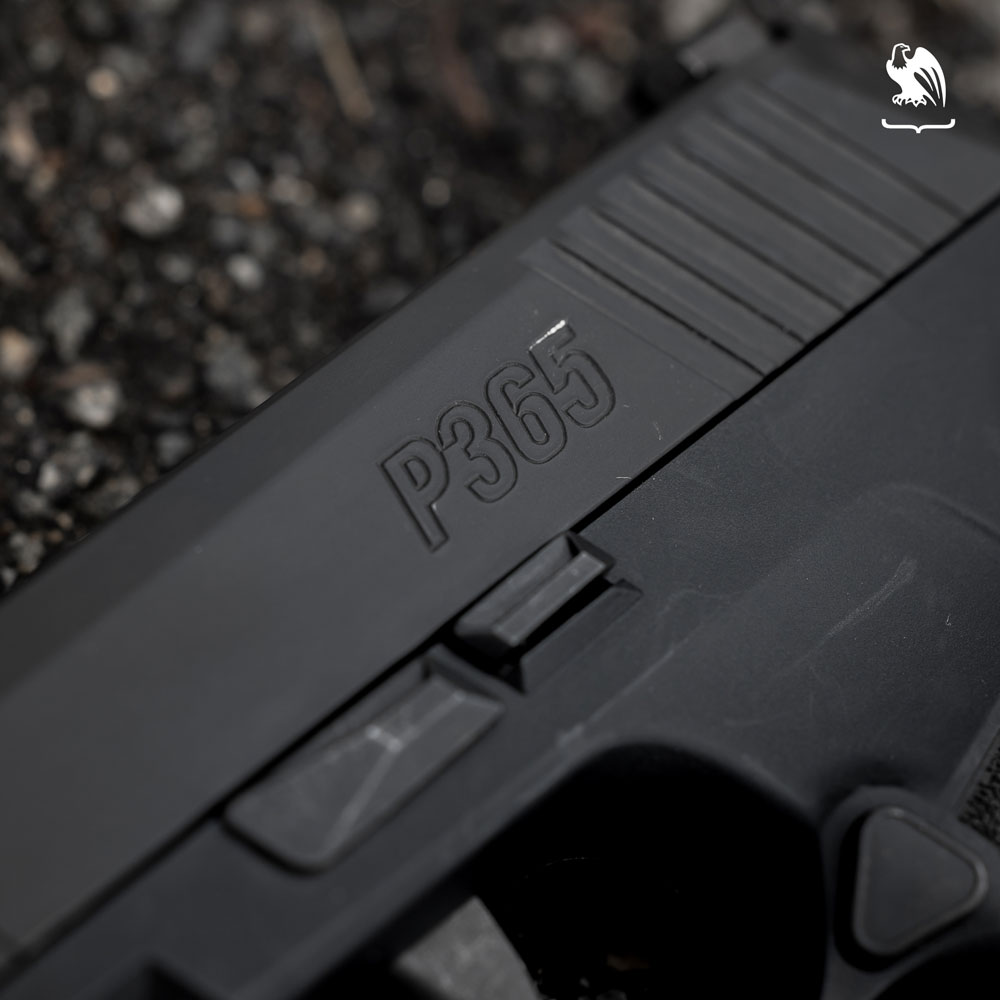 The Sig P365 is a relative newcomer compared to the Glock 26, as it was first released in 2018. Despite some early problems with firing pins, which Military Arms Channel documented very well in a series of videos, the P365, and its several variations, have now become one of the most popular concealed carry pistols on the market.
The base model P365 offers a compelling challenge to Glock's domination of this space in the market: Sig, in effect, put out a slightly smaller striker-fired 9mm handgun and offers it at the same, or lower, price than models like the Glock 26.
The standard model of the 9mm P365 looks, and functions, much like the Glock 26, only coming in slightly smaller with a 3.1-inch barrel and 5.8-inch overall length. Given that it has the same 10-round capacity that the Glock 26 does, the P365 effectively redefined the industry standard in sub-compact 9mm handguns.
Some models of the P365, such as the one we consider for our specs list below, also have a thumb safety, a feature that is preferred by many shooters.
If you're looking for a Sig P365 holster, we suggest checking out our selection of OWB and IWB holsters. Depending on your P365's variation, you may need a holster specifically designed to accommodate it. If that sounds like you, check out our Holsters By Gun Model page to find a holster that suits your unique pistol.
Glock 26 vs Sig P365: Specs
Size
Subcompact
Micro-compact
Sig P365 vs Glock 26: Size and Capacity
Assuming the standard 10-round magazine is in each gun, the Sig P365 comes out ahead in terms of size and weight. The 365 has a shorter slide and frame, as well as being a bit skinnier, and is significantly lighter than the G26. This means that the P365 will be slightly easier to conceal and feels smaller in the hand.
Capacity is equal when comparing these pistols until you consider aftermarket magazines. Given that Glock makes magazines for the 26 that are up to 33 rounds, this pistol gets the edge over the Sig, which only offers magazines up to 17 rounds.
While we seriously doubt that many people carry a 33-round magazine in their Glock 26 every day, the ability to keep one stashed for home, office, or vehicle defense is a viable force multiplication option that Sig does not have in the P365.
It's a bit of a draw here in terms of size and capacity: the Sig P365 is slightly smaller, but the Glock 26 has a better aftermarket for higher-capacity magazines. If things like restrictive state laws are at play here, then either pistol's standard capacity should work well.
Glock 26 vs P365: Ergonomics
Frame
While the Sig P365 has a micro-compact black stainless steel frame, the Glock 26 features a subcompact polymer one. Both frames are small and easy to handle, making them excellent for concealed carry.
The P365 has a carbon steel barrel and its slide is finished with a protective Nitron coating. The G26 also features a steel slide and is finished with a Tenifer coating. Both pistols have slide serrations for a better grip.
Grooved Grips
When it comes to grip, the generation of your Glock 26 matters a good deal. Specifically, generations 3 and 4 have grooved grips, and gen 5 does not. If you prefer finger grooves, the newest model of the 26 is not for you.
Here the comparison is mostly a matter of taste. Some folks want and feel comfortable with the smallest possible concealed carry gun, in this case, the P365, whereas others are a lot more comfortable with the grippier frame of the Glock.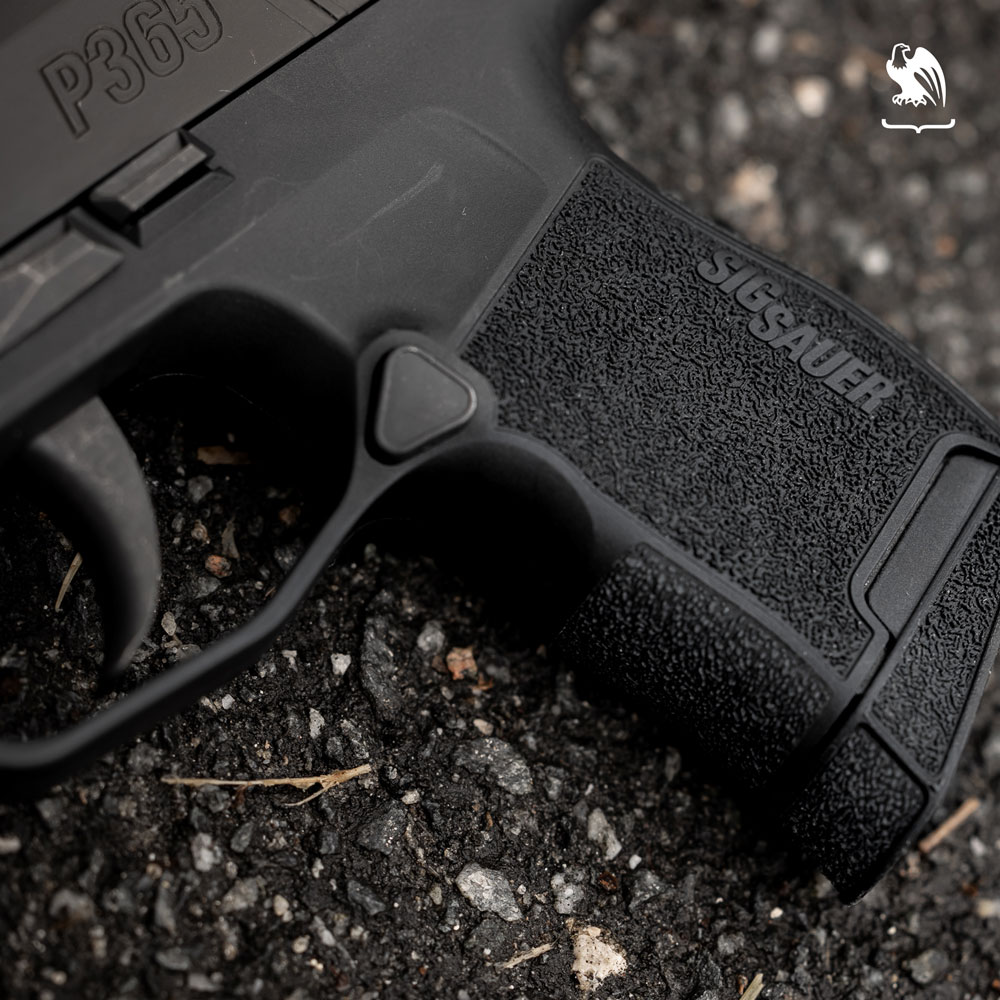 Glock 26 vs P365: Sights and Optics
Stock Sights
The Glock 26 comes with white painted sights that are common to most Glocks. They are simple and relatively effective in daytime conditions. The Sig P365 has tritium night sights that are white during the day, and glow green in the dark. In the matchup between the Sig P365 vs Glock 26, the Sig takes the cake for its stock night sights, hands down.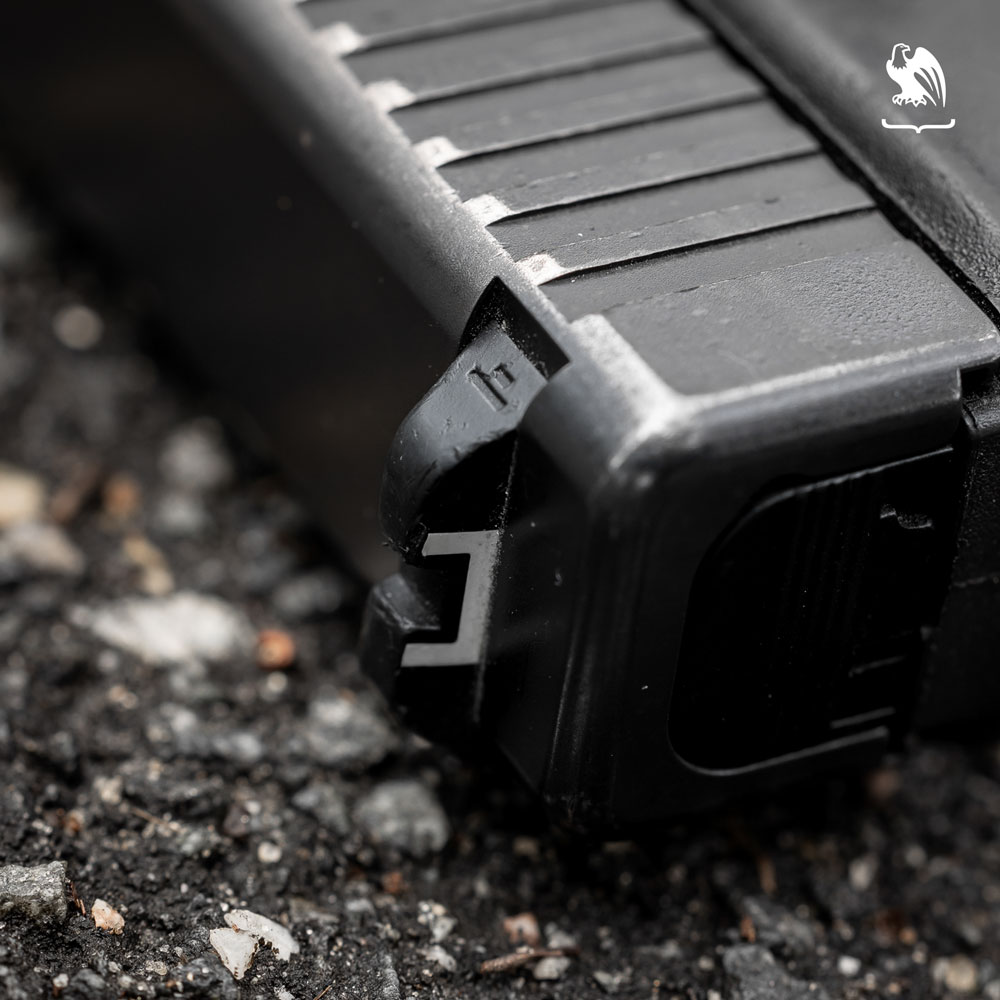 Aftermarket Options
Of course, to make things equal, the aftermarket has to be considered too. It's easy to find Glock night sights online, and you can purchase upgraded slides that are pre-cut to mount the Trijicon RMR as well as optics that share the same RMR footprint.
The same is true for the P365, with one very important exception: Sig will sell you a P365 with the RMR cut slide right from the factory.
So, while it is certainly possible to get a red dot sight or night optic on either gun, Sig has clearly gone out of its way to make the 365 the most modern subcompact option between these two pistols.
Sig P365 vs Glock 26: Controls
Trigger
Both of these firearms are Single-Action-Only (SAO),which means that they have a consistent trigger pull between shots.
Both the Sig P365 and the Glock 26 depend on their trigger designs as the primary safety as well. In this regard, they have a similar manual of arms and shoot very similarly.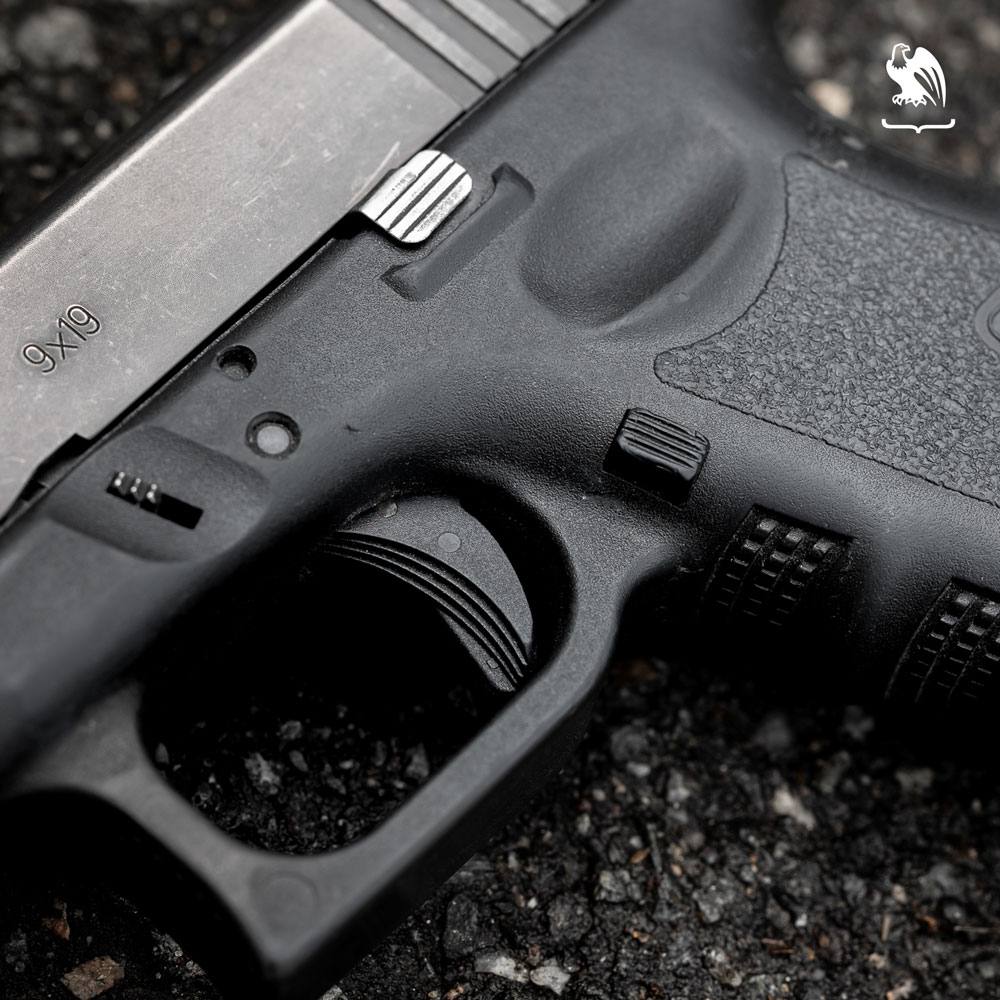 External Safeties
As mentioned above, both of these firearms rely primarily on the design of their trigger for their safety. However, Sig does produce models of the P365 with a thumb safety for those who prefer a manual safety mechanism, while Glock does not.
Which is Right For Me?
When it comes to the Glock 26 and Sig P365, it's easy to see they are fairly similar firearms: both are highly reliable and concealable, striker-fired handguns with 10-round standard magazines.
In the finer details, however, these pistols do have some important differences. The Sig P365 is overall a little bit smaller, and it is the only one of the two that offers an external thumb safety.
The Glock 26, on the other hand, has finger grooves on some older generations, which some shooters prefer, and the ability to buy the largest aftermarket magazines – up to 33 rounds.
At the end of the day, both of these are excellent concealed-carry guns. We expect that people who already shoot Glocks may feel more comfortable with the Glock 26, while people who are interested in the most concealable package are likely to go with the Sig P365.
Summary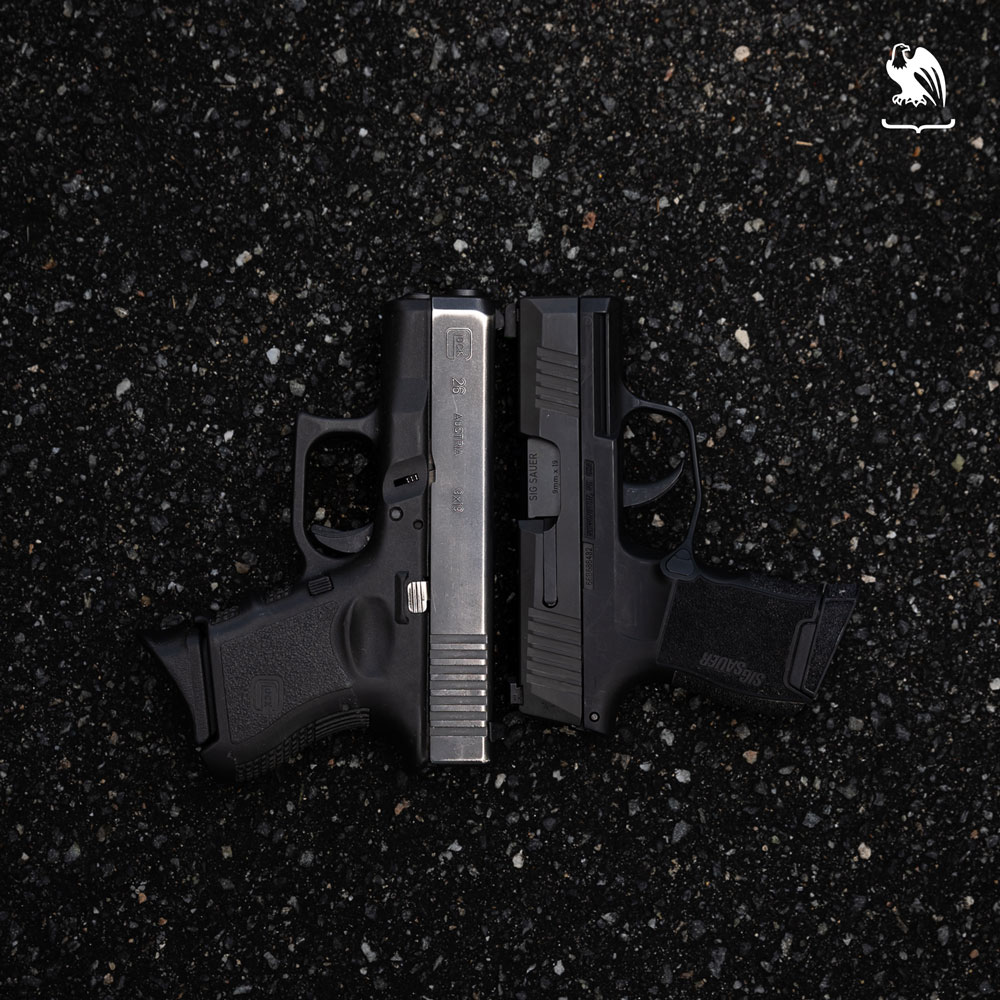 When comparing the Glock 26 vs P365, both are reliable, safe, and very concealable firearms. They cater to very similar use cases, and offer robust features that have, between the two of them, carved out a standard of excellence that we have not seen before in small handguns.
When making the choice between the two, the major difference comes down to ergonomic preference in terms of finger grooves, the Sig's external safety, and your thoughts on the stock sights of these exceptional concealed carry guns.
If you're looking for a new IWB, OWB, or pocket carry holster, visit our Holsters by Gun Model page for Kydex holsters that are custom-made for your weapon of choice.
Interested in items beyond holsters? Check out our Resources Page for links to recommended products like lights, lasers, first aid, maintenance, and more, and browse our selection of apparel, and accessories at our website, vedderholsters.com.
To stay up-to-date on all the latest Vedder Holsters content and offerings, check out our blog and follow us on Facebook, Instagram, and Twitter. And be sure to visit our sister company, GeoGrit, for all of your American-made minimalist wallet needs.