When you think about the most famous and powerful cries for freedom of all time, "Give me liberty, or give me death" will undoubtedly make the list.
These famous words, first uttered by Patrick Henry in 1775, helped fuel the fight for freedom during the American Revolution, and have been used by those seeking independence ever since.
But it's more than just a phrase from a 250-year-old speech. Today, "liberty or death" is a symbol of the principles our country was founded on, and that we still stand for today.
Who Said Give Me Liberty or Give Me Death?
The first person to coin the term "give me liberty or give me death" was Patrick Henry.
Henry was one of the United States' founding fathers and was the first governor of the state of Virginia. He was known for being an eloquent and powerful speaker, a gift that he used to help spur the American Revolution – a movement in which he was largely influential.
Henry was born on a family farm in Hanover County, Virginia in 1736, according to History.com. Primarily home-educated by his Scottish father on their rural farm, Henry elected not to take over the family business and bounced between a few professions before teaching himself law.
Henry opened his own law practice in Hanover County in 1760, where he earned a reputation as a persuasive and passionate speaker. His speaking skills and strong political convictions brought him before many crowds during the revolution.
One of his most famous and influential speeches was the one he brought before the Virginia legislature in 1775, in which he spoke the words "Give me liberty, or give me death!" – a powerful line that is still used by freedom-seekers today.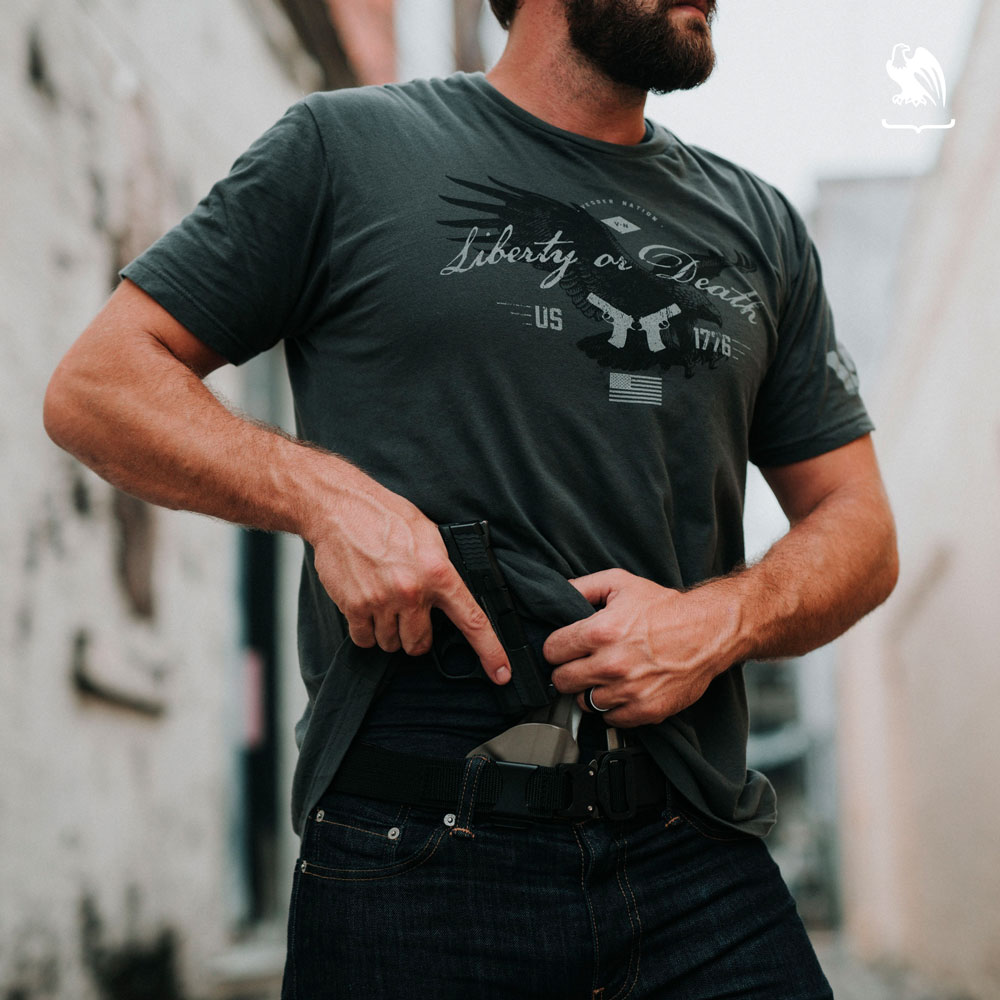 The History and Context of the 'Liberty or Death' Speech
By the time Henry made his famous speech in 1775, tensions between the colonies and Great Britain were at a boiling point.
Events like the Stamp Act of 1765, and the infamous Boston Tea Party in 1773, had already occurred, and Americans were firmly divided between patriots and loyalists, according to the National Constitution Center.
In 1774, the first U.S. Congress met in Philadelphia to figure out how to respond to the constraints Britain had put on American trade and government representation following the Tea Party raid. That meeting led to a boycott of British goods, protesting their treatment. They also threatened to end all exports to Great Britain should they refuse to repeal the Intolerable Acts.
On March 20, 1775, the Second Virginia Convention met to discuss these events and decide whether they would form an armed militia in the colony in case British troops advanced on the region.
The group met in secret at what is now known as St. John's Church in Richmond instead of the Capitol in Williamsburg to avoid the interference of Governor Dunmore – a staunch loyalist, according to a Colonial Williamsburg article.
Among those in attendance were George Washington, Thomas Jefferson and five of the six other Virginians who would later sign the Declaration of Independence in 1776.
After hearing from several men who tried to persuade the convention not to take action against the crown, Henry argued that a militia should be established to protect Virginia from the war believed would inevitably come.
Henry spoke straight from the heart with no notes, and his speech was so persuasive and inspiring that the convention passed his proposed resolution for the formation of militias. And it's a good thing they did, because the Revolutionary War officially broke out just one month later.
While there was no official transcript, and no written speech to look back on, Henry's words were well-remembered by those in attendance. In 1817, biographer William Wirt reconstructed the speech as best he could based on the accounts of those in attendance.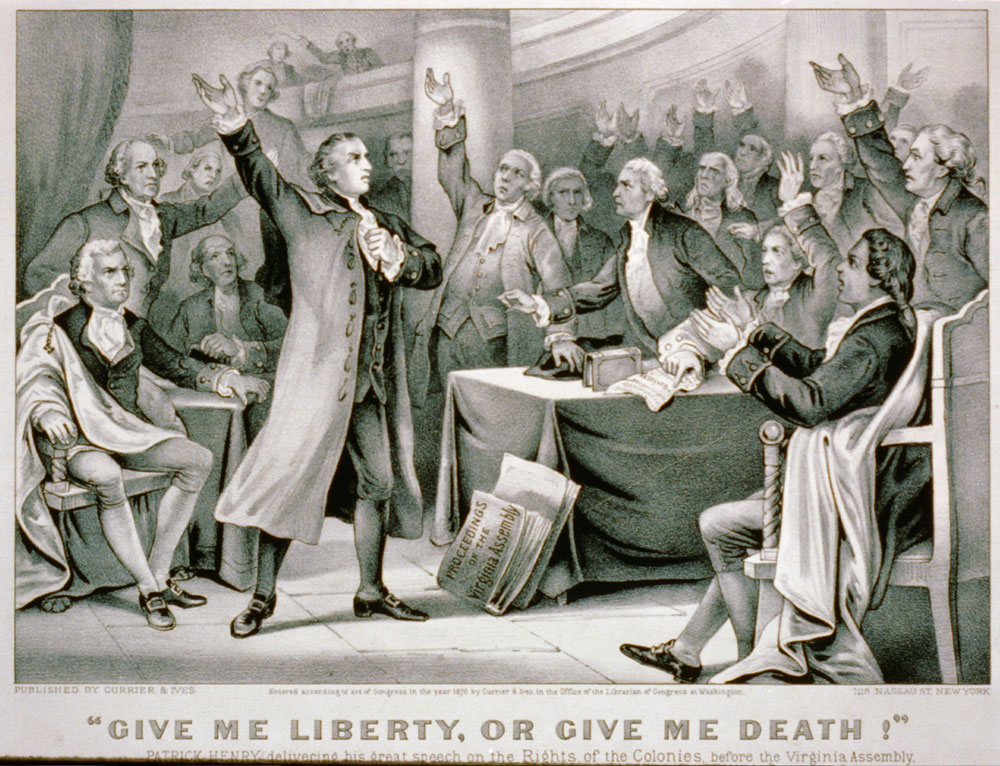 Patrick Henry's Speech
Patrick Henry's famous "liberty or death" speech contains over 1,000 passion-fueled words urging the men of the Second Virginia Convention to take action in the war against Britain.
You can read, or listen to, the entirety of the speech on the Colonial Williamsburg website – and we highly recommend that you do. Henry brought forth a powerful message that rightfully inspired the convention to begin preparing Virginia's troops to fight for independence.
Here is an excerpt from the end of the speech, which includes some of the most famous and heartfelt words spoken that changed the trajectory of history that day in 1775.
"The battle, sir, is not to the strong alone; it is to the vigilant, the active, the brave. Besides, sir, we have no election. If we were base enough to desire it, it is now too late to retire from the contest. There is no retreat but in submission and slavery! Our chains are forged! Their clanking may be heard on the plains of Boston! The war is inevitable and let it come! I repeat it, sir, let it come.
It is in vain, sir, to extenuate the matter. Gentlemen may cry, peace, peace but there is no peace. The war is actually begun! The next gale that sweeps from the north will bring to our ears the clash of resounding arms! Our brethren are already in the field! Why stand we here idle? What is it that gentlemen wish? What would they have? Is life so dear, or peace so sweet, as to be purchased at the price of chains and slavery? Forbid it, Almighty God! I know not what course others may take; but as for me, give me liberty or give me death!"
What Does Give Me Liberty or Give Me Death Mean Today?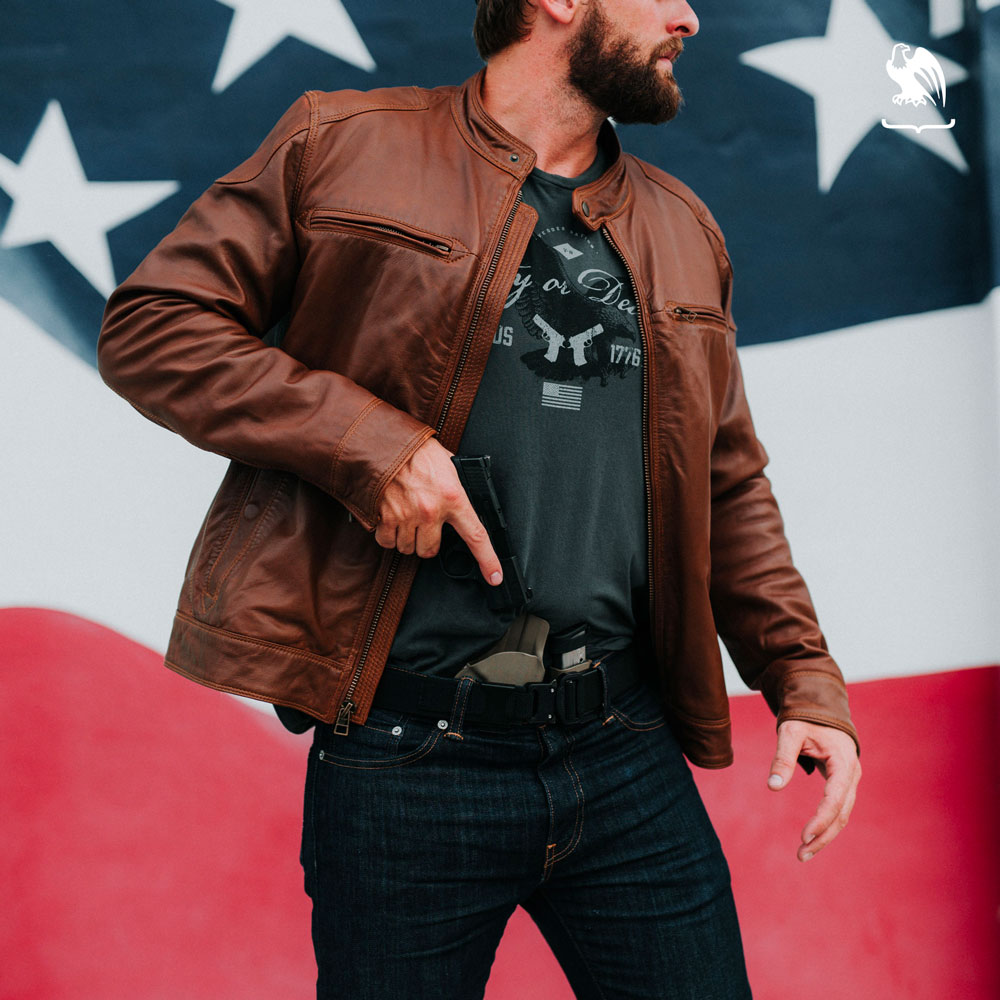 In the years since Patrick Henry delivered his historic speech, people around the world have used his "liberty or death" line, or variations of it, to express their desire for freedom and independence.
The phrase has been used as a slogan during other historical periods of war, including in the Greek War of Independence in 1820, and during the Russian Civil War from 1917-1922.
In America today, many people display the saying as a way to stand up for the rights and freedoms our country was founded on. It's often seen displayed on bumper stickers, hats, and T-shirts as a way to make a statement in support of freedom.
If you don't already have a "liberty or death" shirt but would like to have one, check out the Vedder Nation Liberty or Death Shirt.
Summary
The "liberty or death" speech is a cornerstone of American history. It's also relevant today, as we continue to struggle with the question of how much freedom we are willing to give up in order to live in safety.
The last line of the speech has become one of the most famous quotes in American history: "I know not what course others may take; but as for me, give me liberty or give me death!"
If you're looking for a new IWB, OWB, or pocket carry holster, visit our Holsters by Gun Model page for Kydex holsters that are custom-made for your weapon of choice.
Interested in items beyond holsters? Check out our Resources Page for links to recommended products like lights, lasers, first aid, maintenance, and more, and browse our selection of belts, apparel, and accessories at our website, vedderholsters.com.
To stay up-to-date on all the latest Vedder Holsters content and offerings, check out our blog and follow us on Facebook, Instagram, and Twitter. And be sure to visit our sister company, GeoGrit, for all of your American-made minimalist wallet needs.