We live in an era where truly concealable, affordable pistols are becoming more common, and we have to choose between some very competitive options.
Kel Tec's P3AT and the Ruger LCP are two common .380 pistols that are not only effective but inexpensive options for concealed carry.
The differences between the Kel Tec P3AT vs Ruger LCP are slim: they have a comparable subcompact size and capacity, while their main distinctions are in their sights and triggers. At the end of the day, both are excellent options for self-defense.
In this article, we'll cover the ins and outs of each of these budget-friendly concealed carry guns, to help you make the choice between the Kel Tec P3AT and the Ruger LCP.
Products Mentioned In This Article
Kel-Tec P-3AT Holsters
Go To Product
Ruger LCP .380 Holsters
Go To Product
Pocket Locker Holster
Go To Product
---
Kel Tec P3AT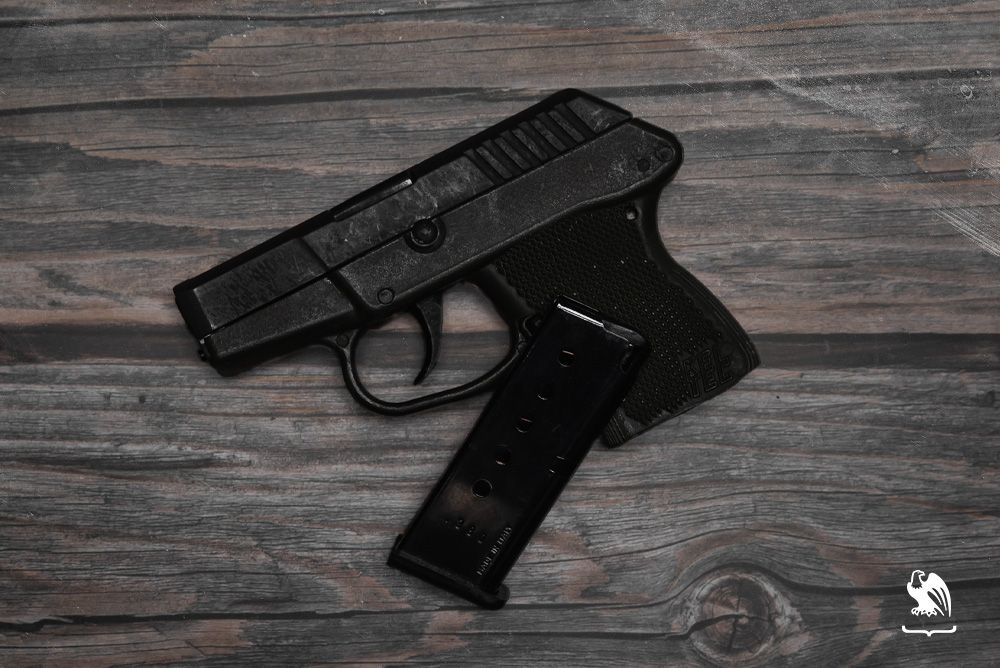 Kel Tec makes some seriously interesting firearms, including folding carbines, bullpup rifles, and shotguns with multiple magazine tubes, just to give you a brief taste.
First released in 1999, the P3AT was Kel Tec's attempt at a pocket pistol designed from the ground up to be a utilitarian self-defense tool above all else. When the P3AT came out, there was nothing really comparable on the market. This made it a fast favorite of law enforcement officers who used it as a backup weapon, as well as for folks looking for a small concealed carry weapon.
Design-wise, the P3AT is a small, striker-fired handgun that has a polymer frame. It has no manual safety, depending on the relatively heavy trigger pull for its main safety.
The design language is decidedly utilitarian on this one: if you asked a five-year-old to sketch a pistol, they might well give you an exact rendering of the P3AT. But, do not let the blocky plastic appearance fool you – this is first and foremost a self-defense tool, and throughout its production, from 1999 to 2022, it did that job well for those who chose to carry it. The design caught a unique point in the market that other companies would soon follow.
If you're looking for a Kel Tec P3AT holster, check out our selection of IWB, OWB, and pocket Kydex holsters.
Ruger LCP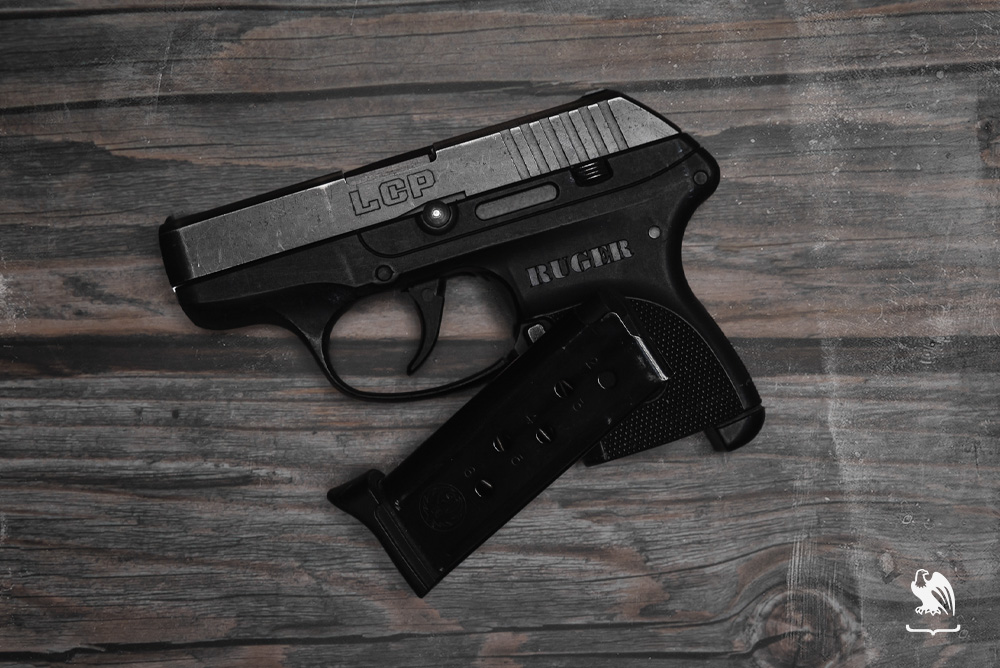 Until fairly recently, you probably knew Ruger as the manufacturer of the 10/22, probably the most prolific .22 caliber semi-automatic rifle produced in the United States. In recent years, however, Ruger has taken a more tactical turn towards firearms intended for self-defense.
A little under a decade after the introduction of the P3AT, Ruger introduced a polymer-framed .380 pistol with a design that looks familiar to Kel Tec fans.
It's pretty clear that the LCP is a direct competitor to the P3AT. The Ruger LCP is a bit more aesthetically pleasing, and one that is backed by a company renowned for their reliable designs.
For the sake of fair comparisons here, the base model of the LCP is the one we'll be comparing here, though Ruger now offers a great many variations on the LCP, including some that have laser modules and lightweight triggers.
Unlike the Kel Tec, the LCP is in current production, and Ruger shows no signs of letting up as it seems to be one of their best-selling models of the current era. And it's easy to see why: an affordable and truly tiny pistol makes for an excellent companion for those looking to concealed carry.
If you're looking for a Ruger LCP holster, check out our selection of IWB, OWB, and pocket Kydex holsters.
Ruger LCP vs Kel Tec P3AT: Specs
Model
Kel Tec P3AT
Ruger LCP
Size
Subcompact
Subcompact
Kel Tec P3AT vs LCP: Size & Capacity
When it comes to size, these two firearms are extremely similar in terms of height, weight, width, and barrel length. In effect, the Ruger LCP specs come out as being slightly larger.
The LCP is also significantly heavier than the Kel Tec, weighing in at 9.6 ounces compared to the P3AT's 7.7 ounces. It might not be much, but it could be a dealbreaker for anyone looking for the lightest, smallest option.
These two pistols have identical capacities, with six-round magazines coming standard from the factory.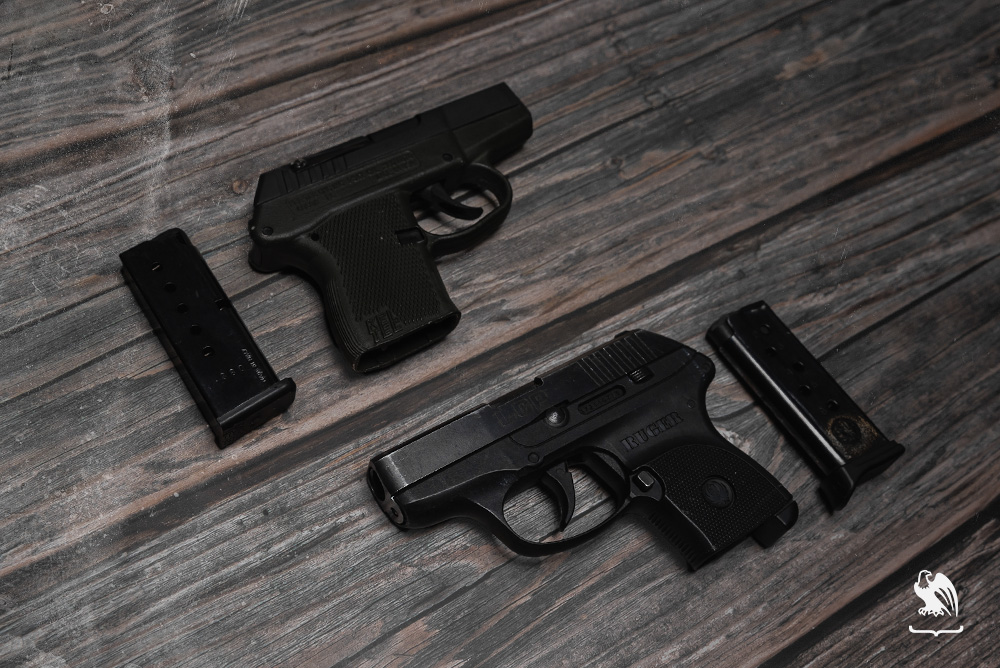 Kel Tec P3AT vs Ruger LCP: Ergonomics
While reliability, capacity, and so on are objective measures that make it easy to compare guns of similar sizes, ergonomics is a matter of taste, training, and preference. One of the most important considerations in a concealed carry pistol is whether or not it feels good in your hands while you are shooting it.
Frame
With 90s style coming back these days, the square black frame of the P3AT might be coming back into fashion, as it's reminiscent of the calculators all of us carried in Algebra II in high school. Beyond that, there is not a ton to write home about the P3AT in terms of its lightweight polymer frame other than the fact that it is deeply functional in its design.
The LCP's glass-filled nylon grip frame looks nearly identical to that of the P3AT, except the edges of the frame are rounded and softer, which could make it quicker to draw from either an IWB or pocket holster.
Slide & Barrel
It's clear that Ruger took a lot of their design inspiration from the P3AT when making the LCP, as, again, they're more or less identical in terms of slide design and barrel length.
While the LCP has a very slightly longer barrel, 5/10ths of an inch of a barrel is unlikely to make a huge difference in terms of ballistics from a firearm this small. The P3AT kicked off the trend of small pocket polymer pistols, and the LCP took up that trend in stride as Kel Tec was ramping down production of the P3AT.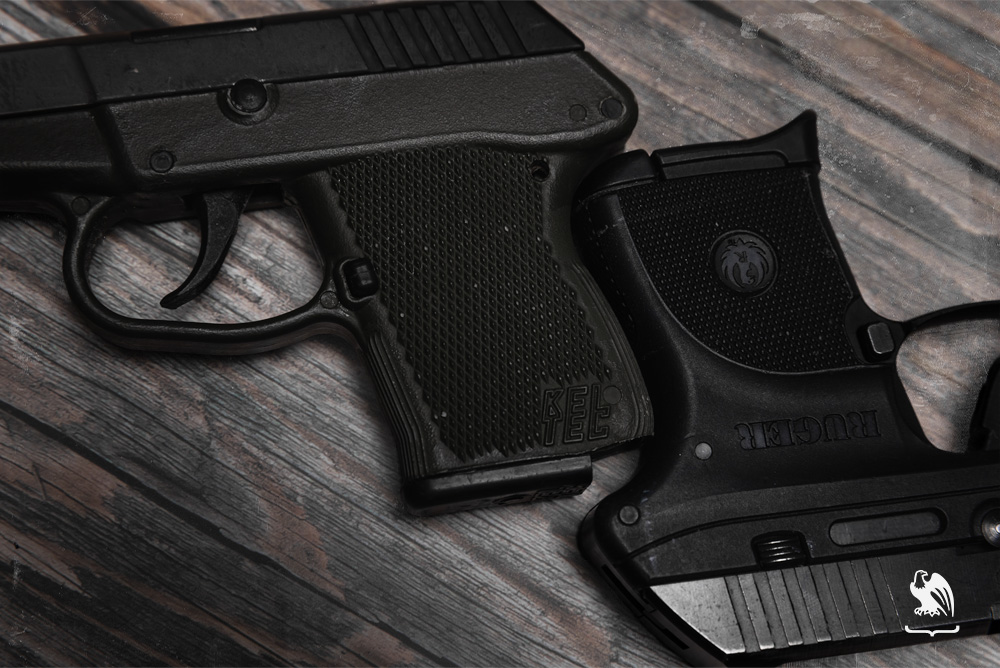 Kel Tec P3AT vs LCP: Sights & Optics
If you are looking for advanced iron sights, neither the P3AT nor the LCP are going to deliver.
The built-in sights on the P3AT are known as "gutter sights": a shallow U-shaped trench down the frame that helps the shooter get an idea of where the barrel is pointing.
The LCP takes a slightly different approach, with integral front and rear sights, the same color as the frame. Neither of these guns has great iron sights, and neither can be adjusted.
Though neither comes optics-ready, there are aftermarket laser options for both the P3AT and the LCP, where the user can clip the module onto the frame and then trigger a laser for much better aiming than is possible with the factory sights.
Kel Tec P3AT vs Ruger LCP: Controls
Design-wise, both of these firearms clearly come from the same general school of thought as striker-fired pistols that rely on the design of their triggers as safeties. Where things start to differ, however, in some of the more practical aspects presented in the actual use of these guns.
Safety
Back in 2008, Ruger recalled some of their early LCPs because they could potentially fire when dropped. This is a serious safety issue, and if you buy an LCP used, the only sensible thing to do would be to check the serial number as per Ruger's published notice.
Both of these firearms rely on the trigger as a safety, and neither has the option of a manual safety. Thus, carrying either of these firearms safely with a round in the chamber is a matter of being conscious about anything that might get into the trigger: we highly recommend against pocket carry without a good holster like the Vedder Holsters Pocket Locker that completely covers the trigger and trigger guard.
Trigger
Among those who carry it, the P3AT is known for having a light trigger, but with an exceptionally long trigger pull. That's entirely by design since the trigger is the safety on both of the guns that we're covering in this piece. A long trigger pull requires a fair bit of practice to be accurate, and that's especially true in firearms that are so small.
The LCP, on the other hand, goes for the option of a short but heavy trigger. While this is clearly meant to reduce the odds of a negligent discharge, a heavy trigger can cause inexperienced shooters to jerk the trigger and cause a miss, so make sure to train with the LCP and get used to its trigger should you buy one.
Here, the difference is one of design style: the P3AT has a light and long trigger, while the LCP has a short and heavy one.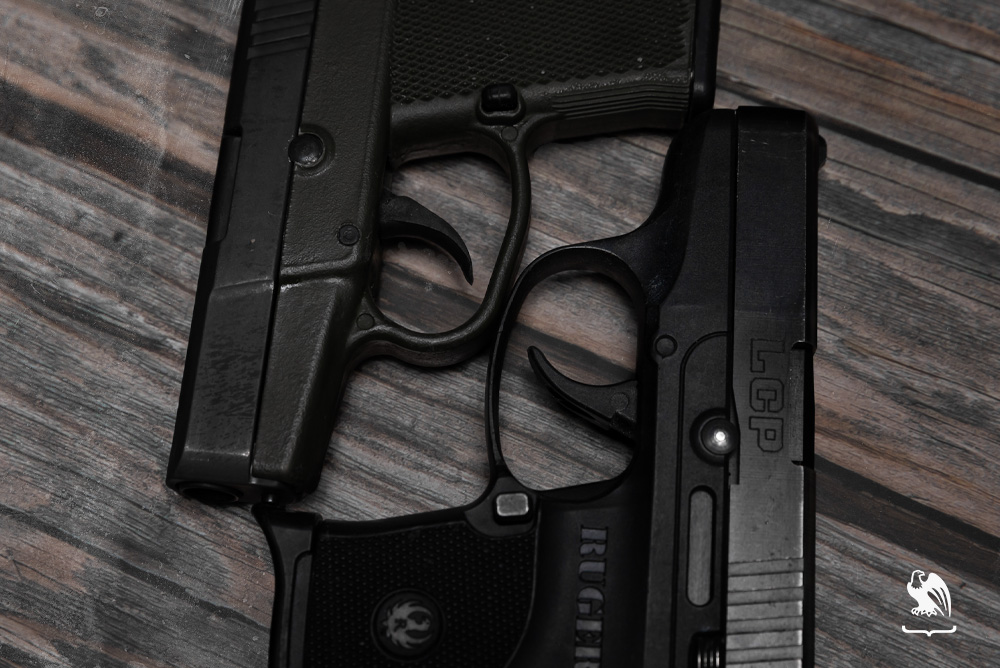 Which is Right For Me?
At the end of the day, both of these are excellent subcompact guns that are nearly identical in overall specs. Deciding between the two might come down to aesthetic taste and availability.
The biggest downside of the P3AT is that it is no longer in production. This means that factory spare parts and magazines will eventually dry up. This gives a slight edge to the LCP, which is still being manufactured.
Because of that, the LCP might be the more practical option, especially if you factor in the newly available LCP iterations that have lasers and other features. What the P3AT started, the LCP seems to continue.
With that said, there are some incredible deals on new-old-stock P3ATs that might make them worthy considerations for people on a budget.
Beyond that, the choice comes down to preference in terms of weight, trigger pull, and frame material. Whichever your preference, you'll end up with a compact, functional, affordable concealed carry pistol.
Summary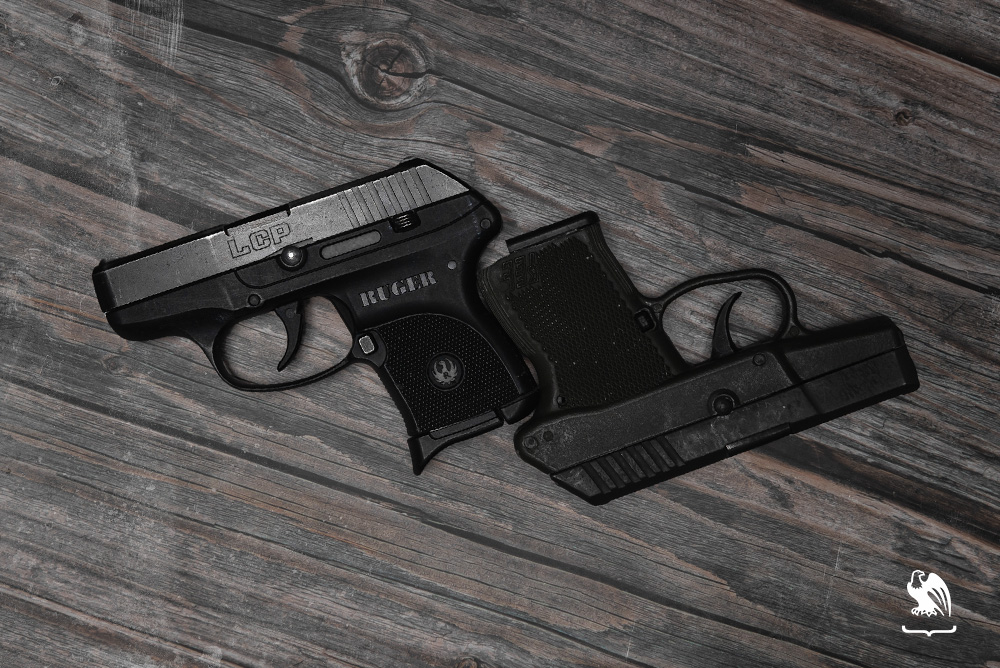 The Kel Tec P3AT started the current trend of polymer-framed .380 pocket pistols. While it might not be pretty, it is certainly functional. In many ways, the Ruger LCP can be considered a spiritual successor to the P3AT, with small tweaks in size, design, and functionality.
When it comes to comparing the Kel Tec P3AT vs Ruger LCP, either of these pistols would be excellent pocket gun, but the LCP is still in current production, so the Ruger LCP will likely be the easier-to-find model for most people.
If you're looking for a new IWB, OWB, or pocket carry holster, visit our Holsters by Gun Model page for Kydex holsters that are custom-made for your weapon of choice.
Interested in items beyond holsters? Check out our Resources Page for links to recommended products like lights, lasers, first aid, maintenance, and more, and browse our selection of belts, apparel, and accessories at our website, vedderholsters.com.
To stay up-to-date on all the latest Vedder Holsters content and offerings, check out our blog and follow us on Facebook, Instagram, and Twitter. And be sure to visit our sister company, GeoGrit, for all of your American-made minimalist wallet needs.