There are so many factors to consider when it comes to concealed carry holsters. Clips, material, style, and adjustability all have an impact on how well a holster will suit your needs.
If you've been shopping for long, you've no doubt come across holsters with varying ride heights. But, what exactly is ride height on a holster, and how do you know which setting is right for you?
In a nutshell, holster ride height refers to how high or low your pistol sits in relation to your belt. Most holsters fall under one of three categories – low, mid, and high ride – while an adjustable holster can be used in all three positions.
Now, let's talk about the importance of ride height on a holster, the different types of holster ride heights available, and which one will work best for you.
Products Mentioned In This Article
LightTuck IWB Holster
Go To Product
RapidTuck OWB Holster
Go To Product
V3 Belt
Go To Product
---
Importance of Holster Ride Height
Before we get into the specifics of ride height and what the different levels are intended for, we need to cover why this feature is important in the first place.
Ride height does a couple of things for you. First, carrying your holster at the right height can significantly improve your comfort level, especially for everyday carry or when carrying for long periods. Having your gun positioned too high or too low can cause it to dig into your body, which is never a good thing when it comes to EDC.
Next, ride height has a major impact on the overall concealability of your pistol. Depending on your body type and choice of clothing, you may need to adjust the ride height of your holster to reduce printing. Some find the deep concealment of a low-ride holster to work the best, while others, especially those who carry a longer gun, prefer a mid- to high-ride holster.
While concealment is important, accessibility is even more crucial. Luckily, ride height plays a big role when it comes to being able to reach your weapon safely and quickly. Depending on your hand size, arm length, torso, and choice of clothing, you may find it awkward to reach for a pistol that sits too high on your hip. Inversely, you may find that it's hard to get a good grip if your gun is seated too far inside your waistband – especially with smaller firearms.
We'll cover the ins and outs of the types of holster ride heights next, and talk about what scenarios they tend to work best in.
Types of Holster Ride Heights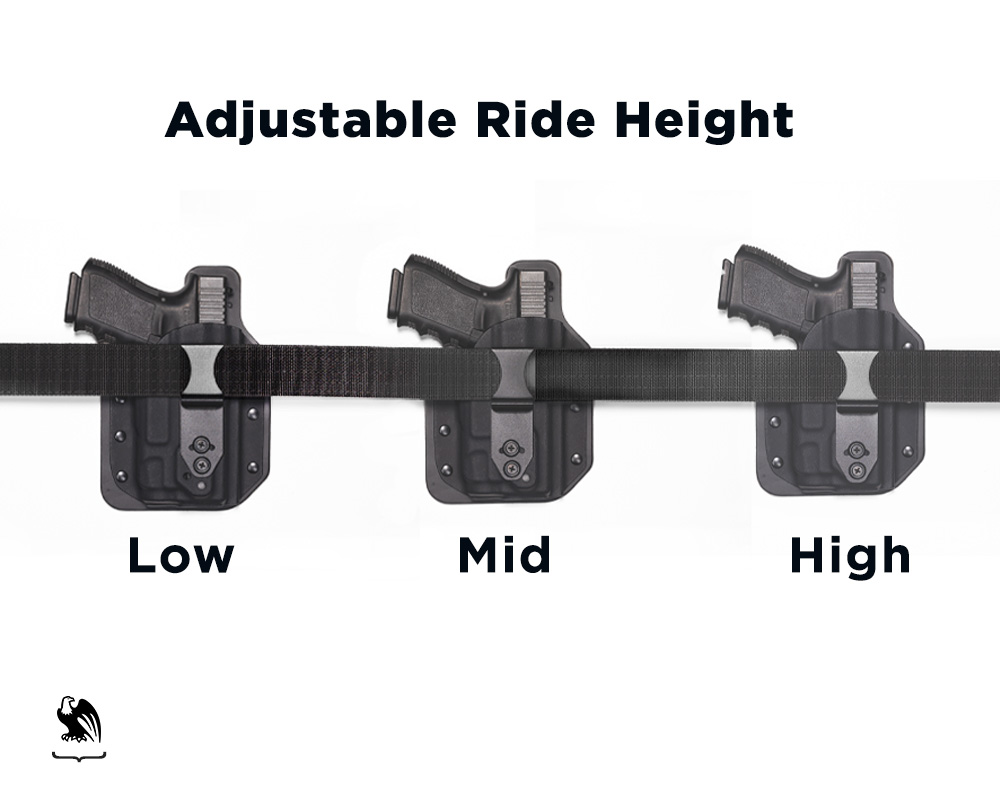 Obviously, there are several holster ride options to choose from. But, what's the difference between each, and what situations are they best suited for?
Mid-Ride Holster
You can think of a mid-ride holster as the standard, do-it-all ride height. These holsters sit at the center of your waistline or just below it, making them a common choice for both concealed carry and duty use.
Because they're positioned in the middle of your waistline, you get the best of both worlds: low enough to be easily concealed while still high enough to get a solid purchase on when drawing.
Many people also find mid-ride holsters to be more comfortable when sitting for long periods than a low-ride holster. Plus, they work great for both inside and outside the waistband carry positions.
So, at the end of the day, if you're looking for the perfect balance between concealment and accessibility, the mid-ride holster is the way to go. If you're looking for the best mid-ride holster on the market, Vedder Holsters has you covered. Check out our selection of IWB and OWB holsters here.
Low-Ride Holster
Low-ride holsters are by far the most popular for concealed carry thanks to their low-profile design. These holsters sit lower on your belt for deep concealment and reduced printing.
IWB holsters, in particular, work well on a low-ride setting because they're positioned farther inside your waistband, making them significantly easier to conceal. Plus, the added support your pants provide helps to distribute the weight of your gun more, so it feels more natural and comfortable for many users.
That deeper positioning, however, is a bit of a double-edged sword as it also makes it a bit harder to reach the grip of a smaller pistol, which could increase your draw time. Consistent training from the position, however, can increase your draw speed even with the deepest concealed guns.
High-Ride Holster
You guessed it, high-ride holsters sit higher on your waistline with the butt of the pistol being situated above your belt.
While using a high-ride holster for concealed carry can be a bit of a challenge since the higher positioning is likely to cause more printing, these holsters do have several major benefits.
First, high-ride holsters tend to be the most comfortable option if you plan to sit for long periods. Because they sit so high on your waistline, there's a much lower risk that the barrel of the gun will jam itself into places it shouldn't.
A high-ride holster also makes it much faster and easier to draw your pistol, as it gives you the most access to the grip. This also means it's easier to re-holster, which reduces your chances of an accidental discharge.
Adjustable Ride Height Holster
For those who can't decide, an adjustable holster may be your best bet.
A holster with adjustable ride height can easily be switched between the three settings as needed. By changing the placement of the clip on your holster, you can choose to carry in a high, mid, or low ride position depending on the situation.
Not only can EDC newbies benefit from an adjustable holster as they learn what works best for them, but many people find that they need to adjust their ride height depending on the day's activities or choice of clothing.
If you're looking for a quality adjustable holster, the Vedder Holsters LightTuck™ and RapidTuck™ both feature adjustable retention, allowing you to switch between high, mid, and low.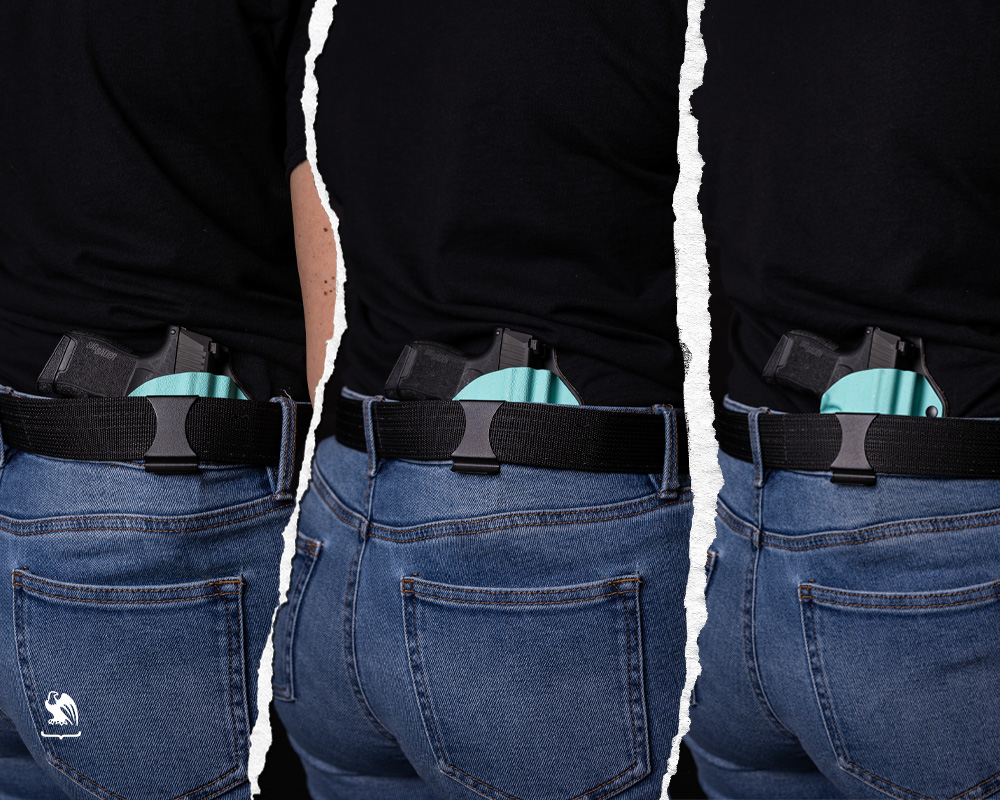 Which Ride Height Should I Carry At?
While we wish there was an easy answer as to which ride height you should carry your holster at, it all comes down to personal preference.
It's often about striking the right balance between concealability and accessibility. For some, a high-ride holster will print too much, while a low-ride holster will be difficult to draw.
If you plan to carry while sitting for long periods, you may want to give a high- or mid-ride holster a try. Low-ride holsters tend to work well for anyone struggling with printing, as their deep concealment keeps everything secure and hidden in your waistband.
At the end of the day, if you aren't sure which ride height is best for you, or you want the flexibility to switch it up as needed, we recommend choosing a holster with adjustable ride height.
The Vedder Holsters LightTuck™ and RapidTuck™ both feature adjustable ride height, allowing you to move between low, mid, and high ride with a simple adjustment to the clip, giving you the best of both worlds.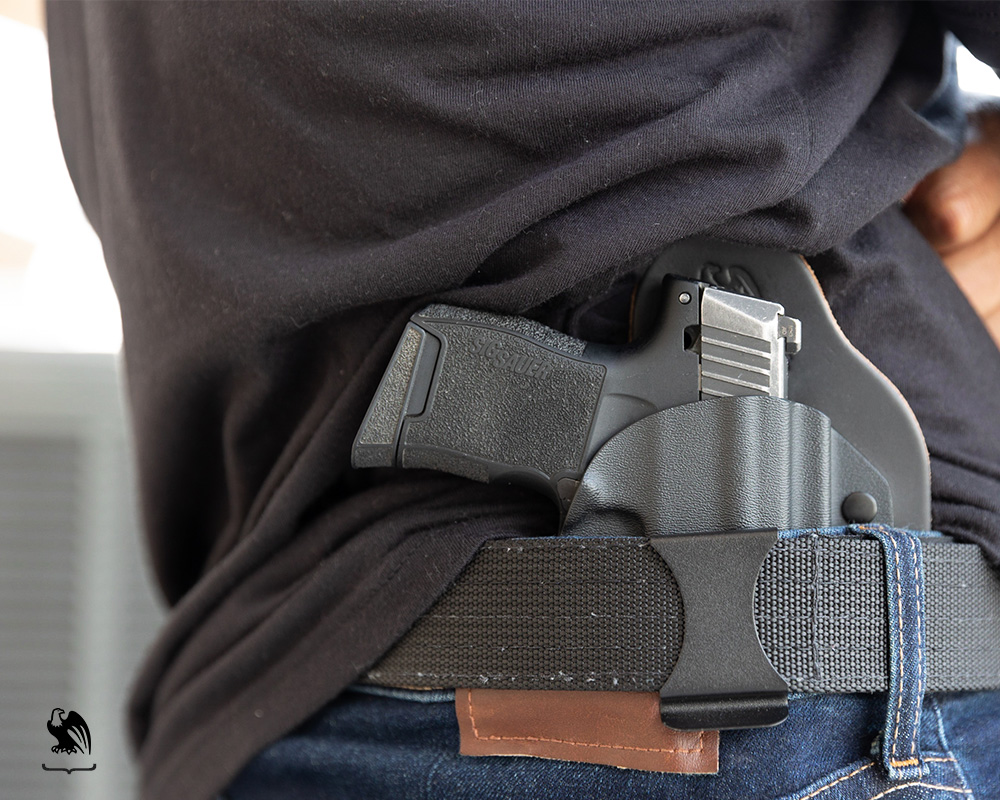 Summary
When it comes to firearm concealability and accessibility, the right holster configuration can make all the difference.
Ride height, which refers to how high or low your pistol sits in relation to your belt line, is one of the most important features in a concealed carry holster. Whether a low, mid, or high-ride holster works best for you all comes down to personal preference and day-to-day activities.
Adjustable holster ride height is another option that works well for both those who are new to concealed carry and those who want the added flexibility of switching between ride heights depending on the situation.
No matter which ride height you decide on, visit our Holsters by Gun Model page for IWB, OWB, and pocket carry Kydex holsters that are custom-made for your weapon of choice.
Interested in items beyond holsters? Check out our Resources Page for links to recommended products like lights, lasers, first aid, maintenance, and more, and browse our selection of apparel, and accessories at our website, vedderholsters.com.
To stay up-to-date on all the latest Vedder Holsters content and offerings, check out our blog and follow us on Facebook, Instagram, and Twitter. And be sure to visit our sister company, GeoGrit, for all your American-made minimalist wallet needs.