When you think of Staccato, precision, dependability, and sophistication likely come to mind. And the highly-anticipated Staccato CS is no exception.
Released in the fall of 2022, the compact Staccato CS wraps all the elements these distinguished pistols are famous for into a neat little package specifically designed for concealed carry and home defense.
This highly accurate and customizable weapon is the smallest Staccato pistol yet. Referred to as the "little sibling" of the Staccato C2, the lightweight CS is built with a shorter barrel and slightly narrower grip width without sacrificing capacity.
The CS comes optics-ready and features a patent-pending original Dawson Precision 3.5" tool-less recoil system, complete with your choice of barrel and flat or curved anodized trigger.
This pistol is highly accurate and is built with a thoughtfully-designed grip angle and a wide variety of customizable features.
If you're looking for a high-end, American-made concealed carry firearm that can be tailored to your preference, the Staccato CS might be the perfect choice for you. Keep scrolling for a comprehensive overview of this latest addition to the Staccato line.
About Staccato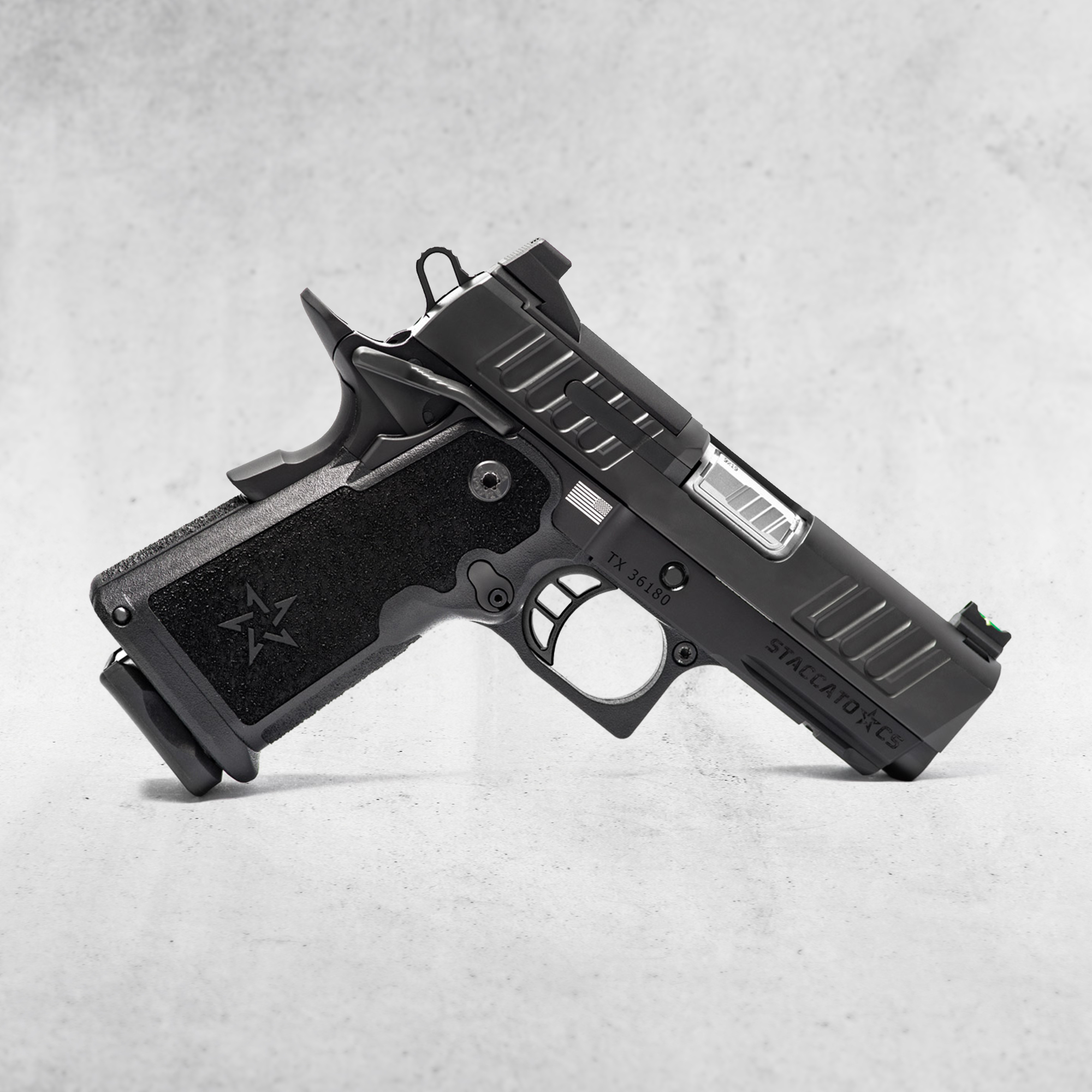 Recognized for its high standard of quality and precision, Staccato has been in the business of manufacturing high-end firearms for over 25 years.
Originally known as STI, the Texas-based company started out by reimagining the classic 1911 design and creating the "2011" handgun. Today, they offer five different pistol models intended for competition, concealed carry, and duty use, including the popular Staccato C2 and P models.
The company introduced the name "Staccato" in 2019 for their duty and self-defense pistols, a term that means "short, sharply separated sounds" – much like that made by bullets hitting a steel target. The name was a hit, and the company decided to completely rebrand as "Staccato" in 2020.
Veteran-led, Staccato is an all-American company that aims to produce only the best handguns that are duty-ready right out of the box. Much of their success is due to their weapons being hand-assembled by expert gunsmiths, resulting in consistently durable, accurate, and reliable pistols.
Staccato CS Specs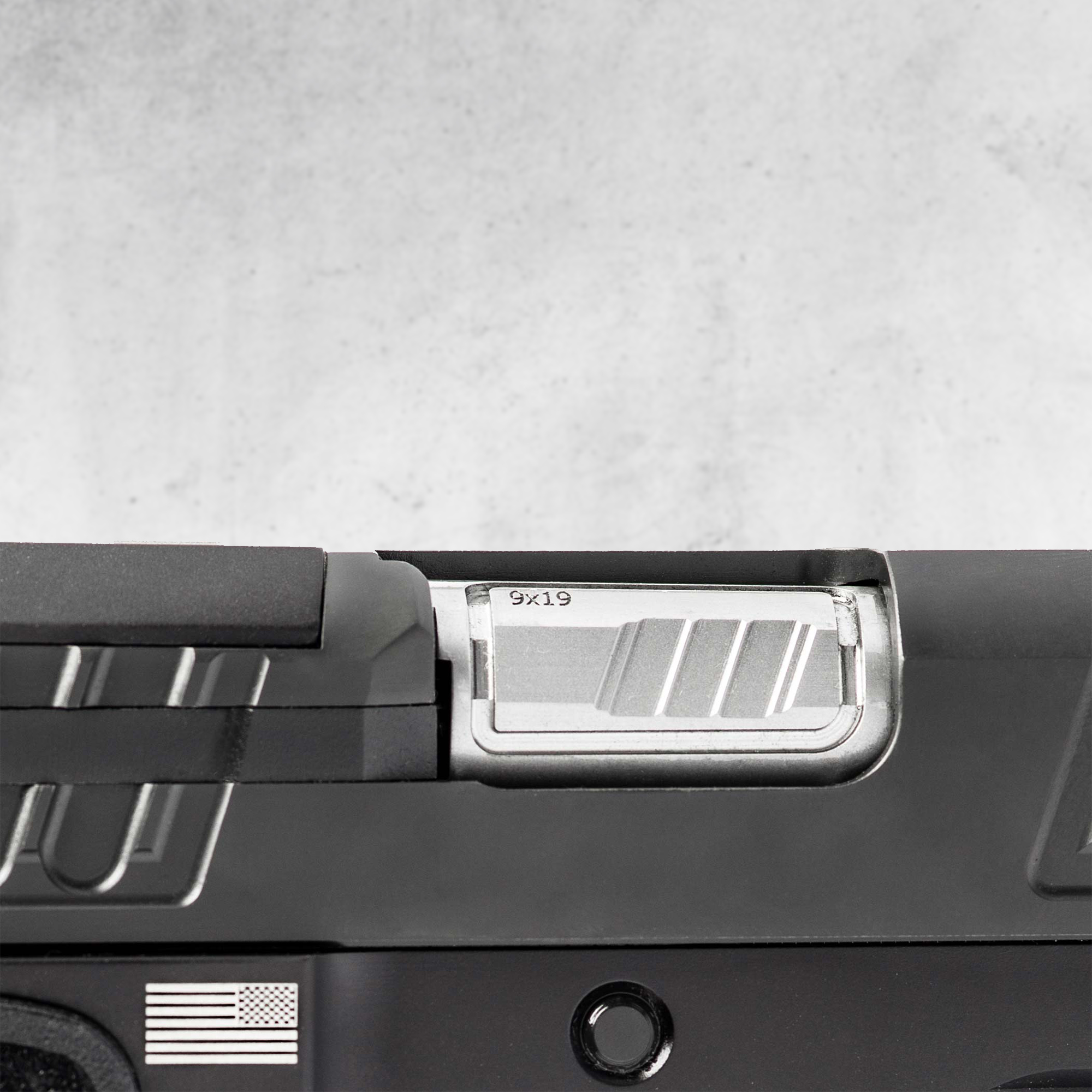 Features
Size and Capacity
The Staccato CS is a compact firearm that weighs a mere 22.7 ounces unloaded, making it the smallest pistol in the Staccato family. It measures 5.6" tall, 1.2" wide, and 7.1" long with a barrel length of 3.5".
This Staccato model has an impressive round capacity of 16 – equalling that of the larger Staccato C2 – and comes out of the box with three same-size magazines.
Frame & Barrel
The CS is crafted with a matte black 7075 machined aluminum frame and your choice of a 3.5" threaded or American stainless steel bull barrel. Either way, your barrel can be finished with a protective DLC coating.
The pistol comes with both front and rear slide serrations, and Staccato gives you the option of having personalized text or icons engraved into the slide if desired.
Like all Staccato firearms, this 2011 model is hand-assembled by a master gunsmith, who files certain parts for a precise fit on every gun, contributing to the weapon's incredibly high rate of accuracy.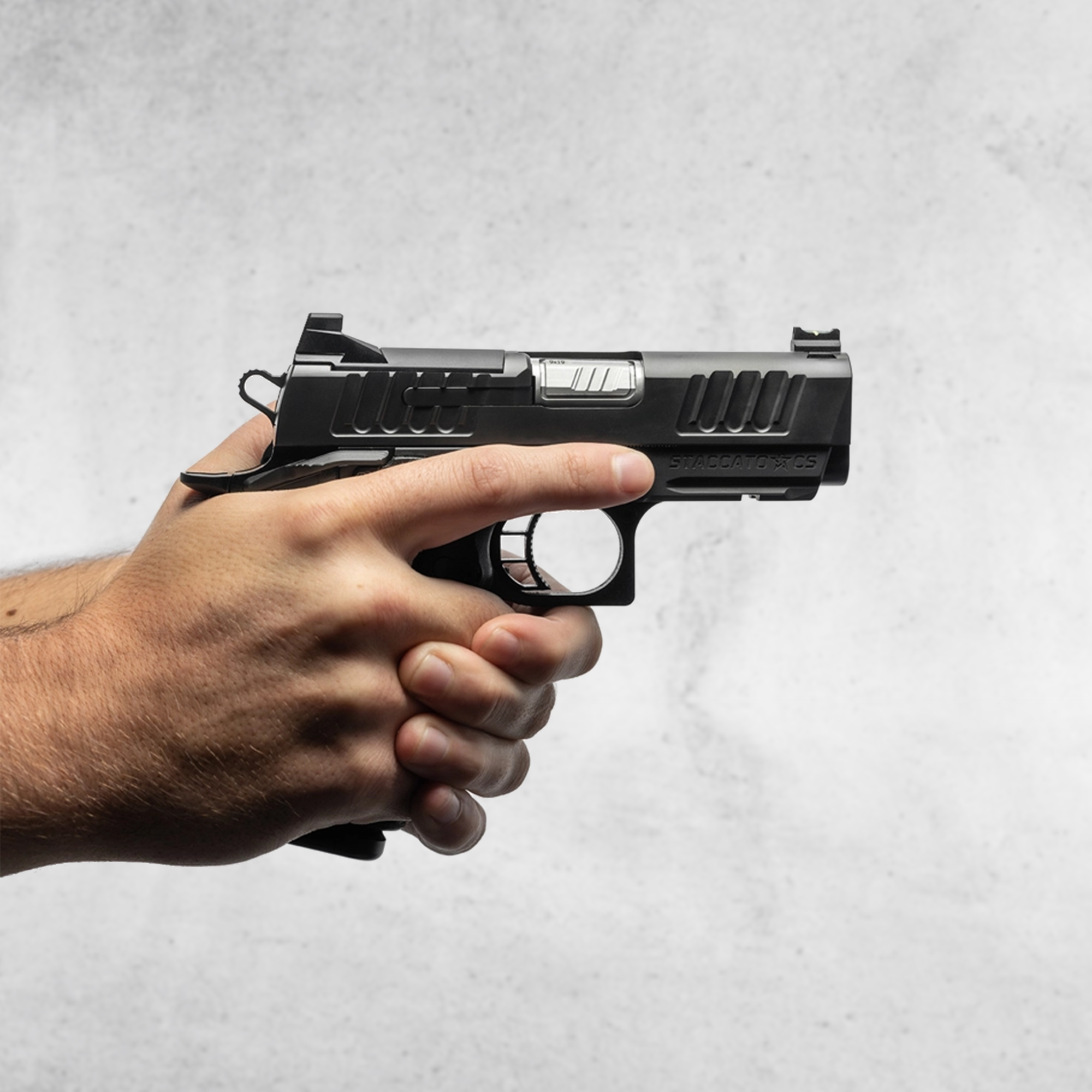 Grip
One of the most impressive features of the new Staccato CS is its original grip design.
The CS is built with a brand-new grip style, which is narrower than any other Staccato pistol before it. It's built with an "effortless" grip angle, complete with a unique grip texture that's a bit less pronounced than its C2 predecessor.
The new 1.2" grip was created to better accommodate a wider variety of hand sizes without sacrificing its high round capacity.
Sights & Optics
The Staccato CS pistol has a myriad of options when it comes to sights and optics. It comes standard with fiber optic Dawson Precision rear sights, and when customizing the gun for purchase, you're given the option of either compact or full-size front sights.
This 2011 model comes optics-ready, and is available in your choice of Dawson Precision optic plates, depending on your optic of choice. Luckily, this pistol is compatible with a wide range of optics, including a number of Holosun red and green dot optics, the Eotech EFLX mini red dot sight, the Leupold Delta Point Pro 2.5MOA, and the Trijicon RMR and RMRcc.
Trigger
The CS has a customizable trigger system, allowing you to choose between your choice of a long curve or flat aluminum trigger.
This anodized black trigger has a pull weight of between 4-4.5 pounds, and a quick, audible reset.
Safety
The Staccato CS is designed with an ambidextrous thumb safety, accommodating both right- and left-hand shooters.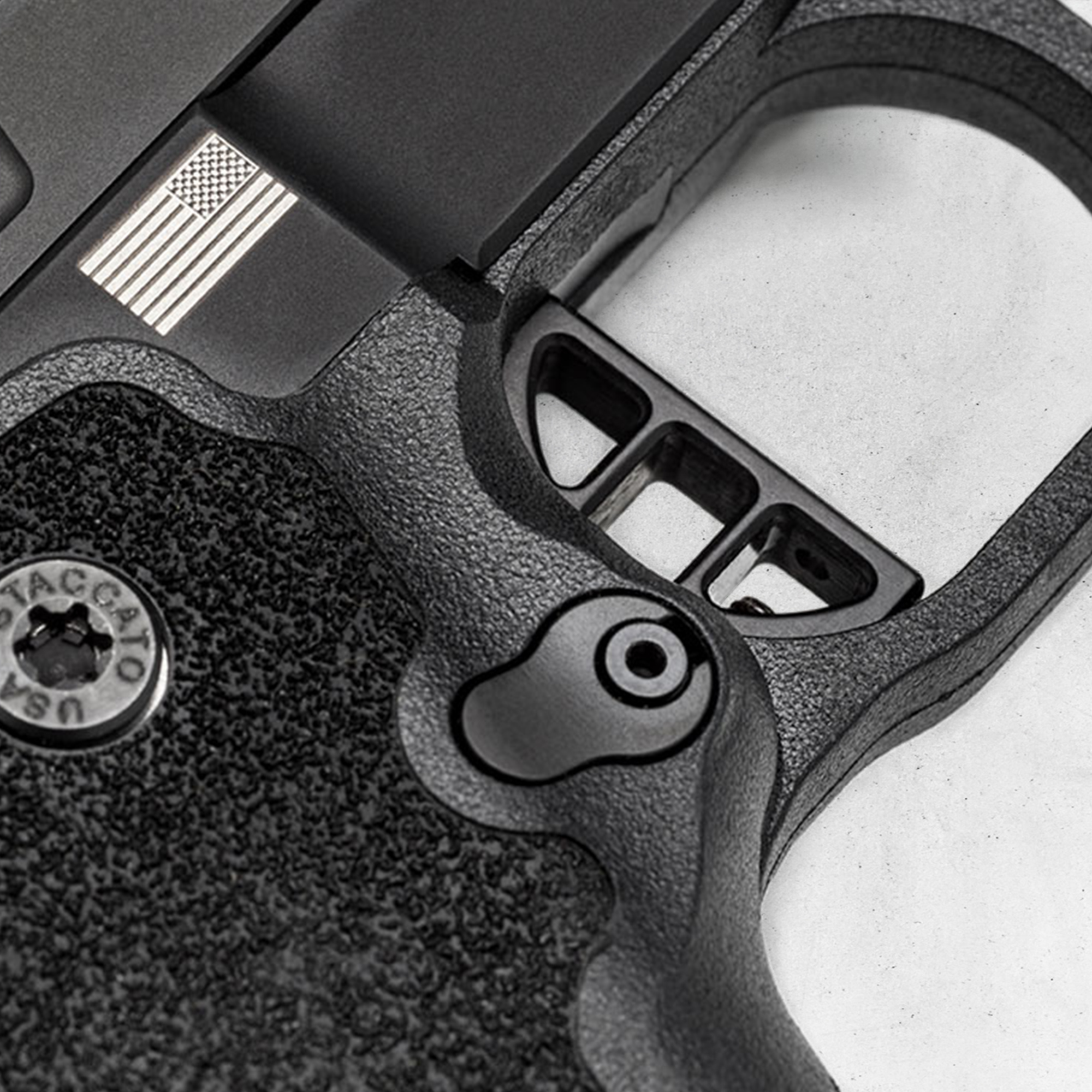 Final Thoughts
The all-new Staccato CS has many of the same features as the larger C2 that came before it in a smaller size designed for concealed carry and home defense.
This highly customizable, accurate, and concealable pistol is chocked full of patent-pending features and advanced technology – everything Staccato is known for wrapped in a neat little package.
If you're looking for a new IWB, OWB, or pocket carry Staccato CS holster, visit our Holsters by Gun Model page for Kydex holsters that are custom-made for your weapon of choice.
Interested in items beyond holsters? Check out our Resources Page for links to recommended products like lights, lasers, first aid, maintenance, and more, and browse our selection of belts, apparel, and accessories at our website, vedderholsters.com.
To stay up-to-date on all the latest Vedder Holsters content and offerings, check out our blog and follow us on Facebook, Instagram, and Twitter. And be sure to visit our sister company, GeoGrit, for all of your American-made minimalist wallet needs.