When it comes to accessories for your firearm, the choices can be overwhelming.
Pistol red dot sights have become increasingly popular in recent years. These aiming devices use a red dot to assist in target acquisition and are commonly used by both novice and experienced shooters alike.
A pistol red dot offers faster target acquisition, improved accuracy, and a better sight picture, but also comes with drawbacks such as increased cost, battery life concerns, added weight, and potential malfunctions. It's important to weigh these pros and cons before incorporating a red dot into your carry system.
Whether you're a beginner or a seasoned pro, understanding the advantages and limitations of a red dot sight can help you make an informed decision about whether it's the right accessory for you.
What Is a Red Dot?
Before we can weigh the pros and cons, it's important to understand what a red dot sight is and how it works.
First, be sure you don't confuse a red dot sight with a red laser. While both use red lights, a sight is mounted to the top of your pistol, allowing you to look through it to acquire your target. A laser, on the other hand, will mount under the barrel of your gun and project a red dot onto your target.
To understand more about these sights, let's talk about the basics of how they work. Handgun red dot sights work by reflecting an LED light through a piece of angled glass that is coated to only reflect the red light. This allows you to see the sight's reticle and take your aim while preventing others from seeing said reticle.
Of course, this style of sight has many pros and cons for the shooter, which we will get into next.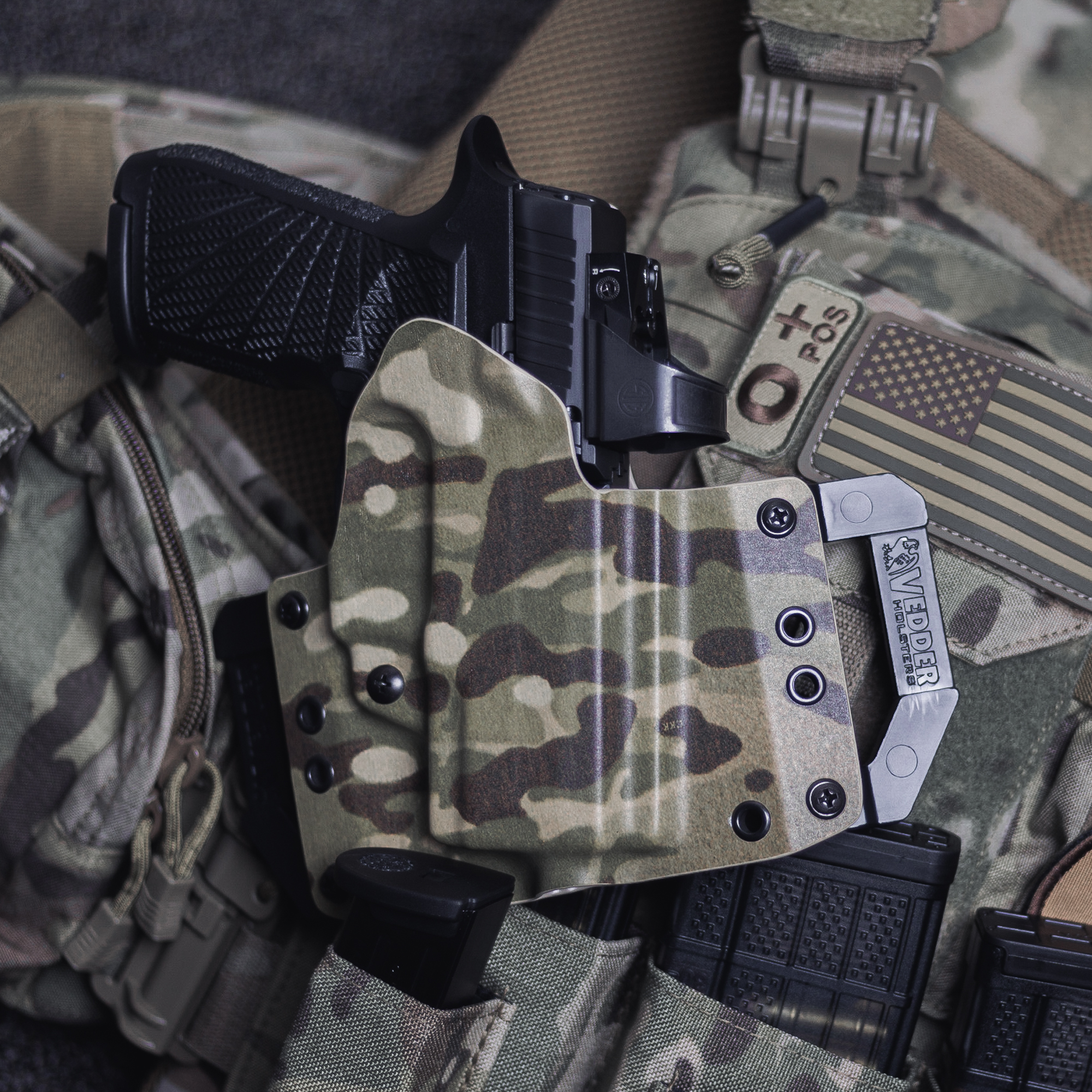 Pros of a Red Dot
If a red dot sounds cool, that's because it is. There are several great benefits to this type of sight that makes them worth considering for your carry system.
Easy to Use
There are a few things that make red dots easy to use. First, they allow you to use one focal plane versus multiple. Traditional iron sights require you to focus on both the front and rear sights, while a pistol red dot is designed so you only have to look through one plane. If your pistol is aimed correctly, that red dot will appear right on target.
Another reason red dots are easy to use is that they are, well, red. That may not seem like a big deal, but as our eyes age, it can become difficult to clearly see through a traditional front sight. Using a red dot sight can give shooters with poor eyesight the ability to easily acquire their target and feel confident when doing so.
Faster Shooting
You may think that the speed at which someone shoots is based on their skill, not an accessory. While there is truth to that, accessories like pistol red dot sights can result in quicker target acquisition, leading to faster shooting for both beginners and professionals.
While regular practice plays a big part in this, you will likely find that using a red dot can decrease your draw to fire time or time between shots in rapid fire.
Increased Accuracy
Since you only have to look through one focal plane, and your eyes tend to automatically center the sights dot on your target, a pistol red dot can increase a shooter's accuracy.
This is especially true when speed is a factor, as acquiring your target doesn't take as long. Not only that, but red dots tend to work better than traditional sights in low-light conditions since they are illuminated.
Cons of a Red Dot
We can't talk about the pros of a pistol red dot without mentioning the cons, too. While many people find red dot sights to be a great addition to their carry setup, there are a few downsides to consider as well.
Expensive
While you can find budget-friendly red dot sights online or at your local retailer, they typically aren't overly reliable or of the best quality. These cheaper sights may fail quicker and wind up costing you more money in the end.
A quality red dot sight is well worth the money but ranges in price from $300 to $700 depending on your gun model and what you are looking for in a sight.
Additionally, if your gun isn't already optics-ready, you will need to take it to a gunsmith and have the slide milled to fit your new sight. This can add an extra expense on top of the initial cost of the sight. Adding a red dot sight to your pistol is an investment that could cost you even more than the gun itself.
Harder to Conceal
Depending on your body type, concealing your pistol may be difficult enough without adding more bulk to the top of your frame. Not only that, but many holsters do not accommodate red dot sights.
Luckily, all Vedder holsters are custom fit to your gun model and include options for accessories like red dot sights. You can check out our entire selection of IWB, OWB, and pocket Kydex concealed carry holsters here.
Battery Life
Almost all red dot sights are battery-powered and, unfortunately, batteries do not have an endless life. Some manufacturers have started offering solar-powered models, but they tend to be more expensive and have limited availability.
Typically, the batteries in a red dot sight can last anywhere from 6 months to a few years, depending on the brightness and how frequently you use it. It's a good idea to change the batteries in your red dot sight at least once a year to keep it working in optimal condition.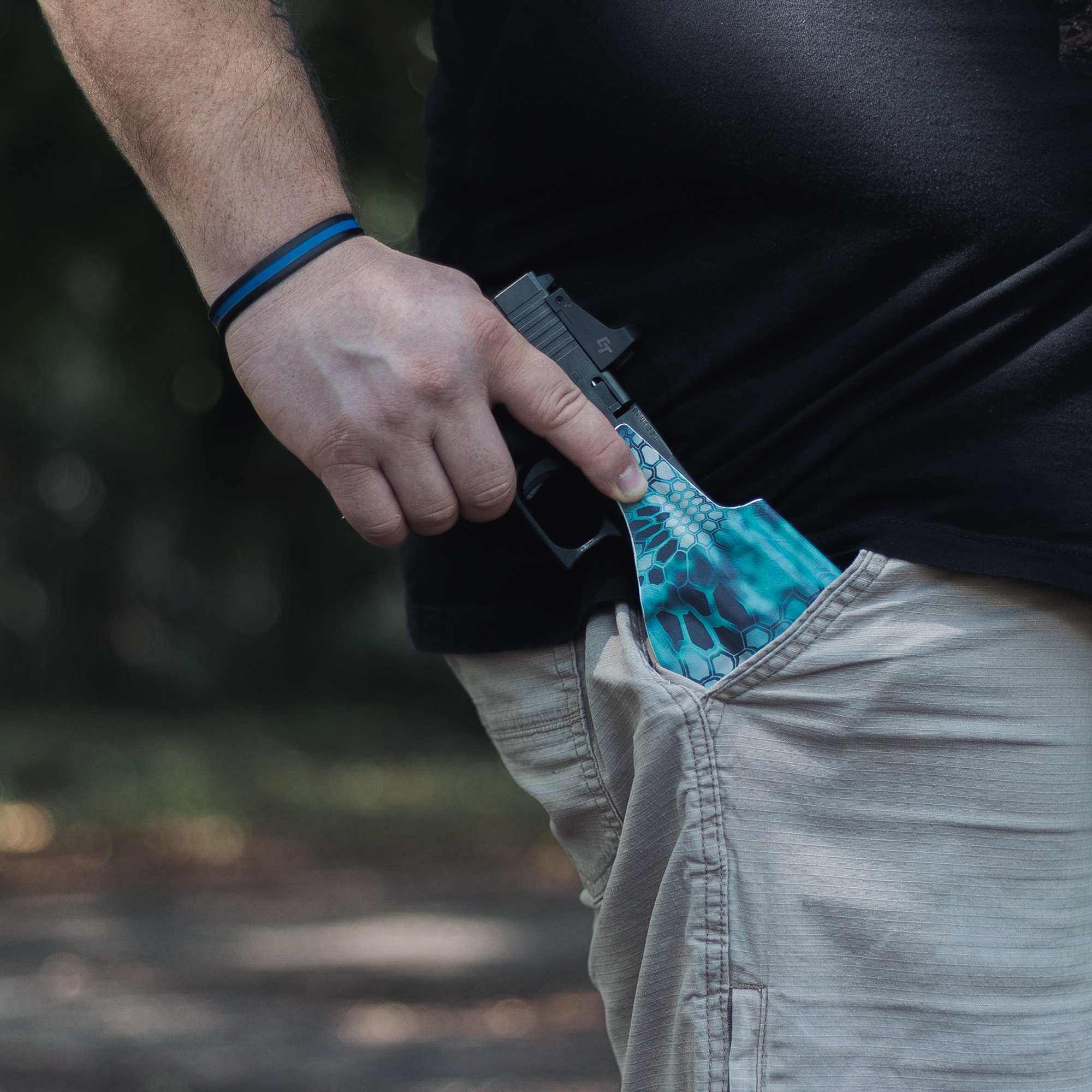 Tips for Shooting With a Pistol Red Dot
Shooting with a pistol red dot sight can greatly improve accuracy and speed in target acquisition. Here are some tips to help you get the most out of this setup:
Practice: The more you shoot with the red dot sight, the more familiar and confident you'll become with it.
Zeroing: Make sure the sight is properly zeroed before heading to the range. This involves adjusting the dot so it lines up with the actual point of impact.
Hold: Your hold should be consistent and repeatable, with the pistol held firmly but comfortably.
Aim: The red dot sight should be used as your primary aiming device. Look through the sight and focus on the dot, not the target.
Follow through: After firing, keep the sight on target and follow through with your shot. This will help you quickly identify if you need to make any adjustments for the next shot.
Eye relief: Make sure you have proper eye relief, which is the distance between your eye and the sight. Too much or too little eye relief can affect your accuracy.
Breathing: Control your breathing and take slow, deep breaths while aiming. Exhale and hold your breath while shooting.
Shooting position: Experiment with different shooting positions to see what works best for you. Try shooting from different stances and using different levels of support.
By incorporating these tips, you can take your shooting with a pistol red dot sight to the next level. Remember to always prioritize safety and practice good shooting habits.
Which Red Dot Sight Should I Get?
If you've decided you're ready to make a purchase, here are a few recommended manufacturers of red dot sights for pistols to check out.
First, before going through a third party, you should always check with your firearm's manufacturer. Some manufacturers, like Sig Sauer, offer red dot sights created specifically for their gun models.
Trijicon is often used by law enforcement and military professionals. They are one of the original creators of pistol red dots and are a great option if you are looking to purchase one.
Vortex offers a variety of reliable options for red dot sights at a range of prices depending on what you are looking for.
Do I Need a Red Dot?
While pistol red dot sights can be a very useful tool when it comes to speed, accuracy, and ease of use, there are some downsides as well. They aren't the most budget friendly accessory, you'll have to change out the batteries, and they can add an extra challenge when it comes to concealment.
Ultimately, it is up to you to decide what works best for your needs. If you do choose to purchase and use a pistol red dot, make sure to head to the range and practice using your new accessory.
If you're looking for a new IWB, OWB, or pocket carry holster to accommodate your pistol with a red dot sight, visit our Holsters by Gun Model page for Kydex holsters that are custom-made for your weapon of choice.
Interested in items beyond holsters? Check out our Resources Page for links to recommended products like lights, lasers, first aid, maintenance, and more, and browse our selection of belts, apparel, and accessories at our website, vedderholsters.com.
To stay up-to-date on all the latest Vedder Holsters content and offerings, check out our blog and follow us on Facebook, Instagram, and Twitter. And be sure to visit our sister company, GeoGrit, for all of your American-made minimalist wallet needs.