Both within and outside of the gun community, it's common to hear people throw around the words "revolver," "pistol," and "handgun" – sometimes when referring to the same weapon.
But, what's the difference between these types of guns, and why does it matter?
Though the terms are often used interchangeably, they are not the same. While "handgun" is an umbrella term for a handheld firearm, "pistol" and "revolver" refer to specific types of handguns that are differentiated by their chamber types.
Confused yet? Don't worry. In this article, we'll break down the difference between revolver vs pistol vs handgun so you'll know exactly what each means, and which is the right choice for you.
What is a Handgun?
Let's start with the basics. What is a handgun? To put it simply, a handgun is a firearm that's small enough that you can shoot it with a single hand.
These weapons have been around for a long time. In fact, the oldest known handgun originated in China back in 1288, known today as the "hand cannon." Over the centuries, this design evolved into the mid-15th century European matchlock, the wheellock, and then the flintlock in the 17th century. Caplocks were developed in the early 19th century, and the first revolver was introduced in 1836. The first mass-produced semi-automatic pistol was the Mauser C96, released in 1896.
As you may have noticed, many types of firearms fall under the handgun category. Today, there are several types of handguns on the market:
Single-action revolvers
Double-action revolvers
Semi-automatic handguns
Single-shot and break-action handguns
Perhaps the most commonly misunderstood terminology is the difference between "pistol" and "handgun." We'll break that down next.
Pistol vs Handgun
The terms "pistol" and "handgun" are so commonly used interchangeably, that it can be hard to remember they technically have different definitions. So, let's dive into the nitty-gritty of these two guns.
While all pistols are handguns, not all handguns are pistols. So, while it is correct to refer to a pistol as a handgun and vice versa, it's also important to remember that their exact meaning differs slightly.
As we've already discussed, a handgun is any firearm designed to be held and fired using only one hand. A pistol, on the other hand, is traditionally considered a handgun that has a single, stationary chamber – typically a semi-automatic.
While this is the classic, technical definition of pistol, as with most things, there are some exceptions. For example, these days, there are a few types of semi-automatic pistols that are capable of firing several rounds one right after another.
A revolver is also technically considered a pistol-type gun even though they have more than one chamber. So, again, while a revolver could be considered a kind of pistol, a pistol is definitely not a revolver… which takes us to our next point.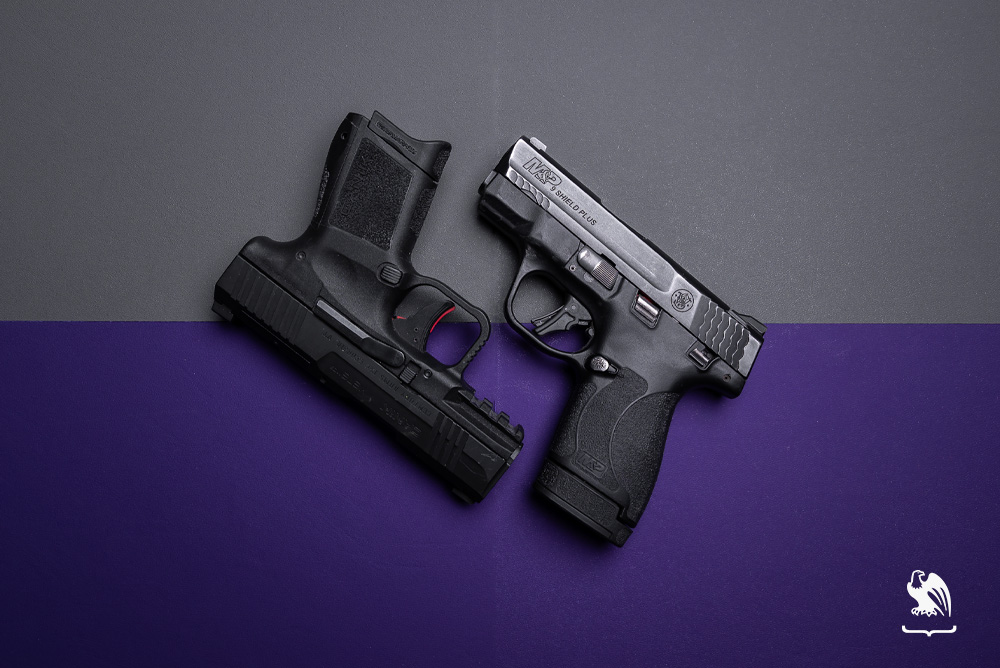 Revolver vs Pistol
Alright, so we've covered the difference between a handgun vs pistol. But, what is the difference between a pistol and a revolver?
This is where things get a little (more) complicated.
When you look at a semi-automatic pistol vs revolver side-by-side, it's immediately evident that these two firearms are not the same. A semi-automatic pistol has a single, internal, unmoving chamber that must be fed each time a shot is fired. A revolver, on the other hand, has a cylinder with multiple chambers often capable of holding six cartridges at a time.
So, as we discussed above, while a revolver could technically be considered a type of pistol, these firearms are distinct in their design. A revolver is a handgun with a rotating chamber that holds multiple rounds, and there really are no variations from that. And if you stick to the traditional definition of a pistol, it's a semi-automatic firearm that has a single, unmoving chamber. … Simple, right?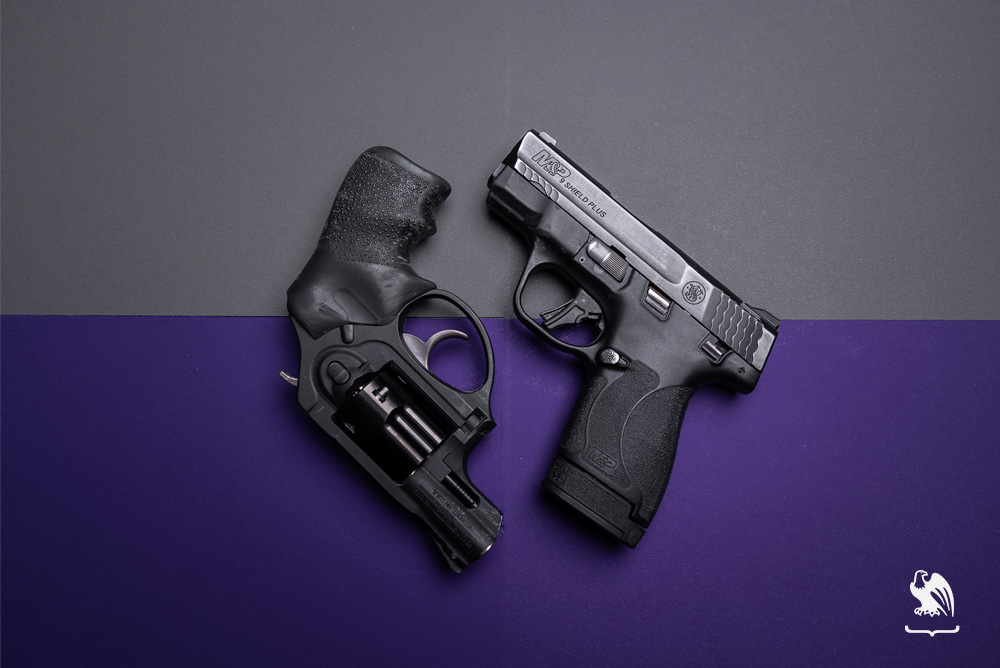 Why Does It Matter?
Okay, now that we've gotten through all the technicalities and complicated definitions, you may still be wondering why on Earth getting these terms right even matters!
While the differences between a handgun, revolver, and pistol are incredibly minor, understanding what makes them unique can not only help you be more informed when talking with others (which is always great!) but can help you better understand these different firearms and choose one that's right for you.
Because a pistol and revolver operate very differently, you'll likely find that one suits your needs better than the other. There really is no right or wrong answer when it comes to choosing a handgun, only what works for you.
While many people prefer low-profile semi-automatic pistols for concealed carry, there are plenty of others who like the simplicity of revolvers for things like home defense. At the end of the day, only you can say which type of firearm is best suited for your needs, and understanding the ins and outs of these types of weaponry will help you make the right decision.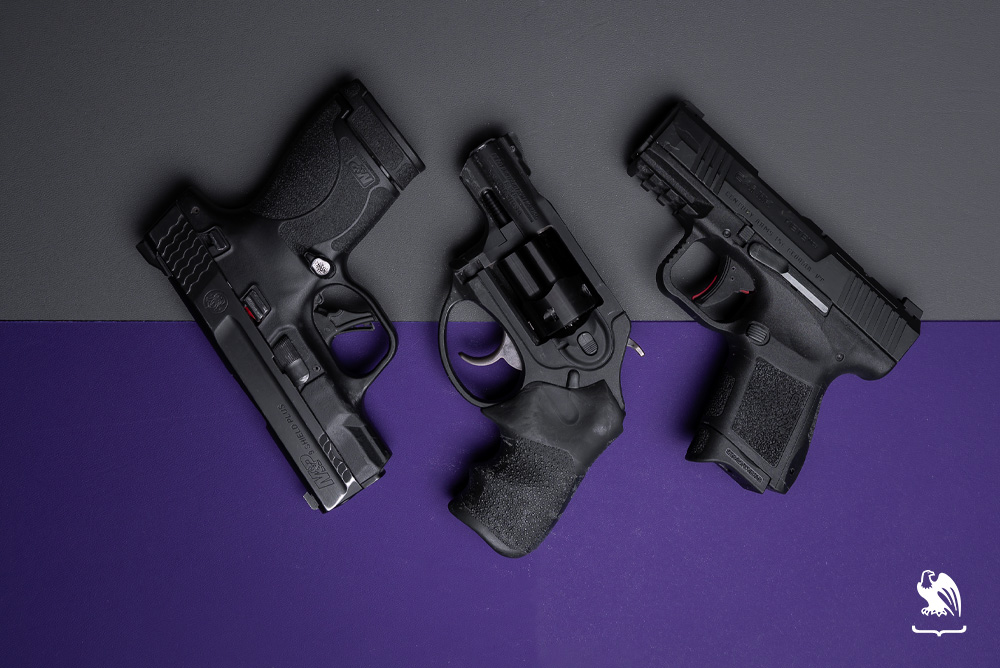 Summary
When it comes to the difference between a revolver vs pistol vs handgun, things can get a little confusing.
While many people use the terms interchangeably, understanding the differences between these three terms can help you have informed conversations about firearms and determine which kind is the best choice for you.
In short, a handgun is an umbrella term for a firearm designed to be shot with one hand, a pistol is a handgun with a single, stationary chamber, and a revolver has a rotating cylinder with multiple chambers.
Regardless of which type of handgun you choose, pairing it with a high-quality holster is essential for safety and convenience. If you're looking for a new IWB, OWB, or pocket carry holster, visit our Holsters by Gun Model page for Kydex holsters that are custom-made for your weapon of choice.
Interested in items beyond holsters? Check out our Resources Page for links to recommended products like lights, lasers, first aid, maintenance, and more, and browse our selection of apparel, and accessories at our website, vedderholsters.com.
To stay up-to-date on all the latest Vedder Holsters content and offerings, check out our blog and follow us on Facebook, Instagram, and Twitter. And be sure to visit our sister company, GeoGrit, for all your American-made minimalist wallet needs.