When you first start concealed carrying, there are a lot of factors to consider: What caliber do I need? What position should I carry in? And, commonly, should I carry with one in the chamber?
While carrying with a round in the chamber is considered safe, and is often recommended, the decision to do so personal one. Factors like your experience level, comfort, firearm type, and local laws all play into whether or not you should carry with one in the chamber.
Ultimately, carrying with one in the chamber is the most common choice, though there might be specific circumstances for choosing to carry on an empty chamber. In this article, we'll explain the ins and outs of this method of carry to help you decide whether it's the right move for you.
'One in the Chamber' Meaning
If you're new to the world of firearms, you may be wondering what "carrying with one in the chamber" even means.
"One in the chamber" refers to the act of carrying a firearm with a cartridge already loaded into the chamber and ready to fire. It's a common way to concealed carry, as it means fewer steps in the event you have to defend yourself.
That being said, some people prefer not to carry with a round in the chamber out of potential safety concerns. Luckily, there are several "conditions" your gun can be in, and there's something for every experience level. Let's get into it.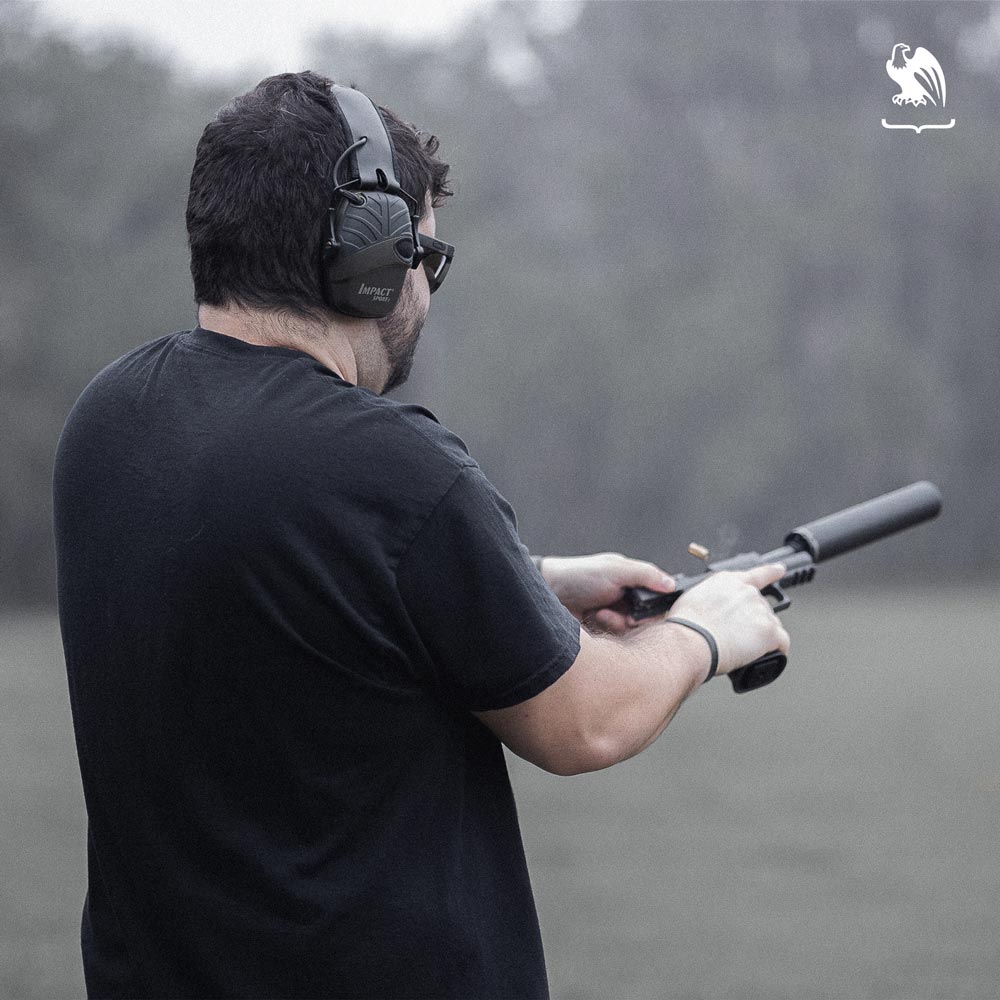 Carry Conditions Explained
When talking about carrying a round in the chamber, it's common to refer to several methods in terms of "conditions." The Truth About Guns put together an excellent breakdown, which I summarize below:
Condition 4: In this condition, the pistol is empty – there's no magazine in it and the hammer is down. This is how the pistol rolled off the factory line before a test firing, and is the slowest to bring to action since you'd have to insert the magazine, cock the gun, and then fire it.Condition four is extremely safe unless you have an urgent need to defend yourself.
Condition 3: In condition three, there is a magazine in the pistol, but the chamber is empty and the hammer is down. Sometimes known as "Israeli Carry," this condition is also very safe, but you have to load a round in the chamber before firing. In terms of concealed carry: loaded or unloaded, condition 3 is the only unloaded condition that is somewhat commonly used by experienced shooters.
Condition 2: Condition two is the first in which there is a round carried in the chamber. For condition two, there is a round chambered, but the hammer is down, requiring the hammer to be cocked by either the user's thumb or a double action trigger before firing. This was common in the US military for folks who used the Beretta M9, which featured a decocker.
Condition 1: In condition one, there is a round chambered, the hammer is cocked, and the mechanical safety is engaged. One is in the chamber in this condition as well, and this is how I carry a Sig P238, effectively a 1911 design, daily.
Condition 0: Condition zero is much like condition 1, except without a manual safety: the only thing in this condition keeping the gun from going off is the user keeping their finger off the trigger. In some designs, such as Glocks, this is the intended method of carry.
Is It Safe to Carry with a Round in the Chamber?
While there are safety risks to carrying one in the chamber, many of those risks can be mitigated with training and correct maintenance of your firearm.
Since the vast majority of modern, semi-automatic weapons are designed to be safe when carried in conditions 0, 1, or 2, it is safe to carry a modern semi-automatic that is in good working order with one in the chamber.
That being said, trigger discipline is essential if you plan to carry this way (and every other time you handle a weapon!). While this is especially true for guns in condition 0, it's also true if your firearm has a manual safety. Just because you have a safety mechanism doesn't mean you should rely on it – good habits are foolproof while machines (albeit rarely) do fail from time to time.
Is it Legal to Carry with One in the Chamber?
Assuming that you are legally carrying your firearm for self-defense purposes, there are not currently any state laws that make it illegal to carry with a round in the chamber.
That being said, before you do so, double-check the laws in the state where you reside. Every state has different rules regarding carrying a firearm, and depending on what you're doing, there may be different regulations.
For example, there are often different rules for concealed carrying than there are for transporting a gun in your vehicle, so just double-check before you try something new. The status of your CCW license could be a factor, too.
Pros and Cons of Carrying One in the Chamber
When mulling over the question of "should I carry with one in the chamber," there are a few pros and cons to consider. Here are the risks and benefits of carrying this way, whether you carry a semi-automatic or a revolver.
Semi Automatic Handguns
There are a few major benefits to carrying a round in the chamber with a semi-automatic handgun, and most concealed carriers choose to do so.
First, carrying in condition one means that to fire the gun, all I have to do is disengage the safety, draw, and fire. It can be extremely quick but depends on the shooter being extremely careful to make good use of the safety mechanisms built into the firearm. Getting a fair bit of training is also highly advisable should you choose to carry with one in the chamber.
Contemporary semi-automatic handguns are generally designed to carry with one in the chamber. Single-action-only designs with hammers, such as those based on the 1911 design, have manual thumb safeties, and often grip safeties as well that are specifically designed for carrying in condition 1.
Other designs, such as the Beretta M9, have a decocker for carrying in condition 2. In a similar vein, Glocks and most other striker-fired designs are meant for carrying condition 0, with their triggers designed as a safety mechanism in and of themselves.
All things considered, most folks choose to carry their semi-automatic pistols with a round in the chamber. Doing so allows them to deploy the firearm and shoot it quickly if need be, without the possibility of inducing the malfunctions that can occur while loading the firearm.
On the other hand, carrying in condition 3 or 4 is extremely safe and makes it much more difficult to accidentally discharge the pistol. Despite this added safety, there are two major complications to consider when carrying without one in the chamber.
The first is that it will take much longer to use the weapon in self-defense carrying in conditions 3 or 4 when compared to 0, 1, or 2. Second, if you carry without a round in the chamber and have to load the firearm in a hurry, there is a chance that you will induce a malfunction such as a failure to feed, which will leave you defenseless.
Deciding against concealed carrying with a round in the chamber certainly adds to the overall safety of the situation, considering that a negligent discharge is impossible without a round in the chamber. This is a major benefit in terms of peace of mind to folks who are less familiar with their firearm.
Revolvers
While revolvers are becoming less and less common for concealed carry, they're certainly worth discussing here.
Revolvers stretch the one in the chamber meaning slightly, given that revolvers have several individual cylinders rather than a single chamber. However, the thought process is generally the same: do you want to carry with a round under the firing pin?
In the 19th century, when revolvers were the norm, most people carried with the firing pin over an empty chamber – only loading 5 shots into a 6-shot gun, for example. The reason for this was simple: old revolvers were not drop safe and, if you dropped the revolver when the firing pin, whether cocked back or not, was over a live round in the cylinder, the gun could go off.
Today, most revolvers feature a transfer bar safety that makes carrying them with a round in the chamber far safer, according to an article by Wilburn Roberts. If the revolver is a modern design and has a transfer bar safety, then carrying it in condition 1 is mechanically safe.
Plus, in terms of self-defense, sacrificing 1/6th of your ammo when most revolvers only hold six rounds to begin with is a much larger risk than that of a negligent discharge. This is especially true given how long it takes to reload revolvers in the first place.
If, for some reason, you choose to carry a vintage revolver or a very accurate reproduction that does not have a modern transfer bar safety, then carrying on an empty cylinder might well make some sense. Especially with double-action revolvers, carrying on an empty cylinder, without a round in the chamber, will not likely cost an experienced shooter much time in terms of getting the first round off.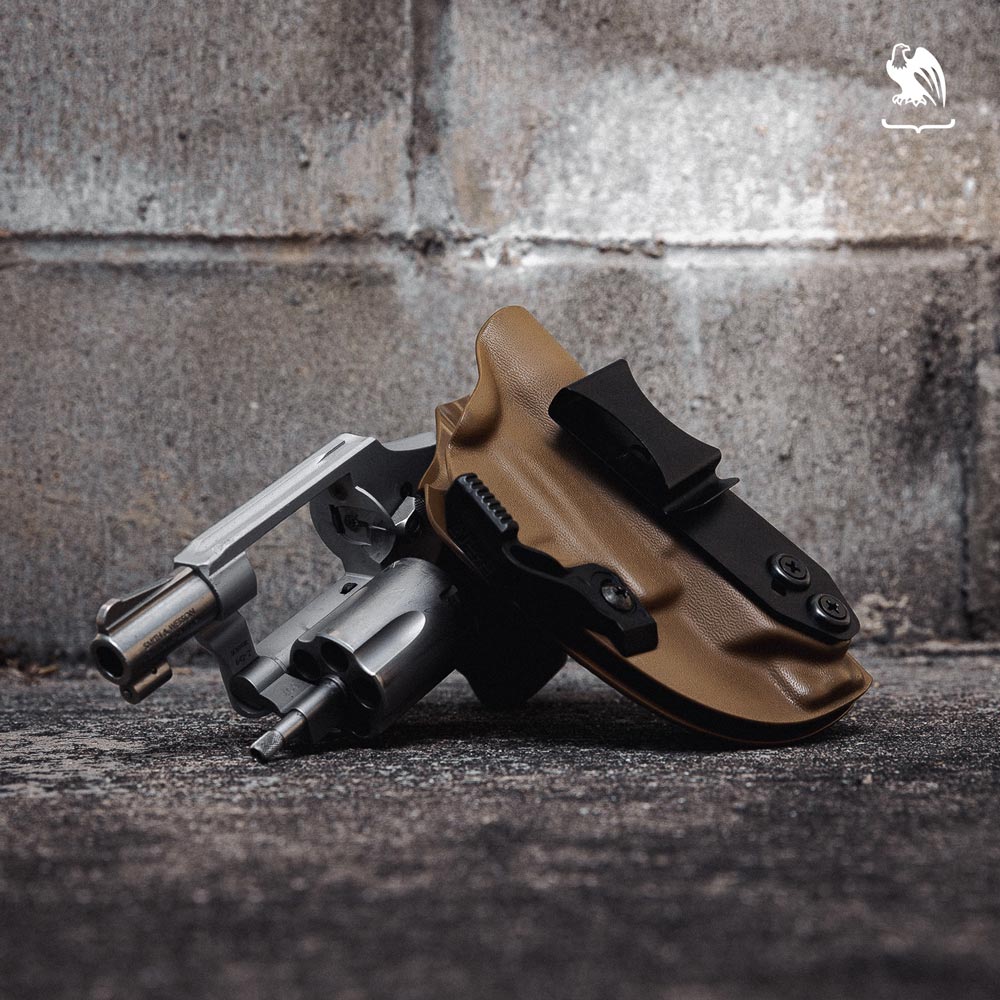 Summary
When trying to decide "should I carry with one in the chamber," there are plenty of factors to consider. Carrying with one in the chamber allows you to move more quickly in a defensive encounter while carrying without one chambered reduces the risk of a negligent discharge.
Most people choose to conceal carry with a round in the chamber, as speed is often a priority when it comes to drawing from a holster.
Of course, a big part of safely carrying a firearm with a round in the chamber is having an appropriate holster for your weapon. When it comes to concealed carry, round in the chamber or not, your holster will play a big role. A quality holster completely covers your trigger guard, making carrying with a round in the chamber much safer as the risk of negligent discharge is lower.
If you're looking for a new IWB, OWB, or pocket carry holster, visit our Holsters by Gun Model page for Kydex holsters that are custom-made for your weapon of choice.
Interested in items beyond holsters? Check out our Resources Page for links to recommended products like lights, lasers, first aid, maintenance, and more, and browse our selection of apparel, and accessories at our website, vedderholsters.com.
To stay up-to-date on all the latest Vedder Holsters content and offerings, check out our blog and follow us on Facebook, Instagram, and Twitter. And be sure to visit our sister company, GeoGrit, for all of your American-made minimalist wallet needs.