If you're looking for the highest quality, most precise pistol on the market for self-defense, you're already on the right track with Staccato.
When comparing the Staccato CS vs P, you can't go wrong with either one. Both are incredibly reliable, accurate, and well-crafted, though each serves a different purpose.
While the full-size Staccato P was initially intended for duty use, it has rightfully become a popular choice for home defense. The Staccato CS is far smaller and works well for home defense and even better for concealed carry.
No matter which 2011 gun you choose, you can rest assured that you will be investing in one of the best pistols the market has to offer. This article will take you through the ins and outs of each model to help you decide which is a better fit for you.
Staccato P
Originally designed for duty and competition use, the Staccato quickly gained popularity among home defenders for its accuracy, reliability, and endurance.
The 2011 pistol has been approved for duty use by over 965 law enforcement agencies, and for good reason – this ergonomic full-sized handgun is incredibly user-friendly.
Complete with a Dawson Precision® tool-less guide rod, the P model can be easily disassembled without the need for tools, pins, or clips. It also comes standard with both an ambidextrous thumb safety and grip safety for extra security.
Chambered in 9mm and boasting a 17-round capacity, this pistol is built with a natural grip, allowing users to quickly present and fire more accurate shots.
The Staccato P is highly customizable, offering your choice of frame material, a threaded or non-threaded barrel, and the option for optics or iron sights.
If you're looking for a quality IWB, OWB, or pocket carry Staccato P holster, check out our selection here.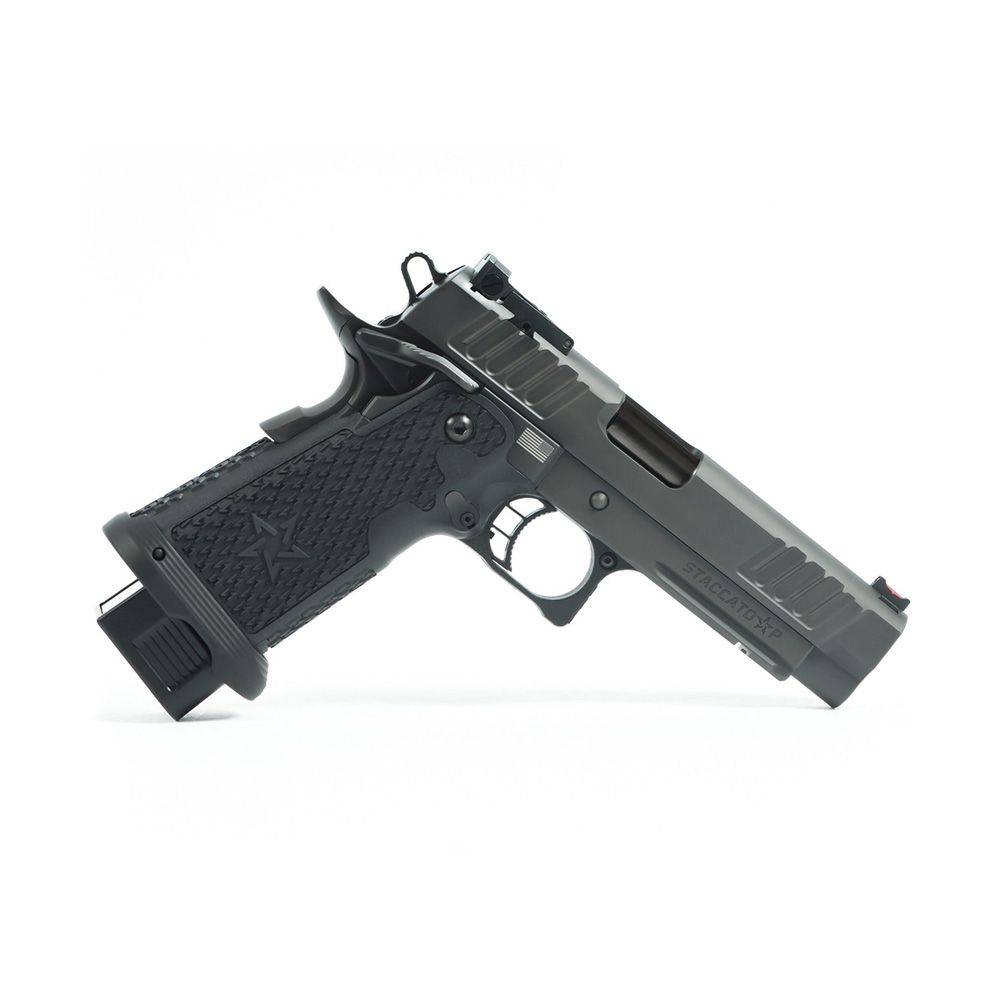 Staccato CS
The compact 2011 Staccato CS is the newest in the Staccato lineup and is the smallest in the collection.
Known as the "little sibling" of the Staccato C2, this lightweight pistol features the same precision, reliability, and quality as its larger predecessors – only with a shorter barrel and narrower grip.
Though small, the Staccato CS still has a significant round capacity of 16 and is chambered in 9mm. The pistol comes optics-ready and has a large range of customizable features.
The CS is highly accurate and features a patent-pending original Dawson Precision 3.5" toolless recoil system. You also have the option of either a flat or curved anodized trigger and your choice of a stainless steel bull or DLC bull barrel.
This American-made Staccato model is specifically designed for concealed carry and home defense and can be tailored to meet your specific needs.
If you're looking for a quality IWB, OWB, or pocket carry Staccato CS holster, check out our selection here.
Staccato CS vs Staccato P: Specs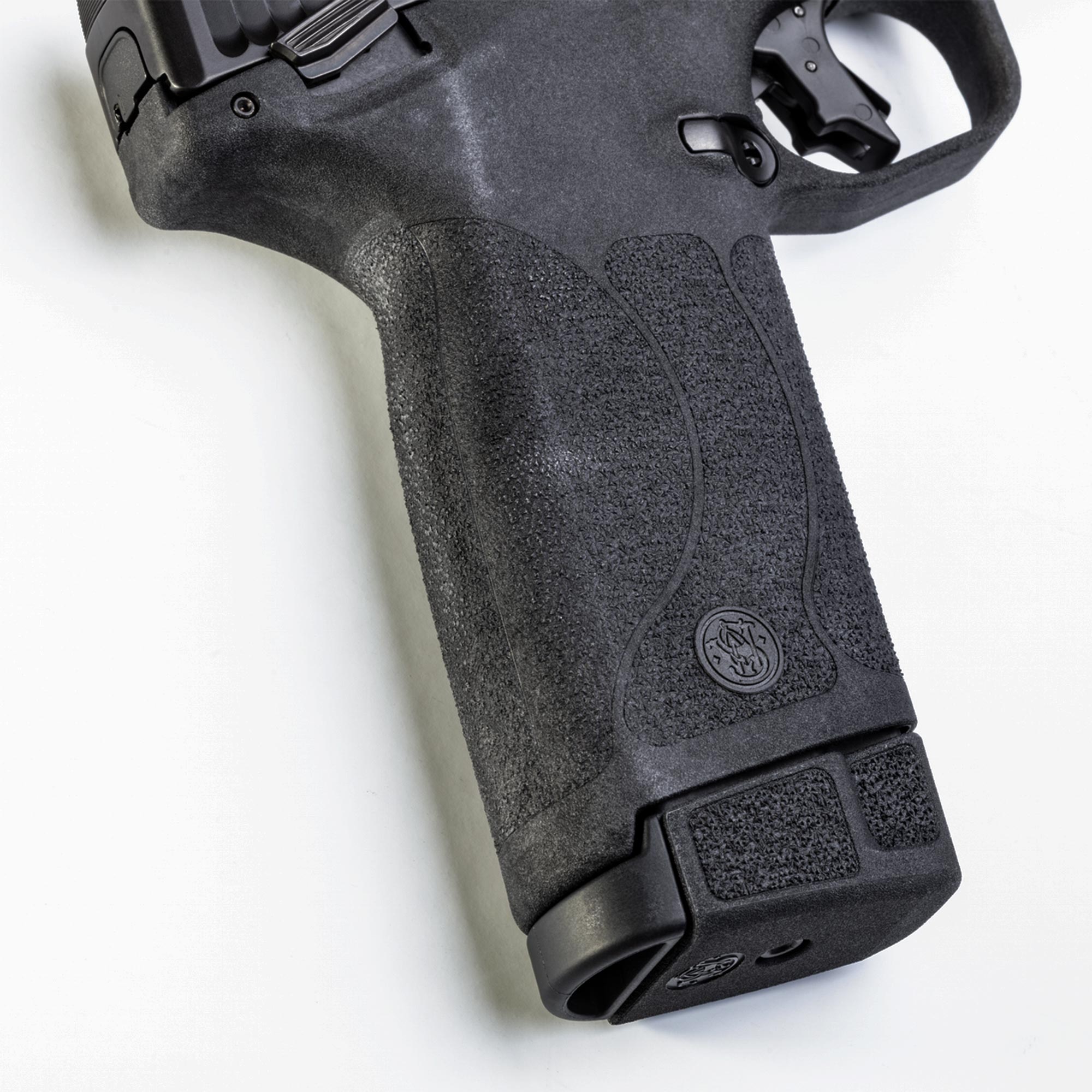 Staccato CS vs P: Size & Capacity
Right off the bat, it's apparent that the Staccato P is significantly larger than the CS.
The full-size Staccato P weighs 28-33 ounces, depending on your choice of frame, and measures 5.8" tall, 1.3" wide, and 8.1" long with a barrel length of 4.4". The compact Staccato CS is smaller, weighing only 22.7 ounces and measuring 5.6" tall, 1.2" wide, and 7.1" long with a barrel length of 3.5".
Both pistols are chambered in 9mm. The CS has a mag capacity of 16 while the P can hold up to 17 rounds. Not a major difference, but something to consider if capacity is a priority to you.
Staccato P vs CS: Ergonomics
Frame
Both Staccato pistols are hand-assembled by expert gunsmiths in Georgetown, TX for a precise fit. While the Staccato CS is crafted with a 7075 machined aluminum frame, the P offers a choice between steel or aluminum, with the aluminum weighing 5 ounces less.
Both firearms feature ergonomic grips designed for comfort and a natural aim, resulting in even better accuracy. The Staccato P features the company's classic blended polymer grip, while the CS has a new grip design that's narrower and more comfortable for more hand sizes.
Slide & Barrel
The slide and barrel of both of these pistols are highly customizable, with the Staccato P being slightly more so.
The P model offers a choice between a stainless steel bull barrel and a threaded one, both of which can be DLC coated. The threaded barrel option also allows for the addition of an ICE compensator.
The CS, on the other hand, offers a stainless steel or DLC bull barrel, but no compensator option.
When it comes to the slide, the CS comes with standard serrations while the P comes with either standard or X Series serrations, which makes for an easier grip, even in wet or dirty conditions.
Staccato CS vs P: Sights & Optics
Like all Staccato models, both the CS and the P come in an optics-ready variation, as well as your choice of Dawson Precision Optic System plates depending on your optic of choice.
The Staccato P also offers a version that's not optics-ready, if you prefer. Instead, this variation comes with traditional iron sights that have been used for hundreds of years. Either way, the Staccato P features Dawson Precision® fiber optic front sights.
While the Staccato CS only comes optics-ready, it does give the option for either full-size or compact front sights, depending on your preference.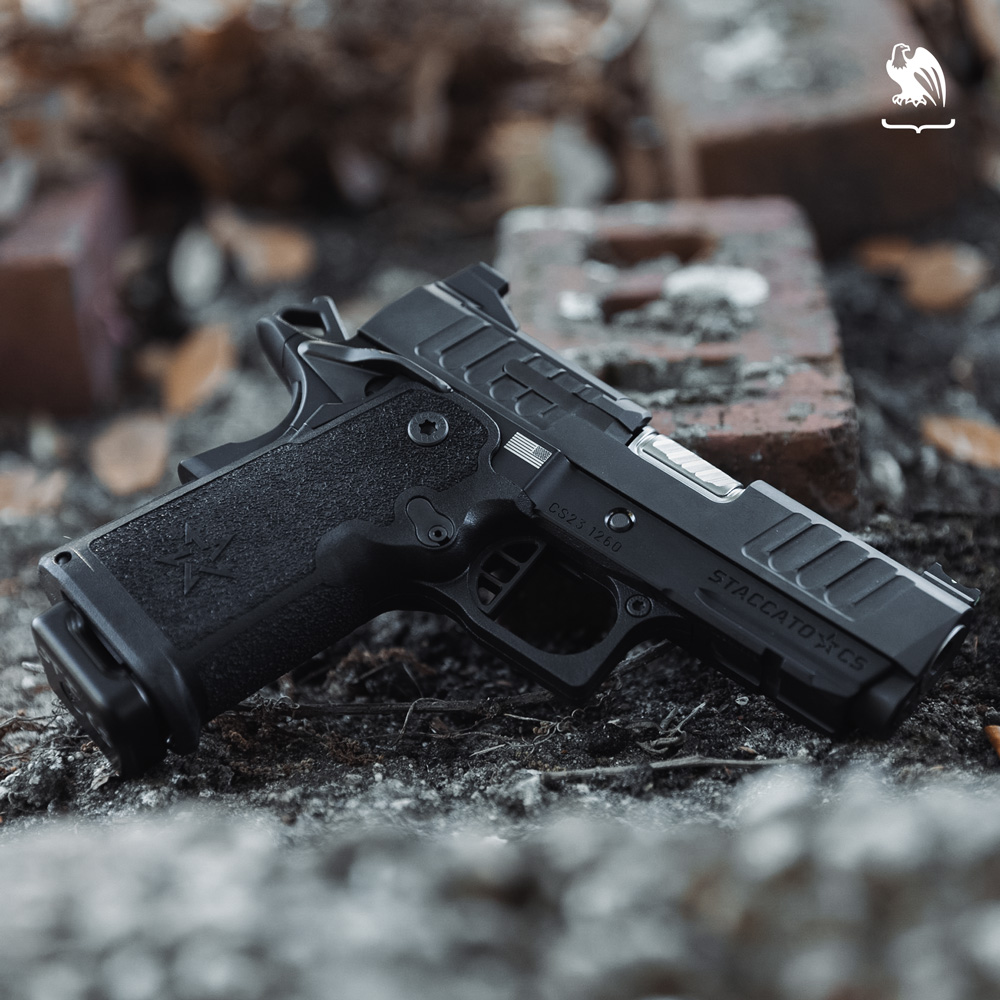 Staccato P vs CS: Controls
Safety
Both pistols are designed with an ambidextrous thumb safety, accommodating both right- and left-hand shooters. The Staccato P takes it a step further with a grip safety as well for extra peace of mind.
Trigger
As far as triggers go, the CS is a bit more customizable. The Staccato CS comes with either a long curve aluminum trigger or a flat Aluminum trigger, depending on what you prefer. The Staccato P comes standard with a straight pull-back trigger.
Both triggers feature a pull weight of 4-4.5 pounds.
Which is Right For Me?
The best Staccato pistol for you entirely comes down to what you intend to use it for.
The Staccato P was designed for duty use, and its features make it ideal for home defense. The Staccato CS, on the other hand, is a perfect choice for concealed carry. You can use either gun for either purpose, of course, if you wish.
The P is significantly larger than the CS and has a slightly larger round capacity. Both firearms can be personalized but offer different customizable features, which is definitely something to consider.
Both Staccatos come optics-ready and feature ambidextrous thumb safeties, though the P has an additional grip safety while the CS does not. The CS offers either a flat or curved trigger, while the P only comes with a straight pull-back trigger.
At the end of the day, both firearms are highly accurate, durable, and attractive options. The right one for you will depend on which features are more important to you, and what you intend to use the weapon for.
Summary
When comparing the Staccato CS vs P, you really can't go wrong. Both are highly accurate, reliable, and quality pistols that are effective for self-defense. While the P is designed for duty use, it is widely used for home defense. The CS is also intended for home defense but works even better as a concealed carry gun.
Either way, if you're looking for a new IWB, OWB, or pocket carry holster for your Staccato firearm, visit our Holsters by Gun Model page for Kydex holsters that are custom-made for your weapon of choice.
Interested in items beyond holsters? Check out our Resources Page for links to recommended products like lights, lasers, first aid, maintenance, and more, and browse our selection of belts, apparel, and accessories at our website, vedderholsters.com.
To stay up-to-date on all the latest Vedder Holsters content and offerings, check out our blog and follow us on Facebook, Instagram, and Twitter. And be sure to visit our sister company, GeoGrit, for all of your American-made minimalist wallet needs.