When it comes to choosing a reliable and effective handgun, there are plenty of great options to consider, two of which are the Glock 19 and the Steyr M9A1.
When comparing the Steyr M9A1 vs Glock 19, both firearms are well-known for their durability, accuracy, and performance, and are frequently compared by shooters looking for the best option.
In this article, we will compare these two popular pistols, highlighting their similarities and differences to help you make an informed decision about which is the better fit for your needs.
Glock 19
The Glock 19 is a highly popular pistol known for its versatility, compact size, and accuracy. It has long been a favorite of concealed carry enthusiasts and police officers who use it as a backup weapon.
The G19 Gen 5 is a striker-fired firearm that features Glock's Safe-Action trigger system. The pistol has a locked breech and short recoil, and its matte polymer-finished rough textured grip frame is both durable and comfortable to hold.
Chambered in 9mm Luger, the Glock 19 is a great self-defense weapon suitable for all hand sizes thanks to its modular backstrap. The G19 measures 5.04" high, has a barrel length of 4.02", and weighs only 23.63 ounces, making it an excellent carry pistol. The G19 can hold up to 15 rounds, but with an extended magazine, it can hold even more.
If you're looking for a Glock 19 holster, check out our selection here. Or, visit our Holsters By Gun Model page to customize a holster for your G19 with added accessories.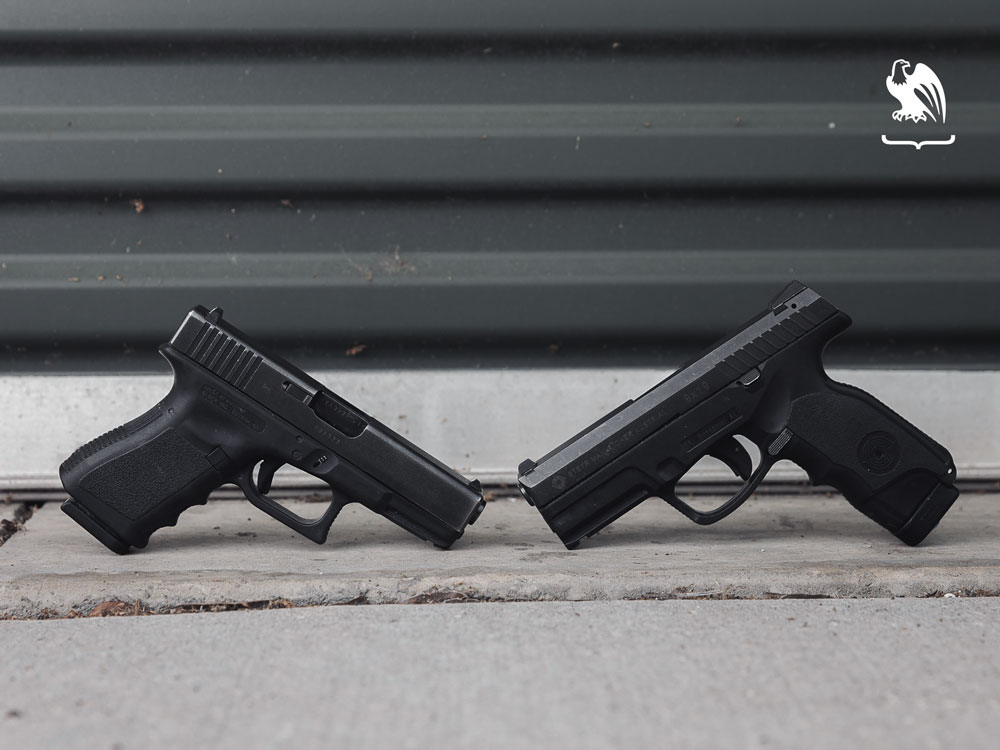 Steyr M9A1
The Steyr M9A1 is a 9mm semi-automatic pistol first introduced by Austrian manufacturer Steyr Arms in 1999. The M9A1 is a variation of the original Steyr M9 and comes with several notable improvements.
One of the major upgrades of the M9A1 is the addition of an integral Picatinny rail, allowing you to attach accessories like lights and lasers. The M9A1 also features a unique trapezoidal sight system that uses a triangular front sight and a rear sight with a trapezoidal shape, providing quick and accurate target acquisition.
The M9A1 has an ergonomic design, with a polymer frame and a comfortable, 111-degree grip angle. The M9A1 also has a reversible magazine release button, which makes it easy to use for both right-handed and left-handed shooters.
This 9mm pistol is 5.59" tall, weighs 27.31 ounces, and has a 4-inch barrel. Its small size and above-average capacity of 17+1 rounds make it an excellent choice for concealed carry.
If you're looking for an M9A1 holster, check out our entire selection here.
Steyr M9A1 vs Glock 19: Specs
Steyr M9A1 vs Glock 19: Size & Capacity
As far as size and capacity goes, the Glock 19 vs Steyr M9A1 are pretty comparable with a few slight differences.
Both pistols are chambered in 9mm, though the Steyr M9A1's standard 17-round capacity is slightly larger than the Glock 19's 15. Still, you can purchase extended magazines for the 19 that increase your capacity to up to 33 if that's what you're looking for.
In terms of size, the Steyr is slightly larger and heavier than the Glock, weighing 27.3 ounces and measuring 5.59" tall, 7.36" long, and 1.3" wide with a barrel length of 4". The Glock 19, on the other hand, weighs 23.63 ounces and stands 5.04" tall, 7.28" long, and 1.34" wide with a barrel length of 4.02".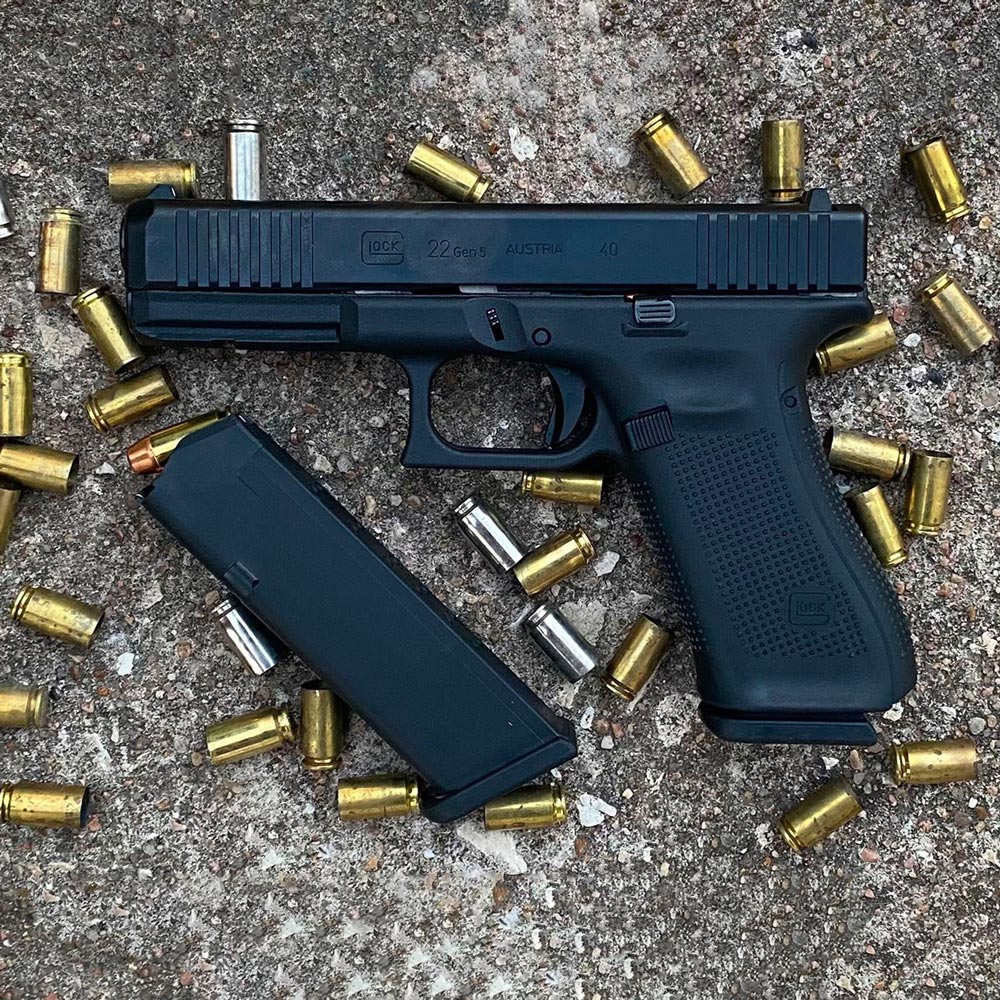 Steyr M9A1 vs Glock 19: Ergonomics
Frame
When it comes to frame details, the Steyr M9A1 and G19 have some significant differences.
While the Glock 19 has a traditional, rectangular frame with a higher bore axis, the Steyr M9A1 has a triangular-shaped frame with a relatively low bore axis, which can reduce muzzle rise and make the weapon more controllable during rapid fire.
When it comes to grip, the Steyr M9A1 pistol has a distinct grip angle that is more steeply angled than the Glock 19. The Steyr's synthetic grip is designed to promote a more natural pointing position, which can be more comfortable for some shooters.
Both pistols have aggressive stippling on the grip to help users get a secure purchase on the gun, though the Steyr's texture does cover a larger area than the Glock 19's.
Slide & Barrel
The Glock 19 and Steyr M9A1 have similar barrel lengths, with the Glock 19 having a 4.02-inch cold hammer-forged steel barrel and the Steyr M9A1 having a 4-inch steel barrel.
Beyond that, the Glock 19 has a polygonal rifling design, which helps to reduce barrel wear and can improve accuracy. The Steyr M9A1, on the other hand, has traditional rifling, which is designed to provide consistent accuracy and ease of maintenance.
Steyr M9A1 vs Glock 19: Sights & Optics
Both pistols come with fixed sights, but the Steyr M9A1's sights are more unique. The Steyr features a set of triangular sights that align with the firearm's triangular trigger guard. The Glock 19 has a more traditional, three-dot sight system, which can easily be upgraded to the sights of your choice.
While neither pistol comes optics-ready, the M9A1 does have a mounting plate that allows you to install a variety of red dot sights. The Glock 19 MOS is a version of the G19 that does come out of the box optics ready, which may be the better option if that's your desire.
Steyr M9A1 vs Glock 19: Controls
Safety
The Steyr M9A1 features a manual safety located just behind the trigger. The safety can be engaged and disengaged with your thumb and is designed to prevent the trigger from being pulled when engaged.
The Glock 19, on the other hand, does not come with a manual safety. Instead, it features Glock's Safe Action System, which is designed with three independent mechanical safeties that disengage as the gun's trigger is pulled and re-engage when released. Though not a traditional thumb safety, it does offer protection in the event the firearm is dropped.
Trigger
The Glock 19 has a simple polymer trigger known for its reliability. Its trigger pull weight is about 5.4 pounds and is consistent and smooth. The trigger has a distinct reset, making it easy to tell when the trigger is ready to be pulled again.
The Steyr M9A1 pistol also features a polymer trigger, which is designed to be lightweight and durable. The trigger pull weight on the M9A1 is also around 5.5 pounds and is similarly smooth and consistent, making it easy to maintain accuracy. It also has a short and tactile reset, meaning you can feel a distinct click when the trigger is ready to be fired again.
Which is Right For Me?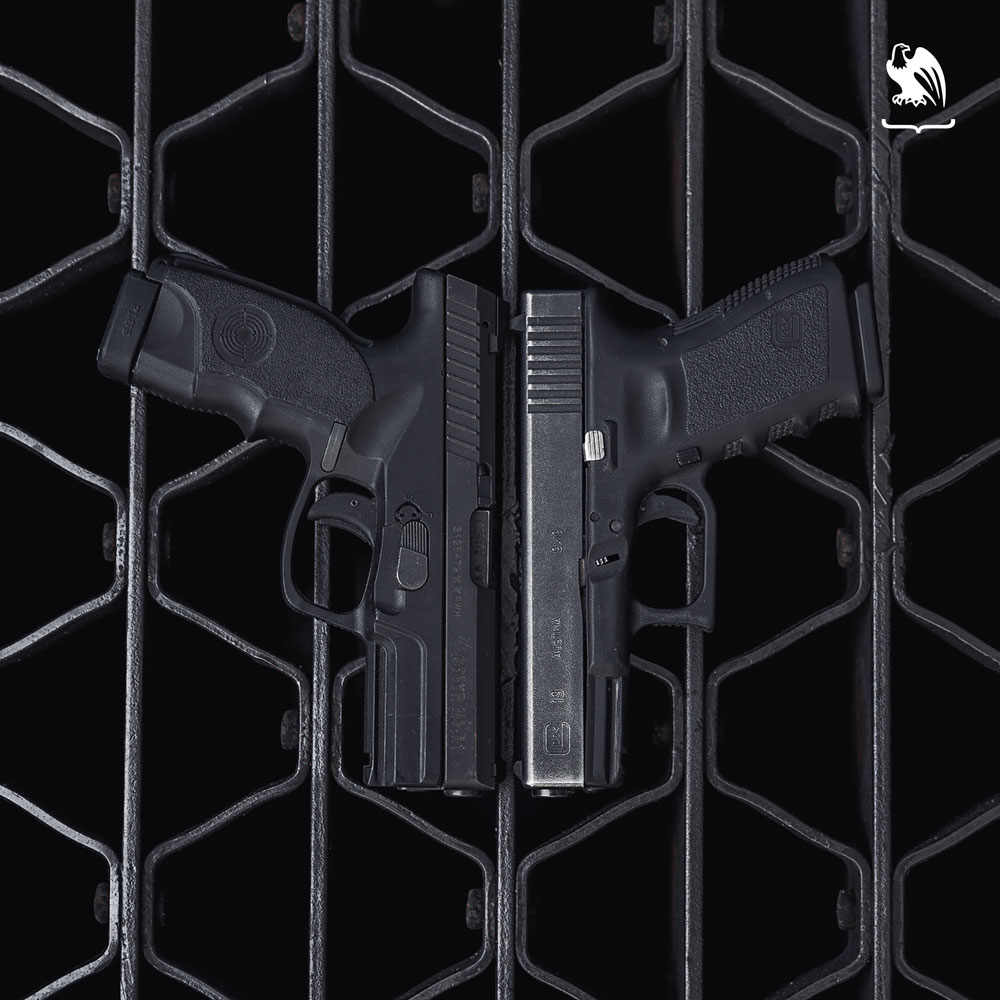 The right gun for you all comes down to personal preference and need. When deciding between the Steyr M9A1 vs Glock 19, there are some specific details about each that you should consider.
The two handguns are similar enough in size that it shouldn't be a main determining factor, though the Steyr M9A1 is slightly larger and heavier than the G19. The Steyr also comes standard with a higher round capacity, though the Glock 19 is the superior choice if you're interested in carrying significantly more rounds, as the G19 has extended magazine options.
The unique trapezoidal shape of the Steyr M9A1's grip also sets it apart from other pistols. Some shooters find this shape to be more comfortable and natural to hold, while others may prefer a more traditional grip like that of the Glock 19.
If you're looking for a pistol with a manual thumb safety, the Steyr M9A1 is the obvious choice as the Glock 19 features Glock's Safe Action Trigger System instead, which is different from a traditional safety.
For a firearm that you can easily mount optics to, the Glock 19 MOS version will be your best bet, as neither base-model firearm comes out of the box optics-ready.
Ultimately, the best way to determine which pistol is right for you is to handle and shoot both guns to see how they feel in your hands and perform on the range. By considering factors such as ergonomics, safety features, and intended use, you can make an informed decision that fits your needs and preferences.
Summary
When comparing the Steyr M9A1 vs Glock 19, it's easy to see why each pistol is so widely used for home defense and concealed carry. Both guns offer a lot in terms of size, capacity, and features.
Whichever model you choose, if you're looking for a new IWB, OWB, or pocket carry holster, visit our Holsters by Gun Model page for Kydex holsters that are custom-made for your weapon of choice.
Interested in items beyond holsters? Check out our Resources Page for links to recommended products like lights, lasers, first aid, maintenance, and more, and browse our selection of belts, apparel, and accessories at our website, vedderholsters.com.
To stay up-to-date on all the latest Vedder Holsters content and offerings, check out our blog and follow us on Facebook, Instagram, and Twitter. And be sure to visit our sister company, GeoGrit, for all of your American-made minimalist wallet needs.