Smith and Wesson has been in the business of crafting high-quality American-made pistols for over 170 years, and they don't seem to be quitting anytime soon.
Now, the same manufacturer who brought popular guns like the .38 Special, M&P Shield, and the Bodyguard 380 to the market have introduced a new highly-functional pistol: the Equalizer.
The Smith and Wesson Equalizer is a versatile micro-compact pistol specifically designed for concealed carry. It features low recoil impulse, a grip safety, and a Picatinny-style rail, and is designed to be easier to handle than most, catering to a wider range of shooters.
Chambered in 9mm, this single-action optics-ready pistol offers a mag capacity of 10, 13, or 15 depending on your preference. It has an easy-to-rack slide and a fast trigger reset for quick and easy handling in any self-defense scenario.
Keep scrolling for all the details about the new Equalizer.
Smith and Wesson Equalizer Specs
About Smith and Wesson
Founded in 1852, Smith and Wesson has been manufacturing firearms for over 170 years.
The U.S.-based company was founded by Horace Smith & D.B. Wesson, who partnered to create a gun that could fire a fully self-contained cartridge – a first for an American manufacturer. They did so in 1854 when they designed a .41 magazine revolver they dubbed "The Volcanic."
Smith and Wesson only grew in popularity over the years, creating the world's first double-action concealed-hammer revolver; introducing their 357 Magnum, which was widely used by law enforcement agencies; multiple M&P models; the first .38 Special revolver; and the revolutionary .40 S&W cartridge.
Today, Smith and Wesson continues to work toward their goal of empowering Americans with "the freedom, equality, and security promised by the Declaration of Independence and guaranteed by the Bill of Rights."
Check out Smith and Wesson's site to learn more about the company's history and to browse their collection of high-quality firearms.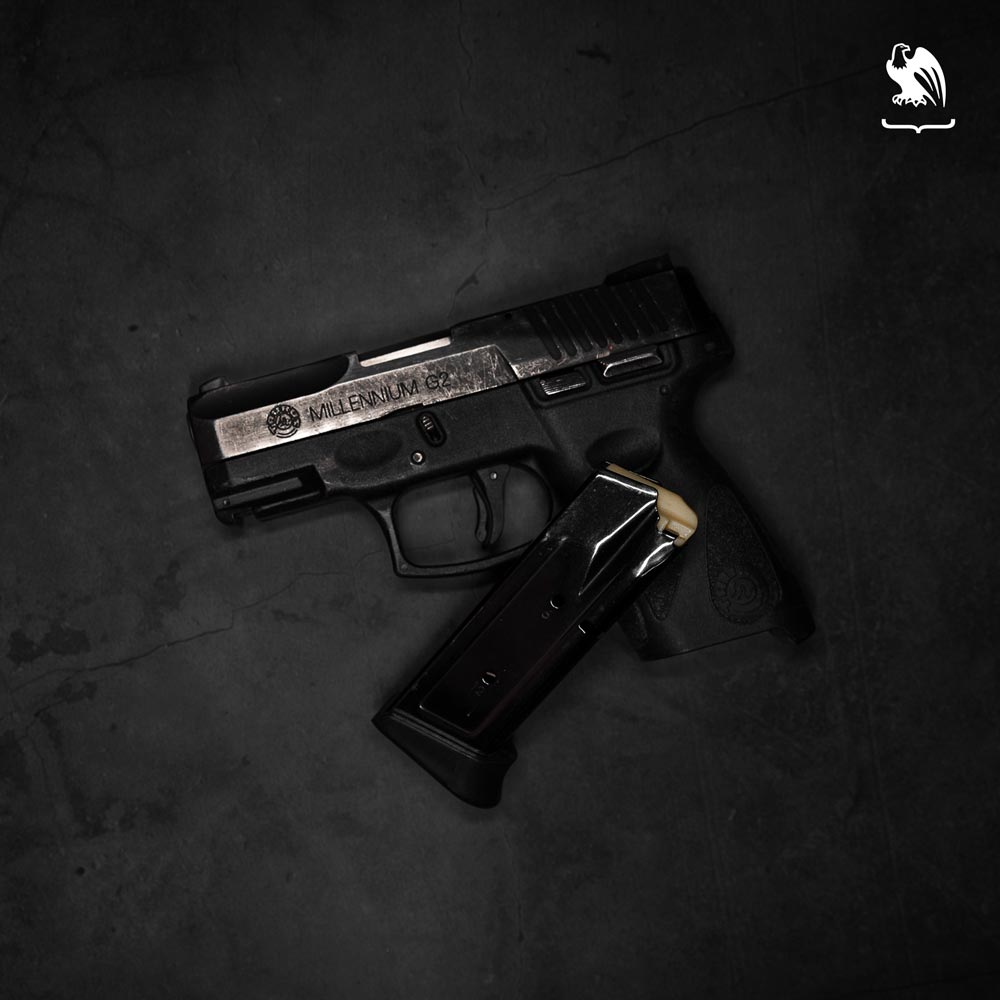 New Smith and Wesson Equalizer: Features
The high-performing Equalizer was built for concealed carry. It has plenty of customizable options and was designed to be as user-friendly as possible, making it a great fit for a variety of shooters. Here's a breakdown of all the Smith and Wesson Equalizer 9mm has to offer.
Capacity: The Equalizer features a highly versatile magazine capacity. Chambered in 9mm, this pistol comes with three magazines, each with a different round capacity. The 10, 13, and 15-round magazines allow you to mix and match depending on your use and preference.
The Smith and Wesson Equalizer features a reversible magazine release and comes with a Maglula UpLula® speed loader, which only adds to the pistol's ease of use.
Frame: The Equalizer's micro-compact frame was designed for ultimate control and usability. It features an easy-to-rack optics-ready slide with deep front and rear slide serrations for a strong grip.
And if you're hoping to use some Smith and Wesson Equalizer accessories, you're in luck. This pistol features a Picatinny-style rail that allows you to mount a variety of lights and lasers, depending on your use.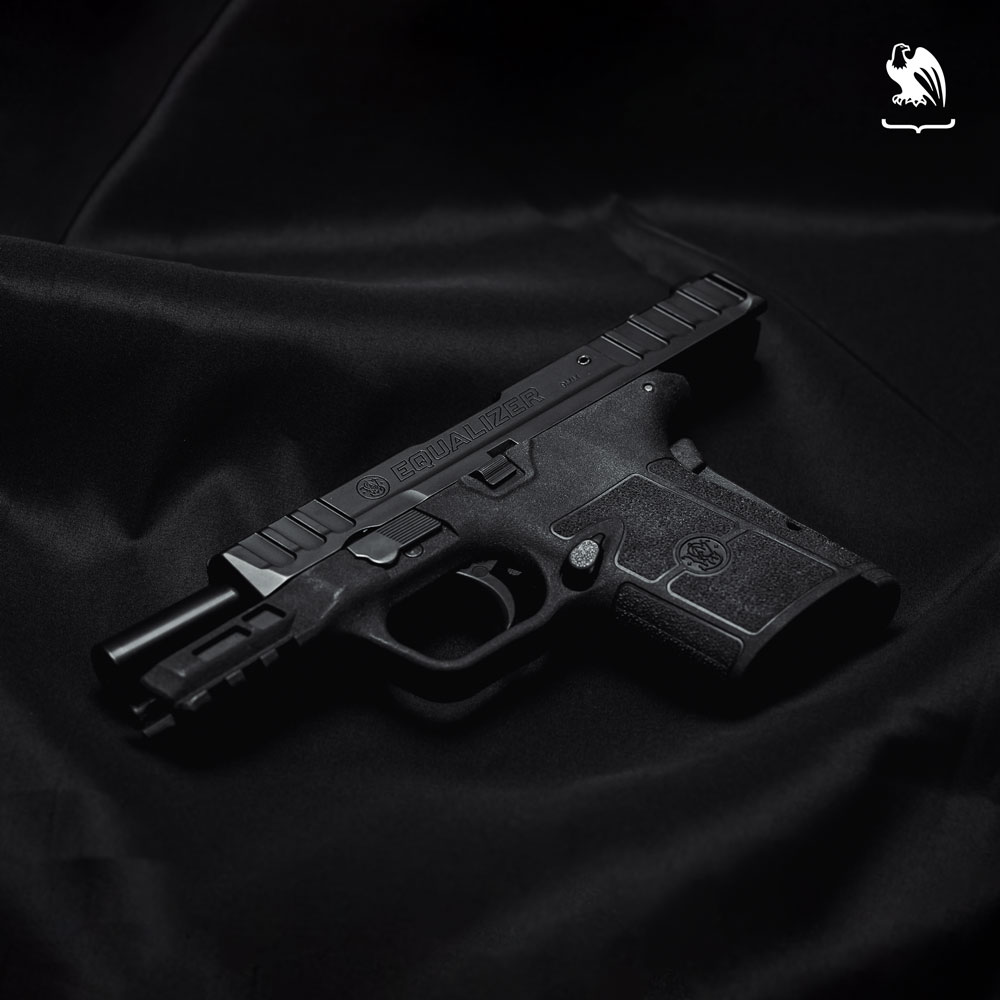 The Equalizer is built with a polymer frame and grip, the latter of which is designed with a new patterned grip texture that allows for more comfort and control, helping to reduce recoil for an easier shooting experience. It also has an 18-degree grip angle for a more natural point of aim.
While the frame and grip are polymer, the Equalizer's barrel is stainless steel. It's 3.675 inches in length, and does not come threaded. The pistol is finished with a durable Armornite® coating to protect it from corrosion.
Trigger: The Equalizer features a single-action trigger with a quick, tactile, and audible reset. It has a short take-up and clean break, and its fast reset allows for faster follow-up shots. It has a trigger pull weight of approximately 4.75 pounds.
Sights & Optics: The Equalizer comes with standard white dot sights out of the box. Because it features a 3.675" barrel, this pistol has a longer sight radius, which improves its standard sight precision.
But if you're looking for something more advanced, don't worry. This pistol is equipped with a new optic cut pattern so you can easily add the sights of your choice.
Safety: When it comes to safety features, the Smith and Wesson Equalizer goes above and beyond. This pistol has both a manual thumb safety and a grip safety along with a loaded chamber indicator, which is perfect for anyone looking for those advanced features.
Where Can I Find a Smith and Wesson Equalizer?
If the Equalizer sounds like the pistol for you, head to your local gun store to pick one up. If you'd rather shop online (we get it) we suggest checking out Guns.com, Gearfire, or Gallery of Guns to place an order.
No matter where you get your Equalizer, you'll need a quality holster to carry it in. If you're interested in a new IWB, OWB, or pocket carry holster for your Smith and Wesson Equalizer, visit our Holsters by Gun Model page for Kydex holsters that are custom-made for your unique gun.
Interested in items beyond holsters? Check out our Resources Page for links to recommended products like lights, lasers, first aid, maintenance, and more, and browse our selection of apparel, and accessories at our website, vedderholsters.com.
To stay up-to-date on all the latest Vedder Holsters content and offerings, check out our blog and follow us on Facebook, Instagram, and Twitter. And be sure to visit our sister company, GeoGrit, for all of your American-made minimalist wallet needs.