Dads are such an integral part of our lives. They protect us, support us, and always have advice when we need it. And when it comes time to say thank you for all of that, what better way than to contribute to his gun addiction?
Shooting gifts for dad are always worth a shot. Everything from unique targets for him to shoot at, high-tech hearing protection, and a new holster for his CCW are always a great idea.
If you've got a gun-loving dad, you're in luck. Men who like guns are easy to shop for, and we've got plenty of firearm-related gift ideas to choose from. So keep scrolling, you're sure to find something you'll want to pull the trigger on!
New Holster
We'll let you in on a little secret: new holsters are always welcome gifts for gun guys. And your dad is no exception.
If you really want a foolproof way to make him happy, just get him a new holster for his CCW or range pistol. At Vedder Holsters, we offer a variety of IWB, OWB, and pocket carry Kydex holsters designed for concealed or open carry.
The best part is all Vedder holsters are customizable, meaning we can make modifications for different lights, lasers, and optics. You can also choose from dozens of Kydex colors, so you can find one that shows off your gun dad's personality.
A holster is a great risk-free gift option as well, as Vedder holsters are backed by a 30-day money back guarantee and a lifetime warranty. So if it's not working out, your dad can always send it back (though we doubt he will).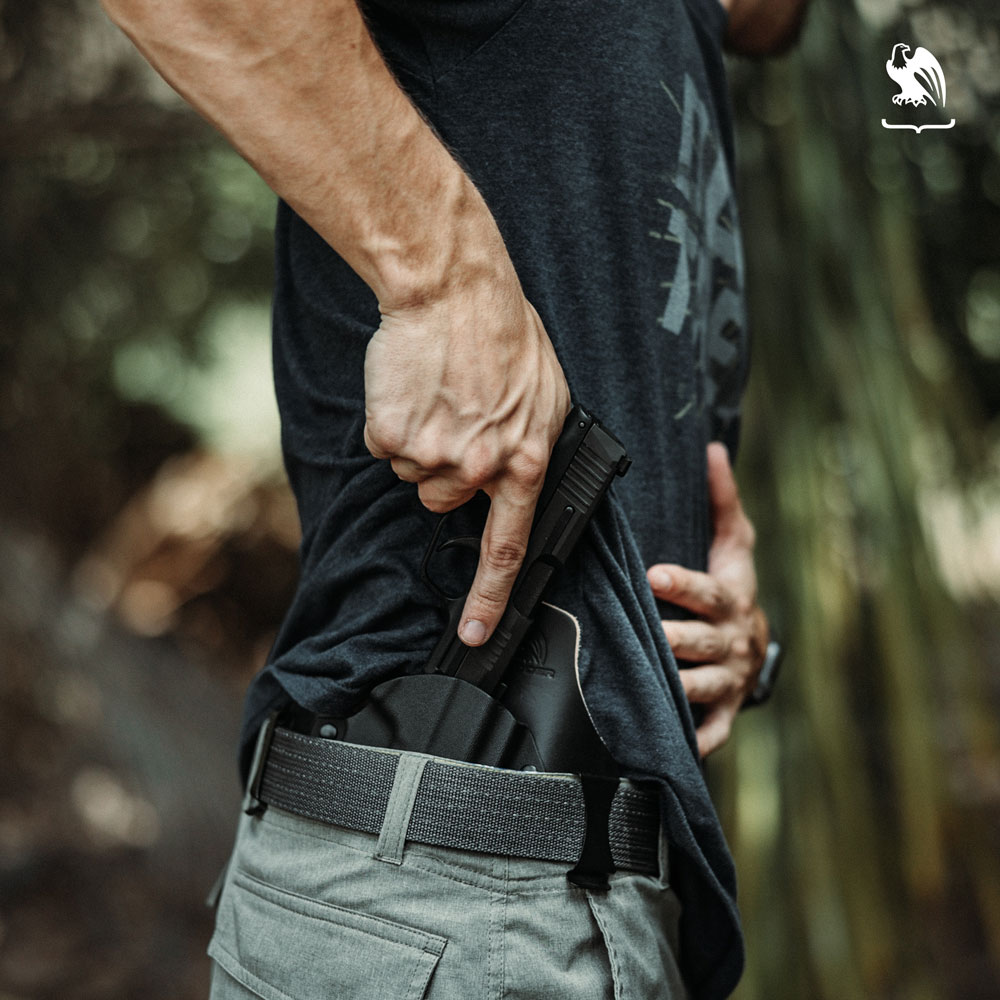 Unique Target
When it comes to gifts for men who like guns, giving them something new to shoot at is always a great idea.
But don't just give them the same ol' round splatter targets. They probably already have dozens of those lying around. If you really want to wow your gun-loving dad, give him something a little more interesting to practice with.
Buy him a steel spinning target that resets on its own, or one that holds clay pigeons that he can pick off one by one. You can always go with a classic steel target or one that bounces along the ground as it's hit, both of which are among the options made by Caldwell.
If you'd rather go with a classic paper target, why not mix it up by giving him a game instead? This Battleship-style target game is a fun option that you can use together. If your dad likes to shoot guns and golf balls, he may enjoy this "chip shot" splattering target game, too.
GeoGrit Wallet
If you know anything about everyday carry, then you know it entails more than just a gun.
A durable and secure minimalist wallet is an EDC essential, and make great gifts for gun guys, too. We recommend checking out the GeoGrit slim wallet. These aluminum and carbon fiber wallets are made in America, and feature RFID-blocking technology.
GeoGrit wallets are small enough to fit in your front pocket, yet durable enough to withstand heavy use. They come in seven different styles as well as your choice of a cash strap or money clip.
And best of all, these wallets are backed by a lifetime warranty, so if anything should ever happen to it, your dad can have it repaired or replaced. Check out the entire collection of GeoGrit wallets here.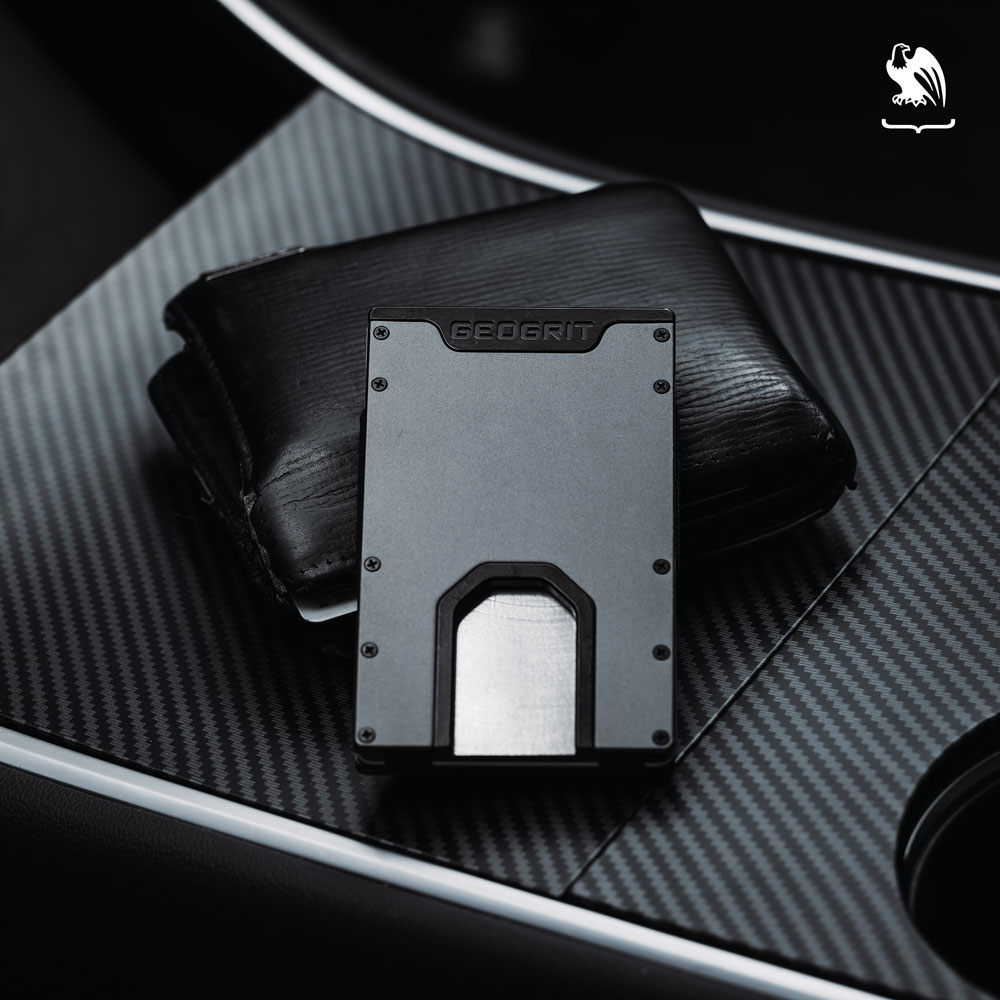 Ammo Can
Whether he's got stockpiles of ammo or only a few boxes in his range bag, ammo cans make great gifts for a gun loving dad. Especially if you get him a unique one.
For a high-end gift, consider giving him an Eylar crossover aluminum ammo can. These storage containers come in several different colors and with your choice of engraved emblem, including "don't tread on me," an eagle, and an American flag.
For a more personalized option, check out this custom ammo can engraved with an American flag and your dad's name. It's a classic army green can with an added flair. Finally, this zombie ammo can is just plain fun. It's made in the USA and is as sturdy as it is cool.
If you want to be extra nice, you could even throw a box or two of his favorite ammo in there. Why not!
Gun Cleaning Mat
If your dad has a gun, he's going to love this one. If your dad is an amateur gunsmith, he'll really love it!
The Vedder Holsters Gun Cleaning Mat is designed to keep both your table and gun clean and scratch-free while disassembling and reassembling your firearm. It has a high grip rubber backing that keeps all your parts in one place and keeps the mat from sliding around during the cleaning process.
It comes in a cool distressed American flag pattern, so it makes a nice focal point on a toolbox or gun cleaning station as well.
Gun Belt
Does your dad suffer from "gun belt sag?" If so, the best gift you could give him is a proper EDC belt that can actually support the weight of his carry pistol.
A gun belt is superior to a regular belt in that it is made from extra stiff, durable materials that prevent it from sagging and bending under the weight of a pistol and holster.
Vedder Holsters' belts make great gun gifts for dad. You can choose between leather and nylon, depending on his style, as well as from various colors and buckles. The Cobra® Quick Release Gun Belt is a popular option, and features a durable, step-down buckle that makes it so you only have to set your belt size once.
The V3 belt has a similar nylon belt design that allows you to put on and remove the belt without having to readjust each time, but comes with a more low-profile buckle option.
For a more stylish option, the Polymer Core Leather Gun Belt is always a winner. This belt is both sleek and rugged, and is designed with a stiff polymer core to give it added strength.
You can view all of our belt options here before choosing one for your dad.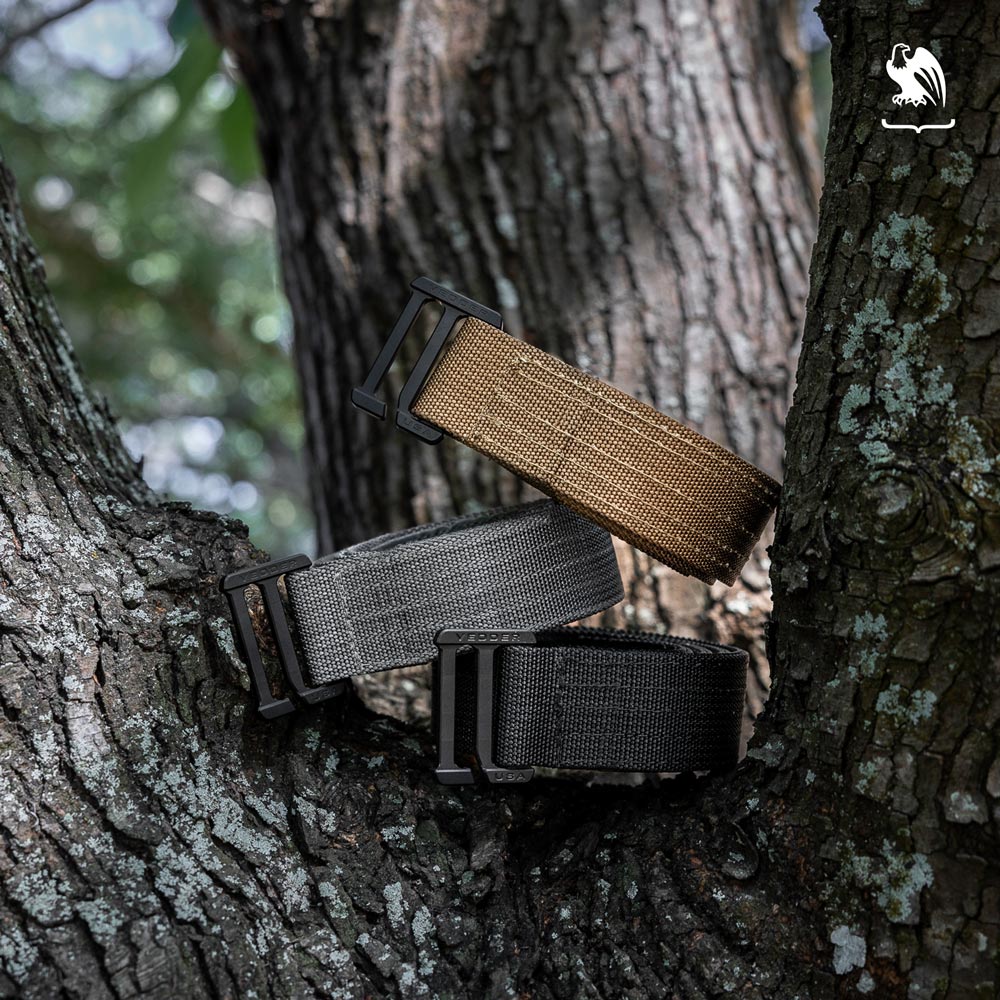 Black Rifle Coffee
If your dad likes to stay locked and loaded (with caffeine, that is) stocking him up with some beans from the Black Rifle Coffee Company is a no-brainer.
This veteran-founded company gives back to veterans, law enforcement officers, and first responders with every purchase, making this an even more meaningful gift for a patriotic dad.
The company sells everything from ground, whole bean, single serve, and even ready-to-drink coffee, as well as a variety of shirts, hats, and other apparel.
Range Membership or Class
What more could a gun-slinging dad want than a membership to his local range or to be signed up for a class he's been wanting to take?
Whether he likes indoor or outdoor ranges, wants to take a tactical, CCW, or home defense class, or just wants the opportunity to train more, you can find a gun club or range through the U.S. Concealed Carry Association's website.
If you already know what sort of membership he'd like, go ahead and surprise him. If you're not sure, this one might be worth asking him about to make sure you sign him up for what he actually wants to do.
Either way, he'll be excited to receive a gift like this, whether he's new to firearms or a seasoned pro.
EDC Tray
EDC trays make excellent gifts for men who like guns. They're specifically designed to hold all of your everyday carry gear while you're not using it, which helps keep things organized and prevent your stuff from being lost.
The Vedder Holsters EDC Tray is made from durable Kydex, which comes in dozens of different color options. It's the perfect size to hold all of your EDC gear, and is washable and handcrafted in the USA.
It's printed with the Vedder eagle logo, and makes the perfect addition to a desk, toolbox, gun safe, nightstand or wherever your dad dumps his gear.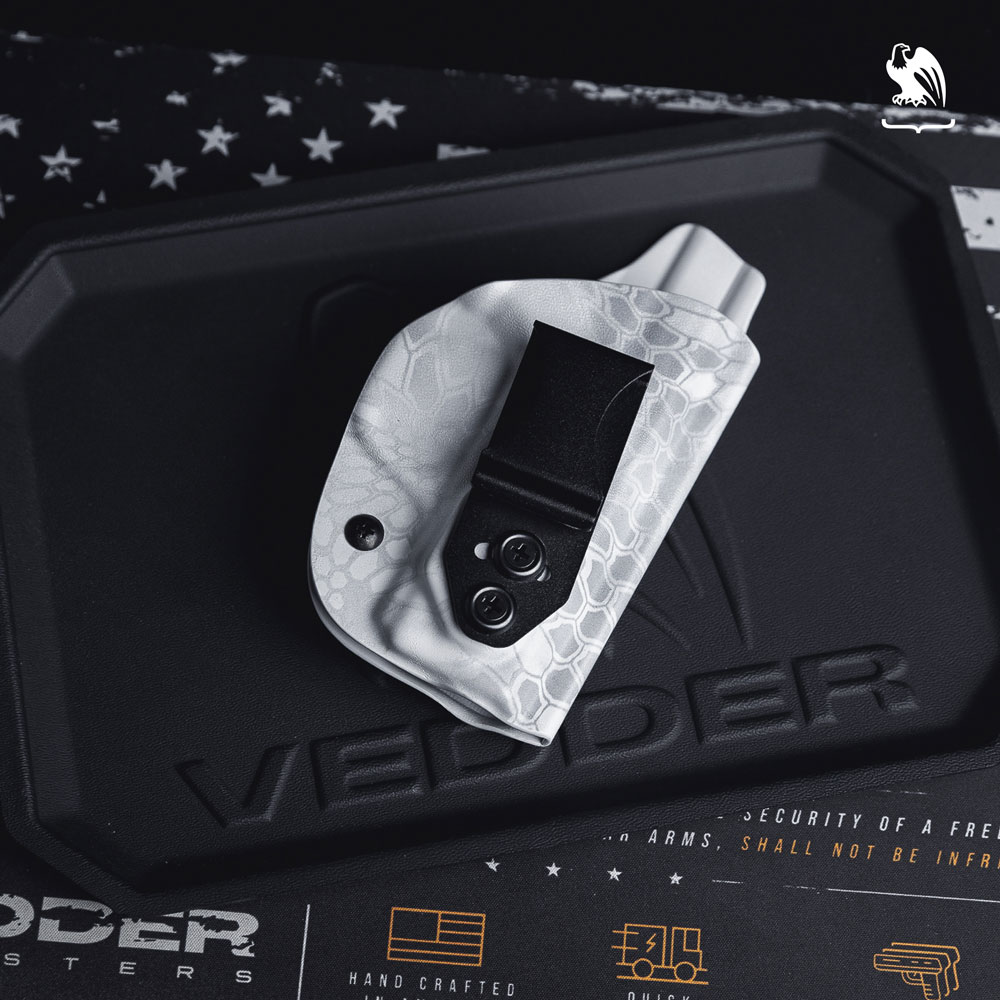 Fun Novelty Gift
If you've got a picky dad, or one who already has everything they could possibly want for their gun, you can always give them something fun and gimmicky.
This Right to "Bear" Arms mug is always a hit, as is this set of pistol-shaped soap. Uncommon Carry offers gun-shaped lighters – some are even life-sized. They've also got a flashlight version if your dad isn't really a lighter guy.
If your gun-loving dad also enjoys games, he may like this tic-tac-toe set made with bullet casings, or a set of gun-themed playing cards.
For dads who enjoy both guns and beer (or soda), this revolver-shaped bottle cap holder would make a great addition to his kitchen or garage. Pair that with this rifle-shaped carbon fiber bottle opener for the ultimate gun gifts for dad.
Dry Fire Training System
When it comes to shooting gifts for dad, you can't beat a high-quality dry fire training system that he can use to practice his shooting at home.
One of the best training systems out there is made by Mantis. They make performance training systems that connect to an app so that you can see your accuracy and progress in real time.
They also make standard laser training kits complete with targets and a tripod so you can work to improve your marksmanship.
If you're looking for a lower-cost option, this laser bullet from Pink Rhino allows you to see where your shot would hit as you practice dry fire training at home. It's a fun and practical gift option that any gun-loving dad will enjoy!
Bonus Ideas
If you're still not sure what shooting gifts for dad you want to get, here are a couple of bonus ideas you can't go wrong with.
First is a new T-shirt. Our Vedder Nation shirts feature designs such as "don't tread on me," "liberty or death," "RED Friday," and "the thin blue line." We also have regular Vedder Holsters logo shirts if he's a fan of the brand! Either way, these comfortable shirts are a great way for him to show his support.
If you want a little something to bolster any of the above gifts, you can always include a random sticker pack from Vedder Holsters. You get four stickers for $3.99 that he's sure to enjoy slapping on something in his garage. It can't hurt.
Finally, if all else fails, you can always get him a gift certificate to his local gun shop or to Vedder Holsters, so he can pick out his own gun accessories. Either way, you know he'll get a great gun gift.
Summary
If you're looking for shooting gifts for dad, you can't go wrong with a high-end gift like a new holster, a dry fire training system, or membership to the local range, or a smaller one like a gun cleaning mat, set of targets, or even a bag of Black Rifle Coffee.
If you're looking for a new IWB, OWB, or pocket carry holster for your dad, visit our Holsters by Gun Model page for Kydex holsters that are custom-made for your weapon of choice.
Interested in items beyond holsters? Check out our Resources Page for links to recommended products like lights, lasers, first aid, maintenance, and more, and browse our selection of apparel, and accessories at our website, vedderholsters.com.
To stay up-to-date on all the latest Vedder Holsters content and offerings, check out our blog and follow us on Facebook, Instagram, and Twitter. And be sure to visit our sister company, GeoGrit, for all of your American-made minimalist wallet needs.
*This page contains affiliate links. When you purchase a product included on this list, we receive a commission at no extra cost to you.