Red dot sights are an increasingly common accessory for firearms of all sizes, improving accuracy for shooters of all experience levels.
But before you can decide on the type of red dot you'd like to get, you'll need to get up to speed about the options available, how they work, and the applications they're best suited for.
There are three main types of red dot sights – reflex, prismatic, and holographic. Although each works differently, they serve the same purpose: making target acquisition quick, easy, and accurate for both short and medium-range shooting.
In this piece, we'll answer the question of "how do red dot sights work," talk about the different types available, and the pros and cons of using them to help you determine which is the best fit for you.
What is a Red Dot Sight?
So, what is a red dot sight, exactly? A red dot is an optic attached to a firearm that gives you an illuminated, usually red, reticle through your field of view to either replace or supplement the standard iron sights on your weapon.
These optics almost always run on battery power, though some now integrate solar technology as well.
In the past, red dot sights were the stuff of movies and special forces. They were bulky, somewhat dim, and the batteries lasted only for a few hours. They also cost thousands of dollars. Now, as our friends at Vortex Optics prove, you can pick up a pistol red dot sight for a few hundred dollars with a long-lasting battery.
There are plenty of benefits to using a pistol red dot, as well as some disadvantages. We'll go over those next.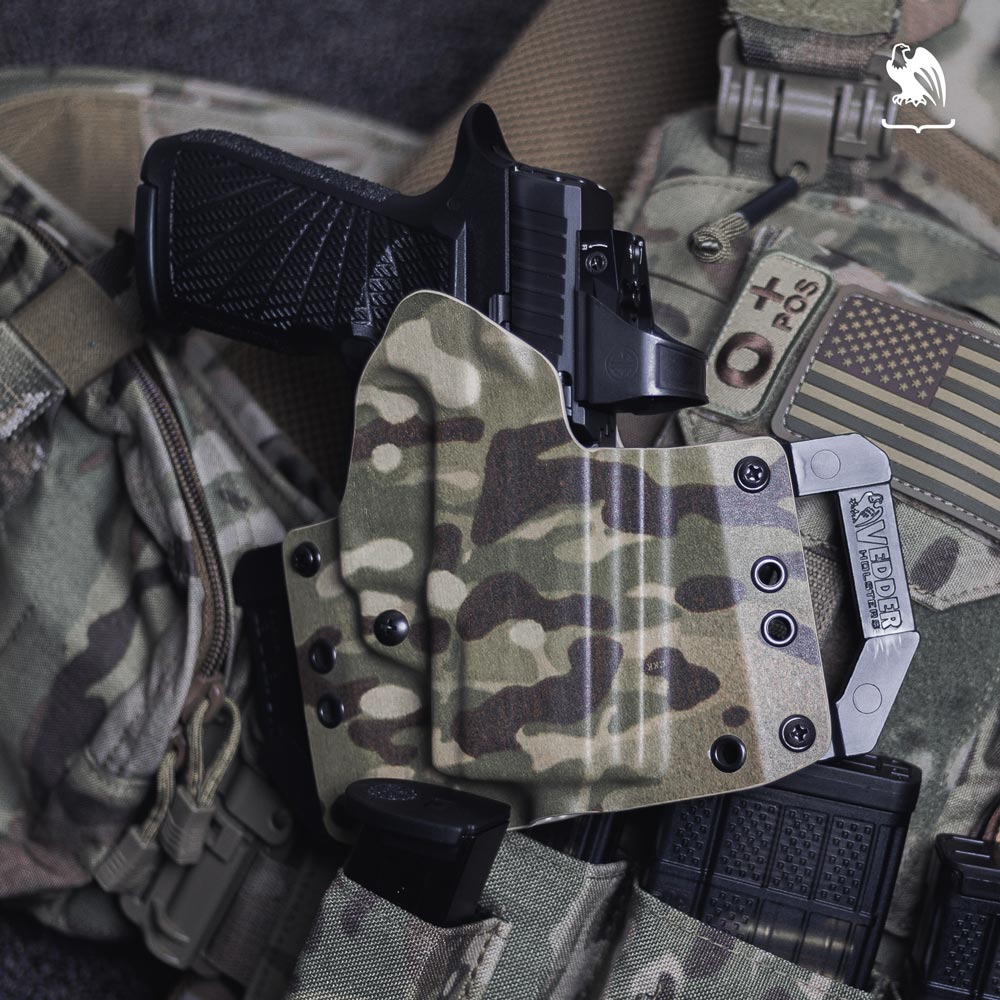 Why Use a Red Dot Sight?
Speed
When compared to standard iron sights, using a red dot sight to acquire a target under pressure, such as in a defensive application or during a competition, is much faster. To be fair, upgraded iron sights that use fiber optics or tritium can be fairly quick as well, but it is still difficult, without thousands of rounds spent in training, to match the speed of using red dot sights.
This speed advantage is what drew many folks in special forces to early red dots, and that same advantage is what has made red dot optics so common on everything from light machine guns to pistols today.
Accuracy
While red dot sights are perhaps best known for being speedy, they're also surprisingly accurate.
This is especially true for prismatic sights. When paired with a magnifier, some contemporary prism sights are the go-to choice for people putting together general-purpose tactical rifles that they intend to use out to several hundred yards.
With a little bit of practice, a red dot is an excellent tool for practical, defensive accuracy. Of course, we don't think that red dots are going to replace precision rifle sights any time soon, but for people who are doing general defensive training, a red dot sight is a more than capable tool for the task at hand with modern rifles like an AR 15 with a 16" barrel.
Simplicity
Red dot sights are also exceptionally easy to use once set up and properly zeroed on a firearm. All you have to do is put the dot on the target and press the trigger. That's really all there is to close-range shooting with a red dot sight.
Of course, doing so with both speed and accuracy will require a fair bit of practice, but probably far less than aligning both the front and rear sights of a pistol, both of which are often simple black metal, before making an accurate shot. When compared to iron sights, using a red dot is super simple for most people, which is one of the main reasons these optics are becoming so popular.
Limitations of Red Dot Sights
Range
As I mentioned above, red dot sights are more than accurate enough for hunting or defensive shooting out to moderate ranges if the user is willing to put in some time and ammunition into practice. With that said, red dots are not a one-stop solution for long-range shooting, and if you plan to use a particular firearm at ranges greater than about 200 yards, then some other type of optic will likely suit your needs better.
In cases where you need or want a rifle to do it all, some folks have taken to mounting pistol-sized red dot sights on rifles as well as a primary, more highly magnified optic.
Battery
Since red dot sights run on battery power, there is always the chance that your batteries will run out at an inopportune moment.
Contemporary red dots often have batteries that can last for months on end, and companies like Holosun make models that use solar power as well. Even with the advances in batteries, it's recommended that you have some kind of iron sight option on your gun so that if your batteries do go out or your optic breaks when you need it the most, you'll at least have some sort of sighting system to use.
Vision Issues
While red dot optics are an excellent choice for many people, they don't work well for everyone: especially if you have a condition like astigmatism that makes some lights appear fuzzy or warped.
But all is not lost. Some sights come with a green dot instead of red, which is easier for many people to see. You can also try getting a red dot sight with adjustable brightness to reduce any blurring that may occur. Polarized glasses can also help. In any case, you may want to test out any red dot optic that you're considering at the range before investing in one if you do have astigmatism!
Types of Red Dot Sights
As I mentioned in the introduction, there are several types of red dot sights, each using a different principle to make the sight function. There are three main types of pistol red dots:
Reflex
As Holosun explains, reflex sights work by emitting a beam via an LED, which is then bounced off of a translucent mirror inside of the optic. That laser is bounced back from the angled mirror into your eye. So, when you look through the scope, you see through the translucent mirror as well as seeing the bounced laser, and the effect is the perception of a dot or other reticle over the target.
Since all of the technologies involved in a reflex sight are fairly simple, these are often the most affordable kinds of red dot sights, ranging from as little as $20 to over $500.
Prismatic
Prismatic sights, as you can probably guess by the name, make use of a prism. In particular, prismatic sights have their reticles etched into a lens, and then the image of the target is focused using a series of prisms that the user can adjust for sharpness, and, often, magnification.
Prismatic sights well predate red dots, though red dot prismatic sights take the above concept and use a battery to illuminate the reticle. The major benefit here is that since the reticle is etched on the lens, it is super sharp and, usually, can function reasonably well even without a battery installed, albeit not as a true red dot. These sights generally cost anywhere from $120 to $500.
Holographic
AGM Global, a manufacturer of high-end sights, explains in detail how holographic sights work.
Holographic sights use a laser, a series of reflectors, and a grate with an image on it to project an image on an output display. In gun sights, this grate usually has a two-dimensional reticle, though a hologram can, technically, be three-dimensional as well.
In making the output screen a transparent piece of glass, the result is a reflection of an optic being placed in the middle of a conveniently clear window for the shooter. These sights have no parallax, or shift in perceived point of impact, making them highly accurate, but the complexity of their reflectors and grating make these the most expensive out of the three types listed here – typically costing between $400-1,500.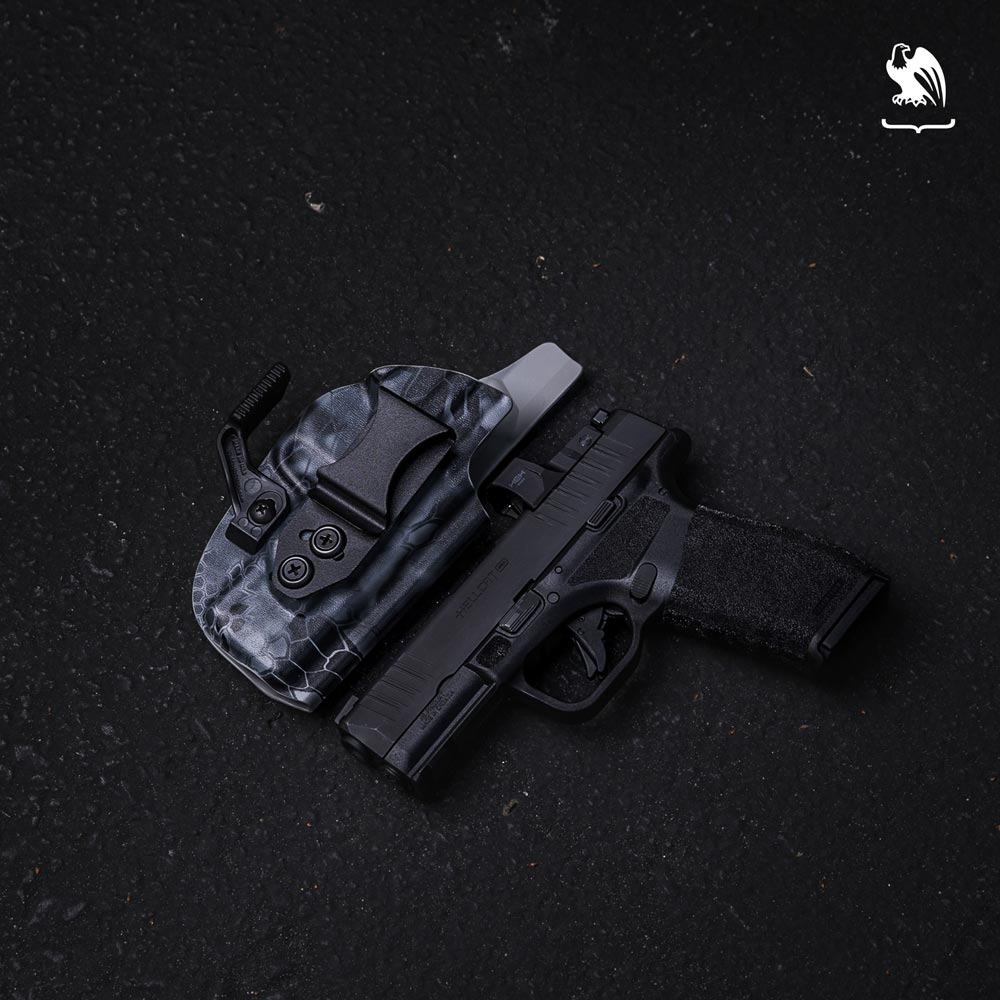 Which Type of Pistol Red Dot Is Best?
While all the different types of red dot pistol sights have their applications, we can't say that any one of them is the best, as each has its distinct merits. It all depends on what your needs and preferences are.
Reflex sights are often fairly affordable and can be made extremely small: this makes them great for pistol applications and for more affordable rifle builds.
Prismatic sights have exceptional clarity and, like the Trijicon ACOG, can be used reasonably well even when the batteries go dead since the reticle is etched rather than projected.
Finally, holographic sights have the benefit of not having any parallax at all and allow for more precise downrange shooting.
In short, any of these sights can be used well if you think through the intended application before making a purchase. When deciding which is best for you, think about the full feature set and budget that makes sense to you, not just the operating principle of the sight.
How to Use A Red Dot Sight On A Pistol
Chances are that if you're reading this, you're considering putting a red dot on a pistol.
Luckily, the actual use of the optic is simple: look through the glass, place the dot on the target, and press the trigger.
When installing a red dot on a pistol, however, you'll have to do some research beforehand on two fronts. First, there are several somewhat common standard footprints for pistol red dots: make sure that the red dot sight that you want to buy has the same footprint as your slide, or has an easy adapter.
Second, you will want to make sure that the installation is done correctly, with the correct torque specs on the screws. This is because a pistol red dot sight is usually mounted on the slide, meaning it's going to be taking a lot of abuse from recoil.
Because accuracy is so important, it's a good idea to ask a local gunsmith to do the installation of a red dot sight on a pistol for you if you're not sure how to do so yourself.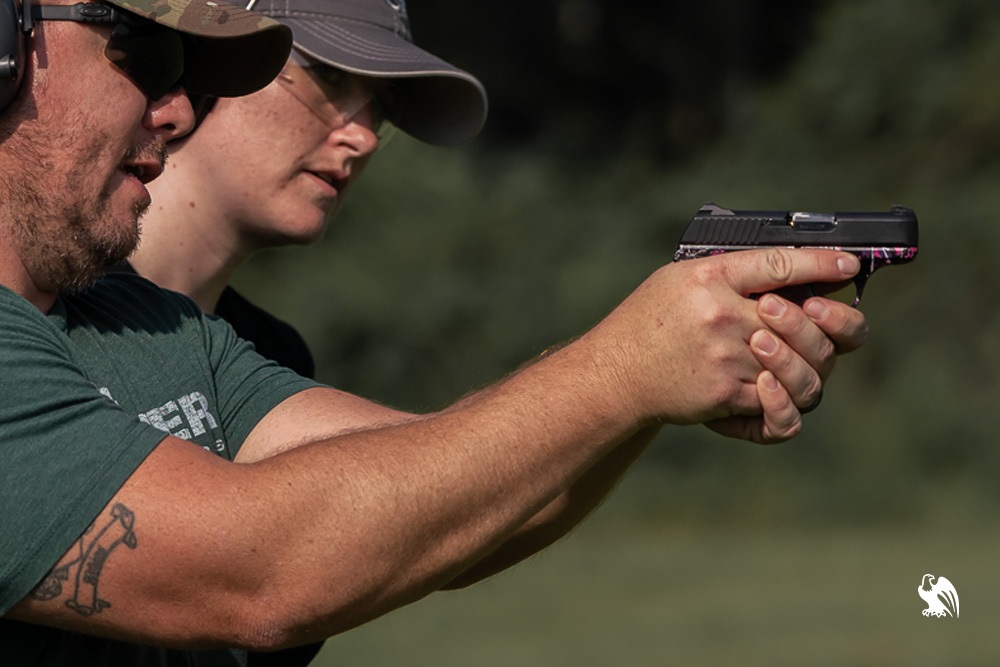 Summary
Whether you pick a reflex, prism, or holographic optic, there are a lot of great red dot sights on the market today. With just a little bit of homework, you can take advantage of decades of technological development and get an excellent piece of kit for less money than ever before.
Of course, if you get a new pistol that is compatible with a red dot sight, or upgrade your current pistol with a new optic, you'll need a holster that fits. So, we recommend visiting our Holsters by Gun Model page for holsters that are custom-made to fit your exact model.
Interested in items beyond holsters? Check out our Resources Page for links to recommended products like lights, lasers, first aid, maintenance, and more, and browse our selection of apparel, and accessories at our website, vedderholsters.com.
To stay up-to-date on all the latest Vedder Holsters content and offerings, check out our blog and follow us on Facebook, Instagram, and Twitter. And be sure to visit our sister company, GeoGrit, for all of your American-made minimalist wallet needs.