With a growing number of states enacting constitutional carry laws, the term has become a hot-button topic over recent years. But many still don't quite understand what the phrase means, or how it differs from similar policies.
Constitutional carry is a broad term that means law-abiding citizens are not required to obtain a permit in order to conceal or open carry a handgun. However, constitutional carry does not look the same in every state, and it's important to understand the laws specific to yours.
Some people confuse constitutional carry with permitless carry or open carry, which is a critical mistake. Each of these terms means something different, and we'll get into how they compare later on.
In this article, we'll cover the ins and outs of constitutional carry and what it means for gun owners in these regions.
What Does Constitutional Carry Mean?
There is a lot of misinformation out there surrounding constitutional carry laws and what exactly they mean, so let's break it down.
According to the U.S. Concealed Carry Association, constitutional carry refers to laws that allow people who are legally allowed to have a firearm to carry it in public – with or without a permit.
But not all constitutional carry laws are the same.
Sometimes they only apply to citizens, while other times it means anyone within state borders can carry a gun. In some places, these laws are conditional, meaning they allow either permitless open or concealed carry, but not both. It all depends on the state and how their laws are written.
Each state also has the right to impose certain restrictions on permitless carry, such as age, location, and legal history.
Everywhere has different laws concerning constitutional carry, and it's important to understand how they work where you live before making assumptions about what's allowed and what's not.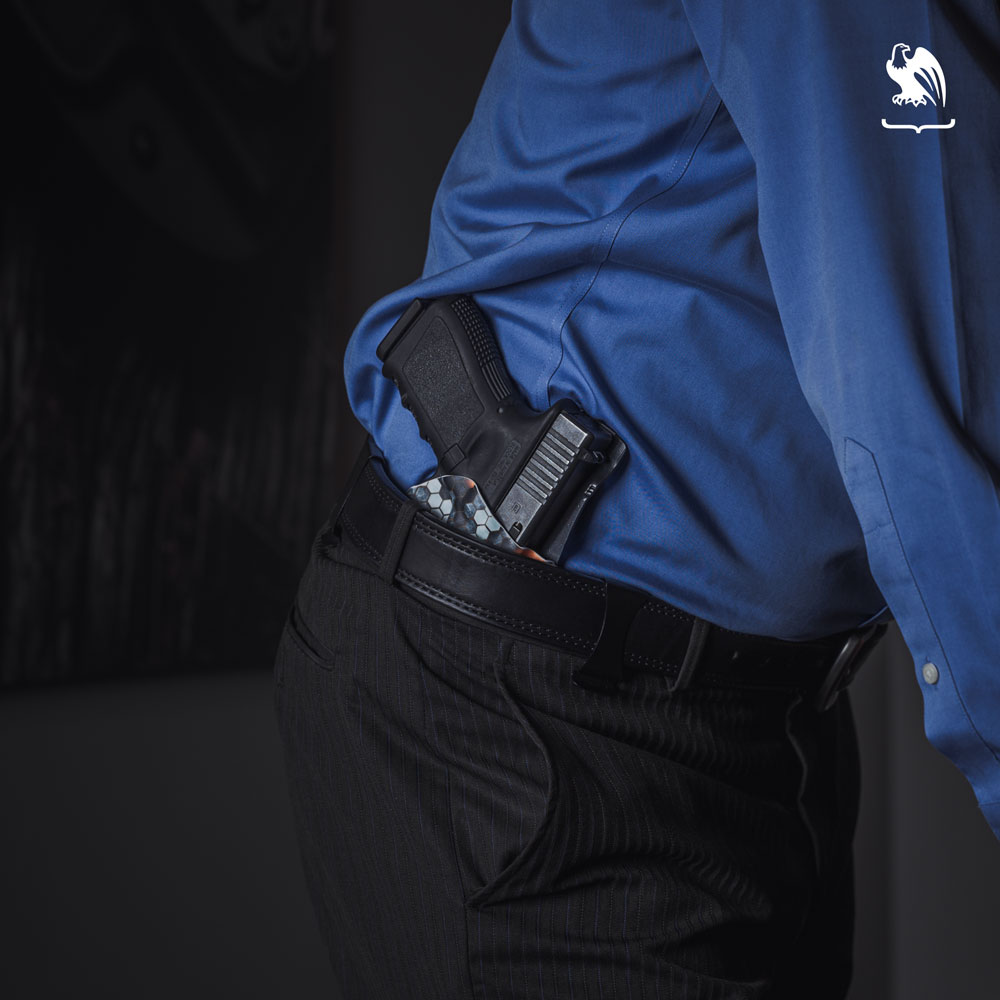 How Do Constitutional Carry Laws Work?
Many people hear "constitutional carry" and think it means anyone is free to carry any gun, anywhere, at any time. But that's just not true.
Even though states with constitutional carry laws are far less restrictive than most, they still have certain rules and regulations in place. So, how do constitutional carry laws work?
First, it's important to understand that no two states have the same laws surrounding the open or concealed carry of a firearm. You should always read up on what the restrictions are where you live to avoid legal trouble.
Once you understand the specifics of the constitutional carry laws where you are, including any age, location, and residency requirements, there are a few more things to note before heading out with your gun on your hip.
The most important thing to understand is that constitutional carry laws do not supersede other state or federal laws. Even if your state allows permitless carry, that doesn't mean you can take your gun into places like federal buildings.
Also, you should never assume that just because a constitutional carry law was passed in your state that you're free to carry everywhere at any time – even if that place is not under federal jurisdiction.
Places like bars and school zones are still usually off-limits, even in permitless carry states. You may be surprised by the places where concealed carry is restricted where you live, which is why it's so important to brush up on the specifics where you are.
U.S. Law Shield is an excellent resource for learning about specific concealed carry laws and the repercussions for breaking them. Staying informed is a critical part of being a responsible gun owner, and can prevent you from inadvertently breaking the law.
What States Allow Constitutional Carry?
There has been a steady rise in the number of constitutional carry states in the U.S. over the past few decades. As of April 2023, a total of 27 states have enacted constitutional carry or permitless carry policies.
So, what states have constitutional carry?
The very first constitutional carry state was Vermont. In fact, the state wrote this law into their constitution all the way back in 1793, and has not wavered since.
The state that kicked off the constitutional carry rise in modern times was Alaska in 2003, followed by Arizona and Wyoming in 2010. Since then, Kansas, Maine, Mississippi, Idaho, Missouri, West Virginia, New Hampshire, North Dakota, South Dakota, Arkansas, Kentucky, Oklahoma, Iowa, Tennessee, Texas, Montana, Utah, Alabama, Ohio, Indiana, Georgia, and, most recently in 2023, Florida and Nebraska.
And it doesn't appear to be ending any time soon. Several other states are considering enacting constitutional carry laws, including Louisiana, North Carolina, and South Carolina.
For up-to-date information regarding state-specific gun laws, we suggest checking out the USCCA's interactive reciprocity and gun laws map.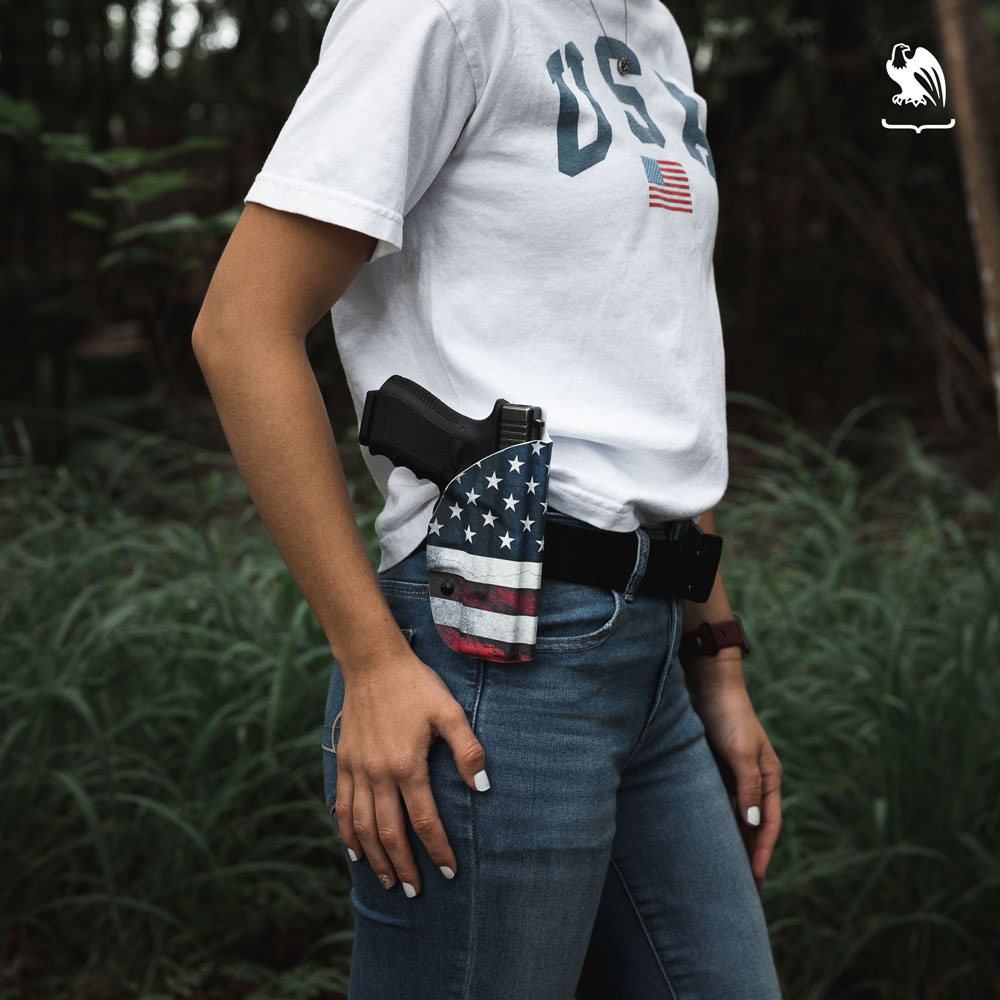 Should I Get a CCW License If I Live in a Constitutional Carry State?
The benefit of living in a constitutional carry state is that you don't need a CCW license in order to carry. But, is it still a good idea to have one?
While the choice to obtain a concealed carry permit is a personal one, there are several benefits to being licensed, even if you don't have to.
The first is that just because you can legally carry without a permit in the state where you live, doesn't mean you can carry elsewhere. You'll still need a license to carry if you plan to travel to another state, and having that permit ahead of time will allow you to bring your weapon (as long as they offer reciprocity with your state, of course).
Next, having a permit allows you to skip the background check if you plan to purchase any firearms in the future. Because there are so many people trying to purchase a gun at any given time in the U.S., clearing the National Instant Criminal Background Check System (NICS) can often take a while.
Luckily, if you already have a CCW license, you can skip the mandatory background check because you already had to pass one in order to get a permit.
Next, having a concealed carry permit may allow you certain privileges that you wouldn't have otherwise. In Arizona, for example, while you are permitted to carry without a license, you cannot do so in a place that serves alcohol. However, if you have a CCW license, you can as long as you don't drink.
Finally, and most importantly, even though permitless carry may be legal where you are, you'll be glad to have a proper permit in the event you have to use your gun to defend yourself.
The unfortunate truth is that even though you may have been perfectly justified in shooting someone for self-defense, there's a good chance you'll have to face police, a prosecutor, and even a jury to defend your actions. And having a CCW license will only bolster your credibility in these situations.
Constitutional Carry vs Permitless Carry
Even though the terms "constitutional carry" and "permitless carry" (also known as "unrestricted carry") are often used interchangeably, the two concepts are actually different.
While all constitutional carry states are permitless carry states, the reverse is not true. Allow us to explain.
Constitutional carry is a law that allows anyone who is legally allowed to possess a firearm to carry a handgun openly or concealed without a permit. Permitless carry, on the other hand, means that the state allows for open or concealed carry without a permit so long as the individual meets certain criteria, such as not having a DUI in the past five years, etc.
Again, not all constitutional carry states have the same black-and-white rules either. The laws are different everywhere you go, so be sure to check yours before leaving your house with a weapon.
Constitutional Carry vs Open Carry
Now that we've gone over the difference between permitless and constitutional carry, we need to talk about a third category: open carry.
Open carry differs from constitutional carry in that it only refers to carrying a firearm visibly, or at least partially so in some states, and may still require a permit.
While most states with constitutional carry allow for permitless open or concealed carry, some states allow you to open carry a firearm without a permit, but require a license to carry concealed.
There are states that allow for open carry so long as you have a permit, and yet others do not allow for open carry at all – with or without a CCW license. So, before you head out with a pistol strapped to your hip, be sure that your state allows for open carry.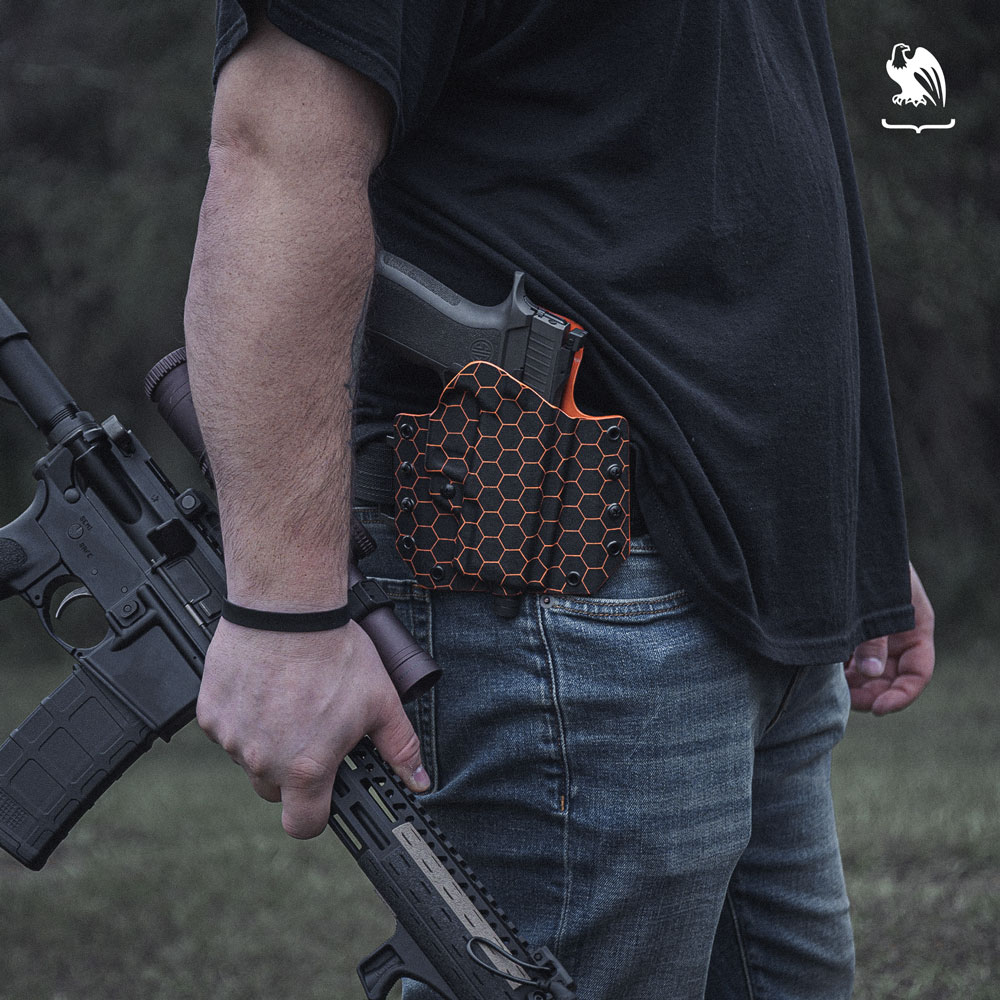 Summary
Constitutional carry simply means that anyone who is legally allowed to possess a firearm in that state can conceal or open carry without a permit.
But there's more to it than that. Every state that enacts a constitutional carry law is different, and the rules vary state by state. It's critical that you research the laws where you live before carrying a handgun in public. To learn more about the regulations where you live, visit the USCCA's interactive gun laws by state map.
If you're looking for a new IWB, OWB, or pocket carry holster, visit our Holsters by Gun Model page for Kydex holsters that are custom-made for your weapon of choice.
Interested in items beyond holsters? Check out our Resources Page for links to recommended products like lights, lasers, first aid, maintenance, and more, and browse our selection of apparel, and accessories at our website, vedderholsters.com.
To stay up-to-date on all the latest Vedder Holsters content and offerings, check out our blog and follow us on Facebook, Instagram, and Twitter. And be sure to visit our sister company, GeoGrit, for all of your American-made minimalist wallet needs.