You try to match your clothes, car, and home decor to your personality – why should your concealed carry holster be any different?
If you've been eyeing a bright Zombie Green, colorful HexCam® Adirondack, or pretty Tiffany Blue colored Kydex holster, but you're not sure if you're ready to commit, you've come to the right place.
There's a reason we offer dozens of colors and patterns here at Vedder Holsters. Not only are they a fun way to add some personality to your carry system, but colored gun holsters offer some practical benefits as well.
There's nothing wrong with a classic black holster, of course, but if you're thinking about mixing things up with a cool new pattern or a pop of color, here are six reasons why you should take the leap.
1. It's Harder to Forget Your Gun Somewhere
You may think it's impossible to forget something as important as your firearm in a public bathroom, in a hotel, or in a store dressing room – but it happens. It's a simple mistake that can result in some very serious consequences.
Believe it or not, a colored holster can actually help prevent a scenario like that from happening. After all, it's much harder to forget a pistol in a high-visibility colored holster than in a black, brown, or gray one that blends in with its surroundings.
And it doesn't just work while you're out and about. A colored holster can help you remember to bring your gun in the first place, as well.
It can be easy to leave your house without your carry system, especially if you're in a rush. Luckily, a bright orange holster is likely to catch your eye on your way out the door, making it almost impossible to forget!
2. It's Easier to Tell Your Guns Apart
Whether you have two guns or an arsenal of firearms, you know how tricky it can be to tell your weapons apart – especially if they're a similar size and/or manufacturer. An easy fix to this problem? You can use a different colored holster for every model, so there's no question about which one you're picking up.
Similarly, this method can help you differentiate between which holster is compatible with which pistol, so you can always get it right on the first try (trust us, we know what it's like to have tons of holsters – literally!).
If you have multiple concealed carriers in your home, colored Kydex holsters can also help keep your weapons apart, so you know whose is whose. This is especially helpful if you and others in your household carry the same type of pistol.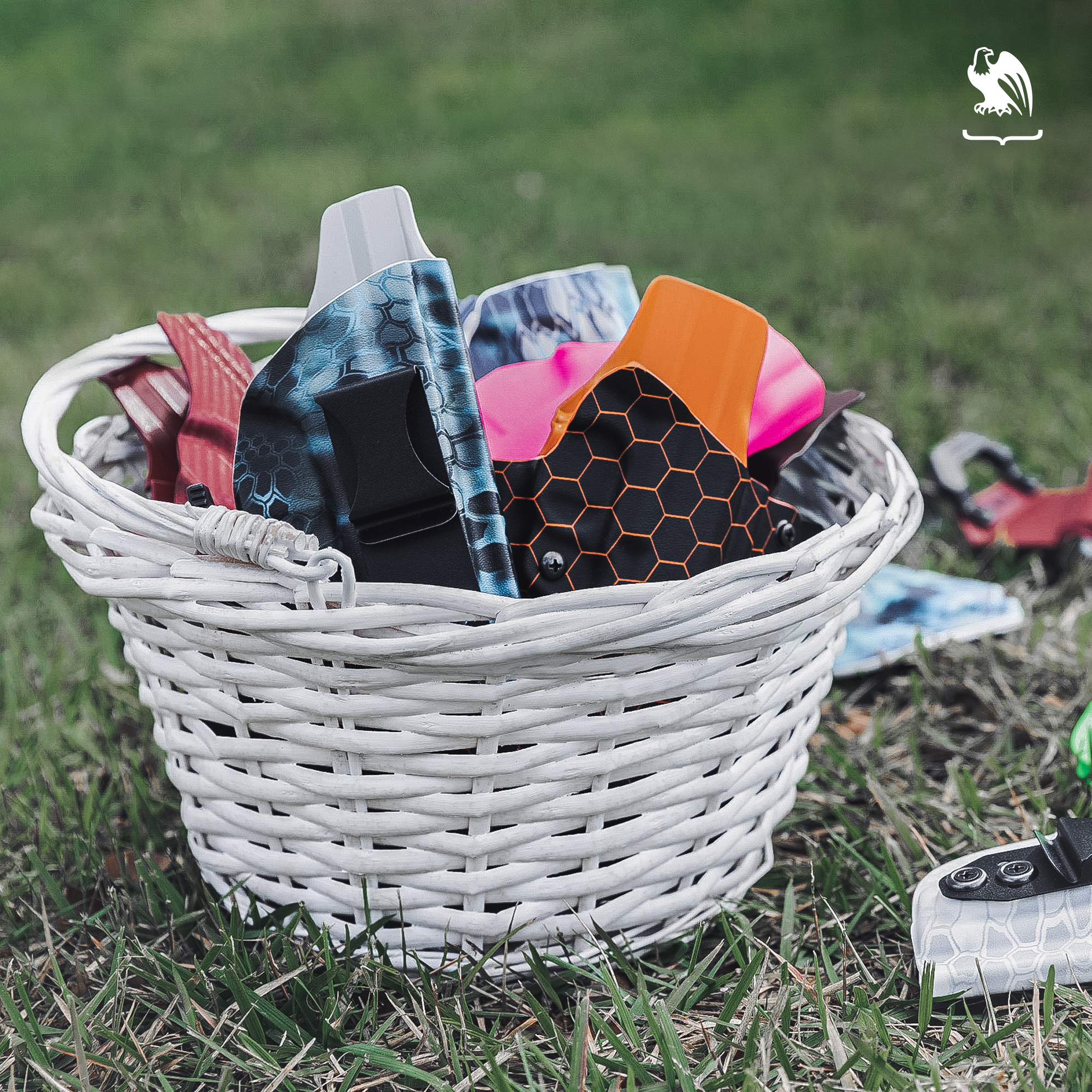 3. You Can Match Them to Your Gun
There are tons of manufacturers today that offer firearms in all different colors and styles – plus plenty of aftermarket modifications that can be used to add some personality to your carry pistol.
If you've invested in a colored gun, or you've put in the time, money, and effort into cerakoting your weapon, you obviously care about its appearance. But why stop there?
Pairing your cerakoted pistol with a complementary holster is twice the fun – especially since your beautiful gun is hidden by your holster most of the time anyway.
So, whether you're showing off your carry system to your range buddies, taking a cool photo for the 'gram, or just want to enjoy the aesthetics for yourself, a colored gun and holster is a winning combo. So, what's stopping you?
4. They're Easier to Holster
As strange as it sounds, using a colored gun holster may actually make reholstering your gun easier.
If you're among the 70% of Americans who prefer to wear dark or neutral colors, you may have noticed it can be difficult to see what you're doing when you put a black gun into a black holster while wearing black clothes.
Not only is this frustrating, but fumbling with your weapon while holstering is also potentially dangerous. But, what are you supposed to do about it? Use a colored gun holster, of course!
Using a colorful holster – especially lighter, brighter colors – makes it easier to see what you're doing while holstering and reholstering. Your dark-colored pistol will stand out against the lighter background of your holster, and your holster will stand out against your darker or more neutral-colored clothing.
5. They Glow in the Dark (Kinda)
Similar to reason number four, carrying a brightly-colored holster can aid in visibility in low-light situations.
Seconds count when you're in a defensive situation. And whether you're in a dark alley, in the woods at night, or reaching for the pistol on your nightstand at 2 a.m., you want to be able to grab your weapon smoothly and quickly. But if you're looking for a dark gun and holster in pitch black, well, that can be a bit of a challenge.
A colored Kydex holster will give you much higher visibility – especially our neon Vedder Holsters colors, those babies practically glow in the dark!
This works especially well for any home defense pistols you may have. A brightly-colored holster will help you find your weapon quickly when it's dark and while you're groggy from waking up.
And, while some in the firearm community warn against using a colored gun since bad guys can see them just as easily as you can, with a holster, this isn't as much of a concern. If you're worried about bright colors giving away your position, all you have to do is draw your weapon and, voilà! your gun blends in with the dark again.
6. They're Fun!
Finally, there's just something fun about choosing a holster with a color or pattern that shows off your personality!
Whether you like to display your American pride, love bright neon colors, or want an edgy Graveyard holster, the color or pattern you select is a great way to express who you are and the styles you like – even if you are the only one who ever sees it.
But with all the Kydex holster colors to pick from, where do you start?
First, think about what you want your holster to say about you. Do you want it to show support for something you believe in? Do you want something unique? Something that's pretty to look at? Are you looking for a holster that will turn heads at the range?
Once you have an idea of what you're looking for, check out all the different Kydex colors and patterns available. We have dozens of Vedder holster colors to choose from, so you're sure to find something you love!
Are Colored Kydex Holsters Harder to Conceal?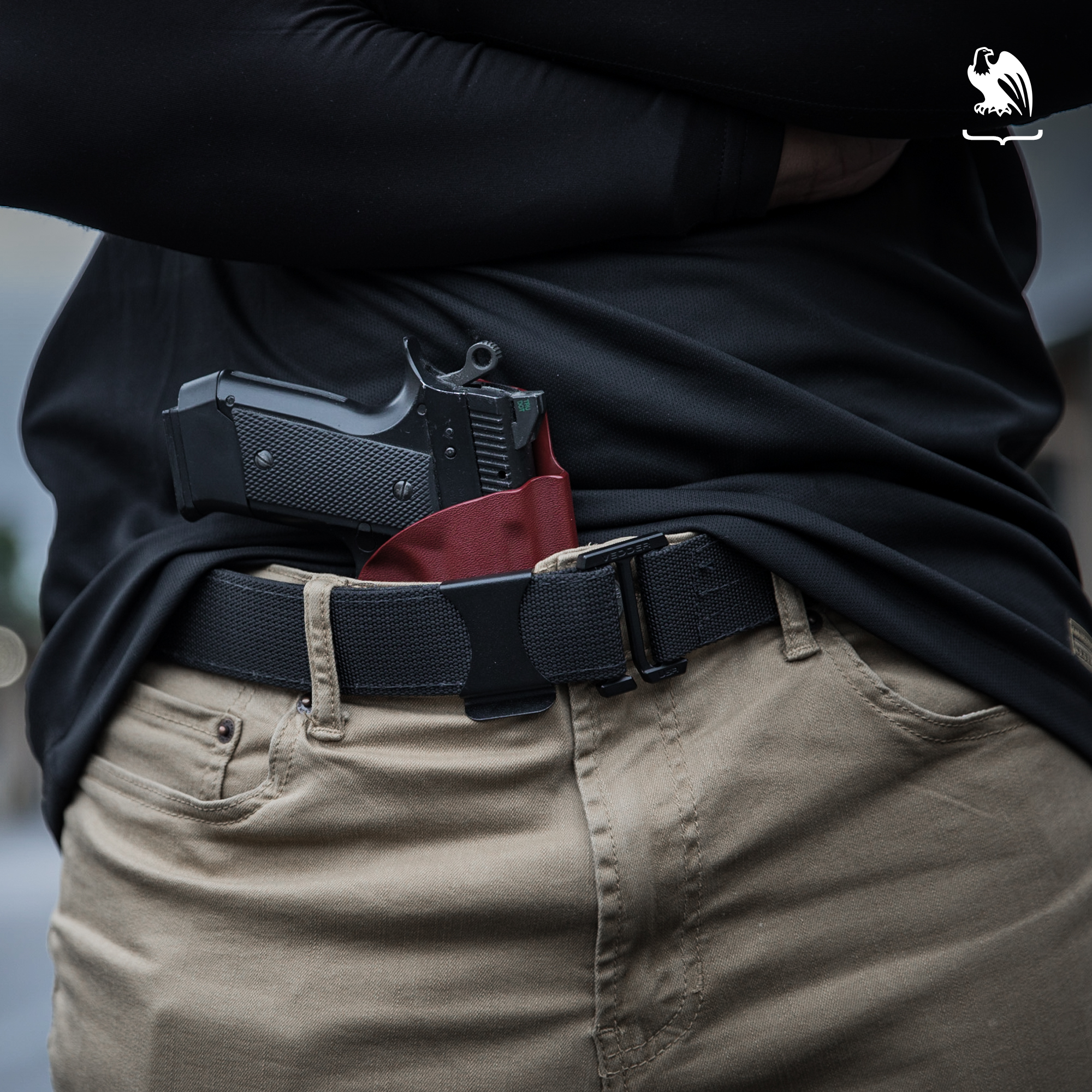 You would think that a brightly colored holster would be harder to hide, right? After all, the whole idea is to conceal your weapon, and hot pink isn't exactly subtle.
Allow us to put your mind at ease – brightlycolored gun holsters are no more difficult to conceal than any neutral color. Successful concealment comes down to the proper positioning of your holster as well as the clothing you wear.
Your holster should be completely covered by your clothes, so the color of it is irrelevant in terms of concealability. In fact, certain colors could actually aid in concealment depending on your wardrobe.
If you tend to wear lighter colors, a dark-colored holster might show through your shirt. If you wear a lot of white, light gray, or any fother easy-to-see-through colors, carrying a Battleship Gray, Desert Tan, or Kryptek® Yeti / Wraith colored holster could help you stay low-profile.
At Vedder Holsters, we offer dozens of Kydex colors and patterns ranging from Police Blue, to Dutch Woodlands Camo, to a variety of American flag patterns – there's something for everyone. You can browse all the Vedder Holsters colors here, on our website.
Summary
Colored gun holsters are not only a fun way to show off your personality, but they have plenty of practical benefits as well.
Colorful holsters are helpful in differentiating between firearms, remembering to carry your pistol, and even finding your weapon in the dark. They can make reholstering easier and can be matched to your gun for a fun combination that shows off your personality.
If you're looking for belts or colored Kydex holsters, we recommend visiting our Holsters by Gun Model page for holsters that are custom-made for your weapon of choice. For all of our belt and holster options and for more information to help you choose the carry system that works best for you, visit our Vedder Holsters website.
Looking for items beyond holsters and belts, check out our Resources Page for popular product links like lights, lasers, first aid, maintenance, and more.
To stay up-to-date on all the latest Vedder Holsters content and offerings, follow us on Facebook, Instagram, and Twitter. And be sure to check out our sister company, GeoGrit, for all of your American-made minimalist wallet needs.