With so many different gun belts on the market, how do you know you're choosing the best one for you?
A gun belt is the foundation of your everyday carry system, and it's important to invest in the right one. There's a lot to think about, so before you go out and make a purchase, take a look at the type of gear you carry, the way you dress, and the quality of the belt.
Here is a list of everything you should think about before buying a new concealed carry belt.
Things To Consider When Choosing a Gun Belt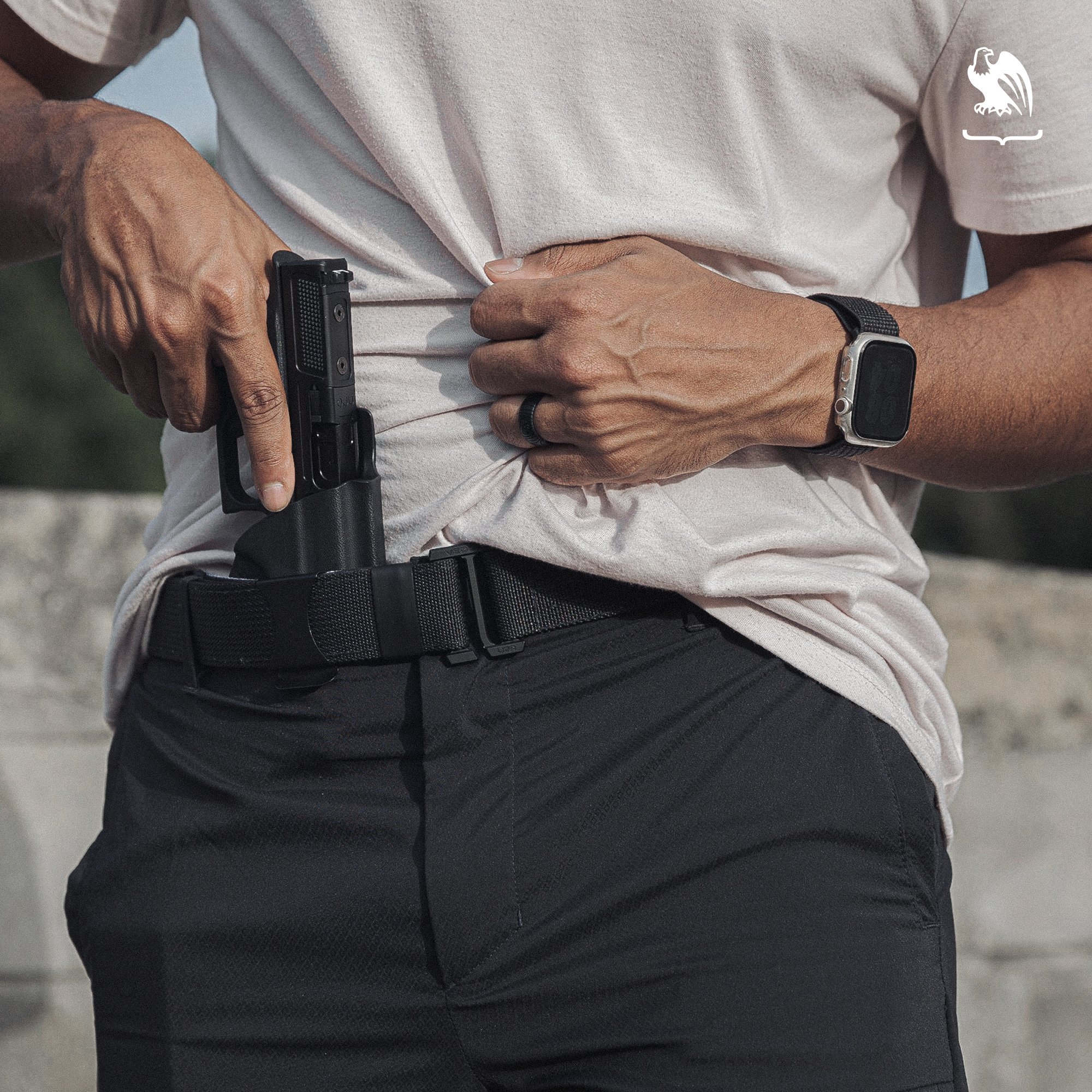 There are a number of factors to consider before purchasing a gun belt. Everything from your lifestyle to the kind of holster you carry can help narrow down your options.
1. The Gun You Carry
One of the first things to think about when choosing an EDC belt is the type of gun you carry.
While it may not seem like a big deal, the size of your gun can actually make a big difference. For example, if you carry a larger, heavier pistol, you'll want to make sure you choose a stiffer gun belt that can support its weight.
If you carry a compact pistol, on the other hand, you can likely get away with a thinner, more flexible option, though you'll still want to make sure it's stiff enough to prevent belt sag, which can cause a myriad of issues.
2. Your Holster
If you already have a holster you use and love, you need to ensure the concealed carry belt you select will be compatible.
Holster clips come in varying sizes, so you'll want to make sure the belt you choose is the correct width. Your holster should clip snuggly to your belt so that it doesn't slide around, fall off, or fail to attach in the first place. So, take a look at the clip size on your holster and make sure your belt is either the same width or slightly smaller.
If you don't already have a holster you love, check out our selection of comfortable IWB and OWB Kydex and hybrid holsters that are custom fit for your gun model here.
3. Your Other EDC Gear
They aren't called everyday carry belts for nothing; your gun and holster aren't the only things you have to think about when selecting a carry belt.
While some people only carry a gun and holster throughout the day, many people also carry a knife, a spare mag, or any number of other things that clip to their belt.
This is important for two reasons. First, you need to factor in the extra weight these items add to your EDC setup and buy a belt that's stiff enough to support it all. And second, you need to think about the attachments on these items to make sure they're compatible with the belt you choose.
If the attachment on your multitool is somewhat small, for instance, you probably don't want a really thick or wide belt. On the other hand, you don't want your belt to be too small as your items may slide around on the belt or fall off.
If you carry a lot of items of varying sizes, you may want to pick a mid-size 1.5" belt to ensure it will work with the majority of your items.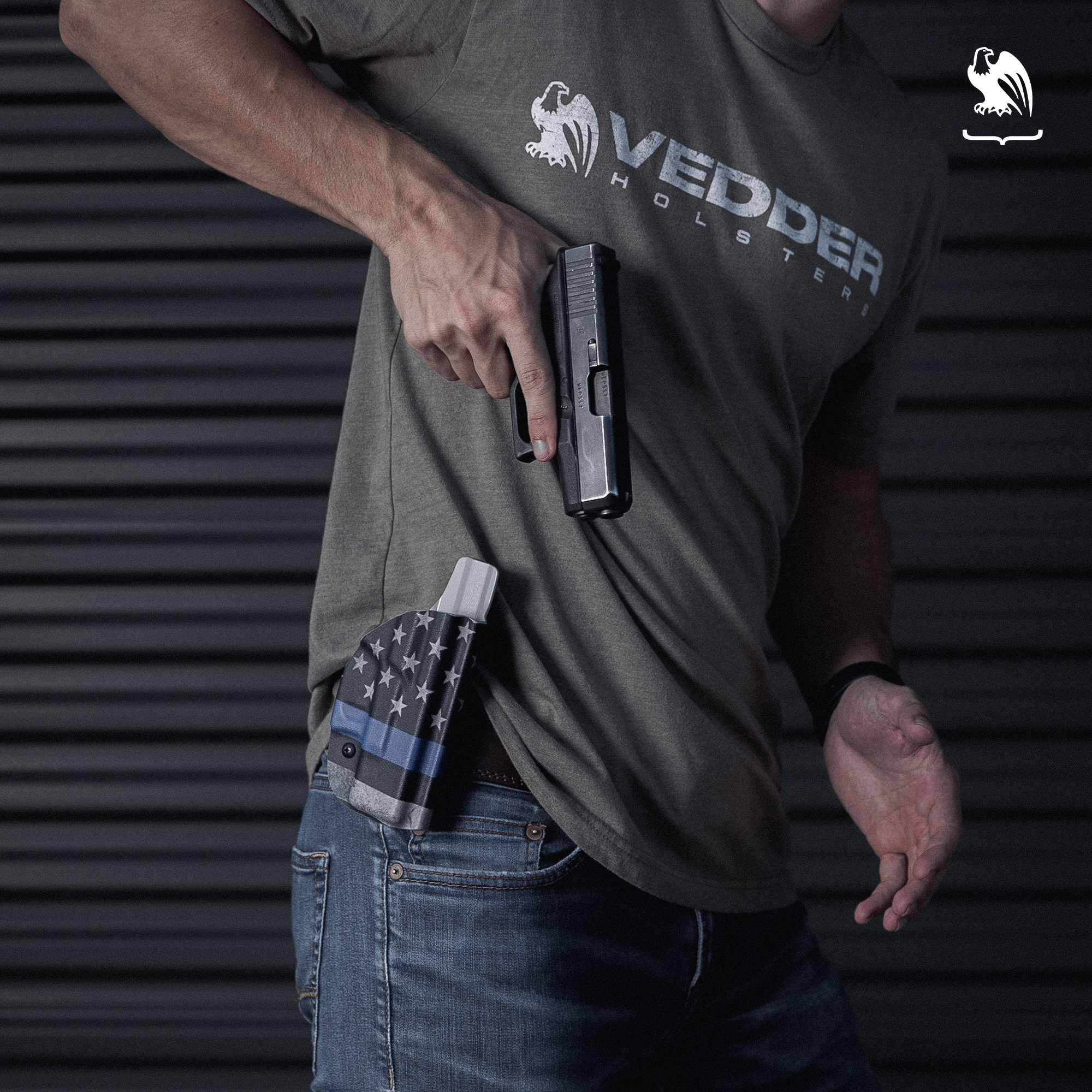 4. The Way You Dress
How you dress greatly impacts the kind of belt that will work best for you.
Like with most clothing, some factors come down to personal preference, while other aspects are less negotiable.
For example, you may choose your belt's design, color, and buckle based on your personal style or current wardrobe. It's important to consider the clothing you usually wear with your CCW belt and choose one that fits that aesthetic. For example, you probably don't want to wear your nylon tactical belt with your work slacks.
Think about the color palette in your closet, too. If you typically wear brown leather boots, you may want to select a matching brown leather belt, for instance.
Other factors may be less flexible. Things like the size of the belt loops on your pants may impact which belts you can wear. Women, in particular, may have smaller belt loops and may need to invest in a thinner belt that's easier to thread. Luckily, a nice 1.5" wide belt is typically compatible with most belt loops.
So, take a peek in your closet and think about the style, size, and color belt you need to go with the clothes you currently own. You may even find that you need two or three belts – have fun with it!
5. Your Belt's Purpose
This should go without saying, but the things you intend to use your gun belt for should influence the type you pick.
If you're looking for a belt to wear to work, you'll probably want a nice leather belt. If you're wearing it to competitions or the range, you'll most likely want a nylon tactical belt that's easy to take on and off.
You may even find that you need more than one belt to accommodate your various needs. Most people who use a heavy-duty tactical belt during training or while enjoying the outdoors typically find that they need a second, lighter-weight belt to wear for everyday carry.
For a nice, do-it-all belt, you may want to consider a 1.5" dual-layered nylon gun belt or a thick polymer-reinforced leather belt. Either will work well to transition between the range and concealed carry.
6. Your Body Shape
When you're looking for an item designed to be worn on a daily basis, it's important to take your body shape into consideration to ensure a comfortable fit.
Your belt's width will make the biggest difference in how comfortable it is for you. People with a medium build can generally get away with any sized belt, though you may want to try a few out to see which feels best. Those with smaller frames may want to look for a thinner or medium-sized belt that won't be too wide on their hips. And finally, those with a larger build may want to think about getting a medium to thick belt that won't feel like it's digging into their body.
If you're looking for a nice, medium-sized belt that works well for most body types, a 1.5" nylon or leather belt is the perfect balance. At the end of the day, whatever feels the most comfortable is the size you want to wear!
What to Look for In a Quality Gun Belt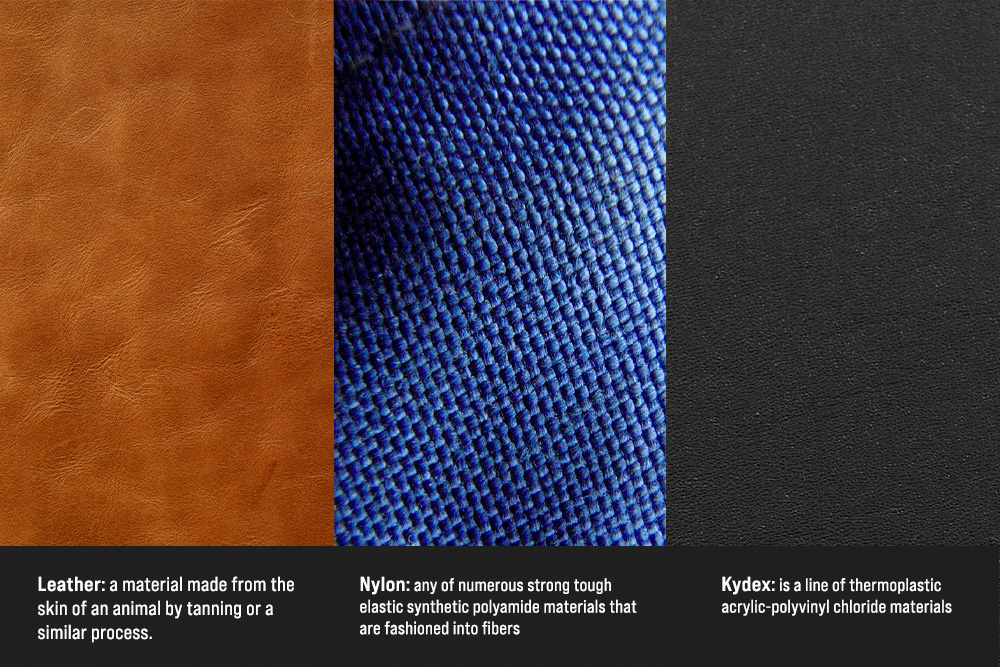 Now that you have an idea of what you personally need in an EDC gun belt, it's time to take a look at some of the elements of a quality belt.
Material
Once you've landed on the type of belt you want, you need to make sure that it's made from a quality material so it will hold up over time.
When looking for a quality leather belt, look for one made from a premium hide with a nice finish to protect it from the elements (that's right, that nice shine isn't just for looks!).
As far as nylon goes, be sure you choose one made from a dual layer of nylon webbing. It's important that a nylon gun belt is sewn with a sturdy thread, as well. Investing in a belt made with high-end nylon is critical as a poorly made one will start to fray over time.
Stiffness
Choosing a belt with adequate stiffness to support all of your EDC gear is essential, as a belt that is too flexible will eventually start to sag, which is never a good thing.
A quality leather gun belt should have a solid metal or polymer core, making them far stiffer than a regular leather belt. When it comes to nylon tactical belts, choosing one with dual layers designed to provide extra stiffness can go a long way to ensure it can withstand a significant amount of weight.
Thickness
In relation to the stiffness of your belt, a quality gun belt should be thick enough so that your holster clip is nice and snug. A belt that's too thin may allow your holster and other EDC items to slide around throughout the day, while a belt that's too thick may be difficult or impossible to clip your holster to in the first place.
Investing in a belt with the correct thickness can also help extend its lifespan, as either forcing a clip onto your belt or having a holster clip that slides around can start to wear your belt out over time.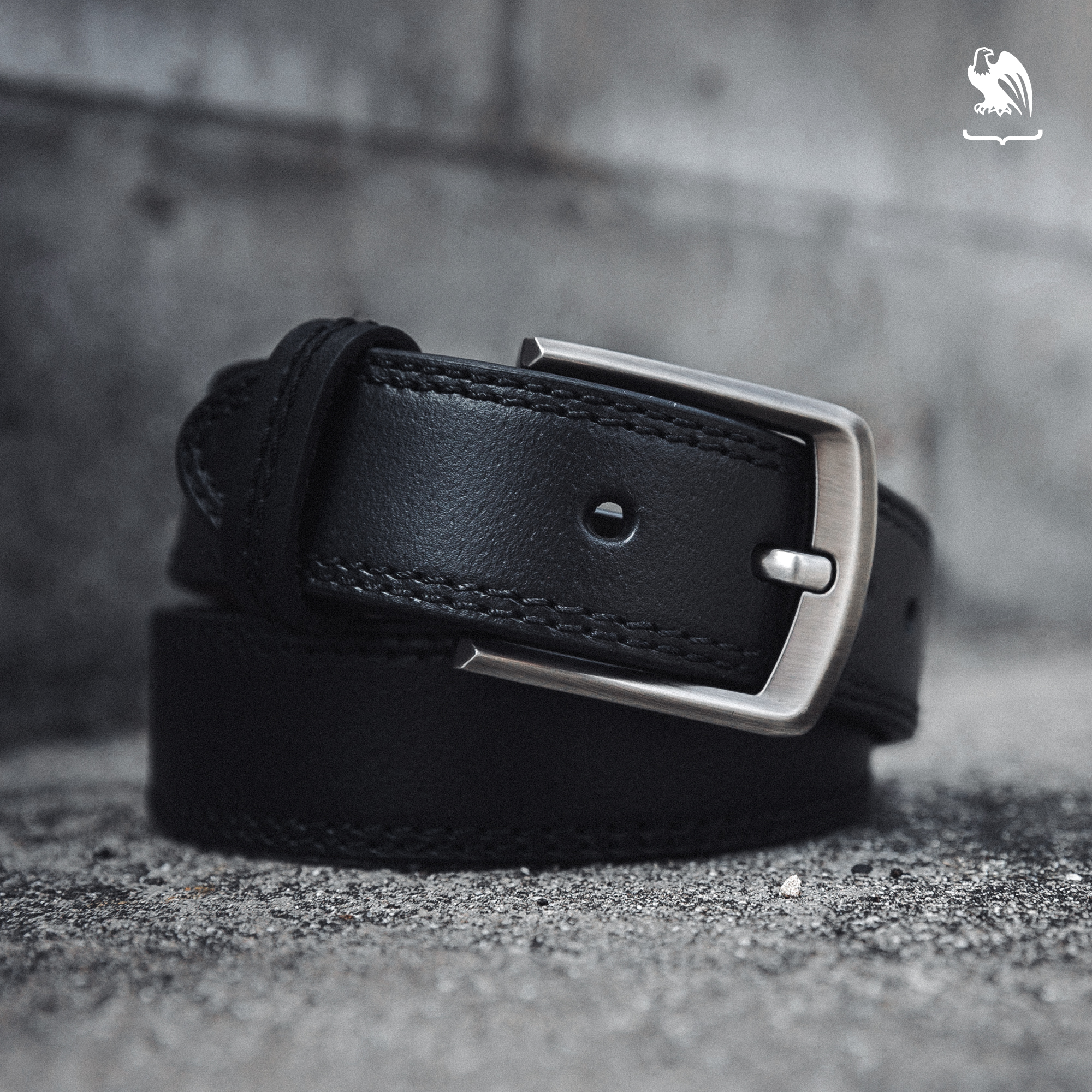 Buckle
Buckles are not only stylish, but they make a big difference in the usability of your belt. A quality belt buckle will also last longer than a poorly-made one. Because the buckle is the only moving part on your belt, a low-end one will start to wear out or become unreliable sooner than a well-made one.
There are also several styles of gun belt buckles on the market – including standard buckles, quick-release buckles, and cobra-style buckles – and choosing the one that works best for your lifestyle will make your belt that much more user-friendly and enjoyable to wear.
Cost and Warranty
Finally, you should think about the financial aspect of the belt you are purchasing. While you don't want to buy a cheap belt, as you'll likely get what you pay for, you also don't want to break the bank. You should look to spend between $50-75 on a quality gun belt.
And, if you choose a belt with a lifetime guarantee, it'll be the last penny you ever have to spend on an EDC gun belt (and who doesn't want that?). All Vedder Holsters belts are backed by a 30-day money back guarantee and a lifetime warranty so you can rest easy knowing that no matter what, you'll have a great-looking, highly functional, extra durable concealed carry belt that will last a lifetime.
Best Gun Belts
Now that you've had a chance to think about what you need from a concealed carry belt, it's time to make a selection. Here at Vedder Holsters, we offer several highly-rated gun belt designs to fit various needs. All of our belts are handcrafted in the USA and are backed by a 30-day risk-free trial and a lifetime guarantee.
Here are our picks for the best gun belts on the market:
V3 Gun Belt
The Vedder Holsters V3 Gun Belt is one of the best low-profile tactical gun belts on the market. Stiff and durable with dual-layered 1.5" nylon webbing, this belt was designed for everyday carry, range days, and anything else you may need it for.
The V3 has a CNC machined 7075 billet aluminum buckle, which is specifically crafted to be thin and concealable while being strong enough to hold as much EDC gear as you can carry. Its proprietary design allows you to set your belt size and leave it, so you don't have to worry about readjusting it every time you put it on.
This tactical belt comes in black, coyote brown, and wolf gray. It works perfectly for appendix carry but is also great for any other IWB or OWB concealed carry position. Check it out here.
Cobra Gun Belt
Another incredibly durable tactical gun belt, the Cobra® Quick Release Gun Belt is a fan favorite. Like the V3, this belt is made from a durable dual-layered 1.5" nylon webbing designed to be stiff enough to handle whatever you carry on it.
The Cobra belt features Vedder Holsters' signature step-down Cobra® buckle, which, unlike other similarly styled buckles, allows you to set your exact fit once without having to readjust each time you put it on.
The Cobra is the perfect belt for everyday carry and makes an excellent foundation for a full tactical belt setup. This belt is designed to work great for any IWB or OWB carry position. Check out the Cobra gun belt here.
Polymer Core Leather Gun Belt
If you're looking for a concealed carry belt with a little more class, our Polymer Core Leather Gun Belt is an excellent choice.
Rugged enough for the ranch yet sleek enough for the boardroom, this versatile leather gun belt is made with two layers of 1.5" premium cowhide and is reinforced with a solid polymer core to provide an extra stiff foundation for all your EDC gear without adding unnecessary bulk.
This belt is complete with a gunmetal matte finished high-end belt buckle that's strong enough to hold whatever you carry with you. Perfect for either an IWB or OWB holster, this is the best leather gun belt on the market. Check it out in either black or brown leather here.
Summary
Because a quality gun belt is the foundation of a good carry system, it's important to think about the kind of things you carry, what you'll be primarily using it for, and your lifestyle before going out and making a purchase.
Check out all of the Vedder Holsters gun belts here. We recommend visiting our Holsters by Gun Model page if you are looking for holsters that are custom-made for your weapon of choice. For all of our belt and holster options and for more information to help you choose the carry system that works best for you, visit our Vedder Holsters website.
Looking for items beyond holsters and belts? Check out our Resources Page for popular product links like lights, lasers, first aid, maintenance, and more.