So, you've narrowed it down to the exceedingly popular Glock 19 and the CZ P10C.
These two compact guns are some of the most popular choices of concealed carry weapons on the market. While you can't go wrong with either choice, there are a few key differences you may want to consider.
When looking at the CZ P10C vs Glock 19, you'll see they are nearly identical in size. But these two guns are quite different when it comes to frame, sights, and controls.
But you didn't come here for the highlights; you want the nitty-gritty details of what makes these two guns different. So let's get into it.
Products Mentioned In This Article
CZ P-10 C Holsters
Glock 19 (Gen 3,4,5) Holsters
Gun Belts
---
CZ P10C
First introduced in 2017, the CZ P10C was designed to withstand military use. As a result, this compact pistol has incredible ergonomics that make it comfortable to hold for people of all hand sizes.
This striker-fired pistol is chambered in 9mm Luger and is made of a fiber-reinforced polymer. The CZ P10C features a generous trigger guard and clean trigger pull. Additional features include a swappable magazine release and metal 3-dot sights.
This durable pistol comes standard with a 15-round or lower-capacity 10-round magazine. Throughout the rest of this article, we will talk about plenty of other features that make this gun a popular choice for many shooters.
If you are looking for a CZ P10C holster, make sure to check out our custom Kydex holsters for this model here.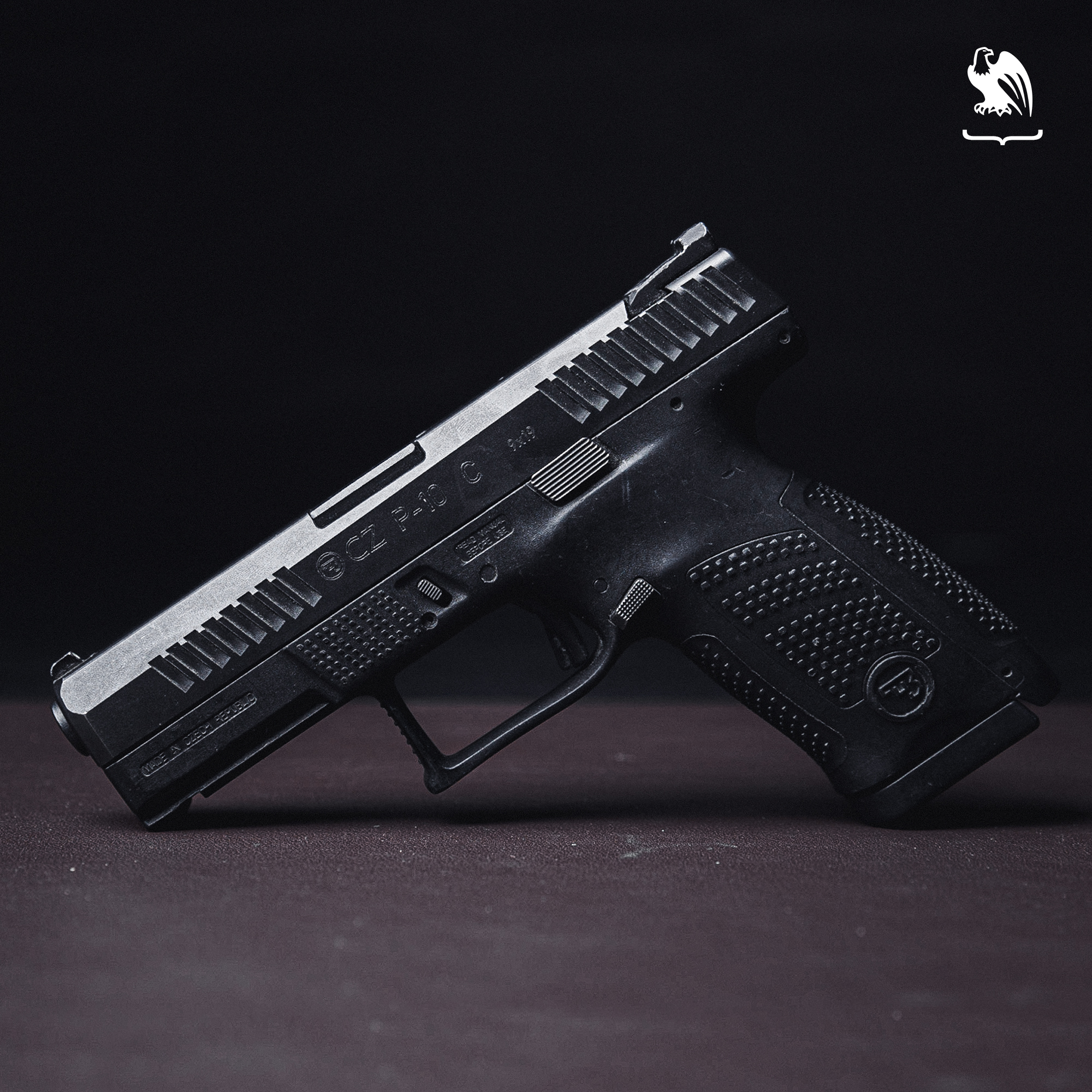 Glock 19
You may know the Glock 19 Gen 5 for its use as a service pistol, and you'll be pleased to learn that some of the same great qualities that make it a popular choice as a backup weapon for law enforcement also make it great for concealed carry.
This compact and versatile, striker-fired pistol is chambered in 9mm Luger and is built with a high-strength nylon-based polymer. Like most Glocks, the Glock 19 comes equipped with Glock's Safe Action System. This popular firearm comes standard with a 15-round magazine, but optional extended magazines can increase the capacity to upwards of 33-rounds.
With its small size, impressive capacity options, and great accuracy, it's no surprise the G19 has earned its popularity as a concealed carry and backup firearm. To check out our Kydex and hybrid holster options for the Glock 19 Gen 5, click here.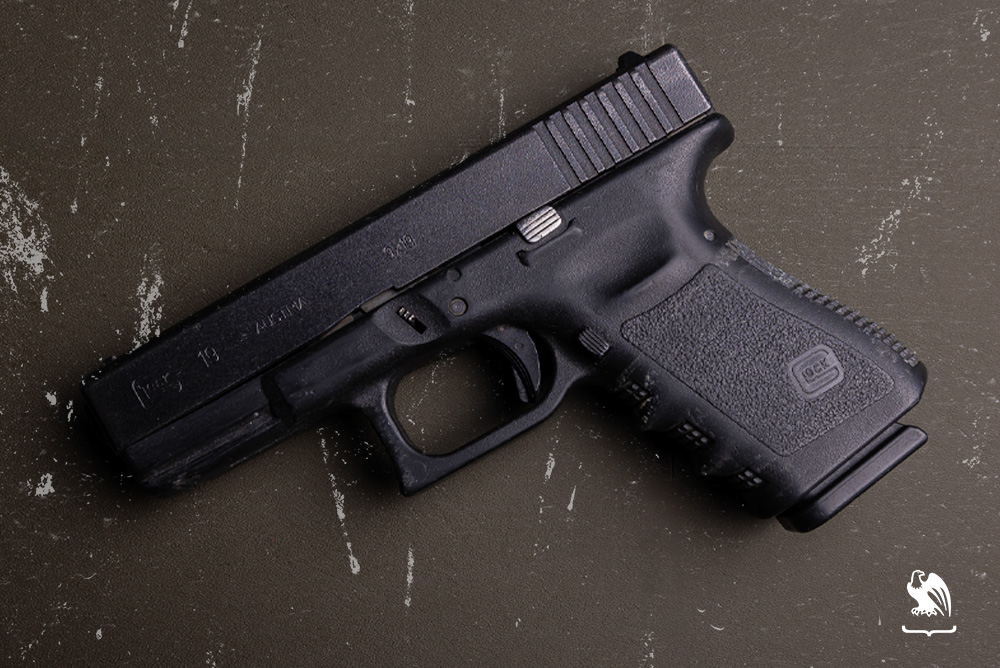 Specifications: CZ P10C vs Glock 19
Caliber
9mm Luger
9mm Luger
Trigger Action
Striker
Striker
Barrel Length
4.02"
4.02"
Size & Capacity: CZ P10C vs Glock 19
When comparing the Glock 19 vs CZ P10C in size, you'll see they are fairly similar in length, width, and barrel length. The main difference is the Glock 19 Gen 5 weighs 2.37 ounces less than the CZ P10C.
The CZ P10C stands 5.3" tall, 7.3" long, and 1.26" wide. It has a barrel length of 4.02" and weighs 26 ounces, while the Glock 19 weighs 23.63 ounces with a barrel length of 4.02". The Glock 19 has a slightly shorter frame than the CZ, measuring 5.04" tall, 6.36" long, and 1.25" wide.
Both of these popular pistols come standard with a 15-round magazine, though extended magazines are available. If you are looking for a gun that will meet state compliance, however, the CZ P10C will be your best option as it is available in a 10-round model.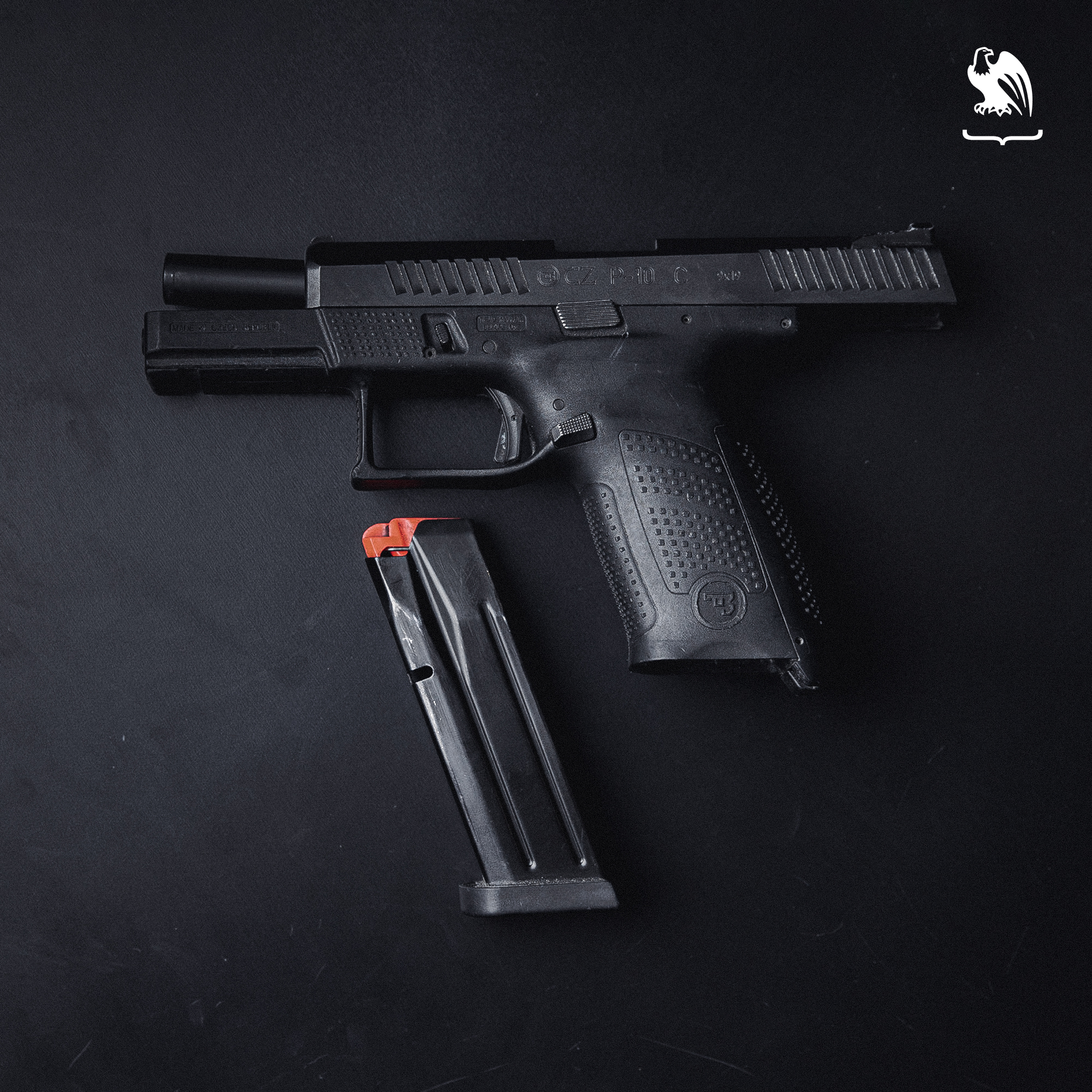 Ergonomics: CZ P10C vs Glock 19
Frame
The frame is where we start to see a lot of differences between these two gun models. The Glock 19 Gen 5 is built with a high-strength, nylon-based polymer frame and features a modular backstrap to accommodate various hand sizes.
The CZ P10C is built with fiber-reinforced polymer and an interchangeable backstrap. What might make the P10C the winner here, though, is that it is known for its ergonomics. The gun features a mild-palm swell and deep beavertail, making it exceedingly comfortable in a variety of hands.
Slide & Barrel
There's no arguing that the Glock 19 is the winner when it comes to the slide and barrel.
The CZ P10C features a cold hammer forged barrel and both front and rear slide serrations, while the Glock 19 Gen 5 slide is built with an nDLC finish designed to protect the gun from scratches and corrosion. It also comes complete with the Glock Marksman Barrel, which is designed with enhanced barrel rifling for better accuracy.
Sights & Optics: CZ P10C vs Glock 19
While the Glock 19 uses standard plastic sights, it is designed to be easily upgraded to the sights of your choice. The CZ P10C sights can also be easily upgraded, but instead of plastic, the P10C features metal three-dot sights.
If you are looking for an optics ready variation, the Glock 19 Gen 5 may be what you are looking for as it is available in the optics-ready variation (Glock 19 MOS). The CZ P10C, however, is not available in an optics-ready model.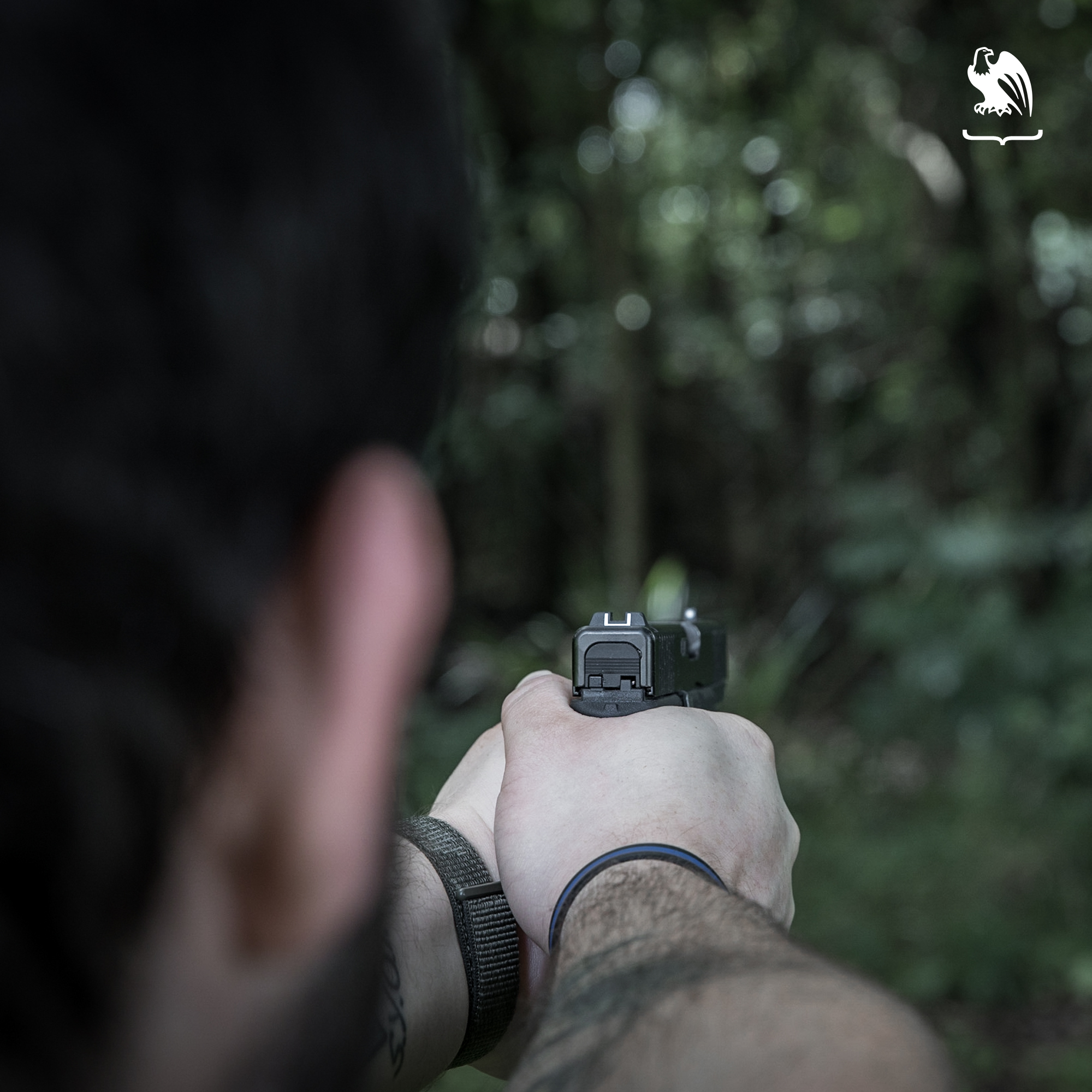 Controls: CZ P10C vs Glock 19
Safety
When comparing the P10C vs Glock 19 in terms of safety, you'll see some clear differences. The CZ P10C features a trigger safety and a firing pin safety.
On the other hand, the Glock 19 Gen 5 features the Safe Action System comprised of three independent mechanical safeties that disengage as the trigger is pulled and re-engage as it is released. The Safe Action System does provide protection if the firearm is dropped.
Trigger
The CZ P10C trigger is designed to have a 4.5-5 lb trigger pull with a short, positive reset, while the Glock 19 is designed with a 2.80" trigger distance and an approximate 5.6-pound trigger pull.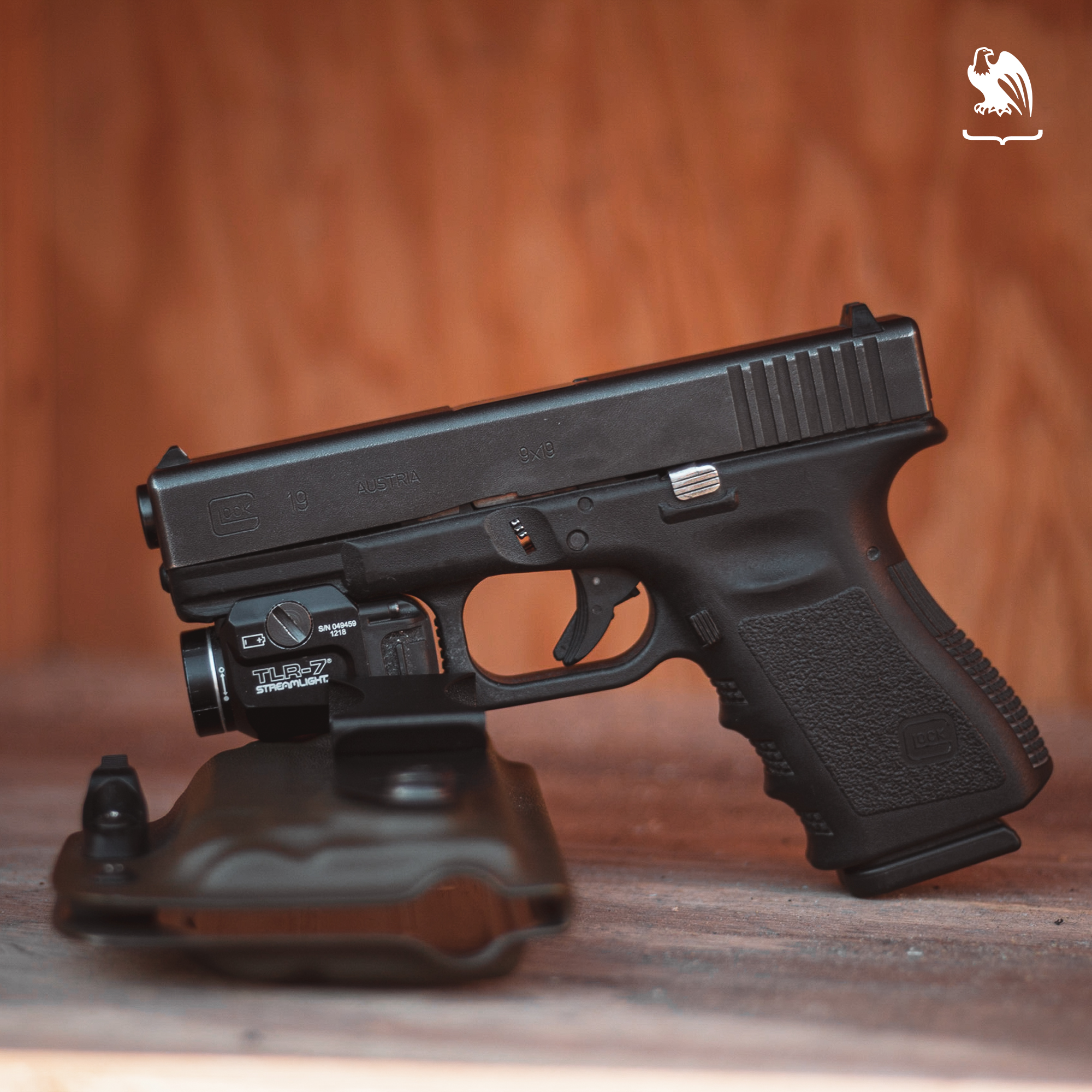 Which is Right for Me?
Choosing which gun is right for you depends on how you plan to use it and the particular features you're looking for. Now that you know what makes the CZ P10C and Glock 19 unique, you can make an informed decision.
While these two guns are very comparable in size, if you are looking to use optics with your EDC setup, the Glock 19 might be the best choice for you. If you need a lower capacity model, however, or are looking for great ergonomics, the CZ P10C could be just what you need.
If you're looking for belts or holsters for the CZ P10C or Glock 19, we recommend visiting our Holsters by Gun Model page. For all of our belt and holster options and for more information to help you choose the carry system that works best for you, visit our Vedder Holsters website.
Looking for items beyond holsters and belts? Check out our Resources Page for popular product links like lights, lasers, first aid, maintenance, and more.