When shopping for a new handgun, it's almost impossible to avoid the name "Glock."
Since the 1980s, Glock has been known as one of the most reliable, safe, and dominant brands in the entire firearms industry. Its most successful model in the civilian market, the Glock 19, had a partner introduced as the Glock 45 back in 2018 and has since sparked an argument between the two – what's different, and which one do I want?
When it comes to choosing between the Glock 45 vs 19, it's hard to go wrong. The Glock 19 is widely thought of as the perfect concealed carry handgun. It's compact, robust, and easy to use. Glock took this and combined it with the user's desire to have a full-size frame with a compact slide and barrel and birthed the Glock 45, their "compact crossover pistol."
Now, the market has two no-frills 9mm workhorses to choose from for concealed carry or duty use. Read on to learn more about the similarities and differences between the Glock 45 and Glock 19 and why they matter to you.
Products Mentioned In This Article
Glock 45 Holsters
Go To Product
Glock 19 Holsters
Go To Product
Gun Belts
Go To Product
---
Glock 45
One of the newer Glock models to grace the world is the Glock 45. This "crossover" model combines the compact slide you would find on a Glock 19 and pairs it perfectly with the full-length frame of the Glock 17. This allows you to have a higher magazine capacity and larger surface area for drawing and firing while maintaining a small enough profile to reliably conceal.
Chambered in 9mm Luger, this striker-fired gun is built with a black polymer frame and Tenifer-coated ordinance-grade steel slide. Like most Glocks, the 45 uses the Safe-Action trigger system that Glock owners have come to love. The Glock 45 comes standard with two 17-round magazines, though Glock also offers 19, 24, 31, and 33-round magazines separately.
Glock also added their newer marksman barrel design to the Glock 45. With a target crown, aggressive rifling, and improved chamber specs, Glock ensures this is their most accurate barrel design to date. Looking for a Glock 45 holster? Check out our array of Kydex and hybrid holsters here.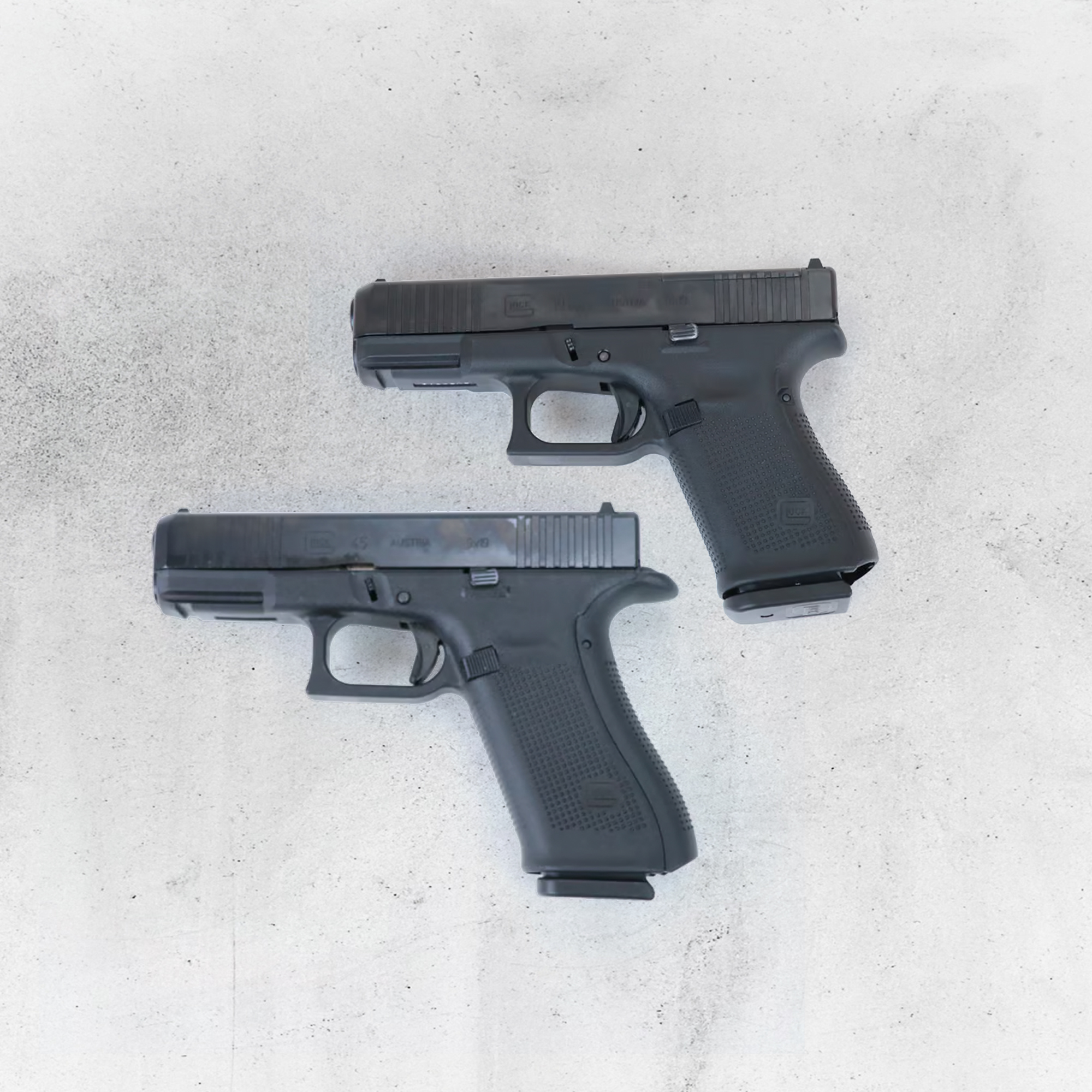 Glock 19
The venerable Glock 19 was known unofficially as the standard for concealed carry for over a decade due to its size, durability, ergonomics, and customization options.
Built with a standard black polymer frame, this striker-fired pistol uses a Tenifer-coated ordinance-grade steel slide. When it comes to safety, the Glock 19 uses Glock's Safe-Action trigger system and is chambered in 9mm Luger. While this pistol comes standard with two 15-round magazines, extended magazine options are available in higher capacities such as 17, 24, 31, and 33.
The G19 had 5 generations of changes, with the latest adding the Glock marksman barrel, no finger grooves, and ambidextrous controls. If you want to check out holsters for the Glock 19, browse our selection here.
Glock 45 vs Glock 19 Specs
Caliber
9mm Luger
9mm Luger
Barrel Length
4.02"
4.02"
Glock 19 vs 45: Size & Capacity
While their model numbers are rather far apart, the Glock 45 and Glock 19 are relatively similar in size and design. With the same caliber, barrel size, and sight radius, what's different?
The Glock 45 is 5.47" tall, 7.44" long, and 1.34" wide, with a barrel length of 4.02" and a weight of 24.48 ounces with an empty magazine. The Glock 19 comes in not even an ounce lighter than the 45, weighing 23.63 ounces. The G19 stands 5.04" tall, 7.28" long, and 1.34" wide, with a barrel length of 4.02".
The Glock 19 magazine capacity is slightly less than the G45 from the factory, with 15-round mags being standard on the 19, and 17-round mags coming standard on the 45.
Essentially, the Glock 45 is just a Glock 17 with a Glock 19 slide on top.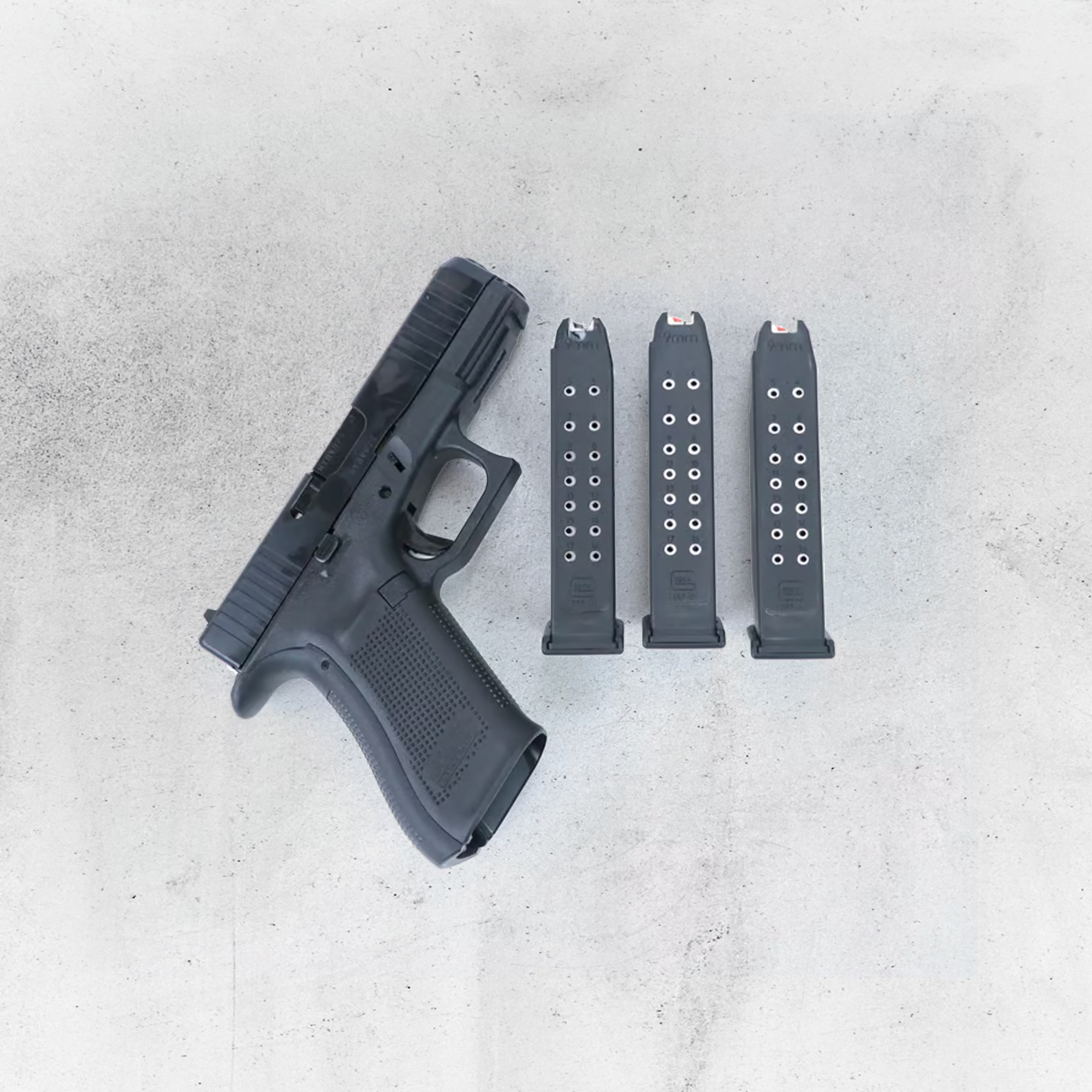 Glock 45 vs 19: Ergonomics
Frame
The frames of the Glock 45 and Glock 19 are nearly identical in design, with the former being slightly elongated. They are both built with a black polymer frame and built-in beaver tail design for a high and tight grip.
Both of these guns are modular, meaning you can change out the back straps to refine the feeling of the pistol in your hand.
Slide & Barrel
Both the Glock 45 and Glock 19 feature a Tenifer-coated ordinance-grade steel slide. The slide material and function are the same for these two pistols, with the only difference being the markings on the side. They both have front and rear cocking serrations (only on the Gen 5 G19) to allow a better grip on the slide in wet conditions or with gloves on.
With the full-size grip on the Glock 45, users with larger hands can get a better purchase (grip) on the gun during drawing and firing. Both of these handguns offer extreme comfort, ease of use, and concealability, with the Glock 19 being the most concealable of the two.
Glock 19 vs 45: Sights & Optics
You won't find anything special about the sights on these two guns. B oth the Glock 45 and Glock 19 come standard with Glock's plastic sights. Depending on the model at your local gun store, they can also be found with 3-dot steel sights or 3-dot steel night sights for a minor cost increase.
If red dot optics are your thing, the Glock 45 MOS and Glock 19 MOS offer modular optic compatibility.
Glock 45 vs 19: Controls
Safety
While neither the Glock 45 nor Glock 19 features a manual safety, they both come equipped with the Safe Action System. This system consists of three independent mechanical safeties that disengage as the trigger is pulled and re-engage as it is released. The Safe Action System does provide protection if the firearm is dropped.
Trigger
Both of these utilize the same trigger, so you can rest assured that no matter which one you pick, you won't have to settle in that department. As with everything Glock, there are aftermarket triggers available for both the Glock 45 and 19.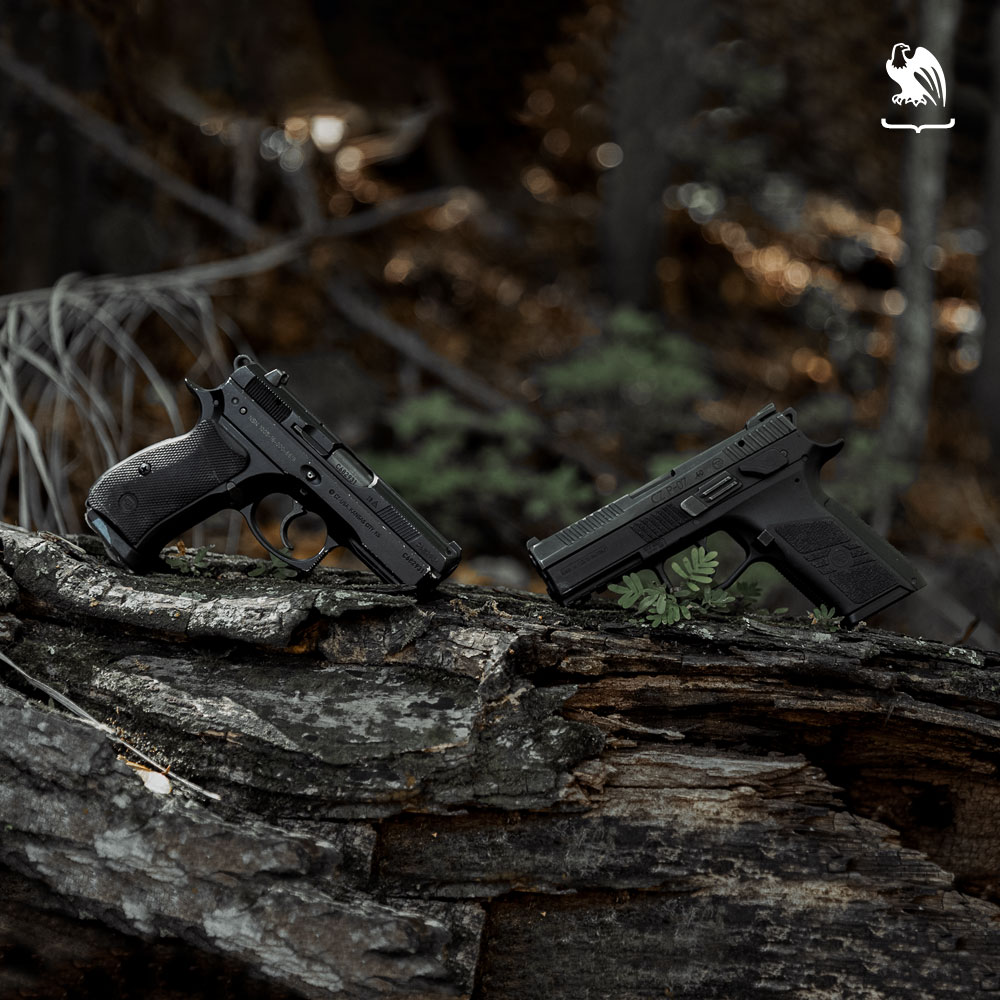 Which is Right for Me?
When it comes down to deciding which one is right for you, look at your needs and what situations you think you may be in. You can't go wrong with either option for home defense, concealed carry, or duty use.
If you are looking for the most concealable between the Glock 45 vs 19, the Glock 19 is the best option. Its compact slide and frame make it a great option for deep concealment. If you are someone who prefers a larger frame, the G45 may be the right choice for you. Still compact, Glock 45 concealed carry is entirely possible, especially if you carry it with the right holster.
If you're looking for a new IWB, OWB, or pocket carry holster for the Glock 45 or Glock 19, visit our Holsters by Gun Model page for Kydex holsters that are custom-made for your weapon of choice.
Interested in items beyond holsters? Check out our Resources Page for links to recommended products like lights, lasers, first aid, maintenance, and more, and browse our selection of belts, apparel, and accessories at our website, vedderholsters.com.
To stay up-to-date on all the latest Vedder Holsters content and offerings, check out our blog and follow us on Facebook, Instagram, and Twitter. And be sure to visit our sister company, GeoGrit, for all of your American-made minimalist wallet needs.