Sig Sauer recently launched a brand new .22 caliber pistol in their 300-series that has the gun community excited to get to the range and burn through some ammo: the Sig Sauer P322.
The new rimfire design was released to the public on March 22, 2022. The pistol features a lot of premium options and has been compared to the famous P365 XL thanks to its similar size, grip, and appearance, though the P322 is a design all of its own.
The compact pistol comes with two impressive 20-round magazines, two interchangeable trigger shoes – one flat-faced and one curved-face – and a thread adapter so you can easily use a suppressor or compensator.
It also features removable optics plate, ambidextrous controls, a slide release, an interchangeable magazine release, an M1913 accessory rail, and fiberoptic front and rear sights, among other things.
So, without further ado, let's get into the specs and features of this exciting new 300-series pistol.
Sig Sauer P322 Specs
Finish
Stainless Steel/Polymer
Features
The Sig Sauer P322 is built with a number of impressive premium features. The lightweight, compact pistol's high capacity, fiber optic front and rear sights, interchangeable flat and curved triggers, threaded barrel adaptor, and ambidextrous controls have made it the most advanced .22 pistol in its class.
Capacity
The Sig Sauer P322 comes standard with two slightly staggered 20-round magazines, making it the highest capacity .22 pistol of its kind. The gun also comes with a magazine loader to make loading them faster and easier.
Trigger
The P322 is built with interchangeable trigger shoes, and both a flat and curved trigger come included with the single-action handgun.
Slide and Barrel
This .22 caliber gun's aluminum alloy slide is finished with an anodized hard coat to protect it from the elements. The 6.75" long and 0.99" wide slide also has other standard features like front and rear slide serrations. Enclosed in the slide is its SAO hammer.
The P322's 4" fixed carbon steel barrel also comes with a uniquely-built threaded barrel. Unlike traditional threaded barrels, this one is a little bit receded. But the weapon does come with a threaded barrel adapter that makes it suppressor-ready right out of the box.
The adaptor is easy to attach to the barrel, making putting your suppressor, compensator, or other add-on onto the gun hassle-free.
Sights
The Sig P322 comes with fiber optic front and rear sights with a 6" radius. The rear sight plate is adjustable and can easily be removed to add a ROMEOZero red dot if desired. The rear sight plate is considered optics-ready, meaning you don't need to use an adapter plate to install the red dot sight.
Grip
The P322 is built with a textured, compact, polymer grip. The grip has a similar feel to the P365XL, though it is not exactly the same. The pistol's grip has a high undercut beneath the trigger guard, which allows for a higher, more natural grip of the weapon.
Controls
The new Sig also comes with ambidextrous controls. The only control that needs altering to switch between right- and left-hand use is the pistol's reversible magazine catch.
About Sig Sauer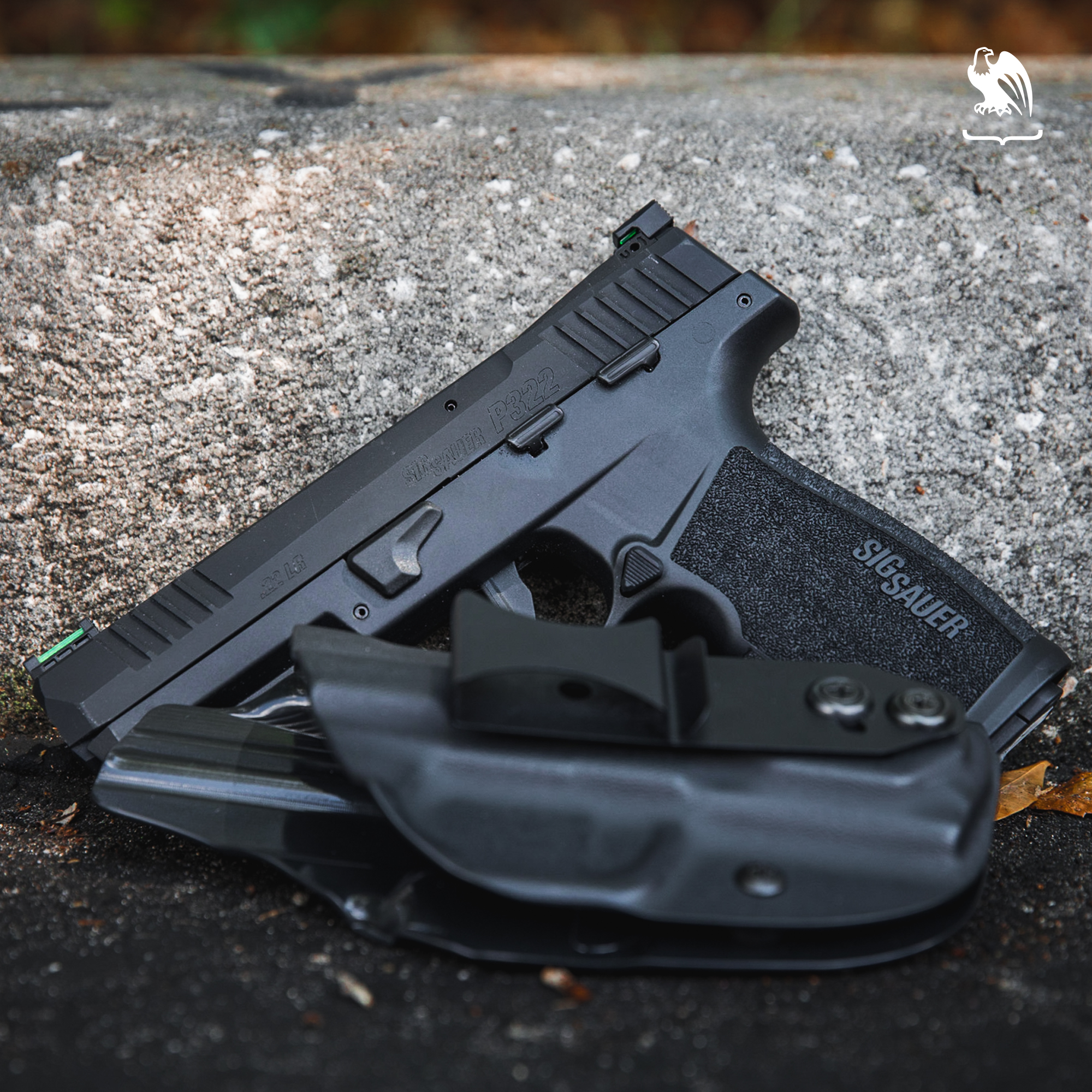 Based out of Newington, New Hampshire, Sig Sauer has been in business since 1853. The company started out manufacturing wagons and railway cars before accepting a challenge to create a rifle for the Swiss Army in 1864.
Today, the company is part of a larger group of firearms manufacturers, L&O Holding GmbH & Co. KG, which also includes German-based J.P. Sauer & Sohn and Blaser, Gmbh.
Sig Sauer has earned a reputation for producing quality, reliable guns that have been used by military personnel, law enforcement officers, and civilians around the world. They're known for crafting durable and precise rifles, pistols, airguns, suppressors, optics, and ammunition.
The company also offers weapons training courses through the Sig Sauer Academy in Epping, New Hampshire, where they provide extensive military and law enforcement firearms training as well as a variety of classes for civilians.
The company is known for producing the ever-popular 1911, the P365XL 9mm, the Sig P226, and many other well-known firearms.
To learn more about Sig Sauer, visit their website here.
Where Can I Get a Sig Sauer P322?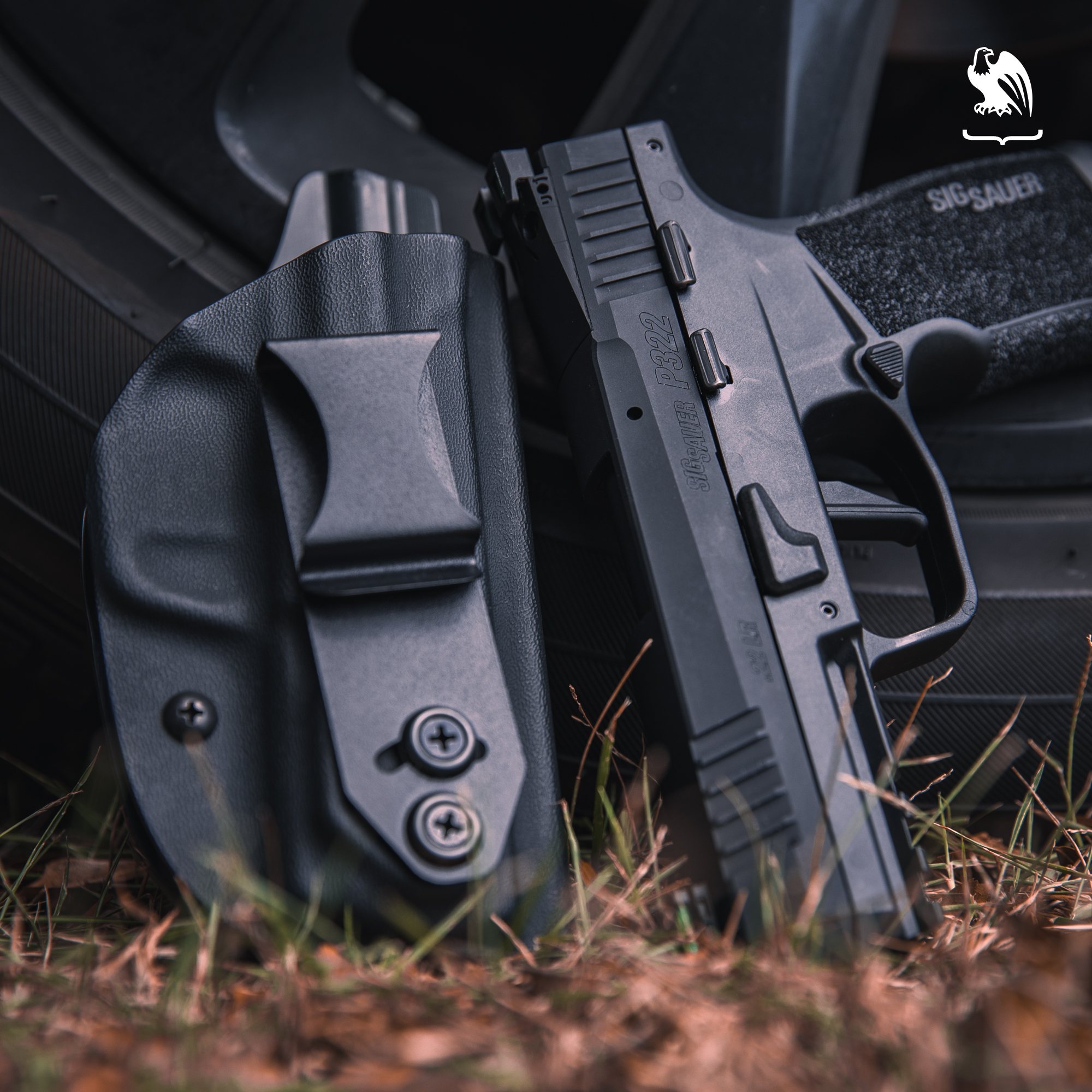 The P322 is available now behind gun counters across the country and online through guns.com. Check out Sig Sauer's dealer locator tool to find the Sig Sauer P322 at a gun store nearby.
If you're in need of a holster for your new Sig P322, check out our selection of IWB and OWB Kydex concealed carry holsters specifically designed for the model here. All of our holsters are customizable to your needs and are designed with adjustable features, like ride height, cant, and retention, to give you the most comfortable CCW experience there is.
If you are looking for belts or are interested in our other holsters, check out the rest of our Vedder Holsters products. Like everything we sell, our holsters and gun belts are covered by a Lifetime Warranty and a 30-day money-back guarantee.
Looking for items beyond holsters and belts? Check out our Resources Page for popular product links like lights, lasers, first aid, maintenance, and more.
Sig Sauer P322 Review