If you're looking for an outside the waistband holster for concealed carry, you've probably come across a paddle holster or two.
You may have noticed that paddle holsters look a bit different from most other Kydex holsters, but do you know the purpose of these OWB holsters and how to effectively use them?
A paddle holster is an outside the waistband holster that features a paddle-style clip to comfortably secure your gun to your belt. While these holsters have many benefits, their main feature is the wide paddle clip, which makes it easy to put on and take off.
But before we get into how to use a Kydex paddle holster and why, let's talk about what a paddle holster is exactly and what makes them different from other OWB holsters.
What is a Paddle Holster?
A paddle holster is an outside the waistband holster that consists of two main parts: the holster and the paddle.
The holster, which can be made of leather or Kydex with the latter being the most popular, is designed to carry your gun on the outside of your waistband. The paddle-style – or bill-style – clip is a wide, flat clip designed to sit flush against your body on the inside of your pant waistband.
Paddle holsters are a popular choice for OWB and are commonly worn by law enforcement and civilians alike. They can easily be used for open carry or concealed carry, and are known for being extremely user-friendly and comfortable to wear.
Now that you know the basics of what a paddle holster is, let's get into the specifics of how to wear one.
How to Wear a Paddle Holster
As you now know, paddle holsters are designed to be worn on the outside of your pant waistband. Wearing these holsters is easy – in fact, they are known for being one of the simplest holsters to put on and take off thanks to their large, user-friendly paddle clip.
To put on a paddle holster, simply slide it over your gun belt with the clip on the inside of your waistband and the shell on the outside. From there, you can adjust your holster's cant until you find a comfortable spot.
Paddle holsters are one of the most versatile options out there, meaning they can be worn in any carry position. They're not necessarily the best choice for positions like appendix, the 1-2 o'clock position just in front of your hip, simply because they're designed for OWB.
The most common position to wear a paddle holster in is 3-5 o'clock, which is 7-9 o'clock for lefties. But, so long as your paddle holster is adjustable, you can carry it anywhere you'd like!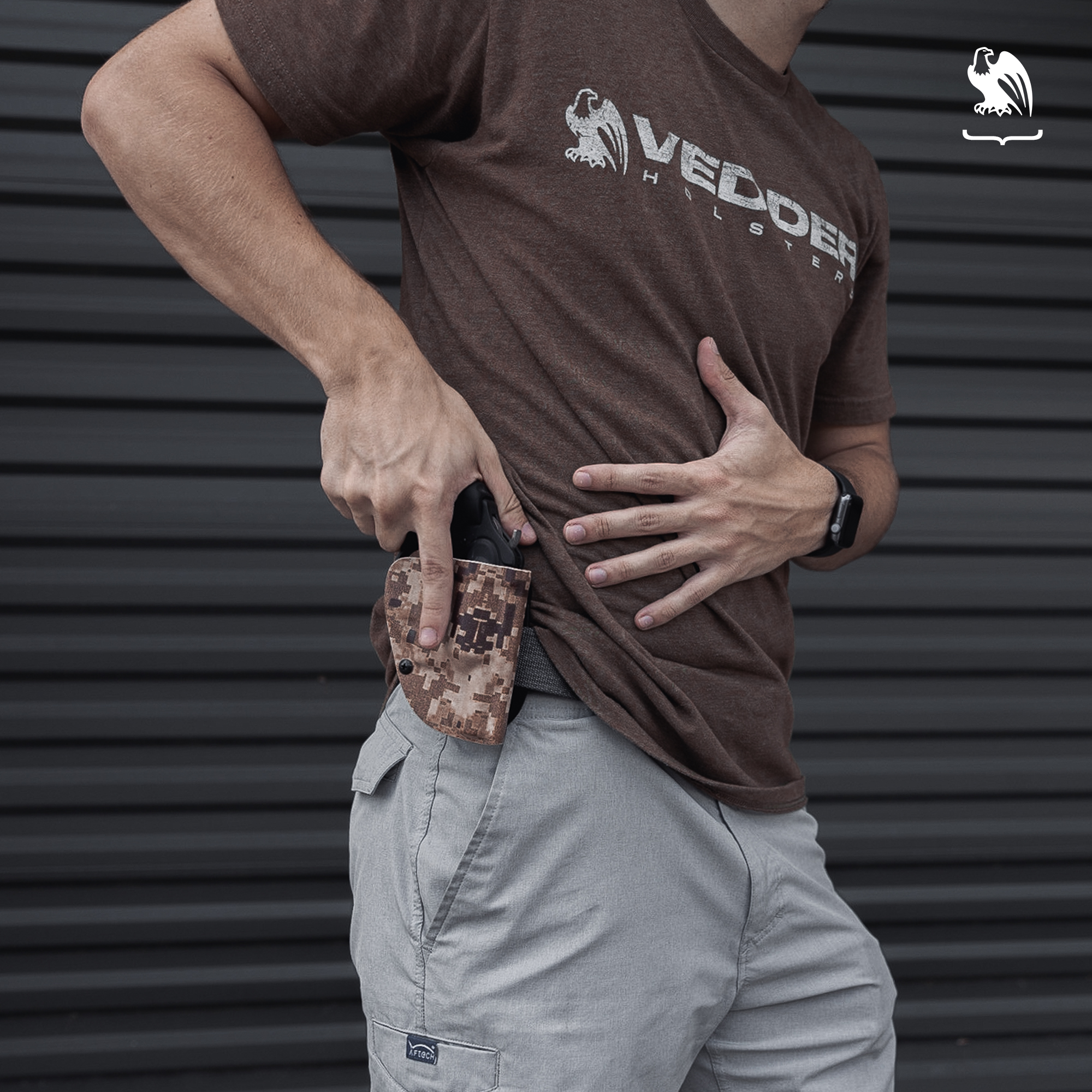 Are Paddle Holsters Good for Concealed Carry?
In short, yes. Paddle holsters do work for concealed carry, though you may face a hurdle or two at first.
Paddle holsters tend to sit a bit lower on your body than other kinds, making them more difficult to conceal – though it's definitely not impossible.
Because of the way they sit, you may find that you need to wear baggier clothing or a cover garment like a jacket or flannel to successfully conceal a paddle holster. These kinds of holsters may cause more printing under tighter clothing, so others can see that you're carrying a gun, which kind of defeats the purpose of "concealed" carrying.
At the end of the day, an IWB holster will always be easier to conceal than an OWB holster. If you're interested in learning more about the kinds of inside the waistband holsters available, check out our selection here.
Are Paddle Holsters Good for Open Carry?
Because they are designed to sit on the outside of your waistband, paddle holsters work exceptionally well for open carry, depending on the situation.
When it comes to open carry, it's critical to have a holster with adequate retention. This lowers the chances that someone will be able to successfully grab your gun. If you're carrying in public, it's recommended that you open carry with a level two or three retention holster.
Our ProDraw™ paddle holster is a level one retention holster, meaning that it's a great option for open carrying at the range, at your home, or while out hunting, but not necessarily in public places.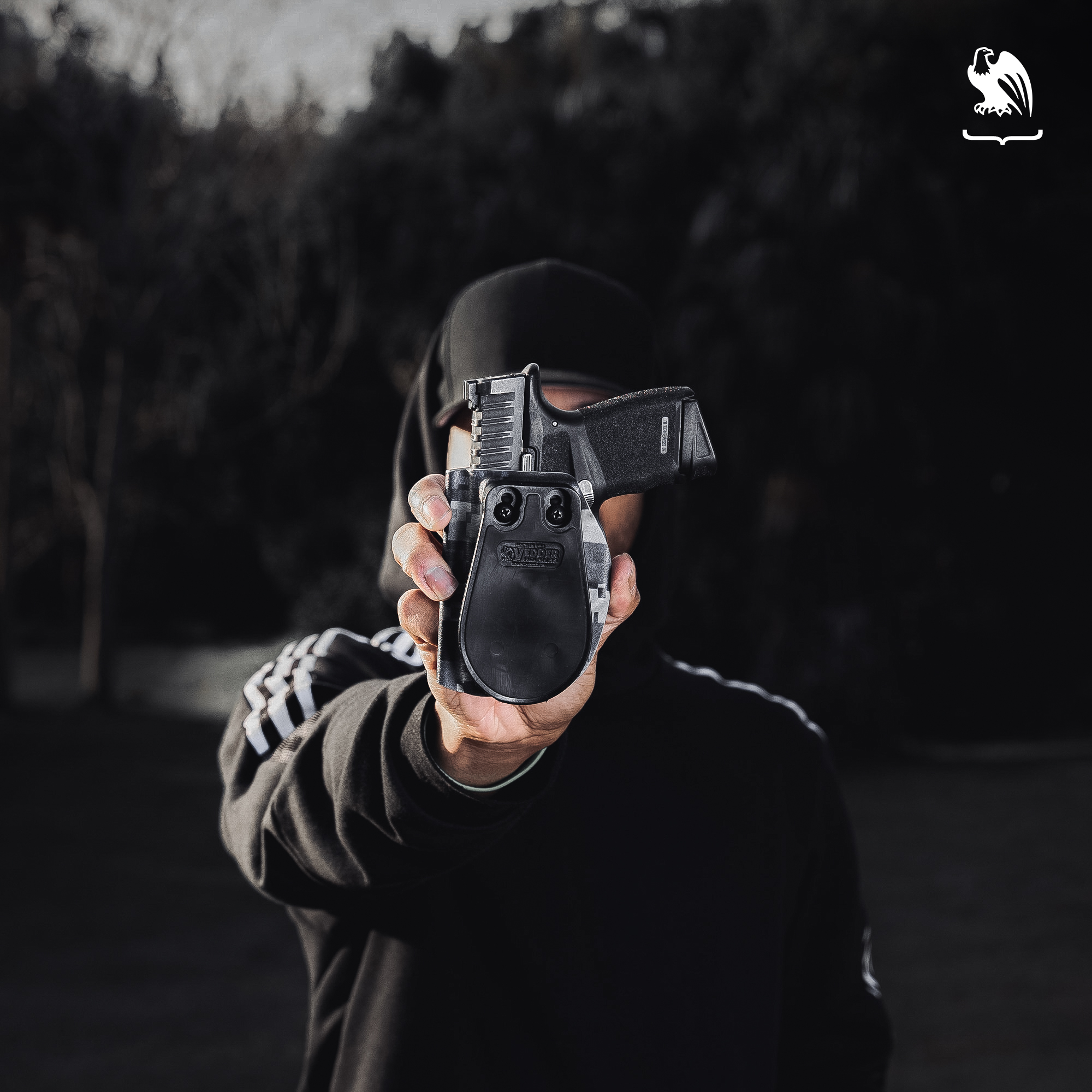 Are Paddle Holsters Comfortable?
Of all the concealed carry holster designs on the market, the paddle holster is at the top of the list for the most comfortable options.
Because paddle holsters are designed to be worn outside the waistband, they are, by nature, a more comfortable option for carrying a gun. Because OWB holsters make very little contact with your body, most people find this method of carry to be more comfortable than most other options.
The only complaint that one might have when it comes to the comfort of a paddle holster is that the clip is designed to sit on the inside of your waistband, flush with your body. If you find that the clip is rubbing against your skin, a simple undershirt can easily remedy that problem.
As far as the mental comfort that comes with knowing your weapon is secure and not at risk of sliding around, falling off, or being grabbed by someone else, some people find that IWB holsters, which sit on the inside of your pant waistband, are a bit more comfortable.
That being said, a paddle holster with sufficient retention paired with a quality gun belt can do wonders in ensuring your pistol and holster will stay exactly where you put it, increasing both physical and mental comfort, and reducing the risk of it falling into the hands of an unauthorized user.
Finally, looking for a paddle holster with adjustable features can also make your carry experience more comfortable. Being able to adjust the position of your holster to find that sweet spot for comfort and concealment makes a huge difference when it comes to an enjoyable carry experience.
Are There Any Downsides to Using a Paddle Holster?
Because everyone has different needs when it comes to concealed carry, there is no such thing as a one-size-fits-all holster that works perfectly for everyone. That being said, the paddle holster comes pretty close.
Though there aren't any major downsides to using a Kydex paddle holster, there are a few things to take into consideration before deciding whether it's the right choice for you.
First, paddle holsters are designed to be carried outside the waistband, which some users will like more than others. If you already know you like carrying OWB, great! If you're unsure whether it's the right move for you, check out our article "OWB vs. IWB: Which is Best for Concealed Carry?" to learn about the pros and cons of both carry positions and what they're best suited for.
Second, the paddle-style clip may be an adjustment if you're used to traditional belt-style OWB holsters. Because they have a single point of contact and don't have loops or multiple clips like many other outside the waistband holsters, some paddle holsters don't offer quite as much security, resulting in a slight loss of control and stability.
Luckily, if you invest in a high-quality holster with a well-designed paddle clip and adequate retention, it should be just as secure as any other option. It's critically important to find a wide, stable clip that won't slide or wiggle on your waistline – like the one found on the Vedder Holsters ProDraw™ holster. Pair that with a nice, stiff gun belt, and you'll be ready for anything!
Finally, if you have a larger midsection, paddle holsters may not be the most comfortable option for you. Because these holsters position your firearm right against your waist at the top of your waistband, it may feel like your gun is digging into your stomach, depending on your build.
We should also note that just because you have a larger midsection doesn't necessarily mean that a paddle holster won't work for you. If you're interested in the versatility and ease of use that these popular holsters offer, it may be worth a trial run – you may find that it's perfectly comfortable for you (everybody's different, after all!).
If you're worried about the commitment, don't. At Vedder Holsters, we offer a 30-day risk-free trial so you can give our ProDraw™ paddle holster a try without wasting your hard-earned money. If you don't like it, you can always send it back and give one of our other OWB Kydex holsters a try!
What to Look for in a Quality Paddle Holster
Material
The first thing you want to look at is the material your paddle holster is made from. While some holsters in this style are made of leather, they're most commonly found in Kydex.
Kydex is a thermoplastic that's heat-molded around a specific firearm model to create a precise fit. It's lightweight, durable, comfortable, and concealable, making it one of the best and most popular holster materials on the market.
The benefit of choosing Kydex over leather is that it is typically lighter and offers an exact fit to your gun model, making it more secure than its counterparts.
Clip
A holster's clip is hands-down one of its most important features – especially when it comes to paddle holsters.
There are a few things you'll want to look for in a quality paddle-style clip. First, you want to make sure it's well-designed and secure. A quality clip should be sturdy enough to keep your holster from being jostled around on your waist.
Equally crucial is comfort. A paddle clip should have a slight curve to allow it to contour to your body. It should also be backed with a smooth, soft material so that you don't have a scratchy piece of plastic wedged between your pants and your body.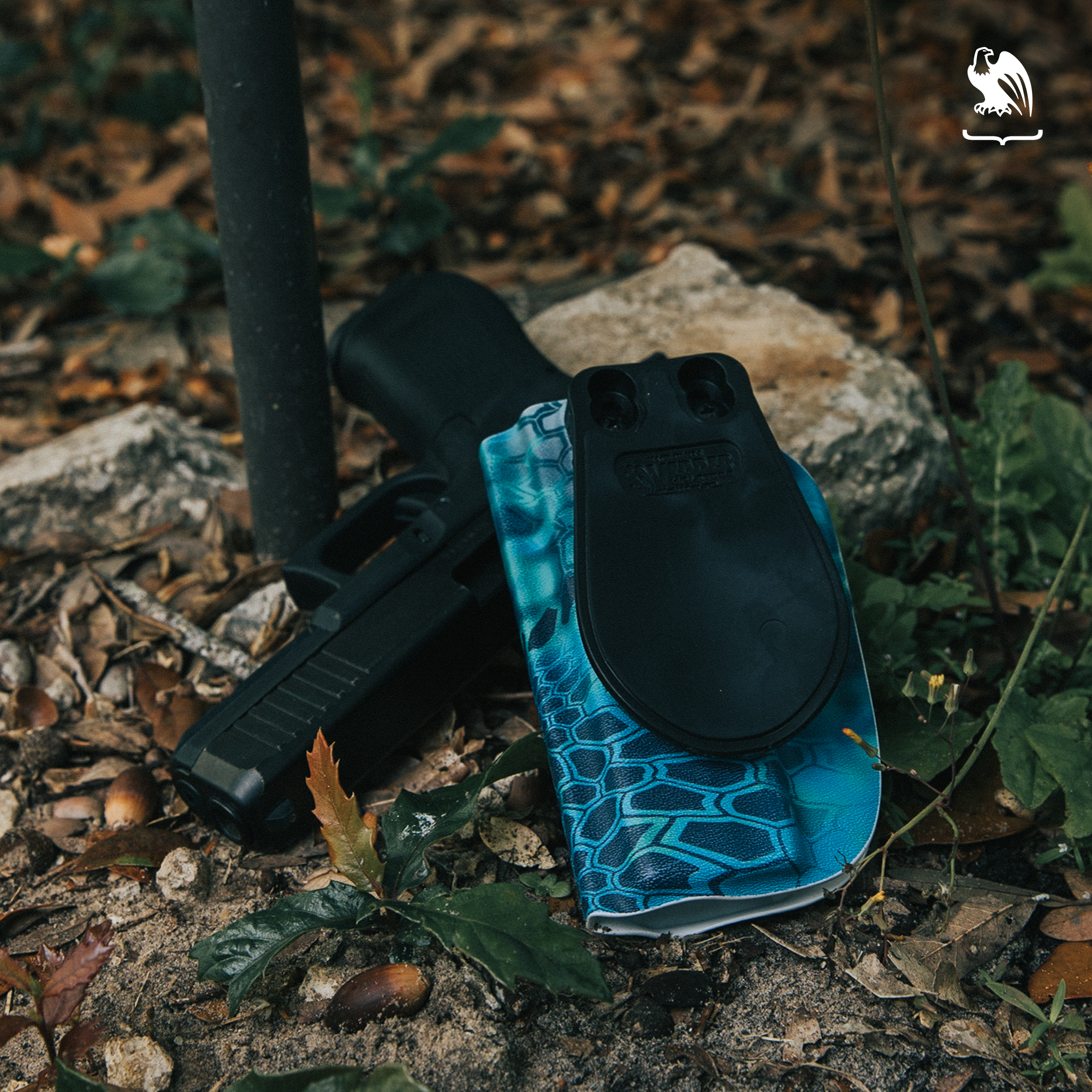 Adjustability
Adjustability is one of the most important considerations when looking for a quality Kydex holster. After all, you need to be able to find a spot that's juuuuuust right to successfully conceal your gun.
First and foremost is adjustable retention. Being able to set a concealed carry holster's retention is a critical safety feature. The Vedder Holsters ProDraw™ is designed with level one adjustable retention, so you can set it to be tighter or looser depending on the situation.
Another important feature is adjustable cant. This allows you to tilt your holster so that you can find a spot that's comfortable and well concealed depending on the position you're carrying in. Since paddle holsters can be carried in any position, you definitely don't want to skip this feature. The ProDraw™ can be adjusted up to 15° forward or backward, allowing you to find the perfect spot.
Customization
Because everyone's concealed carry needs are unique, the holster you choose should be as customizable as your weapon.
That being said, you'll want to make sure to look for a holster that offers full sight channels to accommodate any sights, loaded chamber indicators, RMRs, or other aftermarket accessories that you may have.
A sweat shield is another common customization option that you may want to look for. A sweat shield is simply an extension of the holster's Kydex shell, designed to separate your gun from your body to keep your slide clean and dry.
If you're left-handed, you'll also want to look for a holster that can accommodate a left-hand draw. Luckily, here at Vedder Holsters, we offer all of these customization options so you can get a holster that fits your exact needs.
Warranty
When shopping for a new holster, a product warranty may be the furthest thing from your mind. After all, you're busy looking at customization options, adjustability, and comfort.
Investing in a product backed by a lifetime guarantee has several benefits. First, you know the company is confident in the quality of its product. Beyond that, you can rest easy knowing that you won't have to worry about buying another holster down the road because if anything happens to the one you have, you can easily have it replaced.
Here at Vedder Holsters, all our products are backed by a 30-day risk-free trial and a lifetime guarantee. So if for any reason your holster fails you, we'll make it right.
American Made
Finally, if investing in products that are made in the USA is important to you, then you'll want to be sure to purchase your paddle holster from an American manufacturer. Vedder Holsters is based out of Mount Dora, Florida, and all of our products are hand-crafted right here on U.S. soil.
If you're interested in other American-made products that go beyond concealed carry, check out our sister company, GeoGrit.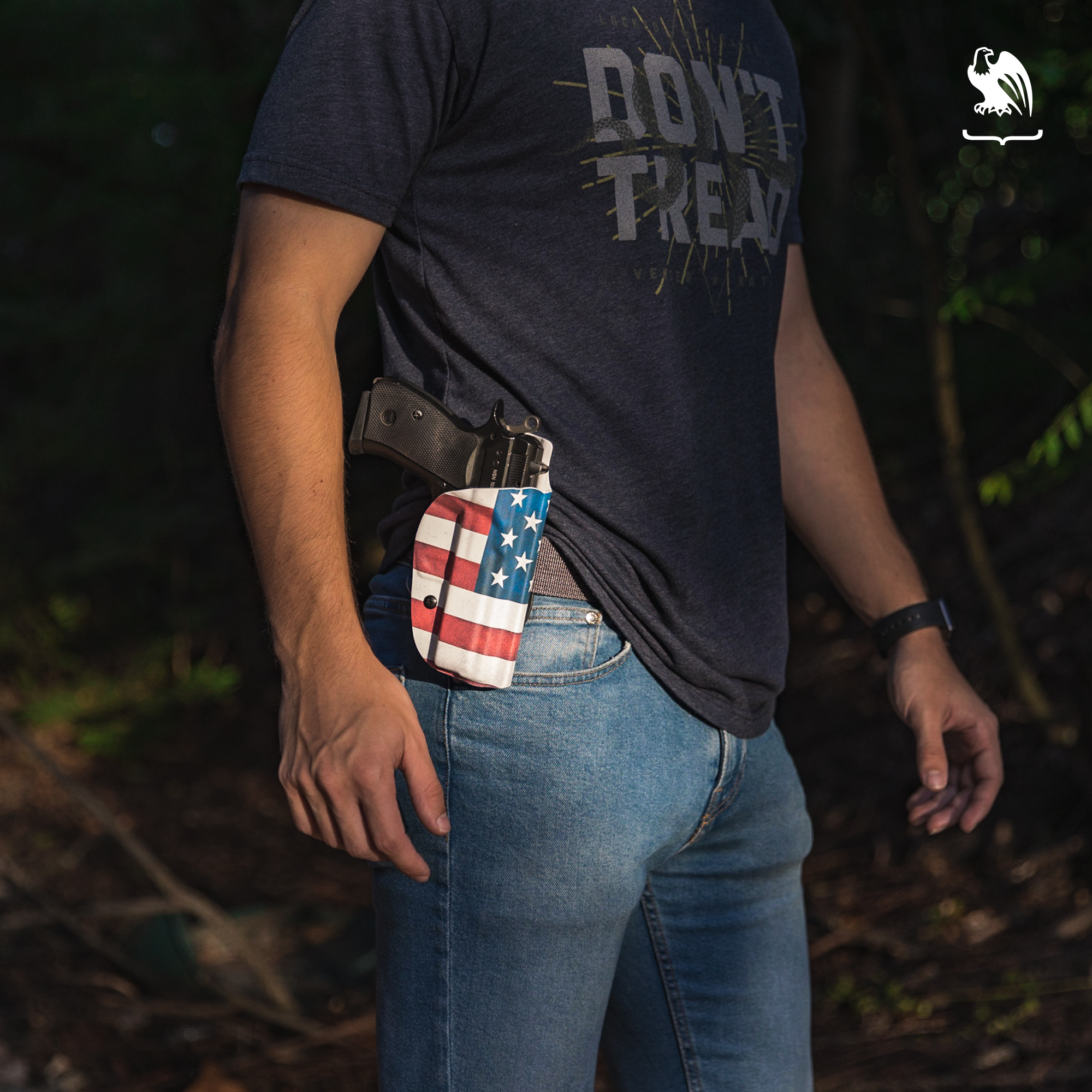 Is a Paddle Holster Right for Me?
A paddle holster may be the right choice for you if you're looking for an outside the waistband holster that's low-profile and versatile. Kydex paddle holsters are known for being comfortable and easy to draw from, making them a popular choice for many carriers.
If you're looking for belts or holsters, we recommend visiting our Holsters by Gun Model page if you are looking for holsters that are custom-made for your weapon of choice. For all of our belt and holster options and for more information to help you choose the carry system that works best for you, visit our Vedder Holsters website.
Looking for items beyond holsters and belts, check out our Resources Page for popular product links like lights, lasers, first aid, maintenance, and more.
To stay up-to-date on all of the latest Vedder Holsters content and offerings, follow us on Facebook, Instagram, and Twitter. And be sure to check out our sister company, GeoGrit, for all of your American-made minimalist wallet needs.