---
---
---
---
---
---
Sig Sauer P322 vs. Glock 44
If you're in the market for a quality .22 caliber pistol, you can't go wrong with either the tried and true Glock 44 or the brand new Sig Sauer P322.
While there are some similarities between the two pistols, there are significant differences as well. Both guns are of a similar size, though the Sig is slightly larger. With that extra size, however, the P322 has double the capacity of the 44 (20+1 and 10+1, respectively).
You can get your hands on either gun for around $399 in stores, though the Sig comes with more premium features than the Glock.
Let's break down some of the specifics.
Sig Sauer P322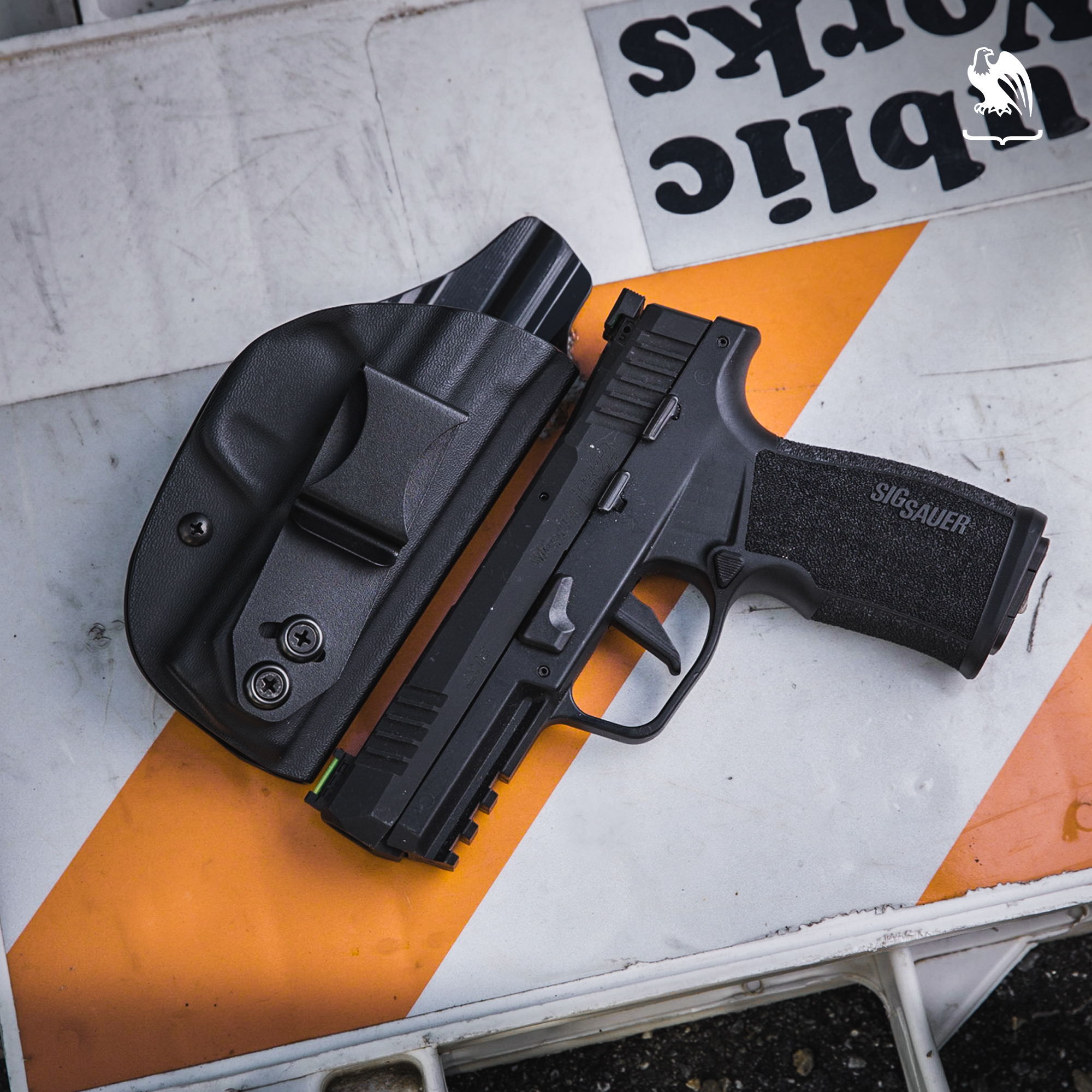 Released in March 2022, the P322 is the latest in Sig Sauer's 300-series. The new rimfire design features a lot of premium options, and its ergonomics have often been compared to the P365 XL.
The Sig P322 comes out of the box with two slightly staggered 20-round magazines, a magazine loader, two interchangeable trigger shoes (flat and curved), an M1913 accessory rail, and a threaded barrel adapter, making it the most advanced .22 pistol in its class.
The single-action-only pistol also comes with ambidextrous controls, a slide release, and fiberoptic front and rear sights, all packed into a 5.5" tall, 7" long, 17.1 oz stainless steel/polymer frame.
To find a Sig P322 near you, check your local gun store or buy one online through guns.com. You can use Sig Sauer's dealer locator tool to find the Sig Sauer P322 in your area.
Glock 44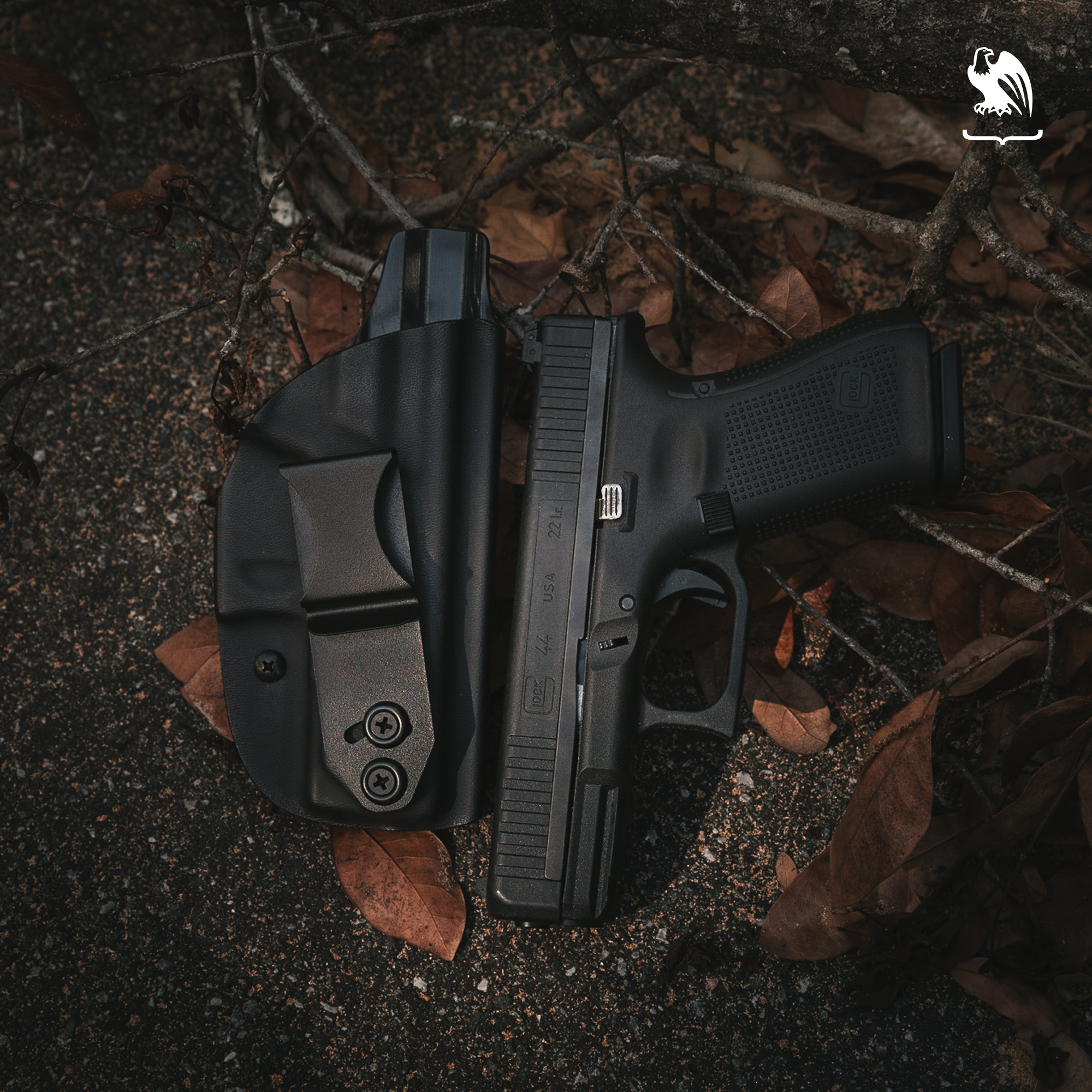 First introduced in December 2019, the G44 is a classic, reliable .22 caliber compact pistol.
The lightweight striker-fired gun weighs only 14.64 oz and stands 5.04" tall and 7.28" long. It has a 10+1 capacity and comes with two load-assist magazines. The hybrid steel-polymer framed pistol is designed to fit nearly any hand size and has minimal recoil when shot, making it an extremely versatile weapon.
The Glock 44 comes standard with multiple backstraps, Glock's Safe Action Trigger System, and the Glock Marksman Barrel, designed for superior accuracy. The pistol also comes with adjustable rear sights.
The G44 has a similar design to the popular Glock 19 and, since its release, has been praised for its quality and reliability.
To get your hands on a Glock 44, visit guns.com or check out Gearfire to find a dealer near you.
Specifications: Sig Sauer P322 vs. Glock 44
Capacity
In terms of capacity, the Sig Sauer P322 is by far the superior choice. The P322 comes standard with twice the round capacity as the Glock and only weighs 2.46 oz more.
The Glock 44 comes standard with a 10+1 capacity, which isn't bad for its smaller size and weight. When you buy a 44, you get two of Glock's load-assist magazines.
On the other hand, the Sig P322 has an impressive 20+1 round capacity, making it the highest capacity .22 caliber pistol of its class. It also comes out of the box with two magazines, which have a slightly-staggered design, and a magazine loader.
Ergonomics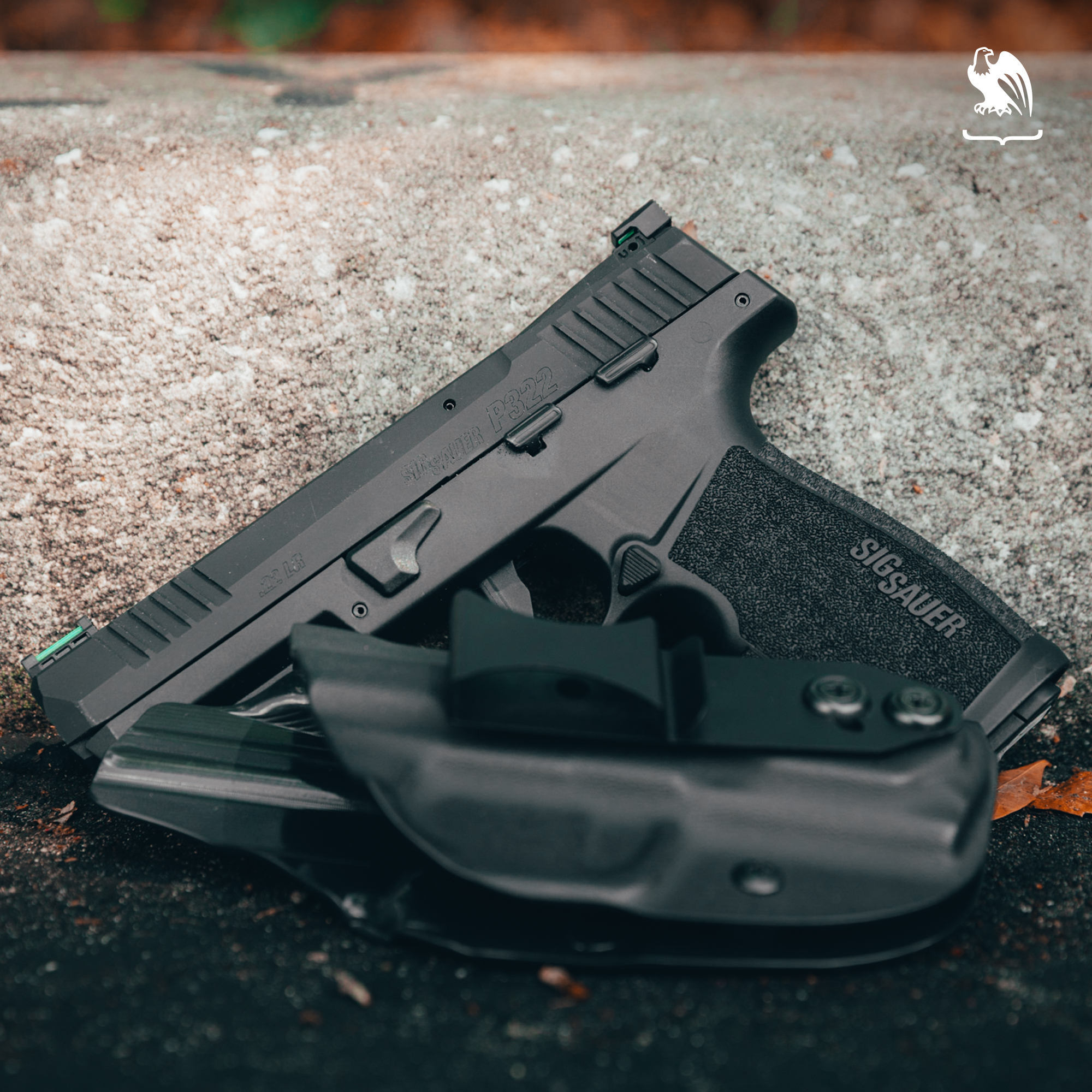 Frame
The P322's black, stainless steel/polymer frame is built with a textured, compact polymer grip. This feature is similar to the P365 XL, though the P322's grip is a bit longer. It has a high undercut beneath the trigger guard to allow for a higher, more natural grip of the gun.
The Glock 44's frame is also made from a stainless steel/polymer hybrid. Its frame is exactly the same as the Glock 19, though slightly shorter, and is known for being reliably comfortable to hold.
Slide
Like the rest of its frame, the Glock 44's slide is made from a hybrid steel-polymer and measures 6.85" long and 1" wide. It has front and rear slide serrations and an ambidextrous slide lock.
The Sig P322 sports an aluminum alloy slide and is finished with a protective anodized hard coat. The 6.75" long and 0.99" wide slide also has front and rear serrations and an enclosed hammer.
Barrel
Gen 5 of the Glock 44 features a Glock Marksman barrel, which has enhanced barrel rifling for better accuracy. The G44's barrel measures 4.02" in length.
The P322 has a unique, 4" fixed carbon steel threaded barrel. The barrel is slightly more receded than traditional threaded barrels and comes with an adapter that makes it suppressor-ready right out of the box, allowing you to easily add a suppressor or compensator.
Sights
When it comes to sights, the Sig Sauer has the Glock beat simply due to its ease of adaptability. The P322 comes with fiber optic front and rear sights with a 6" radius. The rear sight plate is also adjustable and can be easily removed and replaced with a red dot sight.
The Glock 44 also comes standard with adjustable rear sights, which can be upgraded with aftermarket sights if desired, though not as easily as the P322. The Glock's standard sights also have an approximate 6" line of sight.
Optics
When it comes to optics, the Sig P322 has an advantage over the Glock 44. While the Glock does not come optics ready, the P322 has an adjustable rear sight plate that can be easily removed to add a ROMEOZero red dot if desired, without using an adapter plate.
Controls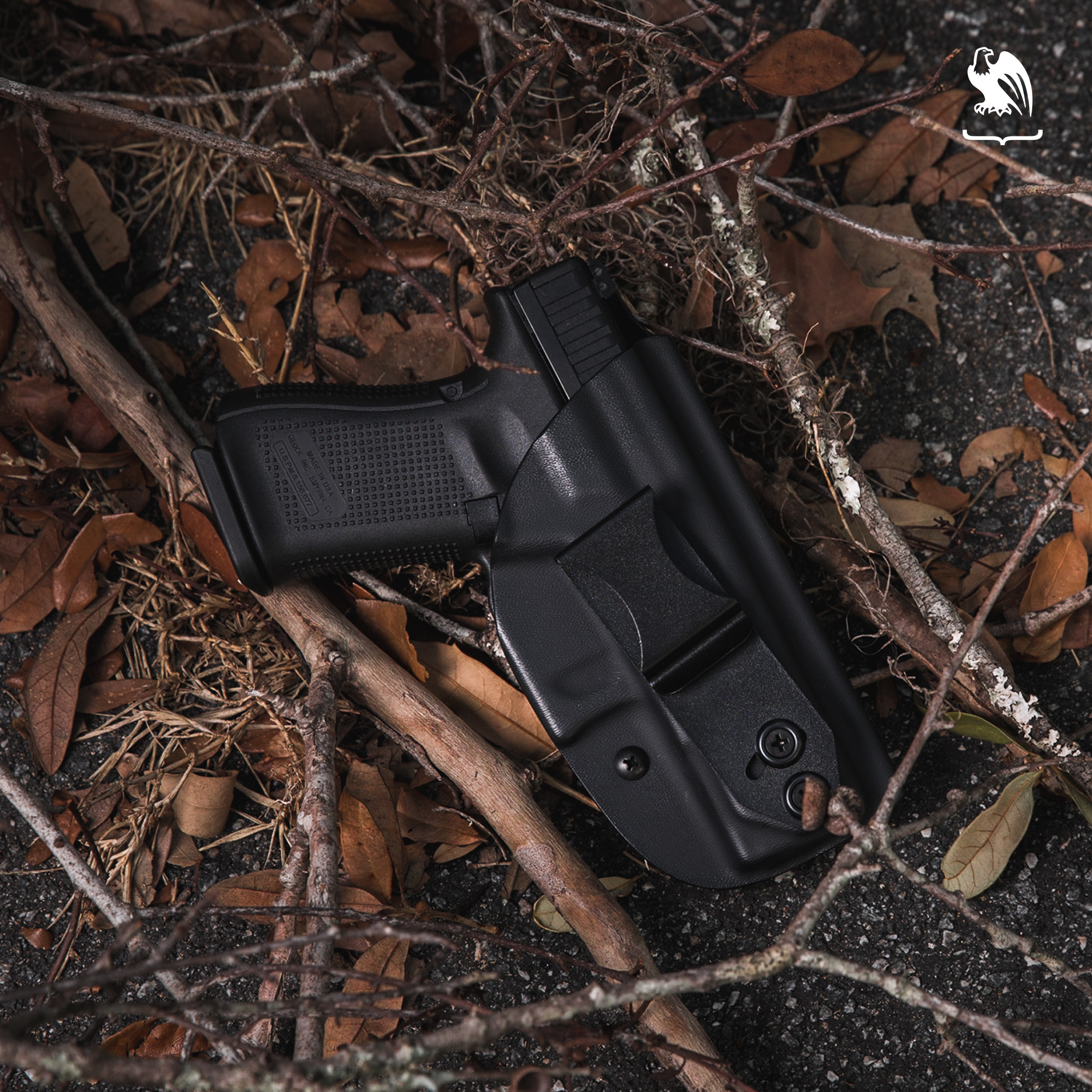 Safety
Both pistols come with a safety, the best of which comes down to whether you prefer internal safeties or manual thumb safeties. Unlike the 44, which is built with Glock's internal safety system, the Sig P322 comes with a pretty basic ambidextrous frame-mounted manual safety.
The Safe Action Trigger System is an internal safety that provides a consistent trigger pull for every round fired. It has three automatic and independently operated mechanical safeties built right into the pistol's fire control system. This system also ensures that the firearm won't go off if it is dropped.
Trigger
The P322 is single action only and is designed with interchangeable trigger shoes. The Sig comes with both a flat and curved shoe, which can be easily switched out depending on your preferences.
The Glock 44 is built with the company's Safe Action trigger, which provides a consistent pull throughout the firing process. It has a trigger pull of 5.84 lbs and a trigger distance of 2.76".
Which Gun Is Right For Me?
Choosing the right pistol has everything to do with your lifestyle and preferences. Both the Glock 44 and the Sig Sauer P322 are excellent choices of .22 caliber handguns.
If you're specifically looking for the most lightweight between the two, the Glock is slightly smaller. However, if you're looking for higher magazine capacity, the Sig Sauer is an easy choice.
In terms of features, the P322 comes with several customization options, while the G44 keeps things more straightforward. The best one for you all depends on whether you're looking for the comfort and reliability of Glock or the modification options of the Sig Sauer.
Regardless of which pistol you choose, be sure to check out our Kydex IWB and OWB concealed carry holsters for each model.Our most popular holster, the Vedder Holsters LightTuck™, is designed to be the ultimate EDC holster. The most comfortable concealed carry holster on the market, the LightTuck™ has adjustable ride height, retention, and cant (and those are just the highlights). Check out our entire line of Glock 44 holsters and Sig Sauer P322 holsters on our website.
Check out our video review on: Sig Sauer P322 vs Glock 44
If you are looking for belts or holsters, check out some of our Vedder Holsters products here. Like everything we sell, our holsters and gun belts are covered by a Lifetime Warranty and a 30-day money-back guarantee.
Looking for items beyond holsters and belts? Check out our Resources Page for popular product links like lights, lasers, first aid, maintenance, and more.
30-day Money-Back Guarantee
It's confidence in knowing that you will be 100% satisfied with your holster purchase.
We are so confident that you will love your new holster that you can wear it for 30 days from the day you receive it and if for whatever reason it is not for you, contact us and return within 30 days of receipt and receive a full refund of the holster price (excluding shipping).
Handcrafted in the U.S.A.
At Vedder Holsters, we individually handcraft our products with pride in the U.S.A.
Located in the heart of Central Florida, our Vedder Holsters team crafts your unique holster by hand to ensure a precise fit for your gun model every time. Because our holsters are tailored to your preferences, each one is made to order.
Lifetime Warranty
It's confidence in knowing that you will be 100% satisfied with your holster purchase.
We are so confident that you will love your new holster that you can wear it for 30 days from the day you receive it and if for whatever reason it is not for you, contact us and return within 30 days of receipt and receive a full refund of the holster price (excluding shipping).
*International Purchasers* Please note that international shipping is not included with any warranty or exchanges. Buyer must pay international shipping for all packages being sent to a location outside the USA. This does not include APO addresses as they are treated as being inside the USA.