It's that time of year again; the leaves are changing, everything is pumpkin spice flavored, and spooky decorations are going up all over the neighborhood.
But the fun of Halloween comes with a darker side. Crime rates spike in the days surrounding this mischief-filled holiday, and if ever there was a time to carry your gun, it would be the night when so many disguised people are out wandering the streets.
Whether you plan to go trick-or-treating, pass out candy, or avoid the holiday altogether, here is everything you need to know about carrying a gun on Halloween.
The Dangers of Halloween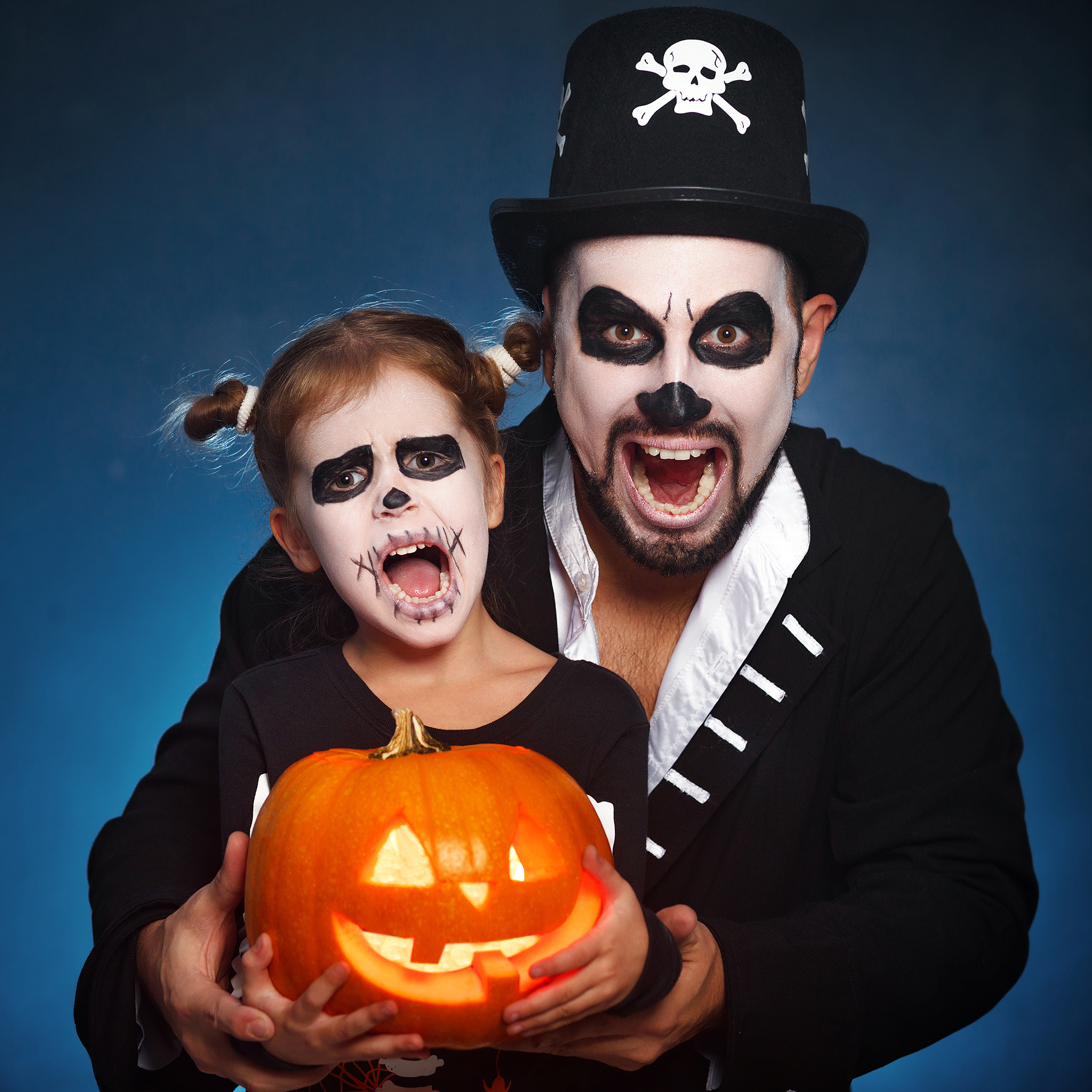 It isn't called trick-or-treating for nothing.
It's no secret that kids like to get into mischief on Halloween night. But kids aren't the only ones who sometimes get into trouble over the holiday.
Not only are drunk driving incidents and pedestrian-related injuries and fatalities on the rise on Halloween, but crime rates like vandalism and theft spike on October 31 and in the days surrounding. In fact, Forbes reports that insurance companies see an increase in homeowner insurance claims by 16% on Halloween and 46% on November 1.
Halloween also brings about an increase in theft. In fact, October 31 is usually one of the top three days for reported car thefts every year.
And if that isn't scary enough for you, just consider the various opportunities for criminals on a holiday when most people will answer the door for a complete stranger in a costume that hides not only their identity, but potentially much more.
In 2021, a total of 12 people were killed and 64 were wounded in mass shootings on Halloween across the U.S., according to Fox News. It's no wonder one might want some extra protection during this holiday.
And since police understandably have their hands full on Halloween, they may be slower to respond to 911 calls than usual, and you may find yourself in a position where you have to defend yourself or your family until help arrives.
In short, Halloween may be one of the most important nights of the year for being armed. So let's go over some safety tips for Halloween, whether you decide to stay home or enjoy the festivities.
Is It Legal to Conceal Carry on Halloween?
The question of whether you can conceal carry on Halloween is a fair one. After all, things like masked costumes and walking onto other people's property can understandably raise questions about the legality of CCW on this holiday.
Well, the good news is that no specific laws prohibit concealed carry on October 31. As long as you follow your local carry laws, you shouldn't run into legal issues.
That being said, depending on your state, you may have a few things to consider before getting dressed up, strapping on your gun, and heading out for the night.
For example, if you plan to do any drinking, whether at a house party or a bar, you may want to leave your pistol at home. Most states prohibit carrying a firearm while under the influence of alcohol. And even if you live in a state that doesn't, it's still not recommended to mix alcohol and guns.
There are a few things to consider if you plan to carry on private property, as well. In some states, businesses reserve the right to prohibit firearms on their premises, so know your local laws and pay attention to any signage you come across.
Along the same lines, if you're planning to head to a "Trunk or Treat" or another community event, think about where it's located and whether your local laws allow you to carry there. If the event is at a local school, you likely won't be permitted to have your gun, for example.
Another question people often have is whether or not it is legal to concealed carry while wearing a mask. While there are no laws prohibiting CCW while wearing a mask over your face, it's also not necessarily recommended, as many of them can significantly decrease your visibilityand impact your situational awareness. Makeup might be a better choice!
Finally, every state has different laws when it comes to defending yourself or your property, so make sure to brush up on the rules ahead of time (which you should be doing anyway!).
At the end of the day, it all comes down to the concealed carry laws in your state and where you plan to go on this All Hallows' Eve. For information about concealed carrying on Halloween in your specific state, check out the U.S. Law Shield's website.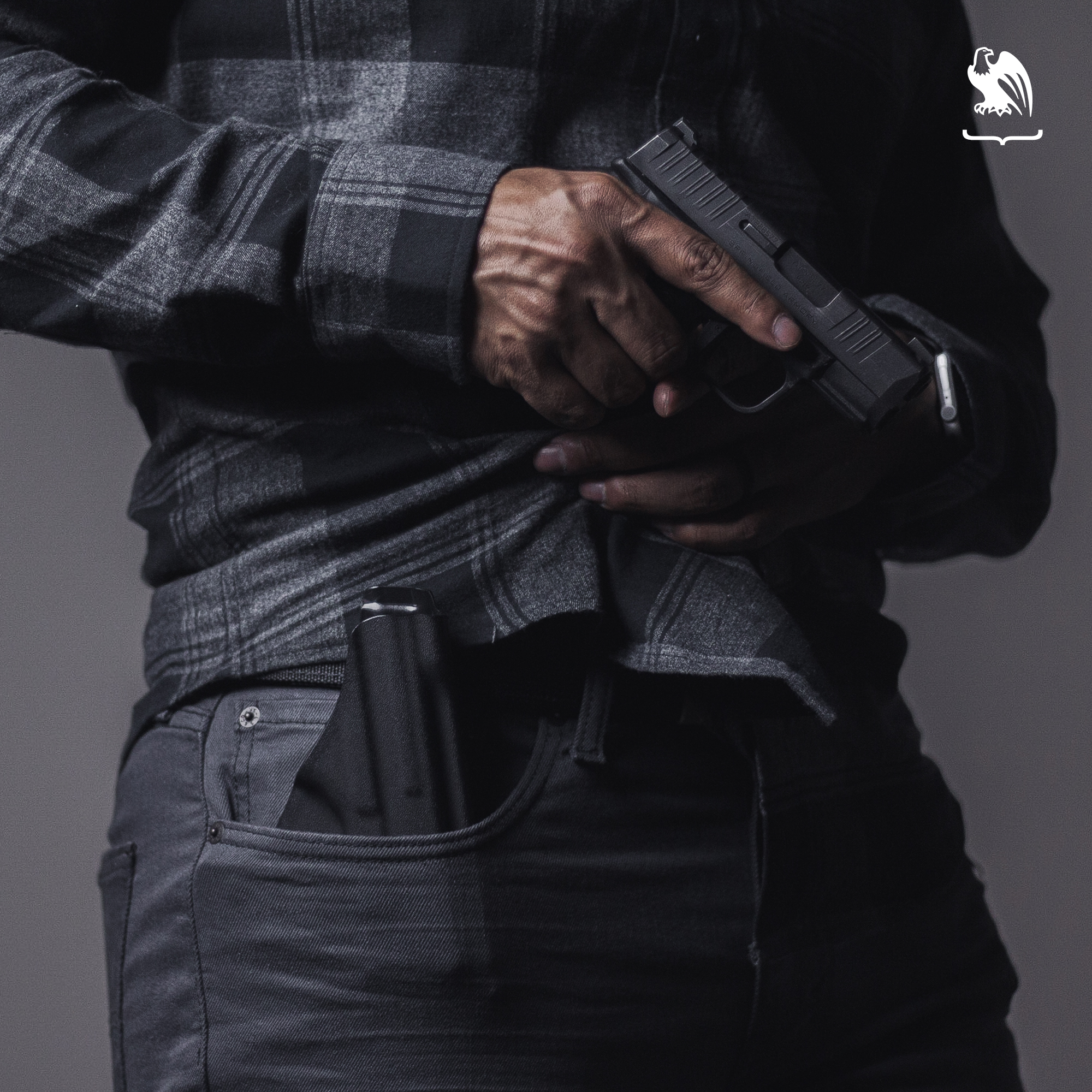 Tips for Halloween Carry
If you're wondering whether you should keep your gun handy if you plan on staying home on Halloween, the answer is yes!
October 31 is one of the only nights of the year in which it's acceptable to walk onto someone's property without permission – and in costume, no less. Of course a criminal would want to take advantage of a night when most people will answer the door without question.
For that reason, it's a good idea to be prepared to defend yourself. Here are some tips for carrying your gun on Halloween.
Keep Your Gun Handy but Hidden
If you plan to stay home on Halloween, be sure you have quick access to your firearm. Though it may feel awkward, you may even want to consider carrying it on your body for the night. You are most likely to run into a potential threat at your front door on Halloween, after all.
If you don't feel like wearing your gun, keep it in an accessible location that's hidden from and out of reach of the children coming to your door to ensure nobody's curiosity will get the best of them.
If you're dressing up, we know it can be tempting to incorporate your gun into your costume. But even if open carry is legal where you live, you run the risk of someone trying to grab your weapon, understandably mistaking it for a fake one.
If you decide to open carry on Halloween, be hyper-aware of who's around you. A holster with good retention can also help prevent unauthorized users from grabbing your gun. Check out our selection of IWB and OWB Vedder Holsters here. Each of our Kydex and hybrid holsters is built with adjustable retention to ensure your gun is secure.
Choose Your Costume Wisely
When it comes to Halloween costumes, pretty much anything goes. Unless you're carrying.
While you can carry your gun under most costumes, there are a few things to consider. First, if you plan to conceal carry, make sure you choose a costume that won't cause printing.
Second, think about the practicality of your costume. Choose something that will allow you to access your firearm quickly and easily. If you need it, you won't have time to unzip your onesie or reach around a cardboard UFO, so choose wisely.
Finally, make sure you can see out of your costume. While masks make great costumes, they also make for limited visibility. Consider swapping your mask for some Halloween makeup if you plan to carry your gun.
Practice Situational Awareness
Perhaps the most important thing to keep in mind on Halloween, and every day, is the concept of situational awareness.
Paying attention to your surroundings and being aware of potential threats can help you avoid sketchy situations in the first place and defend yourself if not. We recommend carrying a flashlight if you're heading out after dark so you can see who and what is around you.
For more information about situational awareness and how to practice it, check out our article here.
Be Careful Who You Open Your Door To
We know the entire idea of Halloween is to answer the door and give kids candy. However, children may not be the only ones ringing your doorbell that night.
A good rule of thumb is to stop answering the door after 9 p.m. when most kids are done trick-or-treating anyway. If you want to keep passing out candy later, check your camera doorbell or peephole to make sure that it is, in fact, a little kid and not someone trying to take advantage of your willingness to come to the door.
And this should go without saying, but you should never allow anyone to enter your house for any reason.
Secure Your Property
Because theft and vandalism are on the rise on Halloween, it's more important than ever to secure your property.
But first things first. Every state is different, so it's a good idea to research your local laws about defending your property using a deadly weapon. Knowing your rights is critical so you don't end up being the one with criminal charges.
But prevention is key, so here are some tips to avoid being targeted by criminals on Halloween.
Protecting Your Home
One of the best ways to deter criminals from your home is to keep your property well-lit, even if you're not passing out candy. Not only does this tell potential vandals and burglars that someone is home, but it allows you to see who is passing through your yard.
You may also want to consider investing in security cameras or a camera doorbell so you can keep an eye on what's going on. That way, when someone rings your doorbell, you'll know whether it's a group of kids looking for candy or a suspicious-looking character.
Keeping Your Vehicle Safe
Homes aren't the only property at risk on Halloween. Vehicle theft and vandalism is also common on October 31, so securing your vehicle should be a priority.
If you can, park your vehicle in an enclosed garage. If that's not an option, keep it in a well-lit space close to your home so you can keep an eye on it.
Protect Yourself From Pickpockets
With so many people out and in close proximity, the risk of theft is elevated. If you plan to head to a party or go out trick-or-treating, use caution so you don't become the victim of a pickpocket.
One of the best ways to secure your ID, cash, and credit cards is in a minimalist wallet. These wallets are small enough to fit in your front pocket, so you don't have to worry about anyone grabbing it. Looking for a slim wallet with RFID protection is also wise so you don't become a victim of criminals who use radio frequency devices to read the chips in your credit cards and IDs.
If you're in need of a secure wallet, we strongly recommend checking out our sister company, GeoGrit. We offer a selection of durable minimalist wallets with RFID protection and a lifetime warranty that are made in America, just like our holsters. To learn more about the GeoGrit wallet and for some more general Halloween safety tips, check out our How to Stay Safe During Halloween article here.
Summary
Whether you're taking the family out trick-or-treating, staying in to pass out candy, or avoiding the holiday altogether, you'll probably want to carry on this notoriously mischievous holiday.
No matter what you're doing, learning how to stay safe during Halloween is extremely important. Staying in groups, knowing and exercising your local carry laws, and practicing good situational awareness are all critical in ensuring a fun and safe time is had for all.
If you're looking for belts or holsters for other handgun models, we recommend visiting our Holsters by Gun Model page for holsters that are custom-made for your weapon of choice. For all of our belt and holster options and for more information to help you choose the carry system that works best for you, visit our Vedder Holsters website.
Looking for items beyond holsters and belts? Check out our Resources Page for popular product links like lights, lasers, first aid, maintenance, and more.