You carry a lot of stuff throughout the day. Your keys, phone, wallet, gun, pocket knife, loose change, and other everyday carry gear fit nicely on your person as you go about your day. But what do you do with it when you get home?
Instead of dumping your gear on your nightstand, desk, or toolbox at the end of the day, an EDC tray can help keep your items neatly organized in one place, so you don't have to worry about them getting misplaced.
Whether you're disassembling a firearm and need to keep the pieces together, or just need a resting place for your gear, an everyday carry tray is the catch-all organizer you never knew you needed.
So, without further ado, let's talk about the many uses of EDC trays.
What is EDC?
By now, you've probably heard the term EDC used in the carry community many times (and no, we're not talking about an electronic music festival!). EDC stands for "everyday carry" and refers to all the essentials you bring with you when you leave your home.
When you picture EDC gear, you're probably thinking of survival tools, tactical/self-defense gear, and emergency supplies. While all of this can absolutely fall under the everyday carry umbrella, EDC encompasses anything and everything you tote around on a daily basis. That could include a handkerchief, lip gloss, earbuds, granola bar, rabbit's foot, pencil sharpener, silver bullet … you get the idea. If you carry it every day, or almost every day, it counts.
Some common EDC items include your carry gun, wallet, keys, phone, sunglasses, watch, and pocket knife. Many tactical types also carry things like a medkit, flashlight, pen, multitool, compass (or GPS), paracord, or even a glass breaker. If you're looking for EDC gear like knives and first aid kits, check out our Resources page here.
Preparedness looks different for everyone, so whether you carry just the basics or leave your house ready for the zombie apocalypse, you need a place to rest your things at the end of the day. That's where an EDC valet tray comes in handy.
What is an EDC Tray?
An everyday carry tray is exactly what it sounds like. It's a tray designed to hold your EDC gear while you're not carrying it, i.e., while you're in the shower, sleeping, or going somewhere you can't take it (but … why would you go to a place like that?).
Dump trays can be made from all kinds of different materials using all sorts of different designs. Regardless of the style you choose, its purpose remains the same: to keep your EDC gear nice and organized and all in one place.
If you think you don't need an EDC gun tray, think again. These organizers are more than just a tray; they are the ultimate catch-all organizer for your everyday carry gear. Once you try one, you'll never go back. (Sorry if we got a little passionate there, we just love these trays!)
Why Use an EDC Dump Tray?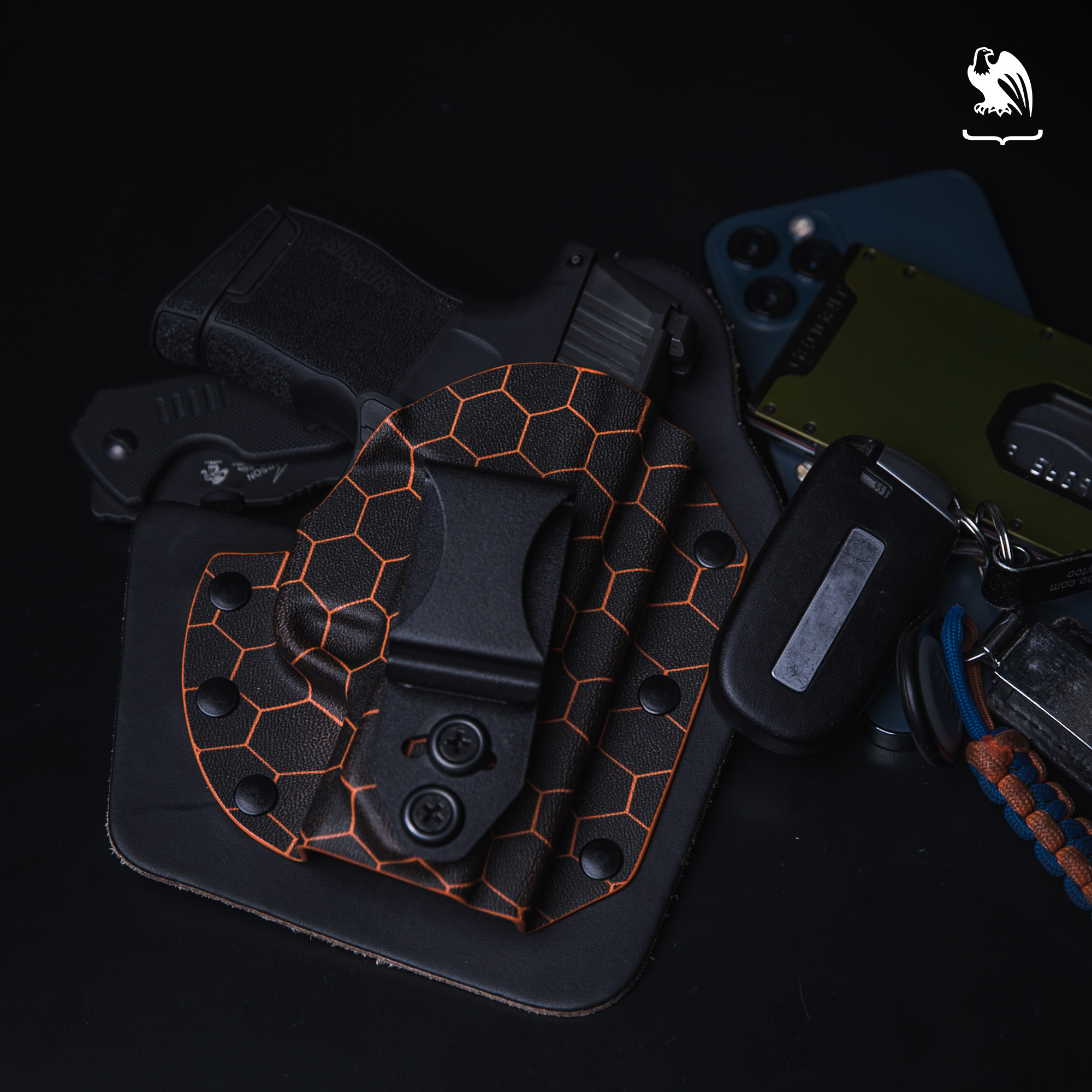 If you've been dumping your EDC gear in a heap on top of your dresser for years, you may be wondering why you should bother with an everyday carry tray at this point. After all, what you've been doing works just fine, right?
Glad you asked. There are a few good reasons why grabbing an EDC tray can make your life easier:
Organization
Probably the most obvious reason to use an everyday carry tray is to keep things organized. When you haphazardly toss your stuff onto your nightstand … it just doesn't look good. Not only that, but when things are shoved into a disorganized pile, it can be hard to find an item when you need it. With a tactical EDC tray, you have a dedicated place to neatly arrange your gear, so it's accessible and even nice to look at.
Secure Items
With organization comes the peace of mind knowing your belongings are in a safe place where they won't get lost in the shuffle. Most everyday carry trays have defined edges that prevent certain items – like chapstick or a flashlight – from rolling off your nightstand and under your bed and keep your gear from mingling with other things lying around your house. Not to mention it's hard to lose your wallet when you always put it in the same place.
Visual Reminder
We've all been guilty of running out the door in a hurry, only to discover later that we forgot our wallet, keys, or phone at home. Luckily, having all your gear in one place, like in a tray, makes it easy to grab everything at once so you don't have to worry about forgetting something (especially if you're a survivalist who carries tons of stuff every day!).
Style
Our list wouldn't be complete without mentioning the aesthetic appeal of an EDC gun tray. Not only are they a useful organizational tool, but they make a great decorative addition to your desk, garage, nightstand, or wherever you dump your gear. Not only that, but neatly arranging your carry gun, knife, and other items on a stylish tray turns your EDC gear into a display rather than a messy heap.
What Can You Do With an EDC Tray?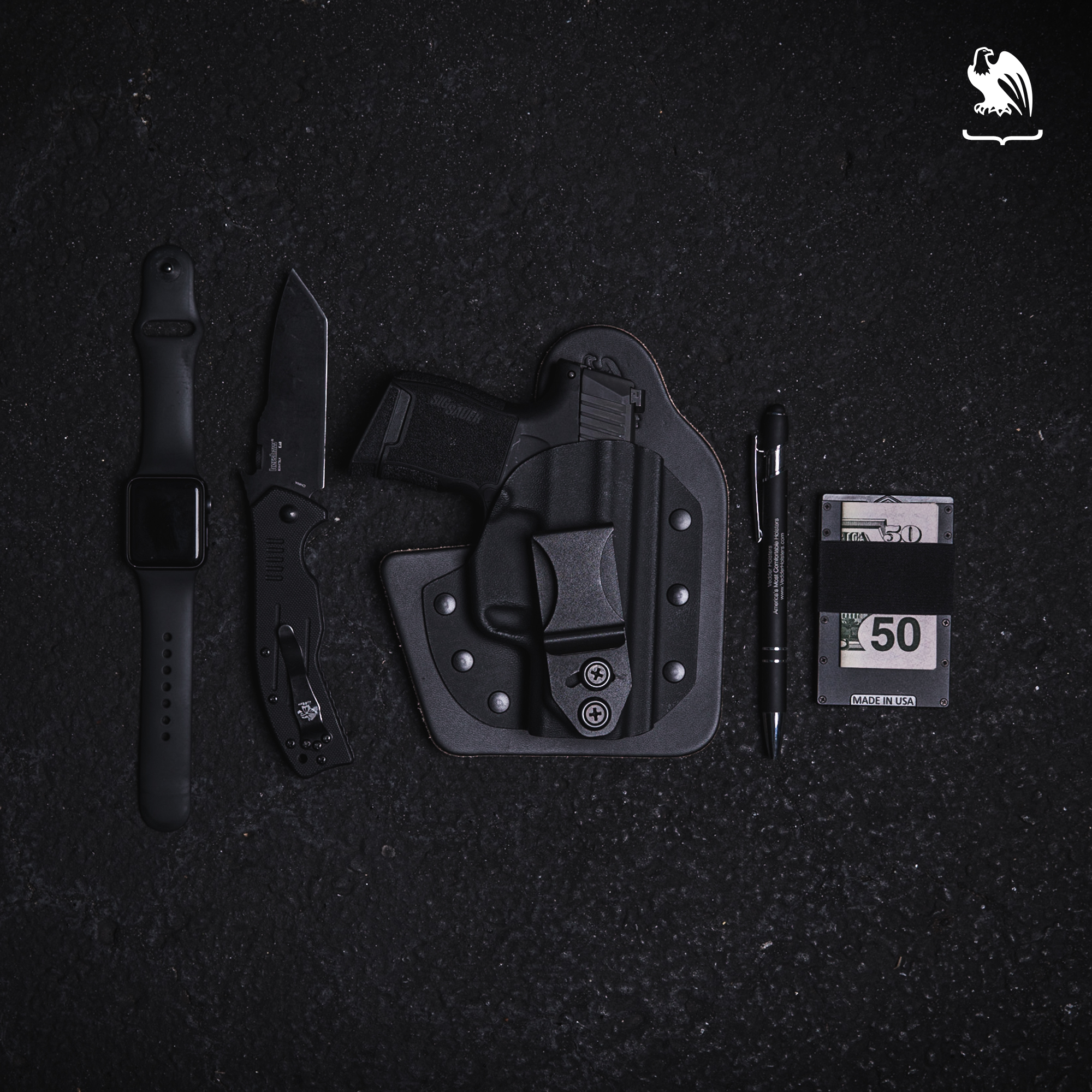 The real question is, what can't you do with a Kydex valet tray?
Yes, an everyday carry tray is designed to hold your everyday carry gear while you're not using it, but these trays are called multipurpose for a reason.
There is no right or wrong way to use an EDC dump tray. If it fits, it belongs. That's all there is to it. But, if you really need some inspiration, here are a few things you can use an everyday carry tray for besides EDC gear.
Ammo Storage
If you're an avid shooter, you probably have loads of ammunition stored away somewhere. And, if you're not careful, your collection can get out of control and make it difficult to find what you need. If you need help organizing your gun safe, EDC trays work well for stacking and sorting out boxes of ammo. These trays also come in handy at the range, making a great place to toss things like spent casings or spare magazines.
Drawer Organizer
Junk drawer out of control? Slipping a dump tray or two into a drawer or cabinet is an easy way to help organize your kitchen, bathroom, or garage. If you need dividers for your tools, spices, makeup, utensils, or whatever you have an abundance of, EDC valet trays can come in handy.
Nuts and Bolts Tray: Whether you're a handyman, mechanic, or a casual gunsmith, you undoubtedly know the frustration of having a screw roll off your workbench never to be seen again. Solution? Grab a Kydex dump tray to toss hardware or spare parts in while you're working to keep things from getting lost.
Serving Dish
Okay, this one might be a bit of a stretch, but there's no reason you can't use an everyday carry tray as a plate, serving platter, or even a tactical charcuterie board (you know you want to). While our tactical EDC tray isn't microwavable or dishwasher safe, it is washable, and it's the perfect size for that TV dinner.
Other
The sky is the limit when it comes to the many uses of an EDC tray. They're so multifunctional that sometimes we wonder if there's anything they can't be used for. You could use an EDC valet tray as a frisbee, hat, picture frame, dog bowl, toilet tank tray, pillow (in a pinch), ping pong paddle, shield, oil pan, clipboard, shovel, fake fruit display bowl, mouse pad, doorstop, plant tray, paperweight, parachute (eh, maybe not), baseball bat, handheld fan, or sled … you get the idea. The point is, we call these trays multipurpose for a reason.
What to Look for in an EDC Tray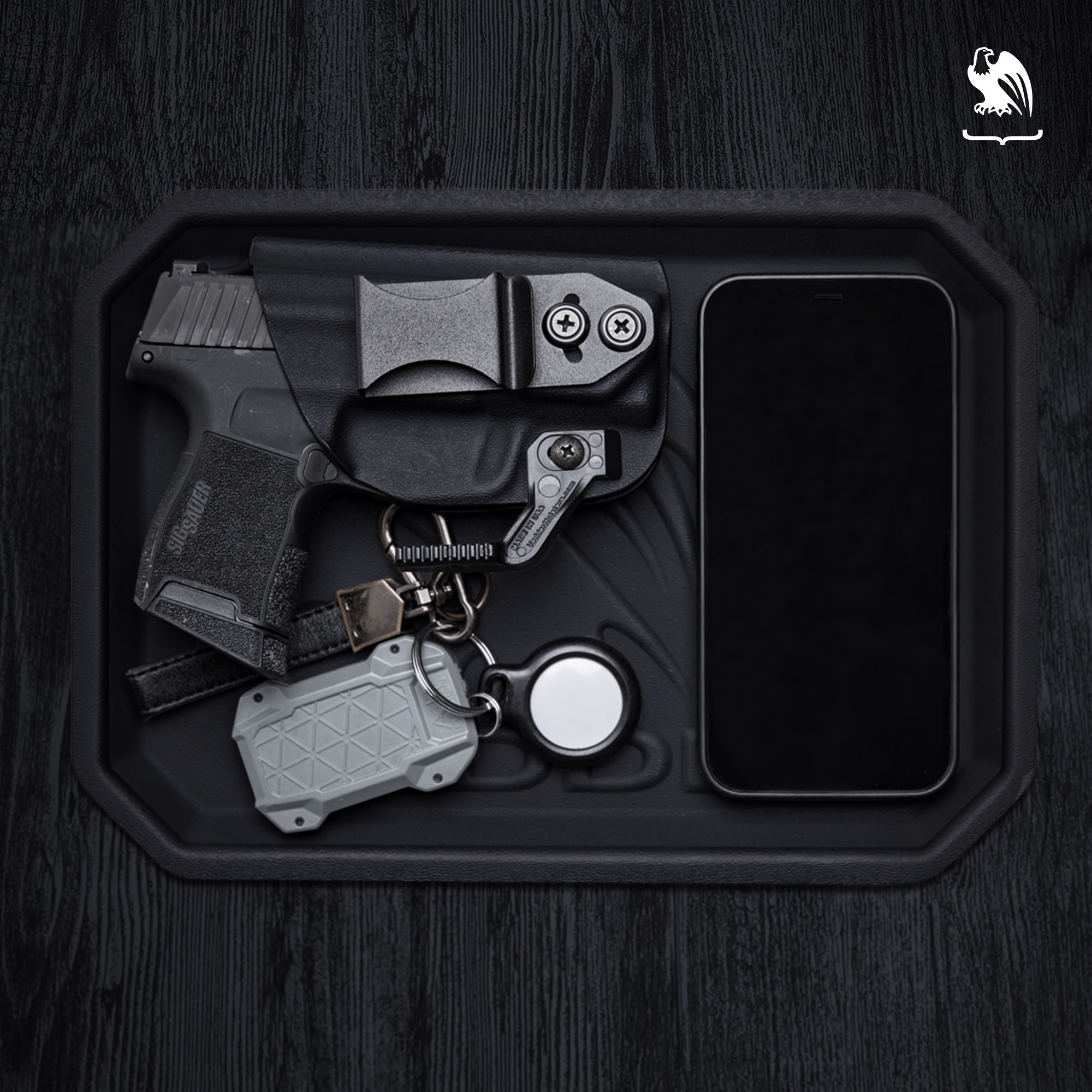 If you think a dump tray is just that, a tray, you'd be wrong. Sort of.
While yes, we are talking about a tray here, there's more to it than you might expect. There are thousands of trays on the market; the trick is finding one made of quality materials that fits your needs.
Let's take a look at some things to consider when choosing a Kydex valet tray:
Purpose
The first thing to consider when looking for an everyday carry tray is what you'll primarily use it for. There are numerous styles of EDC trays out there: shallow trays, deep trays, trays with dividers, etc.
So, think about how you'll use your tray. If you'll be dumping large loads of gear into it, maybe consider a larger tray with taller sides. If you'll be placing it in a prominent location in your house, you may want to think about getting a more decorative tray. If you only have a few things to put on it, or you don't have a lot of room on your nightstand, a more low-profile tray will probably be a better fit.
Material
When it comes to things you use on a daily basis, like shoes, holsters, and, you guessed it, EDC trays, you want to make sure they're made of quality materials designed to last. You can find everyday carry trays made from all kinds of materials, like wood, aluminum, leather, and Kydex, all of which serve different purposes.
While wood and leather trays are both classy, stylish options, they definitely lose points in terms of durability compared to materials like aluminum and Kydex. And, while metal trays will certainly hold up over time, they do lack an aesthetic appeal. If you're looking for something more tactical, then Kydex trays are the best of both worlds as they're both durable and good-looking.
Size
Size is an important factor when it comes to dump trays. After all, if it can't hold what you need it to, then what's the point? So, look for a big enough tray to hold the items you carry yet compact enough to fit on your nightstand (or wherever you want to put it!).
Ergonomics
In case you thought the Vedder Holsters name and logo embossed in our EDC Tray was strictly for looks, it's not. While yes, it does contribute to the tray's aesthetic appeal, it also adds to its overall ergonomics. A completely smooth tray can make it more difficult to get ahold of flatter items like papers and cash, while a textured tray makes it easier to grab things out of it.
The lip of a tray can also contribute to its user-friendliness. While most EDC dump trays have a lip, they all vary in size and thickness. You want to make sure you pick one that is deep enough to easily hold your everyday carry items but not so deep that your things get lost and disorganized. The lip should also be designed so you can easily grab hold of it and move it around during things like gun cleaning.
Appearance
Because EDC valet trays are usually placed in a visible area of your home, it's important that you like the way yours looks. Even if you're the only one who will see it, with all the options available there's no reason it shouldn't look the way you want it to.
If you're having trouble deciding, a multipurpose tactical tray like the Vedder Holsters EDC Tray is a good fit for any scenario. Crafted with high-quality thermoplastic, this tray is guaranteed to hold up under heavy use. It also comes in dozens of different color options so no matter what your home decor looks like, you can easily find something complementary.
Summary
Whether you're a minimalist who carries as light as possible, or you're a tactical junkie who can't leave the house without the kitchen sink, you need a place to toss your stuff at the end of the day.
When it comes to EDC trays, it's important to choose one made with quality materials that will last under heavy use. You also want to make sure it's the right size for your needs and that it looks great in your home (or wherever you put it!).
At Vedder Holsters, we offer a tactical EDC Tray, perfect for dumping your EDC gear or for organizing parts during gun cleaning. Whatever you need it for, we guarantee it won't disappoint. (It helps that you can choose from dozens of custom Kydex colors!)
If you are looking for belts or holsters, check out some of our Vedder Holsters products here. Like everything we sell, our holsters and gun belts are covered by a Lifetime Warranty and a 30-day money-back guarantee.
Looking for items beyond holsters and belts? Check out our Resources Pagefor popular product links like lights, lasers, first aid, maintenance, and more.