---
---
---
---
---
---
What To Look For in a 1911 Holster
Whether you already own a 1911 or are looking for the best holster for your newly acquired pistol, you've come to the right place. Choosing the right holster to fit your needs is one of the most important parts of carrying a firearm.
We've covered everything from holster types and materials to design and comfort to help you choose a quality 1911 holster for this versatile gun.
Before we get too much into the nitty gritty of holsters, let's talk a little bit about the infamous 1911.
About the 1911
While the original 1911 was manufactured by Colt, there are now dozens of manufacturers with multiple variations of this popular pistol. That means there is a 1911 for everyone, no matter what features you are looking for or your price point.
The modern 1911 features the same battle-proven,100-year-old design as the original version with slight modifications. It is a single-action only semi-automatic pistol and is most commonly chambered in .45 ACP.
The 1911 comes in three different sizes: the government frame (5-inch barrel), the commander frame (4-inch barrel), and the officer frame (3-inch barrel). From sub-compact to full-size, these guns are available with or without rails to suit your needs.
Ever heard the term "cocked and locked" or Condition 1? The most common way a 1911 is carried is with the hammer cocked and the manual safety engaged. Of course, there are other ways to carry a 1911, with one in the chamber and the hammer down, for example.
No matter which frame size or manufacturer you choose, the 1911 is one of the most popular pistols to date for EDC, competition shooting, target shooting, or even collectors.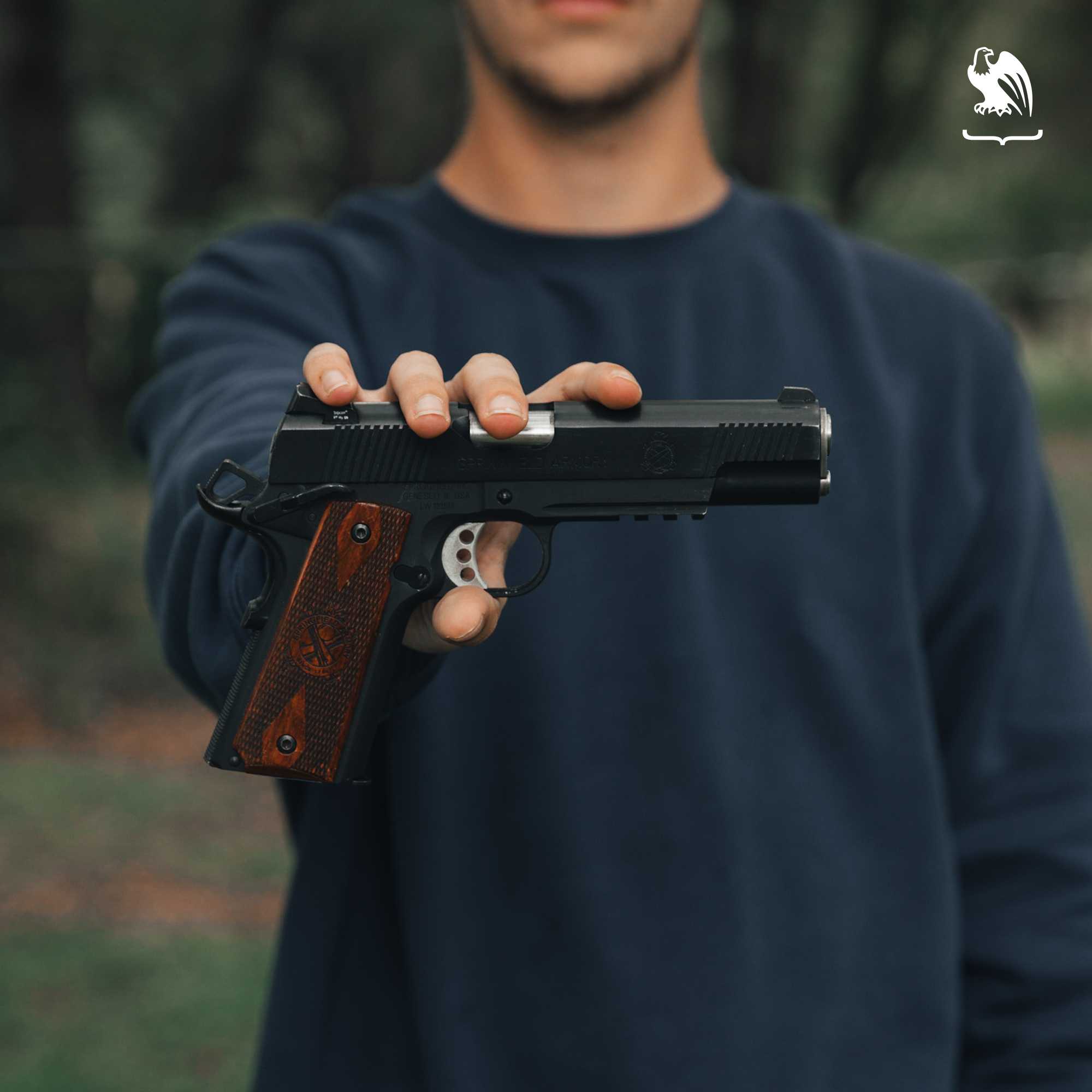 How To Choose the Best 1911 Holster
Getting a little overwhelmed by all the holster options available? There are a few key things to look for when you are deciding which holster works best with a 1911.
Holster Type
The first thing you'll need to consider when looking for 1911 holsters is the type you need based on the position you carry in.
While some people open carry the 1911, the most popular way to carry it is inside the waistband. You can carry the 1911 in any of the traditional carry positions, including appendix, strong side, and 4 o'clock.You may find one carry position more comfortable than another, depending on which size and manufacturer you choose for your 1911.
If you are looking for a comfortable concealed carry holster, one of the best 1911 inside the waistband holsters is the Vedder Holsters LightTuck™. This holster mimics the frame of your 1911 pistol, making it easier to conceal than other holsters.
Hybrid holsters are another popular choice for IWB carry. A holster like the RapidTuck™ or ComfortTuck™ can be incredibly comfortable due to their leather backing.
If you prefer to open carry, a large holster like our Quick Draw or LightDraw™ features clips or loops to help distribute the weight of your gun more evenly. A smaller, more compact option like a paddle holster is a convenient option for OWB carry. Our brand new ProTuck or SideTuck are also great options to carry IWB.
Ultimately, the carry position you choose is up to you. Because the 1911 comes in a variety of sizes, any carry position you choose should be effective so long as you pair it with the right holster.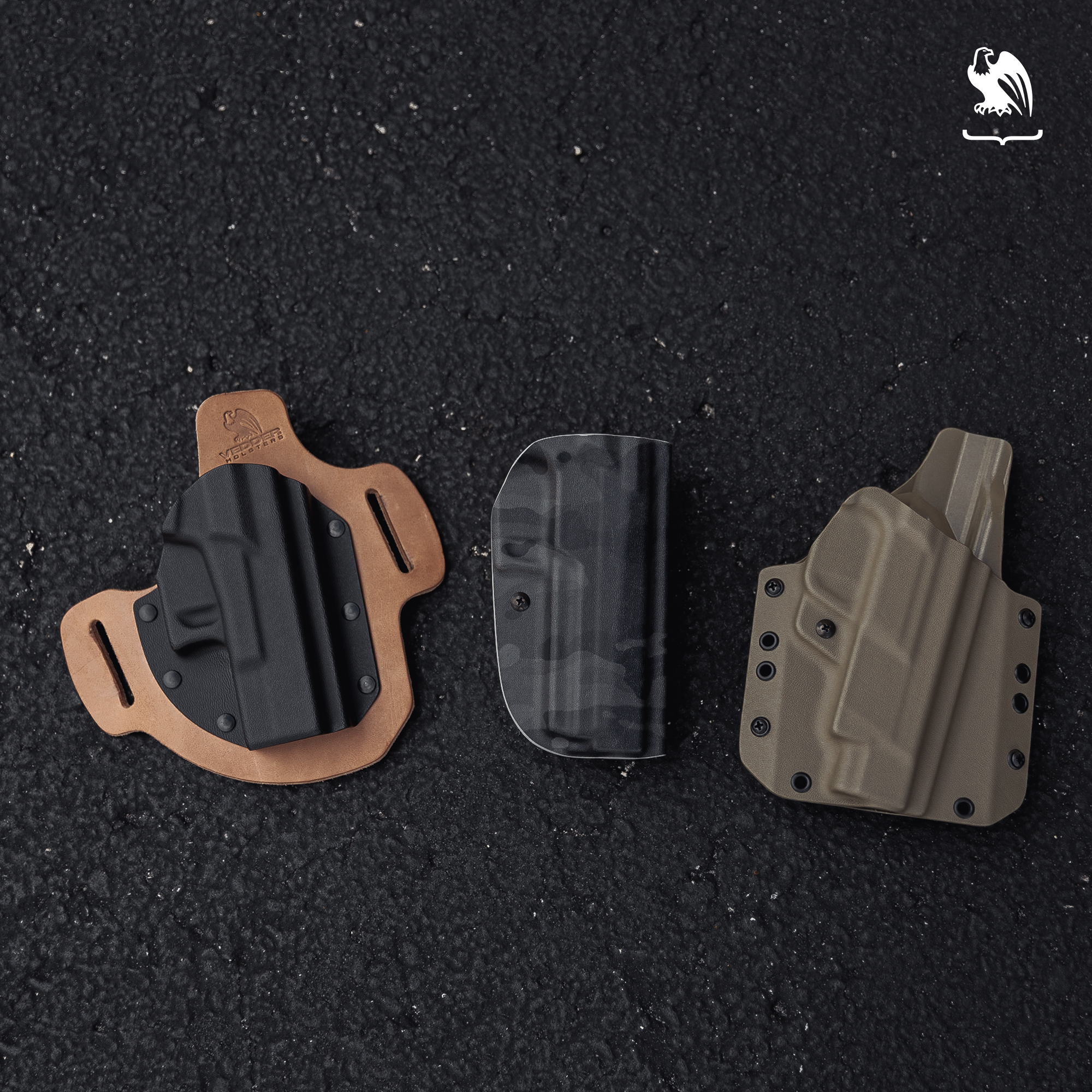 Material
There are three materials that holsters are primarily made of Kydex, nylon, and leather.
The most concealable, durable, and adjustable holster material for a 1911 is Kydex. While they are made from thermoplastic, don't let that fool you. They are extremely comfortable and easy to conceal. Each Kydex holster is heat molded to fit your gun model, giving you an audible "click" whenever the pistol is holstered.
Leather holsters are another excellent option for concealed carry weapons. While they are comfortable, durable, and easy to use, they tend to wear out quicker than a Kydex holster. They can also get sticky when they come into contact with sweat, humidity, or water.
If you want the best of both worlds, you might want to check out hybrid holsters. These holsters are a combination of a Kydex shell and a leather backing, offering the comfort of leather and the durability and design of Kydex.
While Nylon holsters are comfortable, they aren't typically recommended for concealed carry. Nylon holsters don't hold their shape when your weapon is removed and tend to be less durable than their counterparts. Using a holster that doesn't maintain its shape can be dangerous when reholstering.
Design
An accurate and thoughtful design is one of the most critical elements of a quality 1911 concealed carry holster. A good design means you'll have a more comfortable carry experience and a safer carry setup.
Because a 1911 can be carried cocked and locked, it's important to choose a holster designed to accommodate this unique feature. While most Kydex holsters aren't built to allow you to carry with your gun's hammer cocked, all Vedder Holsters are designed so you can carry your 1911 in multiple ways.
Making sure your Kydex holster has a precise fit to your 1911 is easily one of the most important aspects of design. Having a holster molded to your specific gun model means you should hear and feel your firearm "click" into place as you holster, and it will stay there until you are ready to draw your pistol.
At Vedder Holsters, we work to make sure your handgun has nearly zero wiggle room once it clicks into place. We designed our Kydex and hybrid 1911 holsters with immense precision. Holsters made with less accuracy allow your weapon to bounce around, even if slightly, which will cause eventual wear on your gun.
Fit isn't everything, though; it's the small details of a holster's design that impact how well it functions. Making sure your holster has durable clips, a proper trigger guard, and adjustability is just as critical to ensure a safe carry experience.
When it comes to a holster's trigger guard, a lesser-known but important aspect is how much "daylight" is revealed. Your 1911 holster should completely enclose the trigger. If the trigger guard design is insufficient, a foreign object or even your finger could make its way inside your holster and reach the trigger, resulting in a greater chance of negligent discharge.
Our team at Vedder Holsters has engineered our holsters to eliminate any trace of daylight through the trigger guard, so you never have to worry about trigger exposure.
Adjustability
Easily one of the most essential elements of a 1911 holster, or any holster, is its adjustability. Being able to adjust your holster's ride height and cant makes it easier to conceal your firearm with little to no printing and find a comfortable carry position. Looking for that perfect "click" to know your gun is secure in your holster? Adjustable retention can help you find that.
Cant is the forward or backward tilt that allows you to find that perfect spot giving you ultimate comfort, ease of draw, and concealment. Many 1911 concealed carry holsters are designed with a 15-degree cant one way. Our holsters, on the other hand, feature 30 degrees of adjustable forward and reverse cant, giving you the most adjustability in your holster and making them a top choice for concealed carry weapons.
Whether you prefer deep concealment or a holster that sits higher on your waist, adjustable ride high is an essential element of a quality holster.
Last but certainly not least, retention is one of the most critical features in a 1911 holster. Retention is not only key for safety, but everyone has a preference on how difficult or easy it is to draw and holster a gun. A holster with adjustable retention allows you to customize it to your liking.
To get the ultimate carry experience, your 1911 holster should be designed with each of these adjustable features.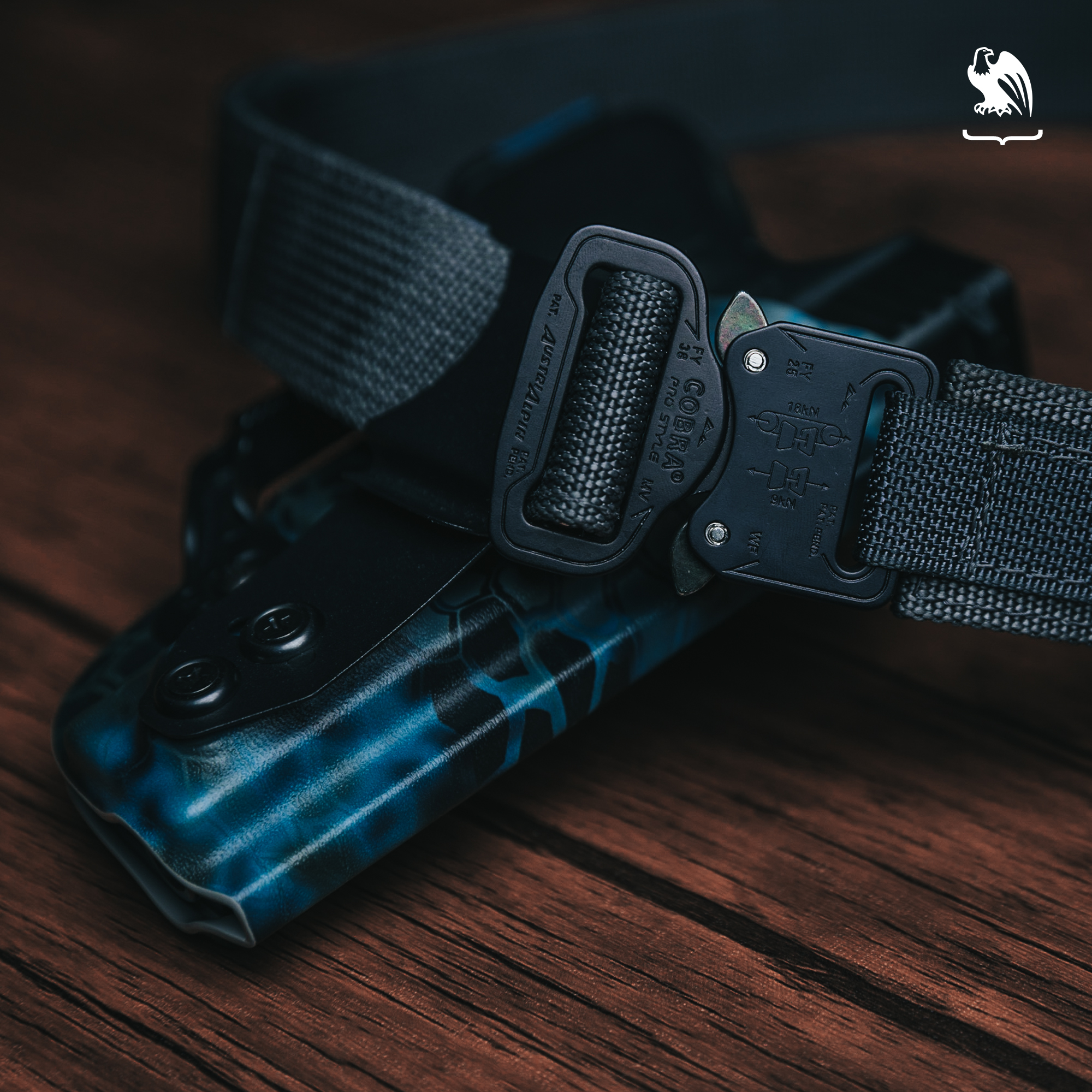 Customization
From various sizes and manufacturers to aftermarket slides, extended magazines, and a variety of optics, there is a 1911 for everyone. With so many variations of the 1911, it's important that your holster is as customizable as your gun.
We understand how essential customization is, which is why at Vedder Holsters, we hand-make each holster to order and can tailor each one to your individual needs. Whether your 1911 has a Picatinny Rail, or you have opted to add lights, lasers, or optics, our holsters can be cut to your 1911 variation.
All Vedder Kydex holsters come with your choice of clip size to fit your belt and are available in both right- and left-hand orientations. If you are looking for deeper concealment, our IWB holsters can be ordered with a claw attachment. Depending on the holster, additional options like sweat shields, combat cuts, and additional clips might be available. All of our holsters are available in a large variety of color options to suit your preference.
Have a gun with unique customizations? Reach out to us with the details and we can work with you to craft a holster that works for you.
Comfort
The 1911 was designed to be carried every day. The small size of the officer frame and compact design of even the full-size model make it great for EDC. But even the best pistols can be miserable to carry if you have an uncomfortable holster.
If you are solely looking for the most comfortable 1911 holster, a Kydex/leather hybrid is probably best for you. Hybrid holsters have a sturdy Kydex shell with a leather backing, giving your the comfort and flexibility of leather with the durability and adjustability of a plastic holster.
One of our most popular hybrid IWB holsters is the Vedder ComfortTuck™ which is exceedingly comfortable due to its leather backing and dual belt clips. If you prefer OWB carry, the Quick Draw is another hybrid holster with the same comfortable leather backing and weight distribution.
Of course, the classic Kydex holster is always an option. Our most popular holster, the Vedder LightTuck™, might be perfect for you. It features an easy-to-conceal design and our customers find it comfortable to wear in just about any carry position.
Concealment
While the 1911 isn't the most concealable gun on the market, it is still quite a popular option for concealed carry. If your everyday carry holster is bulky, awkward, or snags, all the luck in the world won't help you conceal that pistol.
Your 1911 holster should have a smooth, slim shell to reduce printing and prevent it from clinging to your clothes. The Kydex should be thin while allowing the holster to maintain its durability.
Clips are just as important as a quality shell. Our Vedder Holsters Rock Solid Spring Steel Belt Clips are designed to help you conceal your holster. These tuckable clips are made of smooth spring steel, which can be hidden by a simple T-shirt, unlike other bulky plastic clips.
Other accessory options like holster claws and pancake clips can draw your holster closer to your body, further aiding in concealment. If you want to reduce printing, these add-ons can help keep your pistol in place, so you never have to worry about it being noticed.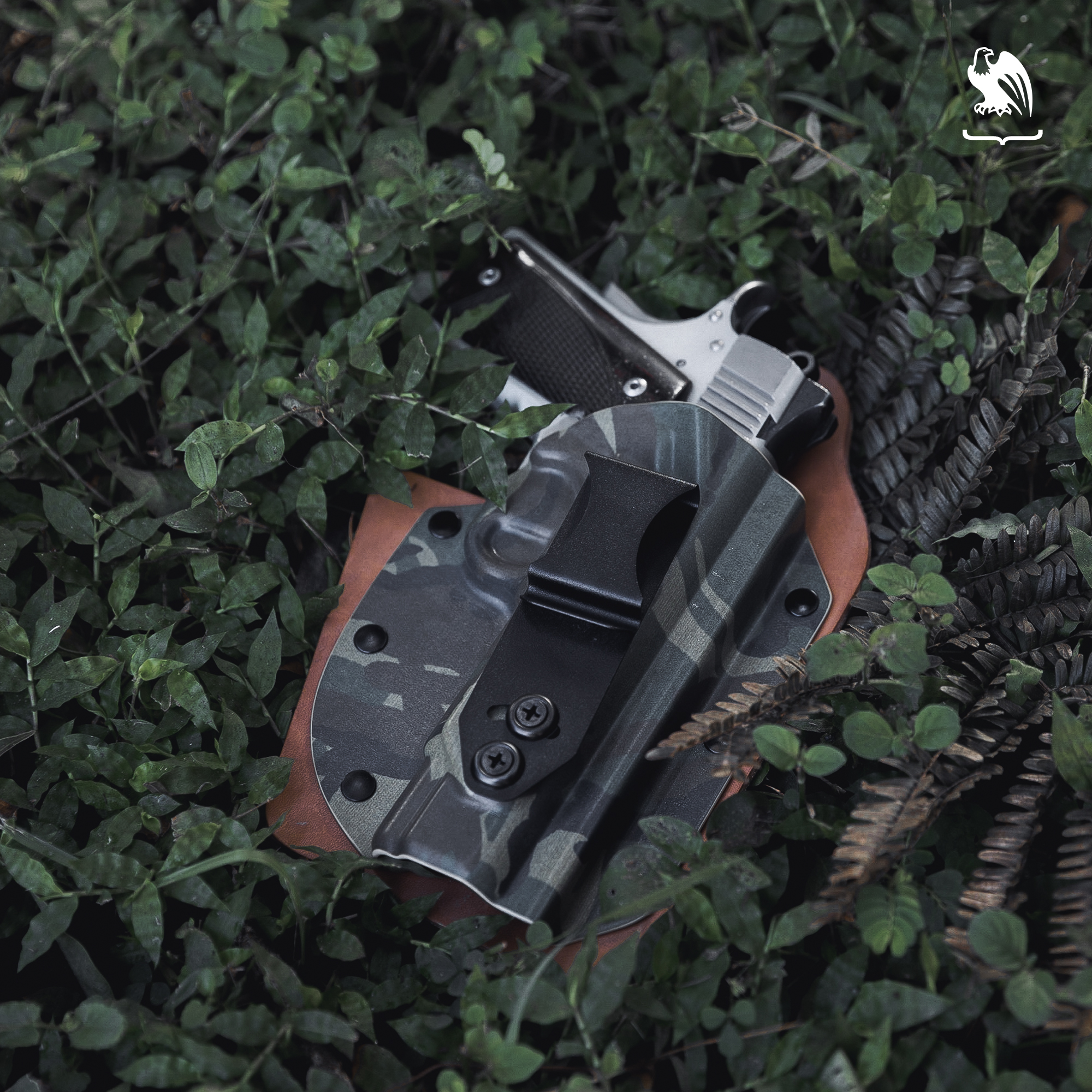 Which 1911 Holster Is Best for Me?
Start by making sure you know what you are looking for in a holster. Do you plan to use it for EDC, or are you planning to open carry on your next hunting trip? That can help determine if a 1911 IWB or OWB holster will be best for you.
Use what you now know about material, adjustability, customization, and more to help you decide which holster will be a great fit for your 1911 and work well for your needs.
Ready to take the next step towards buying a belt or holsters for the 1911? We recommend visiting our Holsters by Gun Model page. For all our belt and holster options and for more information to help you choose the carry system that works best for you, visit our Vedder Holsters website.
Looking for items beyond holsters and belts? Check out our Resources Page for popular product links like lights, lasers, first aid, maintenance, and more.
30-day Money-Back Guarantee
It's confidence in knowing that you will be 100% satisfied with your holster purchase.
We are so confident that you will love your new holster that you can wear it for 30 days from the day you receive it and if for whatever reason it is not for you, contact us and return within 30 days of receipt and receive a full refund of the holster price (excluding shipping).
Handcrafted in the U.S.A.
At Vedder Holsters, we individually handcraft our products with pride in the U.S.A.
Located in the heart of Central Florida, our Vedder Holsters team crafts your unique holster by hand to ensure a precise fit for your gun model every time. Because our holsters are tailored to your preferences, each one is made to order.
Lifetime Warranty
It's confidence in knowing that you will be 100% satisfied with your holster purchase.
We are so confident that you will love your new holster that you can wear it for 30 days from the day you receive it and if for whatever reason it is not for you, contact us and return within 30 days of receipt and receive a full refund of the holster price (excluding shipping).
*International Purchasers* Please note that international shipping is not included with any warranty or exchanges. Buyer must pay international shipping for all packages being sent to a location outside the USA. This does not include APO addresses as they are treated as being inside the USA.