Which Is The Best Beretta Pistol For Home Defense?
Choosing a gun for home defense is an important decision. You want to make sure you pick the right one so in case the unthinkable happens, you're ready.
There are so many factors to consider when choosing a home defense weapon. Do you want a shotgun or a pistol? Optics or no optics? Once you've decided on the type of gun, how do you know which brand to get? What caliber?
If you're lucky enough to have already decided on a Beretta, rest easy knowing the hard part is behind you. To help you determine the best Beretta pistol for you, we've made a list of the top four home defense weapons made by the popular manufacturer.
Whether you're thinking about purchasing a Beretta for its historic reputation or quality Italian craftsmanship, you've made a great choice. Founded in Venice, Italy, Beretta has been making firearms since 1526.
Their years of experience has helped them earn a reputation for designing and producing high-quality weapons with reliable performance. This reputation has earned them contracts with the U.S. military and the respect of many civilian gun enthusiasts.
If this is your first handgun purchase, we recommend checking out this article, which has some great information about what you need to look for in a firearm.
Read on to see a breakdown of our top four picks for Beretta home defense weapons.
Beretta APX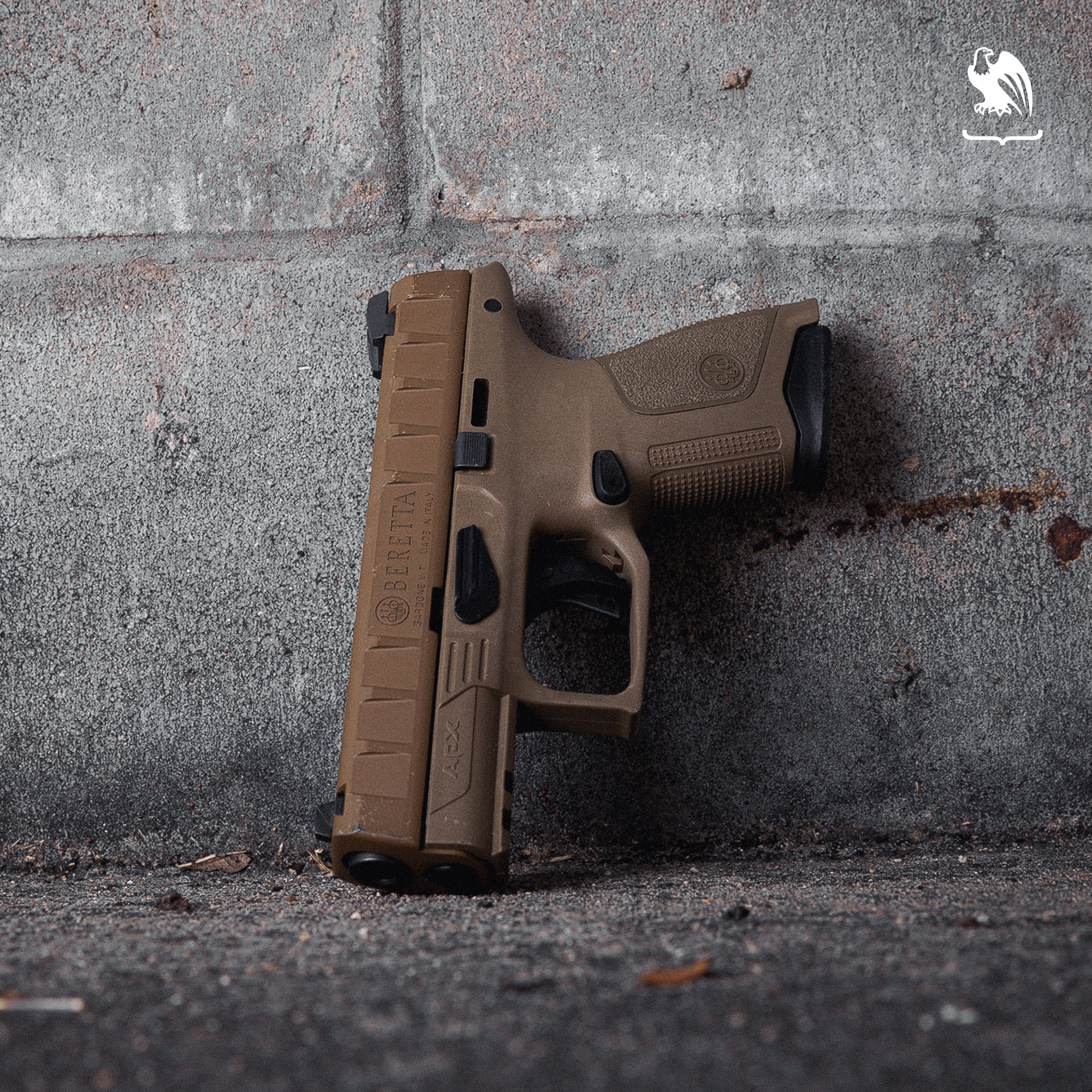 The first Beretta pistol on our list is the APX. This semiautomatic, striker-fired pistol is known for being easy to use and modify. It features an interchangeable grip frame and interchangeable backstraps, and its magazine release button is designed to be reversed for both right- and left-hand use.
The Beretta APX 9mm is built with an ergonomic technopolymer frame and is designed to be rounded and snag-free for an easy draw. The pistol comes standard with a Picatinny rail to easily mount optics. The APX also features a trigger safety, slide catch, and unique striker deactivation button for easier disassembly.
Chambered in 9mm, the APX has a removable serialized chassis frame and weighs 28.21 ounces unloaded. The pistol comes standard with a 15 round magazine and has a barrel length of 4.25 inches. The Beretta APX is 7.55 inches long, 1.3 inches wide, and 5.59 inches tall.
The APX is an excellent choice for a home defense pistol thanks to its customizable features, comfortable size, and round capacity. Its optics-ready slide is another great feature as it allows you to easily mount a flashlight or laser sight, which can be great tools in a home defense setup.
For more information on the Beretta APX 9mm, visit Beretta's website here. If you already own this popular pistol, check out our selection of holsters for the Beretta APX 9mm here.
Beretta PX4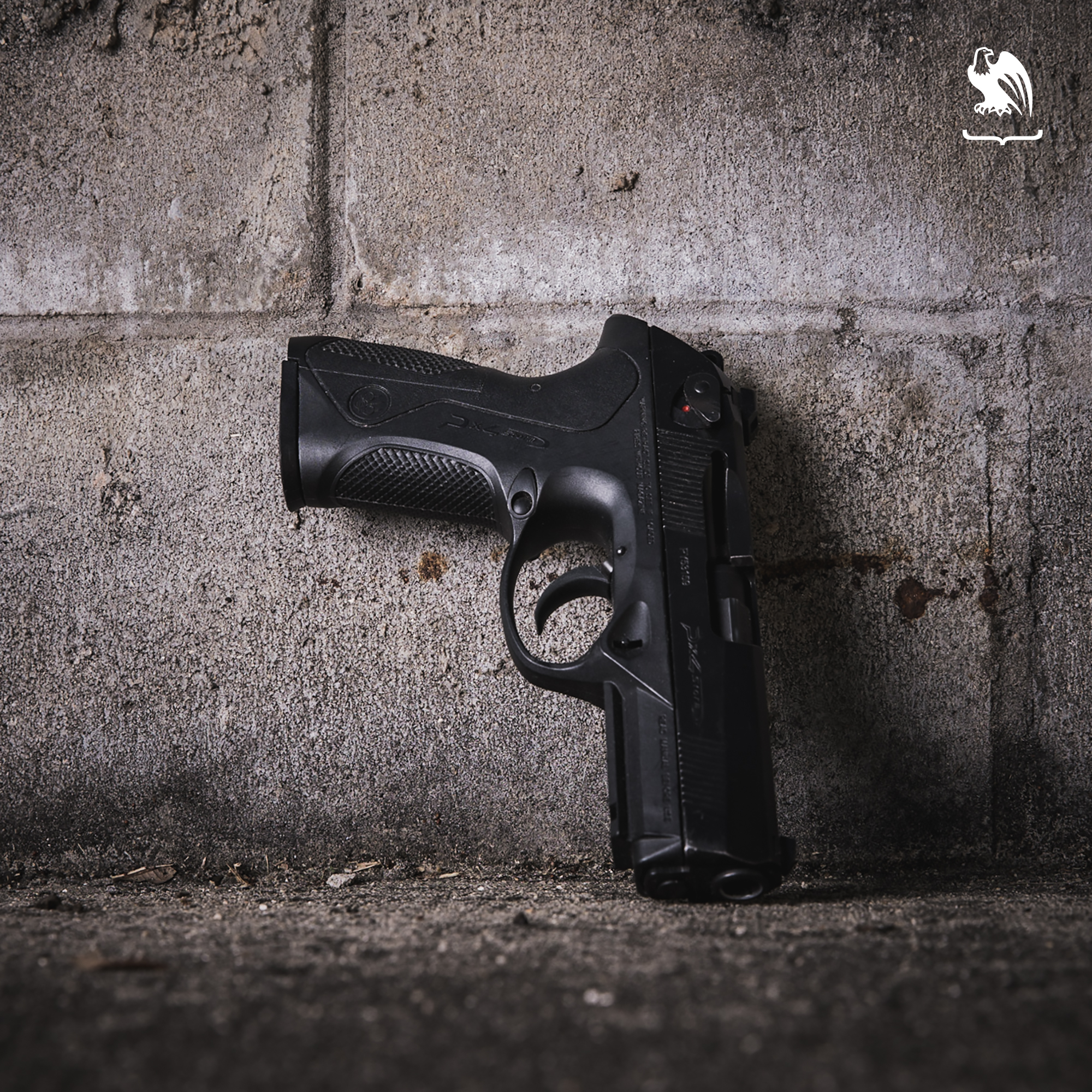 The Beretta PX4 Compact is another great pistol for home defense. Known for its versatility, the PX4 is designed to be equally great for home defense, concealed carry, and recreational shooting.
The PX4 features a full grip, 15-round magazine, accessory rail, and an automatic firing-pin block. It's also designed with a rotary barrel system to reduce recoil and allow for faster follow-up shots.
Like the APX, the PX4 has interchangeable backstraps, an ambidextrous slide lock and safety, and a reversible magazine release so you can use it with your left or right hand. It has other customizable features like adjustable sights and a retractable lanyard loop so you can fine-tune it the way you want.
This Beretta pistol also offers several safety features, including intuitive controls, an automatic firing-pin block, and a manual safety. It's also touted as being easy to disassemble and clean and is coated with a tough Bruniton finish.
Chambered in 9mm, the PX4 Compact weighs 27.2 ounces unloaded and measures 6.8 inches long, 1.42 inches wide, and 5 inches tall with a barrel length of 3.27.
The Beretta PX4 is definitely a top home defense gun and is an especially great choice for anyone looking for a versatile weapon that can be used for both home defense and concealed carry.
For more information on the Beretta PX4, visit Beretta's website here. If you already own this popular pistol, check out our selection of holsters for the Beretta PX4 here.
Beretta 92FS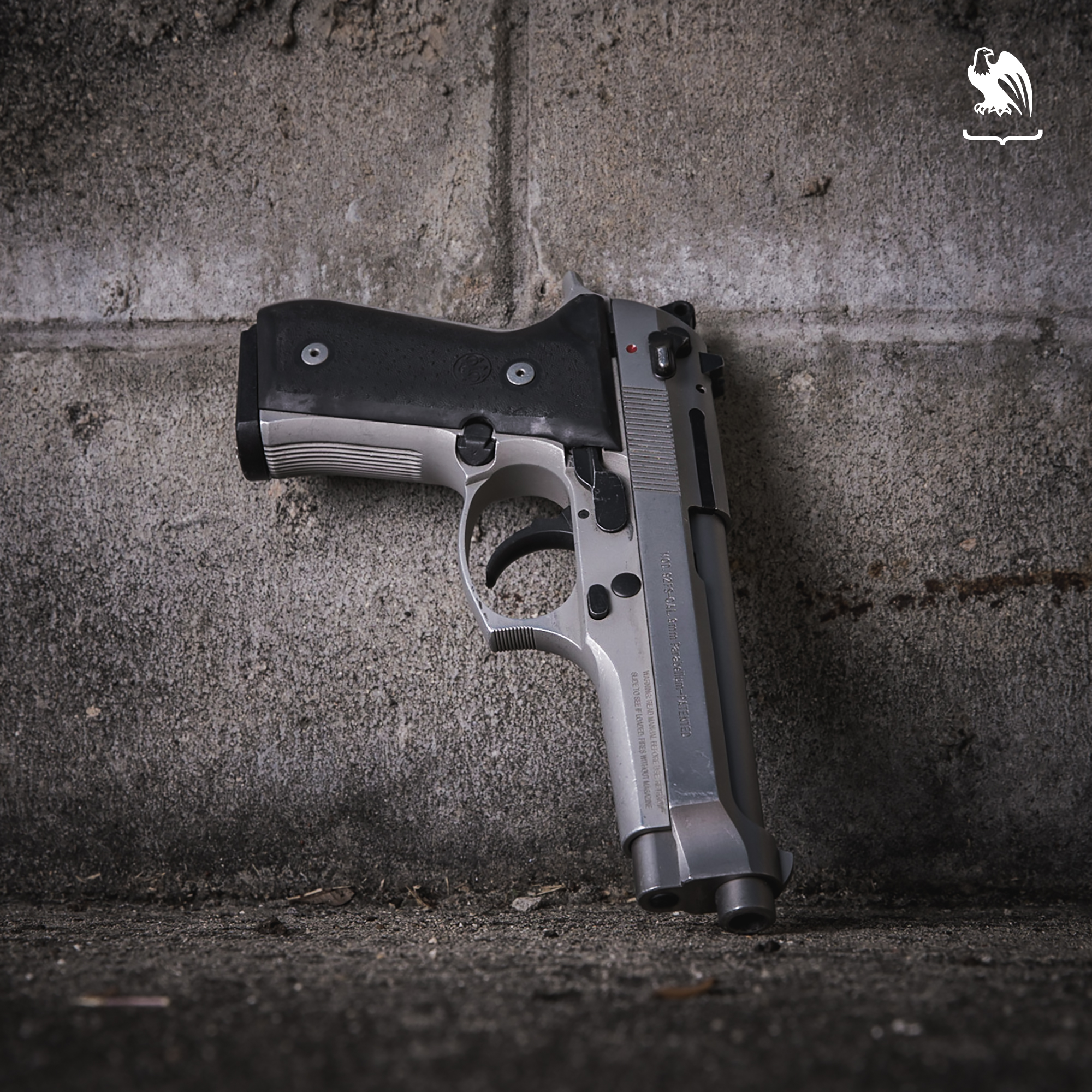 Another great Beretta pistol for home defense is the 92FS. The 92FS was first manufactured in 1985 and is considered the "base model" from which the rest of the guns in the 92 series were based on.
The Beretta 92FS is incredibly reliable and has a reputation for accuracy and impressive tactical features. It's used by the U.S. military and many law enforcement agencies across the country.
The double/single-action semiauto pistol has a 15-round magazine capacity and features an open-slide, short-recoil, delayed locking-block system, and 3-dot sight. The open-slide design helps eliminate malfunctions and helps the gun to cycle smoothly.
Like many other Beretta pistols, the 92FS is customizable and has a reversible magazine release and an ambidextrous safety-decocker. It is finished with a corrosion-resistant Bruniton finish and is also available in stainless steel.
The 92FS is chambered in 9mm and has a 4.9-inch barrel. It weighs 33.3 ounces and measures 8.5 inches long, 1.5 inches wide, and 5.4 inches tall.
Thanks to its impeccable accuracy and reliability, the Beretta 92FS is an excellent choice of home defense weapons. With the 92FS, you can feel comfortable knowing your weapon isn't likely to malfunction in the event of a defense situation.
For more information on the Beretta 92FS, visit Beretta's website here. If you already own this popular pistol, check out our selection of holsters for the Beretta 92FS here.
Beretta M9A3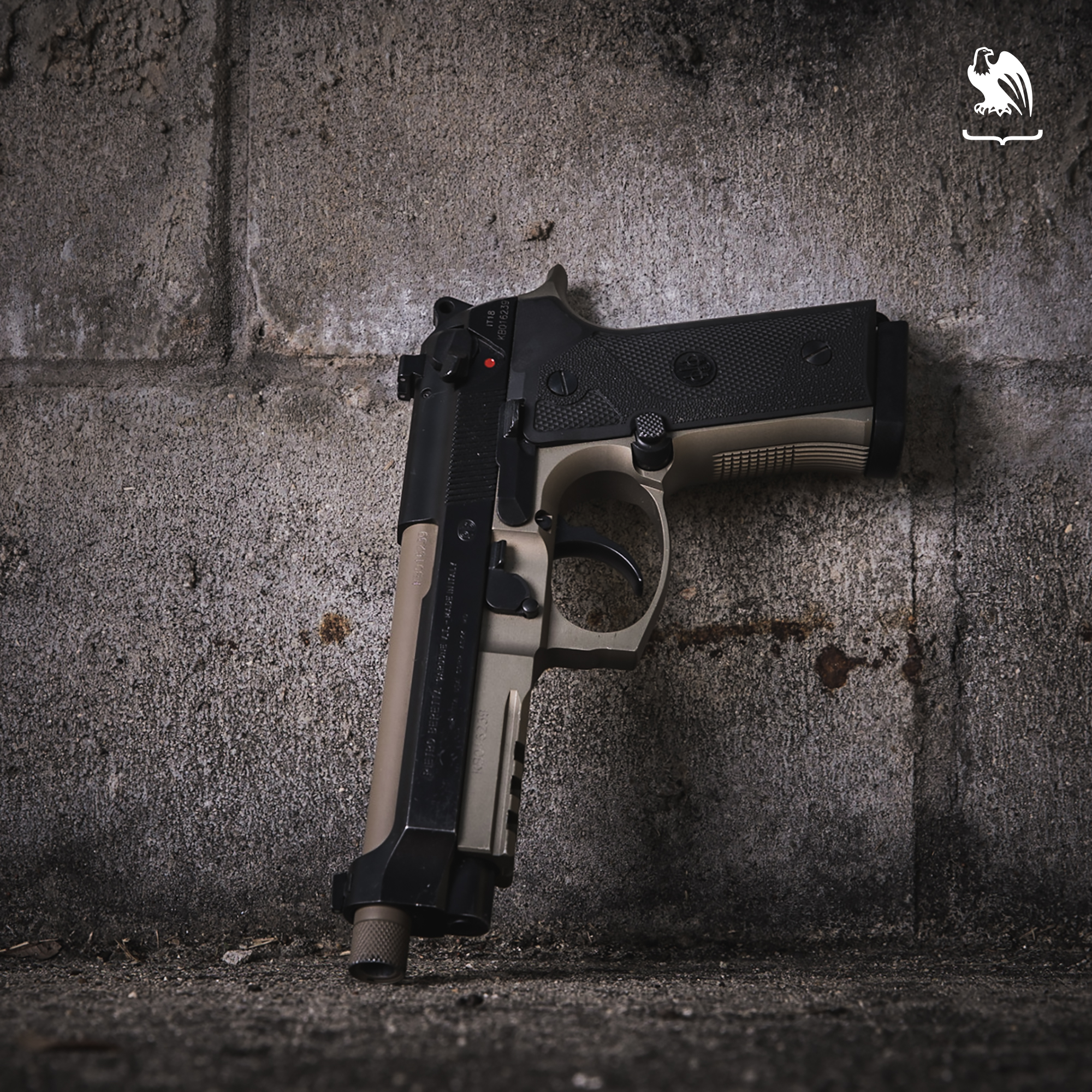 The Beretta M9A3 is similar to the 92FS in many ways. The most recent model in the Beretta 92 series, this tactical pistol was designed to be a duty weapon for military and police and makes a great home defense firearm.
This semiautomatic Beretta pistol is designed with a vertical grip, which is designed to improve accuracy by making target acquisition feel more natural. It features a universal slide, making it easy to switch from FS to G mode, a removable front sight, a 3-slot Picatinny rail, and a thin grip that makes it easy for anyone, even those with smaller hands, to grasp.
The Beretta M9A3 also comes with a 10, 15, or 17 round magazine coated with a protective, sand-resistant FDE finish making it nearly impervious to the elements. The beveled mag well and oversized release button make it easy to quickly change magazines.
The M9A3 is chambered in 9mm and weighs 33.4 ounces. It has a 5-inch barrel length and measures 8.7 inches long, 1.5 inches wide, and five inches tall.
Thanks to its tactical design, the M9A3 makes a great home defense gun. Its easy-to-aim design and accommodating grip help ensure accuracy in self defense situations, and its customizable options allow you to fine tune it to your preferences.
For more information on the Beretta M9A3, visit Beretta's website here. If you already own this popular pistol, check out our selection of holsters for the Beretta M9A3 here.
Conclusion
Choosing a firearm for home defense can be overwhelming. If you're looking for the best Beretta pistol for the job, rest easy knowing no matter which of these four popular handguns you choose, you made a good choice.
To see the specs for each of the above firearms side by side, scroll down for a handy comparison chart of the four pistols.
If you are looking for belts or holsters, check out some of our Vedder Holsters products here. Like everything we sell, our holsters and gun belts are covered by a Lifetime Warranty and a 30-day money-back guarantee.
Looking for items beyond holsters and belts? Check out our Resources Page for popular product links like lights, laser, first aid, maintenance, and more.
| | | | | |
| --- | --- | --- | --- | --- |
| SPECS | APX | PX4 | 92FS | M9A3 |
| Barrel Length | 4.25" | 3.27" | 4.9" | 5" |
| Capacity | 15 | 15 | 15 | 10-17 |
| Weight (unloaded) | 28.21 oz | 27.2 oz | 33.3 | 33.4 oz |
| Dimensions (LxWxH) | 7.55x1.3x5.59 | 6.8x1.42x5 | 8.5x1.5x5.4 | 8.7x1.5x5 |
| Caliber | 9x19 | 9x19 | 9x19 | 9x19 |
| MSRP | $575 | $749 | $699 | $1,199.99 |