Do I Need A Gun Belt for IWB Carry? Gun Belt vs Regular Belt
Do you need a gun belt for IWB Carry? In a word, yes, you do. When you are considering IWB carry, it's important to remember a number of factors but one of the most important factors is your belt. We know it might seem a bit trivial but in reality, you should think of your gun belt as an integral part of your concealed carry system. Having the right system helps ensure you have a safe and comfortable experience when carrying.
You might be thinking, come on, a belt is a belt, right? Well, no. Your typical belt just isn't designed to accommodate the weight of your sidearm and other accessories, like a mag carrier. When your belt can't support the weight, your gun will eventually sag or move into a less than ideal position. This could result in your weapon not being in the right place when you need it most or it could increase the potential of 'printing' which can expose the fact that you are carrying. Kind of defeats the whole 'concealed' part of carrying, right?
Can a gun belt make carrying a gun more comfortable?
Aside from reducing your level of concealment, when you don't have the right gun belt, your comfort is going to suffer as well. As we've discussed in other articles, comfort is a big factor when deciding to carry. Unfortunately, we've seen too many cases where folks who try concealed carry wind up giving up because of comfort and, believe it or not, your gun belt plays a very important role.
Now when it comes to selecting your belt, we've got you covered. Our gun belts are not only great looking, more importantly they are built specifically to carry the weight of your gun and any additional accessories like a magazine holster. With two of the best models on the market, our Gun Belts are made with the highest quality materials and constructed right here in the USA. Multiple color options allow for the right belt to go with the right clothes, be it your favorite pair of blue jeans or your best suit.
What's the difference between a regular belt and gun belt?
The biggest difference between a regular belt and a belt made to carry a gun is strength and stability. Gun belts are made with tougher, higher grade materials, making them a stiffer and better able to maintain shape, fit and function when carrying.
"One of the big problems with a regular belt is that your weapon can sag causing the grip to pull away from your hip and reveal that you are armed."
When speaking to a number of law enforcement officers, we learned that they won't leave home without a gun belt when they are working under cover and carrying IWB. One of the big problems with a regular belt is that your weapon can sag causing the grip to pull away from your hip and reveal that you are armed. With that said, we highly recommend following in their footsteps and going with what the pros do.
What are my options when selecting a gun belt?
At Vedder Holsters, we have you covered. We know the importance of quality, fit, and function. We have two types of gun belts with additional options in color and size. All are handcrafted and covered by our bullet proof Lifetime Warranty.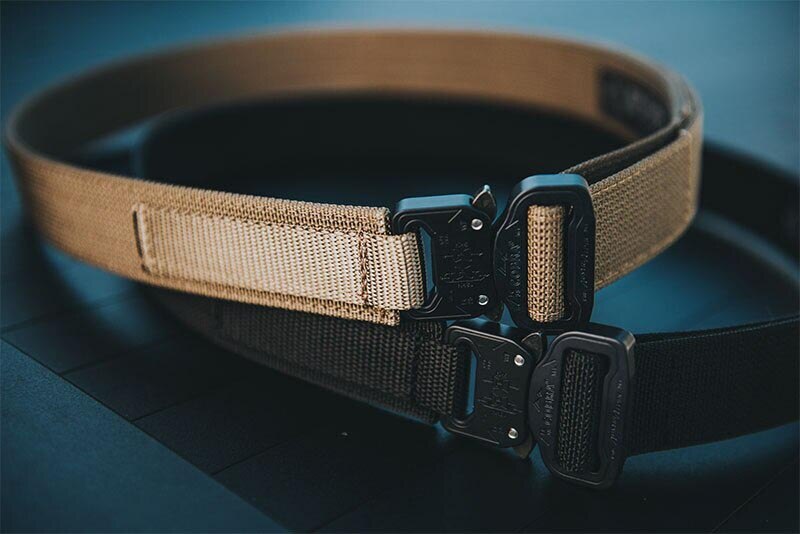 Our leather gun belt is made with two layers of premium cowhide. Set between the layers is a solid polymer core, providing extra strength to maintain strength and structure. It's a great looking belt that works with your best suit or your favorite pair of jeans. Regular belts are usually a single layer of leather or other material. They lack the strength to hold up anything other than a pair of pants.
Our Cobra belt features premium extra stiff dual layered 1.5" nylon and a quick release Cobra buckle making it easy to put on and take off. Our Cobra belt is also constructed with Velcro, allowing you to adjust for the perfect fit.
If you choose to carry, we highly recommend using a gun belt and when the time comes to purchase, we've made choosing the right size even easier. Be sure to check out our easy to follow instructions on choosing the right size so you can be confident in your purchase and know that you're covered when you carry.
To review, when deciding to carry concealed, it is imperative that you have a well-made system including your firearm, your holster and yes, your gun belt. These all work together to ensure you maintain the right level of comfort, concealment and most importantly the ability to respond in situation we all hope never comes. Better to be prepared and ensure the safety of you and those around you than go with the wrong equipment. We know from the pros and our own experience that your comfort, ability to maintain concealment and keep your gun in the right place is dependent on your belt and is precisely why we recommend one of our Vedder gun belts.
Like everything we sell, our gun belts are covered by a Lifetime Warranty and a 30-day money back guarantee. Absolutely no risk when you are looking to reduce your risk when carrying IWB.