Gift-giving is a tricky business. And that can be especially true when shopping for moms.
If you've been surfing the internet for long, you've no doubt come across countless gift guides for moms, recommending the typical fuzzy socks and oversized totes that seem to dominate the women's gift industry. And while that's all fine and dandy, it's definitely missing the mark for a lot of people.
We're going to say it – not all moms want a candle or a heart-shaped necklace. For moms who carry guns, giving them something they can use to help defend themselves and their families is one of the best gifts you can give.
So, whether you're shopping for a gift for a birthday, Mother's Day, Christmas, or just because, here are 10 of the best gift ideas for the awesome, gunslinging moms in your life.
New Custom Holster
If there's a mom in your life who conceal carries, you can't go wrong with a new Vedder holster for her EDC pistol.
Moms are constantly on the go, and they need an EDC holster that is both comfortable and highly secure (especially if they have little ones!). At Vedder Holsters, we offer a range of IWB, OWB, and pocket carry Kydex and hybrid holsters.
Most of our concealed carry holsters are built with adjustable retention, and all of them are custom-made to order right here in America. We also offer a range of customization options – like dozens of colors; adjustable features; and lights, lasers, and optics compatibility – so you can give your gun mom the perfect holster for her needs.
If you're not sure where to start, we recommend the LightTuck™ IWB holster. This all-Kydex holster is our most popular, and most adjustable, option and works well for any and every carry position.
Browse our entire selection of Vedder Holsters to design the perfect gift for her.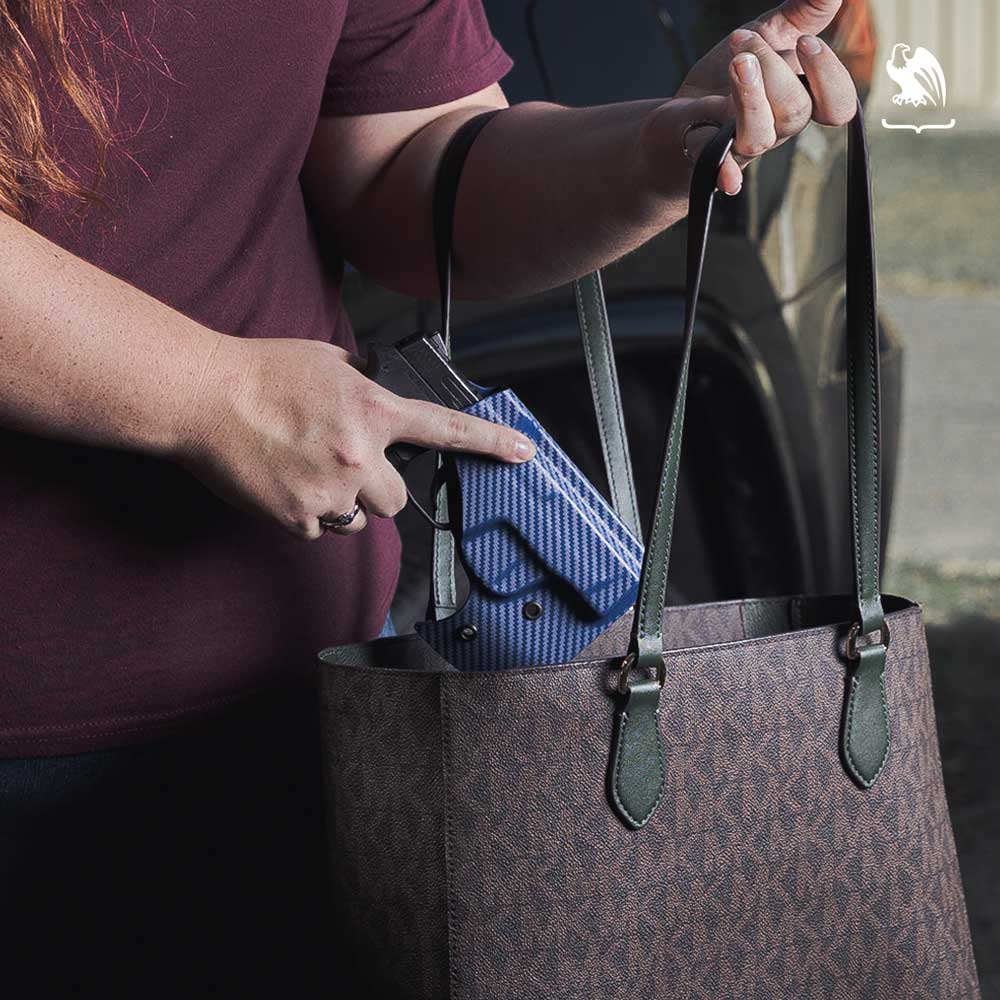 Gun Safe
As a parent, proper gun safety is essential. No matter what age her kids are, every mom who carries needs a secure gun safe to store her pistol in while it's not in use.
There are a wide variety of gun safes on the market, each serving its own unique purposes. Companies like GunVault and Vaultek offer smaller lockboxes that can easily be stored in vehicles, desks, and nightstands.
These safes can be quickly opened in an emergency situation by using biometrics, Bluetooth, or a combination code, while still keeping everything safe from unauthorized little hands.
Gun Mom Accessories
All moms love fun accessories like shirts, mugs, and keychains. If you've got a gun mom, she'll more than likely get a kick out of some gun-themed items.
If the mom in your life has little ones, she'll probably get a lot of use out of this "Coffee, Guns, and Diapers" mug from Tactical Baby Gear. No matter what age her kids are, she'll no doubt enjoy a Mama Bear or Messy Buns and Guns shirt.
And if your mom is the type who enjoys receiving candles as gifts, why not get her one that smells like gunpowder or the gun range? And if she's into jewelry, try skipping the heart-shaped necklace for a pair of revolver earrings or necklace – we're sure she'll like it better!
Moms who carry are also guaranteed to enjoy a new article of concealed-carry clothing. Stores like Girls with Guns, Vertx, and Alexo all have some great options in a variety of styles.
EDC Tray
For moms who carry guns that are also highly organized, you'll want to get an EDC valet tray.
These handy "dump" trays are specially designed to hold all of your EDC gear while you're not using it. They can easily fit into gun safes, or on nightstands, depending on what they're used for.
At Vedder Holsters, we offer a Kydex EDC tray that's both durable and attractive. You can even customize the color of your tray to reflect your gun mom's personality! Take a look at the Vedder EDC Tray here. It's washable, durable, and the perfect size for all your gear.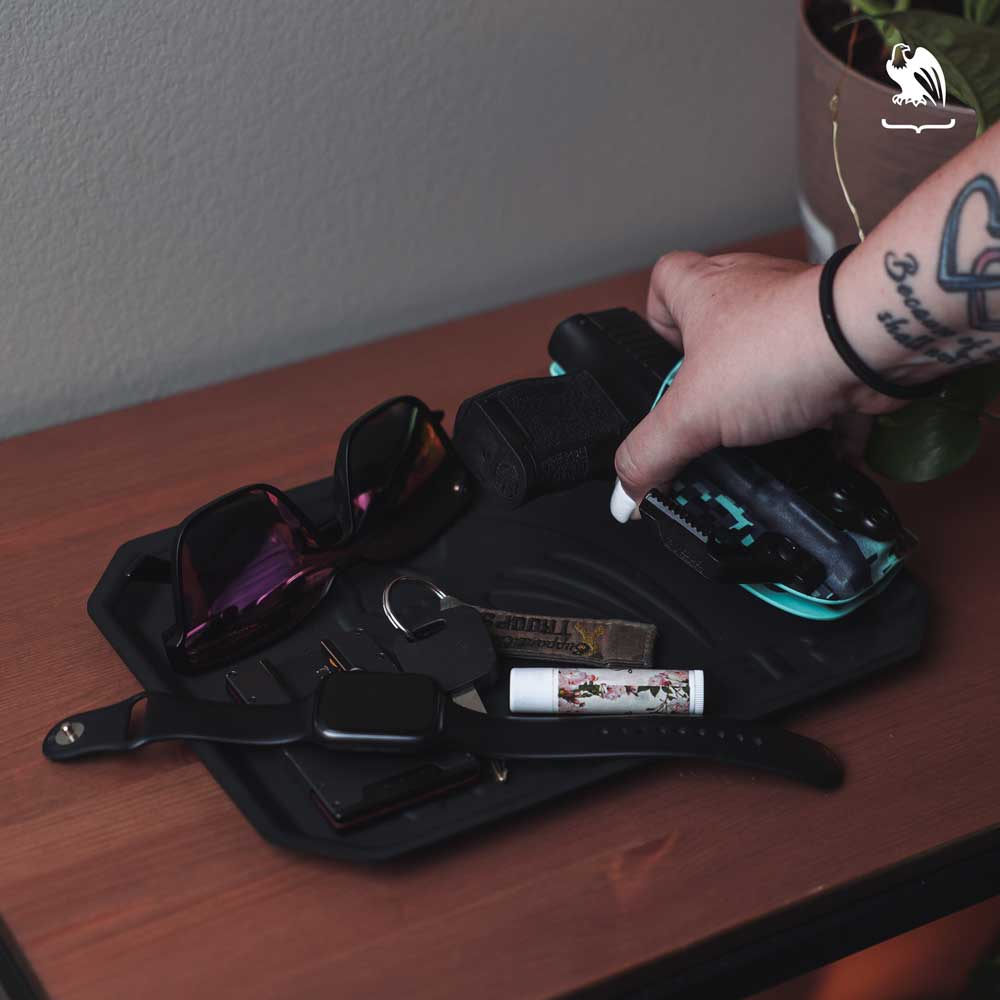 Cool Targets
Moms who carry guns tend to spend a lot of time at the range, and a fresh new target is always a welcome gift.
Things get boring quickly when you're shooting at the same round paper target for long periods. So, why not get your gun mom a pack or two (or 10) of unique targets to take to the range?
No matter what your mom is into, there's a target for her. Whether she likes games, zombies, bad guy targets, or a variety of colors, you're sure to find something she loves. If you want to do a little DIY work, you can choose a variety of printable targets and head to your local print shop to have some made especially for her. Here are some ideas to get you started!
If you're not sure where to start, CHL Targets offers a variety of traditional and splatter targets, as well as some fun game and exercise targets for the range (you can get lost browsing their collection). Happy shopping!
Range Membership
If you have a mom that shoots a lot, one of the best gun gifts for her will be a membership to her local range.
Anyone who shoots knows that there's nothing more fun than heading to a range on a Saturday afternoon to blow through a box or two of ammo. What better gift to give a mom who concealed carries?
An annual range membership costs around $200+, but rest assured it will be well worth it. A membership will likely get the mom in your life discounts on things like classes and accessories as well, which only adds to the fun.
You can search for local shooting ranges and gun clubs through the U.S. Concealed Carry Association's website.
Cerakote Her Gun
If you're looking for a really fun and unique gift for your mom, Cerakoting her gun is a great one.
Cerakote is a specialized polymer-ceramic coating that can be applied to guns to customize their color or pattern. Not only does this allow shooters to express their personalities, but it protects the firearm from wear and tear as well. You can Cerakote with plain colors or even designs like flowers, paisley, or the American flag – whatever your heart desires, really!
This is one of those gifts you'll probably want to discuss with the recipient beforehand, as you never want to make alterations to someone's gun without their consent (that's a good way to get yourself in trouble). Some people like their plain black guns, and that's okay!
Visit Cerakote's website to learn more about how it works and the different options available, as well as a list of certified applicators near you.
Tactical Belt
Whether your mom is an avid concealed carrier or simply likes to practice at the range, she will get a lot of use out of a new gun belt.
Gun belts are stiffer, more durable, and offer more support than an average belt, making your weapon safer and easier to conceal without printing.
Here at Vedder Holsters, we offer several types of gun belts for any use and style, including nylon, leather, and inner duty belts with a variety of buckles and colors. Our V3 Belt is a popular choice among women, as the buckle is low-profile without sacrificing functionality. It comes in wolf gray, coyote brown, and black depending on preference.
You can check out our entire selection of EDC belts here.
Gun Cleaning Mat
Like it or not, gun cleaning is an essential part of owning a firearm.
If the mom in your life doesn't have a gun cleaning mat, she needs one. These handy mats have a soft cloth top and high-grip rubber backing that keeps everything in place and ensures neither the gun nor the work surface is scratched during the cleaning process. They also keep any gun oil and grease from the firearm off of the table or desk you're working from.
If you're interested in getting a gun cleaning mat for the gun-loving mom in your life, we suggest checking out the Vedder Gun Cleaning Mat. This 11" x 17" mat is the perfect size for cleaning any handgun and features a cool, American flag design.
This is also a great option if you're looking for a low-cost gift idea, as the Vedder Gun Cleaning Mat goes for only $15.99. If you want to add a little something extra, you can always pair this gift with a Vedder sticker pack and/or a tube of our Turbo-Fuse™ Blue Threadlocker for only a few extra bucks.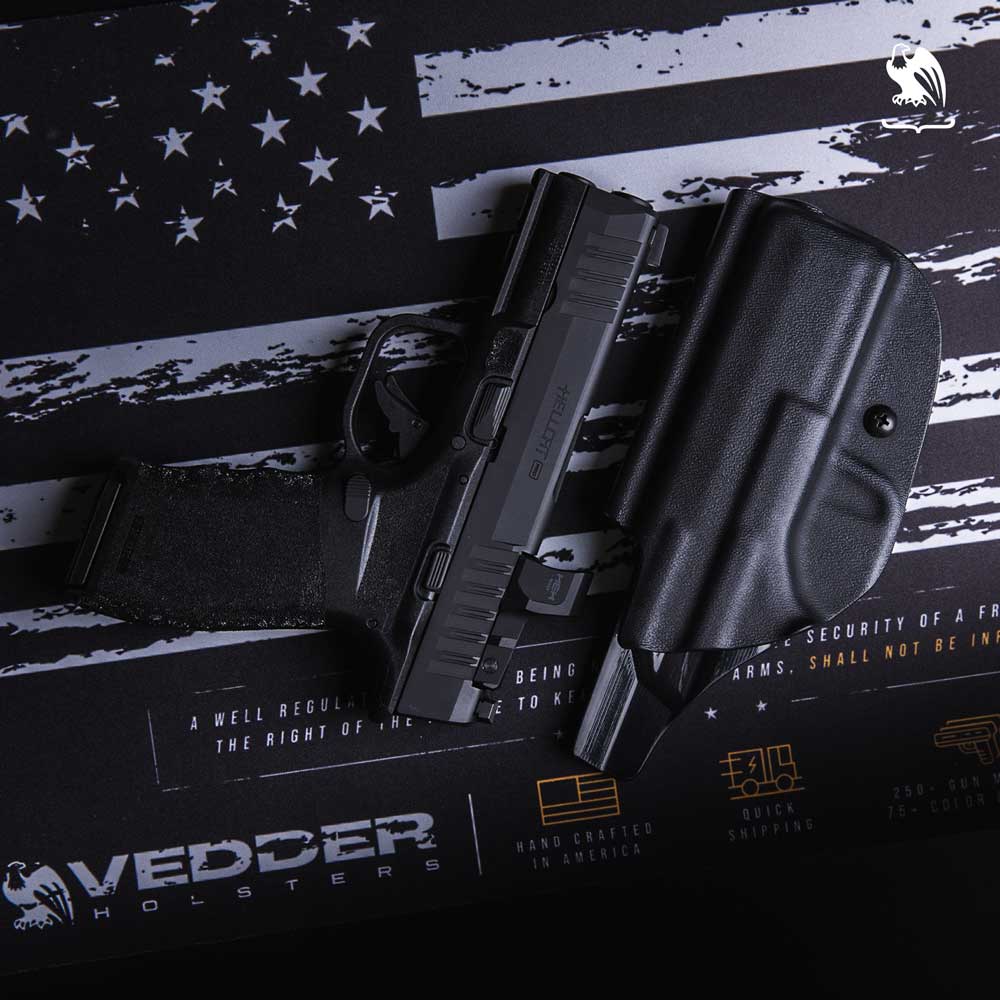 Gun Accessories
The only thing that can make owning a gun even more fun is adding accessories to it.
Whether your mom has a concealed carry weapon or a home-defense pistol, she'll undoubtedly be excited to receive a new light, laser, or optic to enhance her setup.
Your gun mom likely has a preference as far as which kinds of accessories she's interested in, so try to figure that out before making a purchase. Lights are an excellent tool for home defense guns, lasers aid in aiming and are commonly used in home defense and CCWs, and optics are great for anyone looking to improve their sights.
Visit our Resources page for recommendations on all our favorite lights, lasers, and optics. (You may even find another idea or two while browsing there).
Summary
When it comes to moms who carry guns, you can't go wrong with gifts that further her mission to protect herself and her family.
If the mom in your life is an avid shooter, she's sure to appreciate thoughtful gun gifts like new shooting accessories, a membership to her local range, a new concealed carry holster, or even a gun safe to lock things up at home.
If you're looking for a new IWB, OWB, or pocket carry holster, visit our Holsters by Gun Model page for Kydex holsters that are custom-made for your weapon of choice.
Interested in items beyond holsters? Check out our Resources Page for links to recommended products like lights, lasers, first aid, maintenance, and more, and browse our selection of apparel, and accessories at our website, vedderholsters.com.
To stay up-to-date on all the latest Vedder Holsters content and offerings, check out our blog and follow us on Facebook, Instagram, and Twitter. And be sure to visit our sister company, GeoGrit, for all of your American-made minimalist wallet needs.
*This page contains affiliate links. When you purchase a product included on this list, we receive a commission at no extra cost to you.