From Zion, to the Rocky Mountains, to Glacier National Park, over 300 million people visit one of America's beautiful national parks each year.
And it's no wonder why. For nature lovers who enjoy hiking, boating, camping, and site-seeing, the nation's parks really can't be beat. But any time you go out in nature, you risk running into wild animals (or people). And while that's part of the appeal for many, it's also a good reason to go packing.
But can you carry your firearm in a national park? What are the rules?
Yes, concealed carry in national parks is allowed so long as it's legal in that state. That being said, you won't be able to bring a gun into any buildings, and different rules may apply depending on where you're going and what you're doing.
So, whether you're going to explore the geysers in Yellowstone or the hoodoos of Bryce Canyon, here's everything you need to know about carrying in these public lands.
Can You Carry Firearms in National Parks?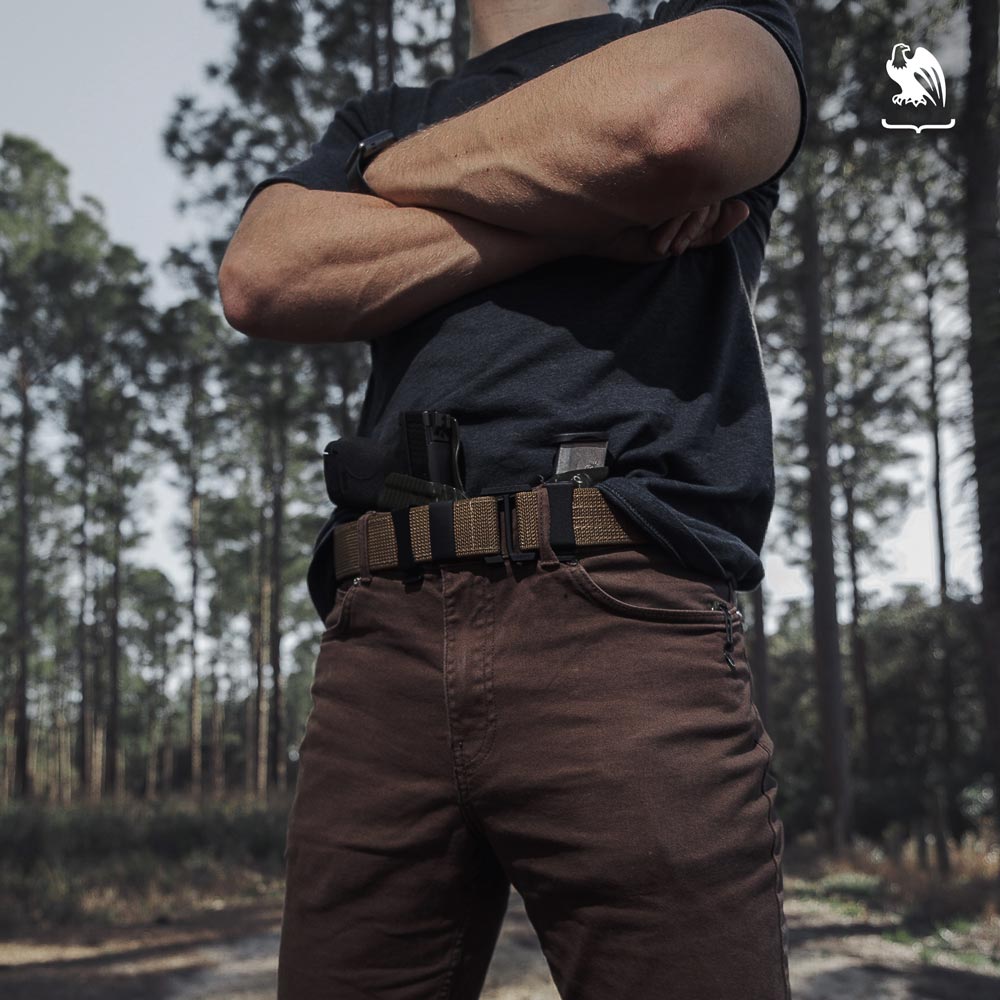 Whether you're on a road trip and thinking about making a stop to see the redwoods or you've been planning a backpacking trip in the Great Smoky Mountains for months, you're probably considering your options for defending yourself in these great outdoor spaces.
But, are guns allowed in national parks?
In short, yes – carrying guns in national parks is perfectly legal so long as you follow local guidelines.
In 2010, Congress passed the Credit Card Accountability Responsibility and Disclosure Act, which ensures that at the federal level, there are no laws restricting visitors from bringing a firearm into national park boundaries. However, state restrictions still apply, so the rules in place will be determined by local regulations.
Other federal laws, such as banning weapons in federal buildings, are still enforced as well, so make sure you're aware of those restrictions.
Before you strap on your holster and hiking boots, take a look at the gun laws in the state where the park is located to get up to speed on what you can and can't do there to avoid any trouble.
Open Carry in National Parks
Again, as long as it is legal in the state where you are, then you are free to openly carry a firearm in a national park so long as you avoid federal buildings and other "gun-free" zones.
Concealed Carry in National Parks
When it comes to national park concealed carry, the same rules apply: it all comes down to what you can and can't do at a state level.
In many parks, you will need to have a valid concealed carry permit from the state – or from one that honors yours. In constitutional carry states, you can conceal a weapon without a permit as long as you meet the legal requirements.
So, while you can take your gun to hike Delicate Arch in Utah if you have a Minnesota CCW permit, you won't be able to take it to Mount Rainier in Washington. But if you're visiting Acadia National Park in Maine, which has constitutional carry, you're free to carry a firearm with or without a permit.
For an overview of the rules on open and concealed carry in the states where different national parks are located, and to see which states honor your concealed carry permit, check out the U.S. Concealed Carry Association's list here.
Firearms in National Parks: Rules and Considerations
If you've done your research and found that you can take a gun into the national park you're visiting, great! But before you zip your pistol in your hiking pack and head out, there are a few more things to keep in mind.
You Can't Bring Your Gun Into a Federal Building
Just because you can bring a weapon into a national park does not mean that you can take it everywhere, even if you have a concealed carry license.
Bringing firearms into federal buildings is still illegal – that includes park offices, visitor centers, ranger stations, fee collection buildings, and even bathrooms.
This rule may even extend to parking lots and public transportation vehicles like shuttles and ferries depending on the state. When in doubt, check for signs indicating that firearms are prohibited, or you can ask a nearby ranger to be sure.
You Can't Fire Your Weapon in a National Park
Unless you have a very, very good reason for doing so, discharging a firearm in a national park is strictly forbidden.
While these gorgeous lands may look like the perfect place for plinking, you will get slapped with some pretty hefty consequences if you do so. You should never fire a weapon in a national park unless it's an emergency.
But, what if you're attacked by an animal or rogue human while exploring the park? Can you use your gun to defend yourself?
Obviously, if your life is in danger, you'll be reaching for your weapon whether it's man or beast. That being said, the National Park Service instructs visitors not to consider their firearm protection from wildlife within their borders.
So, what are you supposed to do if Yogi Bear comes tromping through your campsite? Roll over and become bear chow? Of course not! But you should come prepared with some sort of non-lethal weapon, like bear spray, to defend yourself from animals. Your gun should be used as a last resort when it comes to nature in national parks.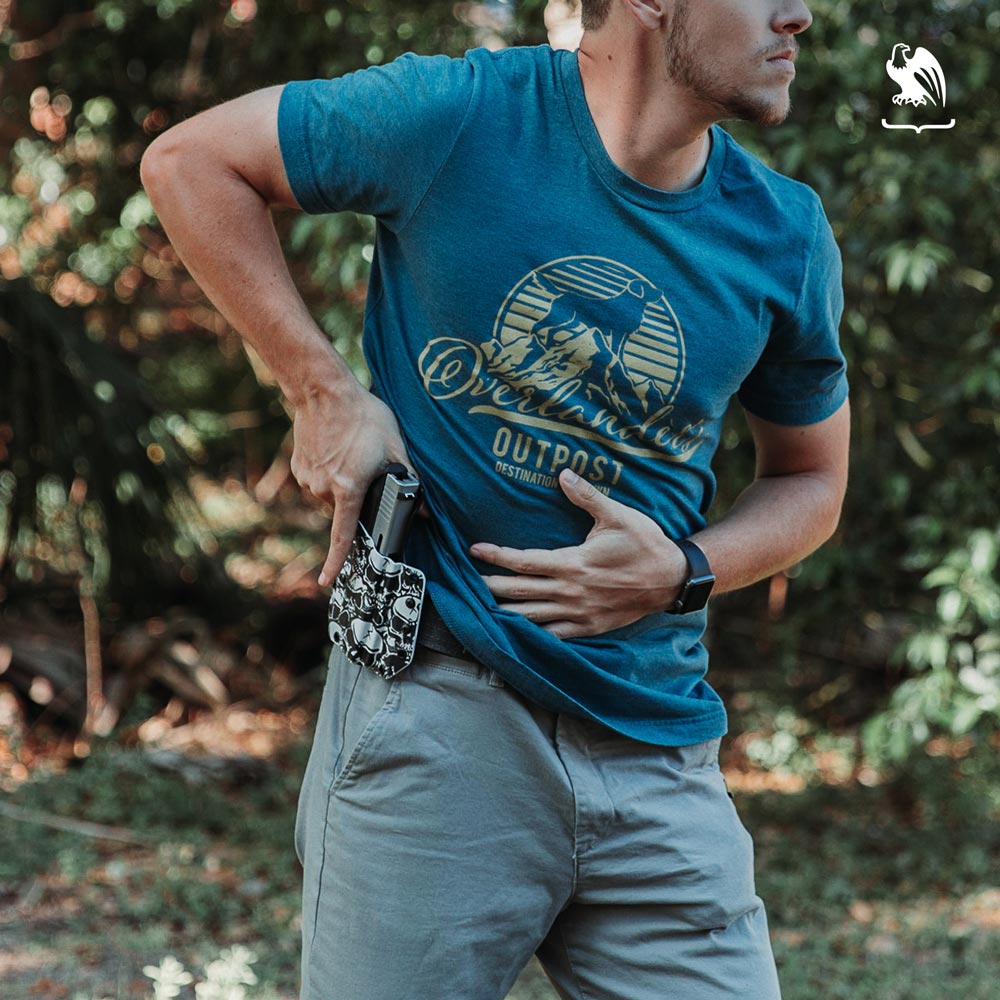 Some Parks Span Multiple States
Another thing to consider is that some parks actually span across multiple states, so the rules regarding carrying firearms might change depending on where you are at any given time.
Yellowstone National Park, for example, is so large it's spread across Montana, Wyoming, and even part of Idaho. Not to mention Death Valley, which is located in both California and Nevada (two states with very different gun laws).
If you're visiting a park that's located in multiple states, you'll need to thoroughly research the regulations in each to ensure you can carry in each of them.
Once you know the different rules you'll have to follow in each state, make sure you have a map that shows you exactly where the borders are within the park so you don't inadvertently break the law. You should be able to pick one of these up at the park entrance.
There May Be Different Rules for Having a Gun in Your Car
Okay, we've talked about open and concealed carry in national parks. But what about if you're just driving through, or you want to leave your weapon in the parking lot?
Again, the answer to this question depends on the state you're in.
Many states have different rules regarding guns in vehicles. Some allow you to transport a loaded weapon, while others may require you to keep it unloaded and maybe even separate from the ammunition. So, before you drive through the entrance to the park, you'll need to research the rules in that state regarding transporting a firearm in a vehicle.
You'll also want to make sure that any parking lot you enter is not a gun-free zone. Because some states may consider parking lots federal property, firearms might be banned there. Look for signs indicating such, or ask a park ranger if you're unsure.
Some Weapons May Be Restricted
You can bring nearly any type of firearm into a national park, as long as the weapon is not restricted by the state.
Pistols, revolvers, shotguns, and rifles are all allowed in the park. However, some states do have stricter gun laws, which is something you'll have to pay attention to.
In parks like Yosemite and Sequoia, for example, which are in California, your gun can't hold more than 10 rounds. At the Grand Canyon in Arizona, on the other hand, you bring nearly any firearm you want.
While firearms, in general, are allowed in national parks, not all other weapons are. Bows, swords (bummer, we know), and pellet or BB guns are still prohibited.
Hunting is Illegal in Most National Parks
Most national parks are teeming with wildlife (hellooo Everglades), which may be a major driving factor behind why you want to bring your gun with you in the first place.
But, it's important to note that hunting within the vast majority of parks is strictly prohibited. And even in parks where hunting is allowed, there are usually plenty of regulations, and likely even a permit, involved.
Can You Carry a Gun in a National Forest?
Carrying guns, and shooting, in a national forest or grassland is perfectly legal. In fact, these areas are common recreational grounds for hunters and target shooters alike.
The only exception would be if your local forest has a restriction on shooting, which happens occasionally due to things like fire risk. Federal buildings in the national forest are, again, also off-limits.
But that also doesn't mean you can just waltz into a national forest and start shooting at everything. There are rules that prohibit you from doing things like shooting near a building, across a road, or over a body of water, among other things.
To learn the ins and outs of shooting in a national forest, head to the National Forest Service's website.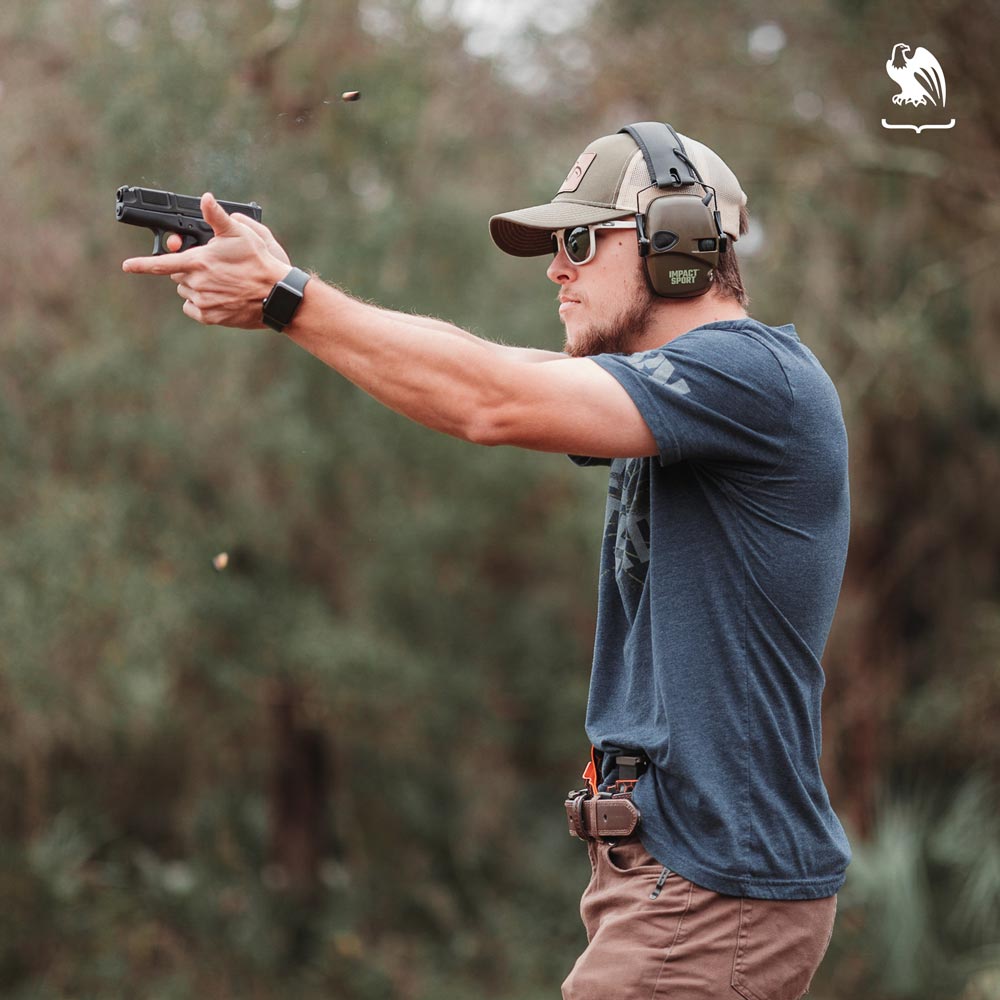 Summary
As long as it's okay in the state you're in, open and/or concealed carry in national parks is perfectly legal.
That being said, you will need to plan ahead to make sure that you won't be crossing into multiple states while exploring the park, and you'll want to skip the visitors center, as bringing a weapon into a federal building remains illegal.
But, generally speaking, as long as you safely and legally carry your weapon, and only fire it in the event of an emergency, you shouldn't run into any trouble carrying firearms in national parks.
Before your visit, you'll want to make sure your holster is up for the task. A comfortable, safe, and durable Kydex holster will not only keep your weapon secure while you hike, kayak, or bike throughout the park, but it will guarantee you can enjoy the views in comfort rather than fighting off any chaffing.
If you're looking for a new IWB, OWB, or pocket carry holster for your trip, visit our Holsters by Gun Model page for Kydex holsters that are custom-made for your weapon of choice.
Interested in items beyond holsters? Check out our Resources Page for links to recommended products like lights, lasers, first aid, maintenance, and more, and browse our selection of apparel, and accessories at our website, vedderholsters.com.
To stay up-to-date on all the latest Vedder Holsters content and offerings, check out our blog and follow us on Facebook, Instagram, and Twitter. And be sure to visit our sister company, GeoGrit, for all of your American-made minimalist wallet needs.