When it comes to finding the right holster for your everyday carry system, the choices can be overwhelming. With so many different styles, clips, and functions, how are you supposed to know which will work best for you?
When looking for an OWB Kydex holster, it's important to consider critical safety features like grip clearance and an adequate trigger guard as well as customization options like material, style, and color.
Whether you're a beginner or a seasoned concealed carrier, this guide will help you find the best OWB holster for your needs.
What is an OWB Holster?
An outside the waistband (OWB) holster is designed for concealed or open carry. Unlike inside the waistband (IWB) holsters, which are worn inside the waistband of your pants, OWB holsters sit on the outside of the waistband and are usually secured to your belt with clips or loops.
OWB Kydex holsters have been popular for decades, especially among law enforcement and military personnel, and are known for their ease of access, comfort, and versatility. They are available in a variety of materials, including leather, nylon, and Kydex – a thermoplastic known for its durability and low profile.
One of the main advantages of OWB holsters is that, thanks to their position on the outside of your waistband, they offer quick and easy access to your firearm. This is especially important in emergency situations when every second counts.
Many people also find this style of holster to be one of the most comfortable as they are less likely to dig into your skin and cause discomfort since they aren't wedged between your pants and your body.
Despite their many advantages, OWB holsters aren't for everyone. Depending on your lifestyle, these holstersmay be more difficult to conceal than their inside the waistband counterparts.
Because you can't rely on your pant waistband to hide an OWB holster, looser layers of clothing are necessary to successfully conceal one. So, if you tend to wear tighter-fitting clothes, OWB might not be for you unless you're willing to wear an outer layer like a jacket, flannel, or vest.
If you aren't sure whether an outside the waistband holster is right for you, check out our article, "OWB vs. IWB: Which is Best for Concealed Carry?"
What to Look for In an OWB Holster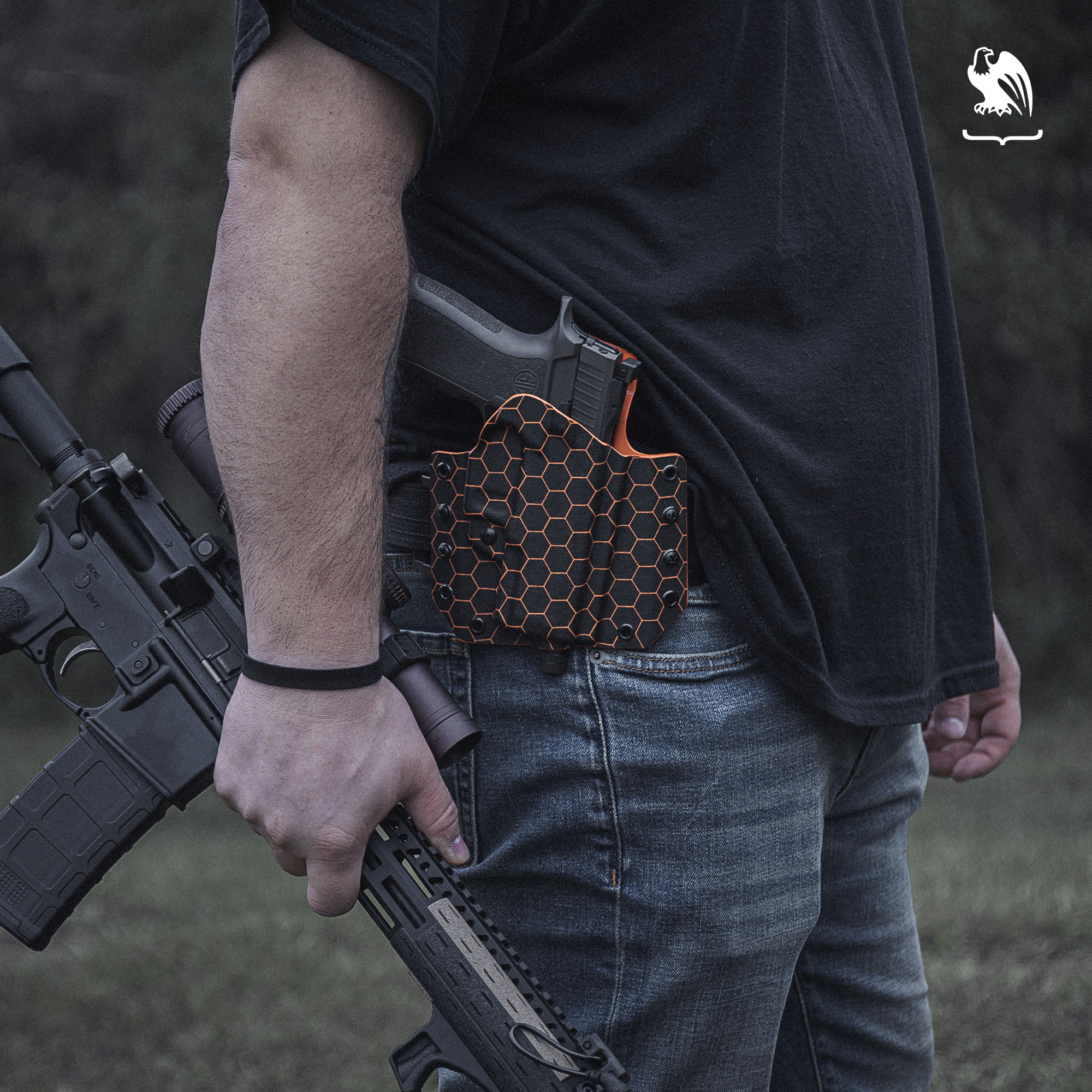 Once you've settled on OWB as your holster of choice, you'll want to think about the different features and styles available to customize the best carry system for you.
Style
When it comes to OWB holsters, there are several different styles to choose from.
These holsters are typically designed with clips, loops, or slits that attach to a belt from the outside of the waistband. Some of the most common types of OWB holsters include the pancake, paddle, and belt slide-style holsters.
Pancake holsters are made of two pieces of material that are sewn or fused together to create a flat pouch that sits snug against the body, making it a great choice for concealed carry.
Paddle holsters, on the other hand, feature a wide, flat paddle-style clip that fits comfortably inside the waistband while the shell remains on the outside. These holsters can be conveniently attached and removed without having to take off your belt, making them a convenient option for OWB concealed carry.
Belt slide holsters are essentially a sleeve of material that slides onto the belt and covers only a portion of the gun, leaving the muzzle exposed. Despite their slim design, they have been criticized for not providing as much protection as other holster styles.
Material
The next factor to look at when choosing an outside the waistband holster is its material.
When selecting an OWB Kydex holster, it's important to verify that the manufacturer uses genuine Kydex, which is the highest quality and most durable thermoplastic on the market
If you've decided to opt for a Kydex/leather hybrid holster, be sure to choose one made from premium leather to ensure it will hold up over time. At Vedder Holsters, we handcraft all of our products with genuine Kydex and premium cowhide or horsehide leather, so you know you're getting the highest quality holster every time.
Design
A quality OWB gun holster requires a well-thought-out and precise design to provide both safety and comfort.
A precise fit to your firearm is one of the most critical aspects of a concealed carry holster. OWB Kydex holsters offer the advantage of being molded to your specific gun model, resulting in a secure hold.
At Vedder Holsters, we are dedicated to providing you with the most accurate fit possible. Our Kydex and hybrid holsters are designed to eliminate any wiggle room, ensuring your weapon stays in place. A holster with an incorrect fit can cause your firearm to slide or jostle, even if just slightly, which leads to wear and tear over time.
Beyond the fit, the design details in a holster play a crucial role in its functionality. A proper trigger guard, durable clips, and adjustable features are critical components that ensure a safe carrying experience. It is important to invest in a holster that meets these requirements.
One aspect that is often overlooked is the amount of "daylight" the trigger guard reveals. A quality holster should completely enclose the trigger to prevent any risk of accidental discharge caused by a foreign object or your finger.
Here at Vedder Holsters, we've engineered our holsters to eliminate any trace of daylight through the trigger guard, providing you with peace of mind and a secure carry setup.
Finally, proper master grip clearance is crucial for a safe and effective draw. This refers to the amount of space between the grip of your gun and your holster, meaning that as you draw, you can immediately grip your weapon in the same way you do when shooting. If your holster doesn't have enough clearance, it may prevent you from getting a strong grip, which can slow your draw.
All Vedder holsters are designed with ample clearance to allow for a strong and secure grip so you can draw your weapon with speed and confidence. Whether you're in a life-threatening situation or just practicing at the range, our holsters are engineered to help you get the most out of your carry experience.
Adjustability
Adjustability is a key factor to consider when choosing an outside the waistband holster, as it allows you to set the position of your holster to the most comfortable and accessible spot for you.
Retention is a common adjustable feature in an OWB holster. Adjustable retention enables you to adjust the level of resistance you feel when drawing or holstering your weapon.
This not only allows you to adjust the retention to your personal taste, but is also a critical safety feature in an outside the waistband holster. Because OWB holsters are not secured inside your waistband, your gun may be more vulnerable to being grabbed by an unauthorized user or sliding out of its holster without adequate retention.
Adjustable cant, or the tilt of the holster, is another adjustable feature found on many OWB Kydex holsters. This function allows you to tilt the grip of your gun until you find the ideal angle for concealment, comfort, and ease of draw.
At Vedder Holsters, we offer OWB holsters with adjustable retention and 10-15 degrees of adjustable forward and backward cant, providing more options than many other holsters on the market.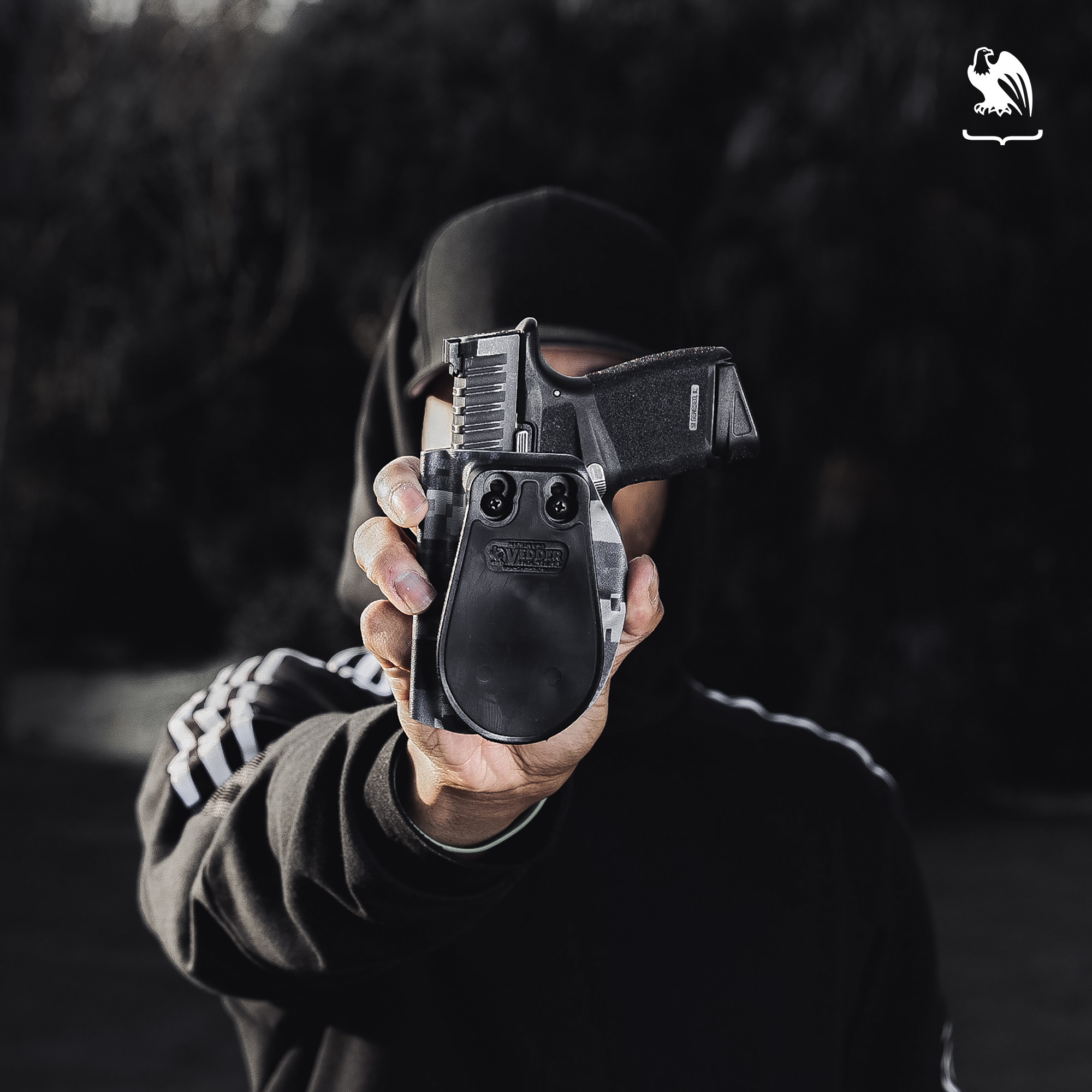 Color
While it may not seem all that important, it's important to consider the color you want your OWB Kydex holster to be.
If you are concealed carrying outside the waistband, the holster color you choose should blend seamlessly with your clothing. If the color of your holster is too bold or contrasting, it may draw unwanted attention in the event it becomes visible.
If you plan to open carry or take your holster to the range, however, you may want to choose a fun Kydex color that reflects your personality.
At Vedder Holsters, we understand the importance of color choice in a holster. That's why we offer dozens of color options, ranging from subtle to bold, to suit every style preference.
Whether you prefer a traditional black holster for concealed carry or a fun color for open carry, we've got you covered. You can browse our entire selection of Kydex color options here.
Customization
When it comes to finding the perfect holster, you'll want to find one as customizable as the gun itself.
All Vedder Holsters are designed to be incredibly customizable and can accommodate things like RMR/red dot optics, all standard sights, most suppressor sights, and loaded chamber indicators.
Many Vedder holsters also allow you to choose between different leather options, Kydex colors, cant angles, and hand orientations. Additionally, optional sweat shields and extra clips can be added for enhanced comfort and performance.
Because our holsters are made to order, they can be custom-fit to meet the specific needs of your firearm. If your weapon has any unique modifications, simply reach out to us, and we will do our best to create a holster that meets your specific needs.
Comfort
It goes without saying that you want the things you wear on a daily basis to be comfortable. After all, an ill-fitting holster can make even the best pistol unbearable to carry.
If comfort is your top priority, consider a Kydex/leather hybrid holster. These holsters combine the durability and precision of Kydex with the comfort and flexibility of leather, and are hard to beat in terms of comfort.
The Vedder Quick Draw OWB holster is a popular choice among our customers, thanks to its wide cowhide or horsehide leather backing and even weight distribution.
If you prefer a traditional Kydex holster, don't worry. These holsters are still designed with comfort in mind and are shaped to mold to your body for ultimate comfort and concealability. Just be sure to choose one with a comfortable clip like our ProDraw™ or one with two points of contact like the Vedder LightDraw™.
Cost and Warranty
While you can't put a price on safety and comfort, cost is an important factor to consider when shopping for an OWB Kydex holster.
Luckily, you don't have to spend a fortune to invest in a high-quality concealed carry system. At Vedder Holsters, our goal is to offer our customers premium quality products at a fair and reasonable price, without compromising on quality.
Handcrafted in the USA, all Vedder products are backed by a 30-day risk-free trial and a lifetime guarantee, so you can feel confident in the quality of your holster.
What is the Best OWB Holster?
The best OWB holster for you will depend on your personal preferences and what you intend to use it for.
For a classic OWB Kydex holster that's perfect for carrying in the 3-5 o'clock position, check out the LightDraw™. This holster comes with optional 10 degree cant, adjustable retention, and your choice of standard or pancake clips. Made with two points of contact and a shell that molds to your body, this holster is perfect for everyday carry.
For a highly convenient and adjustable holster, consider the Vedder ProDraw™. This holster is designed with a wide paddle-style clip that easily slides onto your waistband without having to remove your belt. It features adjustable retention and 15 degrees of adjustable cant, and can be worn in nearly any carry position.
Finally, if you're looking for a comfortable hybrid OWB gun holster, the Quick Draw may be best for you. This holster is made with a durable Kydex shell and a premium cowhide or horsehide leather backing, and is fastened to your belt with two precut durable belt loops for added weight distribution.
If you wish to pair any holster with a spare magazine, check out the MagDraw™ single or double OWB mag carrier. Both magazine holsters are designed with a paddle-style clip and are customized for your specific firearm.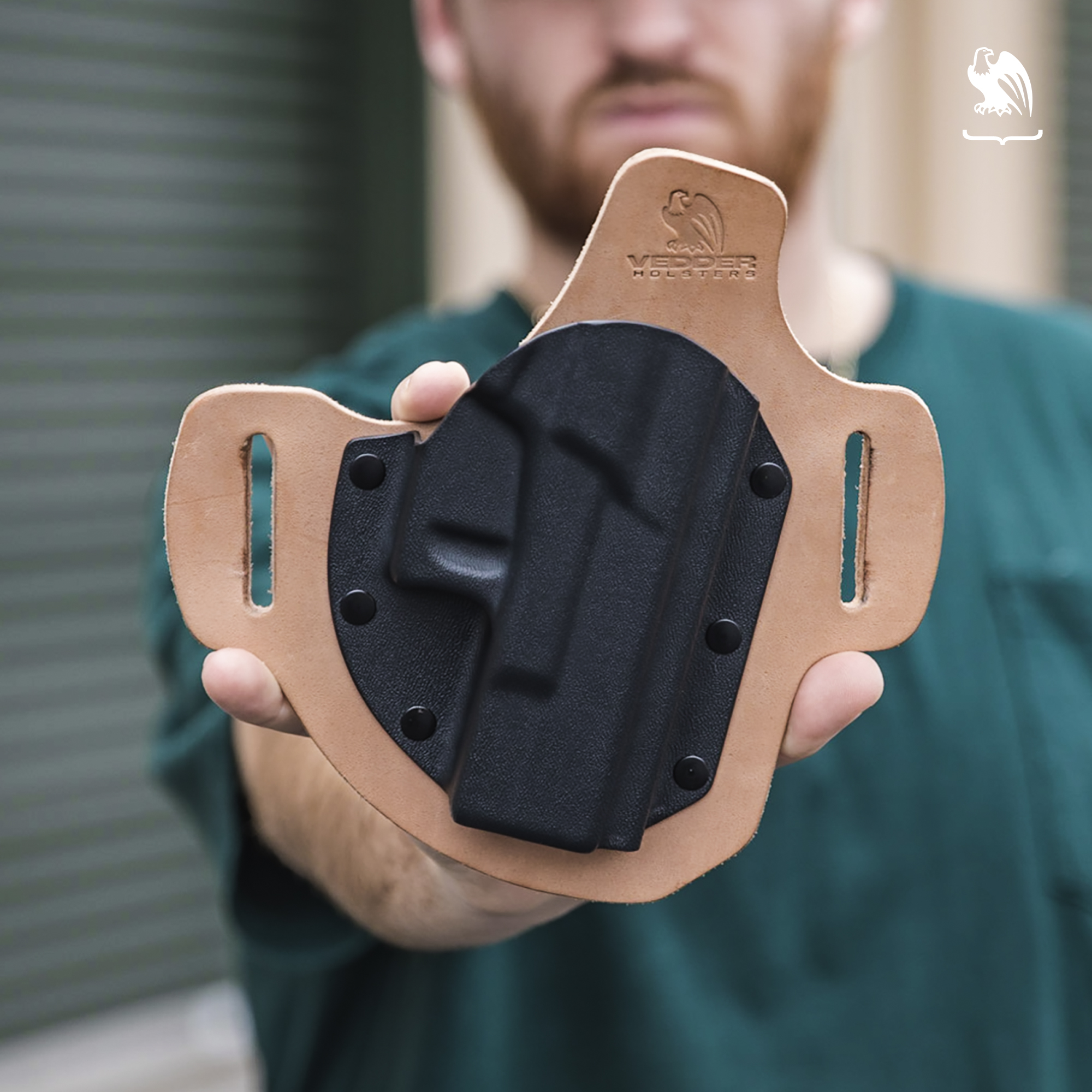 Summary
OWB holsters are an incredibly popular choice thanks to their comfort, ease of access, and versatility. When choosing the best OWB Kydex holster for your lifestyle, it's important to look at factors like style, adjustability, customization, comfort, cost, and warranty.
If you're looking for a new IWB, OWB, or pocket carry holster, visit our Holsters by Gun Model page for Kydex holsters that are custom-made for your weapon of choice.
Interested in items beyond holsters? Check out our Resources Page for links to recommended products like lights, lasers, first aid, maintenance, and more, and browse our selection of belts, apparel, and accessories at our website, vedderholsters.com.
To stay up-to-date on all the latest Vedder Holsters content and offerings, check out our blog and follow us on Facebook, Instagram, and Twitter. And be sure to visit our sister company, GeoGrit, for all of your American-made minimalist wallet needs.