---
---
---
---
---
---
First Aid Preparedness: EDC Medical Kit Guide
Every time you leave the house, you grab your EDC essentials.
You probably don't head out for the day without your phone, slim wallet, and keys. You may even grab your carry pistol, holster, pocket knife, and a few other self-defense or survival items on your way out the door. But are you prepared in the event of a medical emergency?
An EDC medical kit is one of the most useful everyday carry items you can have. Whether you find yourself in the aftermath of a defensive encounter, an accident, or even a simple bee sting, an individual first aid kit could mean the difference between life or death for you or someone else.
Let's talk about what an EDC med kit is, who should carry one, and what supplies should be included.
What is an EDC Medical Kit?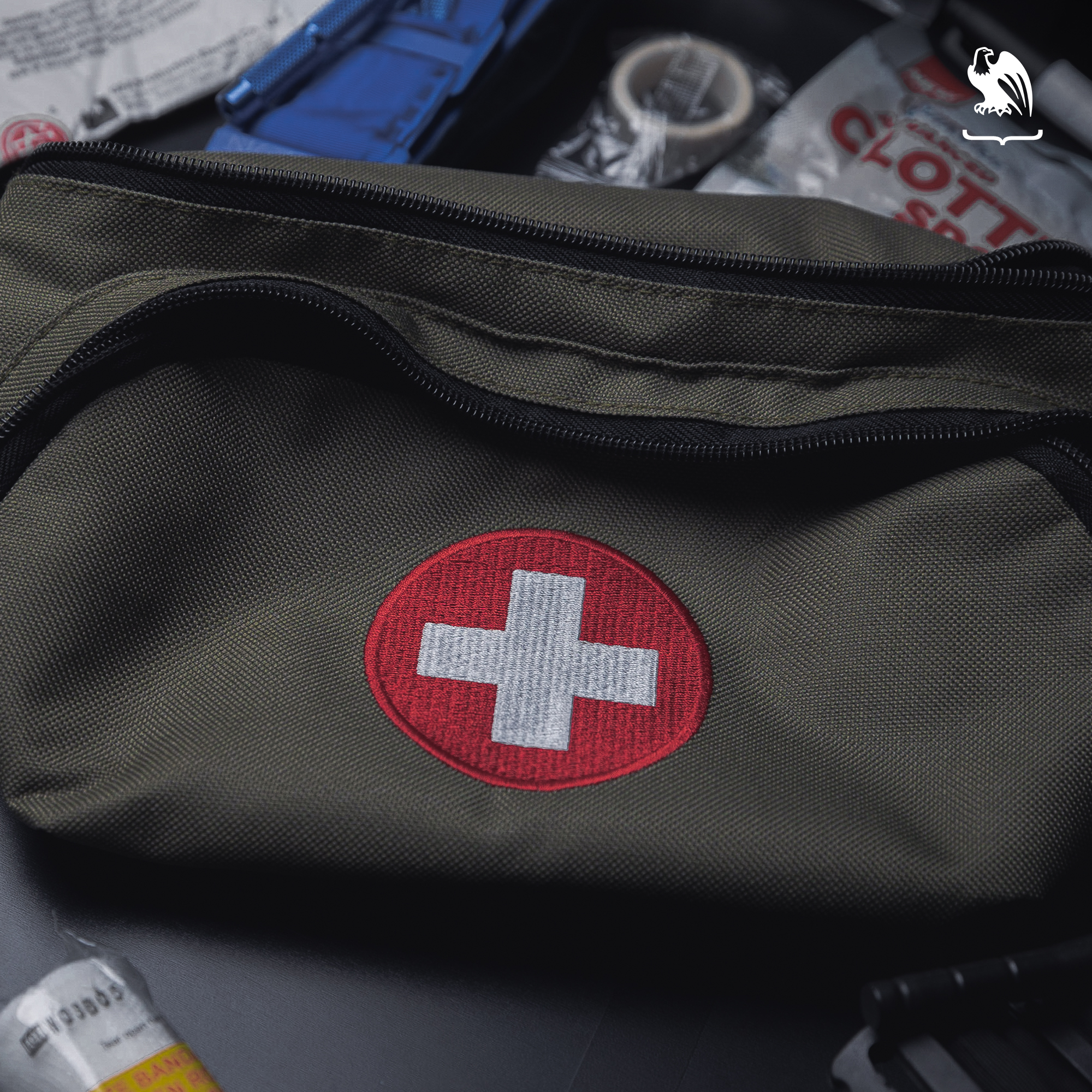 In a nutshell, an EDC medical kit, also known as an individual first aid kit, or IFAK, is a first aid kit that you carry with you in your day-to-day and usually includes items like a tourniquet, bandages, alcohol swabs, and gauze, though it can be as simple or extensive as you want.
If you're not already familiar with the general concept of everyday carry, the idea is that you take certain items with you every day when you leave your house. That includes things like your phone, wallet, and keys, and it can also include preparedness items like your concealed carry gun and holster, a pocket knife, a multi-tool, a flashlight, or whatever else you think you may need.
The idea of including a personal first aid kit as part of your EDC setup is that whether you have one on your tactical belt, in your backpack, or even in your car, you have medical supplies on hand in case you need them.
While not everyone believes that a med kit is an essential EDC item necessarily, it's a really good idea to have one. After all, you're more likely to use an IFAK than that compass you've been carrying around all these years, and it's a lot more useful (no offense!).
And, in the concealed carry world specifically, there is a growing discussion around the idea that if you're capable of causing a life-threatening injury to someone, then you should carry the supplies to help patch it up until first responders arrive.
But even if you don't carry a weapon in your day-to-day, including a tactical medical kit in your EDC setup can come in handy.
Who Should Carry an IFAK?
Anyone can and should consider carrying an individual first aid kit. Even if you're not particularly accident prone, you never know when something will happen, and you'll need medical supplies.
But, while everyone can benefit from an EDC first aid kit, certain factors can make it even more critical for you to carry one.
If you drive, you should have a medical kit. If you spend a lot of time outdoors, definitely. If you're a parent, you already know how important it is to be prepared. If you have a medical condition, you should obviously be able to treat any issues or symptoms that could flare up.
And, while that list already includes most of the population, there's one more important group to mention. Those in the concealed carry community should consider carrying a trauma kit. Why? Well, if you're prepared to defend yourself, you should be prepared to deal with the aftermath.
Self-defense is rarely cut and dried. If you find yourself in a situation where shots are fired, there's a good chance someone will be injured. Whether that's you, the person who threatened you, or both, you'll be glad you had the medical equipment necessary to stabilize the situation until help arrives.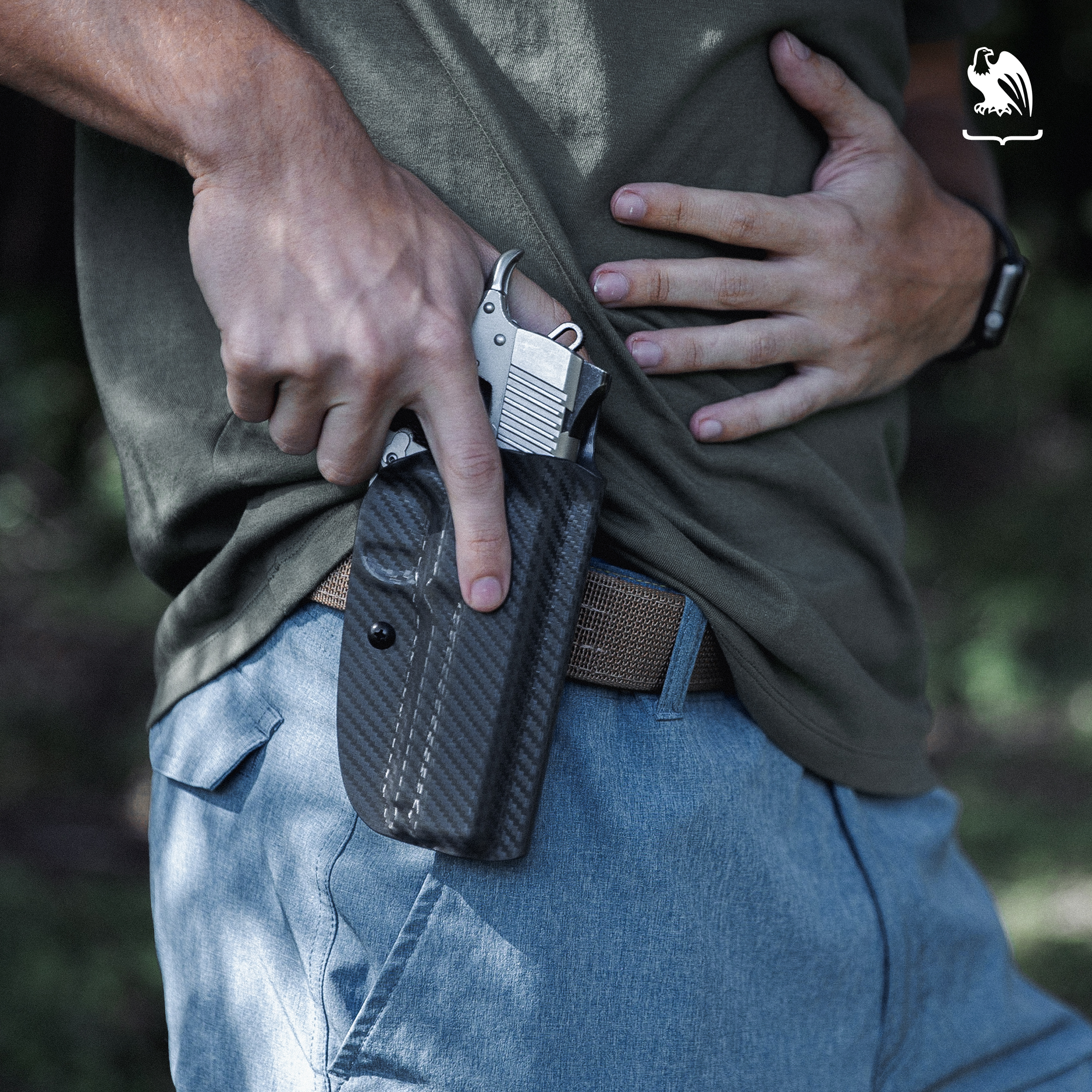 What Kind of Emergencies Should You Be Prepared For?
There are hundreds of medical emergencies that can take place, and it's impossible to be prepared for all of them. So, what sort of thing should you be ready for?
A general rule of thumb is to carry enough supplies to treat anything from a scraped knee to a semi-large wound. All you really need is enough supplies to be able to control an injury until you can get to a doctor or EMTs arrive.
Beyond that, you'll need to evaluate your lifestyle and choose a few key items based on what you're most likely to encounter.
For example, if you spend a lot of time outdoors you'll need to pack for things like snake bites and sprained ankles. If you're a parent, you'll want to be prepared for small "boo-boos" and bee stings. If you have a medical condition, always have supplies to treat any symptoms that may flare up. And if you carry a gun, it's important to have trauma supplies to help control a gunshot wound.
You can't have it all, so think about the sort of emergencies you may run into and pack accordingly. We'll talk about the basics of what you should carry next.
Building a DIY EDC First Aid Kit: What Should Be Included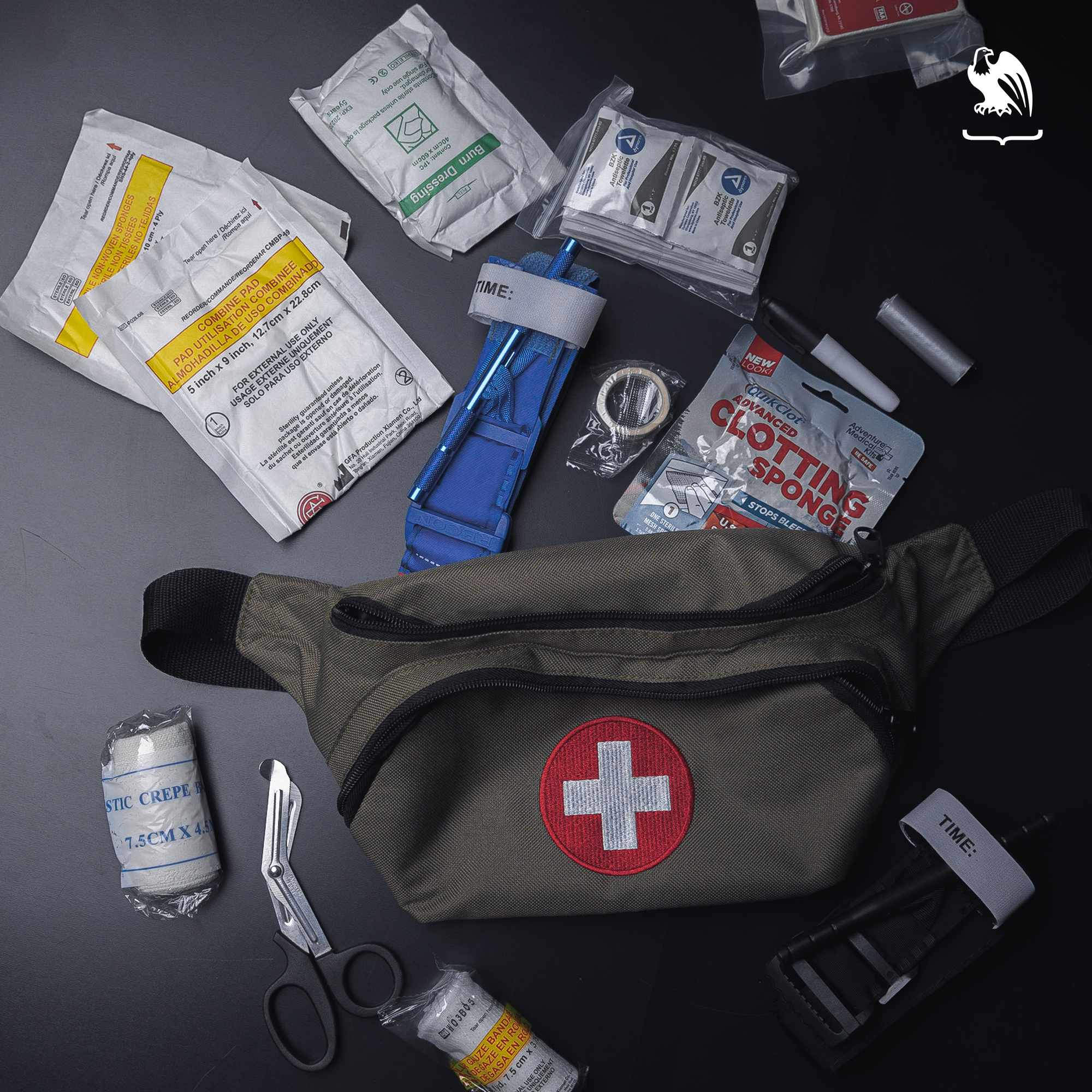 Once you've determined the scenarios you want to be prepared for, it's time to assemble your kit.
While you can certainly buy a pre-made first aid kit, building your own IFAK definitely has its advantages. Most store-bought kits come with the basic necessities but don't necessarily have all of the specific items you may need.
While it's ultimately up to you to make sure your kit contains everything necessary for you, here are some of the staple items that every kit should include:
The Basics
Every kit should start with the same basic supplies. A few standard items include bandages, various sized sterile gauze pads, a roll of stretchy gauze, medical tape, triple antibiotic ointment, alcohol prep pads, painkillers such as acetaminophen or ibuprofen, butterfly closures, super glue, tweezers, scissors, and gloves.
You can also include items like cotton swabs, chapstick, hand sanitizer, a bee sting kit, and compression bandages.
Trauma Response
If you want to be prepared for more serious emergencies, like a car accident or a gunshot wound, you'll need some more heavy-duty supplies.
Some of the basic items that an EDC medical kit should include are a high-quality tourniquet, hemostatic gauze or powder like QuikClot to slow bleeding, a chest seal to help control a sucking chest wound, and a large critical trauma bandage.
Other Items to Include
A few other optional items to include in a comprehensive medical EDC kit are a flashlight or headlamp so you can work in dark conditions, a hypothermia wrap or emergency blanket, insulin, Naloxone, matches or a lighter, a needle and thread, a snake bite kit, medications like antihistamine and anti-diarrhea tablets, feminine hygiene supplies, and anything else you can think of that could be useful in an emergency.
Where to Find Supplies
If you're not into DIY, Adventure Medical Kits has a great selection of med kits, including those for trauma, traveling, and outdoor emergencies. They even have an ultralight series for those who want to carry light. C-A-T Resources, North American Rescue, and Recon Medical are also great resources for buying pre-made kits and IFAK supplies.
For other recommendations on med kits and supplies for building your own, check out our Resources Page.
How to Carry a Med Kit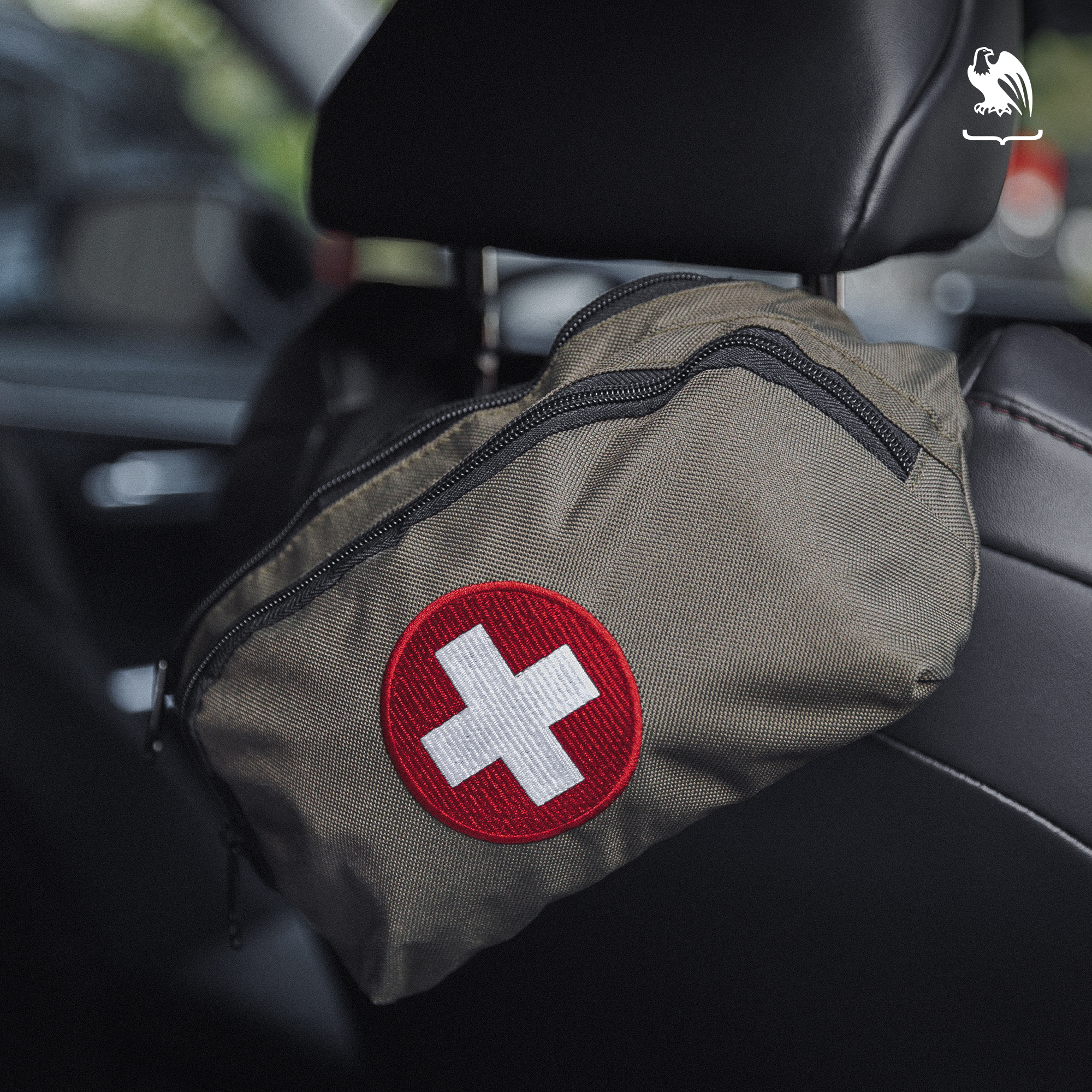 Now that you've got all your medical supplies together, you're probably wondering how you're supposed to lug them around with you all day.
While we wish we had a simple answer as to the best way to carry a medical EDC kit, the truth is, it depends on how much you're carrying and what your lifestyle looks like.
Most people carry their IFAK in a gear bag or backpack, on a tactical belt, or leave it in their vehicle. You can even mix it up depending on what you're doing on a given day. For example, you may want to keep your kit on your tactical belt while in the field training, in your vehicle while at work, and in your backpack while running errands. Whatever works best for you.
You may even want to consider assembling multiple kits so you can mix and match depending on the circumstances. If you plan to carry your kit on your tactical belt during training days or while enjoying the outdoors, you'll want a nice compact kit that won't weigh you down. But you'll probably want a more comprehensive kit to keep in your vehicle or at your house. So, why not have both?
For more ideas about the vessels you can use to carry your EDC equipment, check out our Everyday Carry Guide here.
The Importance of Training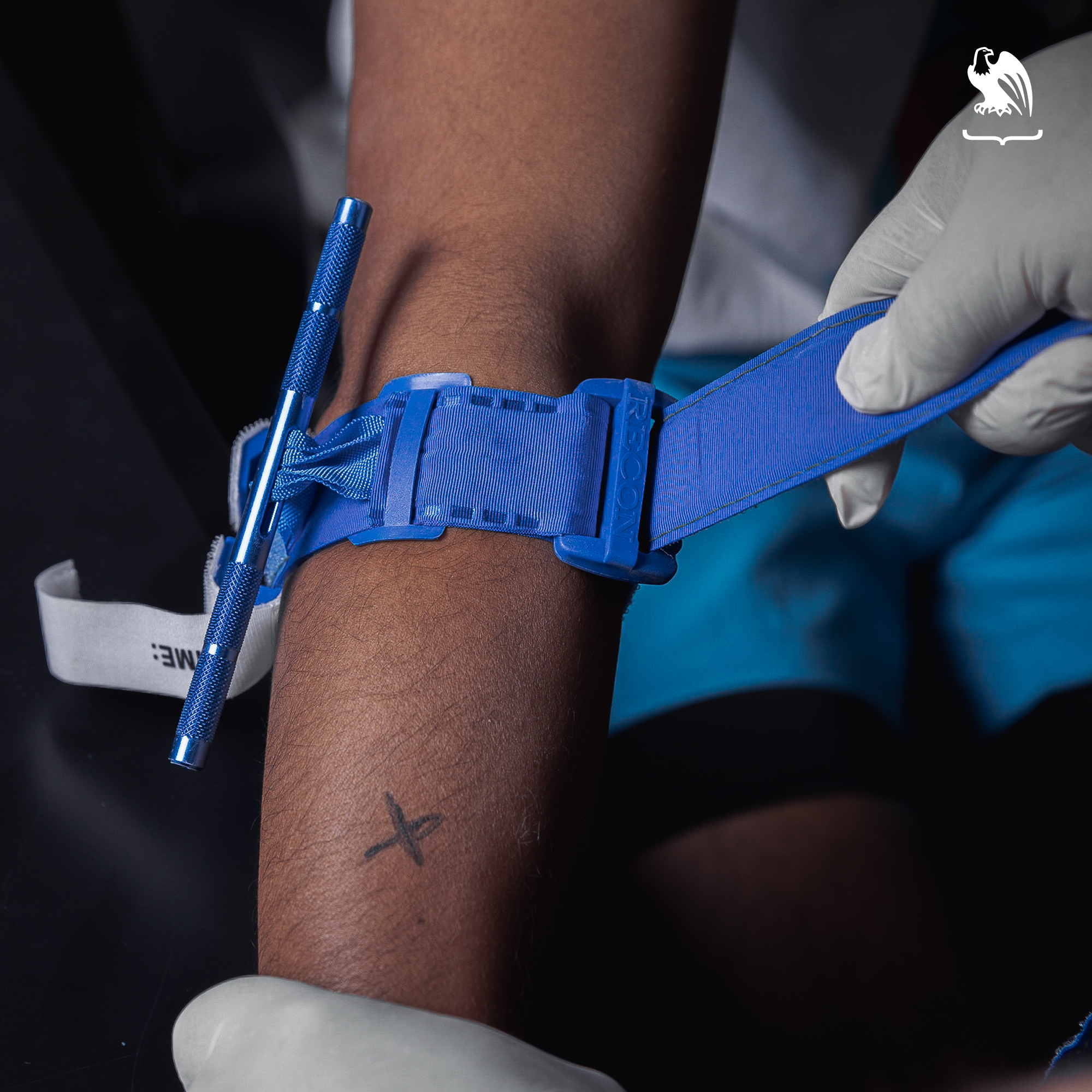 If you're part of the concealed carry community, you already know the importance of consistent training for defensive encounters. But what about training for emergency medical situations?
Whether you're involved in a car accident, meet someone injured on the trail, your kid takes a spill, or you have to shoot someone in self-defense, you may need to break out your medical supplies.
But even if you have an advanced tactical first aid kit with enough medical gear to be an EMT, if you don't know how to use any of it, it's completely useless.
The best way to train in responding to medical emergencies is to take a class. Courses from organizations like Stop the Bleed, the American Red Cross, or a local training center can all get you up to speed on the fundamentals of emergency first aid.
Check out the U.S. Concealed Carry Association's website for more resources on the different kinds of first aid classes you can take and where to find them.
Summary
For many enthusiasts, carrying a med kit is an essential piece of their EDC setup. Having the supplies to tend to injuries – whether minor or serious – will more than likely come in handy in an emergency and very well could save your life or the life of someone else.
While a kit of any size makes a great addition to your everyday carry system, a complete EDC Medical Kit should include life-saving supplies such as a tourniquet, gauze, a blood clotting agent, and a chest seal as well as general medical supplies such as bandages, disinfectant, gloves, and scissors.
For more EDC recommendations, check out our Resources Page for our list of firearm accessories, knives, first aid supplies, and more.
If you're looking for belts or holsters, we recommend visiting our Holsters by Gun Model page if you are looking for custom Kydex holsters built for your weapon of choice. For all of our belt and holster options and for more information to help you choose the carry system that works best for you, visit our Vedder Holsters website.
30-day Money-Back Guarantee
It's confidence in knowing that you will be 100% satisfied with your holster purchase.
We are so confident that you will love your new holster that you can wear it for 30 days from the day you receive it and if for whatever reason it is not for you, contact us and return within 30 days of receipt and receive a full refund of the holster price (excluding shipping).
Handcrafted in the U.S.A.
At Vedder Holsters, we individually handcraft our products with pride in the U.S.A.
Located in the heart of Central Florida, our Vedder Holsters team crafts your unique holster by hand to ensure a precise fit for your gun model every time. Because our holsters are tailored to your preferences, each one is made to order.
Lifetime Warranty
It's confidence in knowing that you will be 100% satisfied with your holster purchase.
We are so confident that you will love your new holster that you can wear it for 30 days from the day you receive it and if for whatever reason it is not for you, contact us and return within 30 days of receipt and receive a full refund of the holster price (excluding shipping).
*International Purchasers* Please note that international shipping is not included with any warranty or exchanges. Buyer must pay international shipping for all packages being sent to a location outside the USA. This does not include APO addresses as they are treated as being inside the USA.