You've probably heard the term "EDC" tossed around and may be wondering what it is and whether it's something you should start doing.
EDC refers to all the essentials you bring with you when you leave your home, including your concealed carry gun, wallet, pocket knife, keys, and anything else you can't leave the house without.
While stuffing your belongings into your pocket on your way out the door could technically count as EDC, many people choose to take a more intentional approach by assembling a kit full of survival gear, medical supplies, and emergency tools.
Let's start by talking about the basics of what EDC is and why it's important to be prepared.
What Does EDC Stand For?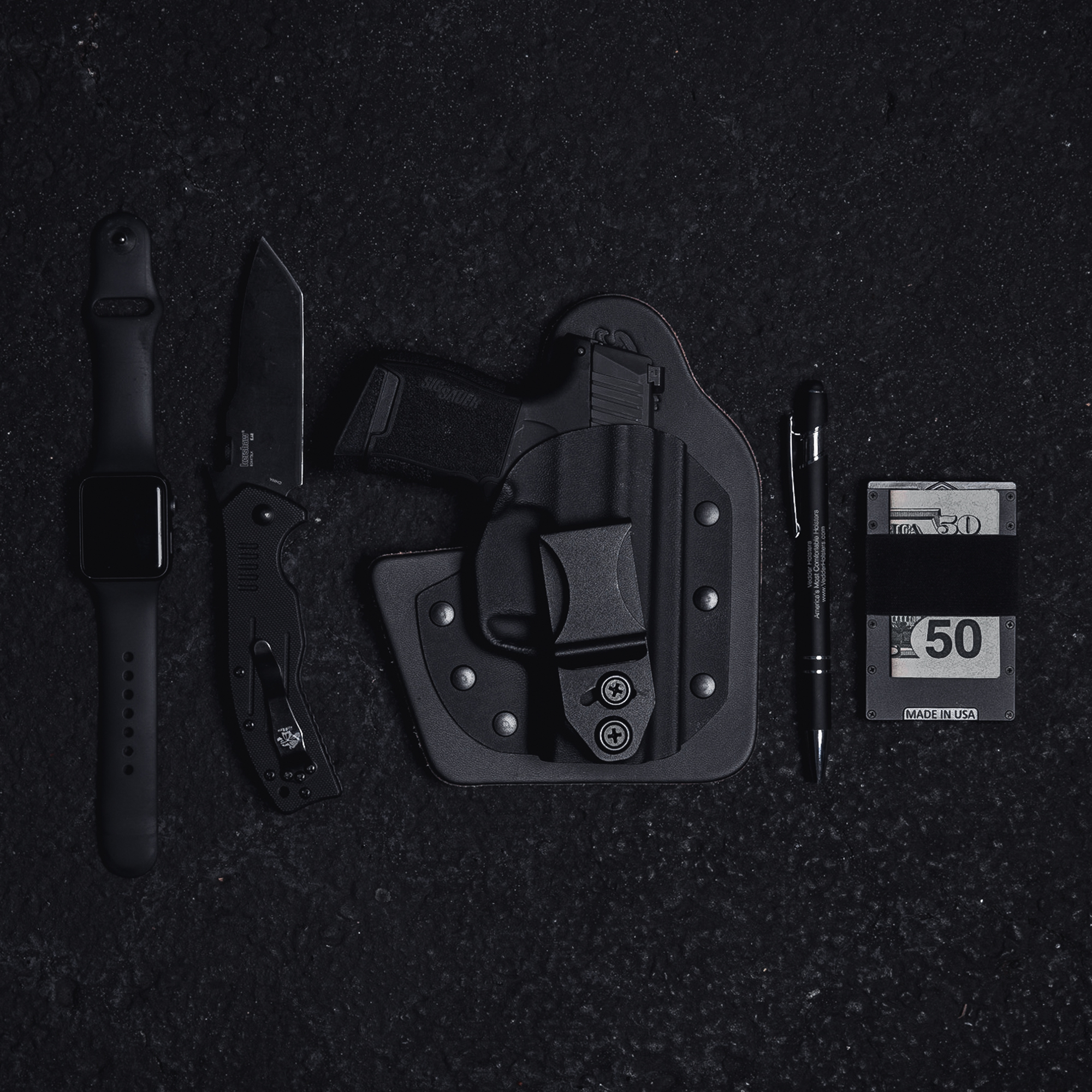 If you're new to the subject, the first thing you may be wondering is, what does EDC stand for, anyway?
EDC stands for "everyday carry" and refers to everything you take with you when you leave the house. That includes things like your cell phone, wallet, keys, gun/holster, pocket knife, and even your signature scrunchie. Everything.
So what is an EDC kit? Basically, an everyday carry kit is a more organized approach to preparedness and the things you take with you every day. Rather than simply stuffing your phone, wallet, and keys into your pockets and hitting the road, it involves intentionally planning and carrying the things you need so you can be ready for anything that comes your way.
Now that you know what EDC stands for and what an everyday carry kit is, let's talk about the many benefits of having one.
Why Assemble an EDC Kit?
If you're the type of person who likes to carry light, you might be wondering what benefit there is in putting together an everyday carry kit.
While sure, you can leave the house with nothing more than the clothes on your back and be fine most of the time, there are several benefits to carrying an EDC kit.
Emergency Preparedness
The number one reason to carry an EDC kit is to be prepared in an emergency, a defensive encounter, or even just for the unexpected. In fact, it could save your life or the life of someone else.
For example, having a glass breaker/seatbelt cutter could allow you to rescue someone after a car crash. Your carry gun could save your life when faced with a threatening situation. The tourniquet in your med kit could mean the difference between life and death if someone is seriously injured.
We could keep going, but you get the idea. The reality is that even if the odds are good that you won't need to use these emergency supplies, they're sure nice to have when things go south. After all, it's better to have and not need than to need and not have, right?
Convenience
On a lighter note, everyday carry kits can be just plain convenient. Rather than asking around for a pen, trying to see in the dark with your phone, or *gasp* borrowing a friend's pocket knife, you have all that stuff right in your backpack. Not only will this save you time and hassle, but it will help you be more self-reliant.
Fun
Not only are EDC kits practical and potentially lifesaving, but it can be fun to put your pack together. If you're looking for an excuse to go shopping for a new knife or a reason to show off your new gear bag, this is it. Once you get started, you'll likely find that you have a great time choosing everyday carry items specific to your personality and an even better time showing them off.
Everyday Carry List: The Essentials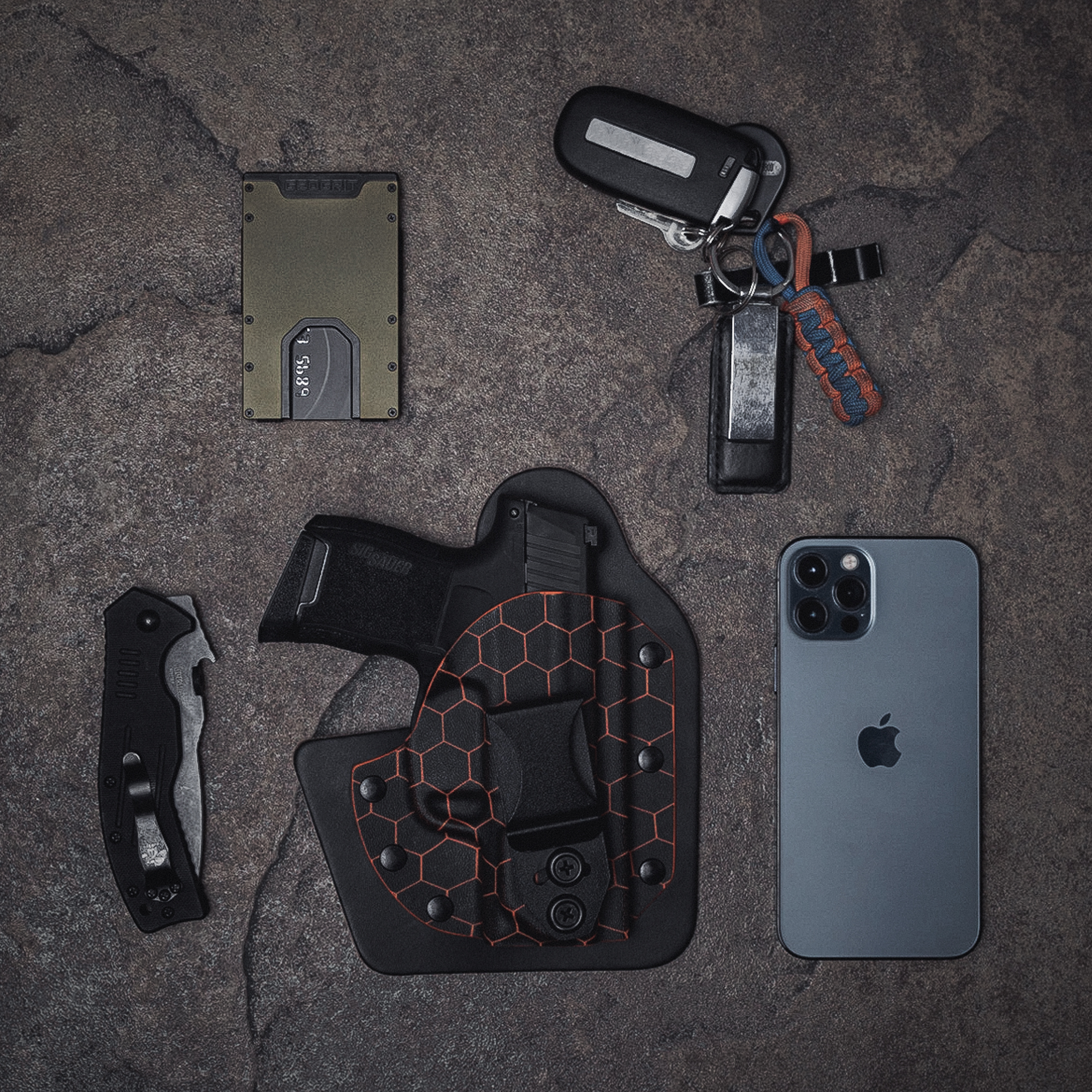 Everyone has different needs and experiences, so every person will have a slightly different EDC setup. The things you need throughout the day or want to have in case of an emergency are entirely up to you and will probably even change over time. But if you're unsure where to start, here are some of the most common items you may want to add to your everyday carry list.
Cell Phone
While it may seem a little pointless to mention smartphones as a piece of EDC equipment, these handy devices actually deserve an honorable mention for being the ultimate "multi-tool."
Not only are they useful for calls, texts, and internet searches (which is already a lot!), but they can also serve as a compass, camera, ruler, GPS, watch, notebook, wallet, recorder, a metal detector (you read that right), translator, and so much more.
This is obviously useful all on its own, and it also effectively eliminates the need for you to carry a physical item for most of these uses, which makes room in your gear bag for more important things, like a portable charger, for your phone.
Wallet
It goes without saying that your wallet is one of the first things you grab when leaving the house. It contains your ID, your debit and credit cards, that gift certificate to The Cheesecake Factory you've been hanging on to, your insurance card, and probably a buck or two.
But not all wallets are created equal, especially when it comes to everyday carry gear.While, yes, you can keep carrying your thick leather billfold, most people find that trading their dad wallet for a more compact, RFID-blocking minimalist wallet, or slim wallet, works best for EDC.
If you're looking for an everyday carry wallet designed to be durable, functional, and made in America, check out the soon-to-be-launched GeoGrit Wallet. We've designed it to be the ultimate minimalist wallet with all the quality and comfort the Vedder brand is known for.
Gun and Holster
Many people in the EDC community include a concealed carry pistol as part of their setup. After all, in the event of a self-defense encounter, it could mean the difference between life and death.
If you're looking for a quality Kydex or hybrid holster for your carry gun, check out our Holsters by Gun Model page for custom, handcrafted holster options with a lifetime guarantee.
Knife or Multi-Tool
Every good EDC kit needs a quality pocket knife or multi-tool, and ideally both.
The reason for carrying such a tool is pretty self-explanatory. These tools come in handy in all sorts of situations and serve multiple purposes, whether it's for self-defense, a survival situation, or even just to open toys at a birthday party.
We've got a lot of great knife recommendations over on our Resources page.
Watch
Even in a day in age where you can use your cell phone to tell time, wearing a quality watch can be beneficial.
Not only are watches a great fashion piece, and they do tell the time, but they can also do so much more. A smartwatch or fitness tracker can help monitor your health, and smartwatches can also take calls, send text messages, and surf the Internet, among other things. Even if you don't want a high-tech piece on your wrist, a good tactical watch can double as a compass and many other things.
A watch isn't an "essential" item per se, but it's definitely one that can be useful and stylish.
Flashlight
This one is pretty self-explanatory; sometimes, you just need a light. Whether your truck breaks down during a late-night road trip, the power goes out at work, or you find yourself out hiking later than expected, that flashlight you packed in your bag will come in handy. And if you want to get extra tactical, you can even find flashlights that double as a pen, knife, compass, or an array of other tools.
Medical Kit
Carrying a med kit with first aid supplies like a tourniquet, gauze, chest seal, and other items to help stop bleeding is a concept that is gaining traction in the EDC community, especially in the concealed carry world.
The idea is that if you're capable of causing a life-threatening injury to someone, then you should carry supplies to help patch it up until first responders arrive. Even if you don't carry a weapon in your day-to-day, including a tactical medical kit in your EDC setup can come in handy in the event of a car accident or other emergency.
You can (and should) even expand your first aid kit to include the basics as well: bandages, alcohol wipes, gloves, scissors, etc. Check out our Resources page for some tactical first aid kit ideas.
Personal Supplies
Your EDC kit doesn't have to be strictly made up of tactical gear and emergency supplies. Remember, everything you carry in your day-to-day counts, which means you're allowed to carry a few personal items as well.
Everything from sunglasses to chapstick, lotion, hand sanitizer, tissues, makeup, feminine hygiene supplies, medication, deodorant, hair ties, and even an extra pair of underwear (hey, you never know) can be part of your personal kit.
Other Gear
What we have here is by no means a comprehensive everyday carry list. Other things you may want to include are things like a compass, glasses cleaner, a lighter or matches, a notebook and pen, food, a water bottle, an emergency blanket, a snake bite kit, earbuds, a camera, hand warmers, a laptop, or anything else you can think of that you might find personally handy.
Tips for EDC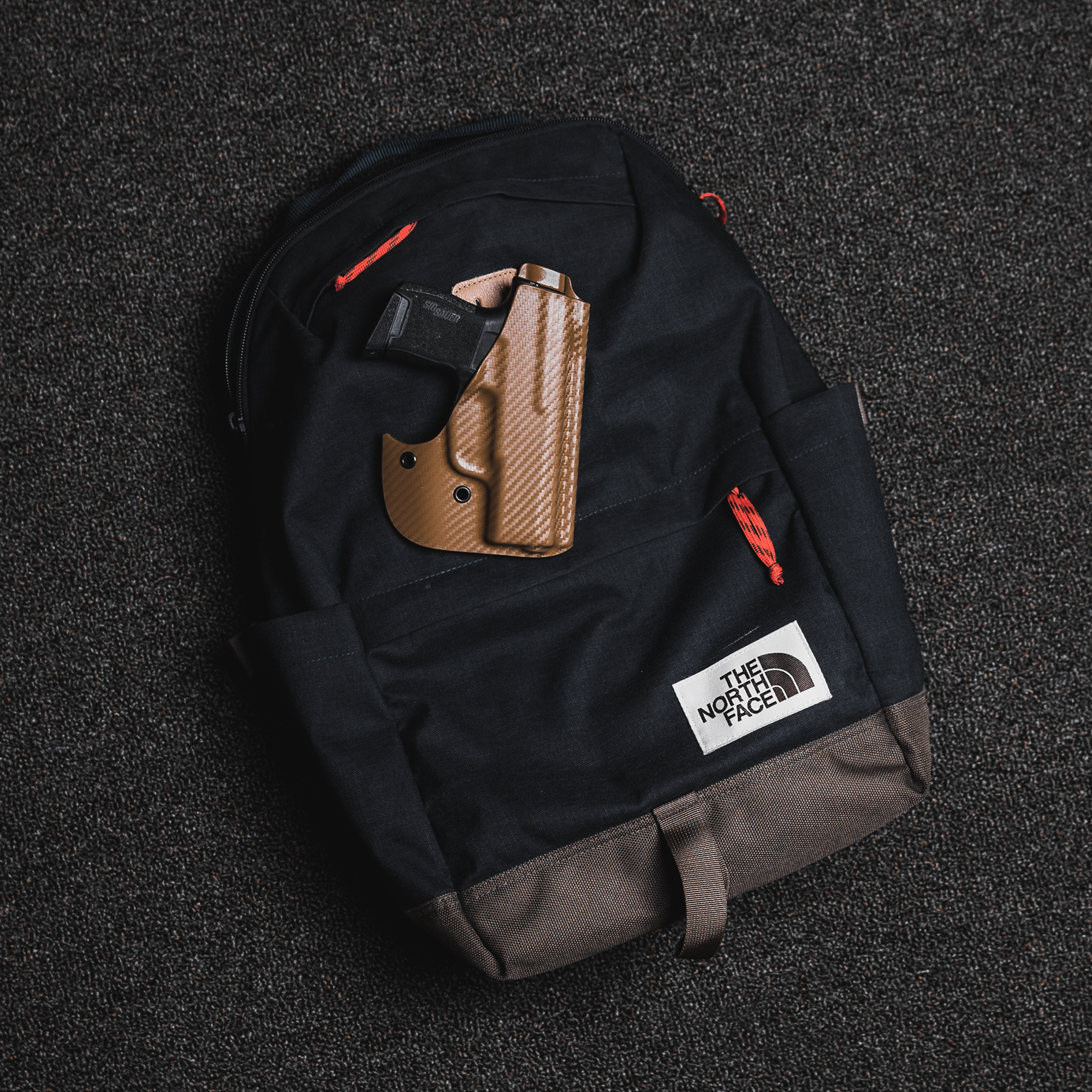 There is no right or wrong way to go about everyday carry. But there are a few tips and tricks that can make for a better, more efficient experience.
Choose Multipurpose Tools
One of the best things you can do when looking for EDC gear is to choose tools with more than one purpose.
Obviously, multi-tools like a Leatherman or Swiss Army Knife, which are made up of all sorts of useful tools, are an excellent example of this. But that's not the only tool that can have multiple uses. Plenty of things you'd want to include in an everyday carry kit can be multi-purpose, like tactical pens, tool cards, and even keychains.
Utilizing multi-tools not only allows keeps things compact and leaves you room for more gear, but they can also save you money as instead of buying five different tools, you can invest in one that does it all.
Use Bag Organizers
Many tactical EDC bags are already well-equipped with straps, pockets, and zippers to help you organize all your gear. But if you need additional help, or you're not using a "tactical" bag in the traditional sense, don't be afraid to invest in a few organizers to keep your things in order.
Pocket organizers for tools work well for this purpose, as do tactical bag organizers. If you're looking for something a bit more low-key, you may find that travel organizers work well and usually look nice, too.
Invest in Quality Equipment
One of the best tips for assembling an EDC kit is to invest in high-quality gear.
Even though it's tempting to opt for a cheaper tool rather than invest in a more expensive piece of equipment, it will actually save you money over the long run to spend a few extra bucks on higher-quality gear. These products are usually made with stronger materials and are designed to last longer.
Many higher-end products, like all Vedder Holsters belts and holsters and even GeoGrit slim wallets, are also backed by a lifetime warranty so that if for some reason it doesn't hold up, you can have it replaced. It's definitely worth investing in better gear knowing that it's the last time you'll ever have to buy that particular piece of equipment.
You also don't want to find yourself in a situation where your EDC gear fails when you need it because it was cheaply made. That kind of defeats the purpose, after all, and is not only inconvenient but could result in a tragic situation, especially when it comes to self-defense and medical gear.
Do Routine Gear Checks
What's the purpose of toting around a bunch of equipment if none of it works when you need it? That's why it's critical to do gear checks every so often to ensure everything is in proper working order.
That means checking to make sure your flashlight doesn't need new batteries, your granola bars haven't expired, your knife is sharp, and your first aid wipes haven't dried up.
Check everything out, replace anything you need to, and take the opportunity to reorganize if necessary. It's better to do some housekeeping every once in a while than to find yourself with faulty gear when you need it most.
How to Carry and Store Your EDC Gear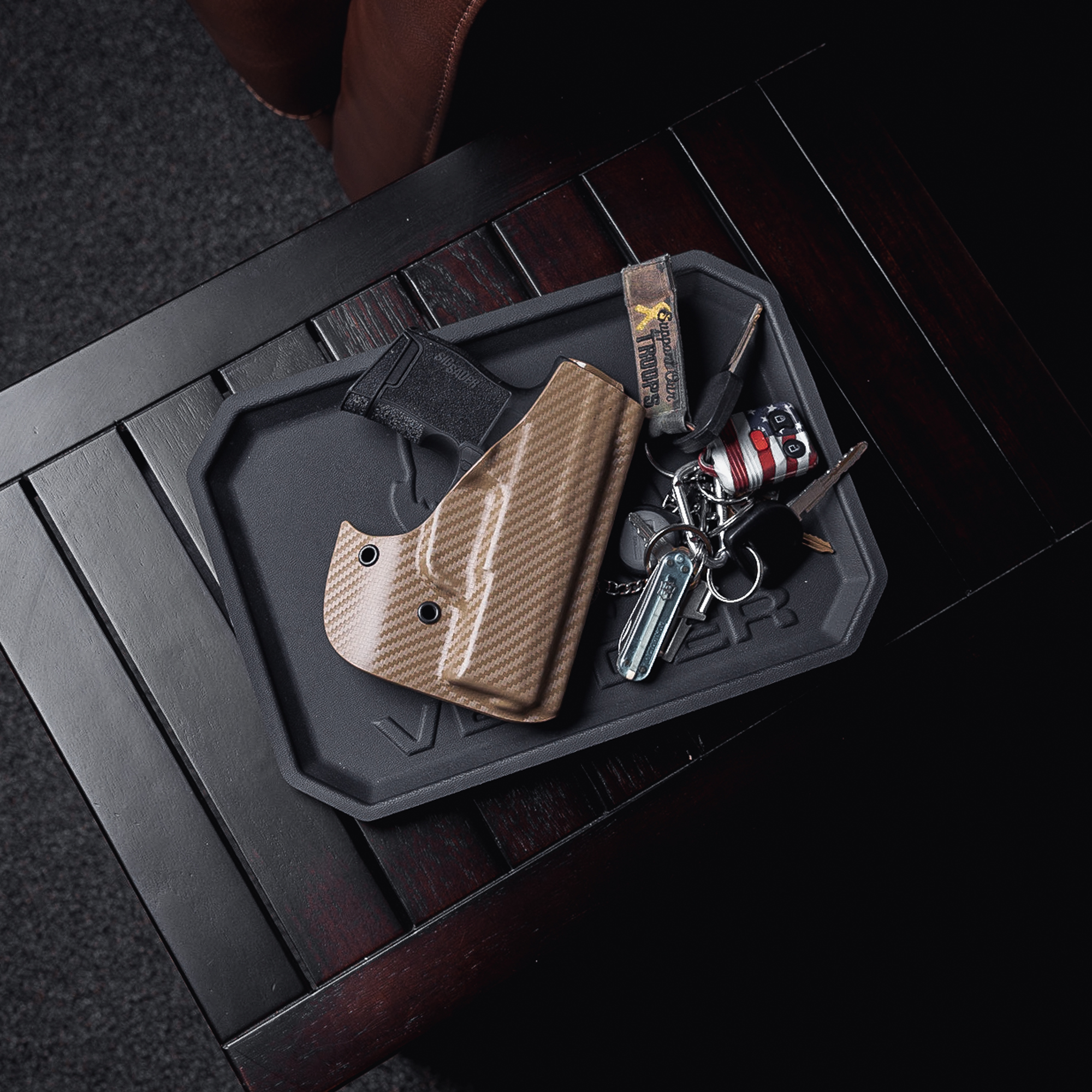 Once you've gathered all the EDC gear you need, you'll need a practical way to store and transport it throughout the day.
Some people choose to carry their stuff in a gear bag. Depending on your needs, these bags can range from a small tote to a full-on tactical backpack. There is a wide variety of bags to choose from through retailers like Amazon.
If you don't want to carry a bag, or if you only carry a few items with you, a good tactical belt is a great option. Rather than keeping track of a backpack all day, you can easily strap your holster, gun, spare magazines, knife, and anything else that has a clip onto your belt and go about your day.
At Vedder Holsters, we offer several different gun belts, including tactical and leather styles, which are specifically designed to support the weight of your EDC gear. You can read more about the different kinds of tactical belts and how to use them here.
But what do you do with all your gear once you get home?
The easiest way to store your gear so that it's easy to grab and go in the morning without losing it is to use an EDC tray.
An EDC tray, also known as a "dump tray," is exactly what it sounds like: it's a tray designed to hold your everyday carry gear when you're not using it. While they can be made from any material, Kydex is often the preferred choice as it's durable and easy to clean.
Read more about all the many uses and benefits of an EDC tray here.
If you're looking for a quality, multipurpose everyday carry tray, check out the Vedder Holsters tactical EDC tray. Our tray is handcrafted, customizable, and perfect for storing all your everyday carry essentials.
Summary
EDC refers to all of the items you carry with you on a daily basis. That can include things like your phone, wallet, keys, carry gun, holster, pocket knife, sunglasses, chapstick, medical kit, and anything else you can't leave the house without.
An organization plan is one of the most essential aspects of a good everyday carry setup. Whether you choose to use a gear bag, a tactical belt, or your pockets, you'll want to use a quality EDC tray to keep it all in one place when you get home.
If you're looking for belts or holsters, we recommend visiting our Holsters by Gun Model page if you are looking for holsters that are custom-made for your weapon of choice. For all of our belt and holster options and for more information to help you choose the carry system that works best for you, visit our Vedder Holsters website.
Looking for items beyond holsters and belts, check out our Resources Page for popular product links like lights, lasers, first aid, maintenance, and more.
*This page contains affiliate links. When you purchase a product included on this list, we receive a commission at no extra cost to you.