Hellcat Pro OSP vs. Glock 19
Springfield Armory and Glock are some of the top leaders in the concealed carry world. And for good reason.
Two of the top concealed carry guns from these brands, the Glock 19 and the Hellcat, have long been praised for their concealability and reliable features. Now that Springfield Armory has released the new Hellcat Pro OSP, we've put together a side-by-side comparison of the Hellcat Pro OSP vs. Glock 19 to help you determine which is best for you.
Read on for a breakdown of each model's features to see how they compare.
Glock 19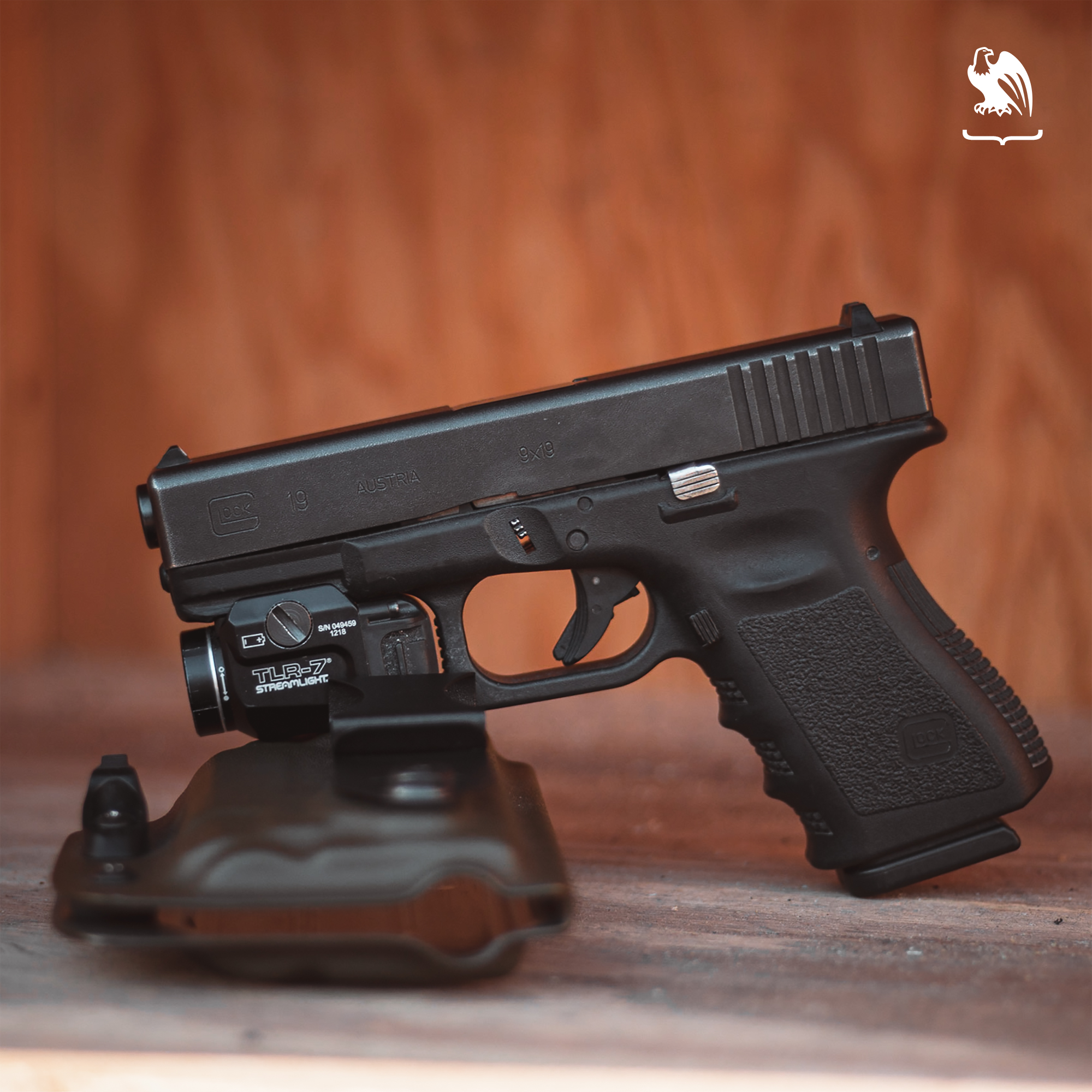 The Glock 19 is one of the most popular guns on the market today, and rightfully so. Its versatility and smaller size have made it a common choice as a backup or concealed carry weapon.
A scaled-down version of the Glock 17, the Glock 19 is a striker-fired pistol with a locked-breech and short-recoil. The handgun features a modular back strap to make it a comfortable choice for a variety of hand sizes.
Sporting a 4.02" barrel, the Glock 19 measures 1.26" tall and weighs 23.63 oz. It has a matte polymer finished frame and a Rough Textured Frame grip.
You can visit the model page for the Glock 19 here.
Hellcat Pro OSP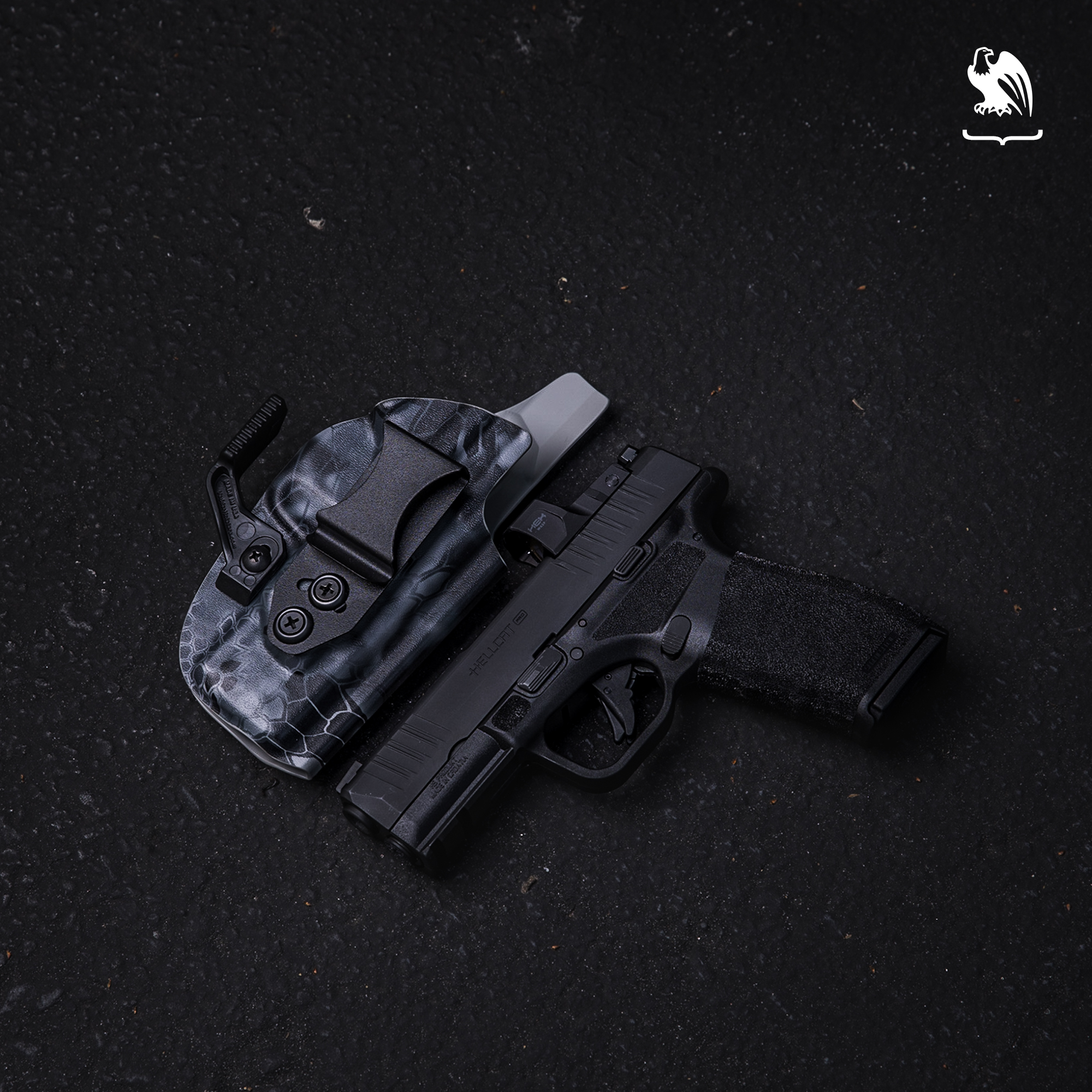 On March 4, 2022, Springfield Armory released the new Hellcat Pro OSP. The pistol has many similarities to the popular Hellcat micro 9mm, with a few exciting upgrades.
The optics-ready Pro model comes with a longer grip and a longer hammer-forged barrel than the micro and comes standard with a flush 15-round magazine, a larger capacity out of the box than any other gun in its size and class.
Weighing only 21 oz., the striker-fired Hellcat Pro has a barrel length of 3.7" and a height of 4.8". It has a black polymer frame with an adaptive grip texture and a dual captive recoil spring with a full-length guide rod.
You can visit Springfield Armory's model page for the Hellcat Pro OSP here.
Specifications: Hellcat Pro OSP vs. Glock 19
| | | |
| --- | --- | --- |
| Specs | Hellcat Pro OSP | Glock 19 |
| Caliber | 9mm | 9mm |
| Height | 4.8" | 5.04" |
| Width | 1" | 1.26" |
| Length | 6.6" | 7.36" |
| Barrel Length | 3.7" | 4.02" |
| Weight | 21 oz. | 23.63 oz. |
| Capacity | 15+1 | 15 +1 (optional: 17 / 19 / 24 / 31 / 33) |
Capacity
Both gun models have an impressive capacity for such small pistols. Coming standard with a flush 15+1 magazine capacity, the Hellcat Pro OSP has the highest capacity of any other gun of its size.
The Glock 19 also comes standard with a 15-round magazine and, with extended magazines, can be upgraded to an impressive 17, 19, 24, 31, or 33 capacity, though it will add considerable weight to the gun.
When looking at the Hellcat Pro OSP vs. Glock 19, determining which pistol comes out on top in terms of capacity depends on the shooter's needs. If you're looking for something that can be upgraded to hold more rounds, the Glock is the way to go. If you're going to stick with the standard magazine, the Hellcat has an advantage as it weighs 2.63 oz. less than the Glock 19.
Ergonomics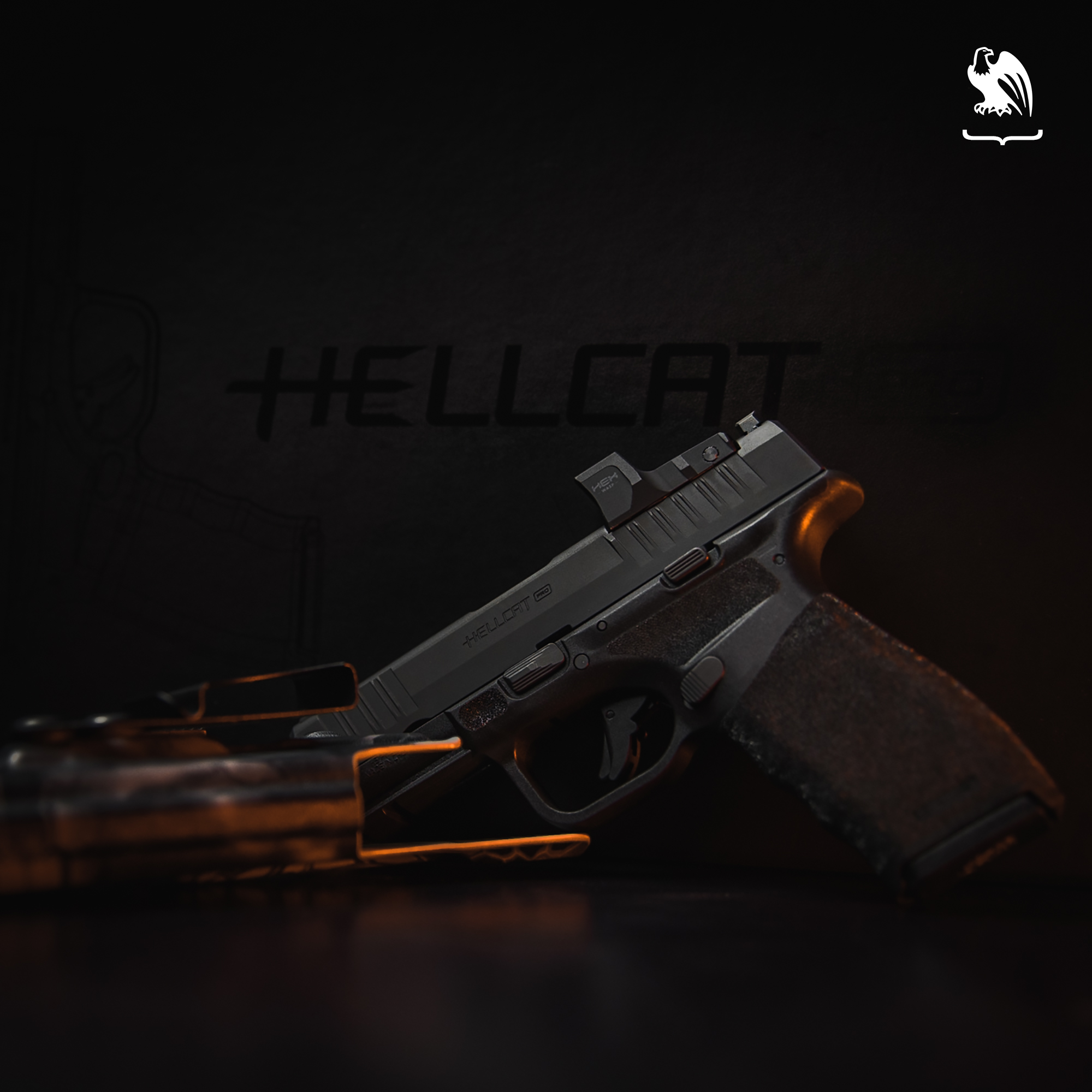 Frame: Both the Glock 19 and the Hellcat Pro OSP have polymer frames with grip texture. In terms of size, the Hellcat measures slightly smaller at 1" wide while the Glock measures in at 1.26".
The Glock 19 is built with a matte polymer finished frame. Gen 4 of the Glock 19, which was introduced in 2010, is designed with a Rough Textured Frame to allow you to securely grip the gun even in slippery conditions.
The Hellcat Pro has a black polymer frame and a custom pressure-activated grip texture with a staggered pyramid pattern designed to increase the user's contact and control, make the pistol more comfortable in your waistband, and reduce clothing wear.
Slide: The Hellcat Pro has front and top serrations in addition to its rear slide serrations, which allows for reliable manipulation and positive purchase.
The Glock 19 also comes with slide serrations, and Gen 5 even comes with additional serrations on the front of the slide. The Gen 5 also features a slightly flared magwell, making for easier reloading.
Both firearms have protective finishes on their slide and barrel. The Hellcat Pro OSP is finished with Melonite for added durability, while the Glock 19's slide is finished with polymer.
Barrel: The Glock 19 has a right-hand hexagonal barrel twist and is designed to sit higher in the palm of your hand to help reduce muzzle flip for faster follow-up shots. The Hellcat Pro's barrel is slightly weighted also to reduce muzzle flip and increase follow-up speed.
Sights
The Hellcat Pro features a high-visibility tritium and luminescent front sight and a Tactical Rack U-Dot™ rear sight. The U-Dot's tritium dots have luminescent green rings around them, allowing the shooter to aim in low-light conditions.
The Glock 19 comes with u-shaped white outlined rear sights, which many users like to replace with the many available sight upgrades available, including glow in the dark and night sights.
When looking at the Hellcat Pro OSP vs. Glock 19 regarding sights, even though the Glock 19 can easily be upgraded with the sights of your choice, the Hellcat Pro is slightly more convenient as it already comes with quality night sights saving you an extra step.
Optics
The Hellcat Pro OSP comes optics ready, and some, though not all, Glock 19s come optics ready as well. The Pro comes with a slide milled into the Springfield Micro™ footprint, so it's compatible with some of the market's smallest micro red dot sights.
While not all Glocks come optics ready, some come with a Modular Optic System Configuration (MOS), making it easier to mount many popular optics options to your weapon.
Controls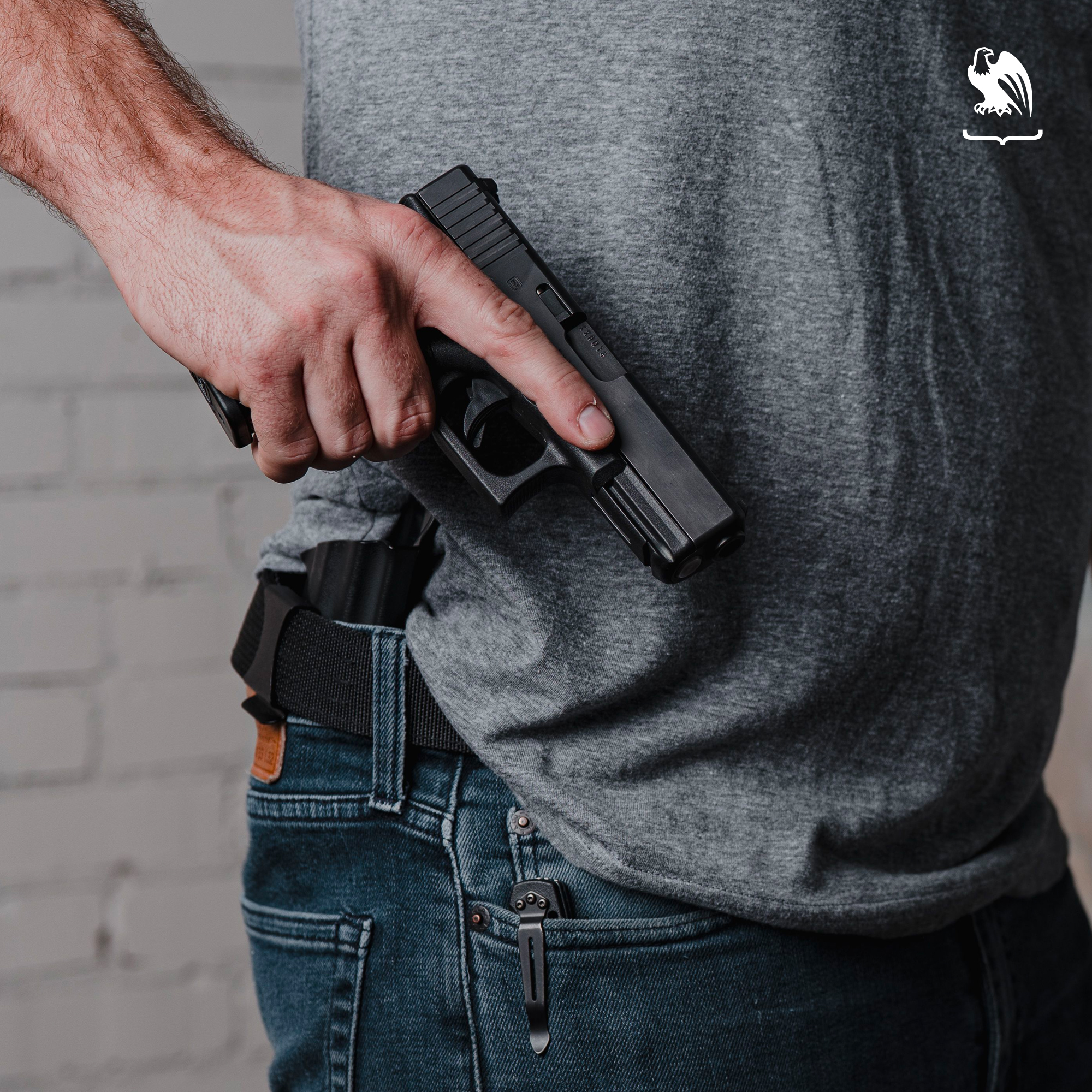 When it comes to safety controls, the Hellcat Pro OSP and the Glock 19 have a thing or two in common.
Safety: Neither the Hellcat Pro nor the Glock 19 have a manual safety, though they both have a trigger safety. The Glock 19 is built with Glock's famous Safe Action trigger and two other mechanical safeties. The Hellcat also has a striker pin safety and comes with a loaded chamber indicator so you always know the status of your gun.
Trigger: The Glock 19's trigger has a 2.8 distance and a 5.5-pound trigger pull. The Hellcat Pro comes standard with Springfield Armory's new Gen 3 trigger, which is designed to be relatively flat for the comfort aspect with a firm trigger pull.
Which Gun Is Right For Me?
As one of the top concealed carry guns on the market, the Glock 19 is a classic and understandably famous gun for concealed carry. On the other hand, the Hellcat Pro OSP is a new twist on the original Hellcat that is respected by so many in the gun community. Now that you know more details about how the Hellcat Pro OSP vs. Glock 19 compare, you can decide which is the best fit for you.
Regardless of which pistol you choose, be sure to check out our Kydex IWB and OWB concealed carry holsters for each model. Our most popular holster, the Vedder Holsters LightTuck™, is designed to be the ultimate EDC holster. The most comfortable concealed carry holster on the market, the LightTuck™ has adjustable ride height, retention, and cant (and those are just the highlights). Check out our entire line of Glock 19 holsters and Hellcat Pro OSP holsters on our website.
If you are looking for belts or holsters, check out some of our Vedder Holsters products here. Like everything we sell, our holsters and gun belts are covered by a Lifetime Warranty and a 30-day money-back guarantee.
Looking for items beyond holsters and belts? Check out our Resources Page for popular product links like lights, laser, first aid, maintenance, and more.