---
---
---
---
---
---
With so many different types of concealed carry holsters on the market, it can be hard to determine which will be the best fit for your carry setup.
If you've decided to invest in a hybrid IWB holster, you can't go wrong with either the Vedder Holsters ComfortTuck™, ProTuck or RapidTuck™. All three are incredibly comfortable, highly concealable, and can be customized for your gun and carry preferences. Because of how similar the ProTuck and ComfortTuck are, however, we will be focusing on comparing these two holsters for this article.
While both inside the waistband holsters are designed specifically with comfort in mind, they are incredibly different in terms of function, adjustability, and style.
We've broken down all the features of both of these incredibly versatile hybrid holsters and have compared them side by side to help you determine which is the best fit for you.
So keep scrolling to read all about the ComfortTuck™ vs our brand-new ProTuck holster.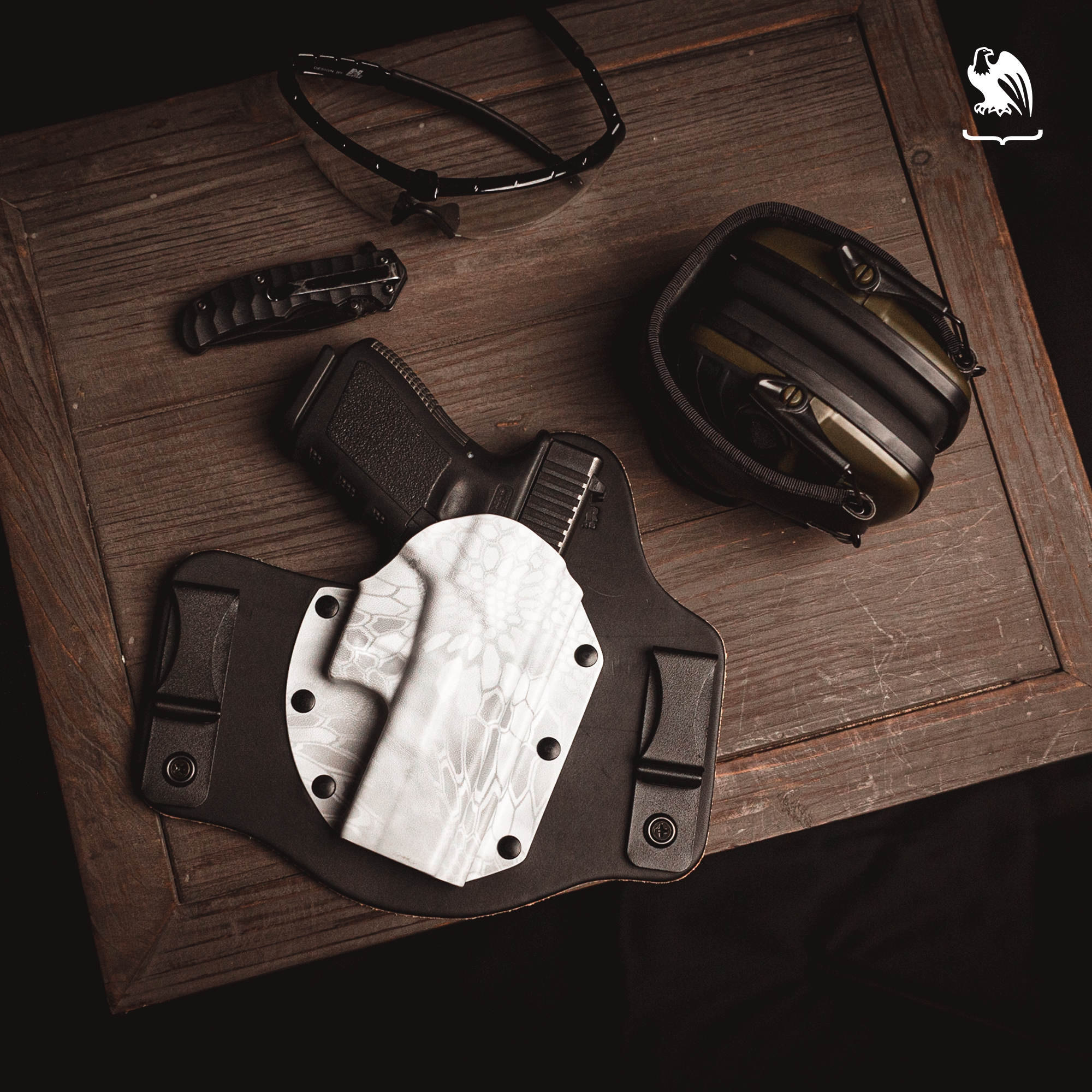 Function
When it comes to function, the ProTuck and ComfortTuck™ are pretty similar. Both hybrid holsters are designed to be worn inside the waistband in the 3-5 o'clock position, which is the most popular style of carry since it's both comfortable and easy to access.
Both holsters are highly customizable and feature many similarities, including their material, clips, and comfortable nature. They are both designed withtwo points of contact to your body and are made to naturally contour to your waistline for even weight distribution and concealability.
Though both holsters serve a similar purpose, they are very different in terms of style and adjustability. We'll get into that next!
Material
Both the ProTuck and ComfortTuck™ are hybrid IWB holsters, meaning they are made from a combination of Kydex and leather.
Both holsters are crafted with a genuine .080" Kydex® shell. This premium thermoplastic is heat-molded to your gun model for a precise fit. The main benefit of Kydex is that it is thin, durable, and secure, and fits comfortably between your body and waistband with minimal printing.
When you order either of these holsters, you have the option to choose from dozens of different Kydex colors. You can choose one color for the ComfortTuck™ and up to two colors for the ProTuck – one for the front and one for the back.
These hybrid holsters are also made with premium leather to add comfort and movement to them. They both come standard with 10-12 ounce black leather and can be upgraded to natural tan horsehide leather.
While these holsters are designed with the same materials, the way they are utilized is entirely different.
The ComfortTuck™ is designed with a Kydex shell that is completely backed by a wide piece of leather, so no part of the plastic touches your body, making it incredibly comfortable to wear for long periods.
The ProTuck, on the other hand, is designed with a shell made entirely with Kydex and two leather "wings" that back its belt clips. The result is a more traditional Kydex holster that's shaped to naturally contour to your body with added leather wings that make it even more comfortable.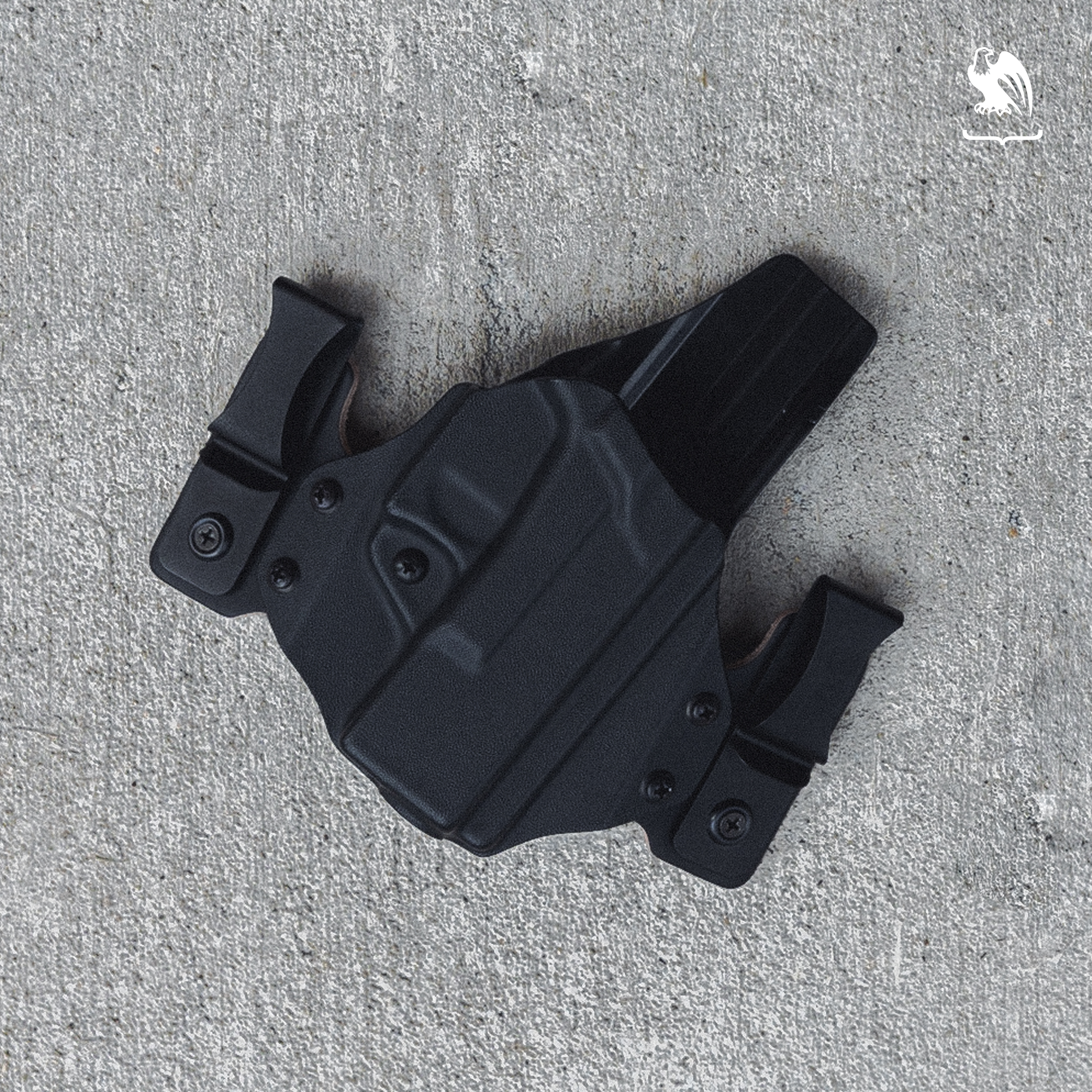 Clips
The ProTuck and ComfortTuck™ holsters feature the exact same clips. Both holsters come standard with two of our patented Rock Solid Spring Steel Belt Clips, allowing for two points of contact and some adjustment.
These tuckable clips are rust and scratch-resistant and are designed to be low-profile. They are also backed with spacers to prevent them from squeaking against the leather. After all, that kind of defeats the purpose of "concealment," doesn't it?
Both Kydex holsters are also compatible with our J-Clips and V-Clips, making them some of our customizable holsters in terms of clips.
The J-Clip is a polymer clip designed to be extra low-profile. It works by wrapping over your waistband and behind your gun belt, where it then clips under the bottom of your belt, making it less visible and allowing for deeper concealment.
The V-Clip offers the deepest concealment of any of our clips. It is designed to go over your waistband and behind your belt, where it attaches to the backside. They are hands down our most inconspicuous clips.
If you're having trouble deciding, you can place your order with all three styles of belt clips so you can easily switch between them or mix and match until you find what works for you.
Adjustability
In terms of adjustability, the ProTuck and ComfortTuck™ are fairly similar, though the ProTuck advanced IWB holster does have a few more adjustment options.
Being hybrid holsters, neither is designed with adjustable cant, though both are molded with a 10-degree cant – or an FBI cant. Because both holsters are meant to be worn in the 3-5 o'clock position, this is the ideal cant for easily drawing from any position on or behind your hip.
The ProTuck is also designed with fully adjustable retention, so you can decide whether you want your retention tight, loose, or somewhere in between. It also features three levels of adjustable ride height, so you can choose how deep you want to conceal your weapon.
Other Features
Both the ProTuck and ComfortTuck™ come with several additional features, including a variety of customization options.
Both holsters are crafted with custom sight channelsto accommodate most standard and aftermarket sights, suppressor sights, and loaded chamber indicators. Even if your gun has aftermarket sights or modifications that are not listed on our website, you can contact us or leave a comment in the order specifying your alterations, and we'll see what we can do!
All of our gun holsters are designed for right- or left-hand draw, come with corrosion-resistant hardware, and can be cut specifically for red dot optics.
Both of these holsters also come with a full sweat shield to reduce the amount of contact your pistol has with your body, keeping your slide clean and dry.
One additional feature of the ComfortTuck™ is that you can customize the cut of the leather backing. This custom hybrid holster is available in either a standard cut or combat cut – which removes the leather behind the grip of the gun for a faster, smoother draw – at no additional cost.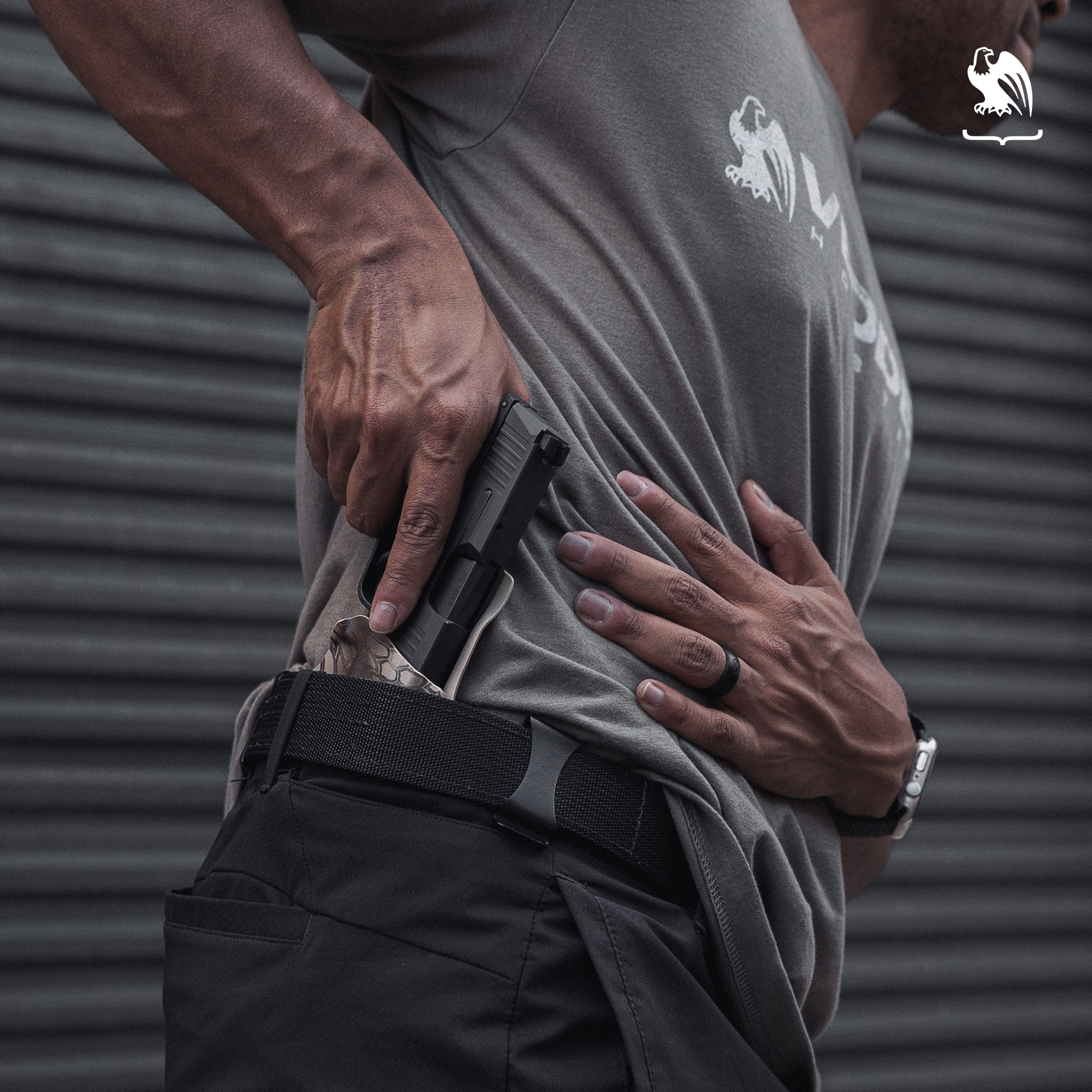 Cost and Warranty
One of our priorities at Vedder Holsters is to offer our customers the best value for all their carry needs. We know that you spend your hard-earned money on a concealed carry firearm and, naturally, you want a quality holster to carry it in.
We don't think a great product should have to cost a fortune. We also know that you typically get what you pay for. That's why we work hard to handcraft the highest quality holsters and sell them for a reasonable price – and we do it all right here in the USA.
Our ComfortTuck™ hybrid IWB holster is priced at $69.99 while our advanced ProTuck hybrid Kydex holster is priced at $89.99. Both holsters, like all Vedder Holsters products, are backed by a 30-day risk-free trial and a lifetime guarantee.
Summary
If you're looking for a high-end hybrid IWB holster, both the Vedder Holsters ComfortTuck™ and ProTuck make an excellent choice. Both holsters are specifically designed with comfort in mind, and can easily be customized for your unique carry gun. The best holster for you all comes down to your preference and desired features.
To learn more about these inside the waistband holsters and customize them for your gun model, visit our ComfortTuck™ holster and ProTuck holster product pages now.
If you're looking for belts or holsters for other handgun models, we recommend visiting our Holsters by Gun Model page for holsters that are custom-made for your weapon of choice. For all of our belt and holster options and for more information to help you choose the carry system that works best for you, visit our Vedder Holsters website.
Looking for items beyond holsters and belts? Check out our Resources Page for popular product links like lights, lasers, first aid, maintenance, and more.
To stay up-to-date on all of the latest Vedder Holsters content and offerings, follow us on Facebook, Instagram, and Twitter. And be sure to check out our sister company, GeoGrit, for all of your American-made minimalist wallet needs.
30-day Money-Back Guarantee
It's confidence in knowing that you will be 100% satisfied with your holster purchase.
We are so confident that you will love your new holster that you can wear it for 30 days from the day you receive it and if for whatever reason it is not for you, contact us and return within 30 days of receipt and receive a full refund of the holster price (excluding shipping).
Handcrafted in the U.S.A.
At Vedder Holsters, we individually handcraft our products with pride in the U.S.A.
Located in the heart of Central Florida, our Vedder Holsters team crafts your unique holster by hand to ensure a precise fit for your gun model every time. Because our holsters are tailored to your preferences, each one is made to order.
Lifetime Warranty
It's confidence in knowing that you will be 100% satisfied with your holster purchase.
We are so confident that you will love your new holster that you can wear it for 30 days from the day you receive it and if for whatever reason it is not for you, contact us and return within 30 days of receipt and receive a full refund of the holster price (excluding shipping).
*International Purchasers* Please note that international shipping is not included with any warranty or exchanges. Buyer must pay international shipping for all packages being sent to a location outside the USA. This does not include APO addresses as they are treated as being inside the USA.