---
---
---
---
---
---
Shopping for a new concealed carry holster is a lot of fun, but it can also be overwhelming. With so many choices on the market, how do you know which one will be best for you?
If you're looking for the best way to carry your gun and a spare magazine, you may be wondering whether you should invest in an IWB holster with mag holder like the Vedder Holsters SideTuck, or if you're better off pairing a versatile holster like the Vedder LightTuck™ with a MagTuck™.
Luckily, you can't go wrong with either option. Both Kydex IWB holsters allow you to easily conceal a gun and spare magazine and feature similar customization and adjustability options. There are some key differences between the two, however, and the best one for you will simply come down to personal preference.
So keep scrolling to read all about the LightTuck™ vs our brand-new SideTuck holster.
Function
While the LightTuck™ and SideTuck share many of the same features, they were designed to serve very different functions.
The LightTuck™, our number one selling holster, is our most versatile design and can be worn comfortably in any concealed carry position, including the standard 3-5 o'clock, appendix, and cross-draw.
It's also our smallest and most compact holster, only weighing a couple of ounces. It has many adjustable features, making it a popular choice for any CCW setup or body type.
The SideTuck, on the other hand, is an appendix inside the waistband holster designed to be worn on the front of your hip in the 1-2 o'clock position. It offers the same light weight and concealability as the LightTuck™, with the addition of an attached mag carrier.
Having the magazine attached to the holster as opposed to carrying it separately tends to be more comfortable and easier to conceal as the two points of contact evenly distribute the weight of these items and help relieve pressure on your waistline. Not only that, but having them combined makes for a flatter, smoother surface, which is easier to conceal without printing than a standalone holster and mag carrier.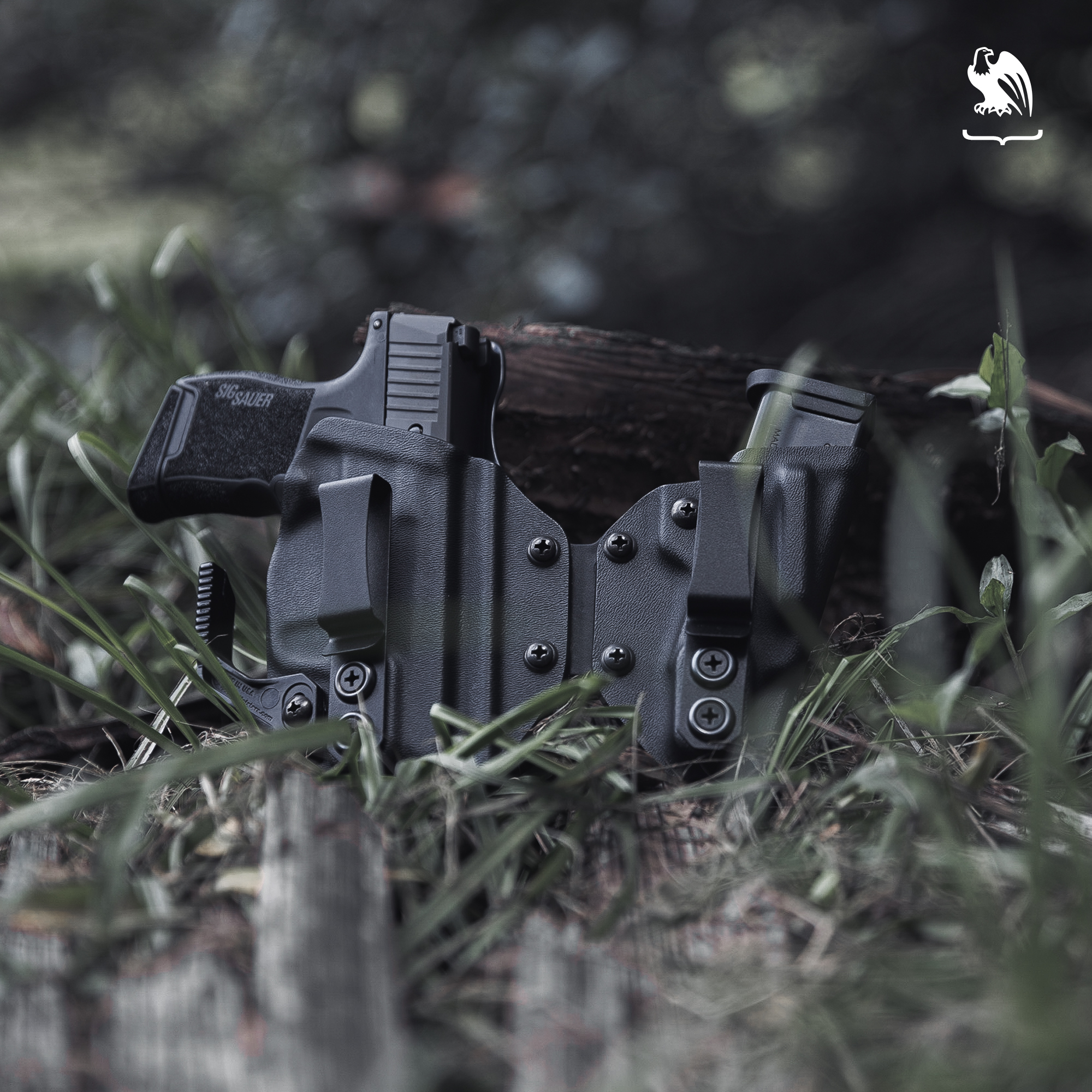 Material
The SideTuck and the LightTuck™ are both made from a premium .080" Kydex® shell – a thermoplastic that is heat molded around a particular gun model for a precise fit. The slim plastic is not only durable and water-resistant, but it is also thin enough to hide under fabric with virtually no printing.
Both holsters are available in dozens of different Kydex colors, so you can personalize your holster however you like it.
The only difference in material between the two IWB holsters is in the adapter piece that connects the gun and mag holsters on the SideTuck. This flexible piece is made from Sarlink TPV, a durable polymer that's UV, chemical, scratch, and crack resistant, even in extreme temperatures.
Clips
The LightTuck™ and SideTuck are made with nearly an identical clip.
Both Kydex holsters feature our patented Rock Solid Spring Steel Belt Clip, a tuckable, slim, and fully adjustable clip made from a durable, sleek spring steel that's easier to conceal than your average bulky, plastic clip.
The only differences between the two is that the SideTuck has two clips while the LightTuck™ only has one, and the SideTuck's clips are slightly narrower, making them lower-profile and less visible on the waistline.
With either holster, you get to choose between two sizes of belt clips – 1.5" and 1.75" – to accommodate a wide range of belts.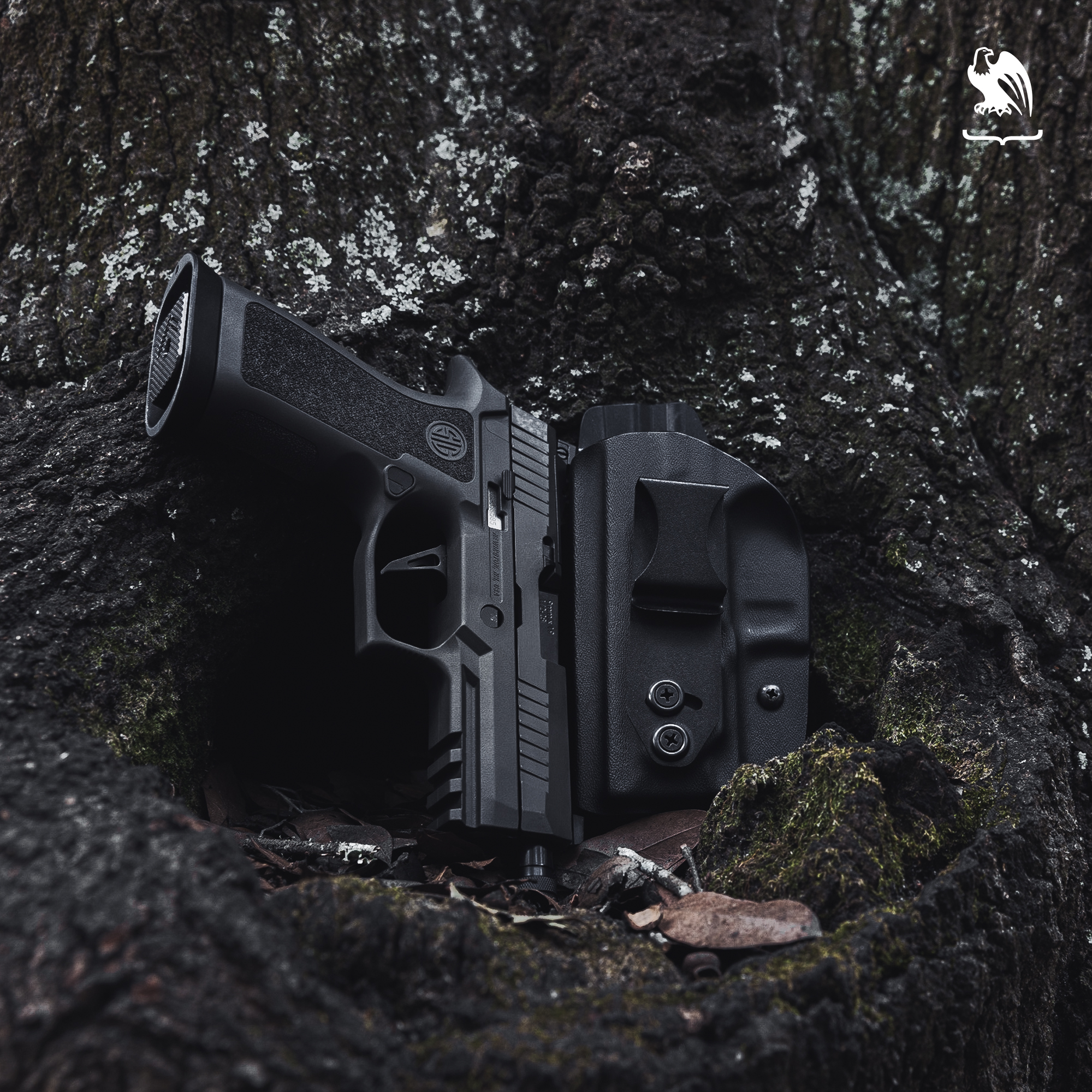 Adjustability
Not only is the LightTuck™ holster one of our most versatile, but it's also the most adjustable. This popular holster features three levels of adjustable ride height, adjustable retention, and 30 degrees of adjustable cant in both directions so you can find the perfect carry position.
The SideTuck is also a highly adjustable holster, featuring fully adjustable retention as well as 10 degrees of forward and backward cant on both the holster and mag carrier.
To make adjustments to either of these holsters, all you need to do is loosen the cant or ride height screw, adjust the holster as desired, and then re-tighten the screw. To adjust the retention, simply adjust the screw until it is as tight or loose as you want.
If you're feeling stuck, check out our video on how to adjust your holster's ride height on our YouTube channel, which features tons of "how to" and informational videos for all your carry needs.
Claw
Both the LightTuck™ and the SideTuck feature our Holster Claw, a concealment wing that presses against the backside of your waistband to draw the grip of your gun closer to your body, reducing printing.
The SideTuck comes standard with the claw, while it is an optional feature of the LightTuck™.
In addition to the Holster Claw, the mag carrier portion of the SideTuck is designed with a built-in claw molded into the Kydex to help draw the entire appendix carry holster with magazine closer to your body for even better concealment.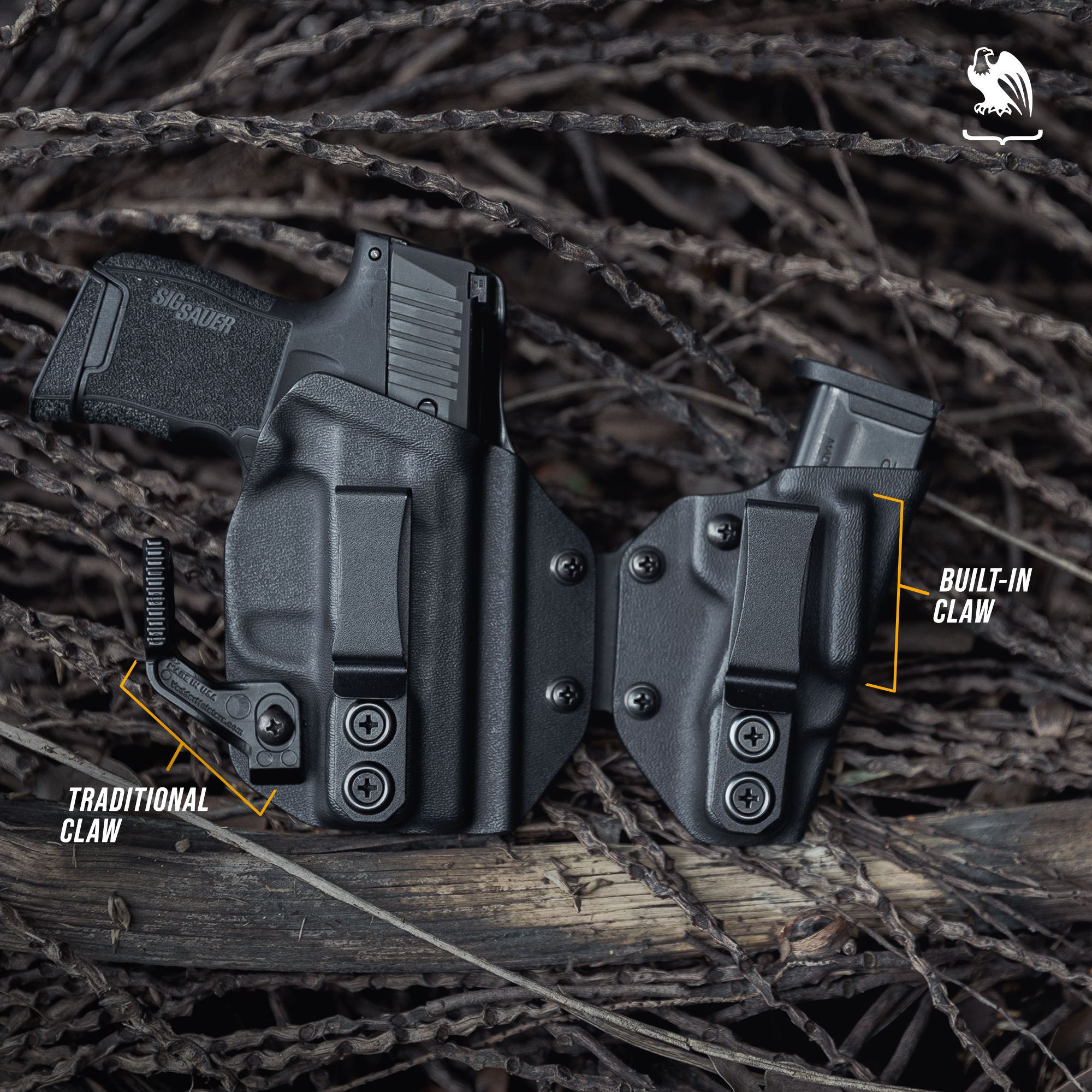 Other Features
In addition to the above features, both the SideTuck and LightTuck™ are extremely customizable and can be tailored to your exact gun model – even if you have aftermarket modifications.
Both holsters are designed to accommodate most standard and aftermarket sights, suppressor sights, and loaded chamber indicators, thanks to custom sight channels cut to allow clearance for these items. Even if you have a modified setup or aftermarket sights not listed on our website, contact us or leave a comment in your order specifying your alterations, and we will do our best to accommodate you!
The LightTuck™ and SideTuck can also be cut for red dot optics and are built with a full sweat shield to minimize the contact your gun has with your body, keeping your slide clean and sweat-free.
Both holsters are also built with corrosion-resistant hardware and are available for both right- or left-hand draw.
Cost and Warranty
At Vedder Holsters, we know how important a quality concealed carry system is. We also believe it shouldn't cost a fortune to invest in equipment like holsters and gun belts for your EDC setup.
That's why it's our mission to offer our customers high-quality products at a fair price. We work hard to keep our holsters as affordable as possible without cutting corners or compromising on quality, and we do it all on U.S. soil.
Our LightTuck™ Kydex IWB holster is priced at $69.99, while our advanced SideTuck appendix carry holster is priced at $134.99. Like all Vedder Holsters products, both holsters are backed by a 30-day risk-free trial and a lifetime guarantee.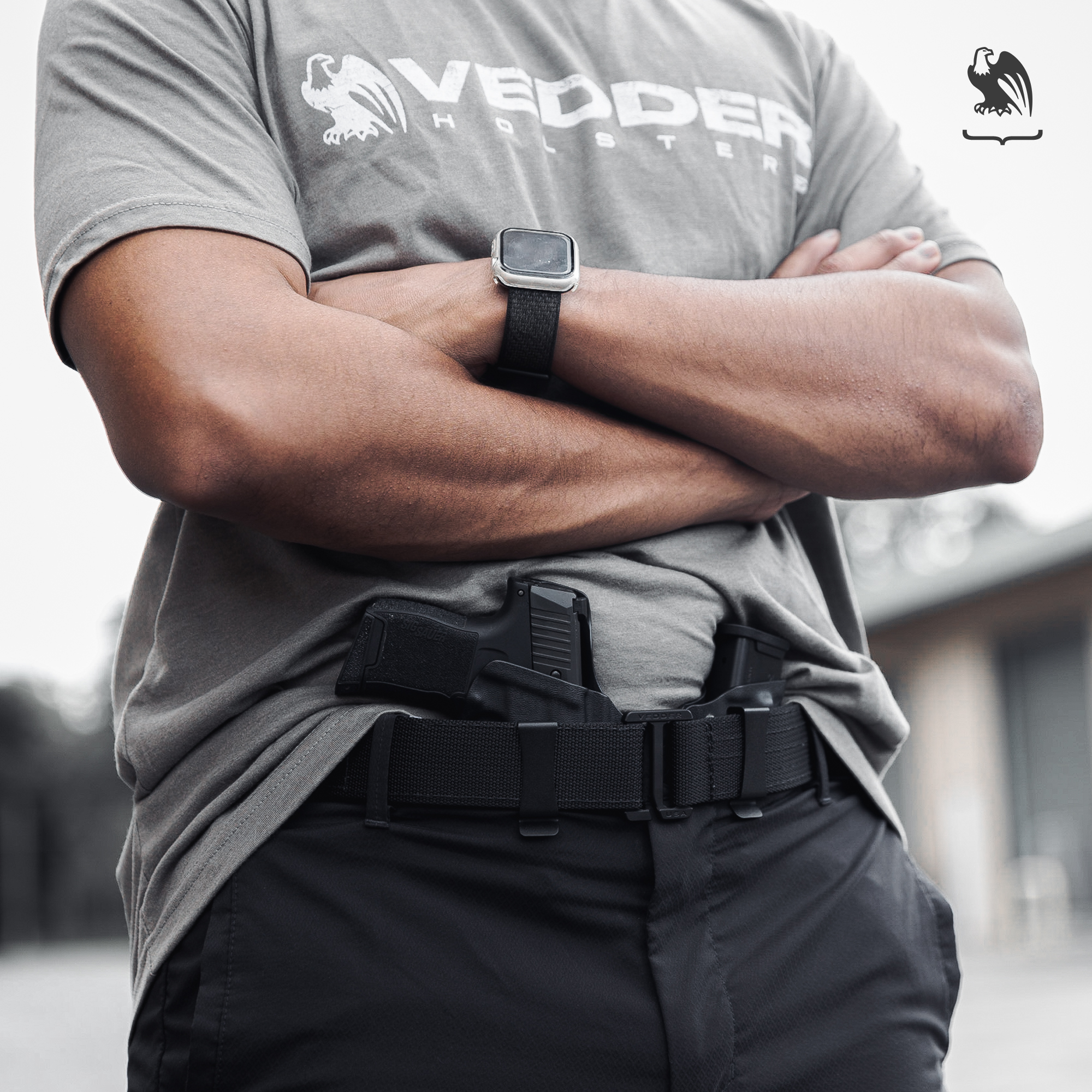 Summary
When it comes to finding the right setup for carrying your gun and spare magazine, you can't go wrong with either the Vedder Holsters SideTuck or LightTuck™ plus MagTuck™.
Both Kydex IWB holster systems are designed to be comfortable, concealable, and easy to customize. The best one for your needs entirely depends on personal preference and the features you want.
To learn more about these inside the waistband holsters and customize them for your gun model, visit our MagTuck™, LightTuck™ holster, and SideTuck holster product pages now.
If you'd like to give our new SideTuck holster a try, but don't see your gun model listed yet, be sure to check back soon as we're adding new gun models all the time! Even better, submit a gun model request form on our website so we know you're interested, and we'll work on getting a holster for your model.
If you're looking for belts or holsters for other handgun models, we recommend visiting our Holsters by Gun Model page for holsters that are custom-made for your weapon of choice. For all of our belt and holster options and for more information to help you choose the carry system that works best for you, visit our Vedder Holsters website.
Looking for items beyond holsters and belts? Check out our Resources Page for popular product links like lights, lasers, first aid, maintenance, and more.
To stay up-to-date on all of the latest Vedder Holsters content and offerings, follow us on Facebook, Instagram, and Twitter. And be sure to check out our sister company, GeoGrit, for all of your American-made minimalist wallet needs.
30-day Money-Back Guarantee
It's confidence in knowing that you will be 100% satisfied with your holster purchase.
We are so confident that you will love your new holster that you can wear it for 30 days from the day you receive it and if for whatever reason it is not for you, contact us and return within 30 days of receipt and receive a full refund of the holster price (excluding shipping).
Handcrafted in the U.S.A.
At Vedder Holsters, we individually handcraft our products with pride in the U.S.A.
Located in the heart of Central Florida, our Vedder Holsters team crafts your unique holster by hand to ensure a precise fit for your gun model every time. Because our holsters are tailored to your preferences, each one is made to order.
Lifetime Warranty
It's confidence in knowing that you will be 100% satisfied with your holster purchase.
We are so confident that you will love your new holster that you can wear it for 30 days from the day you receive it and if for whatever reason it is not for you, contact us and return within 30 days of receipt and receive a full refund of the holster price (excluding shipping).
*International Purchasers* Please note that international shipping is not included with any warranty or exchanges. Buyer must pay international shipping for all packages being sent to a location outside the USA. This does not include APO addresses as they are treated as being inside the USA.