Did you know there are belts designed for wearing with your everyday carry setup? A quality everyday carry – or EDC – belt is made with additional layers of material or sometimes a polymer core that adds the strength necessary to help hold up your gun and holster when you are carrying. They are probably one of the most important pieces of a concealed carry setup, and one many people don't think about.
Your typical EDC belt just isn't designed to accommodate the weight of your sidearm and other accessories, like a mag carrier. When your belt can't support the weight, your gun will eventually sag or move into a less than ideal position. This can reduce your comfort while carrying, not to mention you are more likely to print with a saggy belt.
Gun belts come in a variety of materials and designs, from leather to nylon belts. So no matter what style belt your wardrobe requires, there is a CCW belt to match. Now that you know what a tactical belt is. The next question is, do you need one?
Products Mentioned In This Article
V3 Belt
Polymer Belt
Cobra Belt
---
Do I need an EDC belt for concealed carry?
When selecting the various parts of your carry system, a concealed carry belt is a necessity. You don't want to be constantly pulling your pants back up because your belt can't support the weight of your gun. While your holster choice is very important, a proper gun belt is equally as important.
With concealed carry, one of the things you look for in your EDC rig is most likely comfort. A carry belt is going to provide you with both physical and mental comfort. The physical comfort comes with having a belt that supports the weight of your gun and concealed carry accessories. You have mental comfort knowing that your belt or pants aren't going to sag and expose your weapon, as well as your firearm, will stay securely in its place all day.
So to answer the main question at hand, do you need a tactical belt for concealed carry? Yes. It is a worthwhile investment when it comes to your concealed carry system.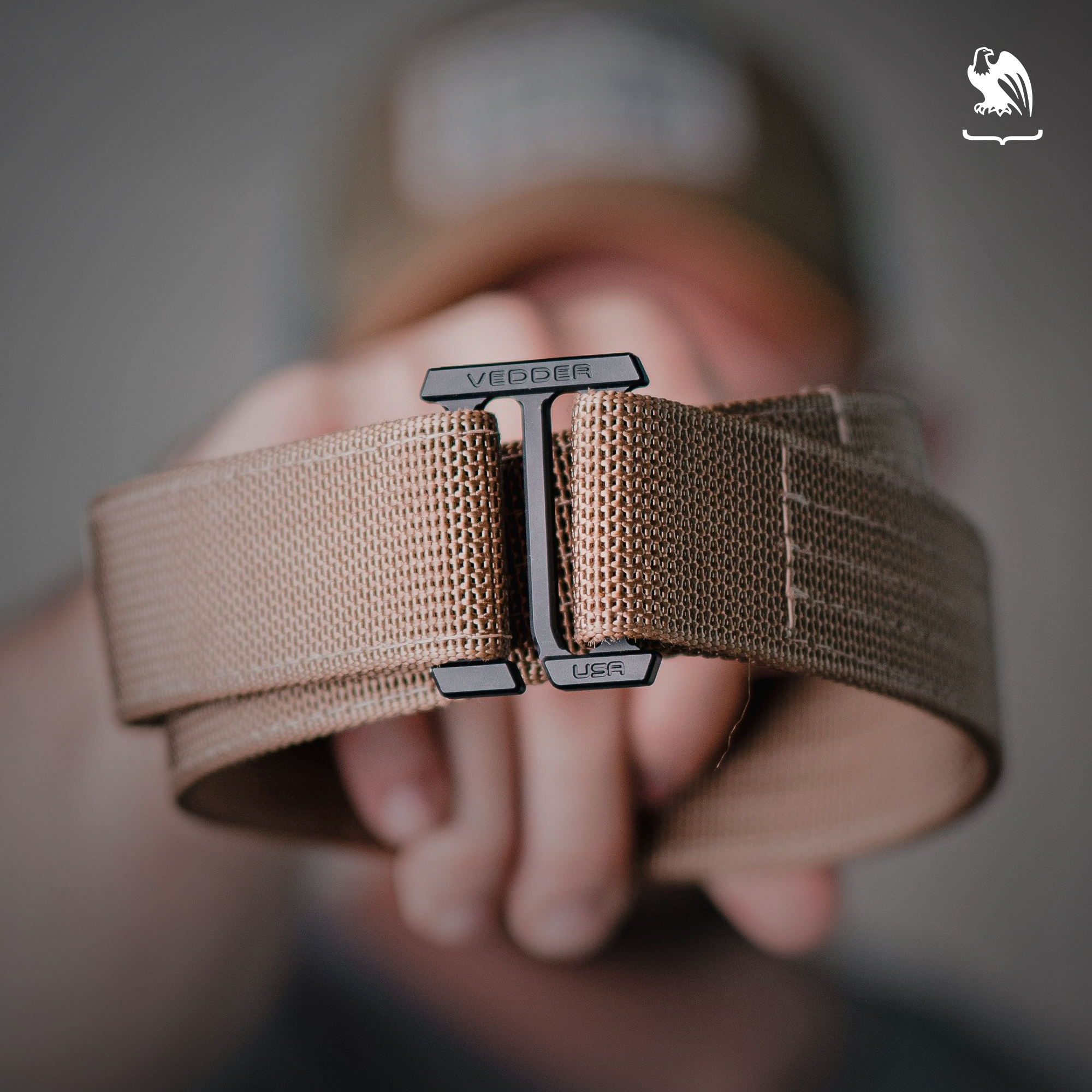 Can a gun belt make carrying a gun more comfortable?
As we've discussed in other articles, comfort is a big factor when deciding to carry. Unfortunately, we've seen too many cases where folks who try concealed carry wind up giving up because of comfort, and, believe it or not, your holster belt plays a very important role.
Beyond helping with the weight of your gun and concealment, comfort can be greatly increased with the use of a concealed carry belt. When you are deciding what holster to use with your gun you are most likely considering how comfortable it is. If your belt is sagging with the weight of your gun and holster, you may feel it is uncomfortable. With an EDC belt, the sagging is reduced, and you may find carrying more comfortable in comparison to carrying with a regular belt.
Now when it comes to selecting your belt, we've got you covered. Our belts are not only great looking, more importantly, they are built specifically to carry the weight of your gun and any additional accessories like a magazine holster. With three of the best models on the market, our EDC belts are made with the highest quality materials and constructed right here in the USA. Multiple color options allow for the right belt to go with the right clothes, be it your favorite pair of blue jeans or your best suit.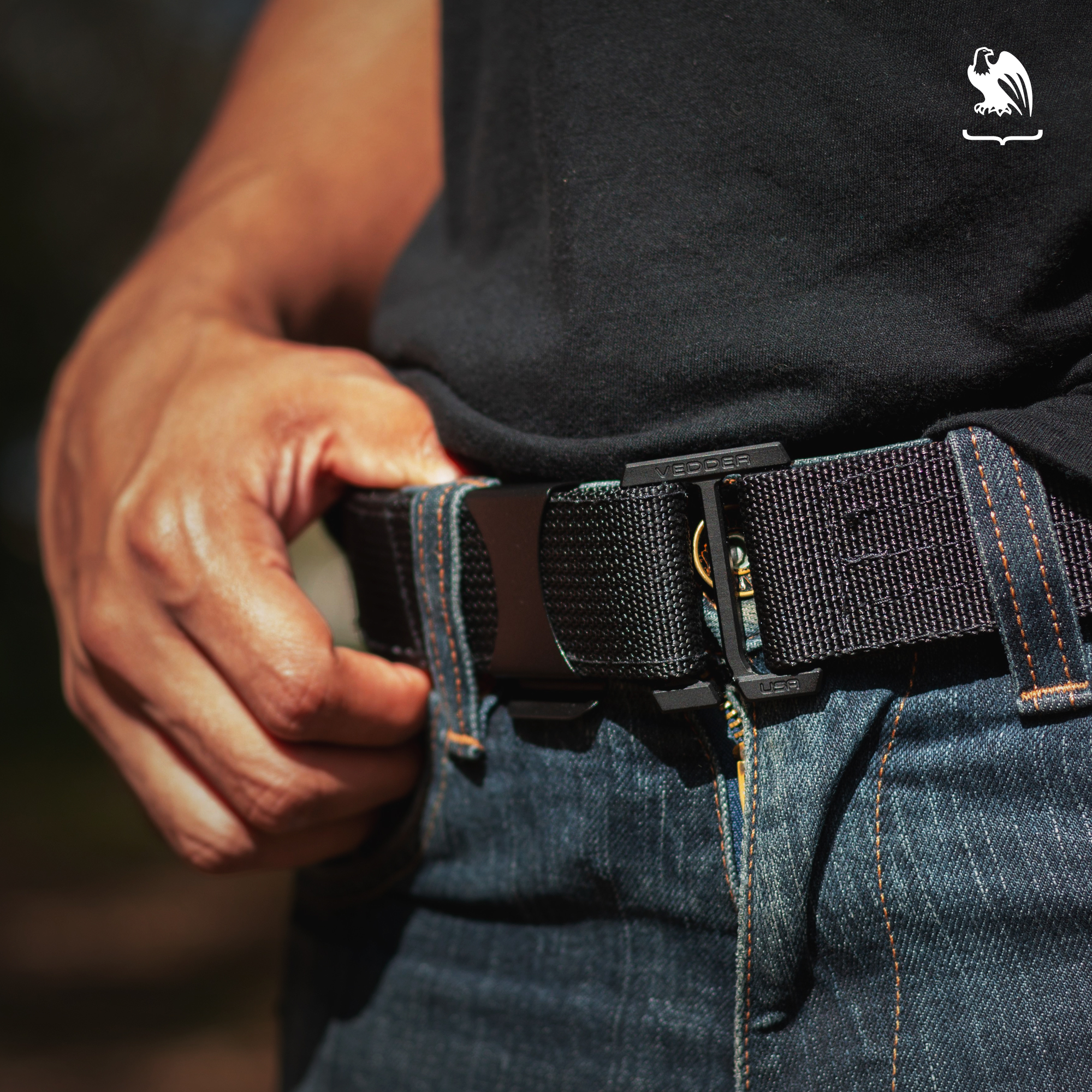 What are my options when selecting an EDC belt?
At Vedder Holsters, we have you covered. We know the importance of quality, fit, and function. We have three types of EDC belts with additional options in color and size. All are handcrafted and covered by our bulletproof Lifetime Warranty.
Our leather gun belt is made with two layers of premium cowhide. Set between the layers is a solid polymer core, providing extra strength to maintain strength and structure. It's a great-looking belt that works with your best suit or your favorite pair of jeans. Regular belts are usually a single layer of leather or other material. They lack the strength to hold up anything other than a pair of pants.
Our Cobra® belt features premium extra stiff dual-layered 1.5" nylon and a quick-release Cobra® buckle making it easy to put on and take off. Our Cobra® belt is also constructed with Velcro, allowing you to adjust for the perfect fit. For more information on our Cobra® Belt, check out our article "Why You Need A Cobra® Gun Belt."
Our V3 gun belt is made of the same durable nylon as our Cobra® Belt making it sturdy enough to hold up everything you carry on a daily basis. The buckle uses a lightweight, low-profile design while still being strong enough for all day wear. The V3 belt features our proprietary snag-free design that allows you to set your size once and then easily take your belt on and off without needing to adjust it.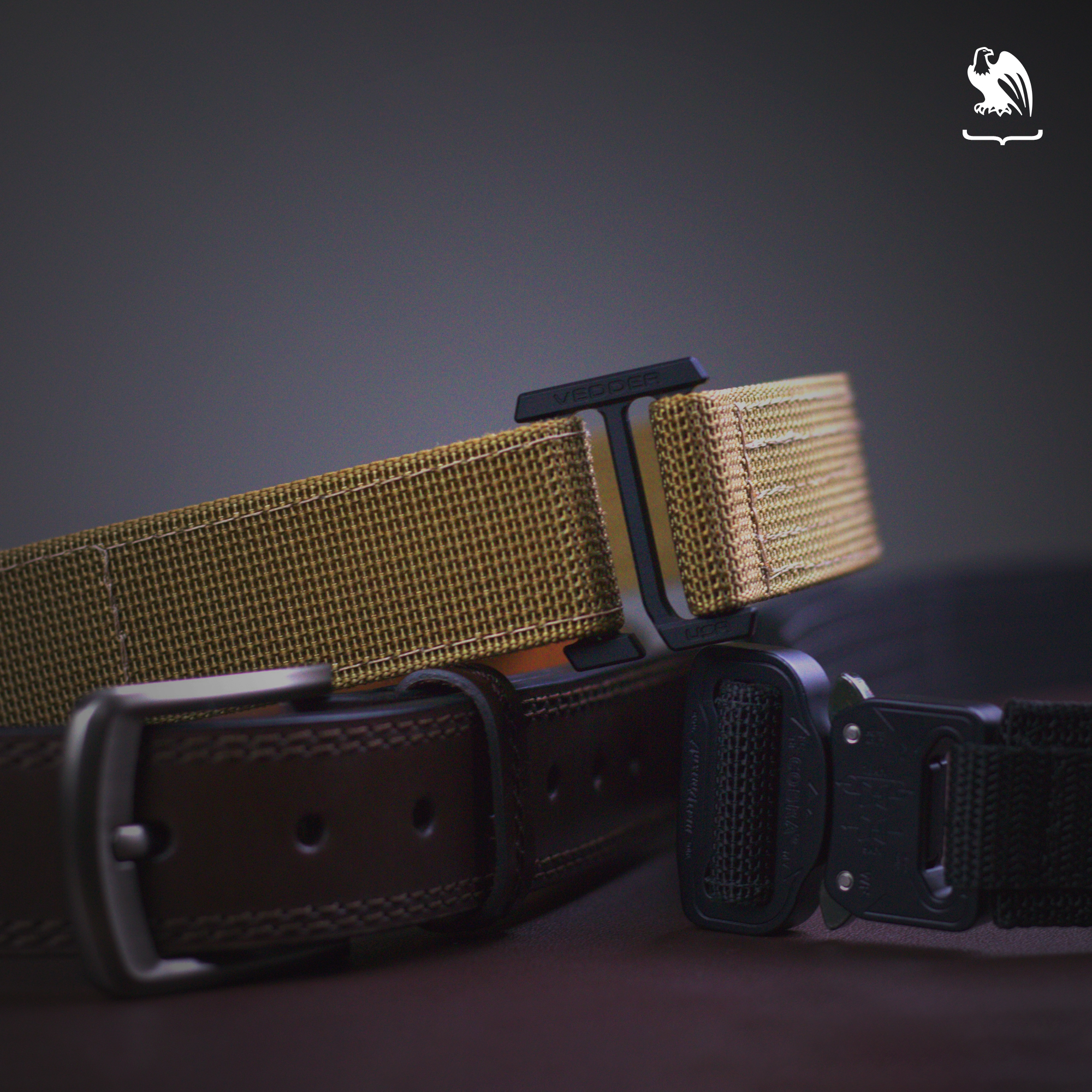 How do I know what size EDC belt I need?
To find the correct size for your holster belt, you will want to take a belt you currently own and put it on with your gun and holster also in place. Make sure the belt is comfortable, not too tight, and not too loose, take the belt off, remembering where the ends met. Measure from the base of the buckle to where the end was. This is your belt size, and it will most likely be approximately four inches larger than your pant size.
You can also use your pant size to find your belt size when ordering online. The size is based on the standard men's sizing measurements. Many EDC belts are adjustable within a few inches to accommodate for various gun sizes and ensure you are comfortable.
Summary
Let's review. An EDC belt is an essential part of any carry system. They are designed to support the weight of your gun, holster, and other carry accessories. A regular belt can't support the additional weight that comes with carrying and can result in sagging or your gun moving into a less than ideal position.
Wearing a belt that is able to fully support the weight of your carry system can provide you with both physical and mental comfort. It will make concealing your gun easier, reduce your chance of printing, and help ensure your gun stays securely on your waist all day. There are a variety of options when it comes to EDC belts, and you can check out all our gun belts here. Be sure to pay attention to the sizing instructions before you order your new belt.
If you are looking for belts or holsters, we recommend visiting our Vedder Holsters website for all of our EDC belt and holster options and for more information to help you choose the carry system that works best for you. Like everything we sell, our carry belts are covered by a Lifetime Warranty and a 30-day money-back guarantee.
Looking for items beyond holsters and belts? Check out our Resources Page for popular product links like lights, lasers, first aid, maintenance, and more.