Functional design, low-profile support, and unmatched durability – three key components of a superior tactical belt, and the Cobra® gun belt has it all.
The Cobra® belt is designed to eliminate the need to readjust your belt every time you put it on. Its efficient step-down buckle and dual-layered nylon strap make it the perfect foundation for all your EDC gear.
A quality gun belt is critical to an effective carry system, and Cobra® belts are second to none.
But before we get into why these belts are so great, let's talk about what gun belts are and why they're necessary for concealed carry.
What Is a Gun Belt?
If you're like most people, you probably already have a belt or two hanging in your closet. You may be wondering what makes a tactical gun belt different from a regular belt and whether you really need one.
Gun belts are specifically designed to support the weight and wear of your carry system. While regular belts are typically thin and flexible, a concealed carry belt is significantly thicker, stiffer, and made with more durable, higher-quality materials.
But, do you really need an EDC gun belt for concealed carry?
Though you don't have to wear a gun belt to carry, it is highly recommended. While possible, carrying with a regular belt is likely to result in your gun sagging throughout the day, which is uncomfortable and can cause printing.
A gun belt, on the other hand, is stiff enough to support the weight of your entire carry system without sagging or shifting. These belts will also last longer as they're made with materials designed to withstand the wear and tear that your carry system can cause.
Cobra® belts are only one of the many kinds of gun belts on the market. So let's get into the ins and outs of what makes these belts stand out from the rest.
What Is a Cobra® Belt?
A Cobra® belt is a type of tactical gun belt designed for everyday carry. They're usually made with nylon webbing and are famous for their quick-release buckle.
The Vedder Holsters Cobra® Quick Release Gun Belt is designed with our famous step-down Cobra® buckle, which effectively eliminates the need to readjust your belt every time you put it on.
It easily threads through any pants with standard 1.5" belt loops or larger, which adds to the convenience of this versatile belt.
The Vedder Cobra® Belt is made with extra-stiff nylon and is available in black, coyote brown, and wolf gray, depending on your preference. It comes in seven different sizes, ranging from 26"- 53", and is sewn right here in the USA.
Like all our products at Vedder Holsters, the Cobra® Belt is backed by a 30-day money-back guarantee and a lifetime warranty.
To check out the Vedder Holsters Cobra® Quick Release Gun Belt for yourself, click here.
What Makes the Cobra® Belt Stand Out?
There are countless carry belts on the market, each with its own unique strengths and features. So what makes the Cobra® Belt stand out from the rest?
Adjustability
Things change – including you. Whether you've lost a couple of pounds or grown your carry system, your EDC gun belt should be up for the challenge.
Luckily, Cobra® belts are micro-adjustable. While most belts are constrained by pre-cut holes, the Velcro design of the Cobra® belt allows you to adjust it within a few inches until you find the perfect fit.
And the best part is, you can set it and forget it. Once you've found the perfect spot, the Cobra® belt's step-down buckle allows you to remove your belt and put it back on the next day without having to readjust.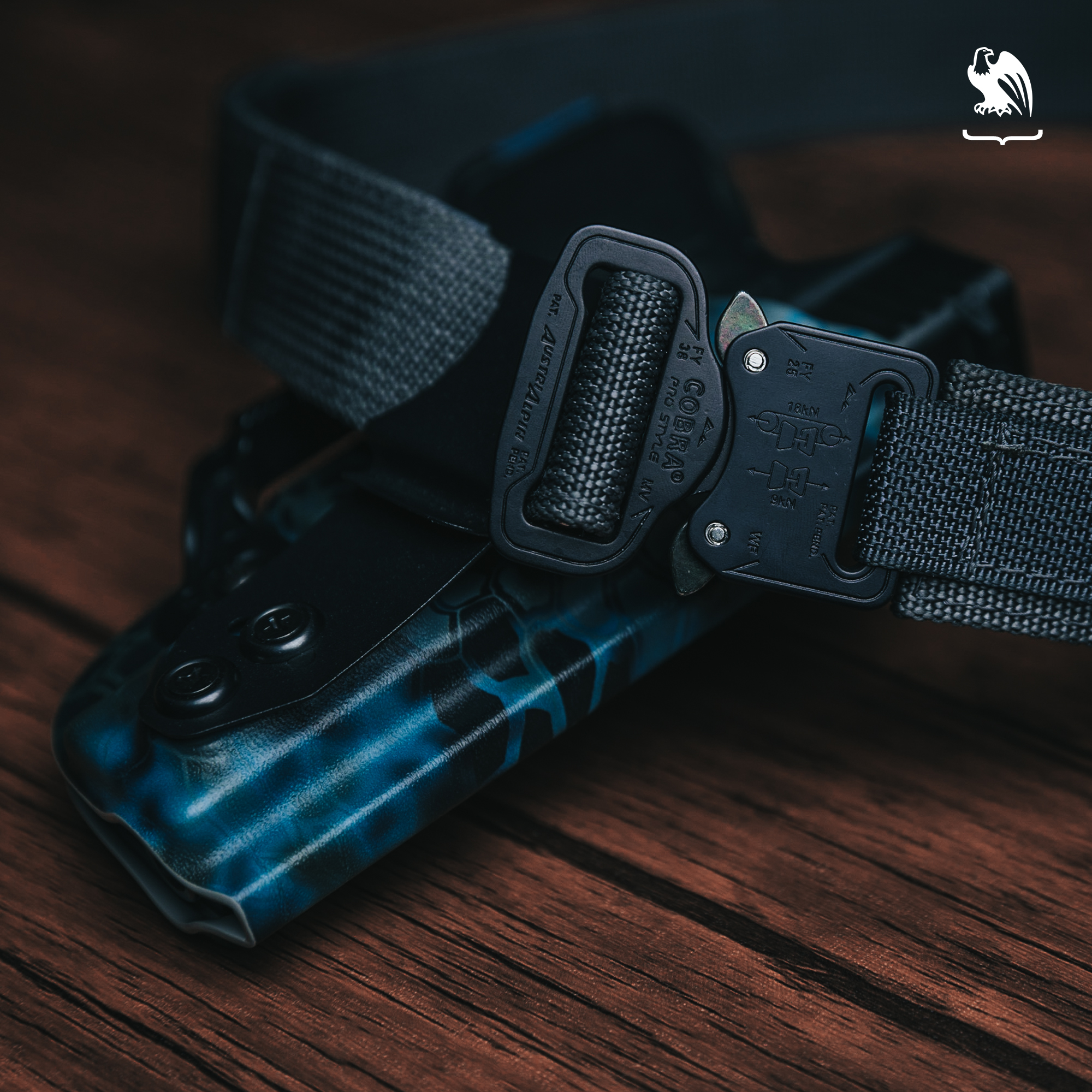 Quick-Release Step-down Cobra® Buckle
The main feature that sets Cobra® belts apart is their quick-release buckle.
The Vedder Cobra® Belt's step-down buckle allows you to adjust your belt to the perfect spot – once. From there, you can remove and put on your belt as many times as you want with the click of its quick-release step-down buckle.
The Vedder Cobra® Belt's aluminum step-down buckle is sized at 1.5" so it can fit through standard pant belt loops. It works by simply pinching the tabs on the side of the buckle to release its stab-lock style fastener, and clips back together even more easily.
All it takes is a matter of seconds to clip or unclip your belt – a nice feature when you're rushing out the door, if you ask us!
Durable Materials
Not only does the Cobra® quick-release belt come with plenty of cool features, but it's made with high-quality materials to ensure it will be comfortable, sturdy, and durable for years to come.
The belt portion of the Cobra® is made from extra-stiff dual-layered nylon scuba webbing. This premium material is crush resistant and can withstand up to 3,000 pounds of tension. Itis more than capable of supporting your gun, holster, spare magazines, and pretty much anything else you could possibly carry.
Every belt is sewn in the USA using five linear seams for added strength and stiffness. To keep things from getting too stiff and uncomfortable, the Cobra® Quick Release Gun Belt is treated with a resin that makes it a bit more flexible and easy to wear.
The quick-release buckle is made from military-grade aluminum alloy, solid brass, and stainless steel, making it extremely durable and capable of withstanding thousands of pounds of force.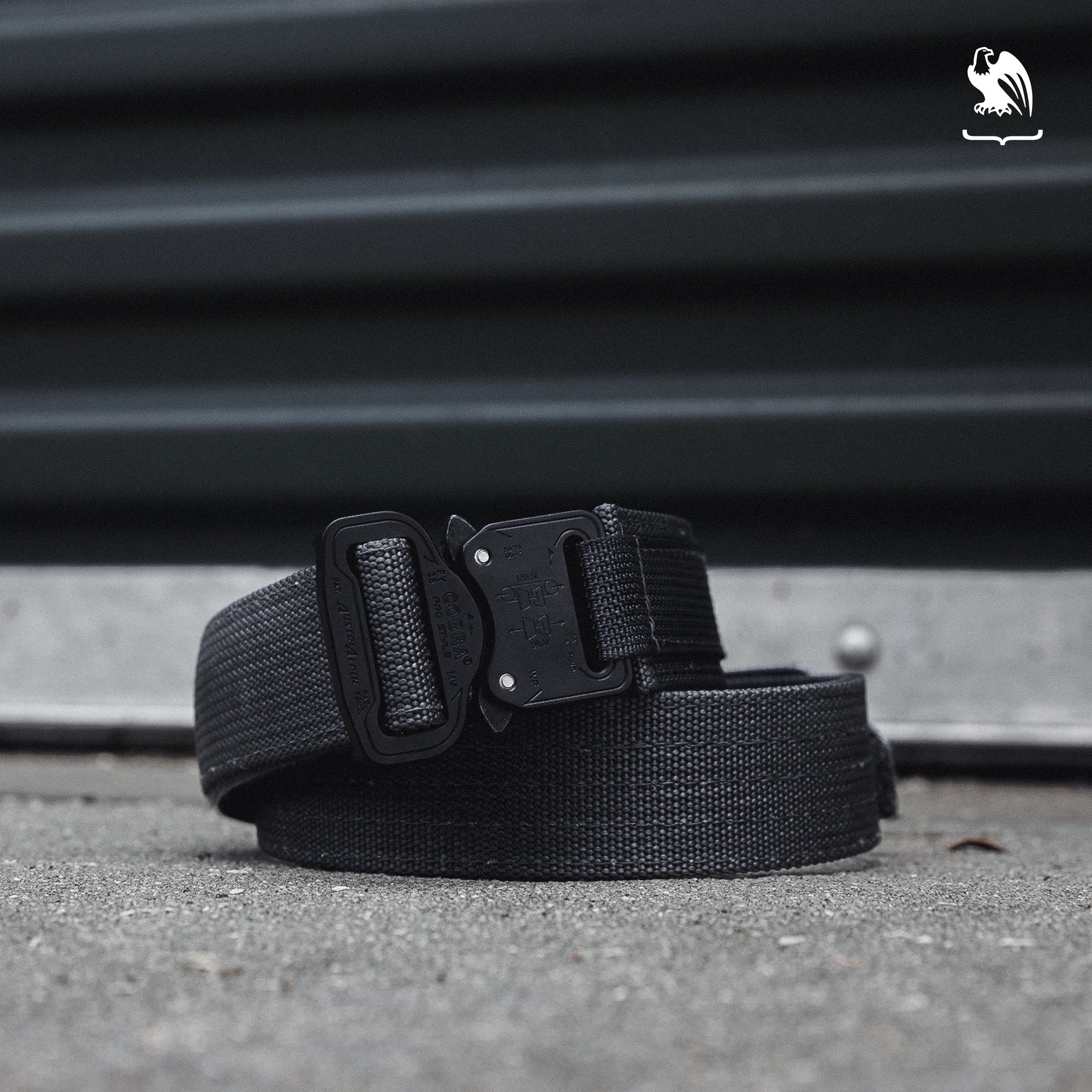 Is The Cobra® Quick Release Buckle Safe?
With all this talk of how quick and easy it is to release the Cobra® belt buckle, you may be wondering if there is any risk that it will pop open unexpectedly.
In short, no. There is no way the Cobra® belt can come undone unless you intentionally pinch both of the quick-release tabs on either side of the buckle.
Not only that, but the step-down buckle is one of the strongest concealed carry belt buckles on the market. It's even used by the Military thanks to its exceptional load-bearing abilities.
In addition, every batch of these buckles is randomly strength tested by a third party to ensure each one meets the standard for sand, dust, and water resistance.
So rest easy – the combination of the Cobra® belt's sturdy quick-release step-down buckle and extra stiff dual-layered nylon webbing make this gun belt a safe, dependable choice for any carry system.
Who Should Use a Cobra® Belt?
Now that you know all about the Cobra® and its many features, you may be wondering whether it's the right choice for you.
The Cobra® Belt is an excellent option for anyone who practices everyday carry. Because of its standard size, this belt works well for both men and women who are looking for a low-profile addition to their carry system.
In terms of style, the Cobra® quick-release belt is perfect for anyone who wears more casual attire in their day-to-day life or just wants a belt to take to the range.
If you're looking for something with a little more class that you can wear with dressier clothes to the office or a nice event, you may want to consider the Vedder Holsters classic Leather Gun Belt or Polymer Core Leather Gun Belt. These belts offer the same support as a nylon gun belt, with a high-end, stylish look.
Summary
Cobra® belts are an excellent choice for anyone looking for a durable, secure, quick-release gun belt. These belts allow you to "set it and forget it" since they don't require you to readjust your belt every time you take it off.
If you're looking for belts or holsters, we recommend visiting our Holsters by Gun Model page for holsters that are custom-made for your weapon of choice. For all of our belt and holster options and for more information to help you choose the carry system that works best for you, visit our Vedder Holsters website.
Looking for items beyond holsters and belts, check out our Resources Page for popular product links like lights, lasers, first aid, maintenance, and more.
To stay up-to-date on all the latest Vedder Holsters content and offerings, follow us on Facebook, Instagram, and Twitter. And be sure to check out our sister company, GeoGrit, for all of your American-made minimalist wallet needs.