If you own a Taurus G2C, you know this popular everyday carry gun deserves to be paired with a quality concealed carry holster.
But what specific features should you look for in a holster for the G2C?
When looking for a Taurus G2C holster, you'll want to select one that's as lightweight, concealable, and streamlined as the pistol itself. Quality materials, a thoughtful design, and adjustable features are all critical components in a G2C holster.
But before you can choose the best holster for a Taurus G2C, you'll need to know a little bit about what makes this handgun such a great choice for everyday carry.
About the Taurus G2C
The Taurus G2C is a popular compact semi-automatic pistol among gun enthusiasts. Known for its dependability and reasonable price, it's an excellent choice for anyone looking for a reliable firearm for concealed carry.
One of the biggest selling points of the G2C is its compact size. Measuring only 5.1" tall, 1.2" wide, and 6.3" long with a barrel length of 3.2", this 22-ounce pistol packs an impressive 12-round magazine capacity.
This sturdy handgun is built with a polymer frame and stainless steel barrel, and features a textured grip that makes it easy to handle. Additionally, its low-profile sights allow for quick and accurate target acquisition.
In terms of safety, the G2C features a loaded chamber indicator, manual safety, and trigger safety, which minimizes the risk of accidental discharge.
The Taurus G2C is a reliable, cost-effective, and high-capacity pistol specifically ideal for concealed carry. Its small size, durability, ergonomic design, and safety features all contribute to its popularity in the CCW community.
Taurus G2C Specs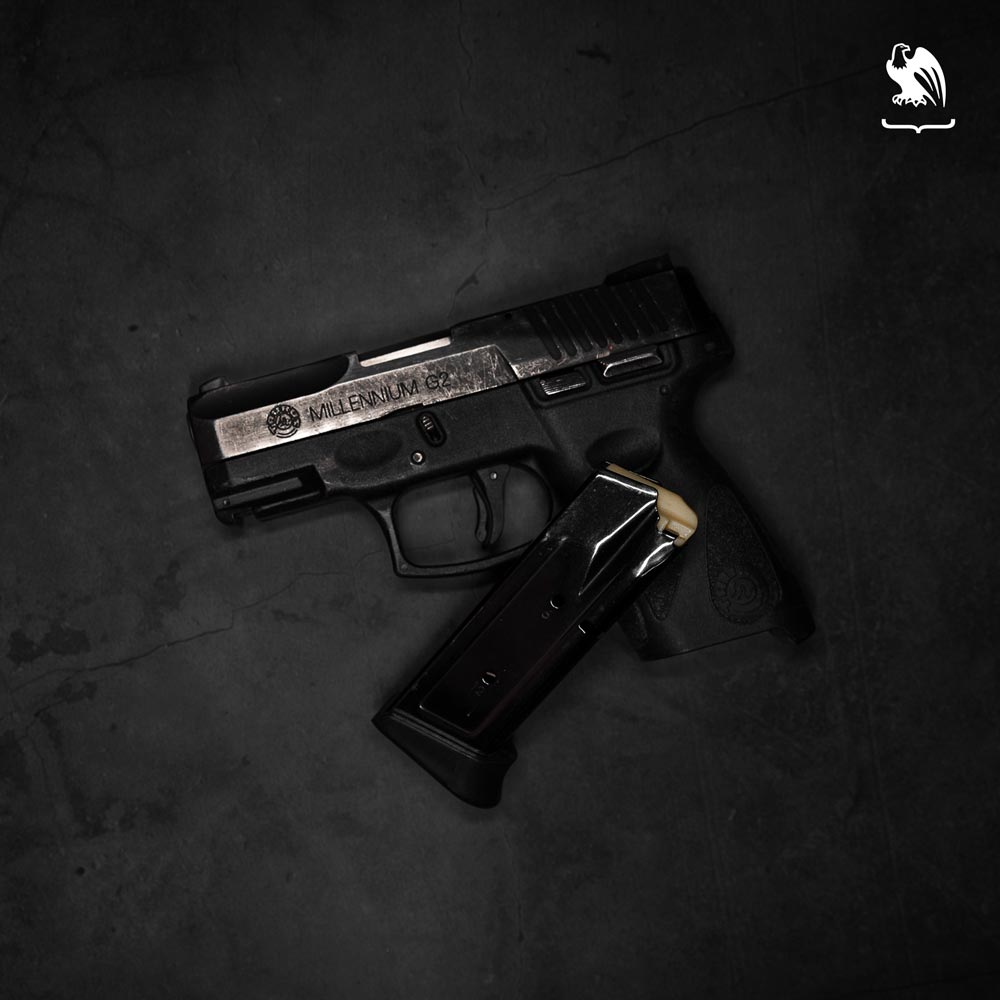 What to Look for in a Taurus G2C Holster
Now that you have a better understanding of the construction of the Taurus G2C and its intended purpose, let's talk about the specifics of what you should look for in a holster for this versatile pistol.
Holster Type
Before investing in a Taurus G2C concealed carry holster, you'll need to determine the position you'll carry in, as this will affect your options.
Due to its compact size, the most popular way to carry the Taurus G2C is inside the waistband. This pistol can be comfortably carried in any traditional carry position, like the 3-5 o'clock and appendix positions.
Not all holsters are suited for every carry position, so that should be determined before you start your shopping. For instance, while some holsters are versatile and work well in various positions, others, like the SideTuck, which is an appendix carry holster, are specifically designed to be carried in a specific way.
Once you have determined your preferred carry position, you can eliminate any holsters that are not compatible with your needs. From there, you can move on to other important details such as the material and customization options.
If you need assistance figuring out which carry position is best for you, check out our "Concealed Carry Positions: Ultimate Guide" article.
Material
Holsters are commonly made of three materials – leather, Kydex, and nylon.
While comfortable, nylon holsters are not necessarily recommended for concealed carry as they are less durable and don't maintain their shape after drawing, making reholstering far more challenging, and in turn, dangerous.
Leather holsters are a popular choice for concealed carry as they are both comfortable and long-lasting. The only downside is that they can become sticky when exposed to water, sweat, or humidity, and tend to wear out faster than Kydex.
Kydex is the most sought-after material on the market thanks to its durability, concealability, and adjustability. Heat-molded to fit a specific gun model, this style of holster ensures a precise fit to your weapon. Despite being made of thermoplastic, they are also surprisingly comfortable to wear.
Hybrid holsters provide the best of both worlds, featuring a durable Kydex shell and a comfortable leather backing.
You can browse our entire selection of Kydex and hybrid holsters to learn more about how each of these styles works.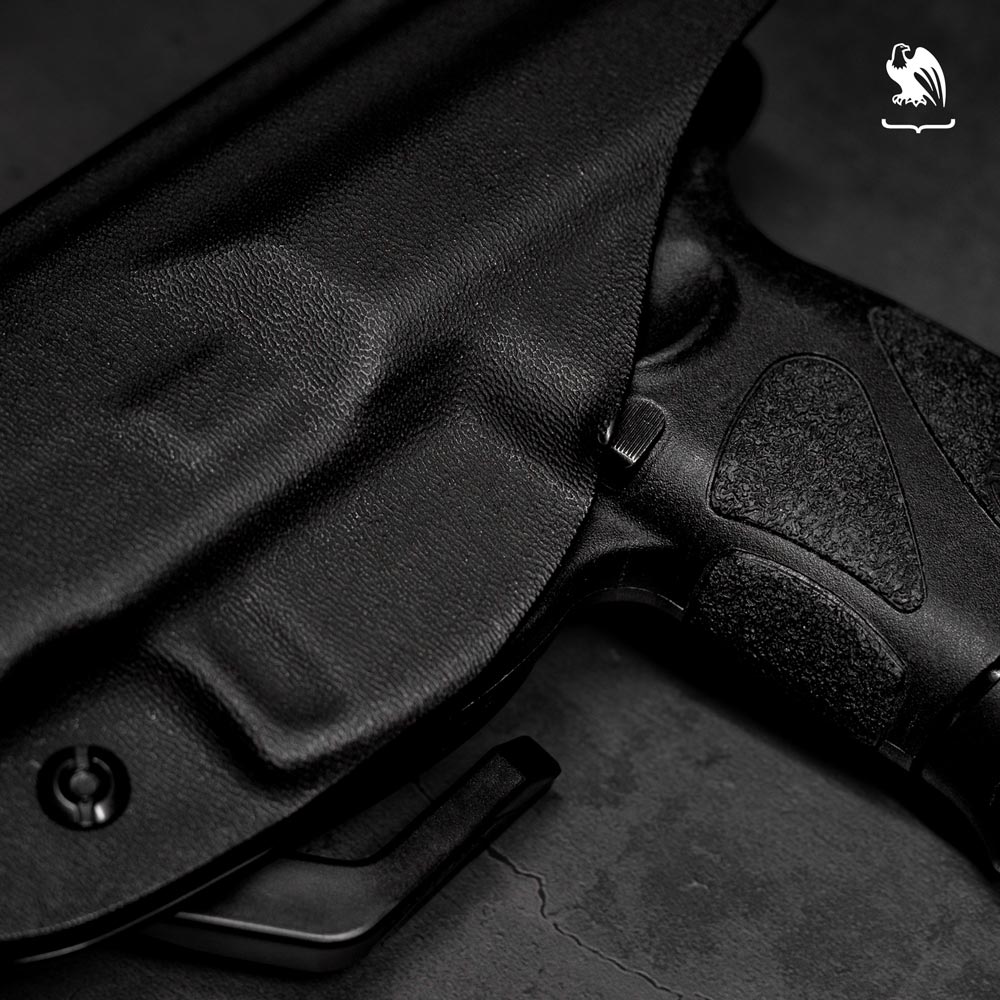 Adjustability
The holster you use for an everyday carry gun like the Taurus G2C should be adjustable so that it's both safe and comfortable.
One of the most important adjustable features of a holster is its retention, which allows you to customize how tightly it secures your weapon. This system ensures both safety and ease of draw.
Another useful feature is adjustable cant, which allows you to change the angle of the holster to suit your preferred draw style and reduce printing. Many Vedder holsters are designed with a broad range of forward and reverse cant angles, allowing you to find your ideal position.
Finally, adjustable ride height allows you to change the position of the holster on your waistline, so you can customize how high or low it sits depending on your preference.
Customization
Each person's carry system is unique due to their distinct needs, preferences, and firearm customizations. As there is a wide variety of aftermarket gun accessories and modifications available, it is crucial to find a holster that can accommodate yours.
At Vedder Holsters, we handcraft each of our holsters to order and can customize them to fit your unique firearm. With numerous Kydex colors to choose from, our holsters come with full sight channels and can be cut to accommodate various lights, lasers, and optics.
Our holsters can be oriented for either right- or left-handed users, and you can order them with different sized belt clips or optional attachments like our holster claw. Some options also have optional sweat shields and combat cuts.
If you have a modification that is not mentioned on our site, feel free to contact us with the specifics, and we will do our best to create a holster that meets your needs.
Design
Believe it or not, there is more to a holster's design than its style, color, and adjustable features. In fact, some design aspects are critical safety features that should not be overlooked.
The best holster for the Taurus G2C should have a precise fit to the pistol. When it comes to Kydex holsters, your gun should fit into it so perfectly that you hear and feel a "click" as it snaps into place. Not only is this satisfying, but it also ensures that your weapon won't jostle around or fall out of its holster.
Vedder's Taurus G2C holsters are so accurately fitted that there is next to zero wiggle room once you've holstered your pistol. Those with less precision are not only dangerous, but they can eventually lead to wear on your gun (and nobody likes that).
Equally important as an accurate fit is a proper trigger guard and durable clips. Without proper clips, your holster won't be securely fastened to your belt, which means it could fall off throughout the day or at the very least slide around your waistline.
When it comes to an adequate trigger guard, it's critical to look for one that reveals minimal "daylight," meaning the guard completely encloses the trigger. A holster that doesn't completely cover your gun's trigger could allow foreign objects to find their way inside the holster and reach the trigger, which can result in a negligent discharge.
All Vedder holsters are designed with a full-coverage trigger guard, so you never have to worry about anything getting to your Taurus G2C's trigger.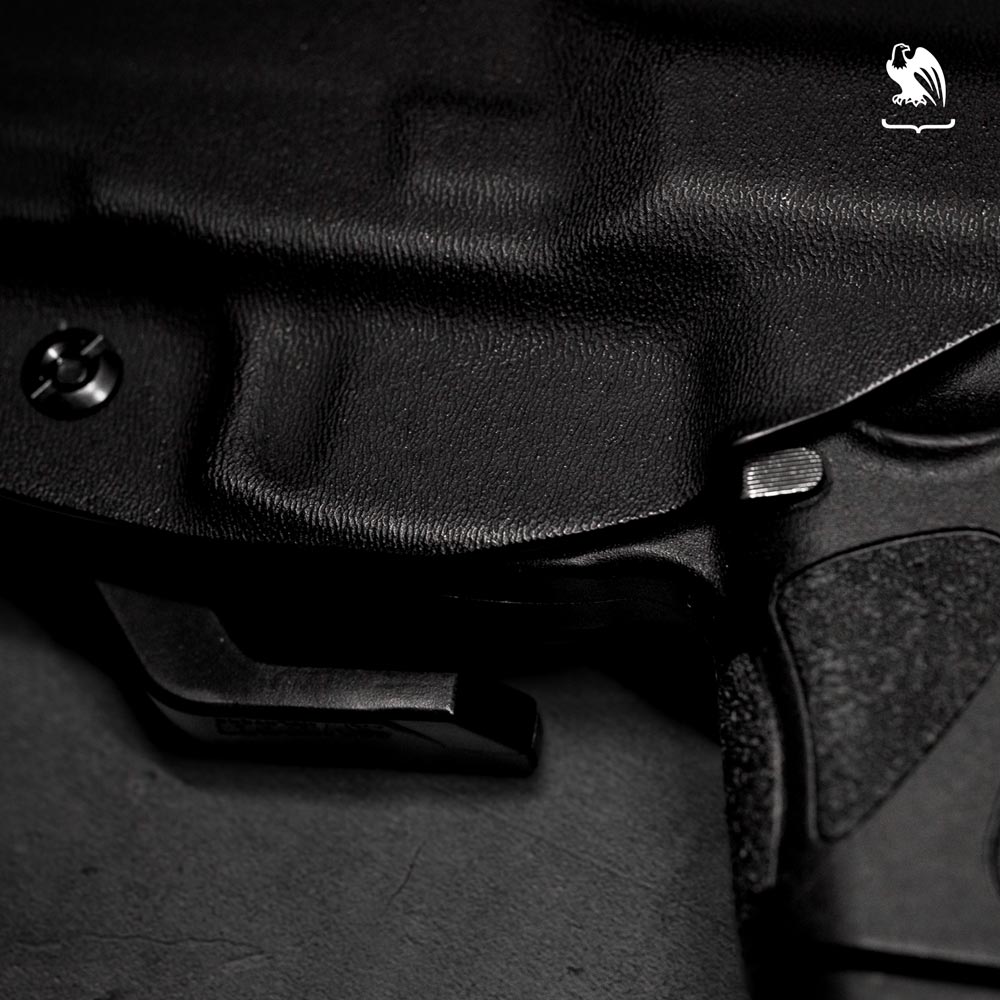 Comfort
When it comes to everyday carry firearms like the Taurus G2C, it's crucial to have a comfortable holster that can be worn for extended periods. Fortunately, the G2C's lightweight design allows for a variety of holster options, but there are still a few factors to keep in mind for maximum comfort.
The best holsters for Taurus G2C in terms of comfort are hybrid. These are often considered the most comfortable option due to their leather backing, which conforms to your body and distributes the weight of your firearm more evenly. However, if you prefer an all-Kydex holster, those with two points of contact with your body can provide a similar level of comfort.
While the G2C is commonly carried inside the waistband, some people find outside the waistband to be even more comfortable. If you're struggling to find a comfortable way to carry your Taurus G2C, you may want to consider giving OWB a try.
Concealment
Of course, when it comes to your everyday carry holster, concealment is key.
The Taurus G2C was specifically designed for concealed carry, with its small size and slim frame making it an ideal choice for daily carry. Pairing this sleek and discreet firearm with a bulky or cumbersome design kind of defeats the purpose.
So, what makes a holster truly concealable?
One important factor to consider is the holster's shell. To avoid printing, the shell should be smooth and snag-free, and as thin as possible while maintaining durability.
Another crucial element of a concealable holster is a well-designed clip. Many clips on the market are bulky and made of plastic, which can cause printing. When choosing a holster, opt for one with a thin steel clip.
Our patented Rock Solid Spring Steel Belt Clip is made from smooth spring steel, ensuring it can be easily hidden under any type of clothing, even a simple T-shirt.
Holsters with optional accessories, such as pancake clips and claws, can also help with concealment. These attachments can draw your weapon closer to your body, making it less likely to print and be noticed.
Warranty
Although there are many essential factors to consider when shopping for a new holster, don't make the mistake of overlooking a product guarantee.
Not only does a product warranty provide peace of mind, assuring you that any issues with the product will be fixed or replaced, but it also demonstrates that the company has confidence in the quality of its product.
At Vedder Holsters, we stand behind our products with a 30-day risk-free trial and a lifetime guarantee, so you can feel confident in your purchase. For more information about our warranty policy, click here.
Best IWB Holster for Taurus G2C
There are so many holster options on the market, it can be hard to know where to start. So, here are our IWB recommendations for the Taurus G2C, based on your carry preferences.
First up is the popular Vedder Holsters LightTuck™. This Kydex holster can be worn in any position and has adjustable retention, three levels of adjustable ride height, and 30 degrees of forward and reverse cant. It's lightweight, tuckable, and has a Rock Solid Spring Steel Belt Clip, making it the ultimate inside the waistband option for anyone.
If comfort is your top priority, you may want to consider a hybrid option. The Vedder Holsters RapidTuck™ and ComfortTuck™ are both designed to be worn in the 3-5 o'clock position and have a premium leather backing that molds to your waistline for unbeatable comfort and concealability. The RapidTuck™ also features adjustable ride height and cant.
Another excellent Taurus G2C holster is the Vedder ProTuck. This hybrid holster combines the comfort of the ComfortTuck™ with two points of contact and a body-contouring shape. It is also designed to be worn in the 3-5 o'clock position and has fully adjustable retention.
If you're interested in carrying a spare magazine, the Vedder SideTuck is a great option. It has the same concealability as the LightTuck™ but also has an attached, fully adjustable custom Kydex mag carrier. This holster is designed to be worn in the appendix position and features adjustable retention, two points of contact, and a claw attachment.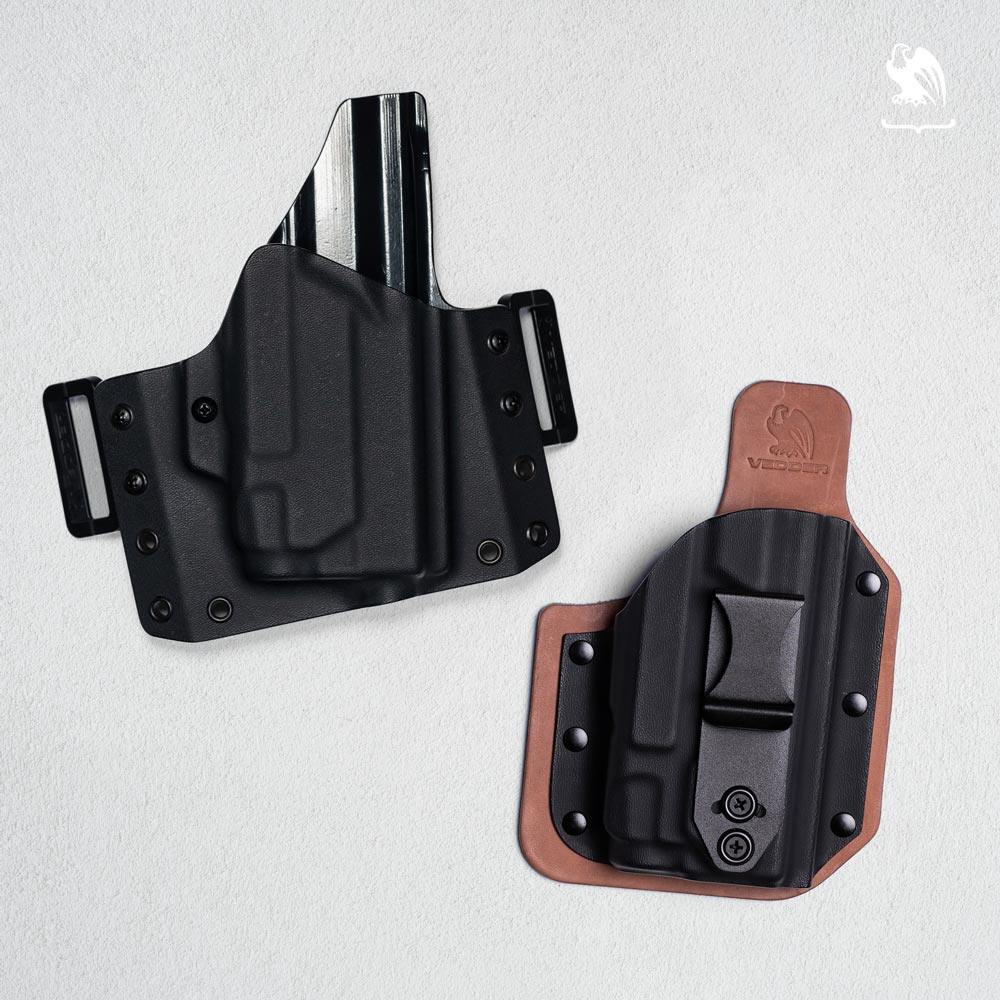 Best OWB Taurus G2C Holster
When it comes to carrying outside the waistband, having the right holster can make all the difference. Here are our recommendations for the best Taurus G2C OWB holsters depending on your needs.
One of the best outside the waistband holsters you can carry with the Taurus G2C is the Vedder LightDraw™. This Kydex holster is designed to be functional, yet comfortable. It is built with adjustable retention and its double-sided, fully reinforced shell allows for one-handed reholstering.
If you're looking for a hybrid OWB option, the Vedder Quick Draw is your best bet. This holster features a premium leather backing complete with two built-in belt loops. Designed for comfort and ease of access, this holster is perfect for most outside the waistband positions.
If you prefer a paddle holster, Vedder's ProDraw™ is an excellent choice. This type of holster is the most adjustable of the OWB options, featuring adjustable retention and 15 degrees of forward and reverse cant. Lightweight and fitted with our OWB Paddle Clip, this holster is comfortable and easy to put on and remove at the end of the day.
Best Taurus G2C Magazine Holster
When it comes to self-defense, you can never have too much ammo. So, if you prefer to carry a spare mag, you'll need a proper Taurus G2C magazine holster.
If you carry inside the waistband, the Vedder Holsters MagTuck™ is an excellent choice. This little mag carrier has a sleek, ergonomic design that allows you to comfortably carry your G2C magazine without unnecessary bulk. It comes with a spring steel clip and features 30 degrees of adjustable forward and reverse cant.
If you're an outside the waistband carrier, you may want to consider the MagDraw™ – which comes in both single and double depending on your preference. This mag carrier is also low-profile and features 15 degrees of adjustable cant. It is complete with a paddle-style clip that makes it an incredibly comfortable option for OWB.
Check out our entire collection of Taurus G2C magazine holsters here.
Summary
Whether you prefer an inside the waistband or outside the waistband holster for your Taurus G2C, you'll want to find one that suits your daily carry system.
The ideal G2C holster for you depends on your specific needs and preferences. Once you've determined the position you want to carry in, consider factors like comfort, design, concealability, material, and even a product warranty.
If you're looking for a new IWB, OWB, or pocket carry Taurus G2C holster, check out the entire collection here. If you're looking for a holster for another model, visit our Holsters by Gun Model page for Kydex holsters that are custom-made for your weapon of choice.
Interested in items beyond holsters? Check out our Resources Page for links to recommended products like lights, lasers, first aid, maintenance, and more, and browse our selection of apparel, and accessories at our website, vedderholsters.com.
To stay up-to-date on all the latest Vedder Holsters content and offerings, check out our blog and follow us on Facebook, Instagram, and Twitter. And be sure to visit our sister company, GeoGrit, for all of your American-made minimalist wallet needs.