---
---
---
---
---
---
How to Care for Your Gun Belt
Day after day, your everyday carry belt is there for you. No matter what happens, you rest easy knowing your trusty belt is there on your waist, looking great and holding your CCW system (and your pants) in place.
Your gun belt takes care of you, and it's important to return the favor by properly cleaning, conditioning, and storing it. Regular care and maintenance of your nylon or leather EDC belt can greatly extend its life by preserving its strength, appearance, and durability.
So, if you're ready to give your belt the attention it deserves, keep reading. Let's start by clarifying what exactly an everyday carry belt is and how it's different from a regular belt.
What's the Difference Between a Gun Belt and a Regular Belt?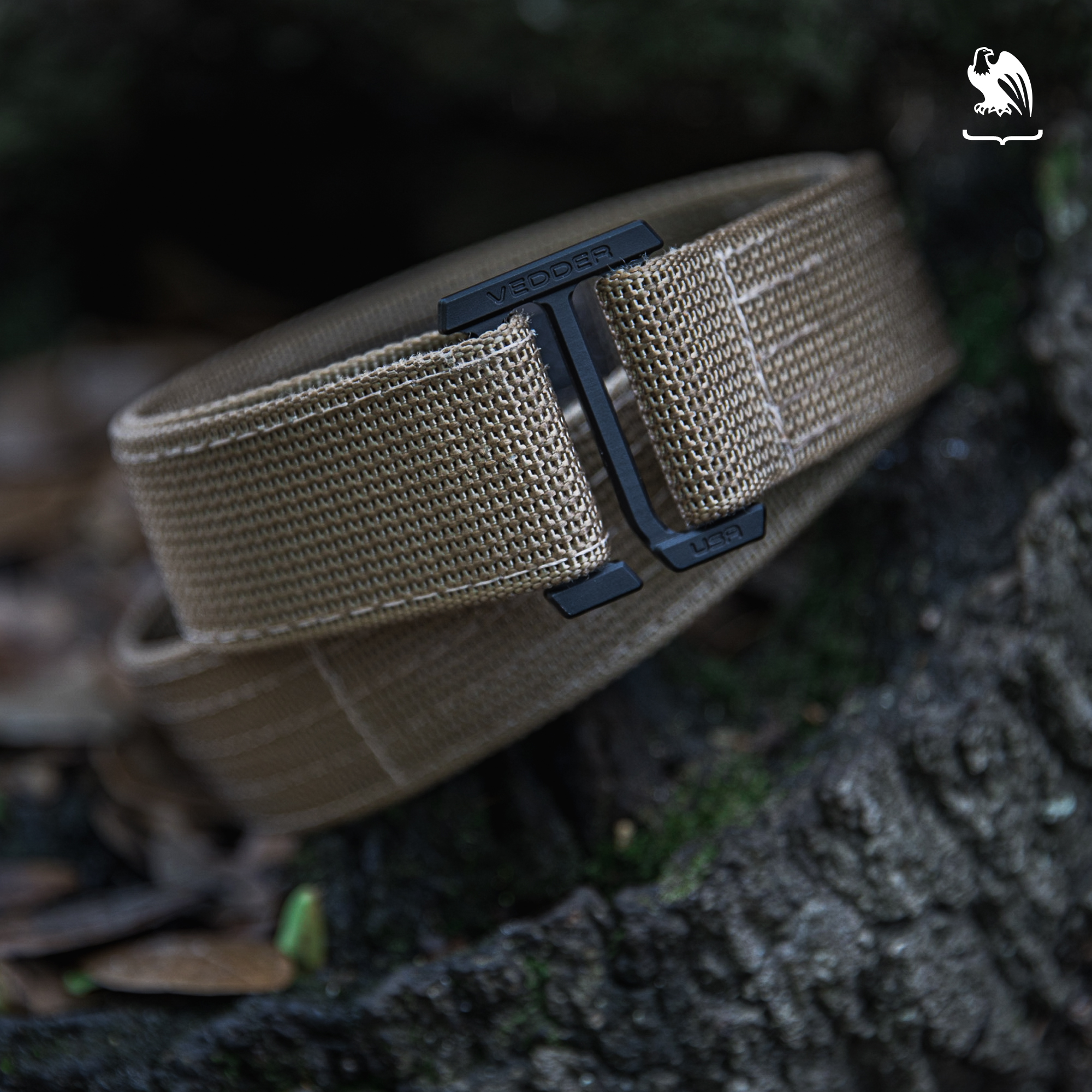 If you're new to carrying, you may be wondering why you can't just use the regular belt you have sitting in your closet for CCW. After all, it's essentially just a strap designed to hold your pants up, right? Why do you need to wear a special belt when concealed carrying?
There are numerous differences between regular belts and belts designed for EDC. The first is simply that gun belts provide the extra strength and stiffness necessary to properly support your pistol and holster.
While, sure, there are some very well-made regular belts on the market, none come close to the thickness and sturdiness that a quality CCW belt can offer. At Vedder Holsters, our leather gun belts are designed with a polymer core for added support, while our tactical belts are made with premium dual-layered webbed nylon, making them extra stiff.
CCW belts are also often made with higher-grade materials, which helps them maintain their shape even when heavier handguns are strapped to them. Not all leathers and nylons are equal! They're also designed to be thick enough for a holster to clip to without sliding around yet thin enough for said clip to fit on.
If you do try to carry with a regular belt, you'll likely experience belt sag and printing, and you may even have difficulty drawing your weapon without your belt sliding around. Not to mention your regular belt may begin to wear out much quicker than one designed to withstand the daily weight of an EDC setup.
For a full breakdown of the differences between regular and gun belts, click here.
Proper Care and Extending the Life of Your Belt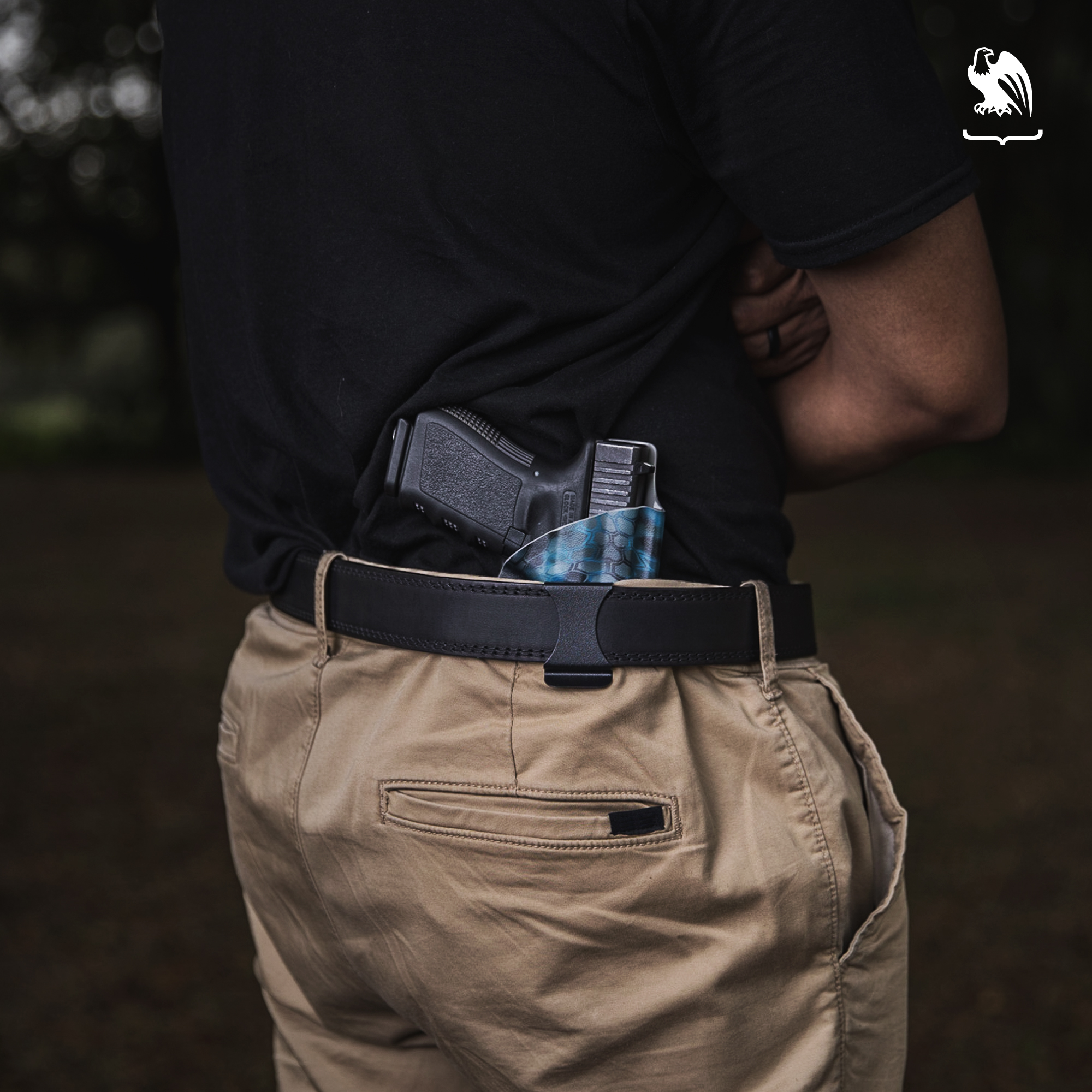 A great gun belt is more than just a strip of material that supports your holster and keeps your pants up; it's a critical part of your everyday carry setup and should be treated as such.
If you want your tactical gun belt to last for years to come and look great doing it, it's crucial that you properly clean, store, and care for your belt. While there are some obvious differences between caring for a leather belt and a nylon gun belt, a few things apply to both.
First, one of the most important ways you can ensure a long life for your belt is to make sure it's the correct size to begin with. A belt that is too large for your waist may bend a lot throughout the day, leaving creases in a leather belt and causing fraying in nylon. And a belt that is too small is, well, uncomfortable, and can lead to stretched, worn belt holes and may put unnecessary strain on your buckle, dramatically shortening the life of your belt.
For help determining the correct EDC belt size for you, check out our instructional video here.
And now, here are some tips for properly caring for your leather or nylon belts.
Caring for Leather Gun Belts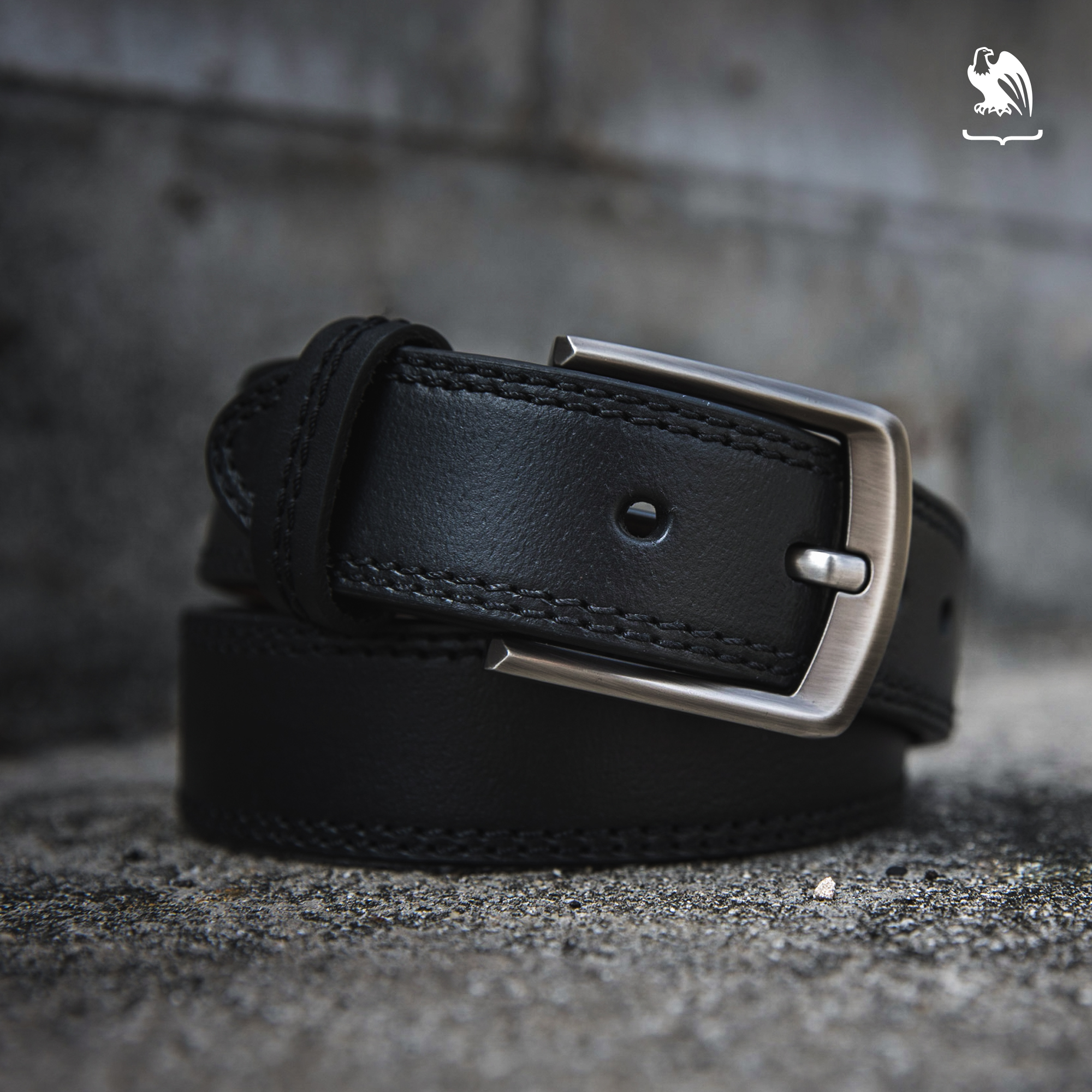 Leather gun belts are hands down the most attractive piece in a carry system, especially if you've invested a few dollars into a high-end one. Not to mention they're the only part of your EDC setup that most people ever see. Whether you wear your leather belt to the office or out on the ranch, you should take pride in the stylish, quality belt around your waist.
While still relatively low-maintenance, leather belts do require more care than their tactical counterparts. But the shiny results are well worth the extra work!
Cleaning: The first step in caring for a leather gun belt is cleaning it properly. Luckily, this step is pretty straightforward. Simply take a damp cloth and wipe down your belt any time it is visibly dirty. Take care not to use too much water as soaking the leather can weaken it over time. Nine times out of ten, this is all the cleaning your belt needs.
If your belt is extra dirty, or if it's taken on a weird smell, you can use a mild soap (saddle soap works well) and a soft-bristled brush and give it a gentle scrub. Remove the soap from your belt with a warm, damp cloth then hang it up to air dry.
Conditioning: Like any other genuine leather product, gun belts need to be moisturized from time to time to keep them in tip-top condition (see what we did there?).
To do so, dollop a dime-size amount of quality leather conditioner onto a rag and gently work it into the belt, taking care not to miss the back side. When you're done conditioning it, allow the belt to air dry for at least a couple of hours. Make sure to read the instructions on your leather conditioner of choice before getting started to see if they have any alternative instructions.
While it may be inconvenient, this process will help keep your leather belt looking great and will significantly lengthen its lifespan by keeping it from drying out, preserving its finish, and repelling dirt and grime.
You'll want to thoroughly condition your belt about once every 3-6 months, or whenever you notice your belt starting to get a little dry. You don't want to do it too often, however, as you can actually oversaturate the leather, which does more harm than good.
Storing: The way you store your leather belt has a more significant impact than you might expect. When you regularly toss your belt into a drawer, hang it over a chair, or leave it on your pants overnight, you're increasing the likelihood that your belt will form creases and wear out quicker.
There are a few ways to store leather gun belts without damaging them. The best way is to hang them lengthwise by the buckle from a hook or hanger. You can also loosely roll your belt with the buckle at the center and place it in a drawer. If you own multiple belts, it's important that you don't just toss your belts in a bin all together, as their buckles may scratch each other.
Make sure your belt is clean when you put it away and keep it stored in a cool, dry place where it will be safe from exposure to chemicals, dust, and humidity.
Caring for Nylon Gun Belts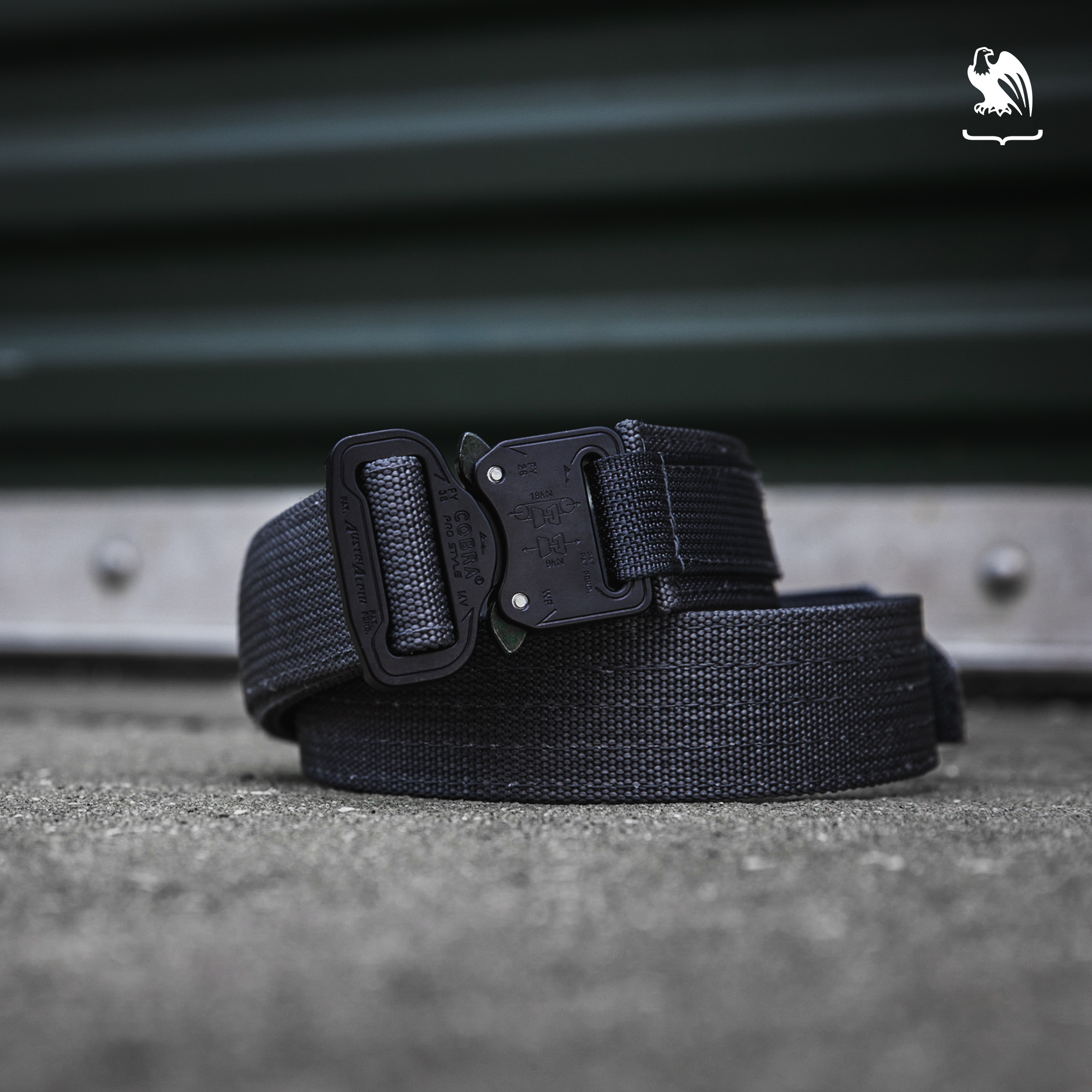 Even though nylon belts are known for being incredibly low-maintenance, they still need a little TLC from time to time. Knowing how to properly store and clean your belt, as well as handle occasional nylon maintenance, can keep your tactical gun belt working great for years.
Cleaning: The biggest thing you'll have to worry about with a nylon gun belt is occasionally cleaning it (we told you they're low-maintenance!). While you shouldn't have to clean your belt often, when you wear something every day, especially if you wear it outside, it's bound to get a little dirty or sweaty from time to time.
For occasional dirt, you can easily clean your nylon belt with just a warm, damp rag. For more thorough cleaning, mix a small amount of some mild soap or detergent with warm water. Wet a soft-bristled brush with the solution, then gently scrub the nylon until it comes clean. Rinse your belt with clean water. Gently pad any excess water off your belt with a towel, then allow it to air dry. Don't leave your belt out in the sun as that can eventually weaken the nylon webbing.
Maintenance: As durable as they are, even nylon belts need occasional maintenance. While less common among higher-quality tactical belts, with enough time and regular use, some fraying may start to occur. Depending on where the fraying is, you can carefully snip it off with some sewing scissors and call it a day.
If the fraying is more widespread and around the edge of the belt, you may need to take additional steps. As long as the fraying is minimal, you can use a lighter to fix it. Using a lighter or match, carefully wave the flame near the frayed nylon, only getting close enough to allow the frayed pieces to melt (don't get too close as you don't want to melt the belt itself!).
If you have a belt with a step-down buckle, like our Cobra® Quick Release Gun Belt, you may want to give it a little TLC as well. While not necessarily a must-do, applying a single drop of gun oil to the male end of your buckle before clicking the belt together will help keep it lubricated. This only needs to be done about once every year or so, but this simple step can keep your belt buckle working well until further notice.
Storing: Storing a nylon gun belt is similar to storing a leather belt (though nylon is a bit more forgiving). The best way to store a belt is by hanging it on a hook or hanger. If your belt buckle's design doesn't allow this, loosely coil your belt with the buckle on the inside. Store it in a cool, dry place.
Signs You Need a New EDC Belt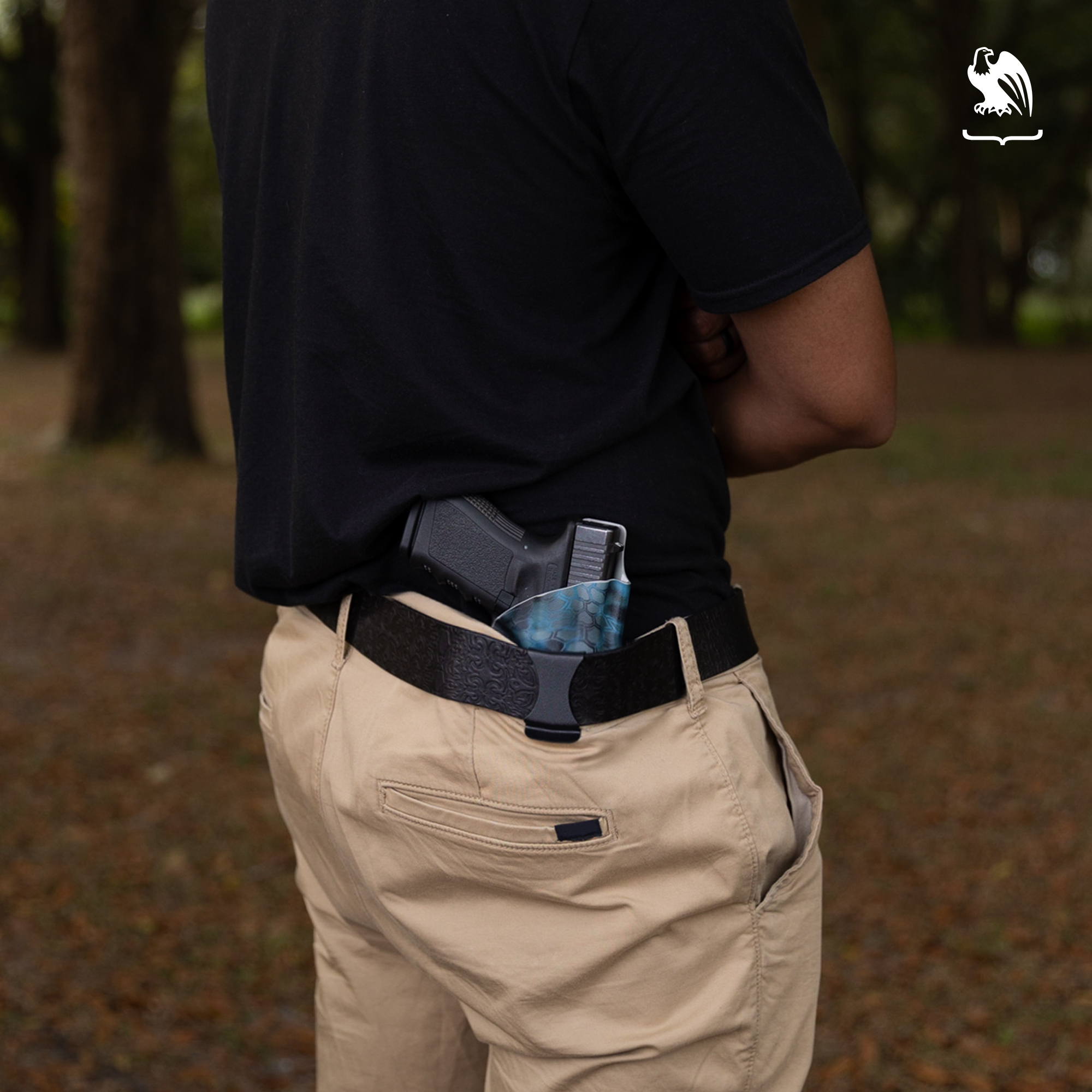 Whether you like it or not, there comes a time in every EDC system when it's time to replace your trusty gun belt. No matter how well made, or how well you care for it, any article of clothing will eventually wear out after years of daily use.
We really shouldn't have to say this, but if your belt is starting to seriously fray, the buckle is loose or broken, or your belt is otherwise falling apart, you need a new one. Not only can a run-down belt be uncomfortable to wear and unflattering to look at, but it can be dangerous too.
If your belt was to give way for any reason during CCW, you run the risk of your weapon being exposed, falling off, or worse, causing an accident. Not only that, but a EDC belt that has lost its stiffness may pose a problem in the event that you need to draw your pistol. Seconds count in a defensive situation, and you don't want to deal with a wardrobe malfunction in that moment.
Another reason it may be time to invest in a new belt is if it is no longer comfortable. Whether your belt is sagging under the weight of your firearm, it's too tight, has started to pinch while you're sitting or walking, or is in any way uncomfortable, it's probably time to move on to a new one.
For more signs you need a new CCW belt, check out our article here.
How to Choose a Quality Gun Belt
The first step in ensuring a long life for your EDC belt is choosing a well-crafted article to begin with. Here are a few things to look for when choosing a quality belt for your everyday carry system:
Material
The first thing you need to determine is the style of belt you want. In the concealed carry world, there are two general types to choose from: leather and tactical.
If you're looking for a more subtle option, the leather will likely be your best bet as some nylon belts (though not all) have an obviously tactical look. Leather belts are also a great option for anyone looking to conceal carry in business or dress clothes, as well as those who are simply looking for a stylish belt.
Nylon belts are the perfect choice for a day at the range or more casual attire. If you spend a lot of time outdoors, you'll probably want to opt for the tactical belt as exposure to the elements will start to wear a leather belt faster than a nylon gun belt.
Stiffness
Once you've chosen a material, you need to make sure the belt you choose is strong enough to support the weight of your pistol, holster, and other EDC items without sagging.
A quality leather gun belt will have a solid metal or polymer core, making them far more stiff than an average belt. When it comes to tactical belts, it's important to choose a stiff belt made of dual-layered nylon webbing to ensure it can handle a significant amount of weight.
Thickness
While it may not seem all that important, the thickness of your gun belt makes a big difference in how well it will meet your needs. If your belt is too thin, your holster's clip may slide around or fall off completely. If your belt is too thick, your holster may not be able to clip to it at all. Finding a belt that comfortably fits your holster can also help extend its lifespan as either forcing a clip over your belt or having it slide around on a daily basis can wear out the material.
Buckle
Not only does a buckle serve as a belt's stylish centerpiece, but a quality fastener will make a big difference in how long it will hold up. Because a buckle is the only moving part on a belt, naturally, a poorly made one may break or become loose after a while.
Here at Vedder Holsters, we offer a wide range of gun belts that are built to last. Whether you're looking for a tactical belt, like our low-profile V3 Gun Belt or our Cobra® Quick Release Gun Belt, which are both crafted with extra stiff dual-layered nylon and sturdy buckles, or a high-end leather belt like our Polymer Core Leather Gun Belt, you can be sure you're investing in a durable, stylish piece that will last for years to come.
Not only that, but we're so confident in our products that all of our Vedder Holster belts are backed by our lifetime guarantee so that if for any reason your belt doesn't hold up (which we sincerely doubt will happen!), we'll make it right.
Summary
Whether you prefer the rugged, yet sleek look of the leather gun belt or you're a tactical nylon belt kind of person, learning how to care for your gun belt can significantly extend its life and improve the appearance of this essential EDC tool.
Check out our entire Vedder Holsters belt collection here to find the best option for you.
If you're looking for belts or holsters, we recommend visiting our Holsters by Gun Model page if you are looking for holsters that are custom-made for your weapon of choice. For all of our belt and holster options and for more information to help you choose the carry system that works best for you, visit ourVedder Holsters website.
Looking for items beyond holsters and belts, check out our Resources Page for popular product links like lights, lasers, first aid, maintenance, and more.
30-day Money-Back Guarantee
It's confidence in knowing that you will be 100% satisfied with your holster purchase.
We are so confident that you will love your new holster that you can wear it for 30 days from the day you receive it and if for whatever reason it is not for you, contact us and return within 30 days of receipt and receive a full refund of the holster price (excluding shipping).
Handcrafted in the U.S.A.
At Vedder Holsters, we individually handcraft our products with pride in the U.S.A.
Located in the heart of Central Florida, our Vedder Holsters team crafts your unique holster by hand to ensure a precise fit for your gun model every time. Because our holsters are tailored to your preferences, each one is made to order.
Lifetime Warranty
It's confidence in knowing that you will be 100% satisfied with your holster purchase.
We are so confident that you will love your new holster that you can wear it for 30 days from the day you receive it and if for whatever reason it is not for you, contact us and return within 30 days of receipt and receive a full refund of the holster price (excluding shipping).
*International Purchasers* Please note that international shipping is not included with any warranty or exchanges. Buyer must pay international shipping for all packages being sent to a location outside the USA. This does not include APO addresses as they are treated as being inside the USA.