Tuckable, durable, made in America. Just a few reasons why the Vedder Holsters Rock Solid Spring Steel Belt Clip is the best you'll ever carry.
The spring steel clip is the factor responsible for making our LightTuck™ and RapidTuck™ holsters so famously tuckable and secure. Our patented design is specially crafted to give you the most adjustability of any holster clip on the market, a secure hold, and corrosion resistance, all with virtually no printing to speak of.
Maximum Adjustability
A holster's adjustment capability is one of the most important factors in a comfortable carry system. The Rock Solid Spring Steel Belt Clip is more versatile than any other version on the market today, allowing for three ride height positions and significant cant adjustment.
Most clips require you to choose between adjustable ride height or cant, significantly limiting your custom carry options. Our spring steel clips allow you to adjust both, so you can find the carry position that's most comfortable for you.
Our clip offers up to 30 degrees of adjustable cant in both directions, making your weapon faster to draw and easier to conceal.
The spring belt clip also allows you to adjust your holster by three different ride heights: standard, mid, and deep. Multiple ride height options enable you to easily customize your holster to a position that accommodates your body and carry preferences.
Rock Solid Spring Steel
While many Kydex holster clips are made from plastic, which can break or crack under pressure, ours is made from durable spring steel. Spring steel, which is known for its impressive strength, is often used to craft saw blades, swords, and now, Vedder Holsters clips.
Not only is our clip built strong enough to securely hold your weapon in place all day, but the metal is known for its ability to "spring" back into place despite significant bending or twisting. With spring steel, you never have to worry about the metal getting bent out of shape, so you can feel confident that your firearm is securely, and discreetly, in place all day.
Not only is it strong, but spring steel is impervious to the elements. Our entire spring steel clip, including the hardware used to secure it to your holster, is corrosion resistant so you don't have to worry about damage from rain, sweat, humidity, or anything else.
Tuckable For Ultimate Concealment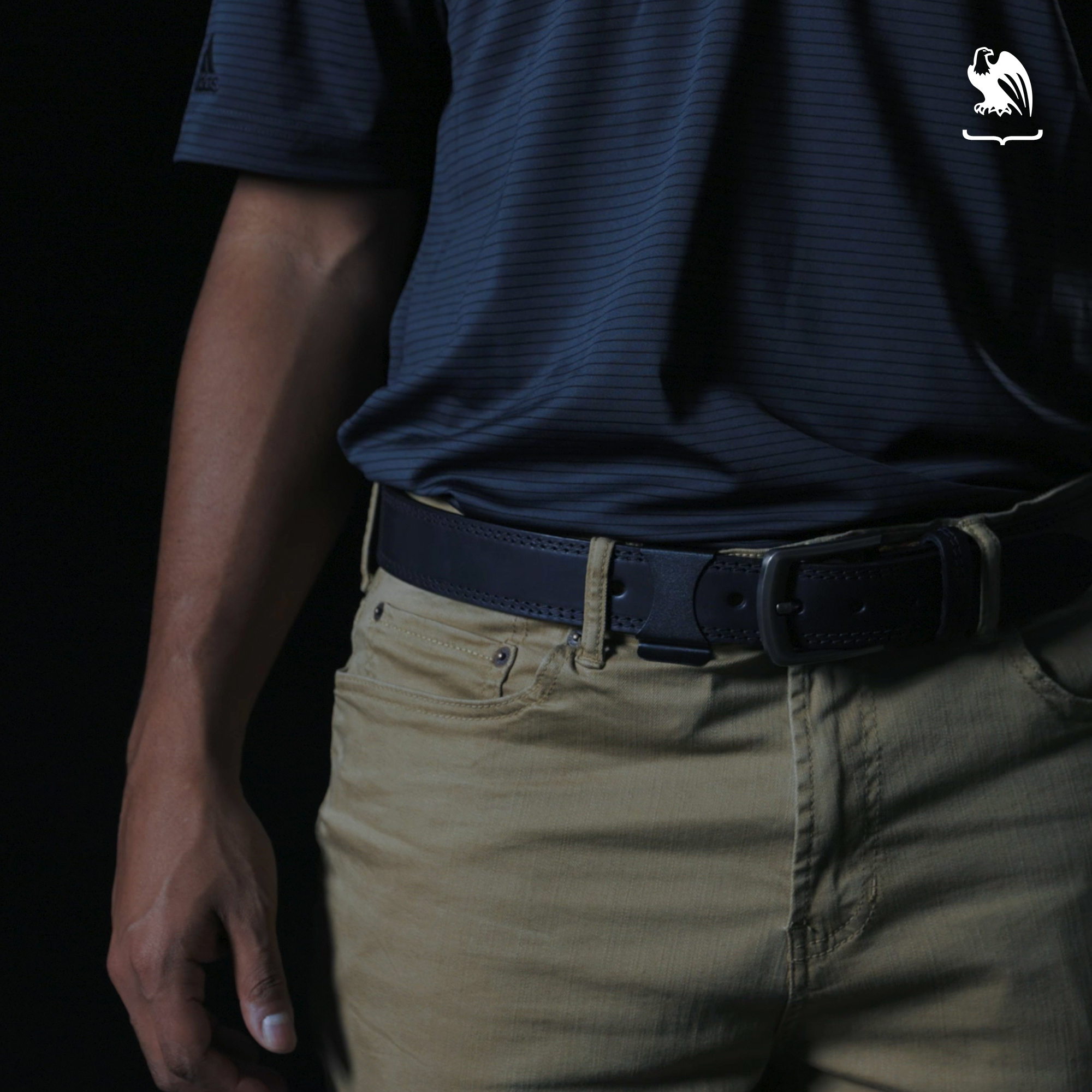 If you're looking to conceal your IWB holster in the most discreet way possible, the Rock Solid Spring Steel Belt Clip can help. Our clip is the key feature that makes our LightTuck™ and RapidTuck™ holsters so popular for concealed carry.
Our spring clip is specifically designed to be as thin and lightweight as possible while maintaining its rigid, secure form. It's designed to clamp perfectly to your carry belt from the inside and then disappear completely when you tuck your shirt down over it (hence, the tuckable feature).
Unlike most Kydex holster clips, which are typically made from breakable plastic and bulky foam, our sleek metal design allows you to carry with virtually no printing. While plastic clips cause printing under light clothing, the smooth metal we use easily hides beneath fabric without gripping the material.
Extra Strong Hold
Keeping your firearm secure against your body is one of the most critical aspects of concealed carry. If your gun is bouncing around or feels like it could slip because of a weak clip, you'll constantly be readjusting and checking your weapon all day, which defeats the purpose of "concealed" carry altogether.
The Rock Solid Spring Steel Belt Clip is built with not one but two attachment points for an extra strong hold. With the clip fastened to your holster in multiple places, you can carry more comfortably without having to worry about your pistol sliding or rotating.
The tight hold our holster clip provides keeps your gun closer to your body so you can feel secure whether you're walking, running, sitting, or jumping up and down. Whatever your day looks like, you can rest assured knowing that the spring steel clip has got you covered.
Built For Every Belt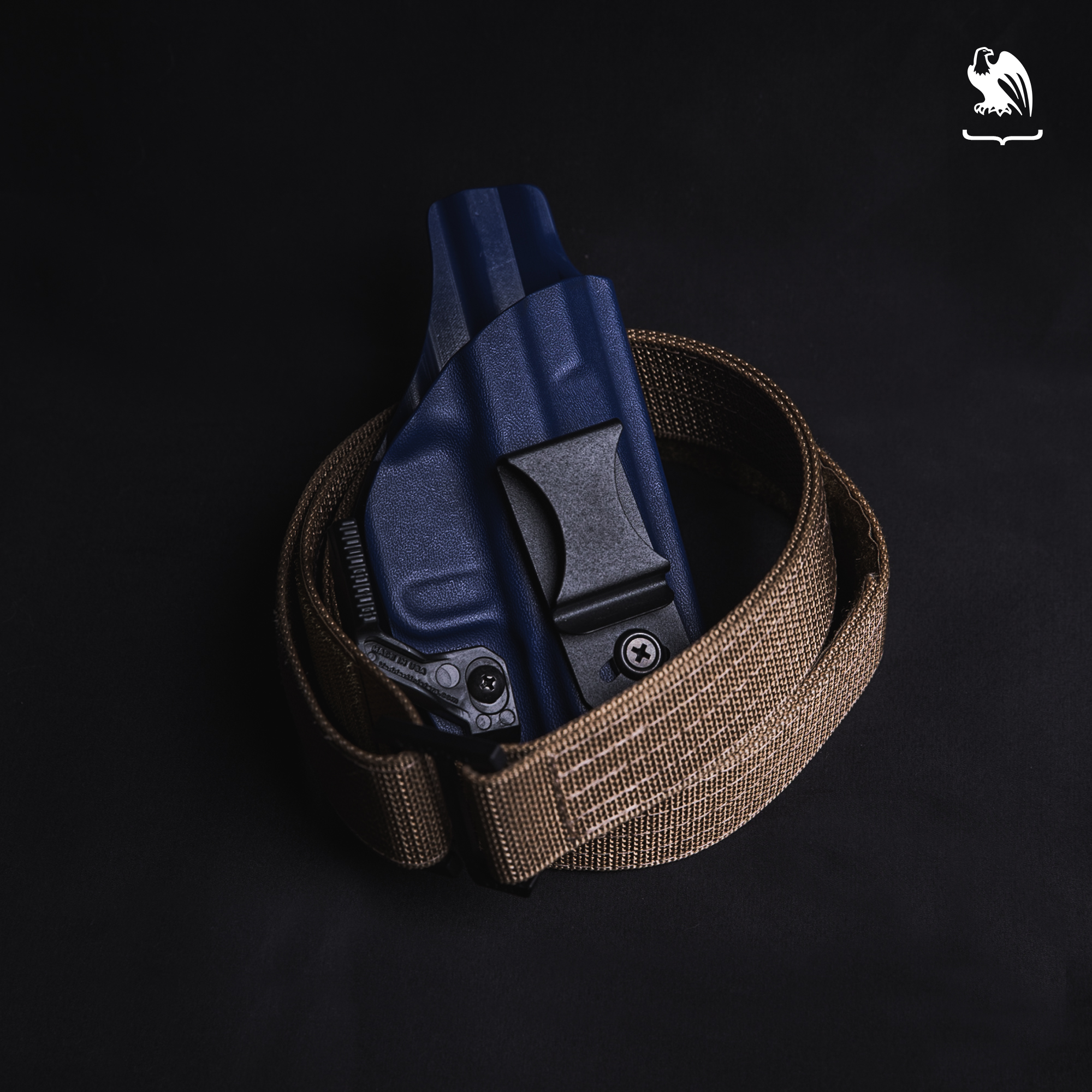 Like most of what we sell at Vedder Holsters, our spring steel clip can be customized depending on your preference.
It's designed to accommodate most belts and comes in two sizes, 1.5 inches and 1.75 inches, depending on the kind of belt you wear for concealed carry. Getting the correct width for your belt is important to ensure your holster doesn't slide around throughout the day.
For information about choosing the right gun belt, check out our article here.
Made in America
As if the durable spring steel, tuckable nature, and wide range of adjustability weren't enough, our IWB holster clips are also made in America.
Located in the heart of rural Mount Dora, Florida, we take pride in designing, manufacturing, and shipping our Vedder Holster products right here in the land of the free.
When you invest in products made in America, you can be confident that your dollars stay on American soil and support our economy. Not only that, but you help fulfill Vedder Holsters' mission to provide as many jobs for American workers as possible.
Not only are our Rock Solid Spring Steel Belt Clips made in the USA, but they, like everything we sell, are backed by our lifetime guarantee and 30-day risk-free trial.
How To Use The Spring Steel Clip
At Vedder, we don't believe in limiting adjustability or sacrificing durability. We also don't believe in making it difficult to take advantage of our product's adjustable features.
Adjusting your holster clip is easy: all you need is a Philips screwdriver and some blue threadlocker. To adjust the cant on your clip, loosen the top screw just enough that you can swivel the clip to the position you want, then tighten it back up again. It's that easy.
To adjust the ride height, remove both screws and line the holes on the clip with either the lower two, top two, or middle-left two holes on your holster, depending on the height you want. Then, insert the screws and tighten them back down.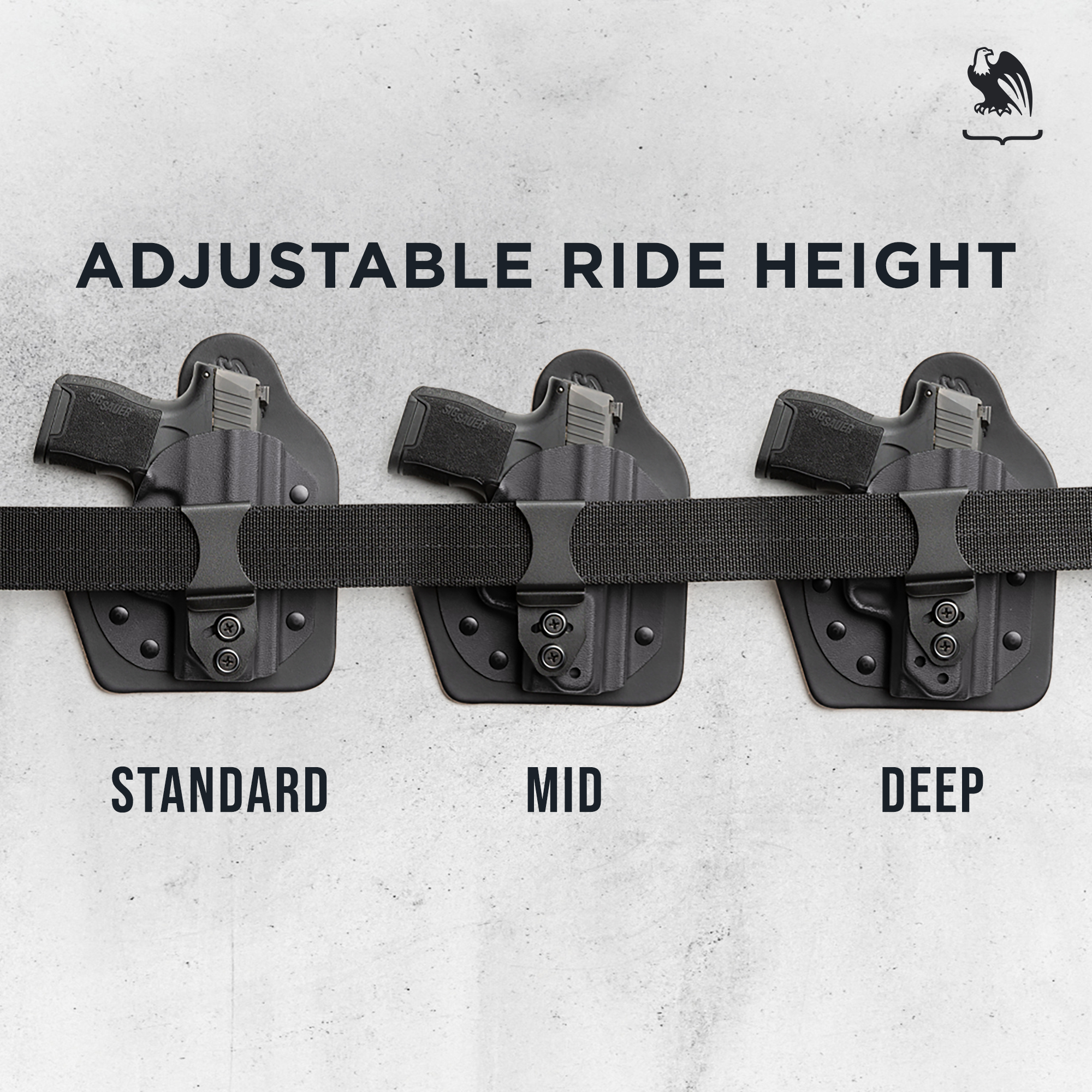 To ensure the screws on your clip don't loosen up over time, dab a bit of Turbo-Fuse™ Blue Threadlocker onto the hardware to keep it in place until you need to adjust it again.
Interested in trying one of our revolutionary belt clips for yourself? Our LightTuck™ and RapidTuck™ Kydex holsters already come equipped with the Rock Solid Spring Steel Belt Clip, or they can be purchased individually on our website to be added to a holster you already have.
If you are looking for belts or holsters, check out some of our other Vedder Holsters products here. Like everything we sell, our holsters and gun belts are covered by a Lifetime Warranty and a 30-day money-back guarantee.
Looking for items beyond holsters and belts? Check out our Resources Page for popular product links like lights, laser, first aid, maintenance, and more.