Choosing the right holster is vital for getting the most out of your Smith & Wesson M&P Shield. It's important to consider things like your intended use, carry position, and pistol setup before committing to a carry system.
When shopping for the best M&P Shield holster, you'll want to look for one that's as well-constructed and customizable as the Shield itself. Features like adjustable retention, cant, and ride height allow you to personalize a holster to your needs, and a thoughtful design promotes both comfort and safety.
In this article, we'll talk about all the factors you should consider when looking for a good holster for the M&P Shield, as well as our recommendations for the best OWB and IWB options for this carry gun.
But first, let's cover the details of the M&P Shield that may influence your choice of holster.
Products Mentioned In This Article
LightTuck IWB Holster
Go To Product
SideTuck IWB Holster
Go To Product
S&W M&P Shield 3.1" Plus 9mm Holsters
Go To Product
---
About the M&P Shield
The Smith & Wesson M&P Shield has many variations - from different calibers and sizes to accessory additions. This range of options is one of the major reasons it's become so popular among military, police, and citizens alike.
This striker-fired pistol comes in 9mm and .40 S&W. Its reliability rivals top brands like Glock and Sig Sauer in an impressively compact form.
The ergonomic grip of the 3.1" M&P Shield makes it comfortable for many to hold. Weighing just 20.8 ounces, the 9mm version of this lightweight pistol can carry 7 or 8 rounds in the magazine, plus one chambered, while the 20.6-ounce .40 caliber version can hold up to 6 or 7.
With options for everyone, the Shield excels as a concealed carry weapon. To find a quality M&P Shield holster matched to your needs, you can browse our entire collection here, or read on to learn more about what to look for in an S&W M&P Shield holster.
Smith & Wesson M&P Shield Specs
What to Look for in an M&P Shield Holster
Now that you have a better understanding of how the Shield is built and what it is best suited for, it's time to select a holster that complements this capable carry pistol.
Holster Type
The very first thing to consider when shopping for an M&P Shield holster is which carry position you prefer, as that will determine the type of holster you need.
Because of its micro-compact size, the Smith & Wesson M&P Shield is commonly carried inside the waistband. Thanks to its slim design, this pistol can easily be carried in typical positions like 3-5 o'clock or appendix carry.
It's important to note that not all holsters work for every carry position. While some versatile options like the Vedder LightTuck™ work well in most spots, others like the SideTuck are specifically made for appendix carry.
Once you decide on 3a carry position, you can narrow down your holster search to ones suited for that spot. From there, you can focus on preferred materials and customizations. If you need guidance on choosing the best concealment position, check out our " "Concealed Carry Positions: Ultimate Guide" for tips.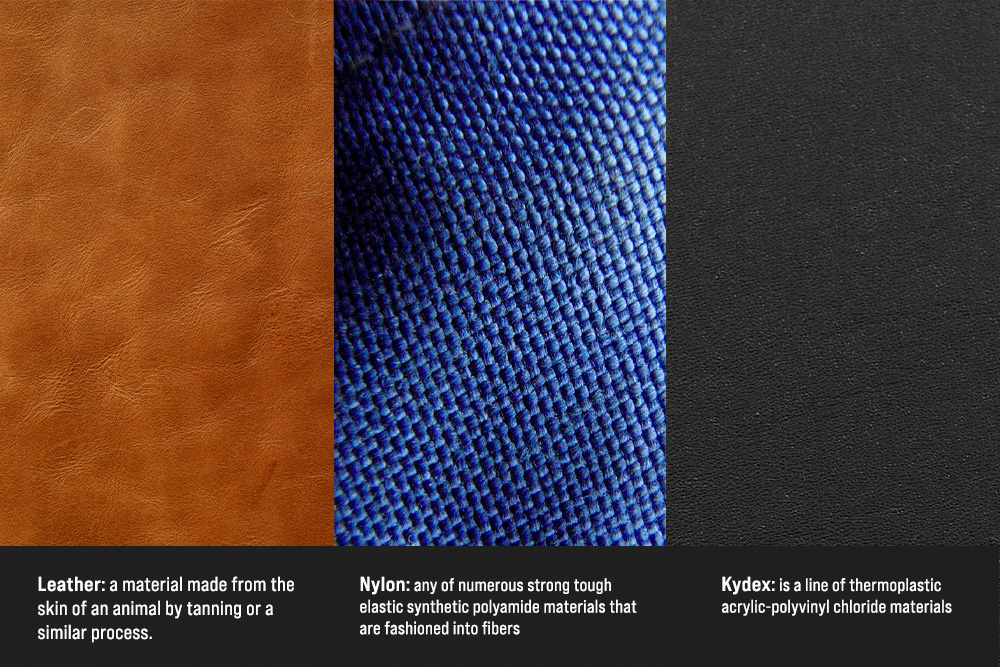 Material
M&P Shield holsters are most commonly constructed from leather, Kydex, or nylon materials.
Nylon holsters are typically not ideal for concealed carry, as they tend to be less durable and lose their shape when the gun is drawn, making reholstering difficult and even dangerous.
Leather holsters are another popular choice, known for being comfortable and long-lasting. The only potential downside is they can become sticky with exposure to moisture. While durable, leather doesn't quite match the toughness of Kydex.
Kydex is currently the most popular holster material because of its unmatched durability, concealability, and adjustability. Kydex holsters are precision molded to each specific gun model for a secure fit. Despite the thermoplastic material, they are very comfortable as well.
For the best of both worlds, a hybrid holster combines a Kydex shell for stability with a leather backing for comfort. This offers the durability and security of Kydex with the ease and comfort of leather.
You can check out our entire selection of Kydex and hybrid holsters here to learn more about the benefits of each.
Adjustability
For a daily carry pistol like the M&P Shield, having an adjustable holster is crucial for comfort and effective concealment.
Adjustable retention allows you to customize the amount of force needed to draw your weapon. This is both a personal preference and a safety feature, as you need to set your retention to a point where it is easy for you to draw while preventing it from slipping out or being grabbed from your holster.
Adjustable cant tilts your holstered gun either forward or backward to find the optimal angle for concealing, comfort, and accessibility. Many Vedder holsters feature 30 degrees of cant in both directions, offering more flexibility than other holsters on the market.
Finally, adjustable ride height positions the holster to sit at your desired point on the waistline, whether high for comfort or lower for deeper concealment.
Customization
No two concealed carry setups are exactly alike – everyone has their own preferences and gear, and it's important to find an M&P Shield holster that's customized to you and your pistol.
Luckily, all Vedder holsters are handmade to order and can be cut for a variety of modifications. We offer dozens of Kydex colors to choose from and can accommodate aftermarket changes like sights, lights, lasers, and optics.
Our holsters can also be set up for right- or left-hand draw, with different belt clip sizes and optional attachments like a holster claw. Some also feature sweat shields or combat cuts.
If you have a custom modification not listed, just let us know the details in the comments section when you check out. We'll do our best to craft a one-of-a-kind M&P Shield holster tailored to your pistol's setup.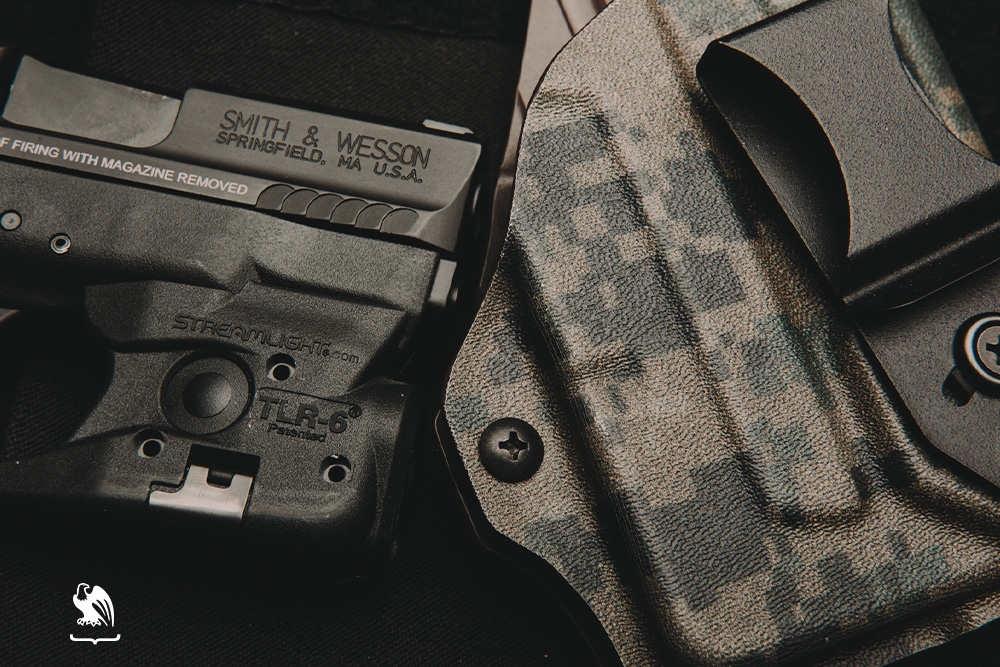 Design
A quality M&P Shield holster should have more than just style and features – it should also prioritize safety.
The most crucial aspect is a precise, custom fit to your specific pistol. With a proper Kydex holster, you'll hear a satisfying "click" as the M&P Shield locks into place. This prevents the gun from shifting around and ensures secure carry.
Vedder's M&P Shield holsters offer a near-perfect fit with minimal wiggle room when holstered. Lesser precision can lead to wear and tear on your firearm or even safety issues.
Also vital are a proper trigger guard and durable, low-profile belt clips. Insecure clips could cause the holster to detach or slide, while an inadequate trigger guard could allow foreign items to reach the trigger – which we don't have to tell you is a highly dangerous scenario.
So, look for holsters with zero "daylight" showing through the trigger guard. All Vedder Holsters are designed with full trigger guard coverage to completely protect the trigger space.
Comfort
Since the M&P Shield is designed for daily carry, it's important to pair it with a comfortable holster.
Luckily, the lightweight Shield can be worn comfortably with various holster styles. However, for maximum comfort, there are some key factors to consider.
Hybrid holsters tend to be the most comfortable, as the leather backing molds to your body and distributes the pistol's weight. This creates a flexible, secure feel that can be worn all day.
For all-Kydex holsters, versions with two points of contact can spread out the gun's weight in a similar way for added comfort.
And while the M&P Shield is commonly carried inside the waistband (IWB), some find outside the waistband (OWB) carry even more comfortable. If you're struggling to find an IWB option that's comfortable for you, consider trying OWB carry.
By selecting a holster designed for comfort, like a hybrid or OWB style, you can wear the easy-to-carry M&P Shield all day without breaking a sweat.
Concealment
With its compact design, the Shield is made for discreet carry. Pairing it with a bulky or obvious holster would be counterproductive. So what makes a holster optimally concealable?
First, look for a smooth, snag-free shell that's as thin as possible without compromising durability. This allows the holster to disguise the pistol's outline, reducing the risk of printing.
Also key is a slim, non-bulky clip. Avoid plastic clips that could print through clothing. A thin steel clip, like our patented Rock Solid Spring Steel Belt Clip, can disappear under even a simple T-shirt.
Holsters with optional accessories can also help conceal your gun, including add-ons like pancake clips and holster claws, which draw your weapon even closer to your body.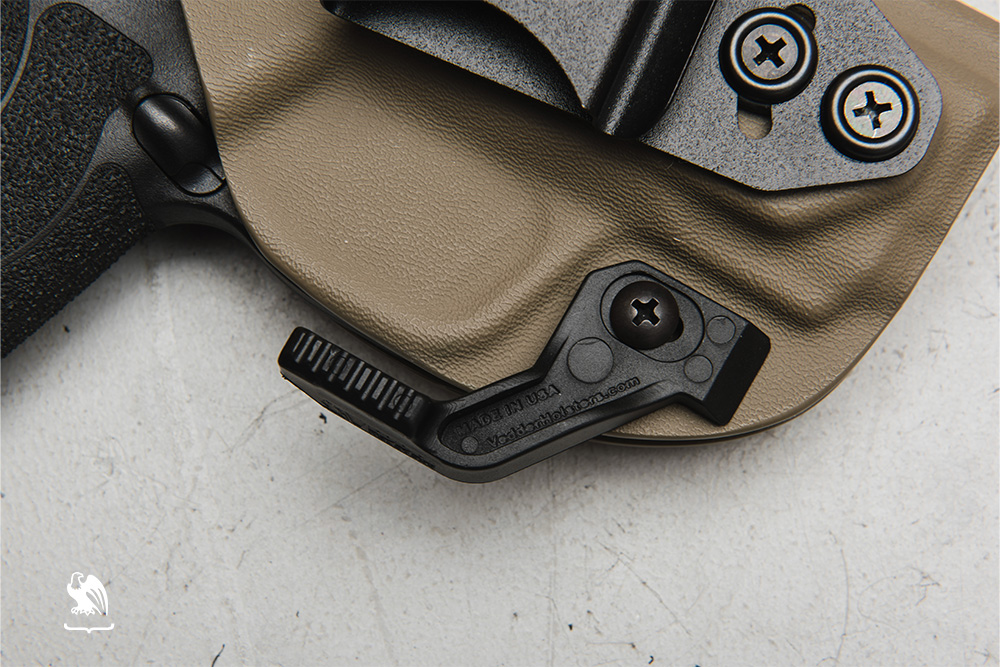 Warranty
Obviously, when shopping for the best M&P Shield holsters, you'll want to consider key factors like concealability, comfort, and adjustability. However, don't overlook the importance of a strong product guarantee.
A solid warranty provides peace of mind that your holster will be repaired or replaced if issues arise. It also shows the company stands behind the quality of its product.
At Vedder Holsters, all purchases are backed by a 30-day trial period and lifetime guarantee. If for any reason you are unsatisfied or experience problems down the road, you're covered.
While features like comfort and concealment are certainly important, a strong warranty should not be overlooked. It demonstrates confidence in the holster's construction and materials. So be sure to consider the guarantee when choosing the right holster for your M&P Shield.
Learn more about our warranty policy here.
Best M&P Shield Holster Options
Now that you know the different features you should look for in a quality holster, let's cut to the chase – here are our recommendations for the best M&P Shield holsters on the market.
Best IWB Holster for M&P Shield
If you're looking for the most versatile inside the waistband holster for your M&P Shield, the LightTuck™ beautifully balances customizability and concealment. With adjustable retention, ride height, and cant, it tailors to your carry preferences. Its slim, tuckable profile disappears against your body and under a wide variety of clothing.
If all-day comfort is a priority, a hybrid holster like the RapidTuck™ or ComfortTuck™ are excellent options. Their leather backings contour to your waistline and are specifically designed for 3-5 o'clock carry. The RapidTuck™ also offers adjustability for a personalized experience.
The ProTuck combines comfort with adaptability. Its two-point stable design, signature contour, and adjustable retention enable a natural, customized fit. It's expertly crafted for low-profile wear, especially in the 4 o'clock position.
For those looking to carry a spare mag, the SideTuck seamlessly incorporates a secure, adjustable magazine carrier. With multiple adjustments, contact points, and a concealment claw, it's a feature-packed addition to your EDC.
All Vedder holsters are designed with exceptional fit and function for the M&P Shield. Whether your top need is versatility, comfort, or accommodation for accessories, we offer an IWB holster to suit your lifestyle.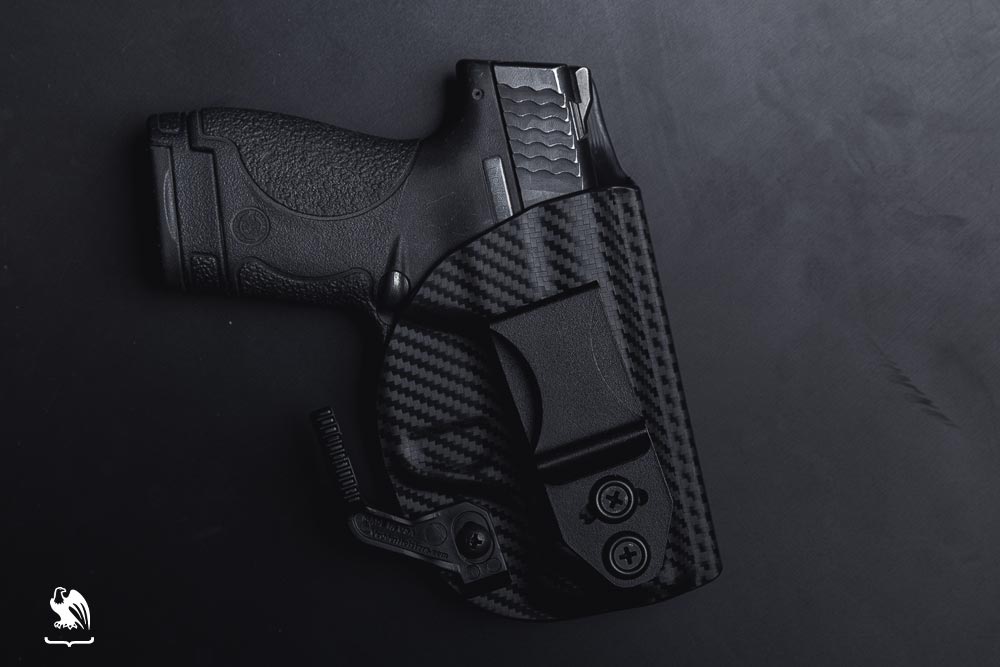 Best OWB Holster for the M&P Shield
For a functional yet comfortable Kydex OWB holster, consider the LightDraw™. It has adjustable retention and a reinforced double-sided shell, enabling smooth one-handed reholstering.
Those wanting a hybrid option may want to opt for the Quick Draw, which features a premium leather backing and built-in belt loops for all-day comfort and easy access.
For maximum adjustability, the ProDraw™ paddle holster is an excellent choice. It allows customizing retention, cant, and secure fit thanks to the lightweight, removable paddle clip design.
Vedder Holsters offers a wide variety of OWB options to suit different M&P Shield carry needs. Whether you prioritize convenience, comfort, adjustability, or access, we have a high-quality holster to match your lifestyle and preferences.
Summary
Whether you're looking for an inside the waistband or outside the waistband concealed carry holster, it's important to find the one that best suits your carry system.
At the end of the day, the best M&P Shield holster for you depends on your personal needs and preferences. So, consider what you want out of a holster, compare your options, and make an informed decision based on what you've learned about what to look for in a quality holster.
If you're looking for a new IWB, OWB, or pocket carry M&P Shield holster, visit our Holsters by Gun Model page for Kydex holsters that are custom-made for your weapon of choice.
Interested in items beyond holsters? Check out our Resources Page for links to recommended products like lights, lasers, first aid, maintenance, and more, and browse our selection of belts, apparel, and accessories at our website, vedderholsters.com.
To stay up-to-date on all the latest Vedder Holsters content and offerings, check out our blog and follow us on Facebook, Instagram, and Twitter. And be sure to visit our sister company, GeoGrit, for all of your American-made minimalist wallet needs.