Whether you just picked up a brand-new Glock 43X or you're looking to upgrade your current carry setup, you'll want to find the perfect holster to match this lightweight yet highly-effective subcompact pistol.
The holster you choose for your G43X should be just as functional and concealable as the gun itself. The best Glock 43X holster is one that is lightweight and durable with adjustable features and a safety-first design, all while remaining comfortable to wear on a daily basis.
Before you can successfully select a holster for the 43X, you'll need to understand its design. This Glock model is a popular choice for concealed carry thanks to its slim profile, user-friendly features, and high capacity.
In this article, we'll start by outlining the details of the G43X, then go over all the ins and outs of what you should look for in a quality holster for this CCW. We'll wrap things up by offering our recommendations for the top Glock 43X holsters on the market to help you in your search.
Let's get started.
Products Mentioned In This Article
LightTuck IWB Holster
Go To Product
LightDraw OWB Holster
Go To Product
Glock 43X Holsters
Go To Product
---
About the Glock 43X
The Glock 43X is a subcompact, 9mm pistol specifically designed for concealed carry.
This pistol is one of the most popular CCWs on the market, and for good reason. Designed for comfort and concealability, this 16.4-ounce handgun features a compact Slimline frame, meaning it has a shorter trigger distance, a built-in beavertail, and a reversible magazine catch.
Its compact-sized grip length and subcompact-slim slide make it both easy to conceal and shoot for a variety of users. It's built with a match-grade Glock Marksman Barrel for increased accuracy and precision-milled front slide serrations for easy racking.
All in all, this is one of the most durable, accurate, and easy-to-conceal weapons you can carry – an experience that's only enhanced by an equally comfortable and functional concealed carry holster.
Glock 43X Specifications
What to Look for in a Glock 43X Holster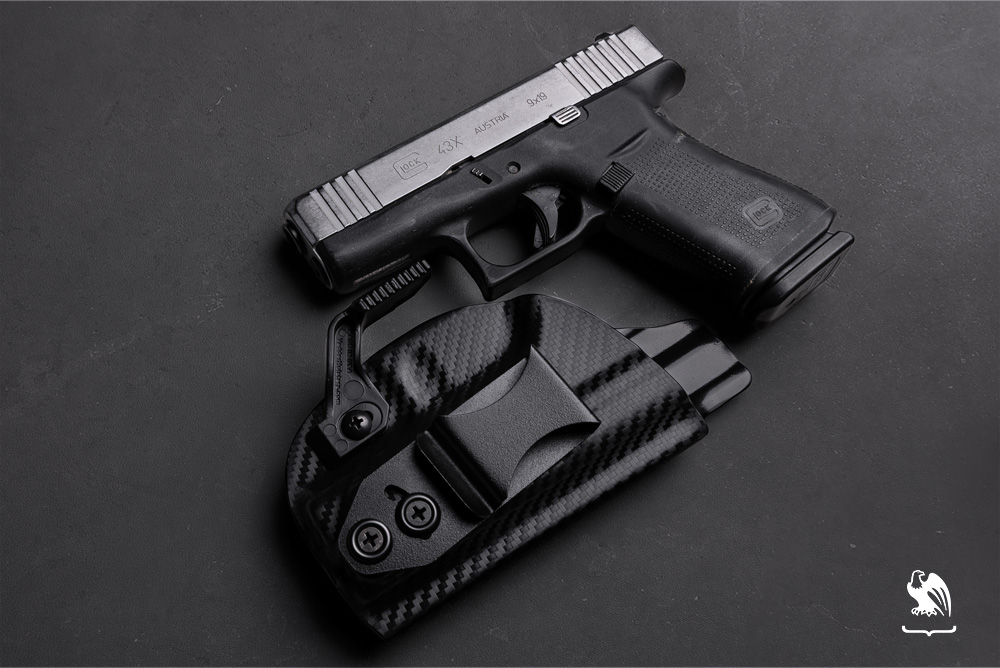 Now that you're familiar with the Glock 43X's design and functions, it's time to select a holster that complements this popular carry pistol.
Holster Type
The first thing to consider when shopping for a Glock 43X holster is which carry position you plan to use, as this will determine the type of holster you need.
Since the G43X is a slim concealed carry pistol, inside the waistband (IWB) is the most popular carry position. The 43X's compact size also allows for comfortable carry in positions like appendix and 3-5 o'clock.
Keep in mind that not all holsters work for every carry position. While some holsters like the Vedder LightTuck™ are versatile for multiple positions, others like the SideTuck are designed specifically for appendix carry.
Once you decide on your ideal carry position for the G43X, you can narrow down your holster search to ones suited for that position. Then you can focus on customization details like materials and other features. If you need help picking the right carry position, read " Concealed Carry Positions: Ultimate Guide."
Material
When shopping for a holster, you'll most commonly find options made from leather, Kydex, and nylon.
Nylon holsters are generally not recommended for concealed carry because they lack the durability of other materials. While they're a comfortable option, they tend to collapse in on themselves when your gun is removed, making reholstering difficult and potentially dangerous.
Leather is a popular choice for holsters because it's comfortable and long-lasting. The downside to a fully leather holster is that it's not quite as lightweight as other materials and cannot offer the same precise fit as Kydex.
Kydex is the most popular holster material today and for good reason. Kydex holsters offer unmatched durability, concealability, and adjustability. The thermoplastic is heat molded to the G43X for a secure and precise fit. Despite being rigid, Kydex is also surprisingly comfortable.
If you want the best of both worlds, a hybrid holster – which has a leather backing and a Kydex shell – is a great option for both comfort and security.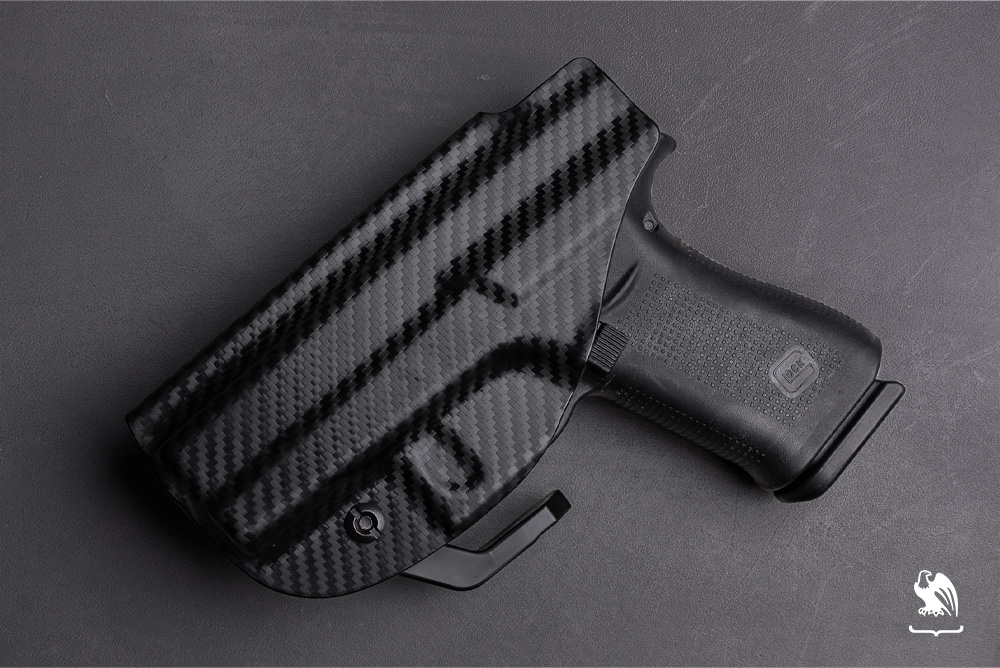 Adjustability
When it comes to pistols like the Glock 43X that are meant to be carried all day, it's important that your holster can be adjusted for optimal comfort and concealment.
Adjustable retention is one of the most important features as it allows you to customize how securely the G43X is held in the holster and how easy it is to draw. This is useful for both personal preference and safety.
Adjustable cant lets you tilt the holster either forward or backward to find the ideal angle for concealment, comfort, and accessibility. Many Vedder holsters feature 30 degrees of adjustable cant in both directions, which is more versatile than most other holsters on the market.
Adjustable ride height allows you to position your gun to sit high, low, or somewhere in between on your waistline. This accommodates different carry preferences, from deep concealment to a higher carry position.
With adjustability for retention, cant, and ride height, you can customize your holster to meet your unique needs for all-day concealed carry comfort.
Customization
For a highly customizable daily carry pistol like the 43X, you'll want a holster that equals its versatility.
No two carry setups are exactly alike. Everyone has different needs and preferences, especially with the many aftermarket accessories and modifications available for the Glock 43X.
Luckily, all Vedder holsters are handmade to order and can be tailored to your specific 43X – accessories and all. Not only do we offer dozens of Kydex color options, but our holsters feature full sight channels and can accommodate various lights, lasers, and optics.
Our holsters can also be set up for right- or left-handed use. You can choose between different belt clip sizes or add optional attachments like a claw. Some have the option for sweat shields and combat cuts too.
And if you have a unique mod not listed on our site, just reach out with the details and we'll craft a one-of-a-kind holster optimized for your pistol.
Safety & Design
By far the most critical feature to look for in a holster is a thoughtful design that prioritizes safety.
When talking about Kydex holsters, specifically, you'll want one with a precise fit molded specifically to the G43X. With a Kydex holster, you should hear and feel a satisfying "click" when holstering, signaling a perfect fit. This prevents the 43X from shifting and falling out.
All Vedder holsters have minimal wiggle room for a secure carry. Lesser precision can be unsafe and cause wear on your firearm, which we don't have to tell you isn't ideal.
Finally, a proper trigger guard and durable belt clips are essential when it comes to everyday carry holsters. Clips that don't fasten securely to your belt could cause the holster to fall off or slide around, while an insufficient trigger guard is a major safety hazard.
Always look for minimal "daylight" in the trigger guard, meaning the holster fully encloses the trigger. A guard that doesn't completely cover the trigger increases the risk of an accidental discharge, and it's just not worth the risk. All Vedder holsters are designed with precise trigger guards with zero daylight for a safe, secure experience.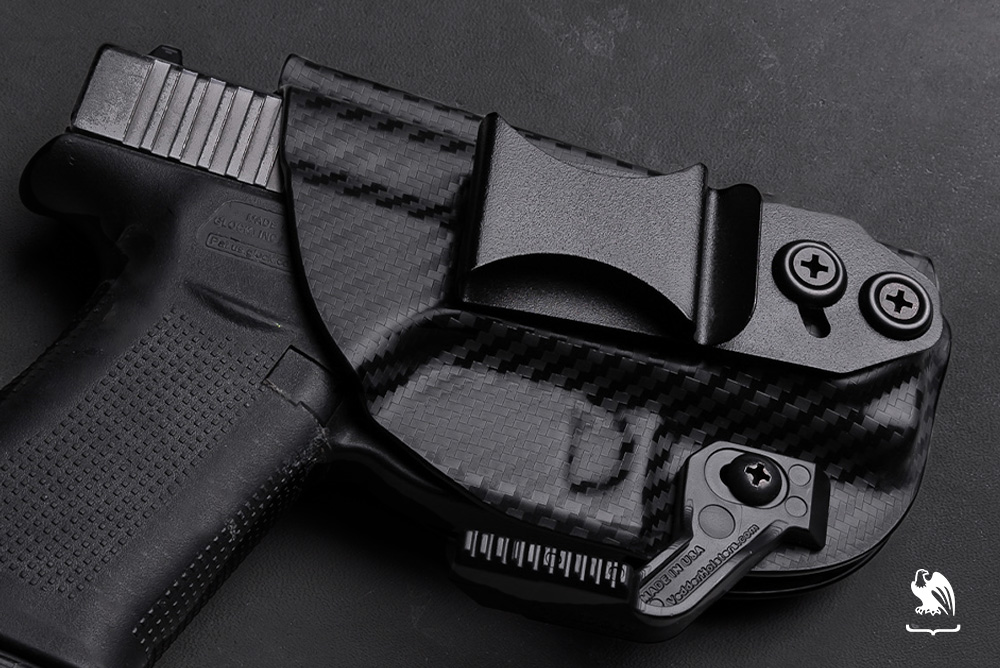 Comfort
Since the G43X is designed for daily carry, having a comfortable holster is crucial.
Luckily, this lightweight Glock can be carried comfortably in many holster styles. But for maximum comfort, there are a few key factors to consider.
A hybrid holster with a leather backing is always the most comfortable option. The leather molds to your body and distributes the weight of the G43X for a lighter, more secure feel.
For an all-Kydex holster, look for one with two points of body contact to spread out the weight in a similar fashion.
Though often carried IWB, many find OWB carry even more comfortable with the Glock 43X. If you're struggling to find a comfortable IWB option, you may want to give OWB a try.
Concealment
With a concealed carry pistol like the Glock 43X, having a discreet holster is a must. The 43X is specifically designed for easy concealment with its slim frame and compact size, so pairing it with a bulky, conspicuous holster would defeat the purpose.
So, what makes a holster truly concealable for the G43X?
First, look for a smooth, snag-free holster shell that's as thin as possible without compromising durability. This prevents printing and bulges under your clothing.
The clip is also important. Many clips are thick plastic that can print. Opt for a thin steel clip like our Rock Solid Spring Steel Belt Clip that disappears under a shirt. This patented clip is not only smooth and low-profile, but it doesn't feature any branding so if someone does happen to notice it, they won't know it's a holster.
Optional accessories like pancake clips and holster claws can also improve concealment by drawing the G43X tighter to your body.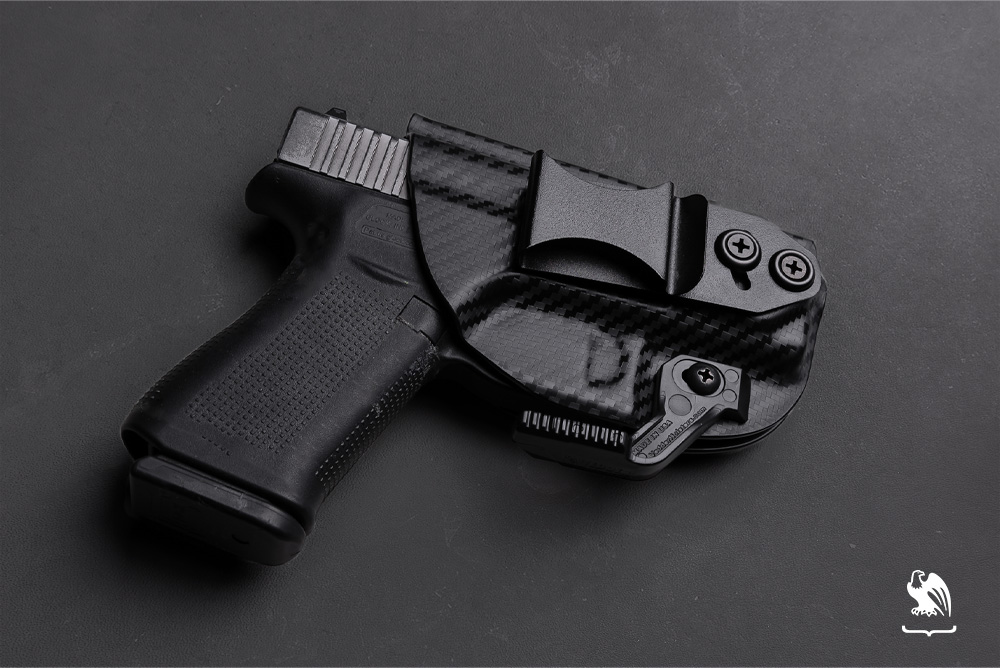 Warranty
When shopping for a Glock 43X holster, features like concealability and comfort are important. But don't overlook the product guarantee.
A strong warranty not only provides peace of mind if issues arise but shows the company stands behind its product quality. All Vedder holsters are backed by a 30-day trial period and lifetime guarantee. If you're ever unsatisfied with your purchase for any reason, we'll make it right.
A holster is a critical concealed carry component, so a robust guarantee gives reassurance that your G43X is in good hands. When researching holsters, look for a warranty that has your back.
Best Glock 43X Holsters
Now that you know the different features you should look for in a quality holster, let's cut to the chase. Here are our recommendations for the best Glock 43X holster on the market.
Glock 43X Holster: IWB
Everyone is different, and therefore everyone has different needs when it comes to concealed carry holsters. So, we'll break down the best holster options available, depending on your needs and preferences.
First up is the overall best IWB holster for the Glock 43X: the Vedder Holsters LightTuck™. This Kydex holster is extremely versatile and can be worn in any carry position. It features fully adjustable retention, three levels of adjustable ride height, and 30 degrees of forward and reverse cant. Lightweight, tuckable, and featuring our patented Rock Solid Spring Steel Belt Clip, this is the ultimate inside the waistband holster.
If you're looking for the most comfortable Glock 43X IWB holster, you may want to consider a hybrid option. Both the Vedder Holsters RapidTuck™ and ComfortTuck™ are designed to be worn in the 3-5 o'clock position and are fitted with a premium cowhide or horsehide leather backing.
These holsters are designed to comfortably mold to your waistline for unbeatable comfort and concealability. The RapidTuck™ is also an adjustable holster, allowing you to select your preference for ride height and cant.
Another great holster for the G43X is the Vedder ProTuck. This hybrid holster combines the comfort of the ComfortTuck™ plus features two points of contact and a shape that naturally contours to your body. It is designed to be worn in the 3-5 o'clock position and offers fully adjustable retention.
Finally, if you're interested in carrying a spare magazine along with your gun, the Vedder SideTuck might be a great option for you. This holster offers all the same concealability as the popular LightTuck™ with the addition of an attached, fully-adjustable custom Kydex mag carrier. This holster also comes with a claw attachment and features adjustable retention and two points of contact.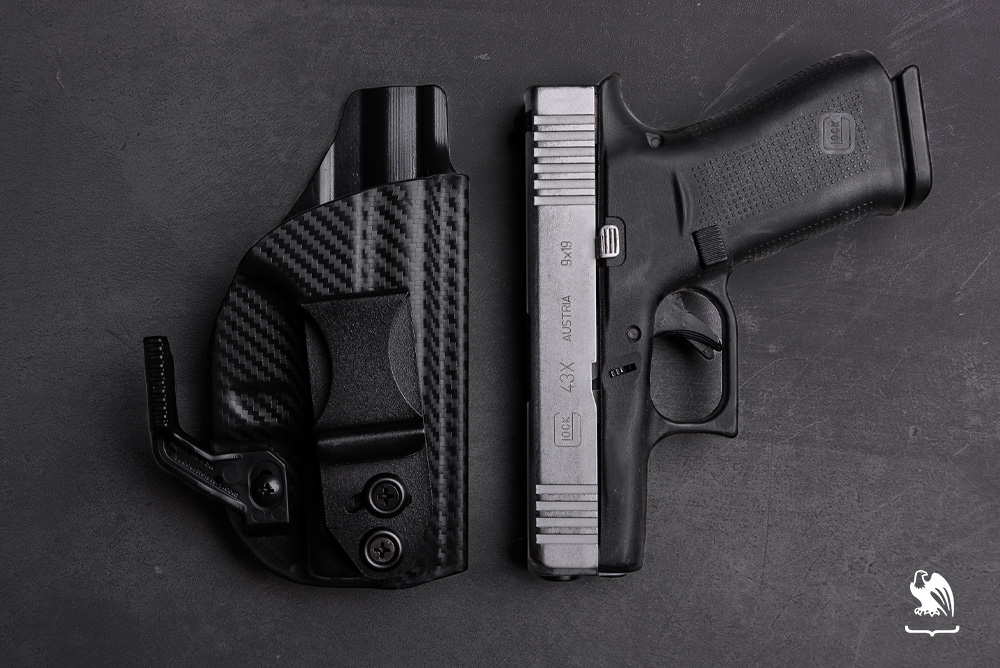 Glock 43X Holster: OWB
If you prefer to carry outside the waistband, you know that having the right holster can make all the difference. Here are our recommendations for the best Glock 43X OWB holsters depending on your needs.
One of the best outside the waistband holsters you can carry with the G43X is the Vedder Holsters LightDraw™. This Kydex holster is designed to be functional, yet comfortable. It is built with adjustable retention and its double-sided, fully reinforced shell allows for one-handed reholstering.
If you're looking for a hybrid OWB holster option, the Vedder Quick Draw is your best bet. This holster features a premium leather backing complete with two built-in belt loops. Designed for comfort and ease of access, this holster is perfect for most outside the waistband positions.
If you prefer a Glock 43X paddle holster, Vedder's ProDraw™ is an excellent choice. This type of holster is the most adjustable of the OWB options, featuring adjustable retention and 15 degrees of forward and reverse cant. Lightweight and fitted with our OWB Paddle Clip, this holster is comfortable and easy to put your holster on and remove at the end of the day.
Summary
Whether you're looking for an inside the waistband or outside the waistband concealed carry holster, it's important to find the one that best suits your carry system.
At the end of the day, the best Glock 43X holster for you depends on your personal needs and preferences. So, consider what you want out of a holster, compare your options, and make an informed decision based on what you've learned about what to look for in a quality holster.
If you're looking for a new IWB, OWB, or pocket carry holster, visit our Holsters by Gun Model page for Kydex holsters that are custom-made for your weapon of choice.
Interested in items beyond holsters? Check out our Resources Page for links to recommended products like lights, lasers, first aid, maintenance, and more, and browse our selection of apparel, and accessories at our website, vedderholsters.com.
To stay up-to-date on all the latest Vedder Holsters content and offerings, check out our blog and follow us on Facebook, Instagram, and Twitter. And be sure to visit our sister company, GeoGrit, for all your American-made minimalist wallet needs.