If you were smart enough to choose a weapon like the Glock 45, we don't need to tell you that finding a holster to match its functionality is a must.
Since it hit the market in 2018, the G45 has been a popular choice among gun enthusiasts – and for good reason. This compact crossover pistol features all the design elements of a quality military weapon in a package sized for concealed carry.
If you're looking for a holster for your G45, there are plenty of factors to consider. The best Glock 45 holster will equal the pistol's durability, light weight, and concealability. You'll want to look for a strong holster with adjustable features, quality material, and a precise fit.
So, whether you plan to use your G45 for duty use, concealed carry, or home defense, here's everything you need to know about how to choose the best holster for this popular self-defense pistol.
About the Glock 45
Though specifically designed with duty use in mind, the G45 has become a popular choice for concealed carriers and home defenders as well.
With its reliable performance, user-friendly design, and exceptional versatility, it's no wonder the Glock 45 is a go-to for many firearm enthusiasts.
One of the standout features of the Glock 45 is its ideal balance between size and firepower. It boasts a full-size framecombined with a compact slide, providing users with a comfortable grip and excellent control. This unique combination allows for enhanced accuracy and ease of handling, making it suitable for a range of shooting scenarios.
The Glock 45 is chambered in 9mm, and has a standard magazine capacity of 17 rounds. This offers ample firepower while also allowing compatibility with higher-capacity magazines.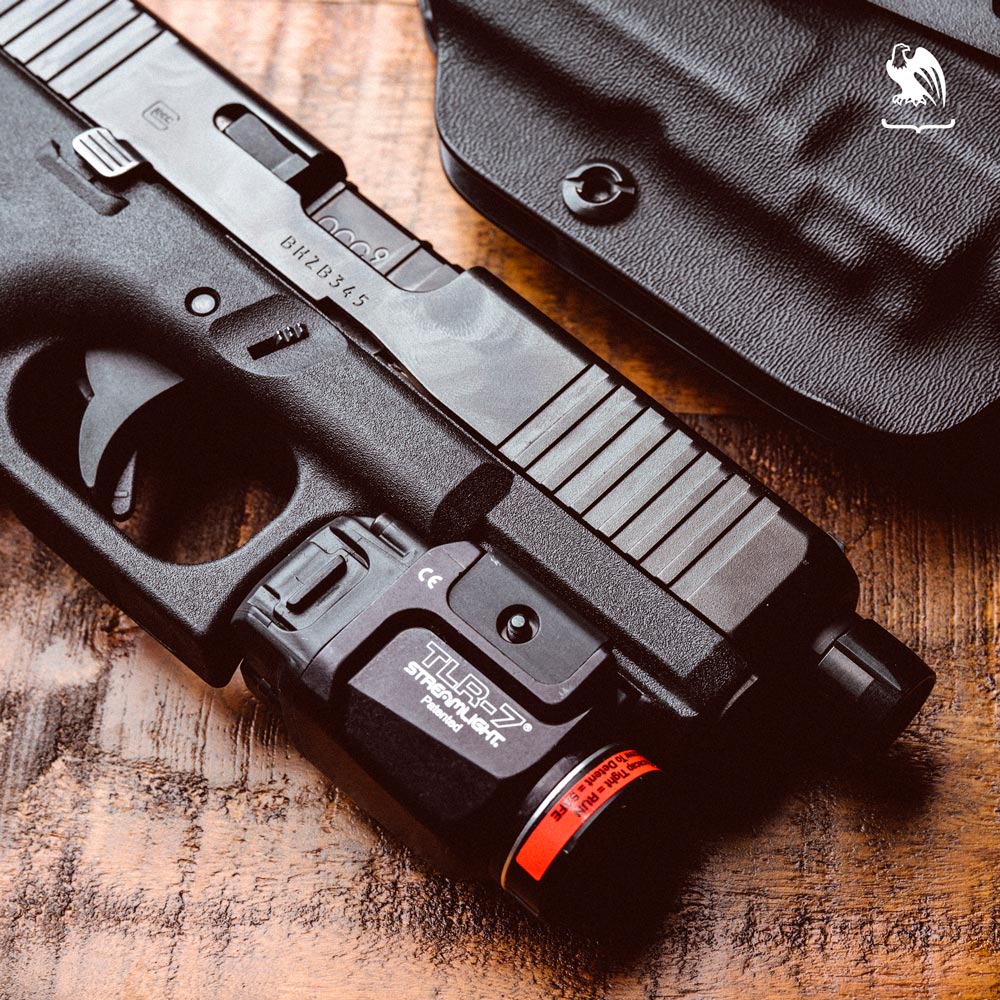 The pistol incorporates Glock's renowned Safe Action System, featuring a consistent and predictable trigger pull and an added layer of protection for shooters.
Another notable feature of the Glock 45 is its accessory compatibility. It is equipped with a front accessory rail, allowing users to easily attach various accessories such as lights or lasers to enhance their shooting experience and tactical capabilities. This adaptability makes the Glock 45 an adaptable firearm suitable for personal customization and individual preferences.
The durability and reliability of the Glock 45 are another reason it's so popular. Utilizing high-quality materials that ensure longevity and consistent performance, the pistol's corrosion-resistant finish and rugged construction make it suitable for demanding environments and adverse weather conditions.
Overall, the Glock 45 is a formidable handgun that offers a winning combination of size, firepower, safety, and reliability. Whether for self-defense, concealed carry, or target shooting, its versatile features make it a top choice for both seasoned professionals and firearm enthusiasts alike.
Glock 45 Specs
What to Look for in a Glock 45 Holster
If you own a Glock 45, you already know the importance of pairing this popular everyday carry firearm with a reliable concealed carry holster. But what are the specifics of what you should be looking for in a Glock 45 holster?
When seeking a holster for your Glock 45, it's essential to opt for one that matches the pistol's lightweight, concealable, and streamlined nature. Look for a holster crafted from quality materials, a well-thought-out design, and adjustable features that can be personalized to your preferences.
Let's jump into the specifics.
Holster Type
The very first thing to consider when shopping for a holster is the position you'll wear it in, which will determine the type you need.
Because of its small, concealable size, the most popular way to carry the Glock 45 is inside the waistband. Again, thanks to its compact size, this pistol can easily be carried in any traditional carry position, including 3-5 o'clock and appendix.
Believe it or not, not all holsters are compatible with every carry position. For example, while the Vedder Holsters LightTuck™ is a do-it-all holster that works well in pretty much any position, other holsters like our SideTuck are specifically designed to be carried in the appendix, or 1-2 o'clock, position.
Once you know what position you want to carry in, you can eliminate any holster that isn't suited for it. From there, you can move on to the fun stuff. If you need help figuring out which position is best for you, check out our "Concealed Carry Positions: Ultimate Guide."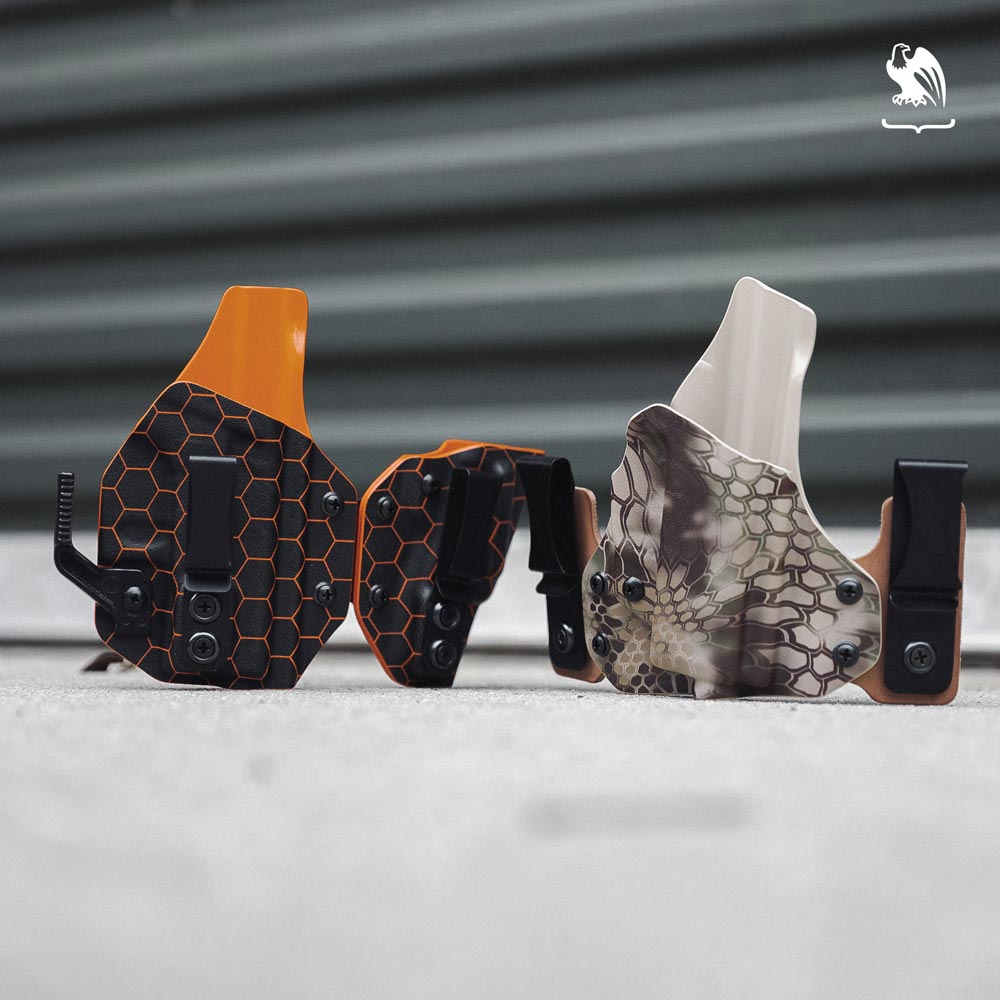 Material
When it comes to holster materials, you'll likely be choosing between leather, Kydex, and nylon.
Nylon holsters, while common, are not generally recommended for concealed carry due to their comparatively lower durability. Moreover, they tend to collapse when you draw your gun, making reholstering more challenging and potentially hazardous.
Leather holsters are a popular choice for concealed carry as they're both comfortable and durable. However, one downside is that they can become slightly sticky when exposed to water, sweat, or humid conditions.
Kydex is an extremely popular holster material, and for good reason. These holsters are unparalleled in terms of durability, concealability, and adjustability. They are molded around a specific gun model, ensuring a secure and perfect fit. Despite being made from thermoplastic, Kydex holsters are still quite comfortable.
If you're interested in a holster that combines the durability of Kydex with the comfort of leather, hybrid holsters are an excellent choice. They feature a sturdy Kydex shell accompanied by a flexible leather backing, providing the best of both worlds.
Concealment
If you're looking for a Glock 45 holster for everyday carry, it goes without saying that you want one that is easily concealable.
Because it's such a popular CCW, the G45 definitely needs to be paired with a slim, compact holster that can be easily slipped under even a simple T-shirt.
So, how do you find a holster like that?
The first aspect to consider is the holster's shell. To ensure effective concealment without any visible printing, the shell should be smooth, free of any snags, and as thin as possible without compromising durability.
The design of the holster's clip also plays a crucial role in concealability. Many holster clips on the market are bulky and plastic, which is pretty hard to wear without printing. Steel clips, like the Vedder Holsters Rock Solid Spring Steel Belt Clip, which are thinner and sleeker, tend to be far easier to conceal.
Sometimes additional accessories can help make a holster more concealable as well. Add-ons like pancake clips and holster claws help draw your weapon closer to your body, and make a world of difference.
Adjustability
For concealable pistols like the Glock 45, it's essential that your holster is as adjustable as possible to ensure a comfortable experience.
One extremely important feature is adjustable retention. This allows you to customize the level of tightness in the holster, determining how easy or difficult it is to draw your weapon. Adjustable retention not only accommodates your personal preferences, but also plays a significant safety role.
Another excellent feature is adjustable cant, which enables you to tilt your firearm forward or backward to find the ideal "sweet spot" for concealment, comfort, and accessibility. At Vedder Holsters, many of our holsters are designed with a versatile range of 30 degrees for both forward and reverse cant, which is much higher than most on the market.
Next, adjustable ride height allows you to position your carry system high, low, or anywhere in between on your waistline. Whether you prefer deep concealment or a higher-sitting firearm, this feature allows you to position your carry setup exactly where you want it.
Customization
The Glock 45 is an extremely customizable firearm. With so many aftermarket accessories and upgrades available, you'll need a holster that can accommodate any changes you make.
At Vedder Holsters, all our holsters are custom-made to order and can accommodate the vast majority of aftermarket modifications. Our holsters feature full sight channels, and can be fit for most lights, lasers, and optics.
We also offer holsters for both right- and left-handed users, and have dozens of Kydex colors to choose from. Beyond that, you can choose from different-sized belt clips or opt for attachments like our holster claw. Additionally, some of our holsters offer optional sweat shields and combat cuts for added comfort and functionality.
Plus, if you have a modification not specified on our website, you can feel free to reach out to us with the details, and we will do what we can to accommodate it.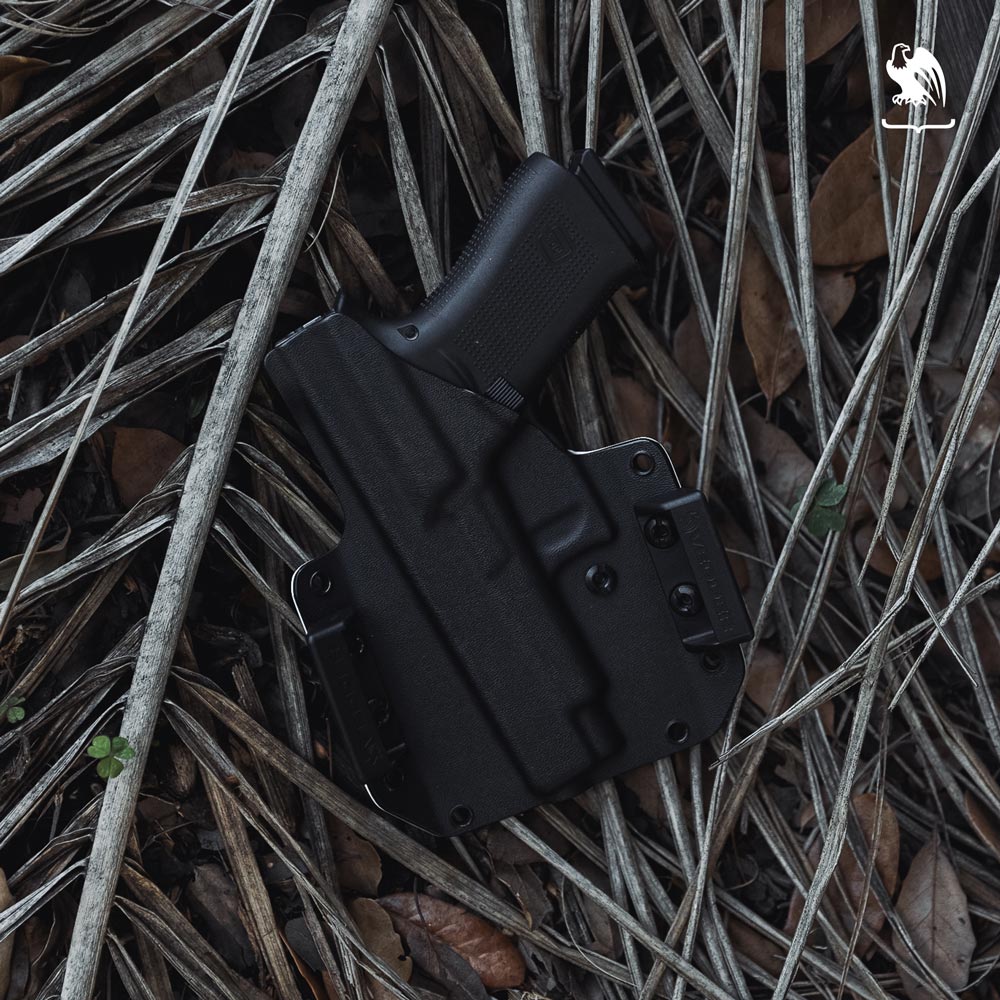 Comfort
If you're carrying every day, you need a comfortable holster.
Fortunately, the Glock 45 is remarkably lightweight, allowing for comfortable wear with a wide range of holster designs. However, there are a few factors to consider if you want to get the most comfortable holster you can.
The hybrid holster stands out as the most comfortable option. Its leather backing offers a flexible surface that conforms to your body, providing a nice, comfy fit. It also offers added weight distribution, making it feel lighter and more secure.
If you prefer an all-Kydex holster, models with two points of contact with your body can achieve a similar weight distribution.
Furthermore, while the Glock 45 is often carried inside the waistband, many users find outside the waistband to be an even more comfortable choice. If you have been struggling to find a comfortable IWB carry position for your Glock 45, trying OWB carry may be the solution.
Design
Many people don't realize a holster's design encompasses more than just its style, color, and adjustable features. In fact, certain design aspects play a crucial role in ensuring safety and should not be overlooked.
The most critical design element of a holster is a precise fit to your weapon. If you're carrying a Kydex holster, your firearm should snugly fit inside, and you should hear a satisfying "click" as it securely snaps into place.
Vedder's Glock 45 holsters are molded around the gun model for the most precise fit possible. Holsters with less accuracy not only pose a safety risk, but can also cause wear and tear on your firearm – something you definitely want to avoid.
Equally important to an accurate fit is a holster with a well-designed trigger guard and durable clips. Without secure clips, your holster won't fasten firmly to your belt, increasing the risk of it coming loose or sliding around on your waistline.
It is critical to choose a holster with a fully enclosed trigger guard. A holster that fails to cover the trigger completely may allow foreign objects to enter and potentially reach the trigger, which can lead to an accidental discharge.
Best Glock 45 Holster Options
Now that you're up to speed on all the important things to look for in a high-quality holster, let's get straight to the point. Here are our top recommendations for the best G45 holsters on the market.
Best Glock 45 IWB Holster Recommendations
If you're looking for a concealed carry holster for your Glock 45, it's important to consider your individual needs and preferences.
For the most versatile inside the waistband holster, the Vedder Holsters LightTuck™ is an excellent choice. It offers adjustable retention, ride height, and cant, allowing you to customize it to your liking. With its lightweight design and patented Rock Solid Spring Steel Belt Clip, it works great in any carry position.
If comfort is your priority, hybrid holsters like the Vedder Holsters RapidTuck™ and ComfortTuck™ are a great option. These holsters feature premium leather backings (cowhide or horsehide) that conform to your waistline for a comfortable fit. Designed to be worn in the 3-5 o'clock positions, they provide both comfort and concealment. The RapidTuck™ is also adjustable, allowing you to set your preferred ride height and cant.
If you're looking for a hybrid holster with added stability and weight distribution, you may want to check out the Vedder ProTuck. With two points of contact and a shape that naturally contours to your body, it ensures a secure fit. It offers adjustable retention and is designed for 3-5 o'clock positions.
If you're looking for a Glock 45 appendix holster and wish to carry a spare magazine, the Vedder SideTuck is the perfect holster. It combines the concealability of the LightTuck™ with an attached, fully adjustable Kydex magazine carrier. Featuring a claw attachment for improved concealment, adjustable retention, and two points of contact, it offers convenience and versatility.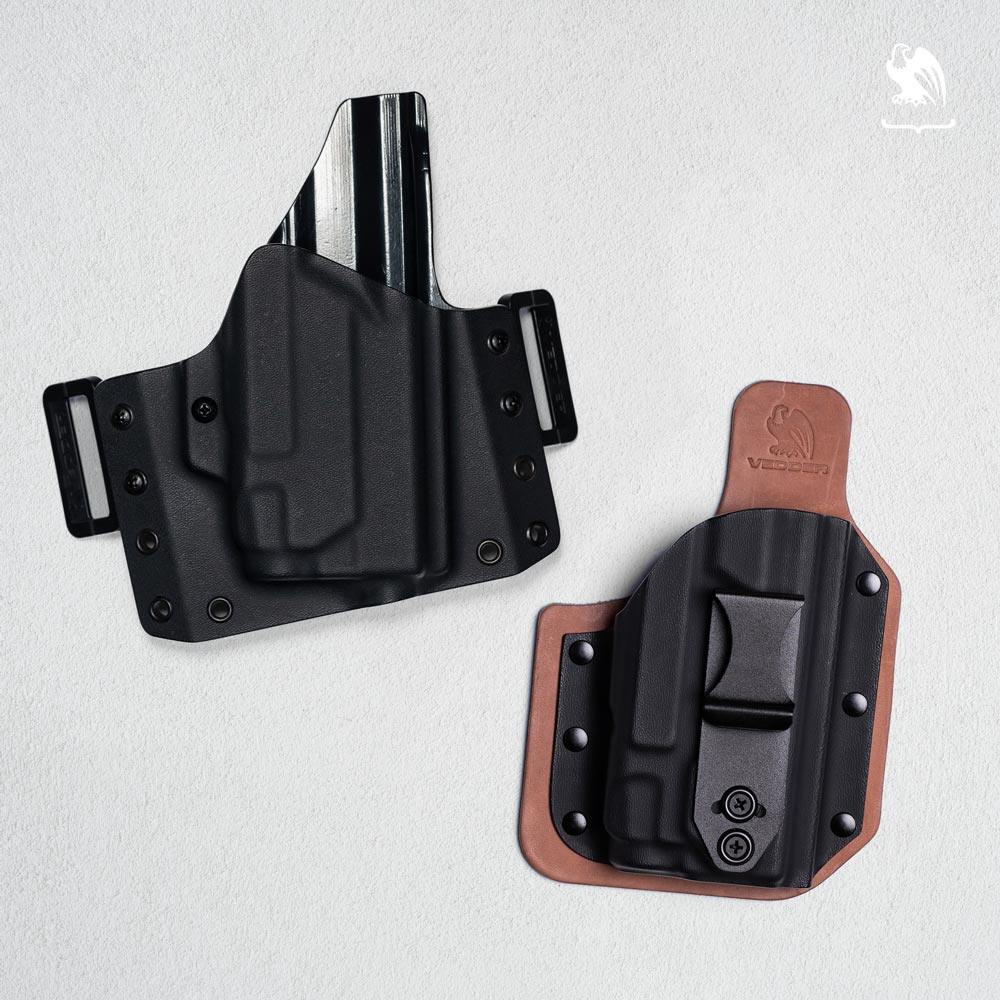 Best Glock 45 OWB Holster Recommendations
When it comes to carrying the Glock 45 outside the waistband, the right holster can make all the difference. So, without further ado, here are our recommendations:
If functionality and comfort are your top priorities, the Vedder Holsters LightDraw™ is an excellent choice. This Kydex holster offers adjustable retention and features a double-sided, fully reinforced shell, allowing for easy one-handed reholstering. It strikes the perfect balance between functionality and comfort for OWB carry with the Glock 45.
For those seeking a hybrid OWB holster, the Vedder Quick Draw is a top contender. With its premium leather backing and built-in belt loops, this holster provides both comfort and accessibility. Designed to accommodate various OWB positions, it ensures a secure and comfortable fit for the Glock 45.
If you're interested in a Glock 45 paddle holster, the Vedder ProDraw™ is a fantastic option. This OWB holster offers superior adjustability with adjustable retention and 15 degrees of forward and reverse cant. Its lightweight design, coupled with a paddle clip, ensures both comfort and allows you to put on and remove the holster without taking off your belt.
Summary
When it comes to finding the ideal holster for your Glock 45, it's crucial to choose one that caters to your unique firearm and carry needs.
Ultimately, the best G45 holster for you will depend on your individual preferences. Everyone's carry system is unique, and what works for one person may not work for another.
Think about your lifestyle, level of comfort, and any firearm modifications you may have made. Once you evaluate your unique needs and preferences, as well as the safety and functionality of the holsters you're looking at, you can confidently select a Glock 45 holster that suits your carry style.
If you're looking for a new IWB, OWB, or pocket carry holster, visit our Holsters by Gun Model page for Kydex holsters that are custom-made for your weapon of choice.
Interested in items beyond holsters? Check out our Resources Page for links to recommended products like lights, lasers, first aid, maintenance, and more, and browse our selection of apparel, and accessories at our website, vedderholsters.com.
To stay up-to-date on all the latest Vedder Holsters content and offerings, check out our blog and follow us on Facebook, Instagram, and Twitter. And be sure to visit our sister company, GeoGrit, for all of your American-made minimalist wallet needs.