Whether you're looking for a holster for your brand new Glock 26, or you're looking to upgrade your carry system, you want to find a holster that's a perfect fit for this highly-functional weapon.
So, what should you look for in a holster for a G26?
The best Glock 26 holster options are as lightweight, concealable, and thoughtfully designed as the pistol itself. It's important to look for durable materials, adjustability, and quality safety features, so you can carry your G26 with confidence.
But before you can successfully choose the best G26 holster for your setup, you need to understand how this Glock is designed so that you can make the most informed choice.
About the Glock 26
The Glock 26 is a subcompact pistol designed for concealed carry. It is chambered in 9mm Luger and comes standard with a 10-round mag capacity, though larger magazines are available that can hold up to 33 rounds.
The G26 is similar in size to a snub-nose revolver, making it an ideal backup weapon for anyone who uses a larger pistol for their primary carry gun. This is especially true considering that the larger magazines of the Glock 17 and 19 also fit the smaller Glock 26.
This pistol is designed with Glock's Safe Action® trigger system, which features three independently operated mechanical safeties that are built directly into the pistol's fire control system.
Weighing only 21.52 ounces unloaded and measuring 6.5" long, 1.26" wide, this subcompact pistol packs quite a punch for its size. To learn more about the popular G26, visit Glock's website.
Glock 26 Specs
What to Look for in a Glock 26 Holster
Now that you have a better understanding of how the Glock 26 is built and what it is best suited for, it's time to select a holster that complements this capable carry pistol.
Holster Type
The very first thing to consider when shopping for a holster is the position you'll wear it in, which will determine the type you need.
Because of its small size and common use as a backup weapon, the most popular way to carry the Glock 26 is inside the waistband. Again, thanks to its compact size, this pistol can easily be carried in any traditional carry position, including 3-5 o'clock and appendix.
This is an important determination, as not all holsters are suited for every carry position. For example, while our Vedder Holsters LightTuck™ is a do-it-all holster that works well in pretty much any position, other holsters like our SideTuck are specifically designed to be carried in the appendix, or 1-2 o'clock, position.
Once you know what position you want to carry in, you can eliminate any holster that isn't compatible with your needs. From there, you can move on to the fun details like material and customization. If you need help figuring out which position is best for you, check out our "Concealed Carry Positions: Ultimate Guide" article.
Material
There are three materials that holsters are most often made of – leather, Kydex, and nylon.
While commonly found, nylon holsters are not necessarily recommended for concealed carry as they tend to be significantly less durable than other options. Additionally, they don't hold their shape when your firearm is removed, which makes reholstering difficult and more dangerous.
Leather holsters are another popular choice for concealed carry and are known for being comfortable and long-lasting. The only downside to using a leather holster is that they can get a bit sticky when exposed to water, sweat, or humidity. And, while they are pretty durable, they aren't quite as tough as Kydex and will wear out faster.
Kydex is the most popular holster material on the market today, and it's easy to see why. These holsters are unmatched in terms of durability, concealability, and adjustability.
Kydex holsters are heat-molded around a specific gun model to create a precise and secure fit. And, despite being made from thermoplastic, they are incredibly comfortable as well.
If you're looking for a holster that can provide the durability of Kydex and the comfort of leather, you're in luck. A hybrid holster offers the best of both worlds with a sturdy Kydex shell and comfortable leather backing.
You can check out our entire selection of Kydex and hybrid holsters here to learn more about the benefits of each.
Adjustability
When it comes to pistols like the Glock 26, which are designed to be worn every day, it's critical that you can adjust your holster so you can comfortably conceal it.
Adjustable retention is one element that is incredibly useful. This feature allows you to adjust how easy or difficult it is to draw your weapon, which is not only great for accommodating your personal preferences but is a safety issue as well.
Adjustable cant is another great feature that allows you to tilt your weapon either forward or backward to find the perfect "sweet spot" for concealment, comfort, and reachability. Many of our Vedder holsters are designed with 30 degrees of forward and reverse cant, which is superior to many other holsters on the market that have a smaller range and may only tilt in one direction.
Finally, adjustable ride height allows you to position your carry system to sit either high, low, or somewhere in between on your waistline. So, whether you prefer deep concealment or a higher-sitting firearm, you can adjust to your taste.
Customization
Trust us, no two carry systems are the same. Everyone has different needs, desires, and tastes, and with so many aftermarket firearm accessories and modifications available, it's important to find a holster that can accommodate them.
Lucky for you, all Vedder Holsters are handcrafted to order and can be customized to your individual firearm. Not only do we have dozens of Kydex colors to choose from, but our holsters have full sight channels and can be cut to accommodate a variety of lights, lasers, and optics.
Not only that, but our holsters can be oriented for right- or left-handed users and can be ordered with different sized belt clips or with optional attachments like our holster claw. Some also have optional sweat shields and combat cuts.
And if you happen to have a modification not listed on our site, you can always reach out to us with the details, and we will do our best to craft a holster that works for you.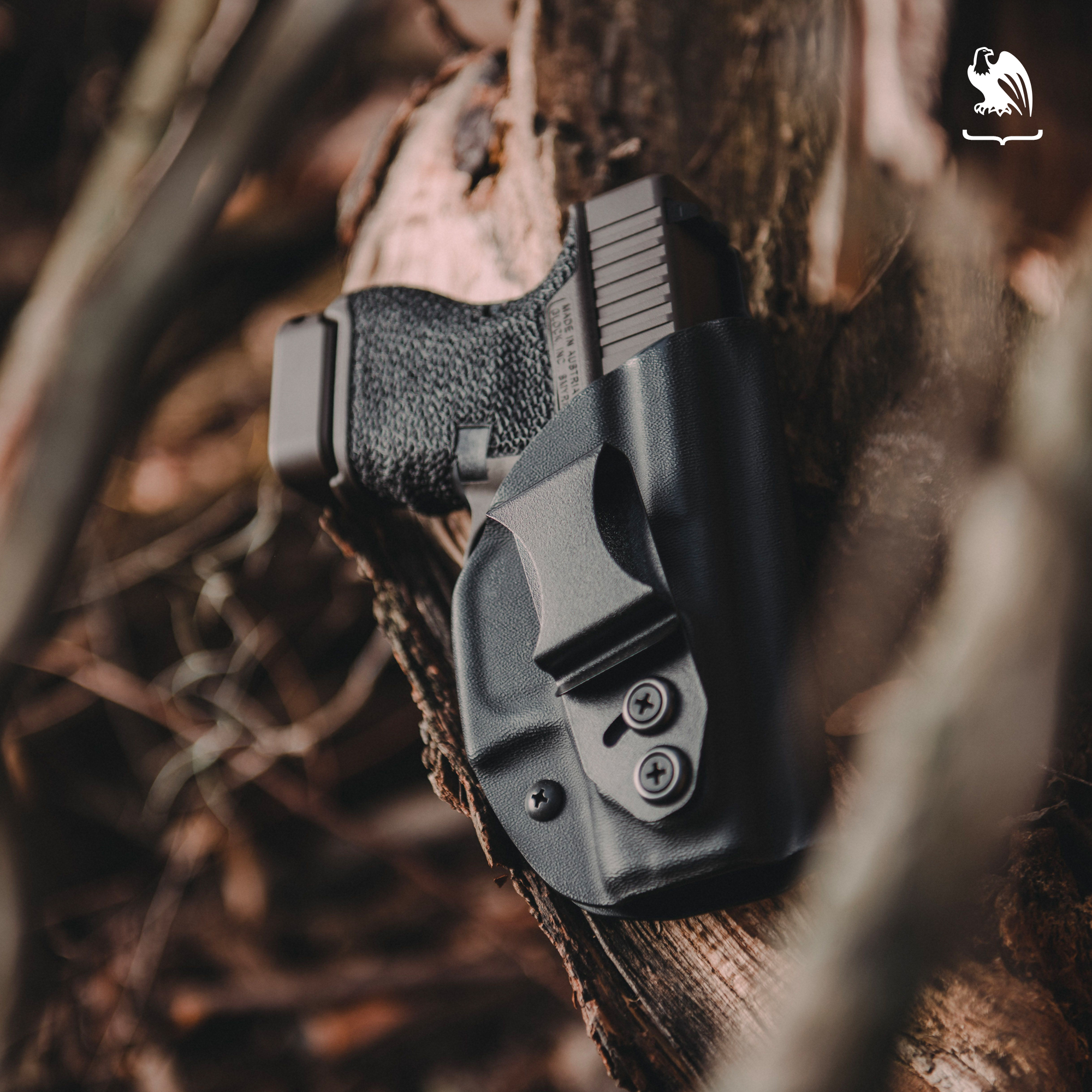 Design
Believe it or not, there is more to a holster's design than its style, color, and adjustable features. In fact, some aspects of its design are critical safety features that should not be overlooked.
The most important design element of a holster is a precise fit to your weapon. When it comes to Kydex holsters, your gun should fit into it so perfectly that you hear and feel a "click" as it snaps into place. Not only is this super satisfying, but it also ensures that your weapon won't jostle around or fall out of its holster.
Vedder's Glock 26 holsters are so accurately fitted that there is next to zero wiggle room once you've holstered your pistol. Holsters with lesser precision are not only dangerous, but they can eventually lead to wear on your gun (no, thanks).
Equally important as an accurate fit is a holster with a proper trigger guard and durable clips. Without secure clips, your holster won't be securely fastened to your belt, which means it could fall off throughout the day or at the very least slide around your waistline.
When it comes to an adequate trigger guard, it's critical to look for one that reveals minimal "daylight," meaning the guard completely encloses your G26's trigger. A holster that doesn't completely cover your gun's trigger could allow foreign objects to find their way inside the holster and reach the trigger, which we don't have to tell you is bad news.
All Vedder Holsters are designed with a full-coverage trigger guard, so you never have to worry about anything getting to your weapon.
Comfort
Guns like the Glock 26 are designed to be worn every day. This means the holster you pair it with should be as comfortable as possible.
Luckily, the G26 is incredibly lightweight and can be comfortable to wear with a wide variety of holster designs. That being said, if you're looking for the most comfortable option, there are a few factors to consider.
The most comfortable holster option is always going to be a hybrid. A hybrid holster's leather backing not only provides a pliable surface that molds to your body, but also spreads out the weight of your gun, which makes everything feel lighter and more secure.
If you'd rather carry an all-Kydex holster, holsters with two points of contact with your body can produce a similar weight distribution.
Finally, even though the G26 is often carried inside the waistband, many users find that outside the waistband is an even more comfortable option. So, if you're struggling to find a comfortable way to carry your Glock 26 IWB, you may want to give OWB a try.
Concealment
It should go without saying that you want your EDC holster to be concealable. That is the entire point, after all. And this is especially true when carrying the G26.
The Glock 26 is designed to be concealed. Everything from its slight frame to its subcompact size makes it the ultimate backup or concealed carry weapon. Pairing this highly concealable pistol with a bulky, awkward, or snaggable holster should be a crime, in our opinion.
So, what makes a holster truly concealable?
The first thing you should look at in a holster is its shell. In order for it to conceal your weapon without printing, the shell should be smooth and snag-free, and as thin as possible without sacrificing durability.
Another important aspect of a concealable holster is a well-designed clip. Many holster clips on the market are bulky and made of plastic, which can cause printing. When selecting a holster, choose one with a thin steel clip. Our patented Rock Solid Spring Steel Belt Clip is made from smooth spring steel, which can easily be hidden under anything, even a simple T-shirt.
Holsters with optional accessories can also be helpful in concealing your gun, including add-ons like pancake clips and holster claws, which draw your weapon closer to your body.
Warranty
While other factors such as concealability, comfort, and adjustability can and should be a priority when shopping for a new holster, you don't want to make the mistake of overlooking a product guarantee.
Not only do product warranties offer a level of comfort knowing that if something goes wrong with your holster you can have it repaired or replaced, but it is also an indication that the company you're purchasing from stands behind the quality of its product.
At Vedder Holsters, all of our products are backed by a 30-day risk-free trial and a lifetime guarantee so that if for any reason you're not satisfied with your purchase, or something goes wrong in the future, you're covered. Learn more about our warranty policy here.
Best Glock 26 Holster Options
Now that you know the different features you should look for in a quality holster, let's cut to the chase. Here are our recommendations for the best G26 holsters on the market.
Best IWB Holster for Glock 26
Everyone is different, and therefore everyone has different needs when it comes to concealed carry holsters. So, we'll break down the best holster options available, depending on your needs and preferences.
First up is the overall best IWB holster for the Glock 26: the Vedder Holsters LightTuck™. This Kydex holster is extremely versatile and can be worn in any carry position. It features fully adjustable retention, three levels of adjustable ride height, and 30 degrees of forward and reverse cant. Lightweight, tuckable, and featuring our patented Rock Solid Spring Steel Belt Clip, this is the ultimate inside the waistband holster.
If you're looking for the most comfortable Glock 26 IWB holster, you may want to consider a hybrid option. Both the Vedder Holsters RapidTuck™ and ComfortTuck™ are designed to be worn in the 3-5 o'clock position and are fitted with a premium cowhide or horsehide leather backing.
These holsters are designed to comfortably mold to your waistline for unbeatable comfort and concealability. The RapidTuck™ is also an adjustable holster, allowing you to select your preference for ride height and cant.
Another great holster for the G26 is the Vedder ProTuck. This hybrid holster combines the comfort of the ComfortTuck™ plus features two points of contact and a shape that naturally contours to your body. It is designed to be worn in the 3-5 o'clock position and offers fully adjustable retention.
Finally, if you're interested in carrying a spare magazine along with your gun, the Vedder SideTuck might be a great option for you. This holster offers all the same concealability as the popular LightTuck™ with the addition of an attached, fully-adjustable custom Kydex mag carrier. This holster also comes with a claw attachment and features adjustable retention and two points of contact.
Best OWB Holster for Glock 26
If you prefer to carry outside the waistband, you know that having the right holster can make all the difference. Here are our recommendations for the best Glock 26 OWB holsters depending on your needs.
One of the best outside the waistband holsters you can carry with the G26 is the Vedder Holsters LightDraw™. This Kydex holster is designed to be functional, yet comfortable. It is built with adjustable retention and its double-sided, fully reinforced shell allows for one-handed reholstering.
If you're looking for a hybrid OWB holster option, the Vedder Quick Draw is your best bet. This holster features a premium leather backing complete with two built-in belt loops. Designed for comfort and ease of access, this holster is perfect for most outside the waistband positions.
If you prefer a paddle holster, Vedder's ProDraw™ is an excellent choice. This type of holster is the most adjustable of the OWB options, featuring adjustable retention and 15 degrees of forward and reverse cant. Lightweight and fitted with our OWB Paddle Clip, this holster is comfortable and easy to put your holster on and remove at the end of the day.
Summary
Whether you're looking for an inside the waistband or outside the waistband concealed carry holster, it's important to find the one that best suits your carry system.
At the end of the day, the best Glock 26 holster for you depends on your personal needs and preferences. So, consider what you want out of a holster, compare your options, and make an informed decision based on what you've learned about what to look for in a quality holster.
If you're looking for a new IWB, OWB, or pocket carry holster, visit our Holsters by Gun Model page for Kydex holsters that are custom-made for your weapon of choice.
Interested in items beyond holsters? Check out our Resources Page for links to recommended products like lights, lasers, first aid, maintenance, and more, and browse our selection of belts, apparel, and accessories at our website, vedderholsters.com.
To stay up-to-date on all the latest Vedder Holsters content and offerings, check out our blog and follow us on Facebook, Instagram, and Twitter. And be sure to visit our sister company, GeoGrit, for all of your American-made minimalist wallet needs.