Besides feeling like a cowboy, there are plenty of benefits to choosing a revolver as an everyday carry weapon. Unfortunately, many people never consider carrying these firearms, mistakenly believing they're outdated and difficult to conceal.
Learning how to conceal carry a revolver comes down to choosing the right holster, carry position, and firearm. Once you've figured out the logistics, you can enjoy all the benefits that carrying this type of gun has to offer.
Let's talk about why revolvers work well for CCW and how to make them work for you.
Do People Still Carry Revolvers?
You've undoubtedly seen your share of old western movies with cowboys carrying a Colt .45 Peacemaker on their hip and looking tough. But you may be wondering if that's really a thing people still do.
There's actually a larger number of people than you might think who still choose to conceal carry revolvers. While the vast majority of people switched to carrying semi-automatic pistols in the late 1900s, there are still plenty of manufacturers who make revolvers and people who like to carry them (though it's not uncommon for people to carry older revolvers either!).
Many people choose to carry a revolver simply for the nostalgia. I mean, there is something fun about feeling like Billy the Kid when you get dressed every morning. But that's not the only reason. A lot of people carry revolvers to take advantage of some of the benefits that only this kind of firearm can offer (more on that later!).
Before we get into that, let's talk a bit about the differences between concealing a pistol and a revolver.
Is There a Difference Between Carrying a Revolver and a Pistol?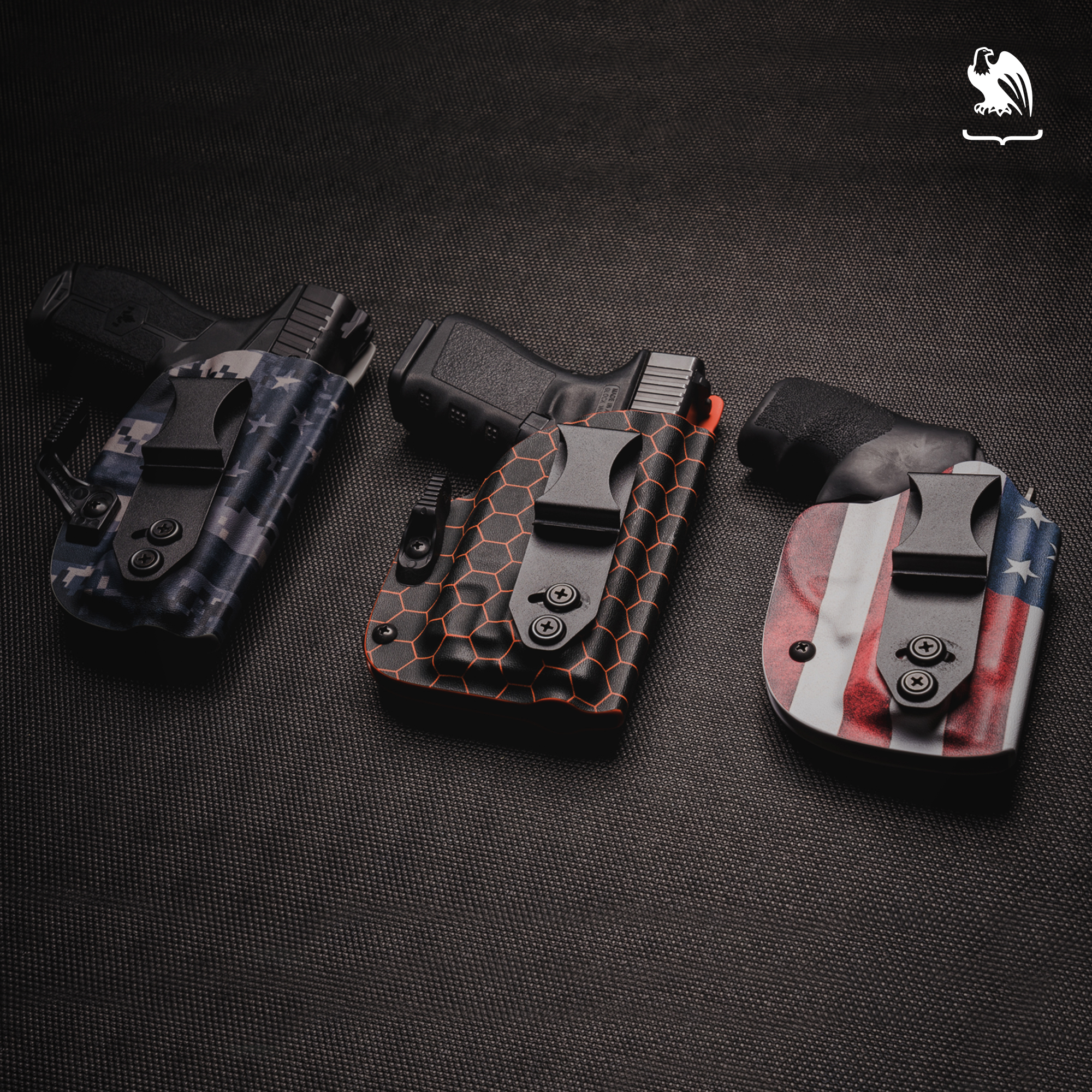 If you're thinking about carrying a revolver, you may be wondering if there is any difference between that and using a pistol for CCW.
While, in many ways, carrying a revolver is the same as carrying a pistol, there are a few key differences that should be considered. Just like a pistol, revolvers can be carried either inside the waistband or outside the waistband and need to be carried in a proper CCW holster.
While you may think a concealed carry revolver would be more difficult to conceal than a pistol, that is actually not the case. Like any other gun, the size of your revolver, the position you carry it in, and the kind of gear you have all impact how easy it is to conceal.
The most significant difference between carrying a CCW revolver and a pistol has to do with your backup ammo. Spare pistol magazines are typically slim, lightweight, and easy to conceal. Revolvers, on the other hand, don't use magazines, so if you want to carry spare ammo, you have to rely on a speedloader.
Even though speedloaders are pretty easy to use, circular speedloaders are bulky and much harder to conceal on body. While there are other options, such as moon clips and speed strips, these also require special accommodations as you can't just slide them into a mag carrier like you can a pistol magazine.
Let's break down the ins and outs of how to successfully concealed carry revolvers.
How To Conceal Carry A Revolver
Like any means of carry, your success all comes down to having the right equipment and carrying in the right manner. Let's talk about some of the ways you can make carrying a revolver work for you.
Carry the Right Gun:
Just like some pistols are better for concealed carry than others, certain revolvers are more equipped for the job.
Hands down, the best revolver for concealed carry is the snub-nose. While you can carry a regular revolver, snub-noses are more compact, lightweight, and have a nice short barrel, making them ideal for everyday carry.
But, not all snub-nosed revolvers are created equal. Look for a gun with either a small- or medium-sized frame with a shorter barrel length, ideally no more than 4 inches. The caliber you choose comes down to personal preference, though keep in mind that the smaller snub nose revolvers already pack a bigger punch when it comes to recoil, so tread lightly.
Choose a Quality Holster:
The holster you use can make or break your concealed carry experience. Even the best carry guns can be uncomfortable and difficult to conceal without a quality revolver holster.
You want to make sure to choose a holster made from a good material. While cloth holsters are comfortable, they don't always stay in place or hold their shape when you draw, so they're not typically recommended for EDC. Leather holsters are another common option and certainly add to the nostalgia of carrying a revolver, but they can get a bit sticky if they don't have a good sweat shield.
Whatever you're carrying, a quality Kydex holster is strongly recommended for CCW as they're durable, comfortable, adjustable, and sleek enough to be well-concealed. If you're interested in having the best of both worlds, a hybrid leather/Kydex holster, like Vedder Holster's RapidTuck™ or ComfortTuck™, is an excellent choice.
But not all Kydex and hybrid holsters are created equal: be sure to look for one with adjustable retention, ride height, and cant so you can adjust your CCW revolver holster to the most comfortable and concealable position for you. The Vedder Holsters LightTuck™ is famous for being incredibly comfortable and adjustable, making it the perfect concealed carry holster for any position.
Use the Right Carry Position:
The best carry position for you ultimately depends on your daily activities, how you dress, your body type, and what's comfortable for you. However, there are a few that tend to work better than others, especially when it comes to carrying a revolver.
Revolvers can easily be carried both inside the waistband and outside the waistband. With IWB carry, the cylinder of your snub-nose revolver should sit just under your belt, making it an excellent choice for this type of firearm.
Some of the best carry positions for revolvers are appendix carry (1-2 o'clock), 12 o'clock, and 4-5 o'clock. Though if you really want to feel like a cowboy, you can try cross draw (10-11 o'clock). At the end of the day, you'll likely need to test out a position or two to determine what works for you.
Dress to Conceal:
Dressing to conceal a revolver is no different than for a semi-automatic pistol. The most important article of clothing in your carry setup is a quality gun belt. These belts are built stiffer and more durable than a regular belt to support the weight of a firearm and make carrying more comfortable and easy to conceal.
A nice leather gun belt, like the Vedder Holsters Polymer Core Leather Gun Belt, or a low-profile tactical belt like the V3 Gun Belt or the Cobra® Quick Release Gun Belt, are all great options depending on the look you're going for.
If you're carrying IWB, it's important to grab a pair of pants about a size up from what you usually wear to make room for your weapon. Wearing a loose, dark-colored shirt can also help prevent printing, or when your firearm shows through your clothes.
For more concealed carry clothing tips, check out our article here.
Are Revolvers Good For Concealed Carry?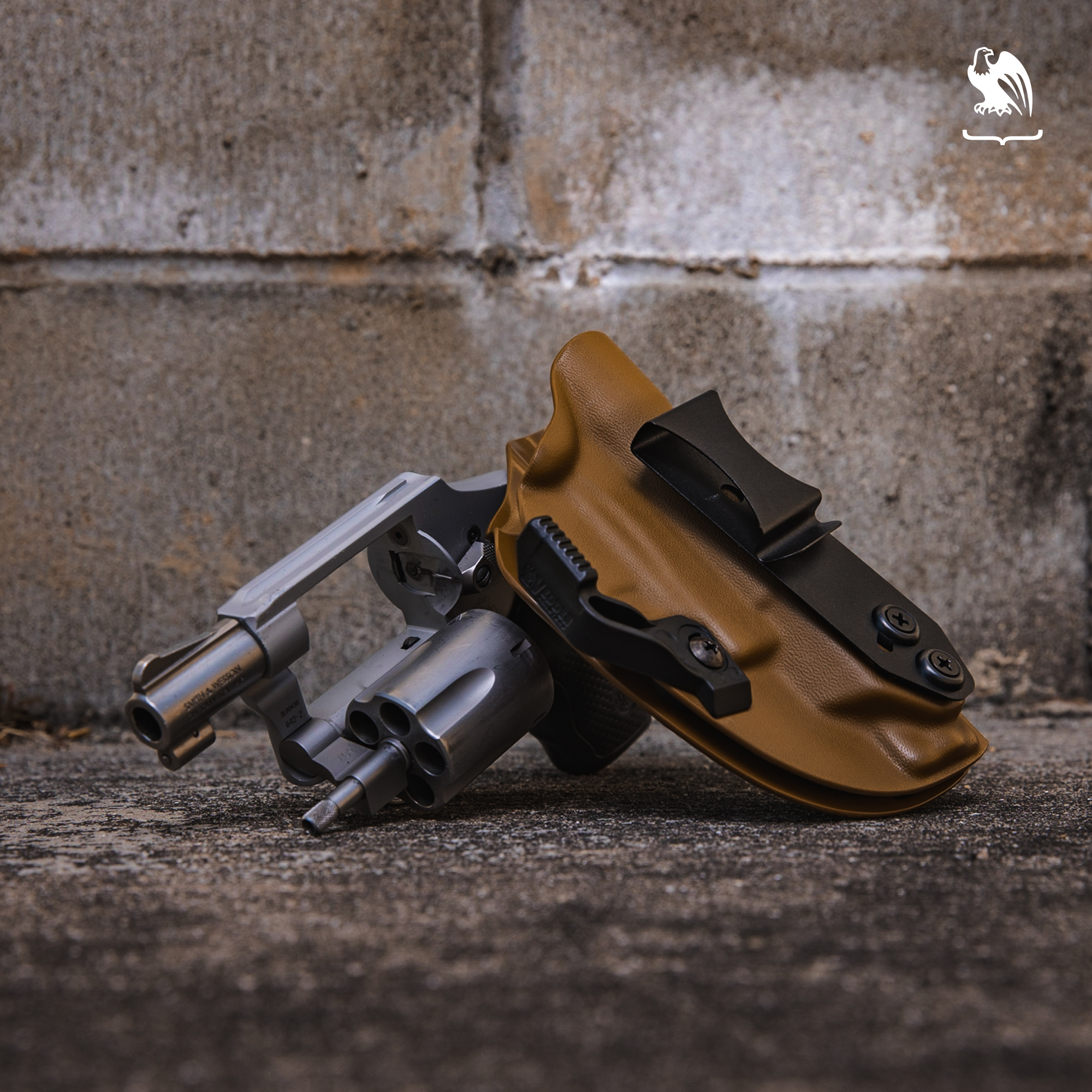 You now know how to conceal carry a revolver, but you may still be wondering if it's a good idea. With the plethora of excellent concealed carry pistols on the market, you have to wonder if revolvers are even good for everyday carry.
The answer to this question is, it depends. Revolvers are a perfectly good choice for concealed carry, depending on your needs and preferences. There are also some specific benefits to carrying a revolver that a pistol just can't offer.
The biggest benefit to carrying a revolver is the reliability factor. Unlike pistols, revolvers don't have slides and are therefore less likely to jam. Fewer moving parts equals fewer opportunities for mechanical failure, making these firearms a more reliable choice. This also means they require less maintenance and are easier to clean, which is always a good thing.
Not only that, but revolvers are notoriously easy to operate. With a revolver, you never have to worry about racking a slide, whether the safety is on, or anything else, really. All you have to do is point, shoot, and repeat, which is obviously useful in a defensive encounter.
Another surprising benefit of revolvers is that they can actually be easier to conceal. Because revolvers have cylinders and not magazines, they have a smaller grip than most pistols, making them more concealable. This also makes many of them a more lightweight option, which we don't have to tell you is a serious perk when it comes to revolver concealed carry.
Finally, revolvers often come in larger chambers (think .44, .45, and .357) while remaining relatively concealable, unlike their pistol counterparts of the same caliber.
What Are the Downsides to Carrying a Revolver?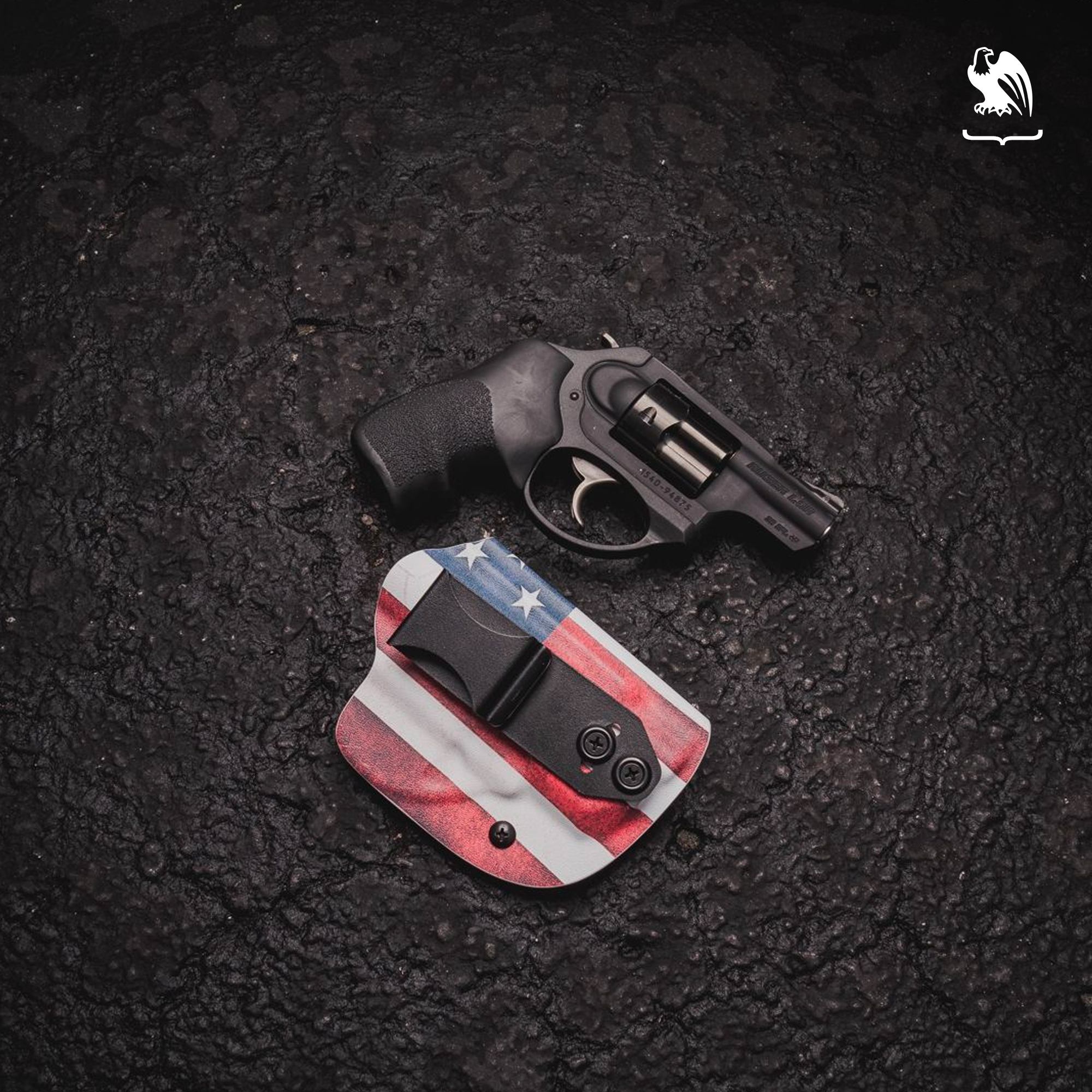 Like any means of carry, there are downsides to using a revolver for CCW.
While some people choose not to carry revolvers simply because they find them outdated and less stylish than a more modern pistol, others have more technical reasons for going with other options.
One of the biggest reasons people choose not to concealed carry revolvers is that they have a significantly smaller capacity than most pistols. While many of the most popular handguns for CCW can hold anywhere from 10-15 rounds, the vast majority of revolvers only hold six.
And if you're thinking you can just carry extra ammo to help counter this issue, you're right. You can. Just know it won't be as simple as carrying a spare magazine or two as revolver speed loaders are bulky and awkward to conceal (though they are definitely an option!).
Another issue some carriers have with revolvers is that they tend to be more recoil intensive. This makes managing said recoil more difficult and makes target acquisition slower and more challenging when it comes to follow-up shots.
Finally, while many people like having the option to add different optics and accessories to their concealed carry pistol, very few revolvers come with an accessory rail that allows you to easily add a light or laser to your gun.
Summary
While there are numerous benefits and downsides to choosing a revolver for CCW, the art of learning how to conceal carry a revolver comes down to choosing the right holster, gun, and position. Once you've figured out the ideal EDC setup for you, carrying a revolver is a breeze.
If you're looking for belts or holsters, we recommend visiting our Holsters by Gun Model page if you are looking for holsters that are custom-made for your weapon of choice. For all of our belt and holster options and for more information to help you choose the carry system that works best for you, visit our Vedder Holsters website.
Looking for items beyond holsters and belts, check out our Resources Page for popular product links like lights, lasers, first aid, maintenance, and more.