It's that time of year again; temperatures are creeping up, sweaters are being traded for tank tops, and people are taking off on vacation. But how do you successfully conceal carry through all of this?
You may be surprised to learn that concealed carry in the summer is just as easy as it is in colder months. The trick is to piece together the right wardrobe, wear the right holster, and do your research before taking any trips.
While you will probably have to make some adjustments and exceptions while learning how to conceal carry in the summer, it's not as difficult as it sounds. The first thing to do is make sure you have the proper equipment.
What are the Best Summer Concealed Carry Holsters?
We don't have to tell you that different holsters work better in different situations. But what is the best holster for summertime concealed carry?
The first thing you want to look at when it comes to CCW in the summer is your carry position. Inside the waistband holsters are generally considered the best way to conceal carry in summer. These holsters can be concealed under even a simple T-shirt, making them much easier to dress for in warmer seasons.
The next thing to consider is holster material. Hands down, the best holster material for summertime is Kydex. While leather is always a comfortable option, it does tend to get a bit sticky when it comes in contact with water, humidity, or sweat.
The Vedder Holsters LightTuck™ Kydex IWB holster is an excellent choice of summer concealed carry holsters. While it's our most popular holster year-round, its slim design and built-in sweat shield make it easy to hide under lighter clothing and protect your weapon from moisture on your body.
If you just can't bear to give up your comfortable hybrid holster during the summer months, an easy trick to avoid a sticky situation is to wear an undershirt. Yes, it's an added layer of clothing, but having that thin layer of fabric between your holster and your skin provides a sweat barrier that allows you to carry a hybrid holster, or any holster for that matter, more comfortably.
Guns: Concealed Carry Options for Summer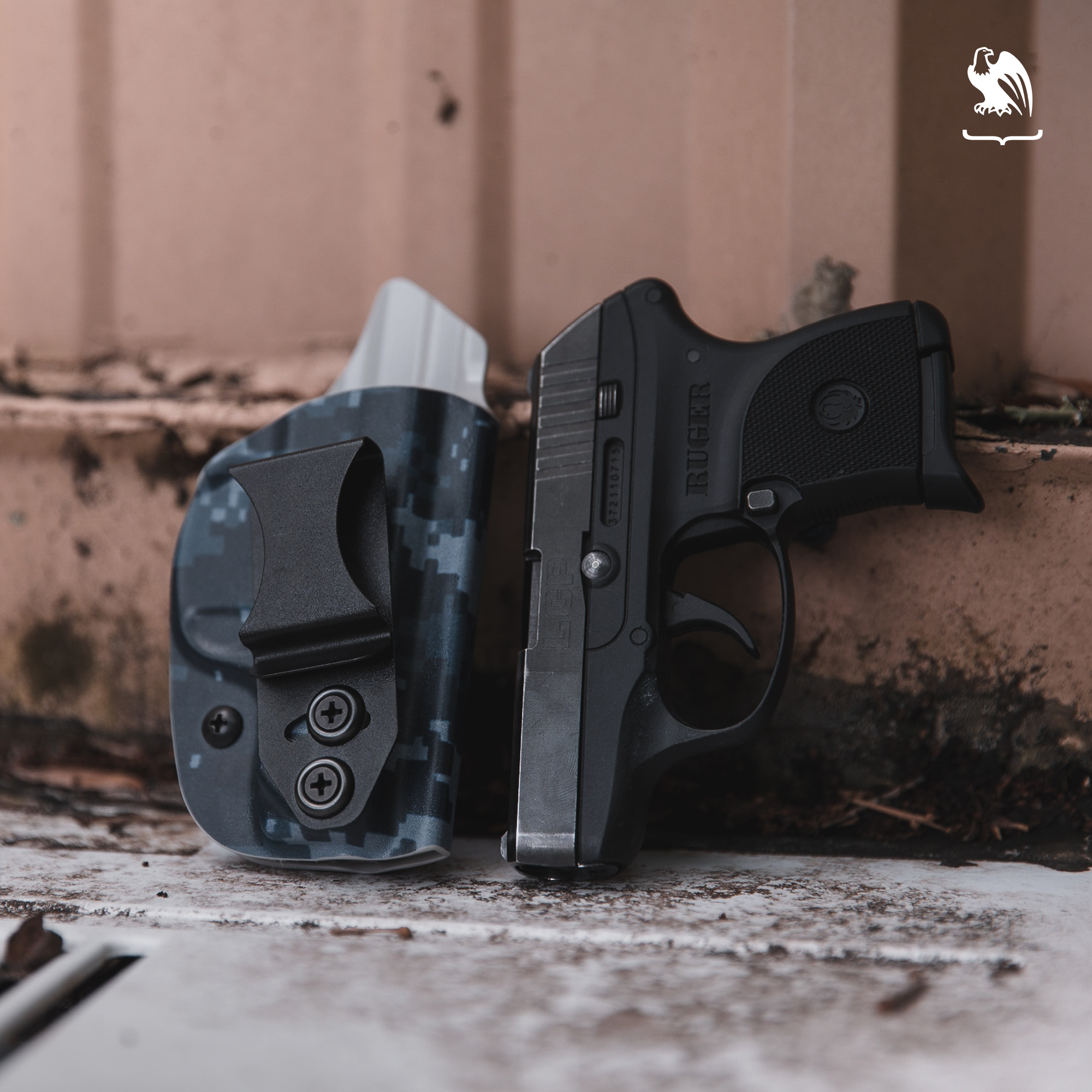 In the winter, when thick layers of clothing are the norm, it's easy to carry a gun of any size. In the summer, when these extra layers are shed for lighter, smaller articles of clothing, the smaller the gun the easier it will be to conceal.
Trading your full-sized weapon for a compact one will make concealed carrying in the summer a much easier task. If you're looking for ideas, check out our lists of the best Glocks, Rugers, and Berettas for concealed carry.
That being said, you can successfully conceal most pistols in the summer, even larger ones, with the right holster, belt, and clothing combination. So let's talk about how to dress for concealed carry in summer.
Concealed Carry Clothing for Summer
If you're like most people, the minute those temperatures start to creep up, you're trading your thick jackets and jeans for lightweight tank tops and shorts.
Not only does this make it harder to hide your muffin top, but it also makes concealing your carry pistol more difficult. But don't worry, we have some tips and tricks for keeping things hidden under summer clothing (two birds, one stone, if you know what we mean!).
Luckily, it's not as daunting as it seems. Concealed carry in the summer is just as easy as it is in the winter, you just have to get a bit more creative.
If you can pull them off, cargo shorts are your best friend. They are usually loose and riddled with pockets, making them an excellent choice for both waistband and pocket carry.
A concealable IWB holster, like the Vedder LightTuck™, is also surprisingly easy to conceal under a simple cotton T-shirt or tank top. If you prefer OWB carry, or your T-shirt just isn't cutting it, a light, loose button-up shirt does wonders to conceal even larger pistols. Look for things like fishing shirts and Hawaiian shirts to wear either over a T-shirt or on their own.
When it comes to women's concealed carry clothing for summer, skirts with belt loops are a great option. You can also easily conceal your gun under a loose-fitting shirt or wear a tighter shirt with a lightweight wrap or shawl-type garment to prevent printing. Any sort of shirt with an embellishment, like a knot, front tie, or another distracting style, also work well.
One of the best parts of summer fashion is that patterns and bright, distracting colors are everywhere (yet another reason Hawaiian shirts are great for CCW!). These patterns and bold colors work well to hide printing, no matter what shirt you wear.
Preventing Chaffing
Look, it's nothing to be embarrassed about. Lots of people experience chaffing from their holster and firearm during the summer, and it's one of the main reasons people decide to leave their weapon at home during warmer months.
If chafing has got you down, don't worry. There are a few things you can do to help mitigate this uncomfortable situation. First, consider wearing an undershirt tucked into your pants to prevent contact between your body and carry system. If you live in a really hot and humid environment (ahem, Florida) and don't want to wear an added layer, you can always try anti-chafing powders or rollers, which are quite effective.
Invest in a Good Gun Belt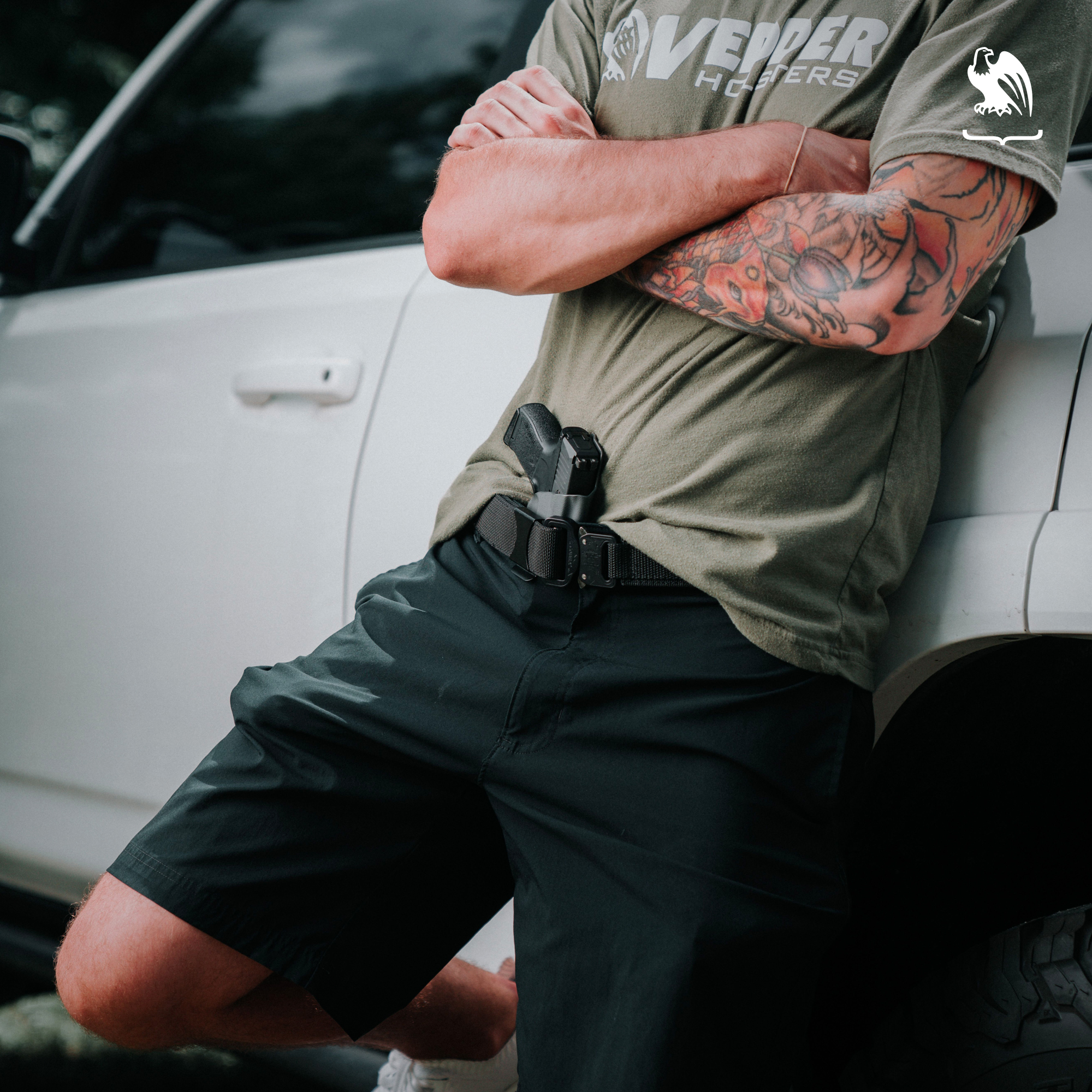 Few things reduce printing and make CCW more comfortable, like a quality gun belt. Whether you like tactical belts or stylish leather ones, a good gun belt is an easy way to make summer concealed carry a success. Unlike regular belts, EDC belts are designed to be thicker, stiffer, and more durable, preventing belt sag and reducing printing.
Use a Holster Claw
A holster claw is always a good idea and is especially useful in the summer. Holster claws are designed to reduce printing by pressing against your gun belt to draw the grip of your pistol closer to your body. You can order any Vedder LightTuck™ with an optional Holster Claw or buy one separately to add to an existing holster. It really does make a difference!
Carry Off Body
Off body carry is a bit of a controversial topic in the gun community, but sometimes it's a good option if you're struggling to conceal your weapon under summer clothing. If you are going to use this means of carry, it's essential that you pair it with a proper holster. A pocket holster often works well for slipping into a purse or backpack.
Read more about the pros and cons of off body carry here.
Concealed Carrying While on Vacation
Ah, summer. The kids are out of school, the weather is warm, and the days are longer. It's the ideal time to take that much-needed vacation. But how does concealed carry fit into your travel plans?
There are plenty of reasons why you might want to have your gun while on a trip. You'll likely be around large groups of people and wandering into unfamiliar places, all of which warrant having a self-defense plan. But, with new places comes new rules, so how do you conceal carry while on vacation?
Concealed Carry While Driving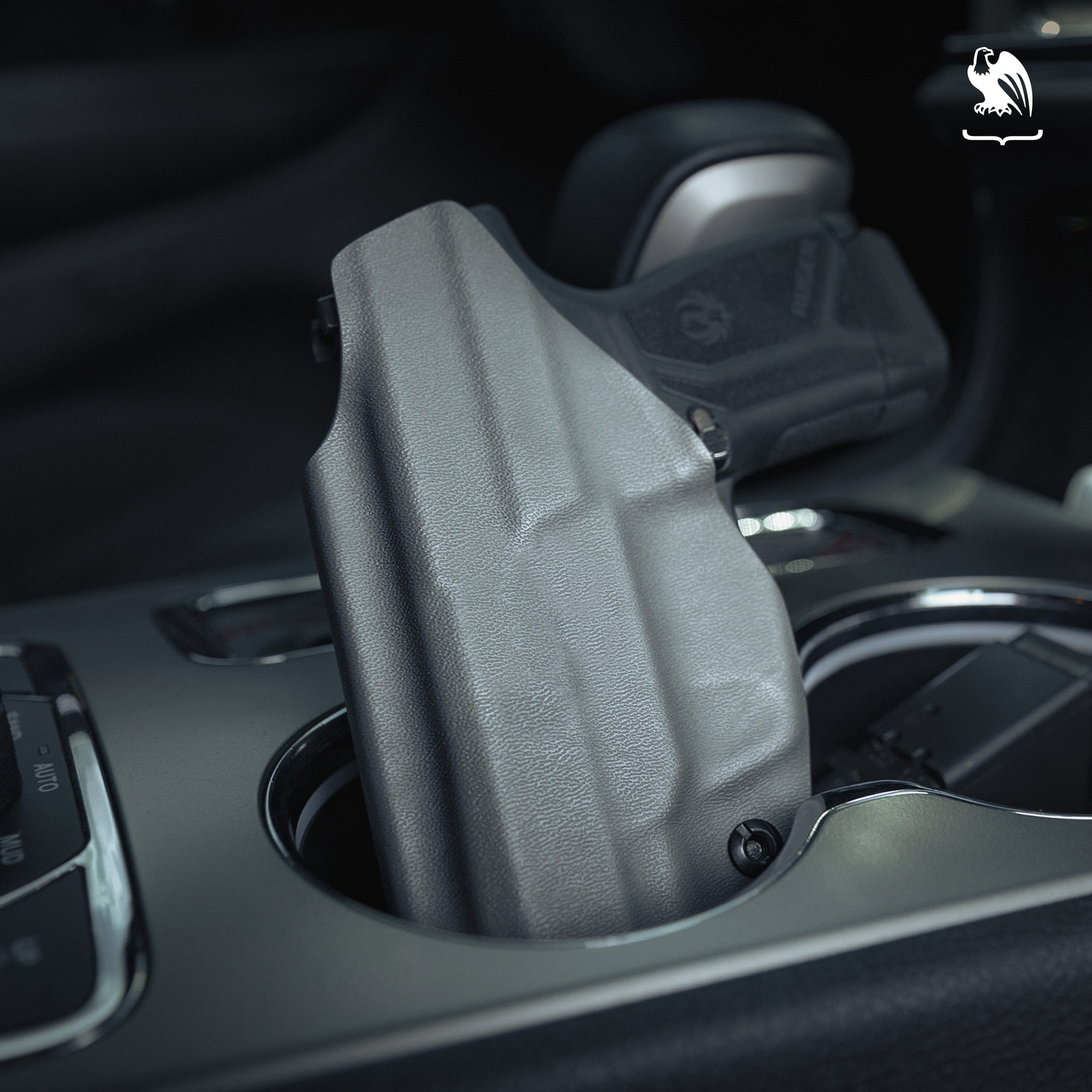 If you're taking a road trip this summer, you're probably wondering if you can have your gun in your vehicle with you. So long as you have a valid concealed carry permit, you can safely have a firearm in your car in most circumstances, though different rules may apply.
If you will be traveling through multiple states, it's imperative to read up on their individual laws. Every state has different regulations when it comes to firearms, so you'll want to make sure you're complying with the laws where you're going, even if you're just passing through. You'll also need to verify that the states you're going to have a reciprocity agreement with the state where your carry permit is from so you don't run into any issues.
You should also note that if you are pulled over, some states require you to disclose that you have a gun in the vehicle to the officer. Once again, read up on the laws in the states where you will be traveling before your trip so you can be prepared.
If you can bring your pistol, you'll want to figure out how to carry comfortably while driving. You may want to consider a carry position that won't be uncomfortable for long periods of sitting. Appendix and 4 o'clock carry are generally not recommended for driving as they tend to dig into your back or thigh after a while. Carrying strong side or cross draw works well in a vehicle as the gun sits out of the way on your hip.
You can always have your firearm off-body somewhere in your car, but if you choose to carry that way, be prepared to take it with you anytime you get out of the vehicle. You should also keep your vehicle locked while you're fueling up so there's no chance of someone walking away with your pistol.
Check out our article "Can You Concealed Carry While Driving?" for more tips.
Concealed Carry While Flying
We hope we don't have to tell you that you can't wear your gun on a plane (if you don't know, TSA will be sure to inform you with a trip to airport jail). But you may not know that you can have a gun in your checked baggage, so long as you comply with certain rules.
The Transportation Security Administration (TSA) has a number of regulations that must be followed to check a firearm, including securing your unloaded gun in a hard-sided, locked container and checking in with airport security. Be sure to review all the rules before attempting to check a gun in your luggage.
As long as you follow the rules to the letter, you shouldn't have any issues checking your firearm. You should be prepared to get to the airport a little early as the process does take additional time.
It's also important to consider the city and state you will be flying into before bringing your gun. Like when taking a road trip, make sure to read up on the state's individual laws and verify that your concealed carry permit is recognized there.
To learn more about concealed carrying while traveling by plane, check out our article here.
Other Factors to Consider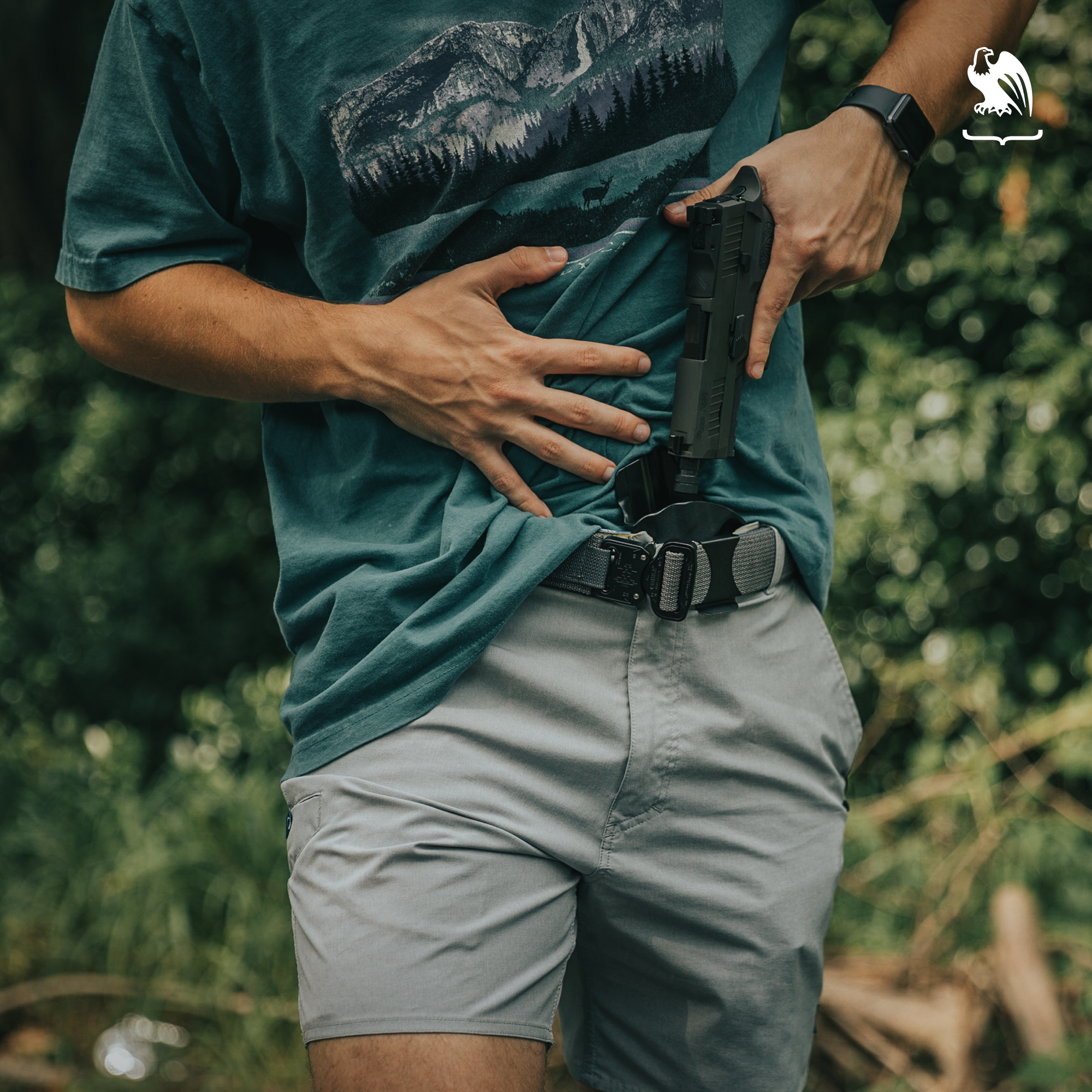 Vacation Activities: Before you decide to travel with a gun, think about the activities you'll be doing on your trip and where you will be staying.
If you're planning a trip out here to Central Florida where you will be visiting one of our many theme parks, you won't be able to take your weapon with you into the park and, therefore, may not want to bring it at all. On the other hand, if you're taking a road trip to visit family, go camping, or visit some gun-friendly attractions, bringing your firearm should work out just fine.
Wherever you're going, just be sure to check out local and state laws and think about the activities you will be participating in once you're there. Many businesses and parks reserve the right to prohibit weapons in their establishment, so make sure you know the rules before you go.
Hotels: Another thing to consider when deciding whether or not to bring your gun on vacation is where you're staying. If you're staying with friends or family that you trust and are okay with you bringing your weapon into the house, then, by all means, bring your sidearm. It may be a different story if you're staying in a hotel or rental home.
First, you must ensure the place where you will be staying doesn't have any policies against firearms. Second, think about whether you will be able to take your gun with you when you leave your room. Whether or not you leave the "do not disturb" sign on your door, hotel staff have a key to your room and may access it at any time.
One way to help mitigate any potential issues is to bring a small travel gun safe to lock your weapon in while you leave. You can find lightweight, inexpensive options online.
Vehicle Rentals: If you're planning to rent a car during your vacation, don't just assume that you can have a gun in the vehicle. While many rental car agencies don't have a specific policy against weapons in their cars, some do, so make sure you do your research beforehand.
Summary
With the right gun, holster, and clothing combo, concealed carry during warmer months doesn't have to be difficult. When you're learning how to conceal carry in the summer, consider the types of activities you will be participating in, the kinds of places you may visit, and the wardrobe you currently have.
If you're looking for belts or holsters that are custom-made for your weapon of choice, we recommend visiting our Holsters by Gun Model page. For all of our belt and holster options and for more information to help you choose the carry system that works best for you, visit our Vedder Holsters website.
Looking for items beyond holsters and belts, check out our Resources Page for popular product links like lights, lasers, first aid, maintenance, and more.
*This page contains affiliate links. When you purchase a product included on this list, we receive a commission at no extra cost to you.